Christopher Ward is a watchmaker known for their partnerships with environmental organizations. In the past, they partnered with the Blue Marine Foundation to produce the C60 Blue limited edition watch. Profits for that limited edition were donated directly to the foundation, and the watch sold out in no time. According to CEO Mike France, Christopher Ward knows their customers are environmentally aware, and prefer to buy from a brand that they perceive is doing good in the world.
The limited edition C60 #tide continues the spirit of the Blue, with a new design and a new environmental partnership. #tide isn't just a hashtag – it's also a company. #tide Ocean Material is a Thailand-based company that collects plastic waste from the ocean and recycles it. Much of this material is extruded into synthetic sheets for landscaping. However, a lot of it is turned into granules, which can be used for injection-molded plastic. As you'll see, both fabric and plastic are incorporated into the finished #C60 design. Here's everything you need to know about this exciting, eco-friendly watch.
A Rugged Case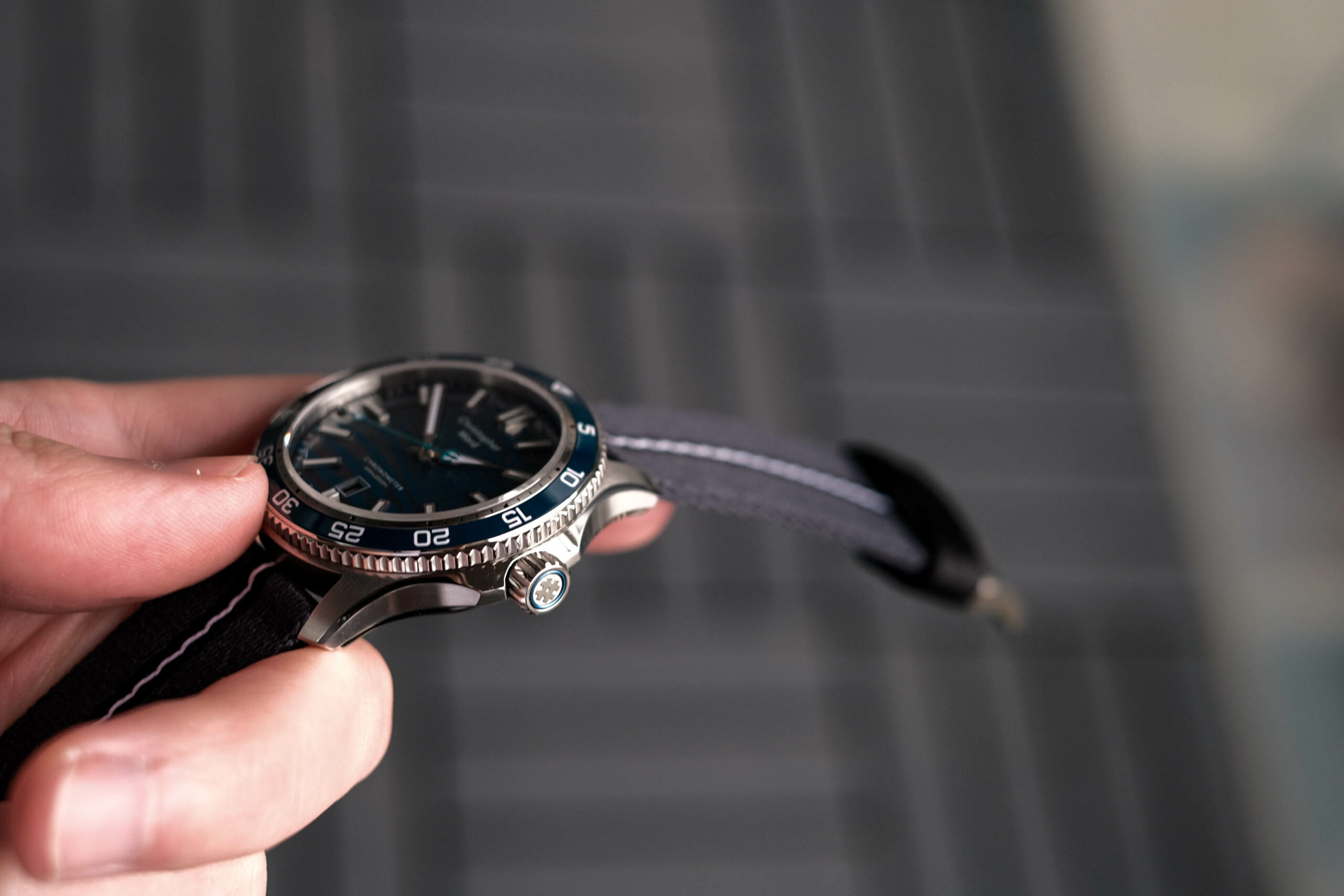 As with the rest of Christopher Ward's C60 collection, the C60 #tide boasts a 42mm stainless steel case. At 14.1mm thick, you might think it would have a medium wrist presence, but with a lug-to-lug measurement of 49.32mm, it's actually quite large. If you've got smaller wrists, it will probably look too big. On the other hand, if you shop at Big and Tall, your watch won't be too small for your wrist.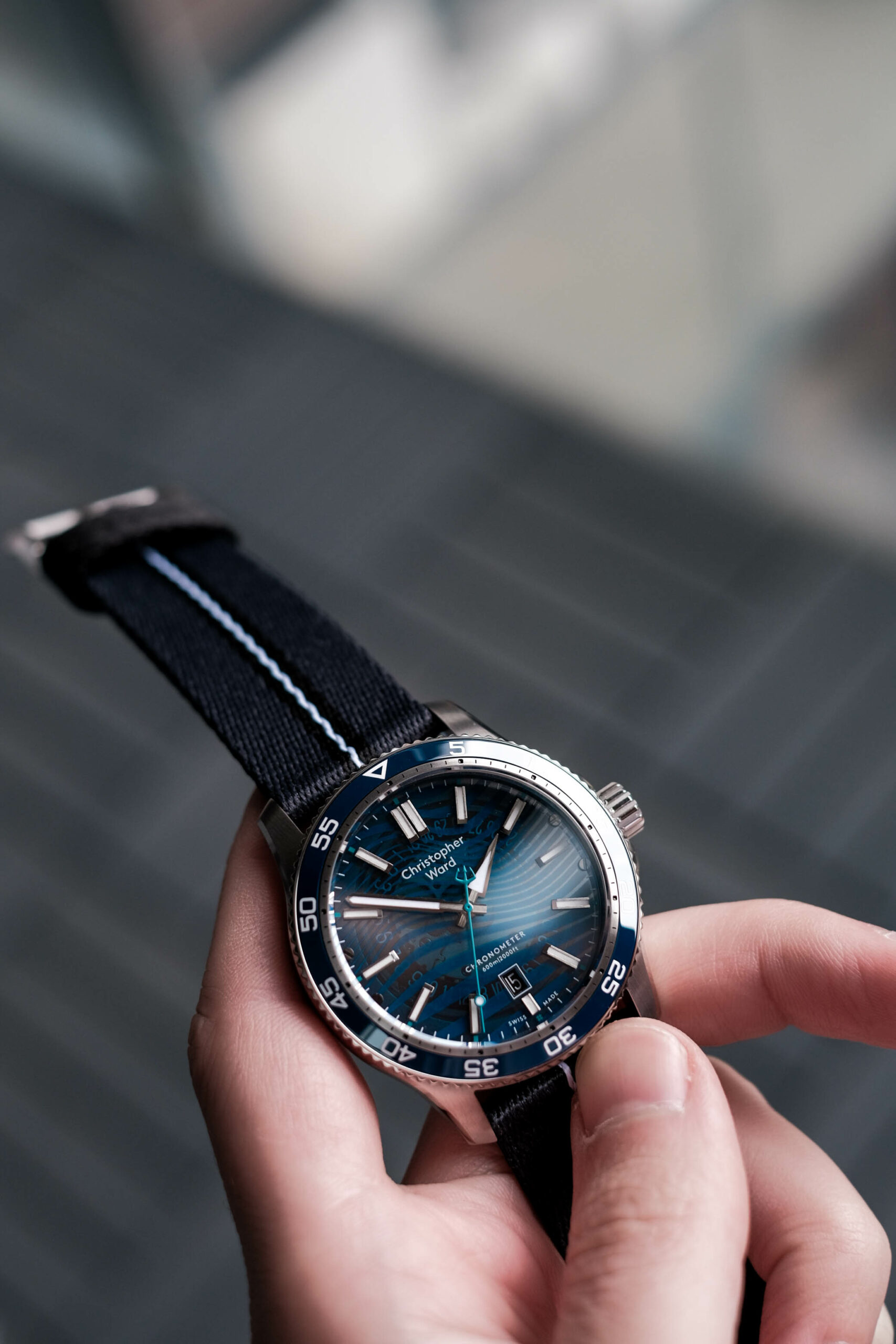 The bezel is knurled on the outside, with tons of little angles that sparkle in the light. The top surface is a nautical blue, with white Arabic numerals at the five-minute positions. It's easy to rotate, and has an arrow at the 12 o'clock position that makes it easy to use as a timer. The bezel inlay is also made entirely from ceramic, so it's scratch-resistant.
Also scratch-resistant is the sapphire crystal, which is slightly beveled on the outside. This bevel is narrow enough to create an accent along the inside of the bezel, but it's small enough that it doesn't obscure the dial. All in all, it's a nice accent. The crystal is also coated with an anti-reflective finish, which keeps it from creating a lot of glare.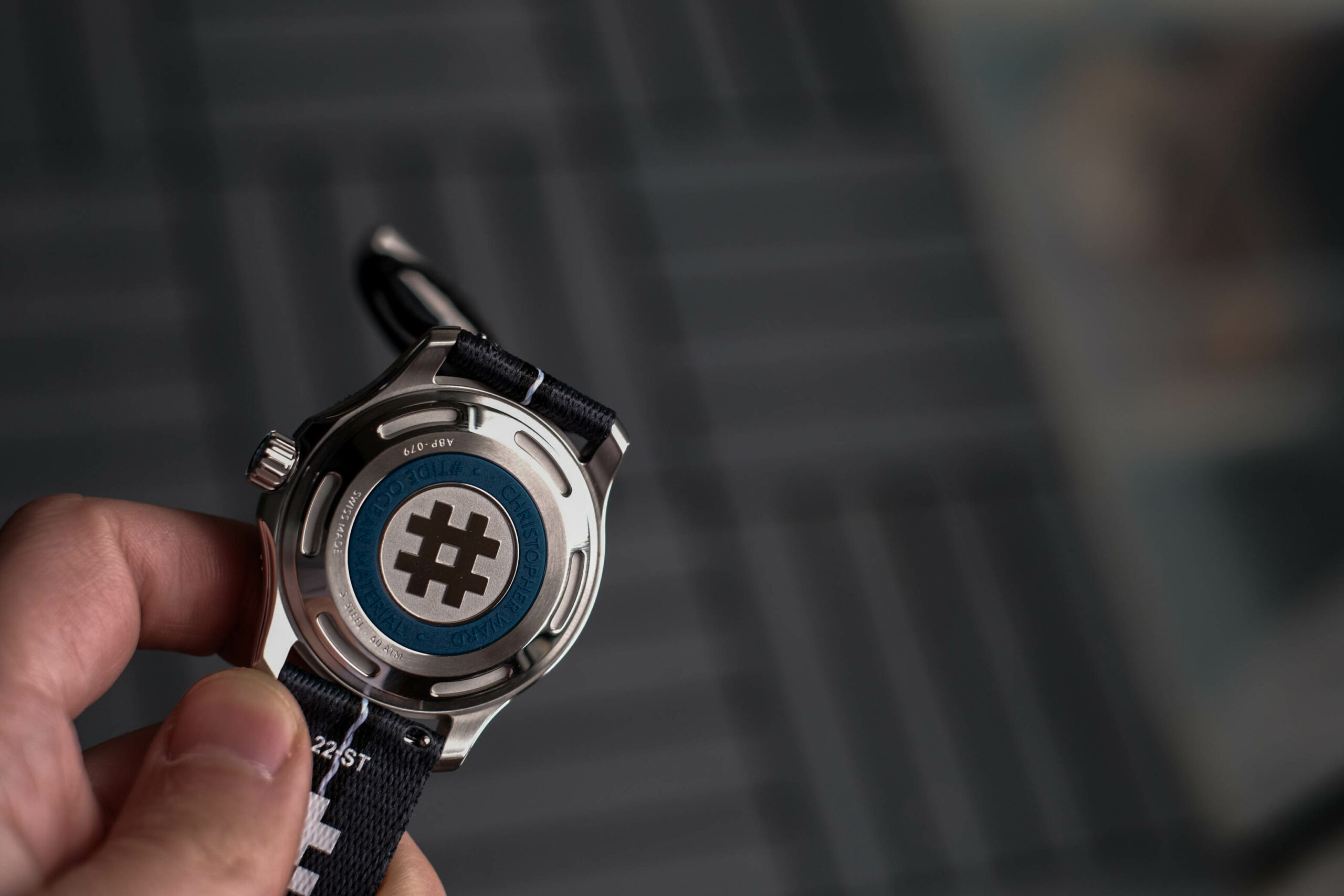 The screw-down caseback is embossed in the center with a huge "#" signifying both the #tide brand and a call to action. It's surrounded by a fat band of #tide's unique recycled plastic, which is stamped with both the #tide and Christopher Ward brands. You might think that a case with plastic in the material is low-quality, but that's far from the truth. The C60 #tide is water-resistant to an impressive depth of 600 meters.
A Distinctive Dial
The dial itself is actually made of sapphire, a unique choice that's undeniably beautiful. The base material is blue, and semi-transparent so you can see a ghost of the movement. Over top, there's a wave pattern, painted in what appears to be a solid blue finish. However, the paint is Super-LumiNova, and glows at night to maintain the wave pattern under all lighting conditions.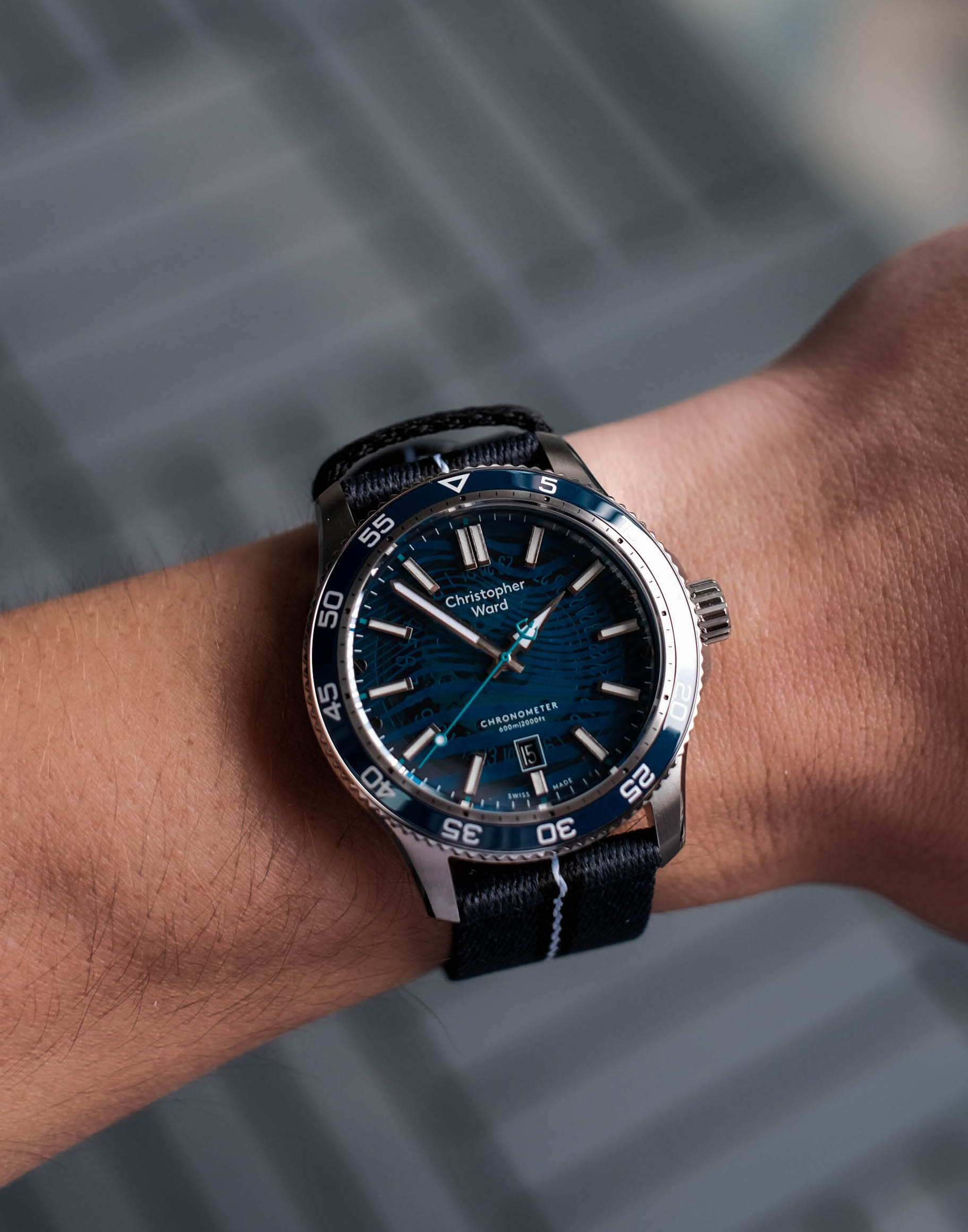 There are no numerals on the dial itself, but there are silver applied indices at the five-minute positions. These are large and rectangular, with bright lume rectangles in the centers. There's a double-hash at 12-o'clock, with a shortened hash at 6 o'clock to allow room for the date window. The date window itself has a black background, with white Arabic numerals.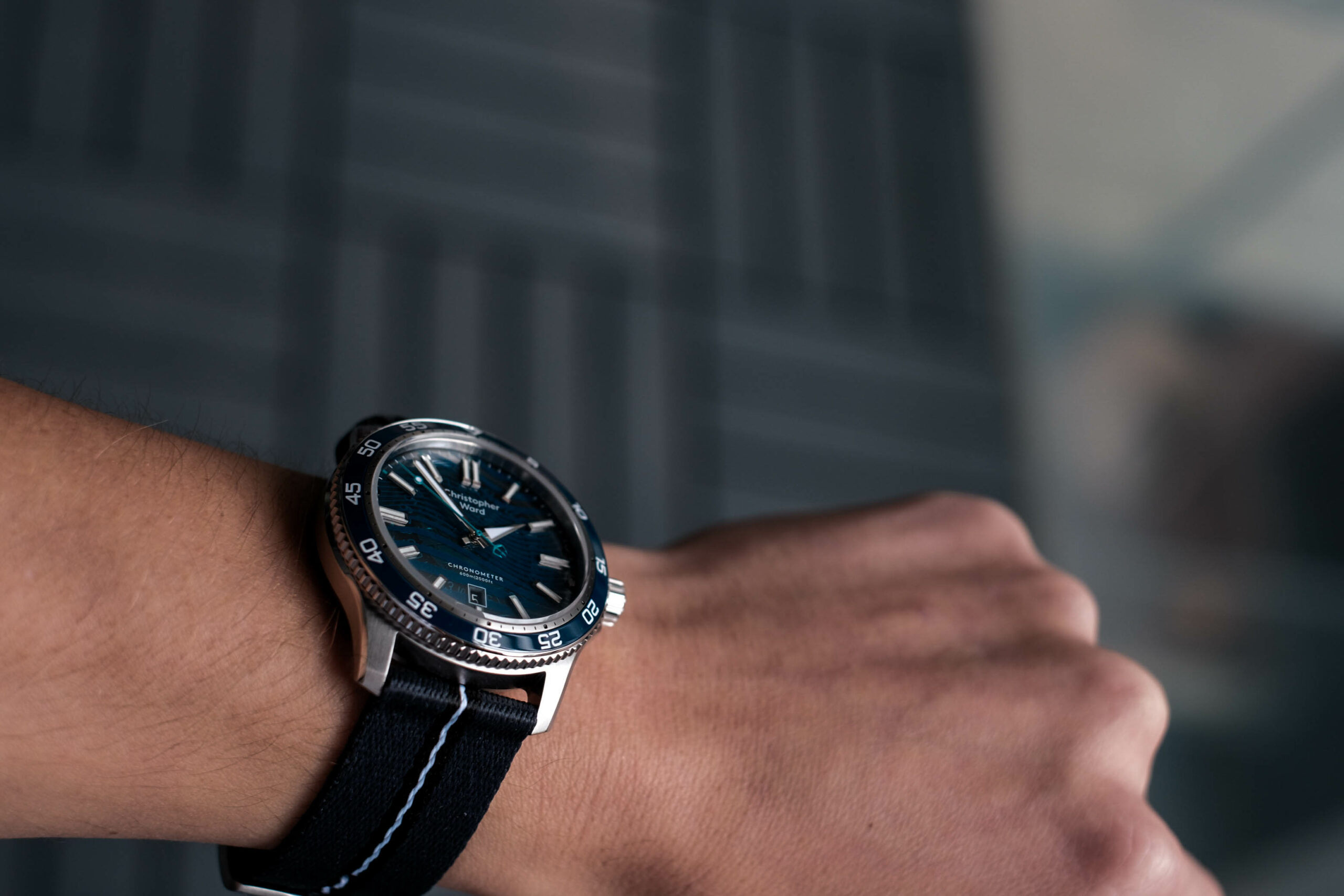 The hour hand is short and wide, with an arrow-shaped tip that occupies most of its length. The minute hand is long and rectangular, while the second hand is a lighter teal color. Both the hour and the minute hand have large lume stripes, while the second hand has a small lume dot near the end.
A Reliable Movement
The C60 #tide's movement is no slouch. It's a COSC-regulated Sellita SW200, and it's accurate to -4/+6 seconds a day. That's more accurate than most automatics, which means you won't have to reset it quite as often. The 38-hour power reserve is nothing to brag about, but it's long enough for most people's purposes. If you end up taking the watch off for a few days, it's easy enough to wind and set.
An Eco-Friendly Strap
Normally, I wouldn't be too excited about a synthetic strap, but this one is special. It's made from #tide's recycled ocean plastic, and it's surprisingly good looking. Instead of a solid color, it's mostly teal, with a black band in the center, and a white pinstripe in the middle of that. The inside is decorated with a #tide imprint, a welcome aesthetic touch. That said, you might prefer a steel strap for its feel, or for the more staid, professional look. In that case, the C60 #tide is also available with a standard tri-link bracelet.
To have a look at all the Christopher Ward offerings, visit their official website here.