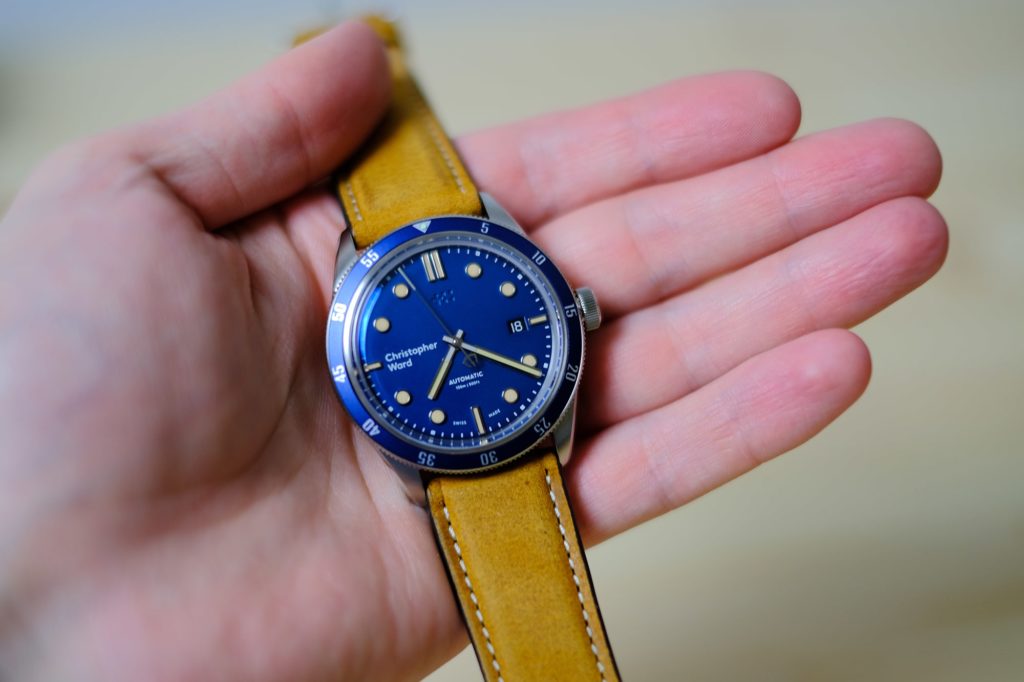 Back in 2004, Christopher Ward London released the C65 Trident Diver. This watch had a rugged, tough appearance, with a high-visibility dial and a sloped unidirectional bezel. The Trident Diver quickly became one of Christopher Ward's most popular offerings, and it remains one of their top sellers to this day. Recently, they've released the C65 Trident Automatic, which upgrades the original Trident Diver with a self-winding Swiss movement. Christopher Ward has also made a few cosmetic changes. I've had the opportunity to review one of these watches, and now I'll share with you what I've learned.
Sellita SW200 Movement
As with most quality watches, the Christopher Ward C65 starts with a well-engineered movement.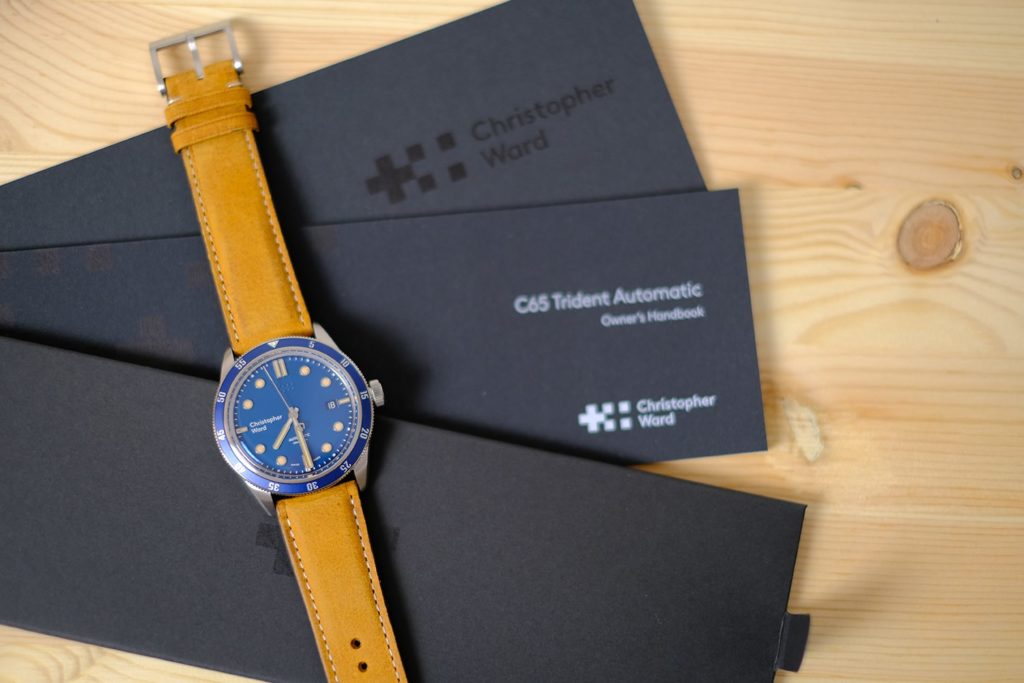 The Sellita SW200 is a Swiss-made movement that's based on the ETA 2824. In fact, the specifications are more or less identical, with the exception of a special Christopher Ward "Colimacone" twin flags finish. Since the Trident Automatic doesn't have a display case, this is more or less a moot point. That said, I'm always a fan of bespoke movements, since it shows that the manufacturer is looking beyond your typical ETA offerings.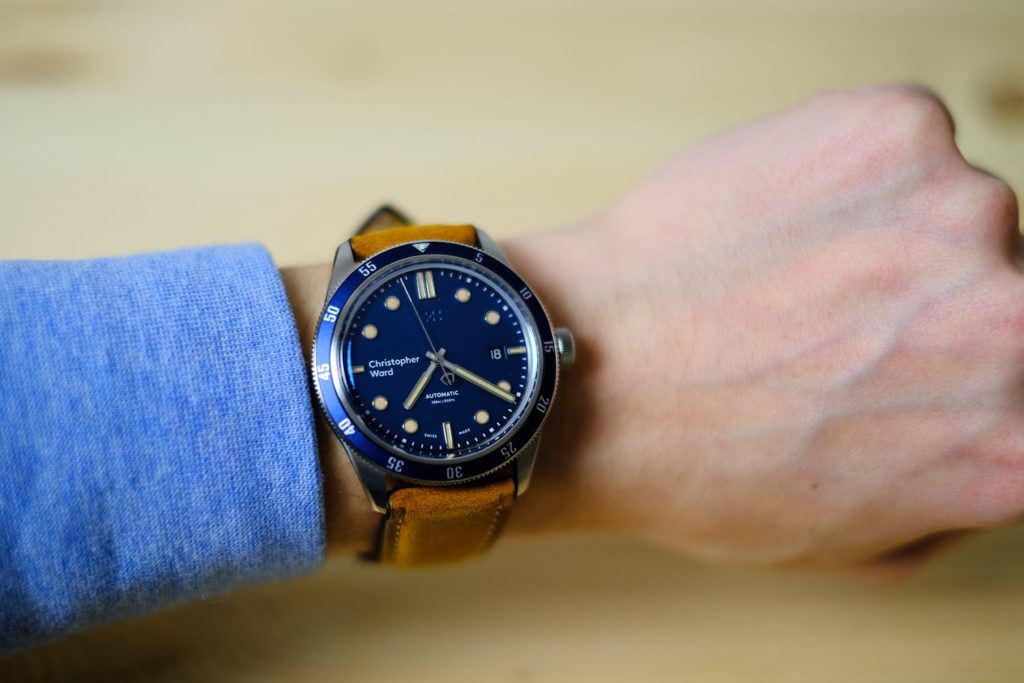 The Sellita SW200 beats at a brisk 28,800 beats per hour, or 4 beats per second. This means the second hand sweeps smoothly across the dial, without any stuttering. It contains 26 jewels, and is self-winding. This is the most important difference between the Trident Automatic and the Trident Diver, which requires regular hand winding. The 38-hour power reserve isn't particularly impressive. However, it's sufficient to set the watch aside on Friday evening and not pick it back up until Sunday morning. The timing tolerance is about -20/+20 seconds per day. Again, not terribly impressive, but good enough for a midrange automatic.
Deep Blue Dial
The Trident Automatic's dial is a gorgeous royal blue, with the words "Christopher Ward" printed in small white text on the left side. While the basic font of the logo can be controversial at times, I personally like it and feel it fits the brands image just fine.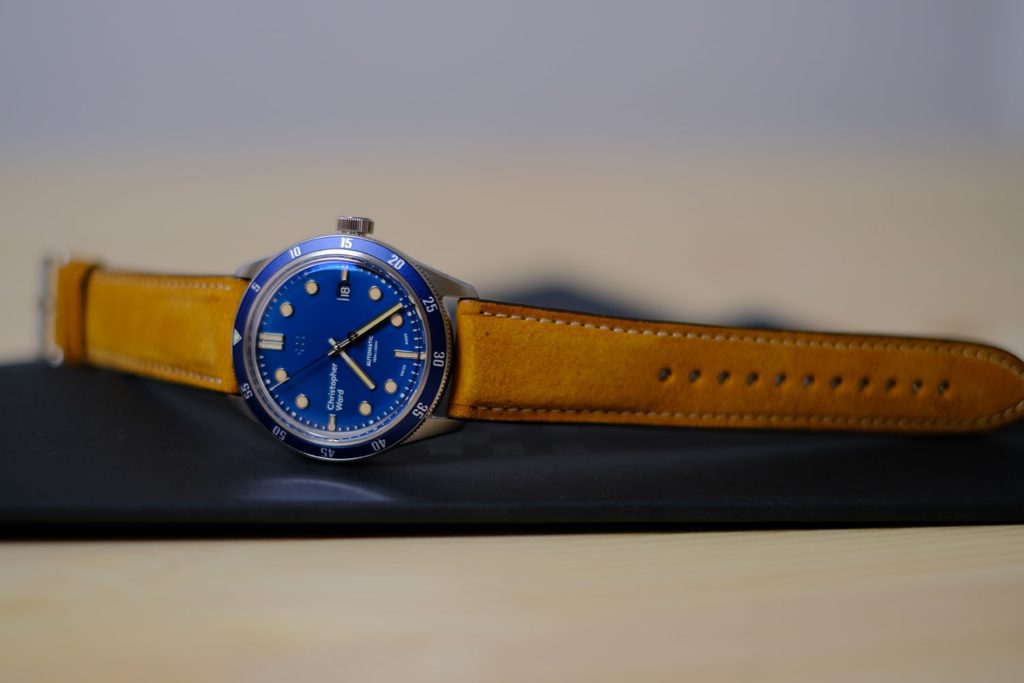 At the bottom position, you'll see the word "Automatic", pointing out the Trident Automatic's best feature. The dial's matte finish provides easy visibility under a variety of circumstances, with a small date window that features easy to read white numerals.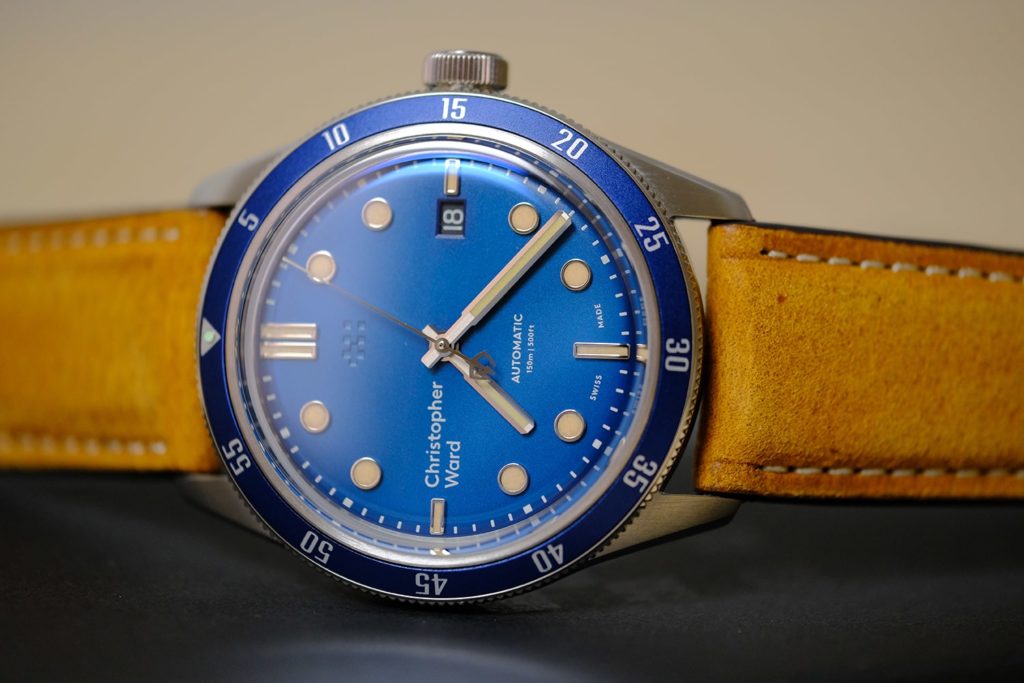 The hands and 5-minute markings are printed with a vintage style beige lume paint that's more understated than most markings. At the single minute markings, you'll find tiny, discrete hashes that are painted in white. The 5-minute markings are large circles, with long, fat hashes at the 3, 6 and 9 o'clock positions. The 12 o'clock position is marked by a double hash, which adds an attractive accent.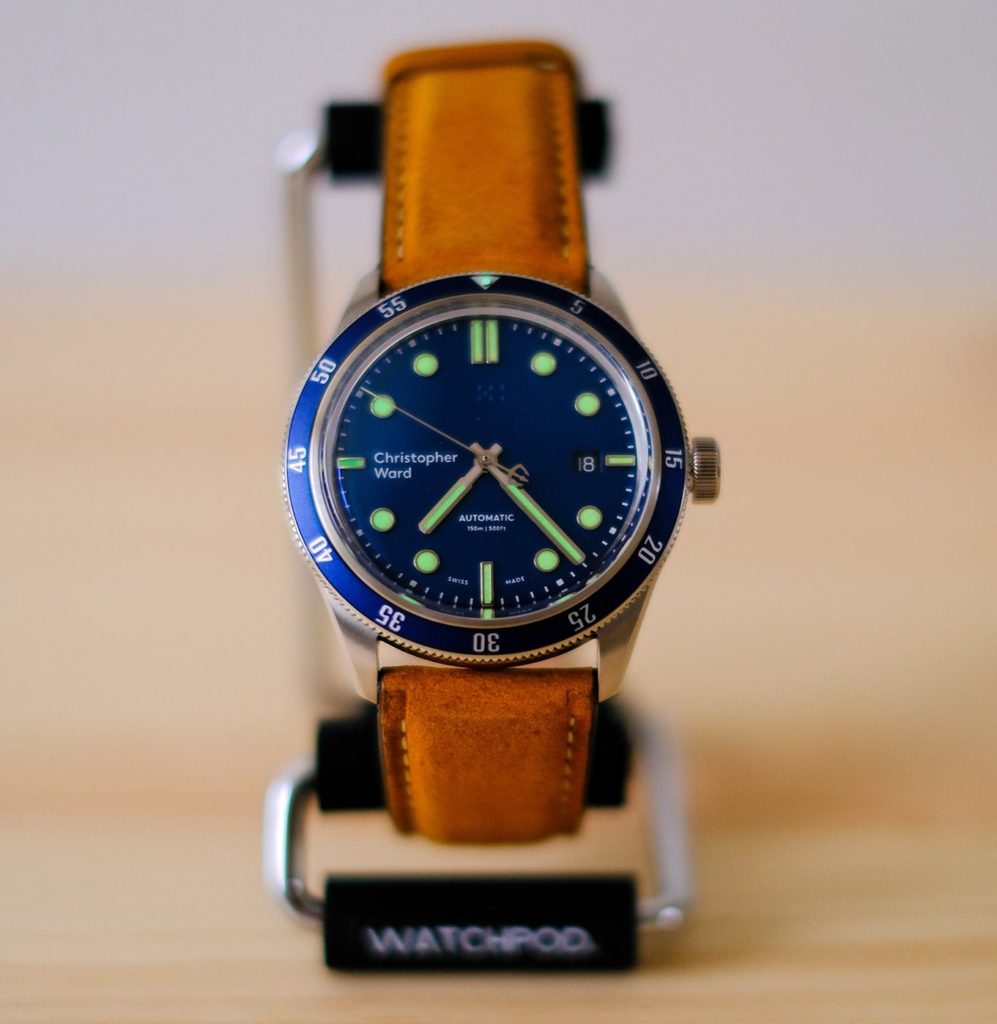 There's also a unidirectional aluminum bezel, which is colored a dark royal blue to match the dial. It features white lume numerals at the 5-minute marks, with a triangular marking at the 12 o'clock position.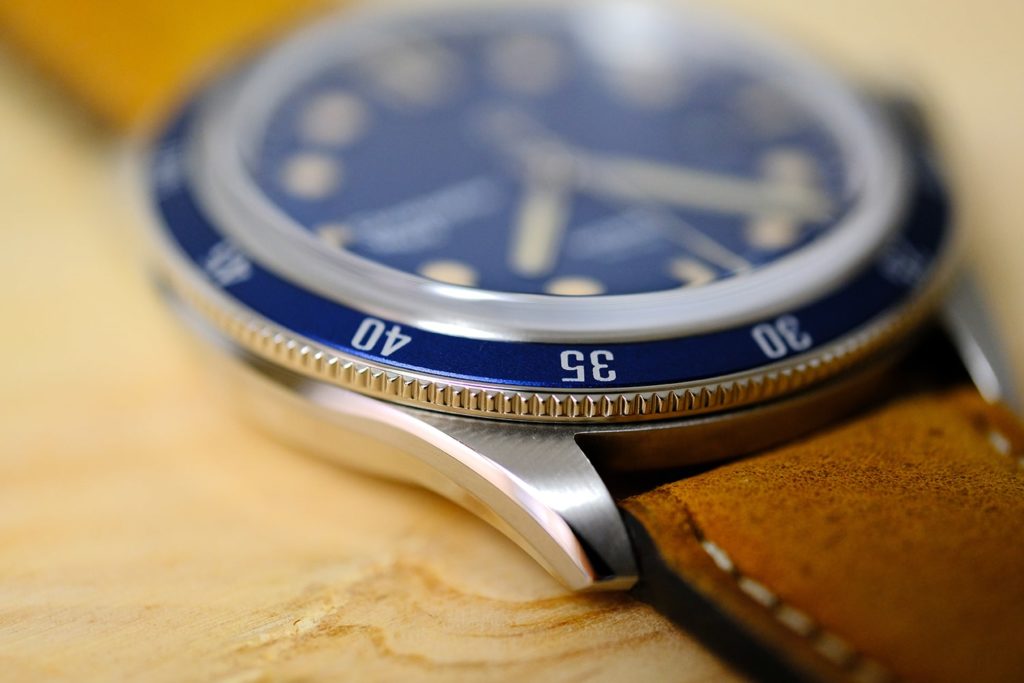 It's also ribbed (coin edged) on the outside, which makes it easy to turn. Along the inside, there's a polished aluminum ring that provides an attractive accent. Christopher Ward doesn't state how many positions the bezel has, but it stays securely in place, without any noticeable wiggle.
Slim Case & Crystal
The case is constructed from marine-grade stainless steel. In this context, "marine-grade" means that it's rated for exposure to saltwater.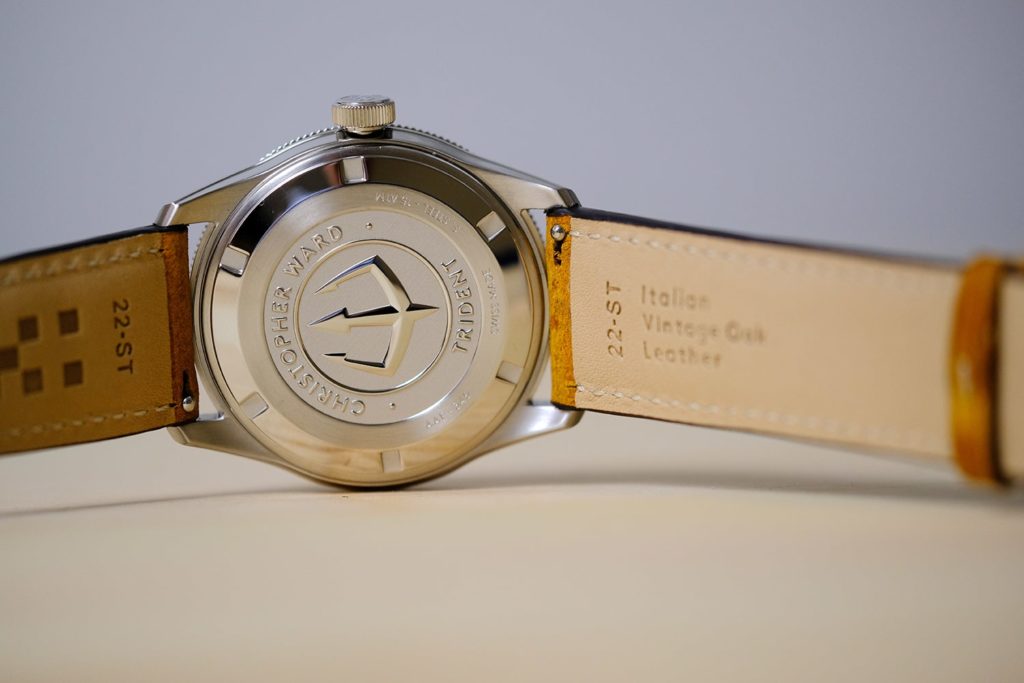 It's not going to rust easily under any circumstances, although you should obviously wash it off after saltwater exposure just to be safe. The top and back of the case are polished to a bright finish, but the chamfer is brushed. This brushed finish further draws your eyes to the bezel and case top. The diameter is 41mm, with a lug to lug distance of 47.1mm. This lends it a medium wrist presence, although it's noticeably longer than it is wide.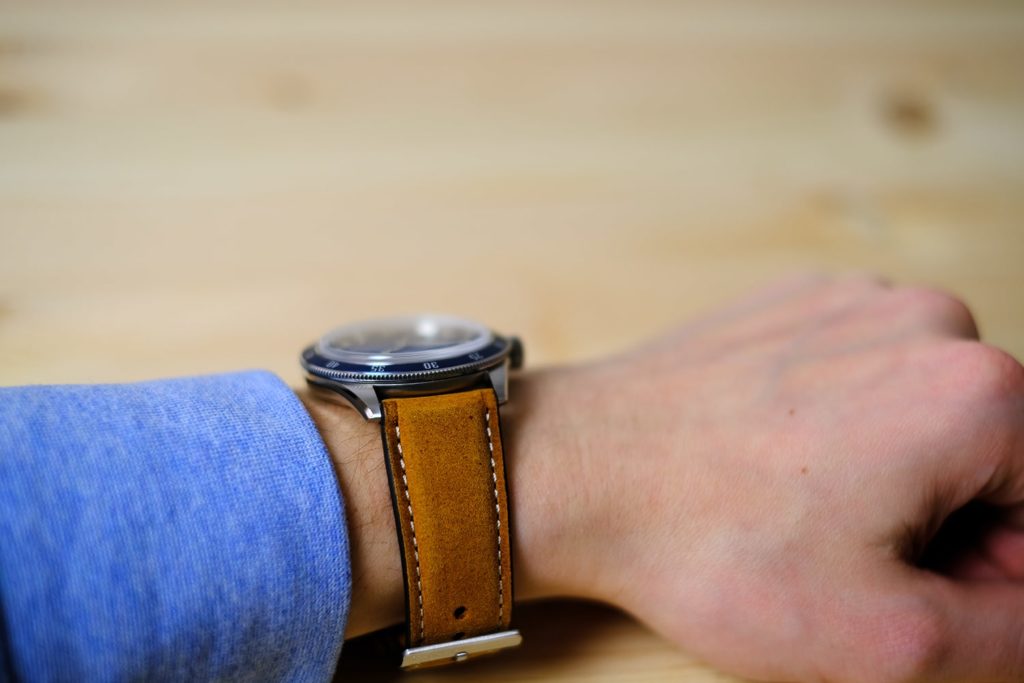 At 11.55mm, the case is actually fairly slim. This thickness includes a raised sapphire crystal, so the watch actually looks and feels even thinner than it is. On the screw-down case back, you'll find a Christopher Ward trident motif, along with the words "Christopher Ward". Down the side, you'll see a unique serial number, which lets you know that your watch is truly genuine.
The wide crown is stamped with a Christopher Ward twin flag logo, which adds a bit of flair. It's a push-in crown, not a screw-down, so the Trident Automatic isn't suitable for diving. That says, it's water-resistant to 150 meters. This makes it just fine for swimming, whether in fresh water or saltwater.
The Extras
The strap on the C65 Trident Automatic comes with a vintage oak leather strap, with a gorgeous camel-colored appearance. It features a dress clasp with an attractive Christopher Ward engraving, along with quick-release pins that make it easy to release.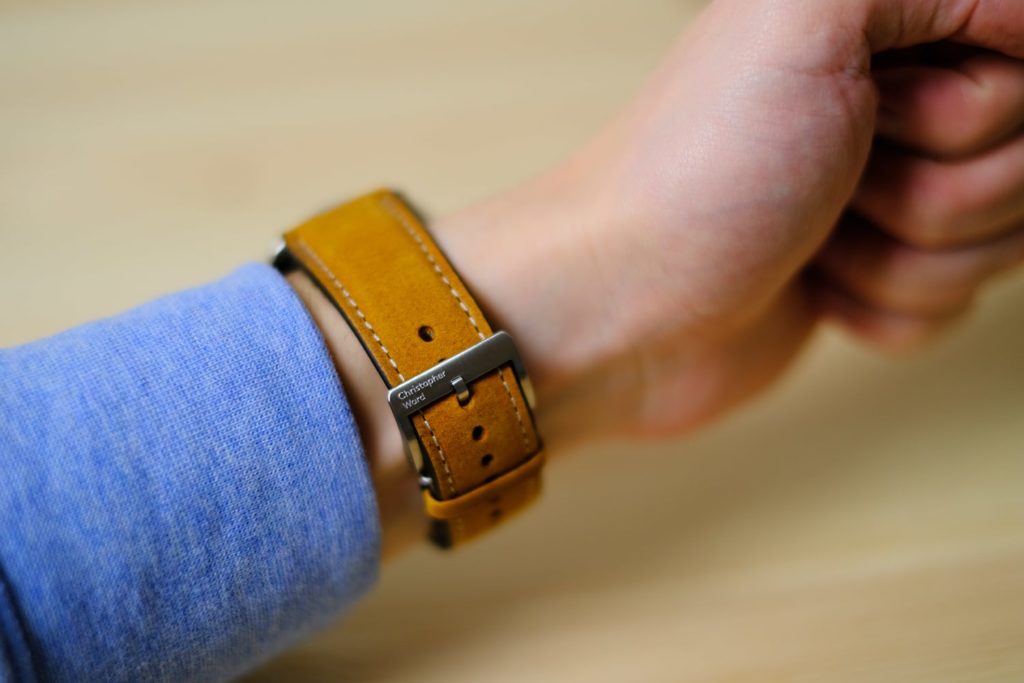 There's decorative stitching down the sides, which also provides some measure of reinforcement. The Trident Automatic comes in an attractive presentation box, with an ash wood lid that features an embossed Christopher Ward logo.