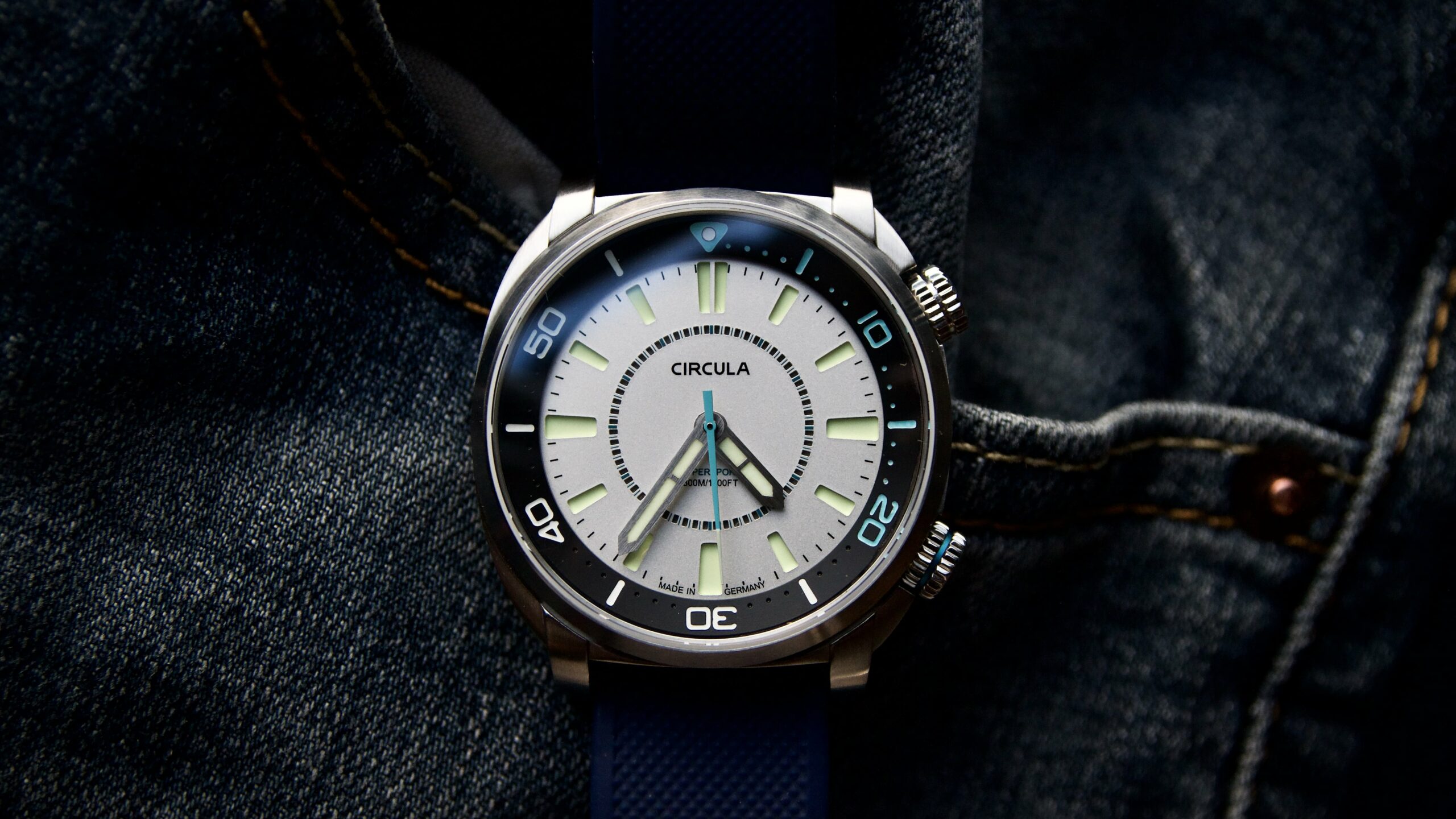 These days it often feels like I'm seeing the same 10 to 20 watches again and again. I don't even have to name them, these usual suspects have probably etched themselves to you inner eyelids you see them each night as you lay down to sleep. While these watches get all the press time and are more often than not are rightly heralded, sometimes you just want a fresh take, something different; and I think that's what Circula has done with their SuperSport.
Design and Build Construction
Unfamiliar with Circula until I got an email with an offer to review one of their watches, I tried to keep the experience as undefiled as possible keeping myself willfully in the dark until the package finally arrived. My immediate impression was that there was more weight to the package than the size might suggest. This was partially due to the small but sturdy Circula Box that it arrived in, but when I had the SuperSport out of its box and squarely in hand, things began to make more sense.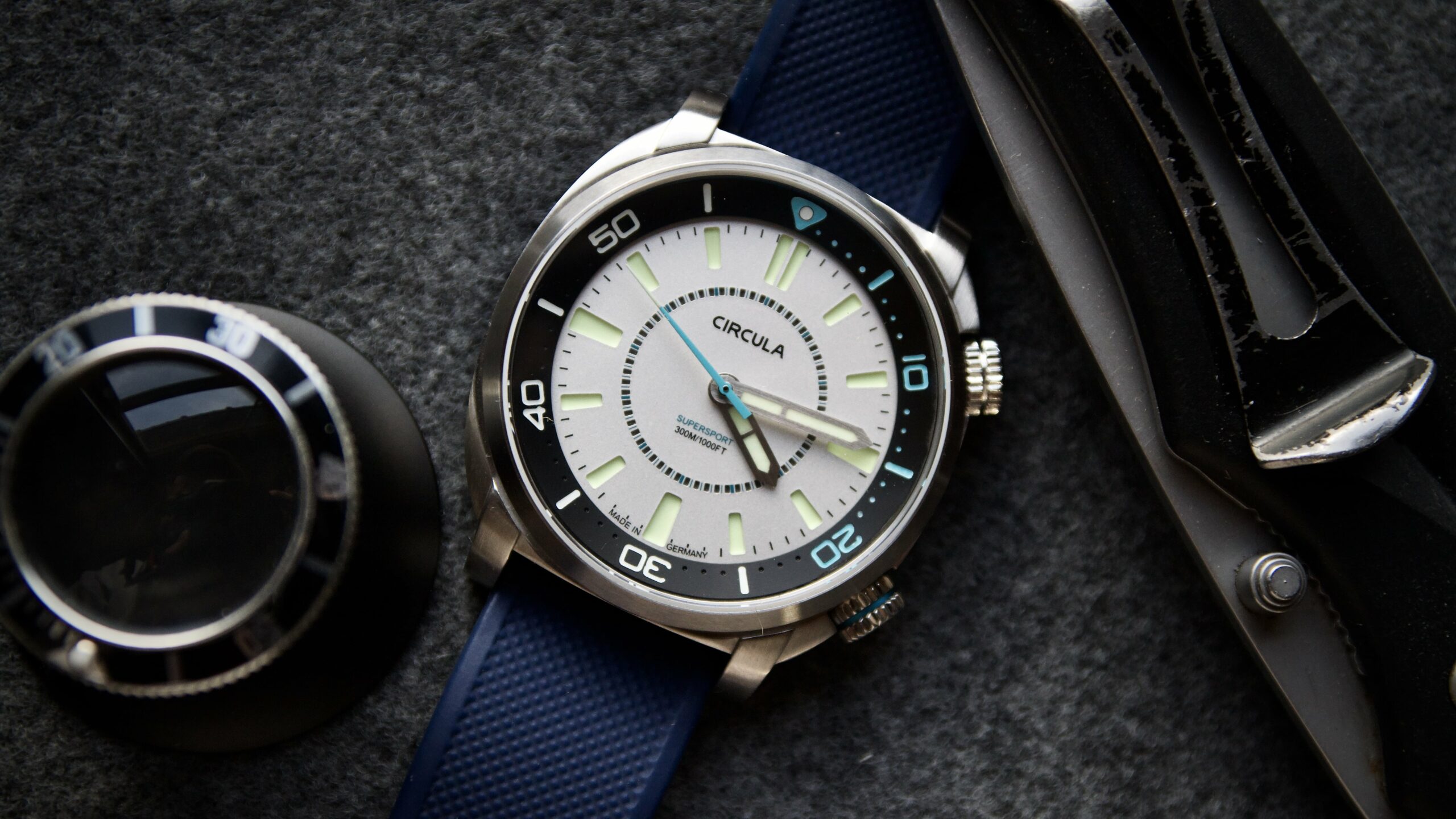 While not offensively heavy, the weight of the watch on bracelet was enough to make me take note immediately. While the design itself is no giveaway to its country of origin the build quality most certainly was. It seems from cars to watches the Germans like to go the extra mile. I've heard some call it "over engineering." I'm sure you have some opinion of your own, so we'll leave it at that. Aside from the sense that this super compressor was very well made, I didn't have a "hot take," other than it felt foreign. Not pejoratively so, simply unfamiliar enough that I needed to set it aside, up on the mantel shelf and keep coming back to it.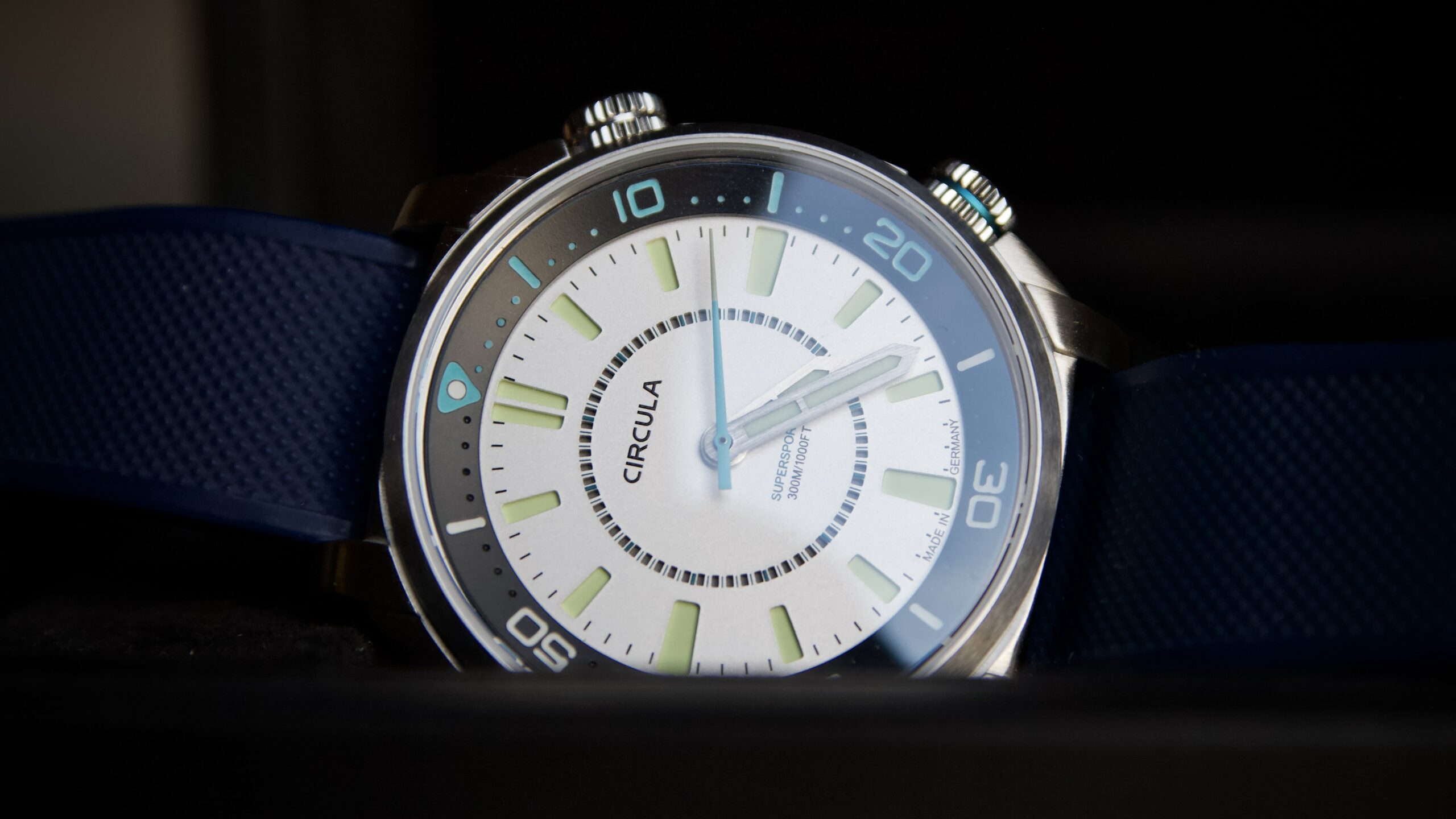 As it sat in its open box I started to notice that the morning light would catch the crystal in a pleasant way. There was a certain calm and inviting quality about it, as if you feel the need to experience the watch rather than simply tell time with it. Upon close inspection you'll find an ever so slightly domed sapphire crystal that is not only tastefully subtle, but manages to play with the light without ever diminishing legibility. While the "sandwich dial" might not be everyone's cup of tea, at very least I believe the dial details and color ways add an element of welcomed nuance. While I find the inner sub second tracking marks both pleasing and practical, the hour markers while highly legible feel slightly less refined than I'd personally hope for. With that said the Super-Luminova C3 X1 on the internal rotating bezel, the fixed hour markers and the highly visible sword hands will surely illuminate even the weakest eyes.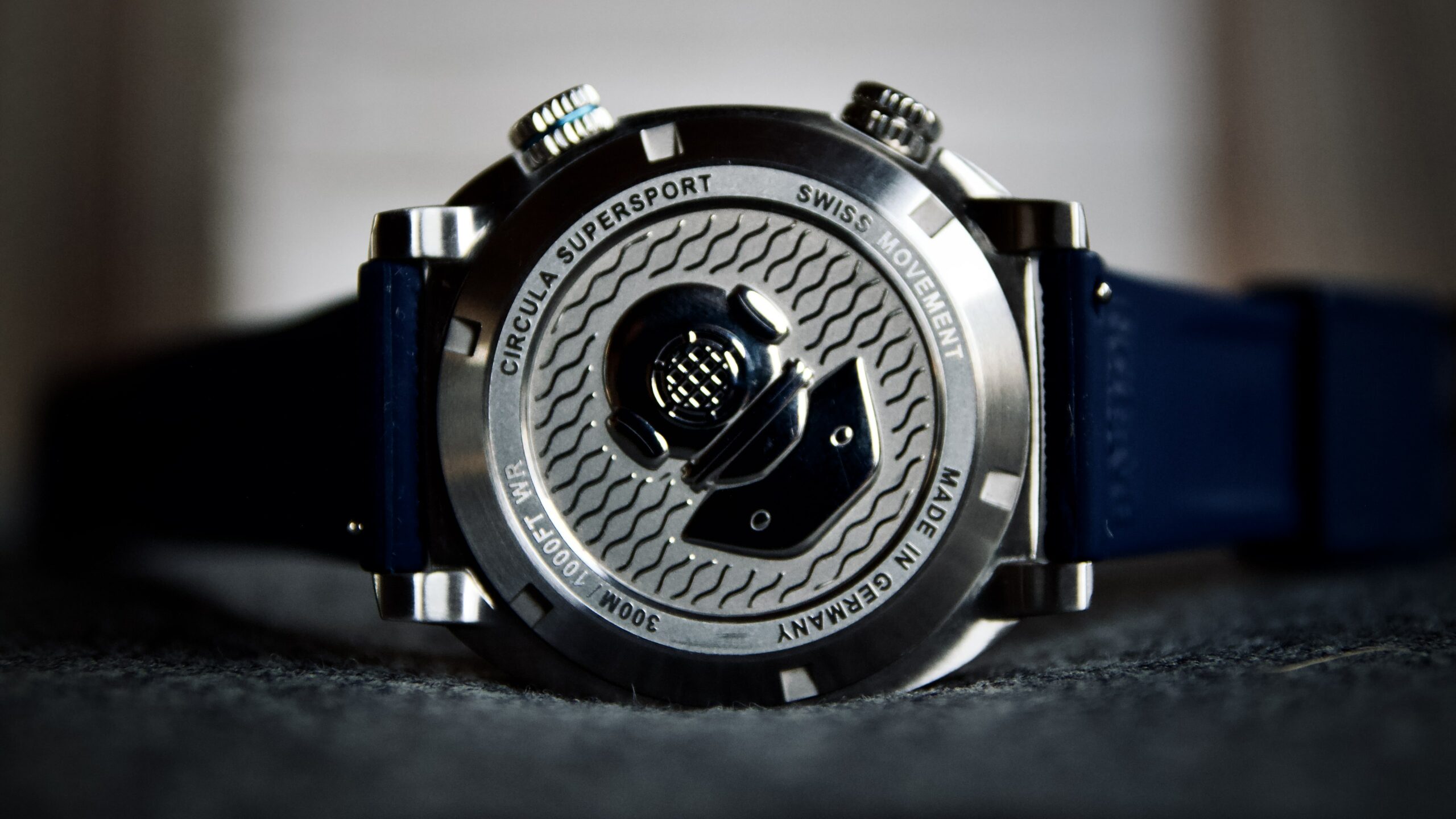 The case I find fascinating. At first glance it seems oversized, and bulky; yet, those concerns quickly fade when on wrist. The design vaguely reminds me of an ancient hieroglyph a scarab beetle that somehow lands neatly between an art deco and brutalist design approach. One further praise of the bracelet is that Circula has done an impeccable job with their quick release end link. The end link manages to seamlessly nest between the lugs yet does so with no perceivable resistance. This small engineering feet has me impressed, making last minute bracelet swaps a breeze. Circula didn't stop there either, if ease of use is something you value, you'll definitely appreciate the screw in H-link pins and, milled clasp with 6 spaces for micro-adjustment. The aforementioned bracelet does stands out in comfort and quality, though I find it an altogether more pleasant experience on strap; if for no other reason than it visually refines the watch in my opinion.
Functions and Final Thoughts
While I find the design and engineering to be both innovative and nuanced, Circula has kept it classic with this super compressor's dual crown set up and scuba helmet adorned case back, indicating that it is in fact a super compressor. The 4 o'clock crown which controls the Sellita SW 200-1 movement operates smoothly, though I'm slightly less impressed with its northern counterpart. The internal bezel action is far from sloppy, it performs adequately in fact, but comparatively feels like the weak link in the package. While the dual crowns may get a passing grade as a set, I'd like to see them both a little larger for ease of function and for that bezel action to be a little further refined.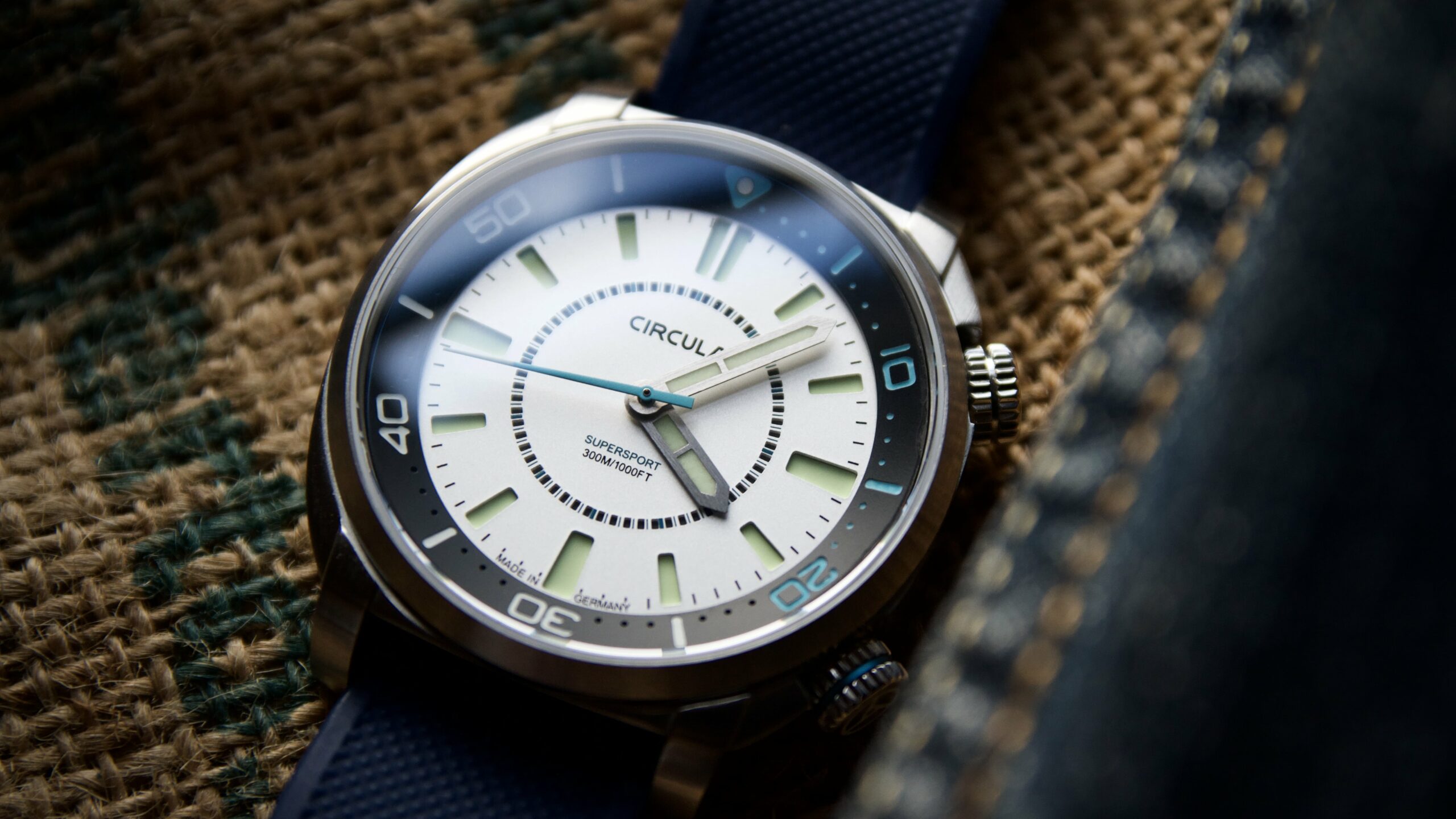 Circula's SuperSport is a reimagined but well made super compressor from a small family owned watch company out of Germany. With its 300 meters of water resistance, design nuance and that legendary German build quality there's a lot to like with this new offering from Circula. With that said, this time piece is a good ways outside the main stream; so if you want a well built but quirky German watch from a family owned company that no one you know has likely heard of, this is probably the watch for you. Or, maybe it isn't, but you'll never know until you try it. I think I'd go with the green dial, or is it blue?
Quick Facts:
Brand: Circula 1955 (German, Family Owned)
Movement: Sellita SW 200-1 (ETA 2824-2 equivalent) with Hacking & Hand-winding
Power Reserve: 38hours
Case: Diameter 40mm, Lug to Lug 46.5mm, Height 12.8mm *316 Stainless Steel
Lug Size: 20mm, *Circula Bracelet and Tropic Strap Available to Purchase
Bracelet & Clasp: Solid Quick Release End Links, H-Links with Screw Pins, Milled Safety Clasp, with 6 Micro Adjustments
Crystal: Scratch Resistant Sapphire with Internal Anti Reflective Coating
Crown: Movement Crown Screws Down, Bezel Crown Unidirectional
Dial & Hands: Sandwich Dial, Brushed and Lumed Hands (Super-Luminova)
Water Resistance: 30ATM
MSRP: *On Tropic Strap = 587 Euro, (Approx. 650 USD) *With Bracelet +100 USD
Warranty: 2 Years
For more information and to view the entire Circula line of watches visit their official website here.