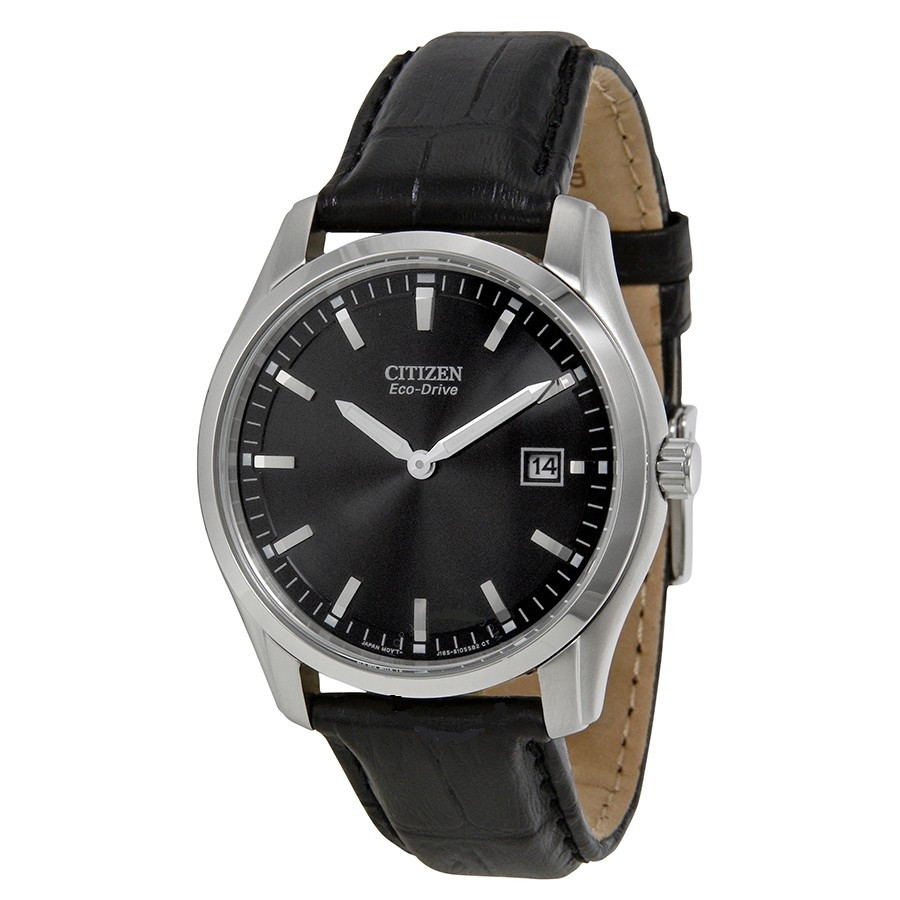 Citizen watchmakers have excelled in their production of Eco-Drive dress watches over the years with their wide appeal targeting those who aren't keen on splashing massive amounts of money for a quality watch. Indeed, when it comes to dress watches, true aficionados will always have a penchant for automatic movements, yet the Eco-Driven Corso, as the brand calls their AU1040-08E model, means business, too. And if you manage to bag one under a $100 during the Spring sale, you've got yourself a classy and clean-looking dress watch that will serve you a long time. Talk about a bargain.
> > > Click here to see ratings, reviews, specifications and prices on Amazon < < <
The Design
The piece features all hallmarks of a budget dress watch; the mock leather strap in black, the stainless-steel case guarding a black sunray dial, and a clean, shiny face. That is not to say, however, that the watch has a cheap look or feel to it. It's an elegant piece of watchmaking from both up-close and the distance.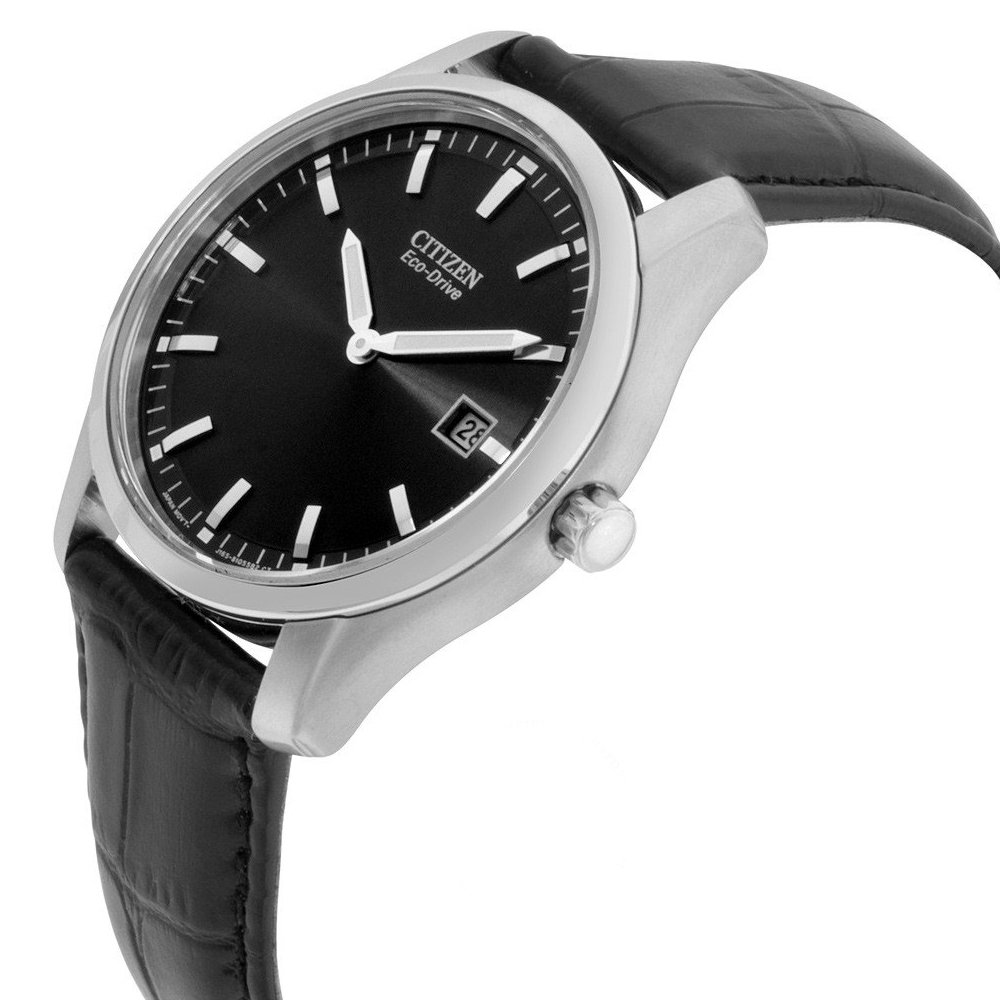 > > > Click here to see ratings, reviews, specifications and prices on Amazon < < <
The two-color scheme makes the dial understated and very stylish. On the face itself, the first thing that will pop into your eye is the absence of a second hand. Personally, I don't find this necessary at all in a dress watch, if anything, it gives the watch its only unique trait. The sword minute and hour hands provide sufficient lume and great legibility. Together with the hour markers around the face, they sparkle with a polished surface, giving the watch a much more expensive vibe.
Other elements on the AU1040-08E face include a minute index next to the bezel, the day window at three o'clock and a Citizen Eco-Drive print above the center. That literally wraps it up. The date window itself might be a little small, which I assume was designed in effort to produce a more minimalistic effect. Nevertheless, you will need good eyesight to see it at a glance.
AU1040-08E Mineral Crystal
The case is glassed in mineral crystal and although I'd love to see sapphire AR coated crystal, it simply a mission impossible considering the budget retail price. Other than that, I've no real complaints in terms of the case design. It is made of stainless steel, featuring a well-built, thin design which makes it a perfect choice for anyone looking to rock this watch with a suit or formal attire on a daily basis.
Faux Leather Strap
The strap is what gives the watch its sophisticated look by matching the dial very well. What I don't like about faux leather straps, though, is their stiffness. The mock croc pattern looks lovely but in terms of the comfort, the strap doesn't come close to the genuine leather models.
This seems to be quite a normative with the stock bands from lower-end watches. It's not all gloom and doom, though, as mock leather straps with a standard tang buckle tend to fare better with time.
Solar-Powered Movement
At the heart of the Corso is a J165 caliber from the brand's revered solar-powered line of movements. What made Eco-Drive watches so popular is their ability to run for years without the need of changing the battery. As you probably already know, the movements from this line are powered by energy harvested from natural and acritical light sources. The technology has won Citizen acclaim in Japan and other countries for its contribution to environmental protection.
I think that it's great that at a small portion of a price, you can get precision and reliability close to the pieces that carry a much heftier price tag. Of course, Quartz will never have the charm of automatic watches, but it won't break your wallet, either. For anyone in the market for an affordable, reliable dress watch which needs minimum maintenance, Citizen Corso won't disappoint.
Final Thoughts
Simply put, the Citizen AU1040-08E is a really nice watch for the money. It will provide you with a basic but reliable functionality cased in a stylish design. Due to its Japanese Quartz movement, the watch is incredibly thin, light, and most importantly – precise. In fact, if it wasn't for the rigid mock leather strap, you would probably forget you're wearing it. The movement is so convenient and accurate that some people may actually prefer Corso to the competing automatic dress watches. The lack of the second hand might drive others back, but in my opinion it adds to the design as this is not something we see very often.
To sum up, if you're looking for a clean, well-built dress watch that will keep time accurately and with no need of frequent upkeep, the Corso will do the job – without breaking the bank.
> > > Click here to see ratings, reviews, specifications and prices on Amazon < < <