Ever since their introduction, the Eco-Drive watches have done extremely well. In 2012 alone, Citizen had more than 320 models of the solar-powered pieces on offer. It is their eco-friendly nature and low maintenance needs that separate them from other watches out there and the Citizen BU2055-08X is no exception. This khaki, red-accented beau has won the hearts of many by combining casual style with excellent outdoor performance. Let's have a more detailed look at the Khaki Chandler.
> > > Click here to see ratings, reviews, specifications and prices on Amazon < < <
The Solid Case
The watch really has an adventurous look. Almost as if its design is calling to you to bring it on your next hike or a camping trip. The incredible legibility of the hands makes it a great watch for activities where you just want to have a glance to know the time, such as mountain biking or climbing.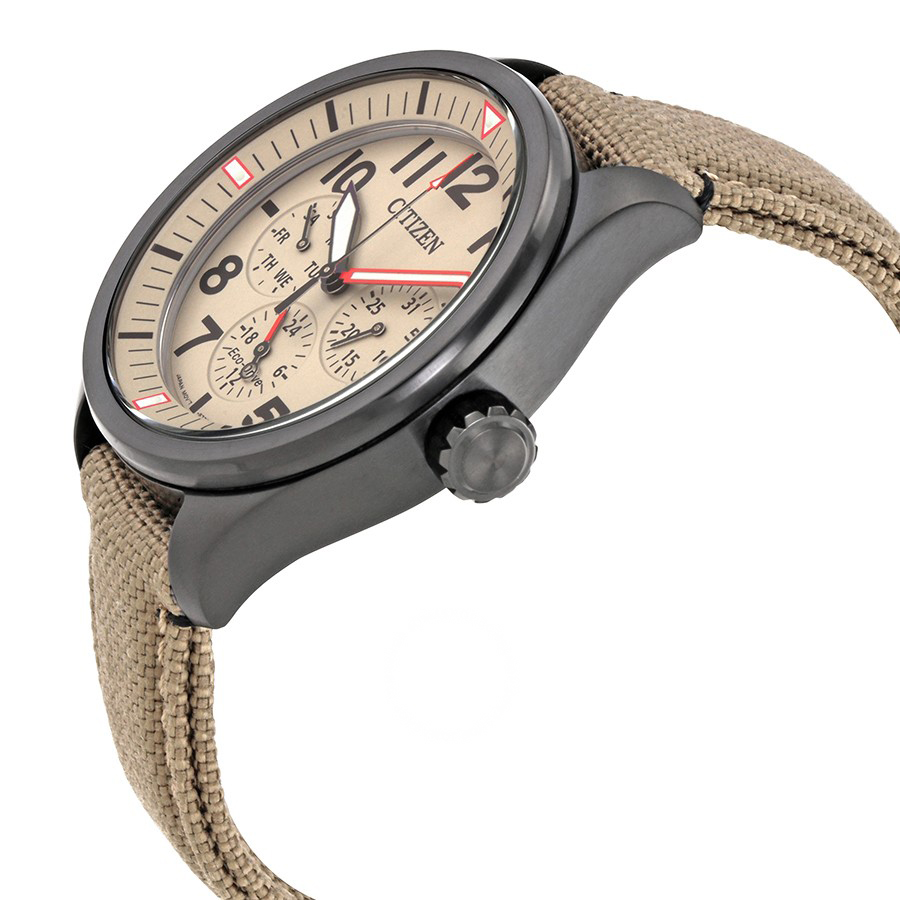 The case on the BU2055-08X is nicely finished in gunmetal grey, although it is more of a jet black in person, with a lovely brushed feeling to it. It's water-resistant to 100 meters, which make it suitable for snorkeling and swimming, but not for diving. The back of the case is fairly simple, with silver metal plating carrying references to the model number, water resistant feature, movement type, and the Eco-Drive logo in the center.
The Khaki Dial
Many people have pointed out the face of the watch makes it look like a chronograph. Though at the price point, I don't see how someone could actually believe it. It features three subdials in a simple, symmetric layout and comes finished in a rustic, khaki color. The functions include the basics with an analog day and date, and 12/24-hour time.
> > > Click here to see ratings, reviews, specifications and prices on Amazon < < <
It is far from your usual 'office trousers khaki' boring, though, as it combines overtones of orange and bright white found on the hands and markers. I should note, however, the lume isn't its strongest aspect as it will only last for about an hour after intense exposure to light. The design of the dial, still, makes it a great casual wearer and a sporty companion. The reason for that are its legible, oversized Arabic numerals, chunky, sword-shaped hands, and modest subdials that make it an attractive wanna-be chronometer.
The Cordura Strap
As with many military-styled fabric models, the strap will need some breaking in. It would be wrong to say it is comfortable, at least out of the box, but it isn't painful to wear either. It certainly is extremely durable which means it will handle wear and tear well in extreme conditions. The Cordura fabric comes in olive green finishing and features a stitched pattern as well as an extra layer of material to support better resistance around the holes. It backs up Citizen's reputation of making highly durable straps.
Keep the dimensions in mind when buying the watch as it may not fit on larger wrists. If this is the case, maybe it's best to replace it altogether, especially if you have issues with the strap's rigidity. A NATO-styled strap will work like a charm.
BU2055-08X Eco-Drive Movement
Now, the movement on the BU2055-08X Khaki Chandler wouldn't be so interesting if it wasn't for its stellar (pun intended) properties. Without its 'Eco-Drive' label, the watch would be yet another Quartz-powered piece – not that there's anything wrong with Quartz movements in the first place. What's so great about the movement is the innovative use of solar power that has skyrocketed Citizen's success ever since the introduction of the technology in 1995.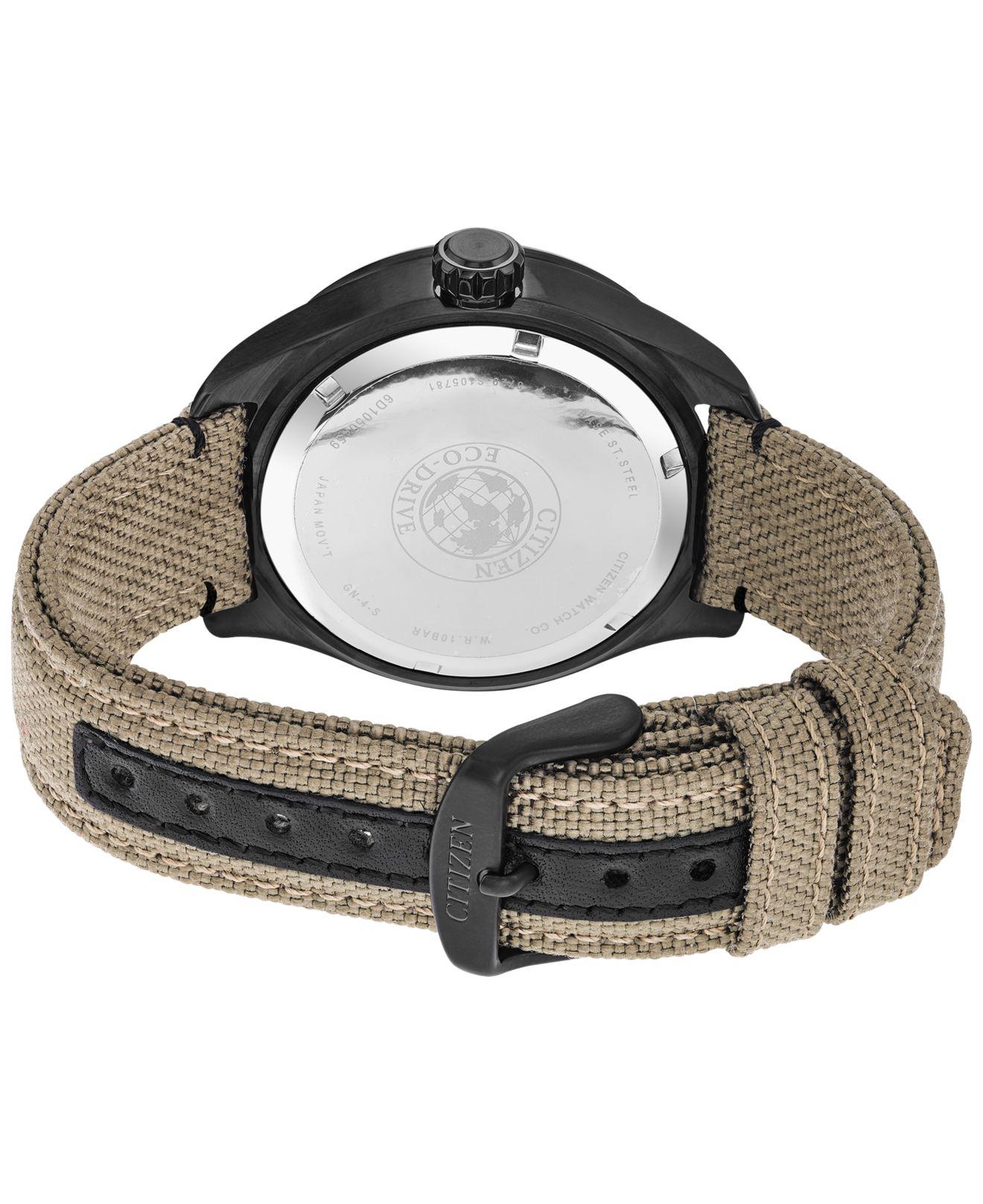 Quartz movements are mechanical movement's older brothers who struggle to get attention and love of their owners even though they provide incredible performance at a reasonable price. And while I appreciate mechanical movements just as much as the next guy, I am also thrilled to see Quartz growing in popularity with its modifications and new, cool technologies.
The 8279-movement offered by Khaki Chandler will serve you a long time on a single charge from any natural or artificial source of light. It's truly a simple, yet technically advanced affair. It will provide you with great accuracy of and a peace of mind knowing you don't need to worry about the battery. The upkeep requirements are minimal and the need to recharge batteries is almost inexistent. You will, however, want to keep this watch at least near to a window and not tucked away in a drawer for a long time, so that it can harvest some energy and keep ticking.
Final Thoughts
It may not come with the most comfortable strap on the market or feature the strongest lume, but the BU2055-08X Khaki Chandler has plenty to offer for what it's worth. Its attractive design and great sturdiness make it an excellent watch for your next outdoor activity. Also, the Eco-Drive movement will ensure you know precisely what time it is for years to come without changing the batteries. It's yet another high-quality timepiece from Citizen.
> > > Click here to see ratings, reviews, specifications and prices on Amazon < < <