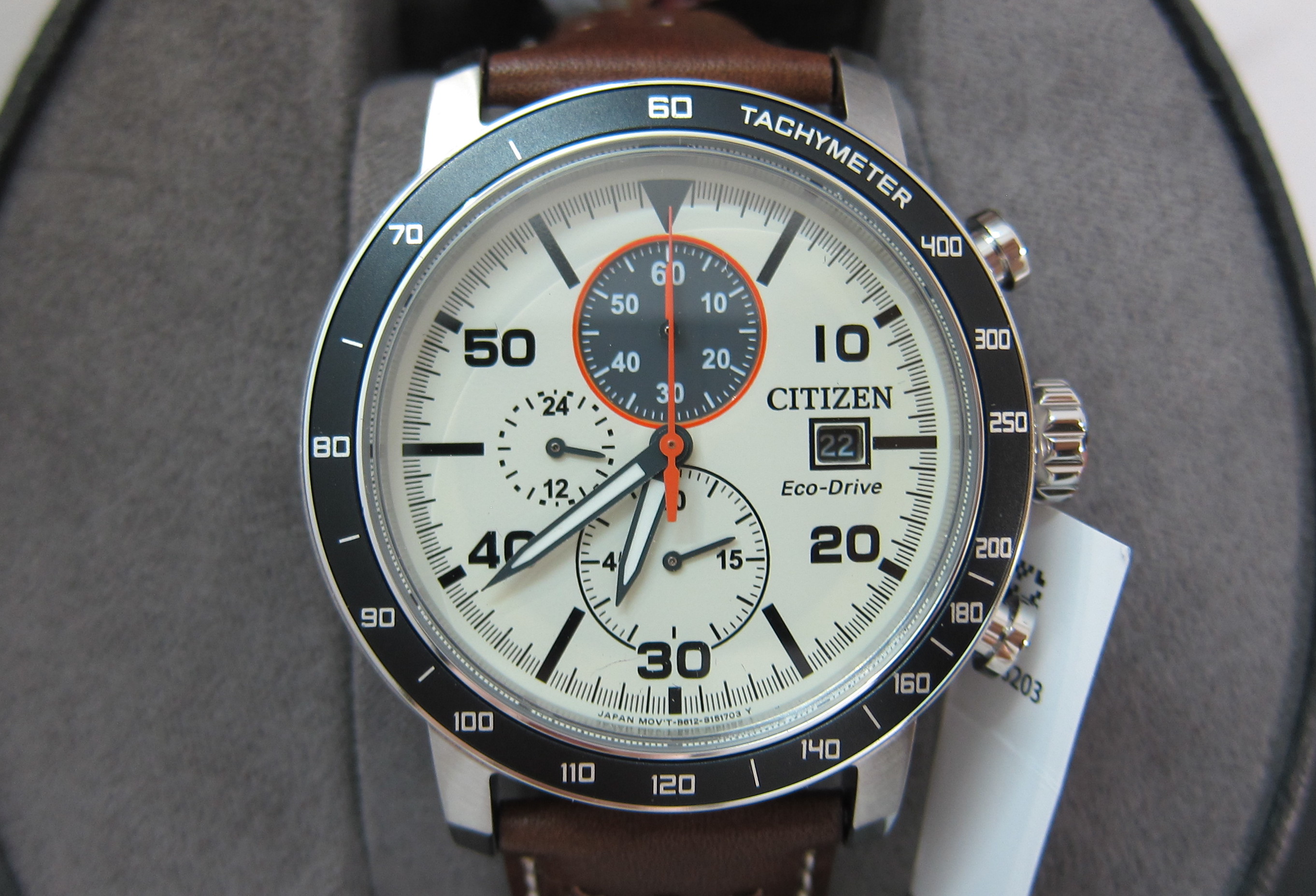 There are plenty of things to get excited about if you are eyeing the Citizen Brycen CA0649-06X for your next purchase. That is, of course, if you can look past the watch's downfalls which we will discuss in a moment. We are aware that tastes differ and won't list the Brycen's unusual design as a flaw; unless you suffer from Trypophobia, the fear of holes – which cover the calfskin leather strap thoroughly.
Brycen is powered by light, which is great, as it means you won't have to replace your batteries for as long as you keep them recharged under the sun or any source of light. The movement isn't its only perk, however, as the watch offers a distinguished style for those who feel comfortable wearing a stand-out piece on their wrist. Let's examine this piece.
> > > Click here to see ratings, reviews, specifications and prices on Amazon < < <
Retro Design
The design itself is sturdy and all elements are well-built and put together, making the watch quite attractive. The color combination gives it that cool retro vibe you wouldn't usually get from Citizen. It seems as if they went for the modern look on a sporty watch and it works just fine. Paired with a pair of jeans or khakis this watch will certainly compliment your style.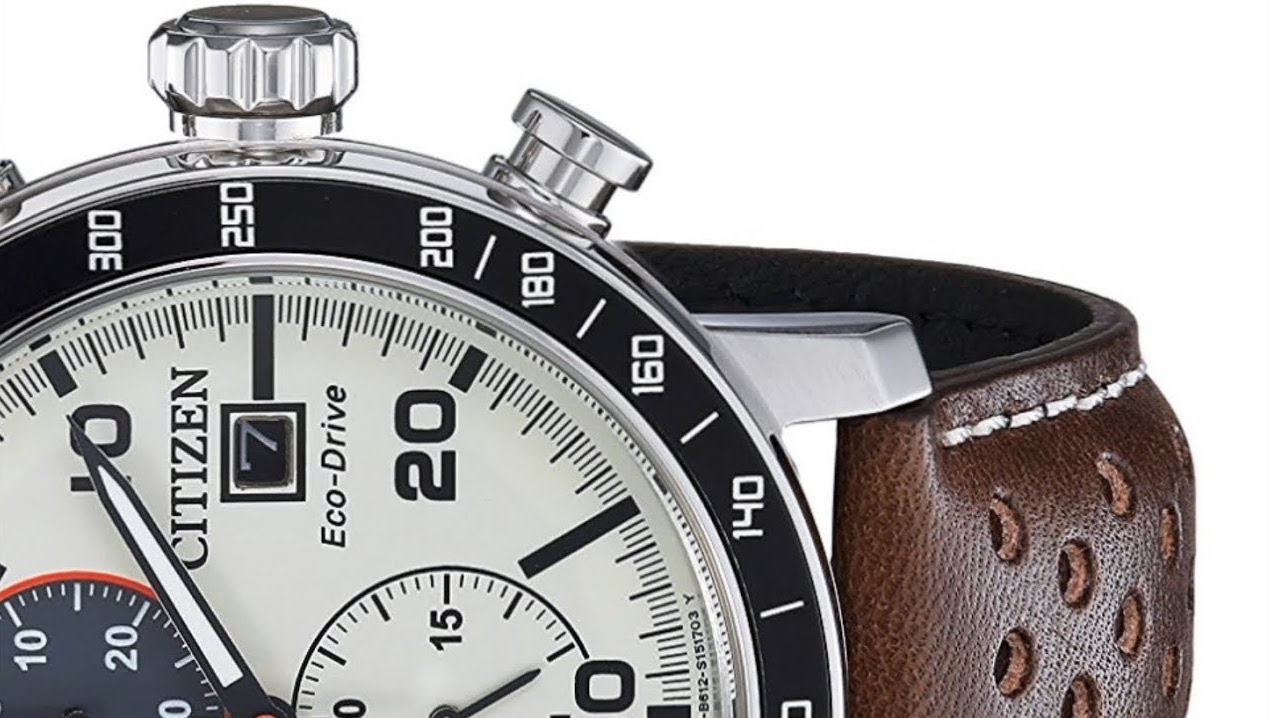 The color combination is certainly one you don't see very often, with this particular model featuring a brown leather strap alongside a black aluminium bezel and a dial of a color that's really hard to pin down. The official website states the face is finished in light brown but many resellers class it as white. It will depend on where you wear it, but to us the color seems to be almost an artichoke white. We will let you judge for yourself.
The CA0649-06X Dial
The first thing you will notice about the CA0649-06X dial is its size. Note that the 49mm is arguably oversized and will look large on a smaller wrist. Perhaps this is what Citizen wanted as they target the sporty, masculine audience. Admittedly, the size of the dial allows for more functions to be fitted and you will find 60 minutes, 12/24 hour time, and date subdials on this 1/5-second chronograph.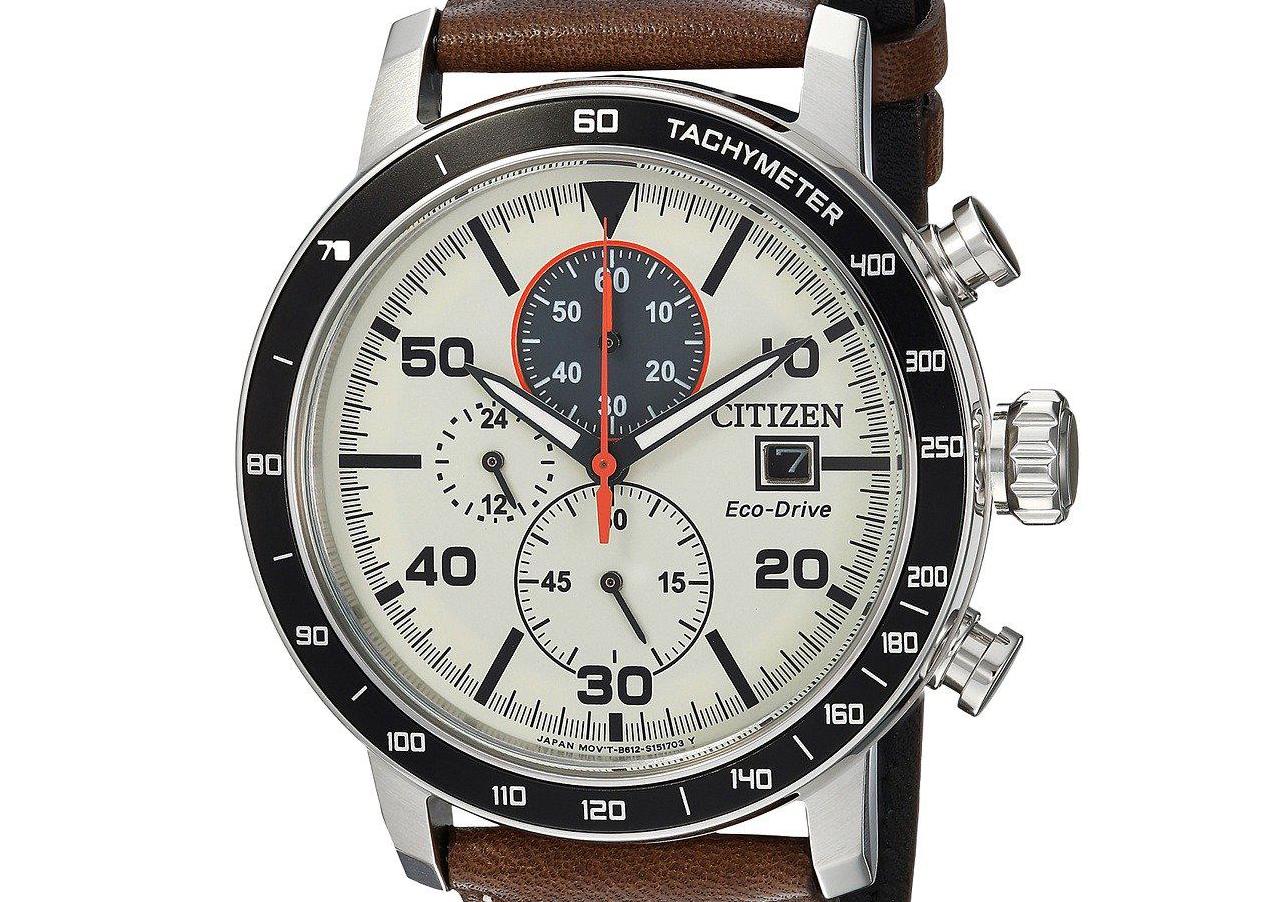 > > > Click here to see ratings, reviews, specifications and prices on Amazon < < <
All functions of the Citizen's hallmark B612 caliber are well color-themed and feature standard circular design and positioning. Nothing too fancy in terms of patterns and color combinations, apart from perhaps the bright orange finishing of the second hand and the 60 minutes complication. Honestly, we don't know how much of a color pair brown and orange make, but again, we'll leave the judging to you.
A Strap That's a Pain
Possibly the biggest let-down is the strap. While it delivers a very unique look, the comfort just isn't there. Main culprit is the buckle. The base of its structure can dig into your skin and this gets uncomfortable with the time.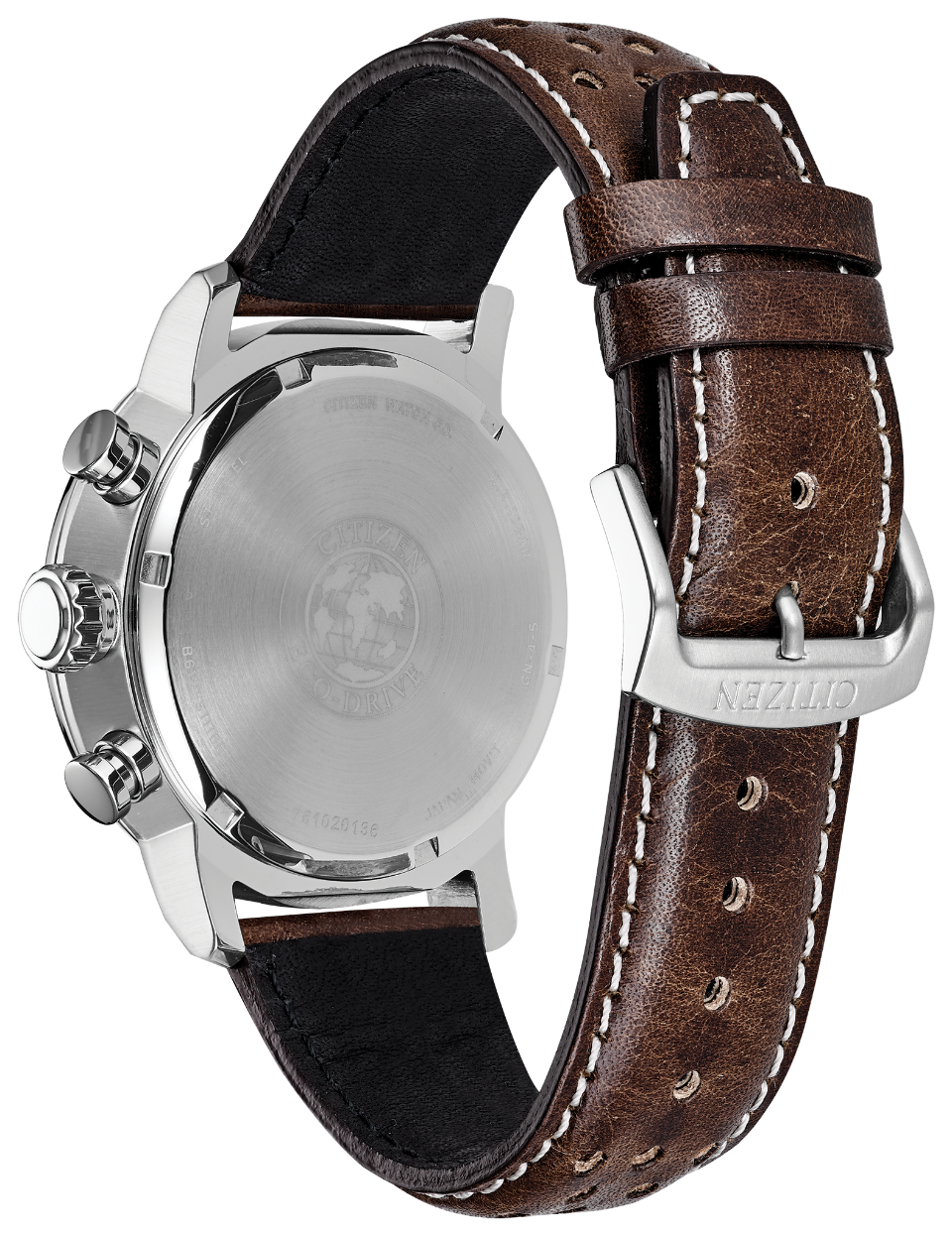 Not something you would want in a sport's watch. Of course, this can easily be replaced with a buckle which has rounder edges.
Chroma Finish
Another nice detail is the scratch resistant property of the color Citizen applied to the watch, giving Brycen that extra durability edge its competitors might not pack. So resistant, in fact, that this Chroma finishing might prevent your watch from showing signs of wear for months on end on its stainless steel case. Even if you are not a fan of the finish, you will have to admit it's durable and well-laid.
The Movement
The CA0649-06X Brycen is powered by an Eco-Drive movement which harvests energy from light sources to propel the hands. This means less time and money spent on maintenance and servicing. The Eco-Drive technology introduced new improvements over their market competition, too. The light-capturing cells, for example, are now more inconspicuous to the point of near invisibility, allowing Citizen to install them behind the dial without compromising the watch's appearance. It would be great to see an automatic movement in place of the common Japanese Quartz, but considering the price tag, this might be a little optimistic.
Mineral Crystal
It would also be great to see the sapphire glass protecting the dial but this is literally 'not the case'. The flat mineral crystal Citizen uses here will avoid indirect contact and hold up against wear quite well, but it won't guard it as well as sapphire.
Final Thoughts
All in all, I'm not the biggest fan of the Citizen CA0649-06X Brycen. I love the Eco-Drive concept and realize the change they bring to the environment by eliminating the batteries . Still, for its price point, there are far better solar-powered models out there, even from the brand itself. It's an entry-level chronograph with a strange (to say the least) color combination and an uncomfortable strap. It does offer some great functions for the price range though, and if you like the way it looks, there isn't much left that matters really.
> > > Click here to see ratings, reviews, specifications and prices on Amazon < < <