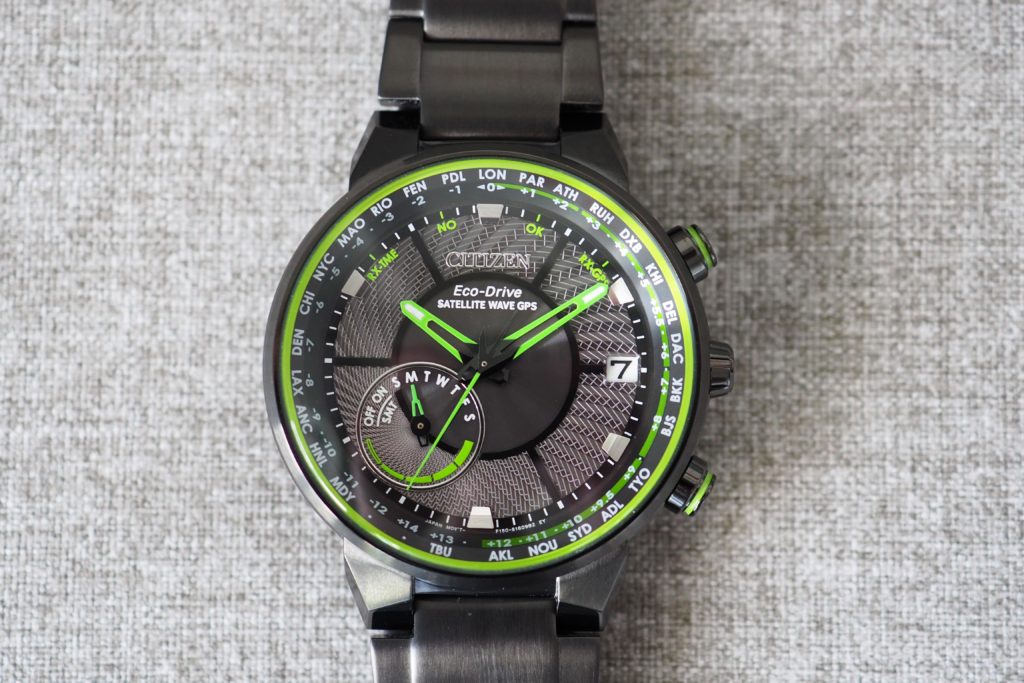 We live in one world. That is a fact. However, we live in a world that puts each country, every city, in a different time zone. This has made it difficult to keep track with everyone we know who are in other places, regardless, if they are someone we are involved with in a business or in personal relationships. The ease of being able to travel from one place to another is making it much more difficult. That is why, having a watch like the Freedom CC3035-50E that can keep with this extraneous demand is a godsend.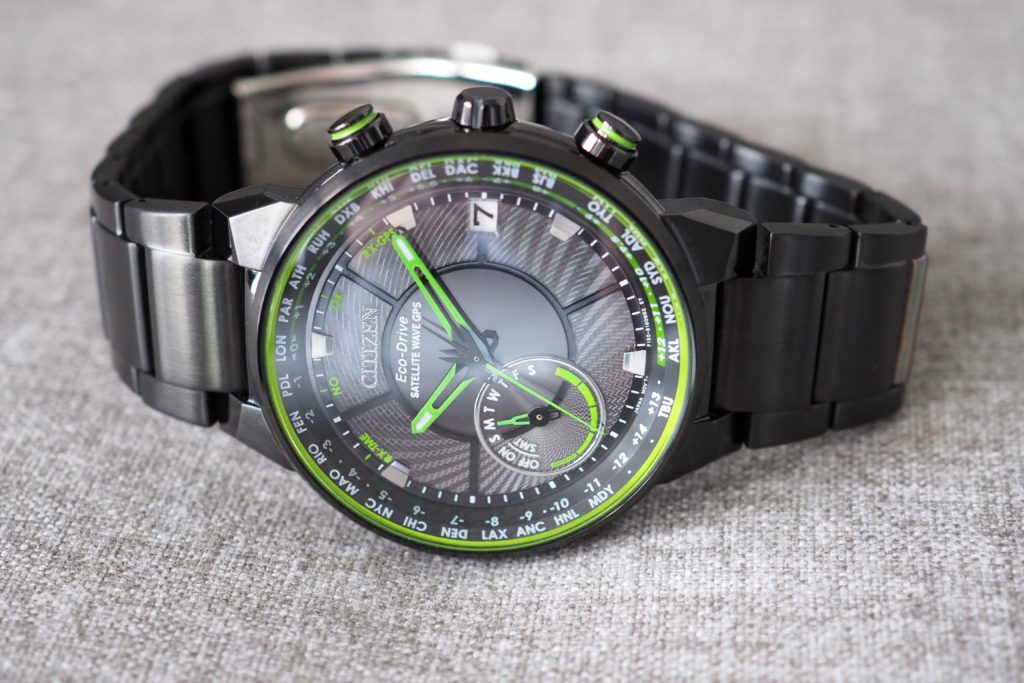 Citizen has developed the Satellite Wave GPS Freedom, a timepiece that helps you sync your time wherever you are. This makes it easier to keep track of everybody's time, and yours as well.
How many times have you missed appointments because you forgot to adjust your watch to the time zone?
Such a powerful watch needs a closer look, and that is what we will be doing.
The Freedom Look
A personal preference, but, the very first thing that caught my attention to the Satellite Wave GPS Freedom was its black look. It looks sleek and classy, especially with the stainless-steel material used to design its case. However, unlike many stainless-steel, Citizen opted for less sheen on its black. Rather, it is more matte than luster. This goes all the way from the dial down to the lugs and the band reassuring users that it will not breakdown as easily as it would have been if the band was made out of leather or rubber because no matter how high-grade the material is, Father Time is undefeated, and it will deteriorate overtime.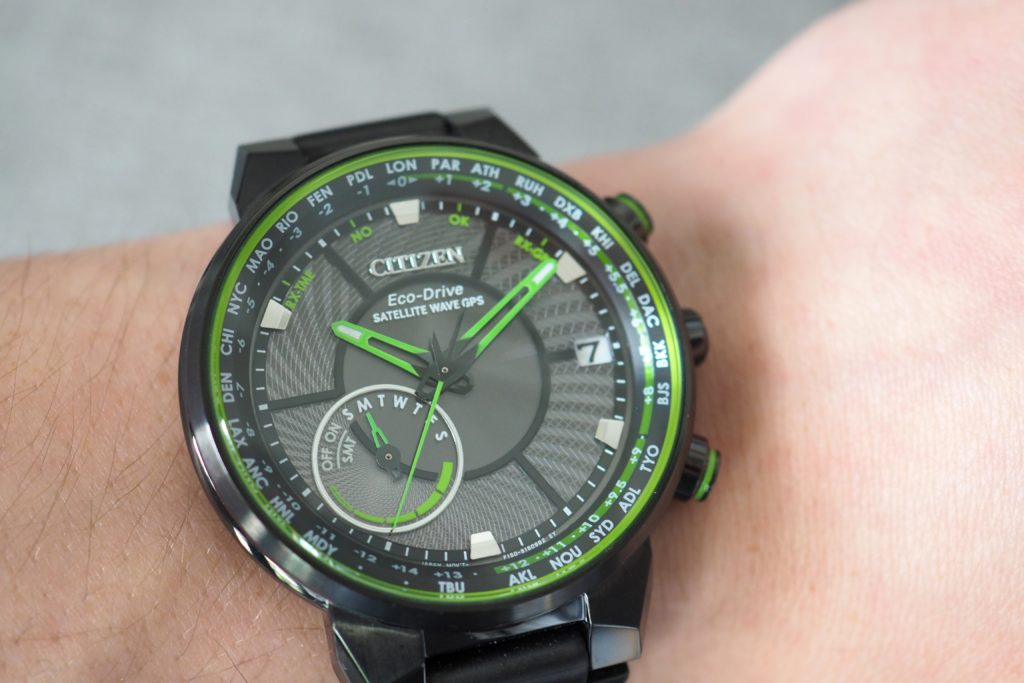 The black canvass that the dial and the casing is made of gives a beautiful contrast to the neon colors that it is accented with. From what I have seen, there are only three variants of the watch – a neon green, neon blue, and a neon red. Both aesthetically pleasing, and you cannot go wrong with either of the three.
The same neon colors are also thinly outlined on the crowns or pushers at the left side of the watch which hugs it beautifully.
Now, considering that it does not necessarily run on a battery, the dial has a grid-like appearance, same as what you would notice with solar panels. This is because the Satellite Wave GPS Freedom run on light energy, any kind of light, which makes its claim of Eco-Drive all the more believable, and they do highlight this on the dial with the same phrase printed on the 12 o'clock demarcation.
The only gripe I have with its look is how its indices are colored white. Normally, this would have been a good decision, however, it does not work for me especially with the neon color so close to it. It also does not help that the indices look too crowded alongside the many texts indicating the major cities across the globe along with their time zones.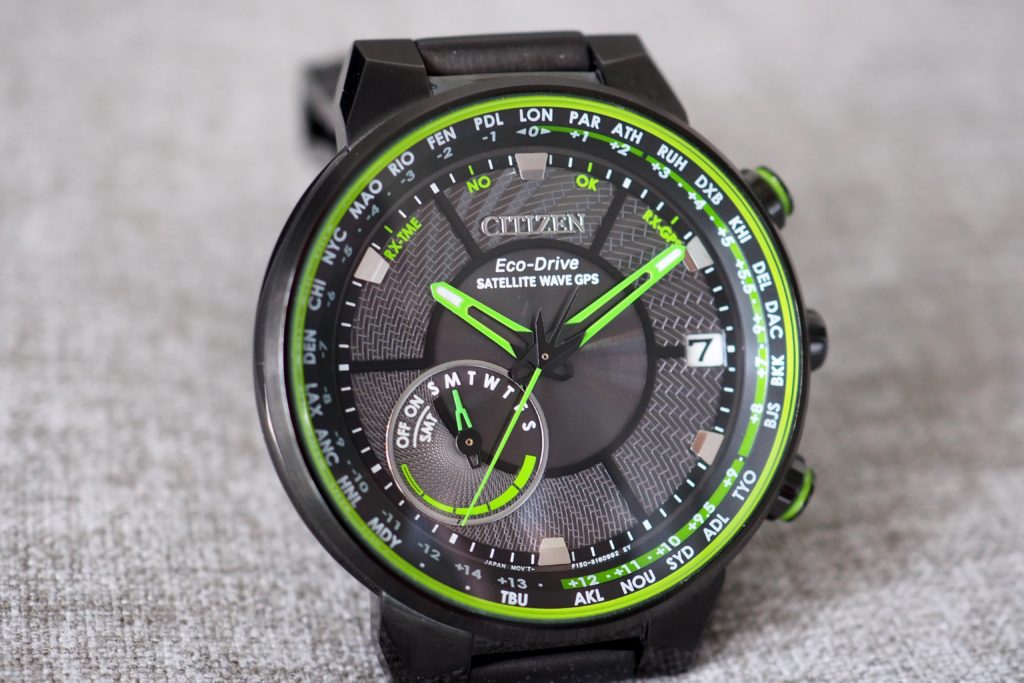 The added complication that tells the exact day, other than the date, is a huge help considering that sometimes, people tend to forget what day it is more than they do with the date. It is found on the lower right corner of the dial. However, no matter how helpful it is, it is too big in size, which might put some people off especially with how it overlaps on the other parts of the design on the dial, but I can see how some people might find it appealing to have this design on the face of the timepiece.
Faster Time Sync Than Ever
The highlight of the Satellite Wave GPS Freedom is how it uses the GPS satellites to sync the watch's time to the different time zones as quick as three seconds, according to Citizen.
Prior to this, what people used when they needed a sync-capable timepiece is the G-Shock, and that was powered by atomic sync. It was good for its time. However, it was unstable. It had three different frequencies, and you should know which one suits your watch better to get an accurate time.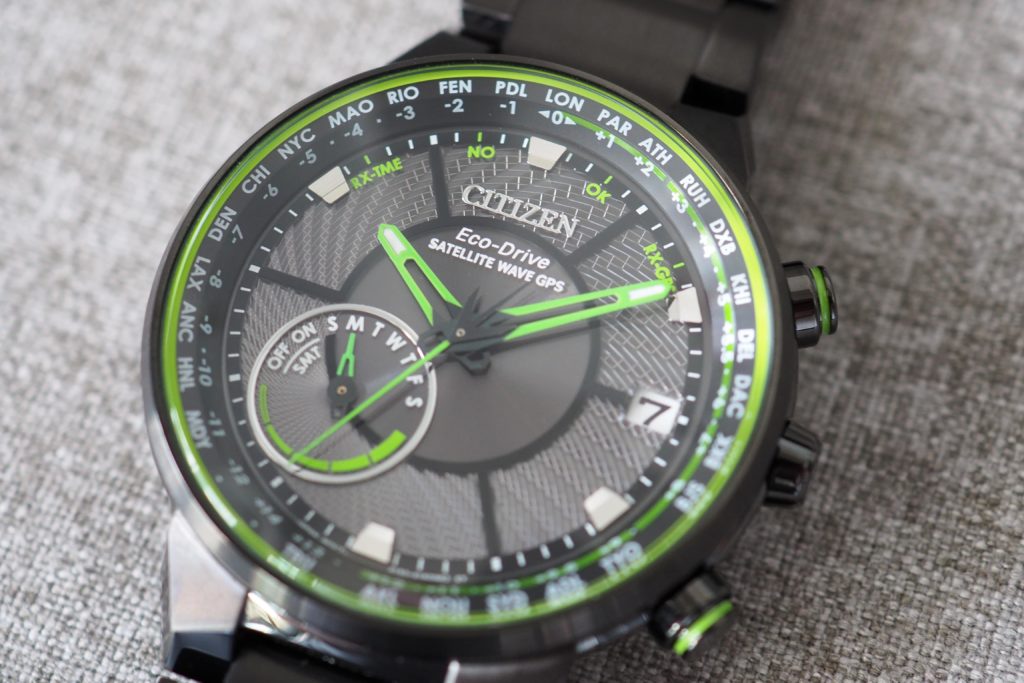 You do not have to worry about this as GPS satellites do not need frequencies. It uses your location to determine what time it needs to set itself to, and with capabilities of adjusting itself to more than 27 major cities, which accumulates to 40 times zones, you do not have to worry about anything.
It is also water resistant, with a rating of 100. This means, you can use the Satellite for almost anything, as long as it does not involve diving very deep waters. At the end of the day, you have to admit that the world is becoming smaller, and we need to have tools that help us cope easily to the changes as we hop from one place to the next. Important to wanderlusts, and hectic businessmen. IMPORTANT to Citizen.