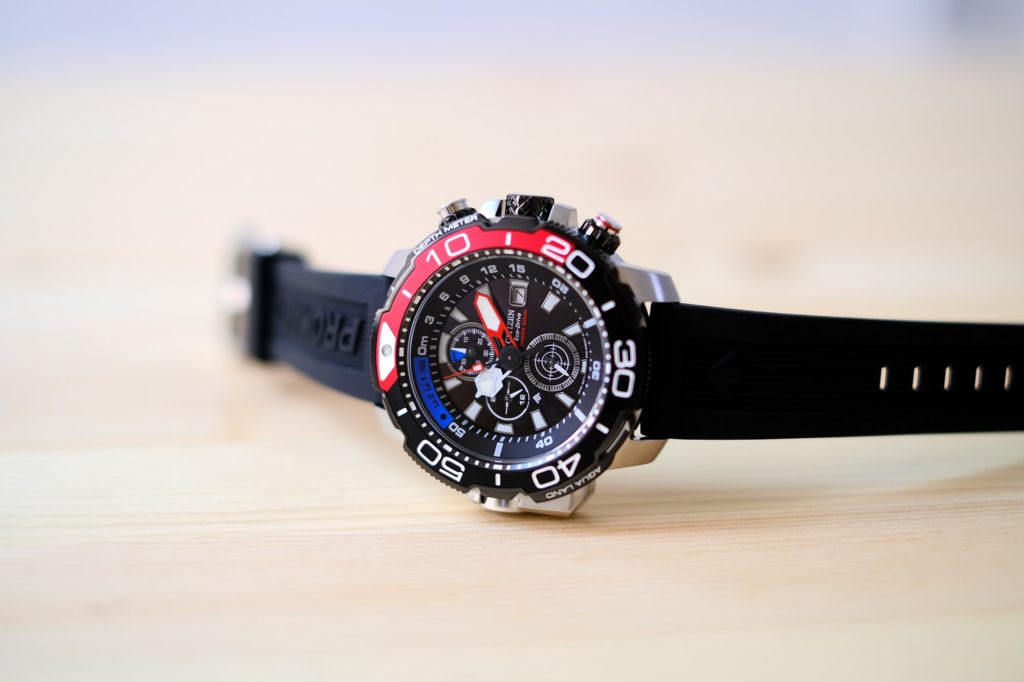 Citizen's Aqualand watch first debuted in 1985, and was a leader in new dive watch technology. It was the first dive watch to incorporate a digital depth gauge. Digital depth gauges had been around for years, as had depth gauge watches, but the original Aqualand was the first to combine the two features. In 1989, Citizen launched their Promaster line, with driving, pilot's, and diver's watches, and the Aqualand became a part of the Promaster line.
Since then, Citizen has abandoned the digital depth gauge in favor of a more traditional analog gauge. They've also made several other changes to keep the Aqualand up to date. Let's take a closer look at this legendary, yet modern, watch.
Built For Diving
The Promaster Aqualand Ref BJ2167-03E puts function over style. Everything about this watch is made for diving, not to please the eye. This isn't to say that it's ugly. But it's loaded with features and has a relatively cluttered dial. If you're looking for an understated, formal watch, this isn't it.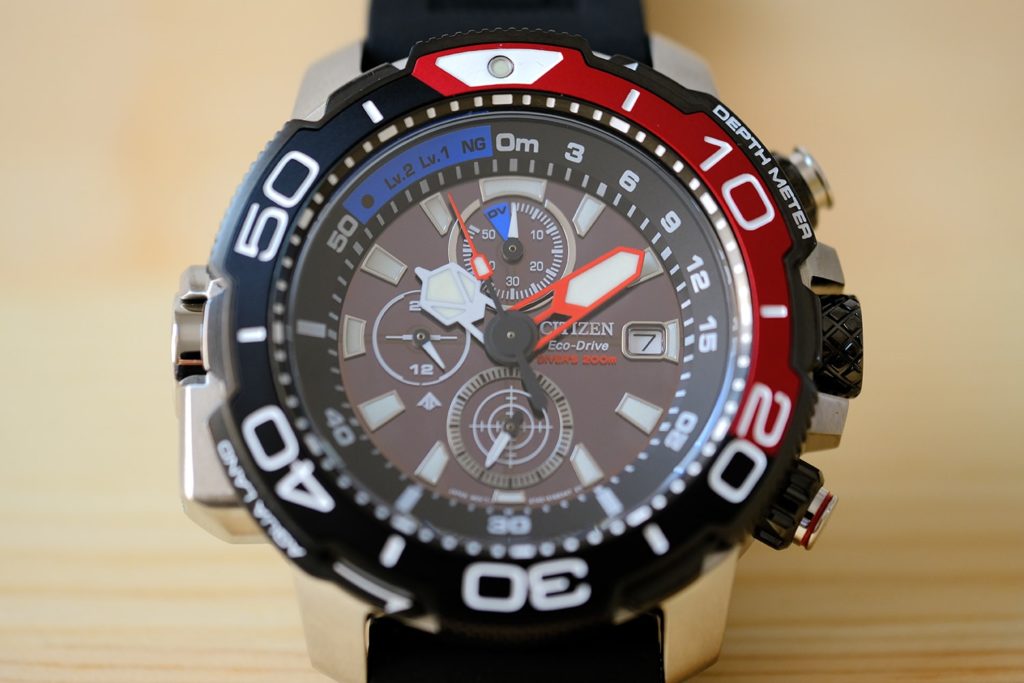 The dial is designed for high visibility, with a matte black finish and wide, silver and white lume hashes at the five-minute marks. The hour hand is short and very fat, with a lume finish. The minute hand is just as fat, but it's a bit longer, with a bright red outline that makes it pop. The second hand is slender and bright red, with a white lume square in the middle for added low-light visibility.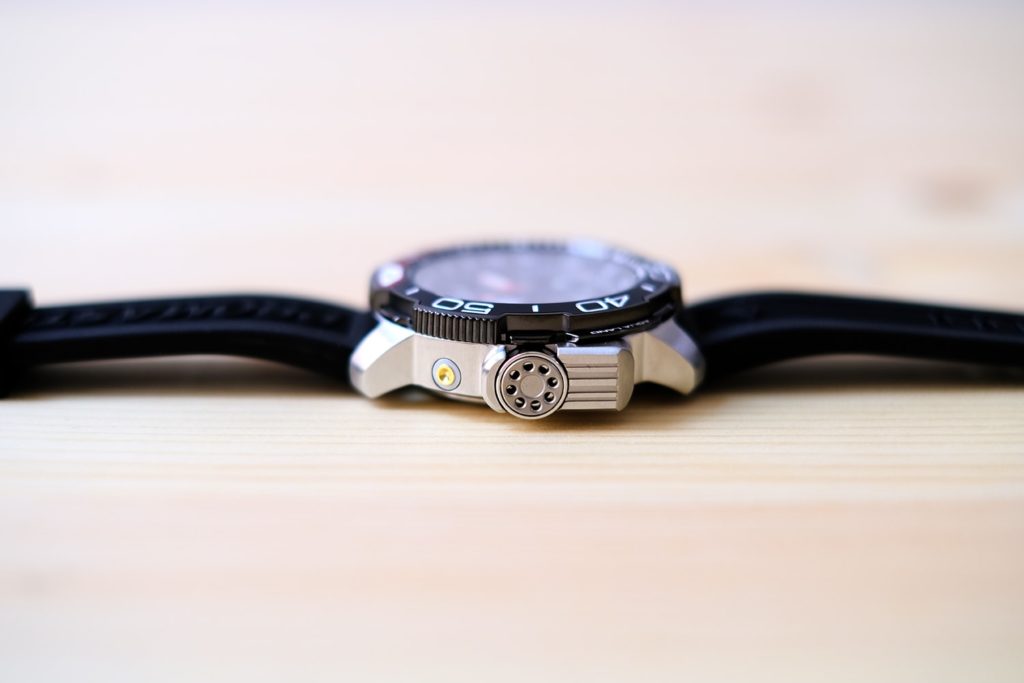 Outside of the main dial, there's a depth gauge ring. When you press the dive mode pusher at 2 o'clock, the second hand will change function, and will indicate your depth instead of the time. The depth gauge goes down to 50 meters, which will be sufficient for almost any diver. In addition, there's a 50-meter depth gauge subdial at the 12 o'clock position. The Aqualand features a moisture sensor, and will automatically activate this depth gauge when it gets wet. This way, you can use the depth gauge and still take advantage of the second hand.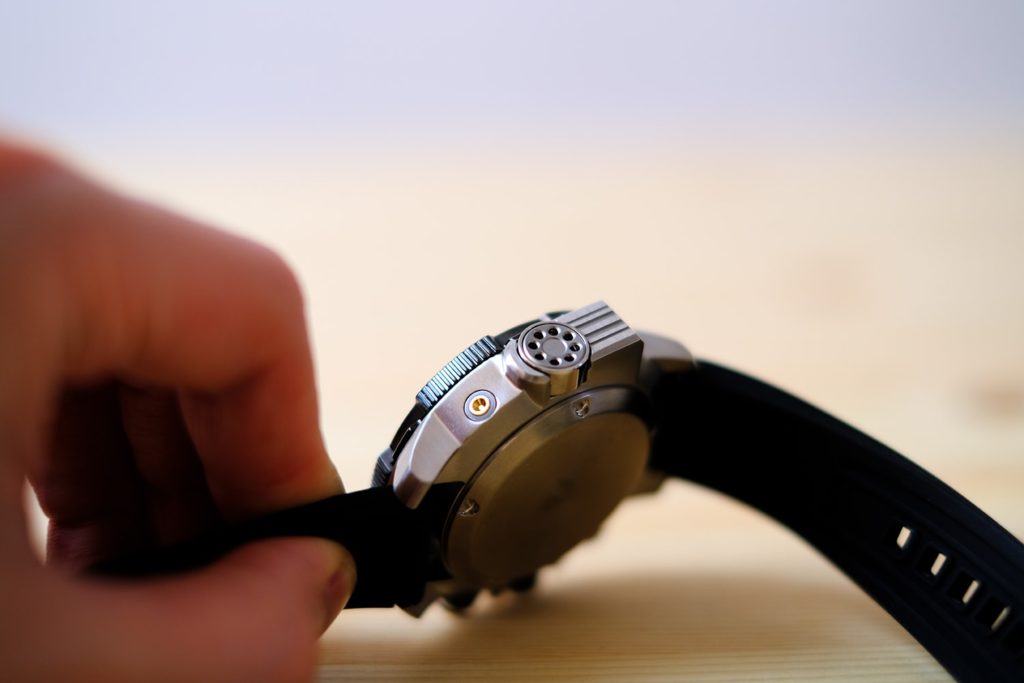 In the 9 o'clock position, there's a 24-hour subdial. Unlike most of the Aqualand, this subdial is a bit Spartan. It has the number 12, the number 24, and a pair of hashes at 3 and 9 o'clock. To be fair, this is good enough to get the job done, since you'll at least know whether the time is showing AM or PM. In the 3 o'clock position, you'll find a small white date window. Finally, at 6 o'clock, there's a power reserve meter.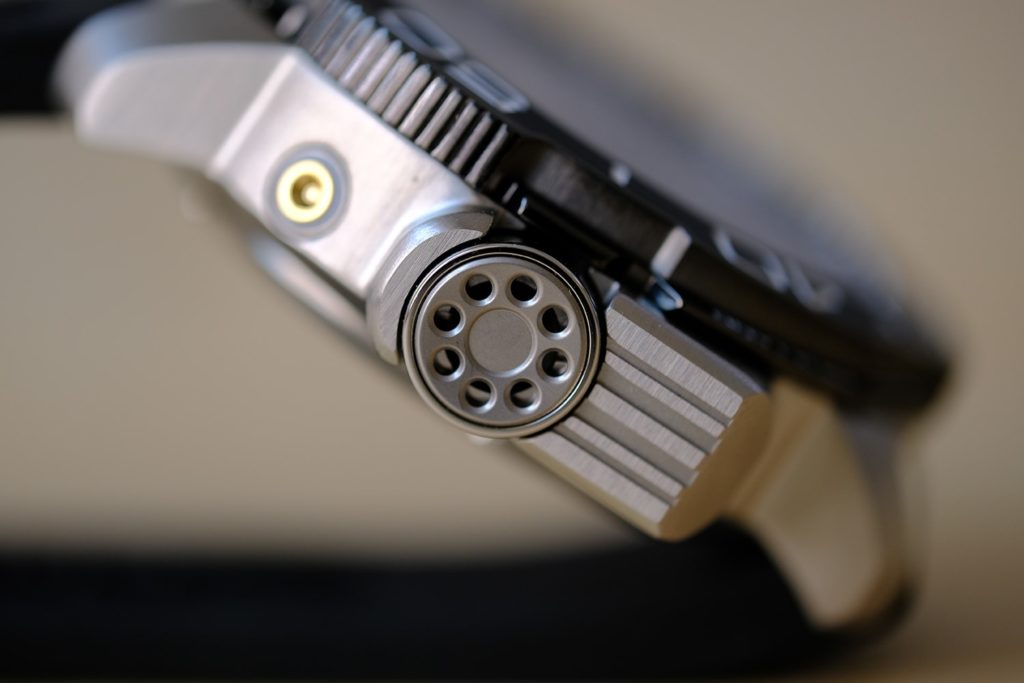 If all these features aren't enough, the Aqualand can function as a chronograph. This will measure time in single-second intervals up to 50 minutes. All in all, the Aqualand offers more features than most watches in this price range – or any price range, for that matter.
Massive Size
The Promaster Aqualand Ref BJ2167-03E has a large, 46mm case. At first glance, this seems big, but not enormous. But the numbers just don't do the new Aqualand justice. In fact, it's big and chunky, with a raised, Pepsi-style unidirectional bezel. The first 20 minutes of the bezel are red, with the rest in black as befits a dive watch. The ten-minute marks are denoted with large white numerals that are easy to read in low-light underwater conditions.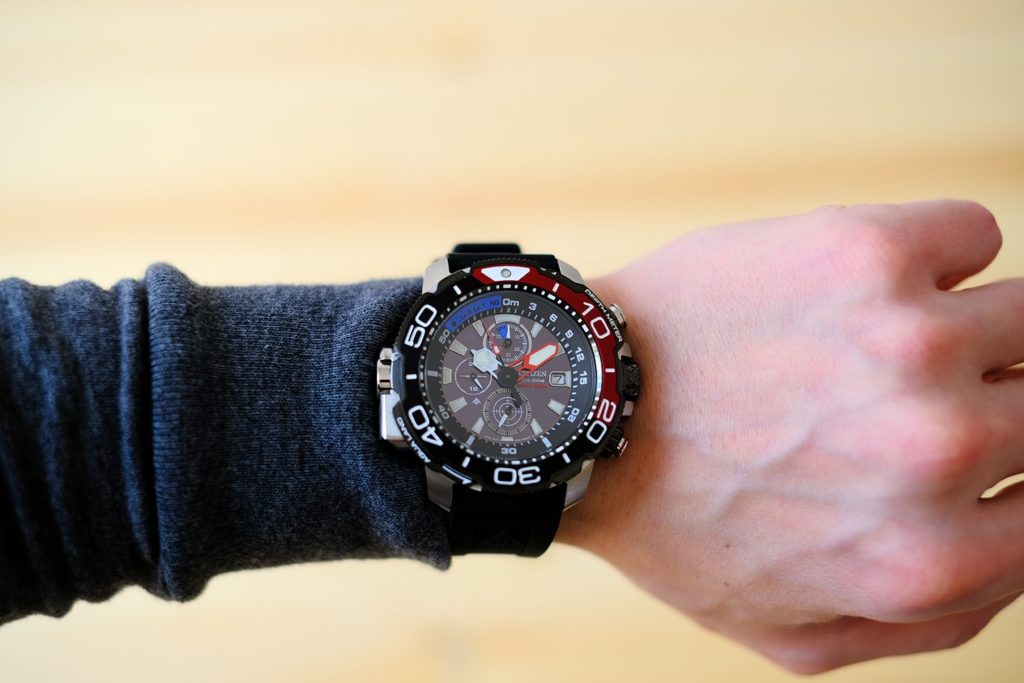 There are thick, screw-down crowns at both the 3 o'clock and 9 o'clock positions. At 2 and 4 o'clock, you'll find a pair of pushers that also have a screw-down design. The crowns are protected by square extensions that prevent undesired operation. All of this supports the 200-meter water resistance, which makes the Aqualand perfect for scuba diving. The scratch-resistant sapphire crystal is slightly raised, with a slight curve around the perimeter. This does not distort the center of the dial. However, it slightly distorts the outer edge. It's easy to read, but adds an attractive touch to an otherwise utilitarian timepiece.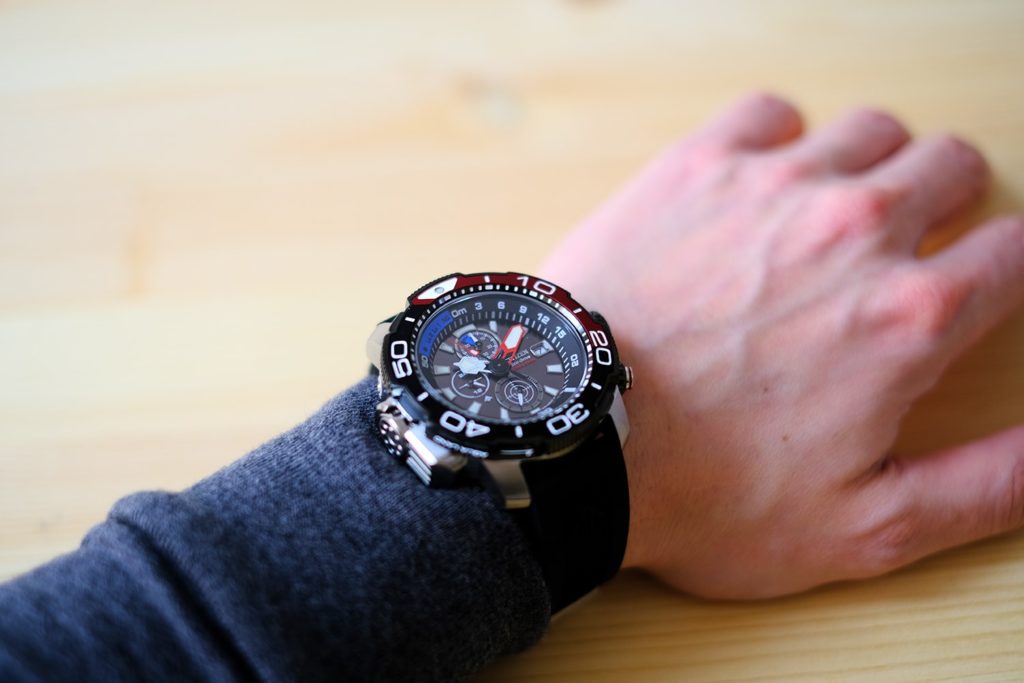 A fat rubber strap completes the package. There's no depth chart, since that would be an unnecessary, outdated addition. Instead, it has narrow vertical ridges that help prevent slippage. It's utilitarian, but it's reasonably comfortable, and it works.
Citizen Eco-Drive Movement
The original Aqualand had a quartz movement, which was functional but unimpressive. In the mid 90s, Citizen rolled out their famous solar-powered Eco-Drive movement, and quickly started using it in the majority of their watches. The Aqualand Ref BJ2167-03E uses their Caliber B740 movement. Not only is it solar-powered, but it has a power reserve of 180 days. For most watches, this wouldn't be necessary. But if you're looking for a dedicated dive watch, it's a great feature. You can store the Aqualand for months without having to set it afterwards. In other words, you don't have to worry about keeping your watch out of service during the off-season.
To have a look at the full range of Citizen watches visit their official website here.