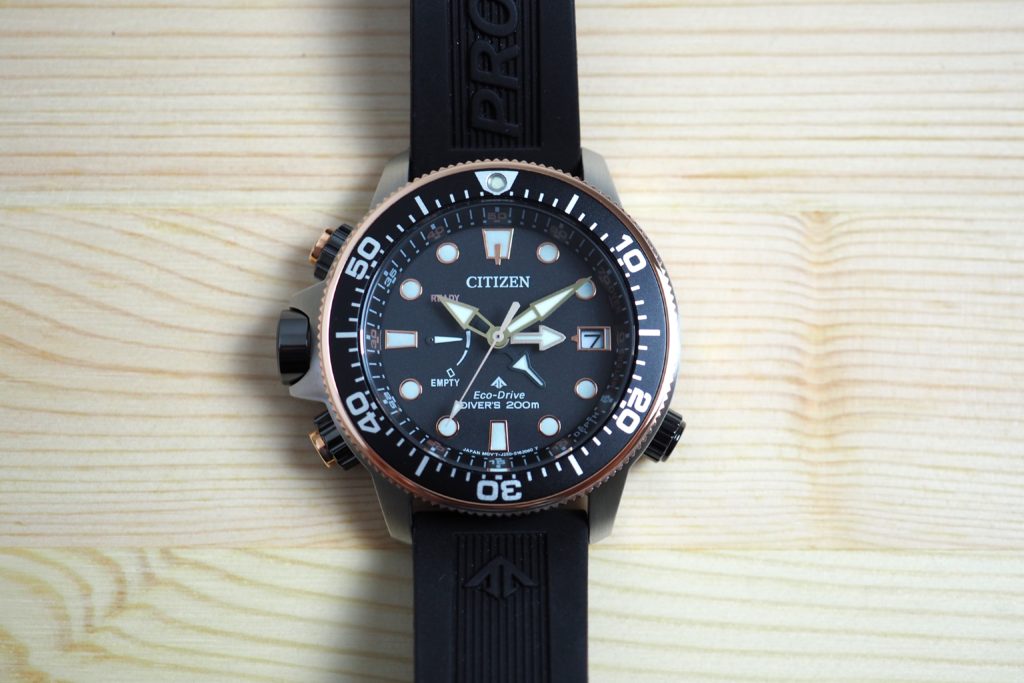 30 years ago, in 1989, Citizen released their Promaster line of watches. These watches became well-known for combining durable construction with an attractive appearance. Whether you're spending a weekend rock climbing or traveling for business, the Promaster line was a favorite for both everyday and formal use. For the series' 30th anniversary, Citizen has now offered a reissue with a few new modern touches.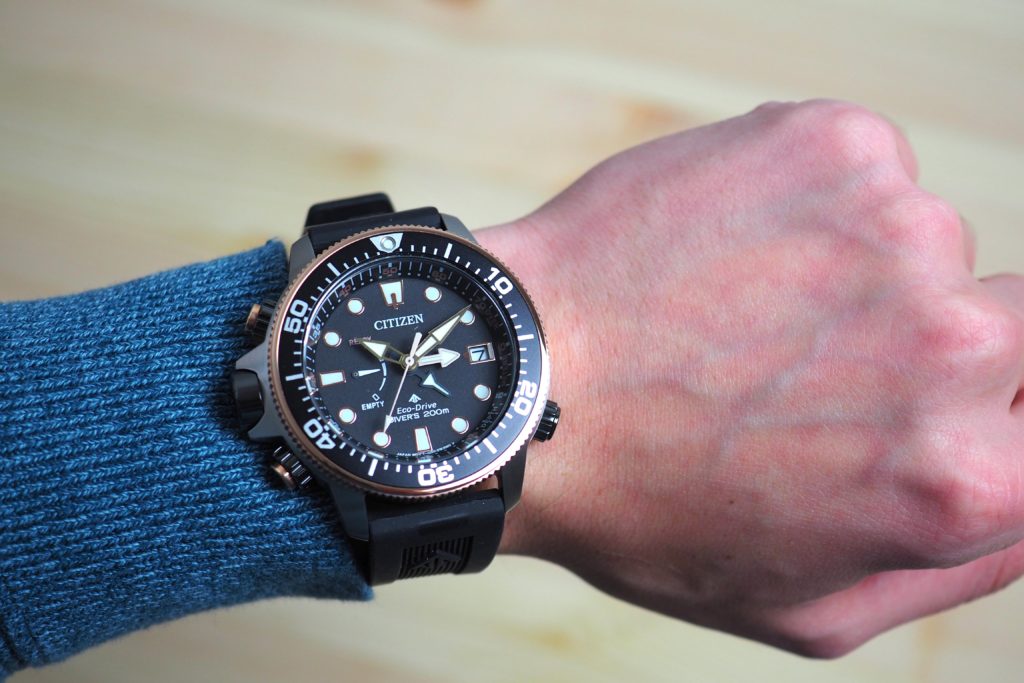 The Promaster series, like many series of watches, has a variety of models that fit a common theme. In this case, the theme is Land, Sea, and Sky. The Altichron, a pilot's watch for the sky, the SST, which I've also reviewed, for the land, and the Aqualand for the sea. Here, I'll be focusing specifically on the Aqualand Ref BN2037-03E.
Eco-Drive Movement
Readers of my blog, as well as fans of Citizen, will need no introduction to the Eco-Drive Caliber J250 movement. This is a solar-powered movement that will run for up to 11 months on a full charge. Getting a full charge requires about 35 hours of direct sunlight, so exactly how many days it takes to reach a fully-charged state will depend on your geographic location, your lifestyle, and whether or not your sleeves are typically covering your watch.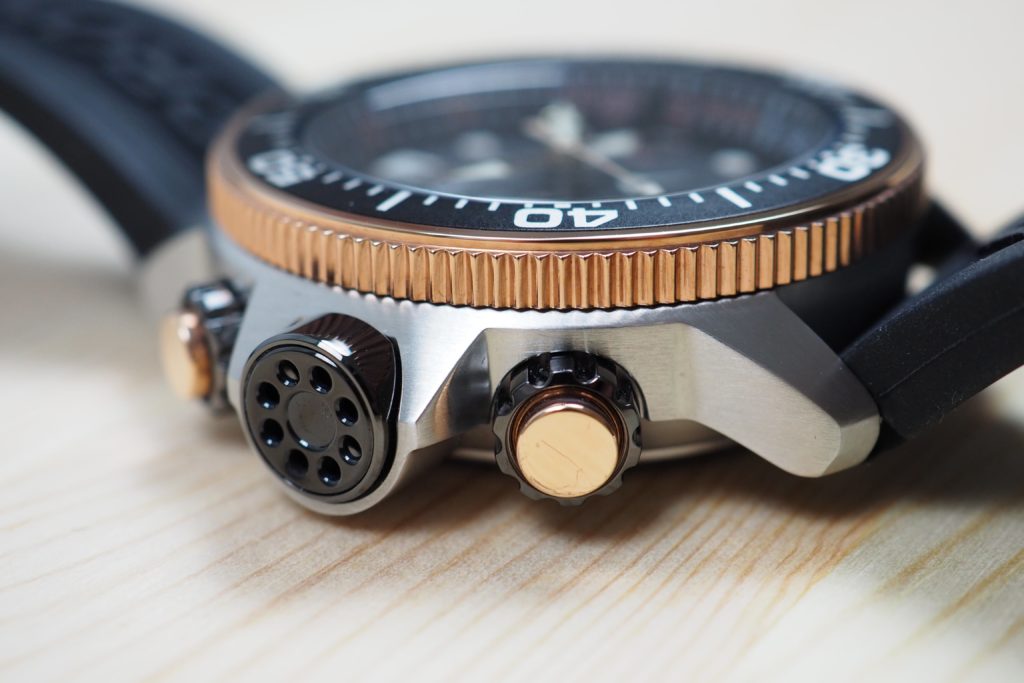 One thing that does bear mentioning is that this Eco-Drive movement is accurate to +/- 15 seconds per month. Considering that some bespoke automatic watches are off by that much every single day, this is impressive accuracy. Realistically, you could set your Promaster Aqualand when Daylight Savings Time rolls around in the spring, and not need to reset your watch until you fall back later in the year.
Limited Edition Dial
The Aqualand is an adequate dive watch, it has large, white lume hour dots that contrast sharply with the black face. The hands are similarly easy to see, with a fat shape and white lume surfaces.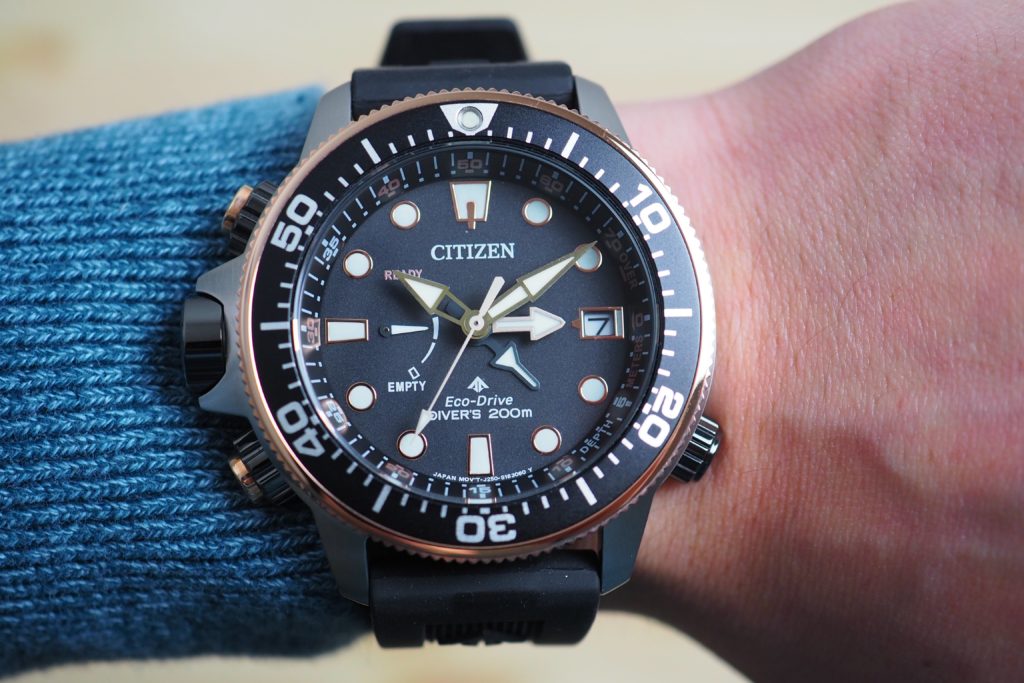 The hands and marker dots are both accented with copper, except for the second hand, which is more slender and is plain white.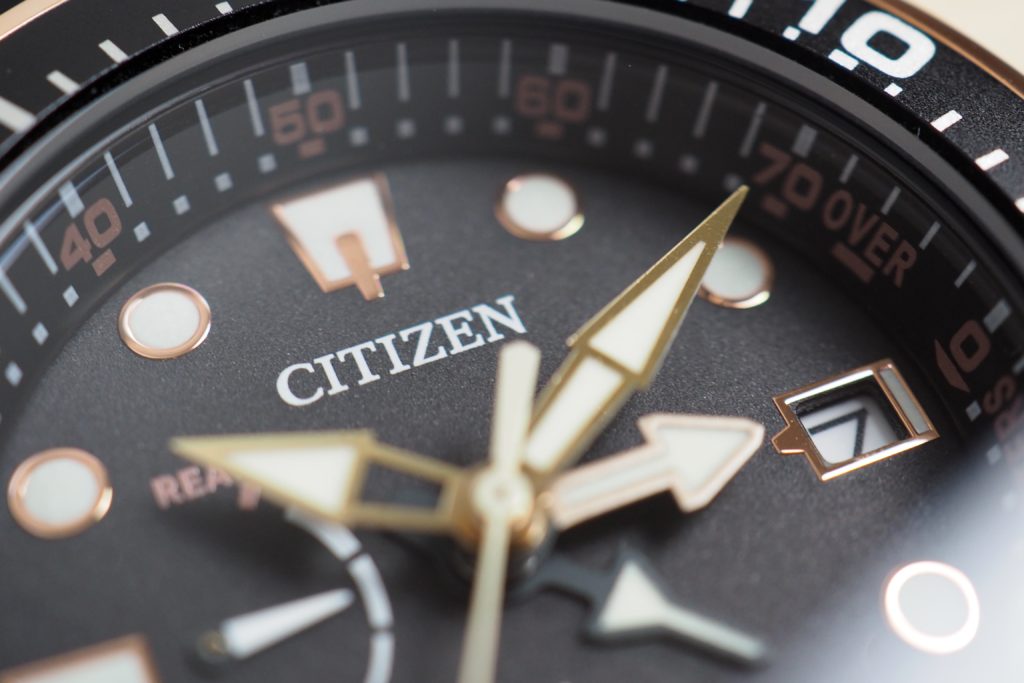 On the 9 o'clock side of the dial, a ¼ subdial displays your power level, with an "Empty" marking at the bottom and a "Ready" marking at the top. The hand on that subdial is as wide as the primary hands, but is mostly black, with a white lume finish only at the tip, which makes it easy to distinguish from the hour and minute hands. A date window at the 3 o'clock position provides some balance.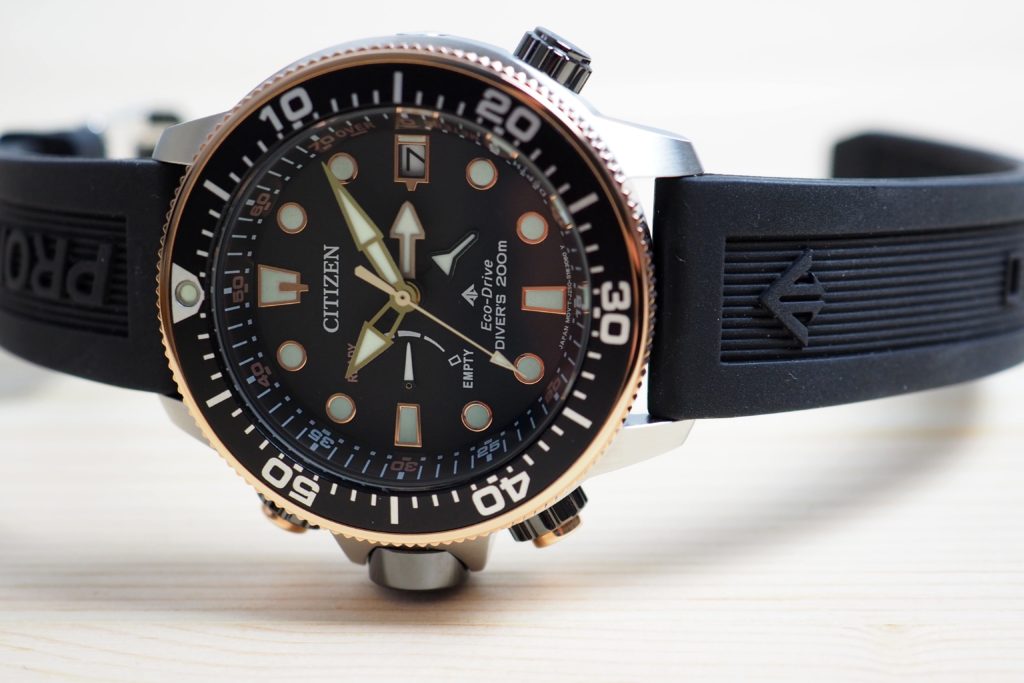 An inner rotating bezel has a uni-directional bezel like you'd expect from a dive watch. It's marked with depth indicators, with a non-linear scale that gives more emphasis to depths below 40 meters. This is because the vast majority of recreational diving occurs in these depths, and it's a standard scale on many dive watches.
Crystal and Case
The Aqualand's case is fairly wide, at 46.1mm in diameter, and it's extremely thick, at 16.4mm. This is mostly due to the raised bezel, which rotates independently and features minute markings.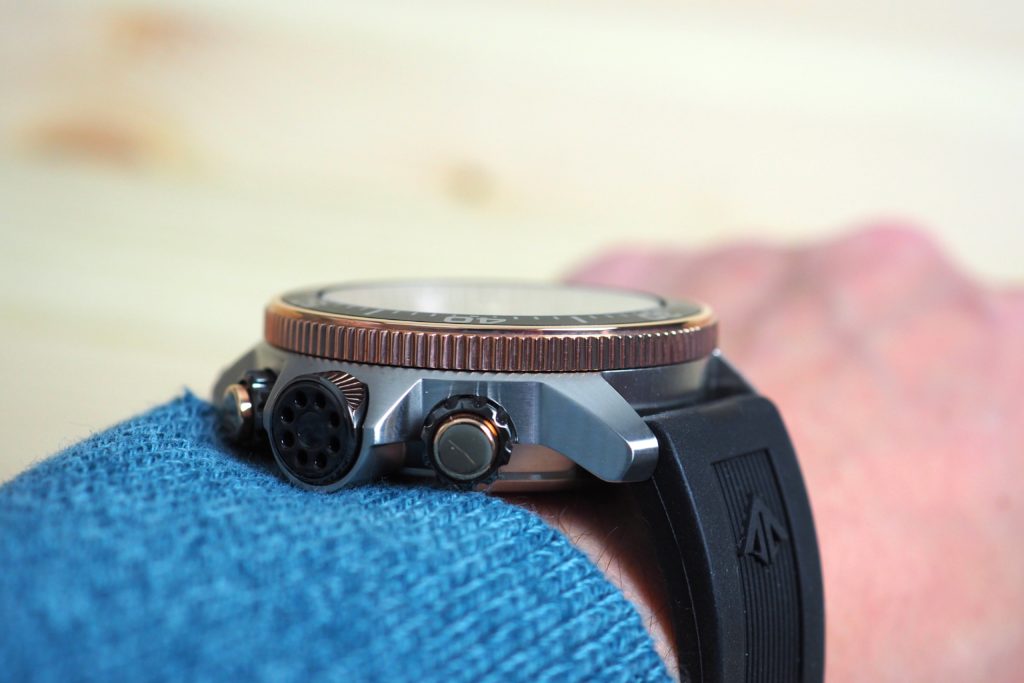 However, the bezel is only black with white numerals, without the two-tone design you'd expect from a true dive watch. That said, the mineral crystal offers plenty of visibility, with a scratch and glare-resistant surface that's easy to read in any lighting conditions.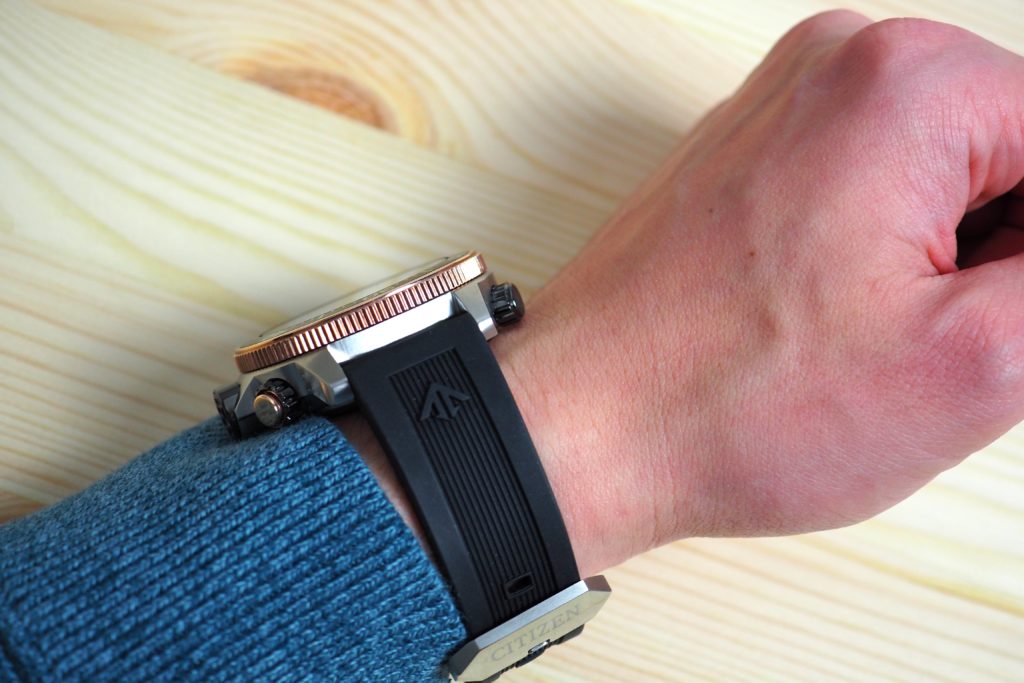 The case is primarily stainless steel, with a black crown and pushes, and copper accents on the bezel and pushers that match the copper accents on the dial and hands.
The crown and pushers themselves are very large, and have a screw-down design that guarantees your watch will stay dry underwater. This is a good thing, since the Promaster Aqualand is ISO and JIS8 rated for a depth of 200 meters, so you might want to take it swimming.
The Extras
The original Aqualand featured a dive chart painted onto the watch band. However, the reissue has a plain black rubber band, with vertical grooves and an embossed "Promaster" title. Since modern safe diving practices already require you to bring a dive chart, this secondary chart was mostly unnecessary, and the clean, attractive new look was just fine in my book.
The Inspiration
While many modern watches are dive watches in the technical sense, the 1980s were a different time. Dive watches of the day were purely technical, and usually had a clunky digital face. They were able to do the job, but you wouldn't want to wear them to the office or a party.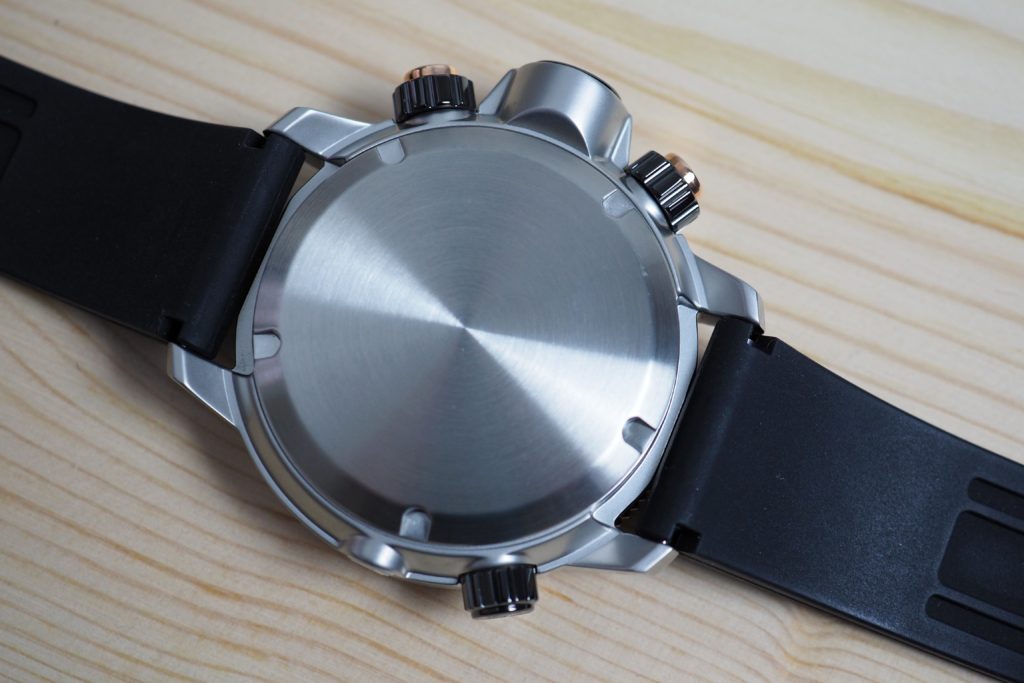 The original Promaster Aqualand was designed to bridge the gap between functionality and style. And while the basic design is commonplace today, the re-release was manufactured to capture the spirit of the original Aqualand. With its steampunk-style bezel, super-accurate movement, and high contrast dial, Citizen has achieved their goal.
To view all of Citizens' offerings you can visit their official website here.