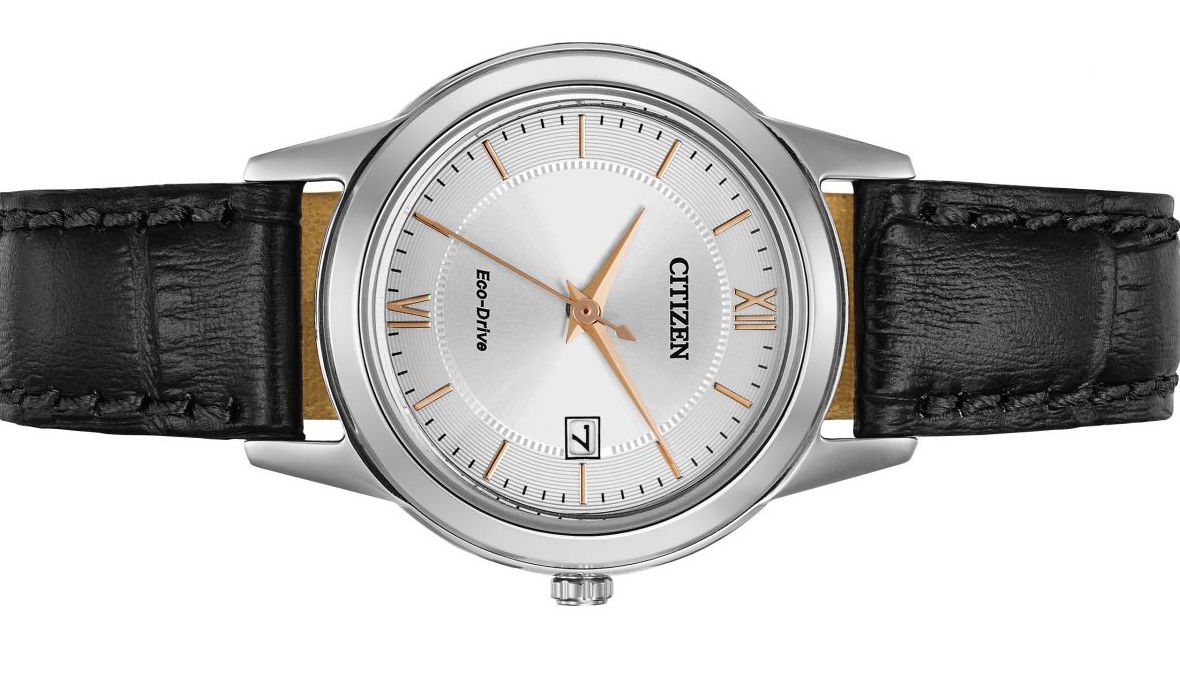 Finding a classic watch style that brings both beauty, function and frugality is an arduous task. An individual usually sacrifices one of the three in order to get a reliable watch that is both economical and comely. I thought the hunt was going to take forever to find such a watch, but to my surprise, the Citizen women's FE1086-04A eco-drive delivered higher than I expected!
> > > Click here to see ratings, reviews, specifications and prices on Amazon < < <
FE1086-04A: The Positives First
With its sleek and elegant lines and accents including a date window and comfortable lightweight design, the FE1086-04A gives you a certain classic simplicity. One that you can wear comfortably with a pair of jeans and a t-shirt or a glitzy evening dress and heels. This watch adapts to every moment of your life without missing a beat. It has that special je ne sais quoi feel and that is impressive!
The sunray dial gives this eco friendly timepiece its powerful Eco-Drive technology, so no more fussing for battery replacements on the fly. Harnessing both natural and artificial light, keeping this watch ticking is as easy as turning the lights on or venturing outdoors. With no battery costs and a very reasonable price tag (at the time of this review), your pocketbook stays intact! And with a 5-year manufacturer warranty, most issues you may experience along the way, should be a breeze to have fixed.
> > > Click here to see ratings, reviews, specifications and prices on Amazon < < <
The Japanese quartz movement is smooth and accurate on the Citizen FE1086-04E Eco Drive watch. The analog display gives no sign of clunky movement from second to minute to hour. Instead you see a soft tick between each second that mesmerizes the eye on the pearled white dial with rose gold hands. Adding to the beauty of the watch, a supple black leather calfskin wrist band hugs your wrist and molds to your every move. With a buckle closure, sizing to your specific needs is easy and painless.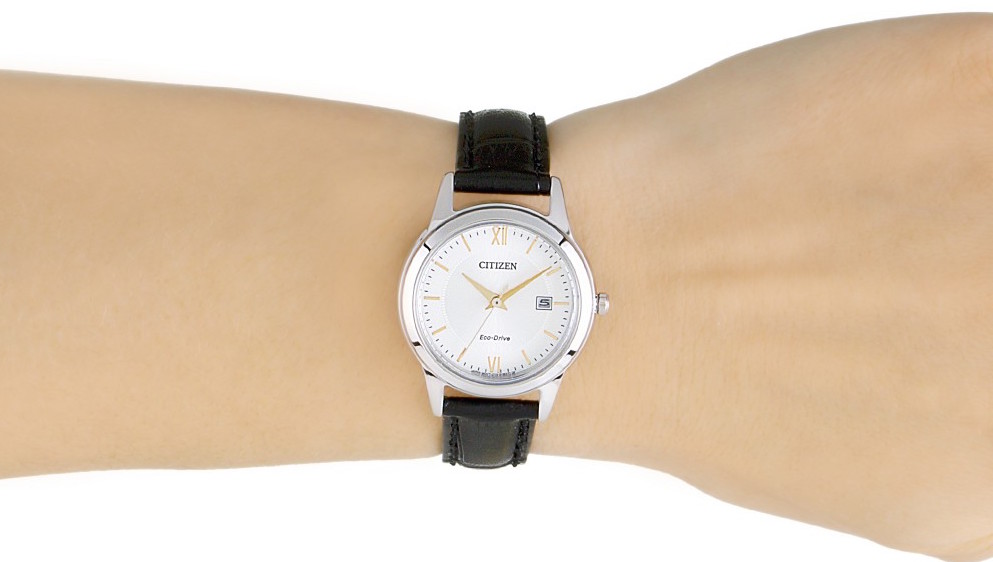 Room For Improvement
Although I was pleasantly surprised with the overall esthetics of the Citizen FE1086-04A eco-drive watch for ladies, there are a few things that I definitely think could be redesigned. Even though the placement of the date window is easy to see, the numbers are terribly small and unless you have 20-20 vision, they really do blur into the face of the watch itself. Perhaps a different number font is all that is needed but until that happens, that little window letting me know when the weekend arrives is truly going to be overlooked!
One of the other features that is lack lustre is water resistant to 30 meters. In doing a little research, I found that swimming or bathing with the watch on is not recommended. Yes, the FE1086-04A isn't a divers watch, but shouldn't simple water activities be covered under that water resistant claim? Seems this is a hot topic on many water-resistant watches though.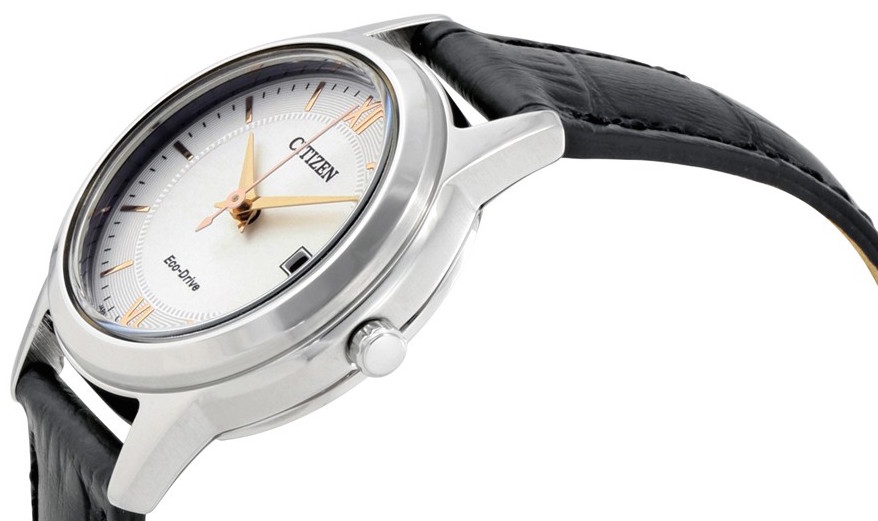 Lastly, with this watch only having a mineral dial window instead of a sapphire one, the scratch level over time is definitely going to show. Mineral dials definitely keep the price point down on many above par timepieces, but I'd be willing to pay that extra cash knowing that bumps and scrapes are not going to affect the clean crystal face of such a worthwhile watch. I have both sapphire dial window watches and mineral dial window watches and the sapphire ones definitely keep looking pristine and new.
Overall Impression
Overall, the Citizen FE1086-04A is a great timepiece if you love having more than one watch to accessorize with. The lightweight design and complementary rose gold accents really give this watch an Audrey Hepburn feel without having to deplete your entire bank account. Definitely a watch worth adding to your collection!
> > > Click here to see ratings, reviews, specifications and prices on Amazon < < <