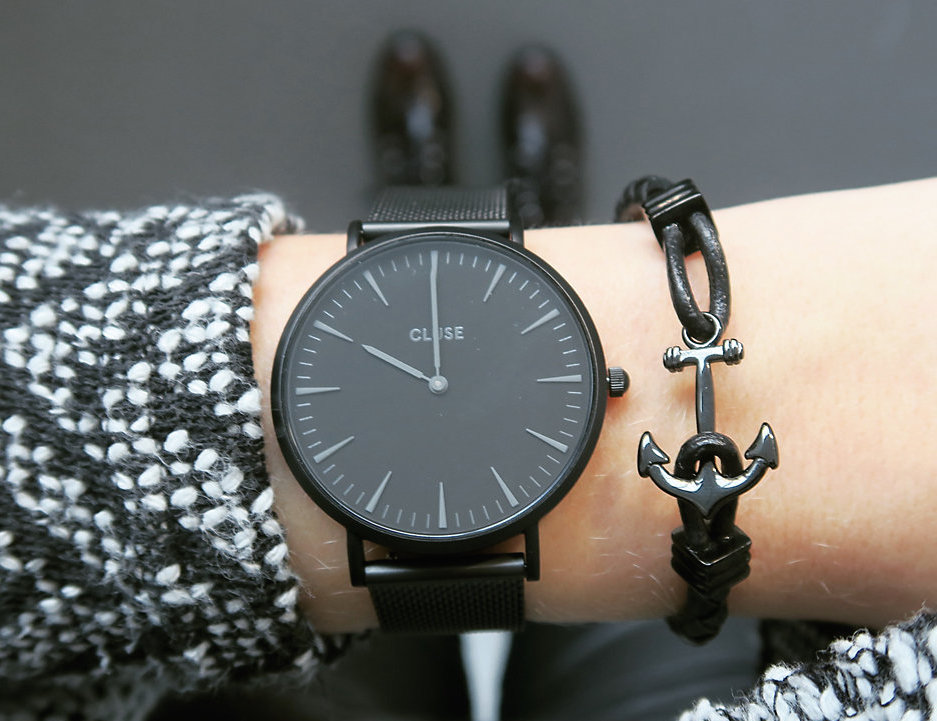 Simplistic and under-stated, the monochrome Cluse La Bohème Mesh Black Womens CL18111 Watch is an attractive option for ladies who simply want a watch that tells the time, without any complicated features or busy displays.
> > > Click here to see ratings, reviews, specifications and prices on Amazon < < <
Fashion Design
Do not be fooled into thinking that simple means subtle. With a black band and dial, and muted grey markers, this watch draws attention through its sheer lack of color or distractions. This is compounded by the shape of the case, which is somewhat over-sized for a woman's watch (38mm) and unusually thin (7mm.) Fortunately, black is a neutral shade, and so the CL18111 is easy to style despite being a fashion statement. (If you want something more daring, the same design is available in a broader range of colors.) The band is a woven black stainless steel design, which adds some much-needed detail, without being overpowering or detracting from the minimalist look. Even better, the clasp is fully adjustable and can lock into any length, meaning that this watch is very easy to fit to any wrist.
> > > Click here to see ratings, reviews, specifications and prices on Amazon < < <
In all honesty, the design is the only real defining feature of the "La Bohème" timepiece. It is reportedly water resistant up to 30 meters, but it is not designed for regular exposure to water and realistically this simply means that your watch should survive if you splash it or if you accidentally get it caught under the faucet. If you want something to go swimming in, then look elsewhere. Likewise, the clasp is somewhat flimsy, and it looks easy to break if you are not careful.
CL18111 Mechanics
The CL18111 watch is powered by a standard Japanese quartz movement – the Miyota 2025- that is found in watches that sell for over double the price. Again, this is nothing special, but it is reliable, and the watch does not have any date windows or additional dials so a simple movement is to be expected. The La Bohème does not have any additional date windows or timer functions, nor any alarms, which leaves the dial looking cleaner, and also should leave the watch less likely to malfunction. This is important, as Cluse are based in Europe, and they do not have a strong store presence in the USA, so the support options are less than those of an established or frequently-sold brand.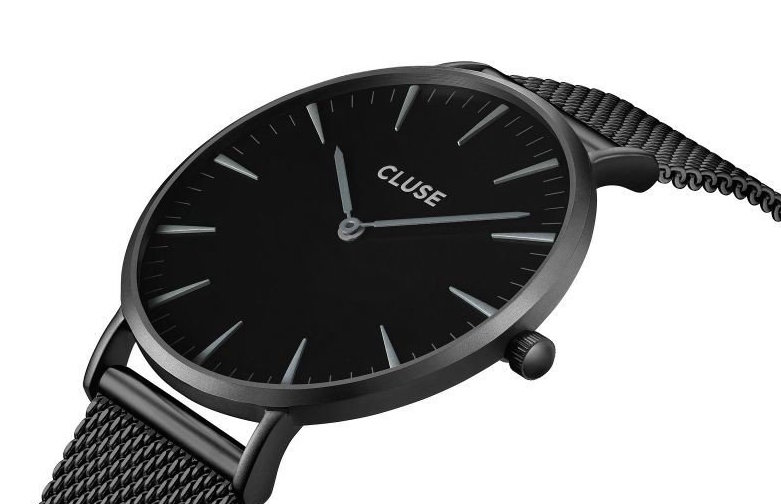 Is It For You?
The ultimate question is whether you find the Cluse La Bohème Mesh Black Womens CL18111 Watch attractive. It's certainly distinctive in its minimalism and it can be dressed up or down, making it a good choice if you want a watch that can be worn for work and for leisure. The long-term durability of this all-black piece is less clear, due to the clasp and low water-resistance. However, the same is also true of many other fashion watches, and it is possible to buy new bands in a variety of colors. The latter also makes it a nice choice if you would like a modern analog watch which can be reworked to match different outfits.
> > > Click here to see ratings, reviews, specifications and prices on Amazon < < <