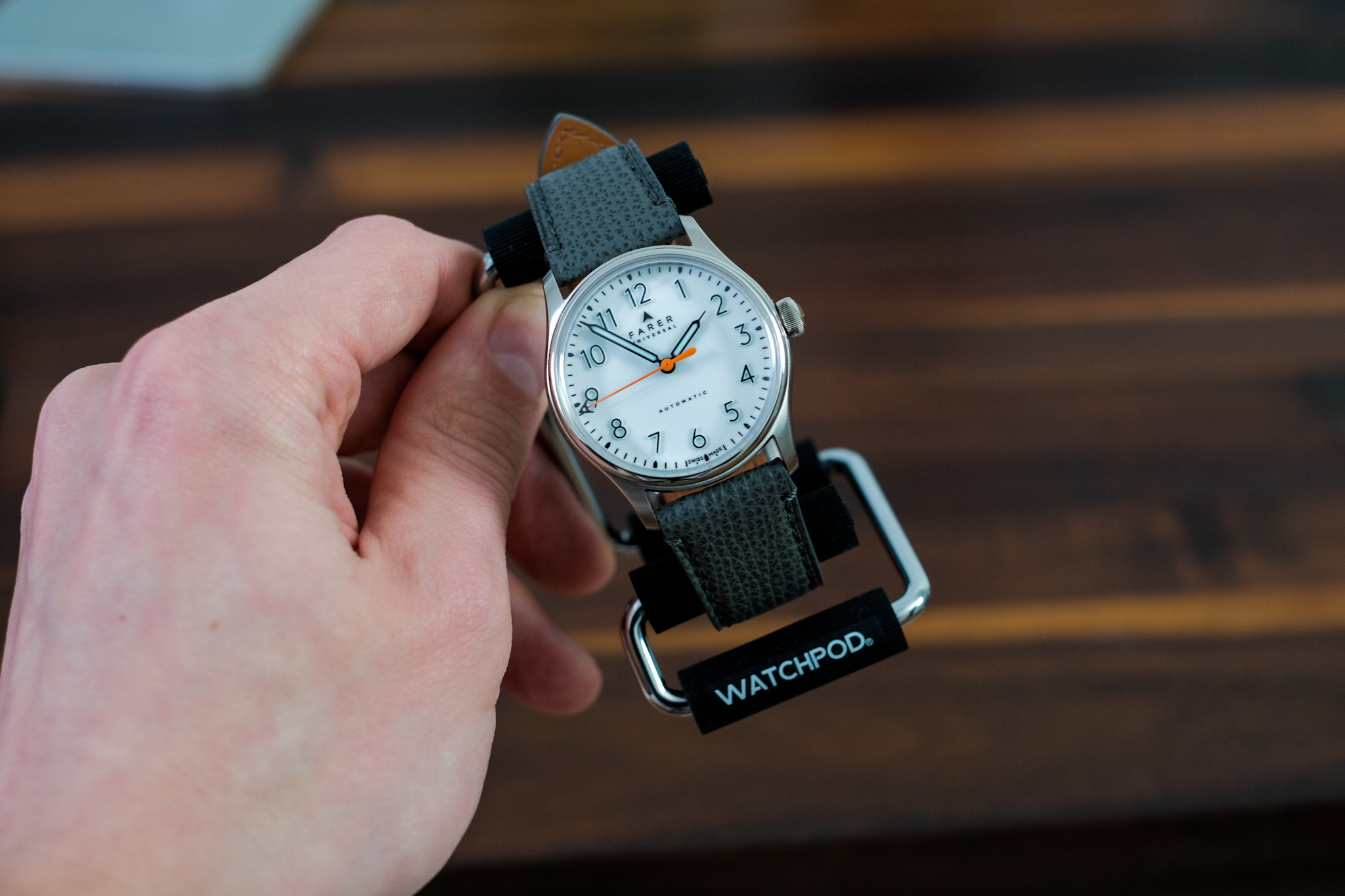 The days of extra large watches may have come to an end, which means there is more focus on timepieces that look and fit better on the wrist and do not weigh you down with extra heft, elaborate designs, and all the bells and whistles that often came with bigger watches.
Farer has been one of the best watch companies in the world for some time now and they have expertly released a number of great watches in a variety of styles and sizes. Most have received wonderful reviews from seasoned watch fans and newcomers alike.
The Resolute 36mm is yet another product that will win many people over, from the more experienced timepiece lovers to those who are just looking for something reliable and expertly made that they can wear day in and day out, at work and at home.
There are multiple things that come together with the smaller model Farer Resolute to make it a piece so worthy of being in your collection. What are the features that stand out the most?
The Specifications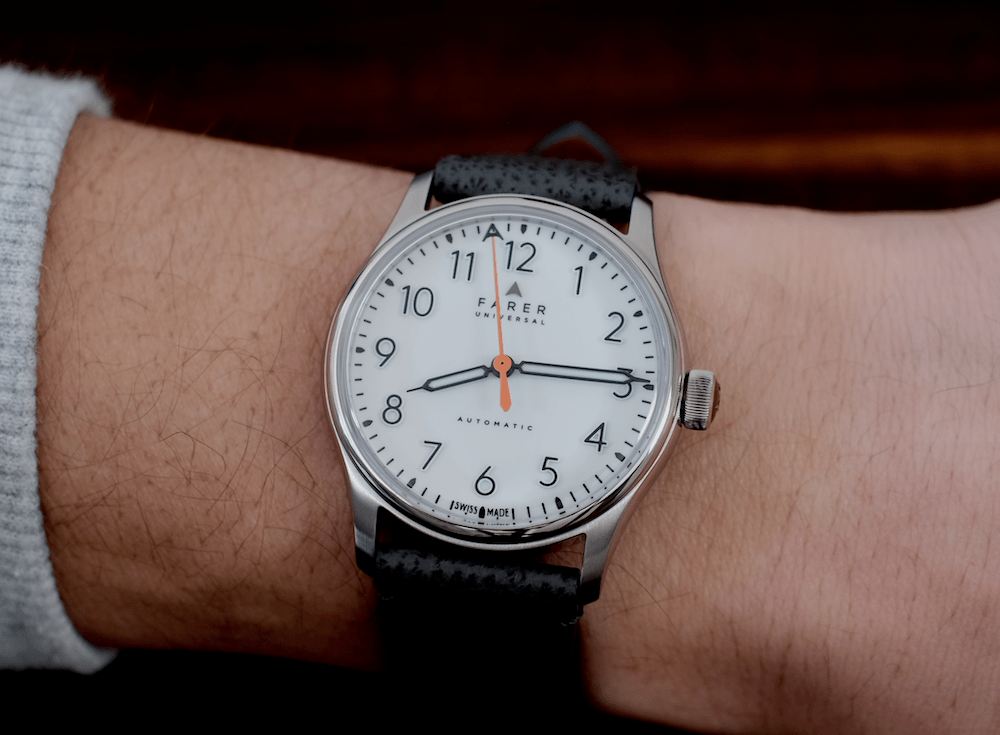 Before you can determine if you want to invest in the Resolute 36mm, you need to know what you're getting when you purchase it. Is this the sort of watch that you have in mind for your new permanent timepiece?
The specifications are expertly put together and made to help the watch function without a hitch.
It resembles a classical timepiece, with a 41.2mm lug to lug distance. The seconds hand glides with ease and functions properly without any problems. And it's easy to read too, with its blue and bright Super-LumiNova numerals with a matte black finish that allows you to quickly catch the time whether you are reading in the light or in the dead of night. We have the white dial Resolute here with us today, but this new smaller 36mm version is also available in three other colorways: Resolute Sorbet, Erebus Midnight, and Discovery Red.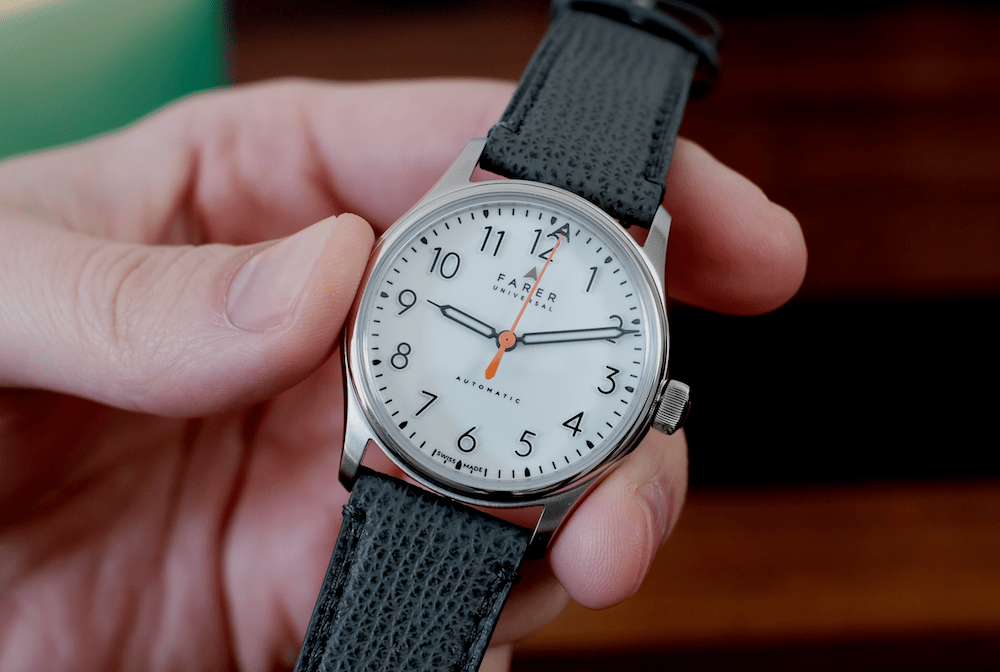 Crafted from 316L stainless steel, it is a succinct 36mm in diameter with a thickness of just 10.4mm. With a 68-power reserve and a strong caseback that can withstand the wear and tear of frequent use, this watch will be durable and reliable for years.
Most importantly, it's lightweight and easy to wear. Some watches weigh you down and never allow you to forget that they are sitting gently on your wrist. That isn't the case with the Farer Resolute.
A Sleek Design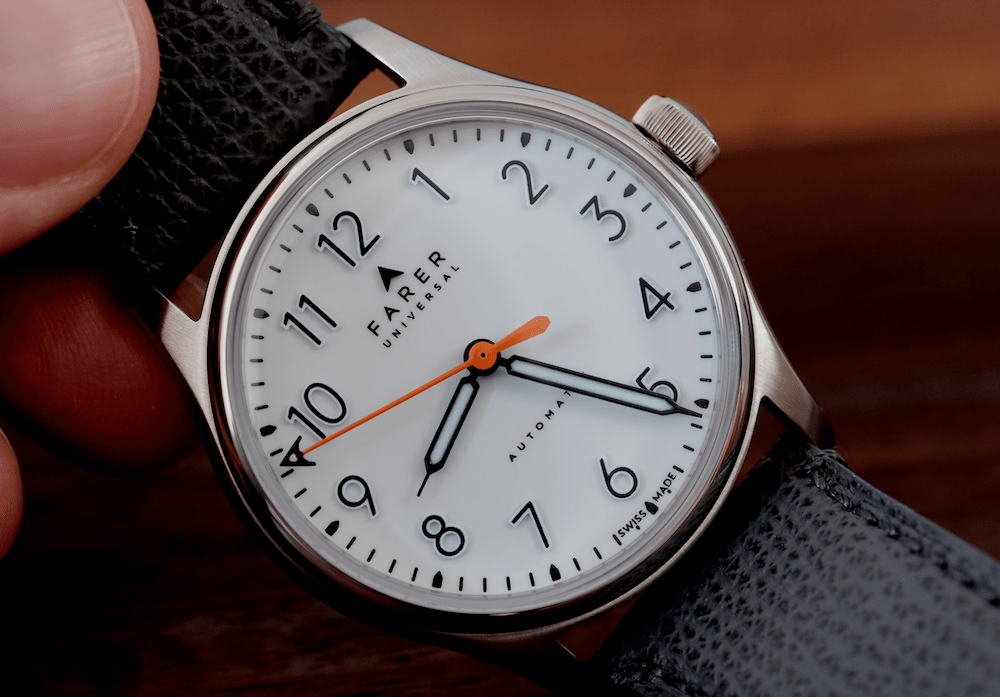 From its polished case side and bezel, its brushed lugs, enameled polished lacquer dial and sturdy, pointed hands that allow for an easy read of the time, the Farer Resolute 36mm will instantly pop on any wrist and with any outfit. It is the type of watch that appears both low key but also haute horology at the same time.
The ice-blue coloring on the watch face gives it a smooth, modern, and hip style that quite literally looks three dimensional as if it's popping out of the face. The band's smooth coloring also perfectly matches the dial of the watch. The color scheme is not too aggressive but also not too muted as well.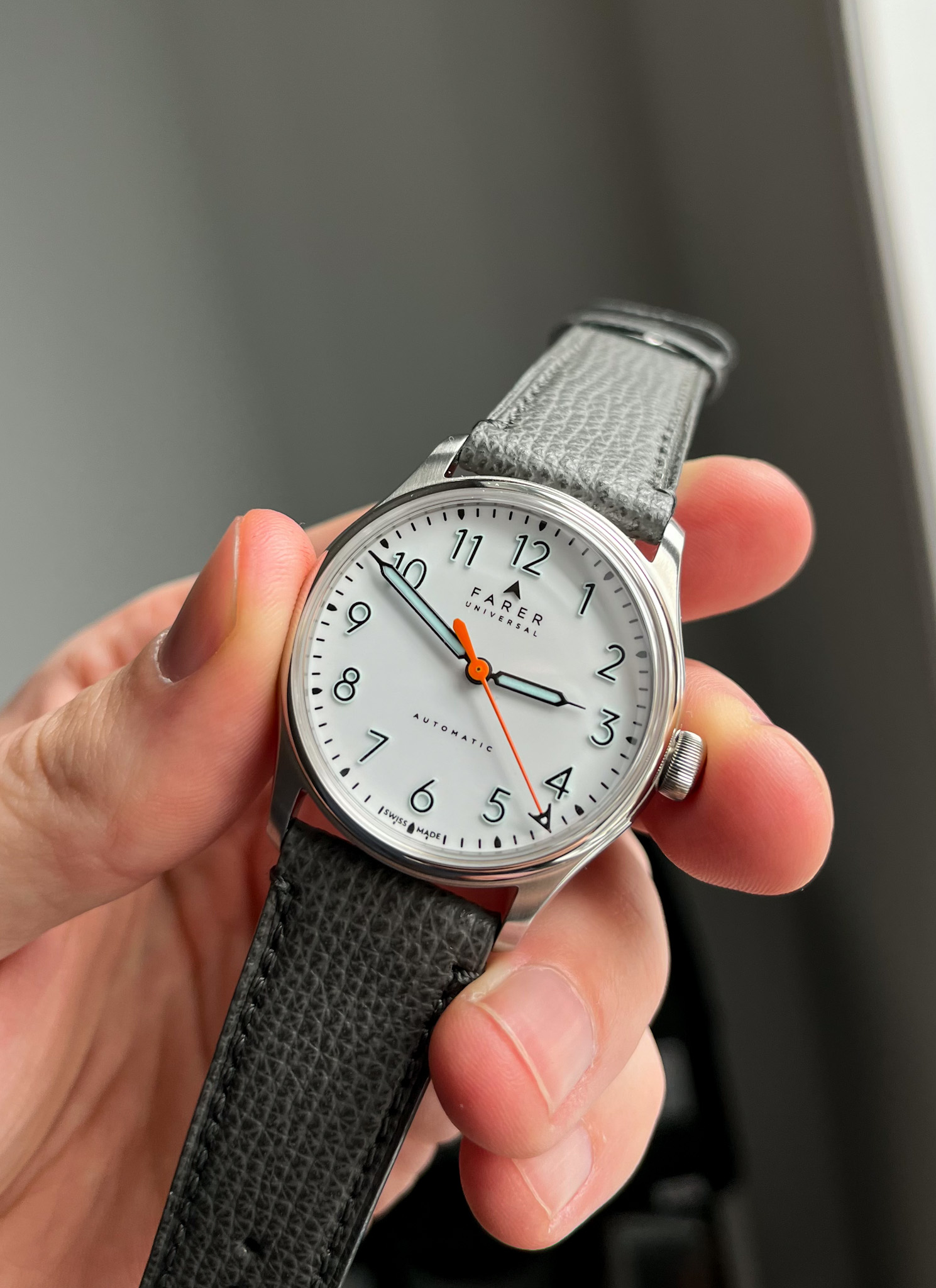 Because of the coloring, the watch will work with most business outfits, fancy dinner attire, and even just casual clothing you wear on the weekend.
The design goes beyond how it looks in terms of fashion. The expert design is also apparent when you are looking at the watch hands, which are outlined with a thick, black border and also filled with the blue hue that sits behind each number. This creates a watch that is supremely simple to read in just a second. This means the watch is wonderful to look at but also incredibly functional too. It performs as both a watch and a style statement.
Next Level Comfort
The Farer Resolute 36mm is made with the superior materials that go into all Farer products. They are known for their next level construction and workmanship. This means that it will hold up well even if you choose to wear it constantly to work, at home, and on vacation.
With many smaller watches, there is unfortunately a level of discomfort. With certain watches, the watch can dig into the skin and make certain wrist movements impaired or even painful. Not so with the Resolute 36mm, which fits with ease on any number of wrists, no matter the size.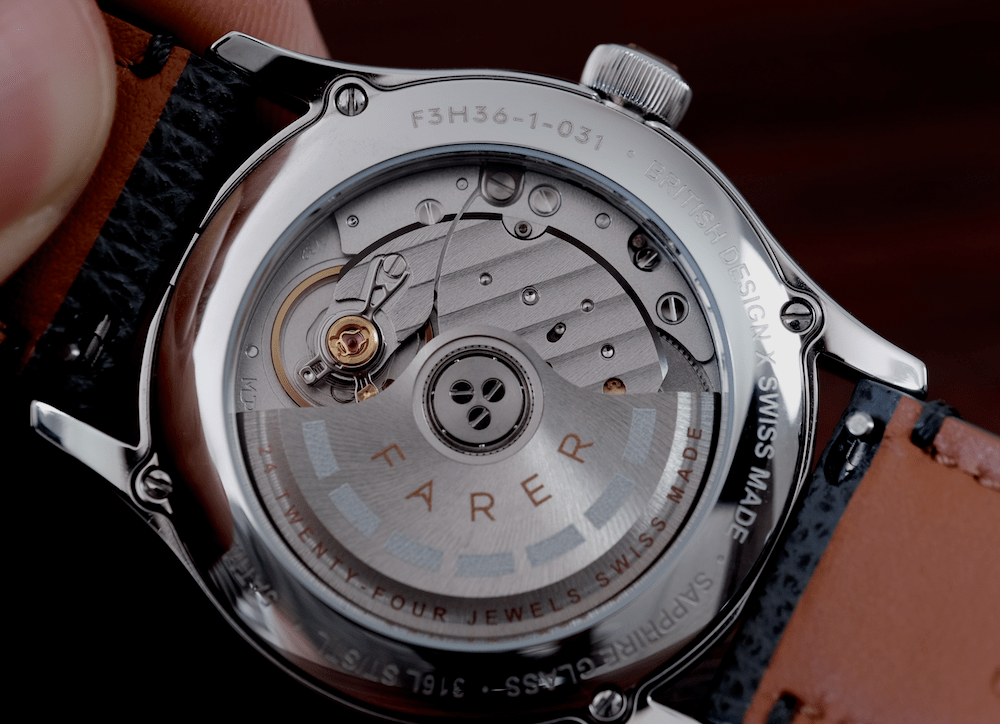 The comfort level of the Resolute 36mm means that this could become your daily watch. Due to its comfort, you will feel completely happy to take it on errands, like running to the store, working in the backyard, or going on vacation. You'll forget it is on you and that's really the ultimate compliment for a watch.
Conclusion
The Resolute 36mm comes in two sizes, which is even more of a reason to invest in this one-of-a-kind, Swiss timepiece. It doesn't matter if you're looking for a larger or smaller watch, Farer has you covered.
The 36mm is a watch of great functional beauty and is the epitome of a smaller watch that comes with an agreeable price point that is well worth your money. You will notice its value with every tick of the hands.
No matter the size you invest in, you should be very satisfied with what Farer provides with its Resolute model. The watch is deftly made and able to provide you both functionality and a sense of watchmaking prowess whether you are wearing it at home, at work, or at play.
For more information you can visit the official Farer website here.