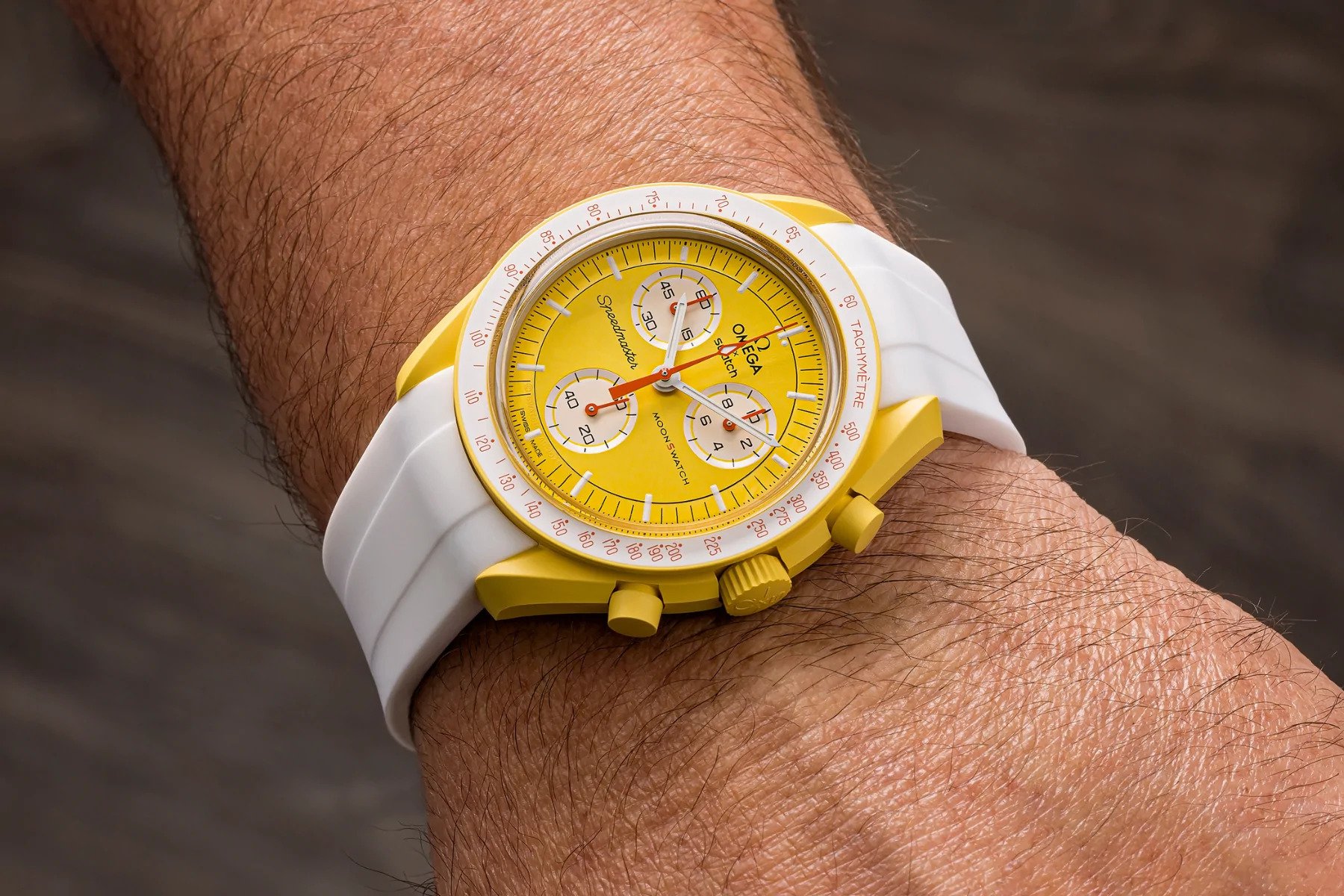 The watch strap experts at Horus have just released a new series of Moonswatch straps, designed specifically for the Omega MoonSwatch of course. These are tough, rugged rubber straps, available in an array of colors to match the MoonSwatch's many variants.
Now, I spend a lot of time writing about watches, but a good watch requires a good band. Let's talk about what makes the MoonSwatch special, why I like Horus straps, and of course, Horus' MoonSwatch Collection.
About the MoonSwatch
The MoonSwatch was produced as a partnership between Omega and Swatch. Hence the "Swatch" part of the name. The "Moon" is a reference to the watch's astronomical theme. Each of the eleven variants is inspired by a different celestial body. The design and the dial layout is the same for all of them, but the colors are different.
You can choose from the following options:
Mission to the Sun – A brilliant gold and white, as befits our home star.
Mission to Mercury – Black and charcoal colored, with light, high-contrast hands.
Mission to Venus – A two-tone pink design with broadened, oval-shaped subdials.
Mission to Earth – Blue for the oceans, green for land, with white subdials that look like clouds.
Mission to the Moon – Charcoal grey and silver, like the moon's cratered surface.
Mission to Mars – A high-contrast white dial with red and black hands, set in a bright red case.
Mission to Jupiter – A bronze case with a warm tan dial, evocative of our solar system's largest planet.
Mission to Saturn – A tan case with a dark brown bezel and subdials and "rings" around the bottom subdial.
Mission to Uranus – Baby blue with a white bezel and hands to evoke the Greek sky god.
Mission to Neptune – A light blue case and deep blue dial honor the ice planet.
Mission to Pluto – It might not be a planet any more, but Pluto's watch stands out with a white case, tan dial, and red bezel and subdials.
Swatch's contribution comes in the form of a patented material called BIOCERAMIC. This material is a blend of ceramic and a plastic that's derived from castor oil. Believe it or not, it's actually more durable than ceramic alone, and it's used to create the bezel. Just as importantly, BIOCERAMIC is easier to color than ordinary ceramic. That's how they were able to create some of the unique tones you'll see on the MoonSwatch's bezel.
Another nice thing about the MoonSwatch is the chronometer-grade movement. This is a hand-wound movement, similar to the ones in Omega's Speedmaster series. The housing is big and beefy, with a tachymeter bezel and three subdials. There's a crown at three o'clock, with a set of pushers at two and four. The lume stripes on the index and hands make the dial easy to read in any lighting, and an elegant domed crystal highlights the outside edges.
About Horus Straps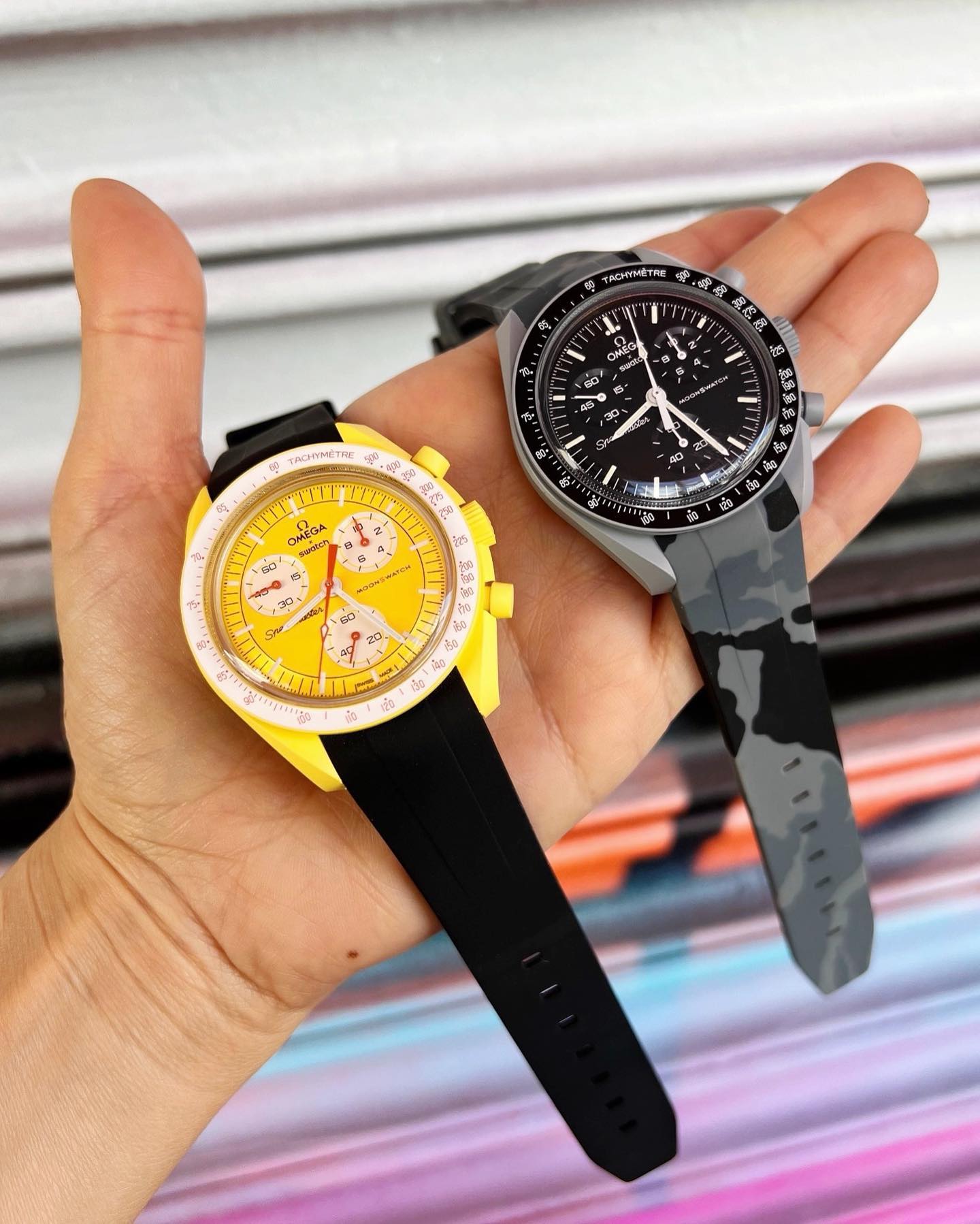 Horus Watch Straps is a relatively new company. They were founded in 2014, which is pretty recent in the watchmaking world. But they've quickly become well-known for the quality of their design. Their ergonomics are out of this world, and they produce several series that are designed for individual watches. Go through their listings, and you won't just find straps of different sizes. You'll see specific designs for Omega, Breitling, Piguet, and other major watchmakers.
Horus manufactures straps from rubber and leather, as well as some alligator and python leather collections. They back their rubber straps with a lifetime manufacturer's warranty. Because leather naturally degrades, they only offer a 12-month warranty on their leather straps, which still isn't half bad.
The Horus MoonSwatch Collection
The Horus MoonSwatch Collection is a line of 32 straps that all have the same basic design. They're made from a reliable waterproof rubber. The material is ever so slightly stretchy, and doesn't stick to your skin or catch your arm hairs. All in all, it's very comfortable, and it's perfectly-sized for the MoonSwatch. It even has a tapered design that creates very smooth curves where it meets the lugs.
You can choose from a whopping 32 colors and patterns. To begin with, there are 24 colors, which correspond to the many colors used in the different MoonSwatch variants. You can choose black, white, blue, brown, green, grey, orange, pink, purple, red, tan, or yellow, with different shades of each one. There's also a set of 8 camo options. These are graphite (grey and black), snow (grey and white), green, and red. Each color comes in two variants: standard camo and digital camo.
The strap closes with a standard tang buckle, which is 18mm wide. Regardless of your strap color, you can choose the tang color independently. It comes in brushed, polished, or black stainless steel. It also boasts seven adjustment levels, which allows it to fit pretty much any wrist.