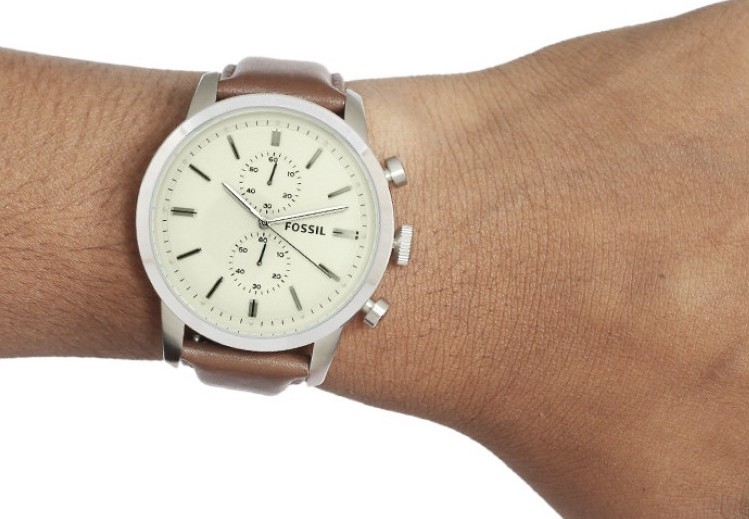 Are you looking for a tasteful watch to wear to a job interview? Do you want to make just the right impression in a semi-formal setting? Have you been looking for a tasteful watch that is understated, elegant, and confident without being too flashy?
If any of the above apply to you, you need to take a long look at the Fossil Men's FS4865 Townsman Watch. The name might strike you as somewhat weird. A townsman watch? What? Well, a town has many different settings and districts. There are many different social settings at play and you'd want to be presentable and make a good impression at all these different town settings. This is precisely the task a typical town or casual watch needs to solve. The good news is, thanks to this model, Fossil is able to do so deftly without breaking the bank
> > > Click here to see ratings, reviews, specifications and prices on Amazon < < <
Townsman Design: Casual
The Fossil Townsman's design smacks of classic preppy upper-middle-class sensibilities. The reason why you can't help but feel at ease with this model's design is you've seen it many times before with many different watch brands. The great thing about Fossil's rendition of the classic casual watch design is that it doesn't feel like it has to prove something. You get a simple stainless steel piece with a white dial and stick markers for its analog display. Its chronograph subdials are tastefully designed and don't produce a crowded or otherwise unwieldy effect. The calfskin band with buckle closure adds a very nice classical touch that rounds out this watch's very convincing attempt at meeting the standard design elements of a casual men's timepiece.
> > > Click here to see ratings, reviews, specifications and prices on Amazon < < <
FS4865 Movement Type
You might be wondering why this unit seems so elegant, sophisticated yet understated. You might be wondering how it can produce all these impressions without breaking the bank. Well, if you're familiar with the Fossil brand all these years, you'd know that Fossil cuts down on price by using a quartz movement. Considering the value this model brings to the table as well at its budget-friendly pricing, most watch fans would gladly forgive the quartz movement of this model.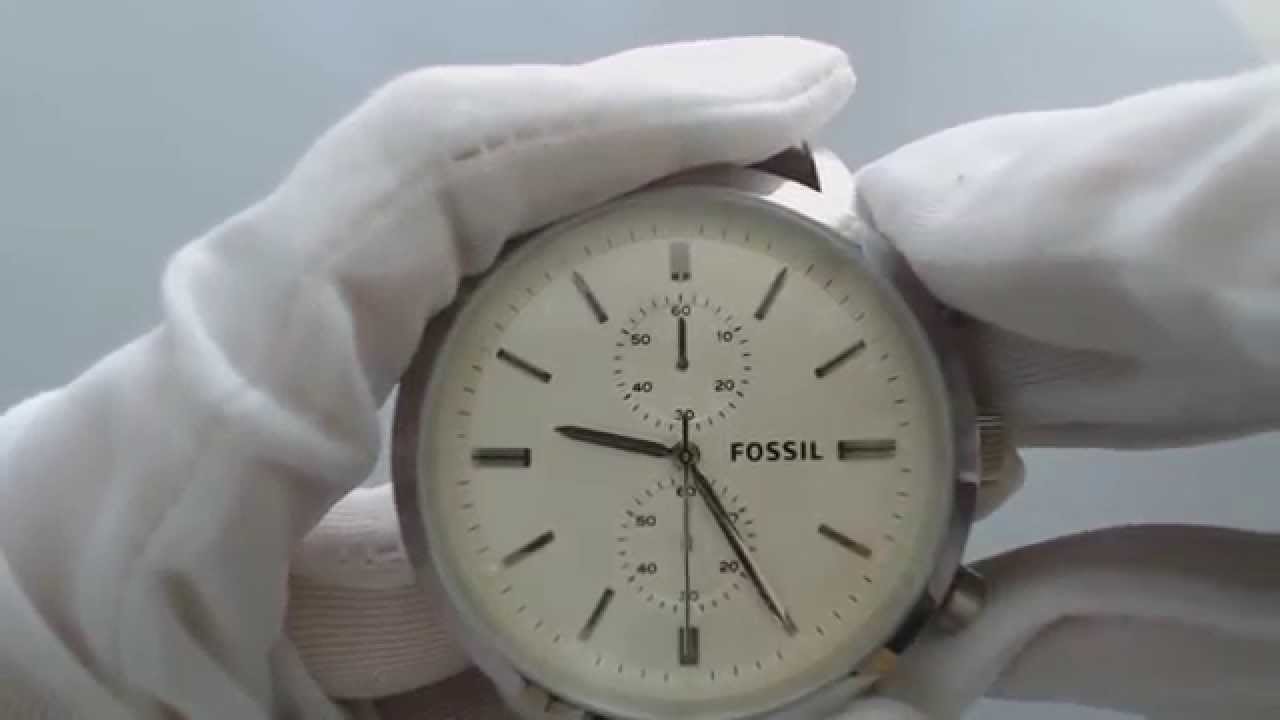 However, there might be a sticking point with the battery requirement of the FS4865 Townsman Watch. Yes, this model requires a battery. This might be a deal killer with watch purists but given the tremendous versatility you are afforded by this watch's design, I believe that having to use batteries is a small price to pay for an otherwise stellar-looking 'go anywhere' type of watch.
FS4865 Special Features: Chronograph
This casual watch has all the features of a typical men's casual classical watch-flat face, analog, stainless steel casing, clean lines, and a calfskin band with a classic buckle. It mixes things up a bit by adding a chronograph. You get a little excitement and added functionality without losing the overall classic and versatile look. This is actually no small feat. I've seen many other watch models completely destroy their otherwise solid impression by adding one 'high tech' or 'tech-savvy' feature which throws the whole look of the watch off balance.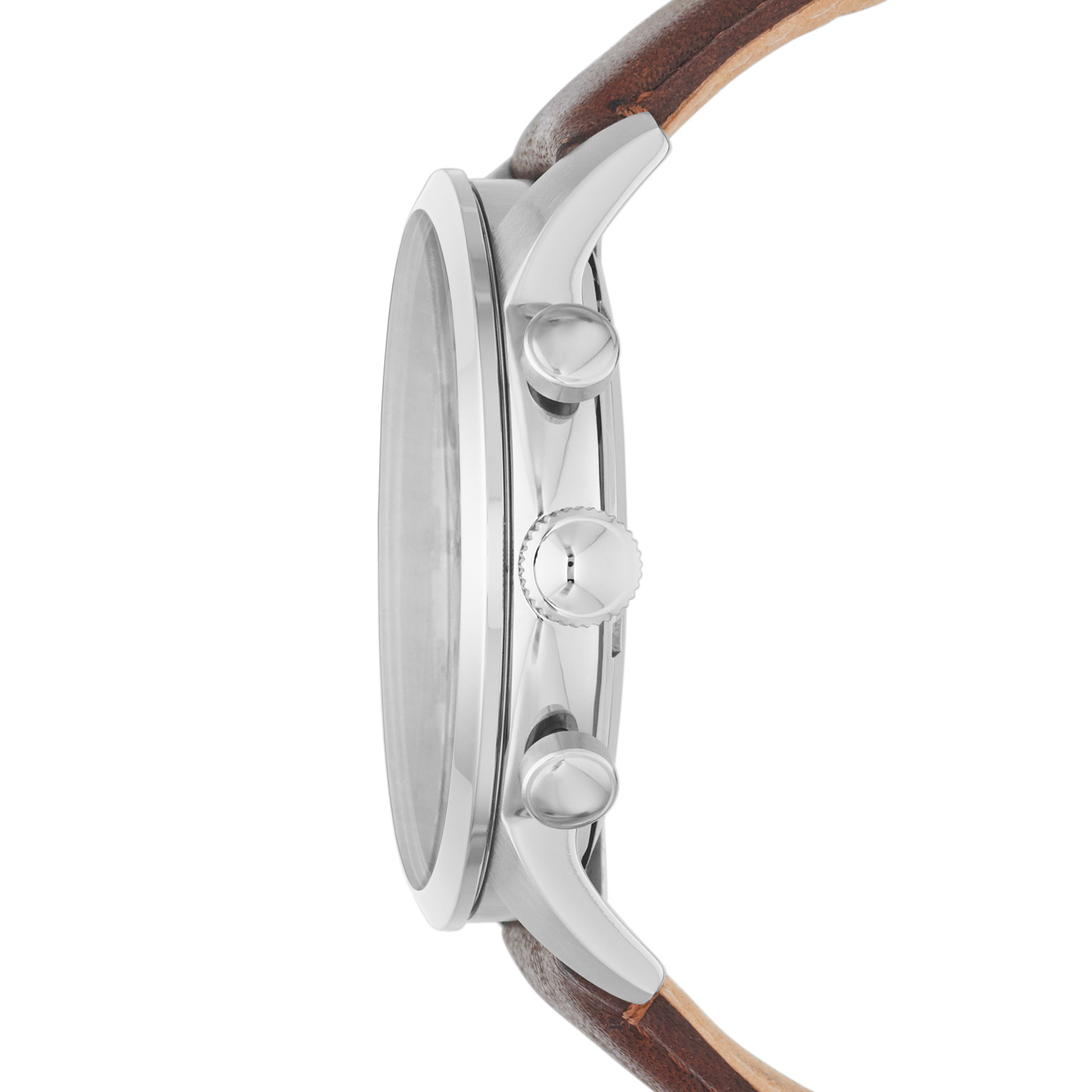 The good news is that this model enables you to achieve a contemporary look without appearing like you're out to prove something. There's a fine balance between classical and elegant and high tech and possibly nerdy. This Fossil timepiece is able to straddle that line like an expert rodeo driver and deliver a solid first impression.
When it comes to versatility, relevance, and overall value, it is very hard to find fault with the Fossil Men's FS4865 Townsman Watch. Sure, the battery requirement might throw a few people off. However, if you're able to get over that hurdle, it wouldn't be very surprising if you put this model on your short list of watches to buy next.
> > > Click here to see ratings, reviews, specifications and prices on Amazon < < <