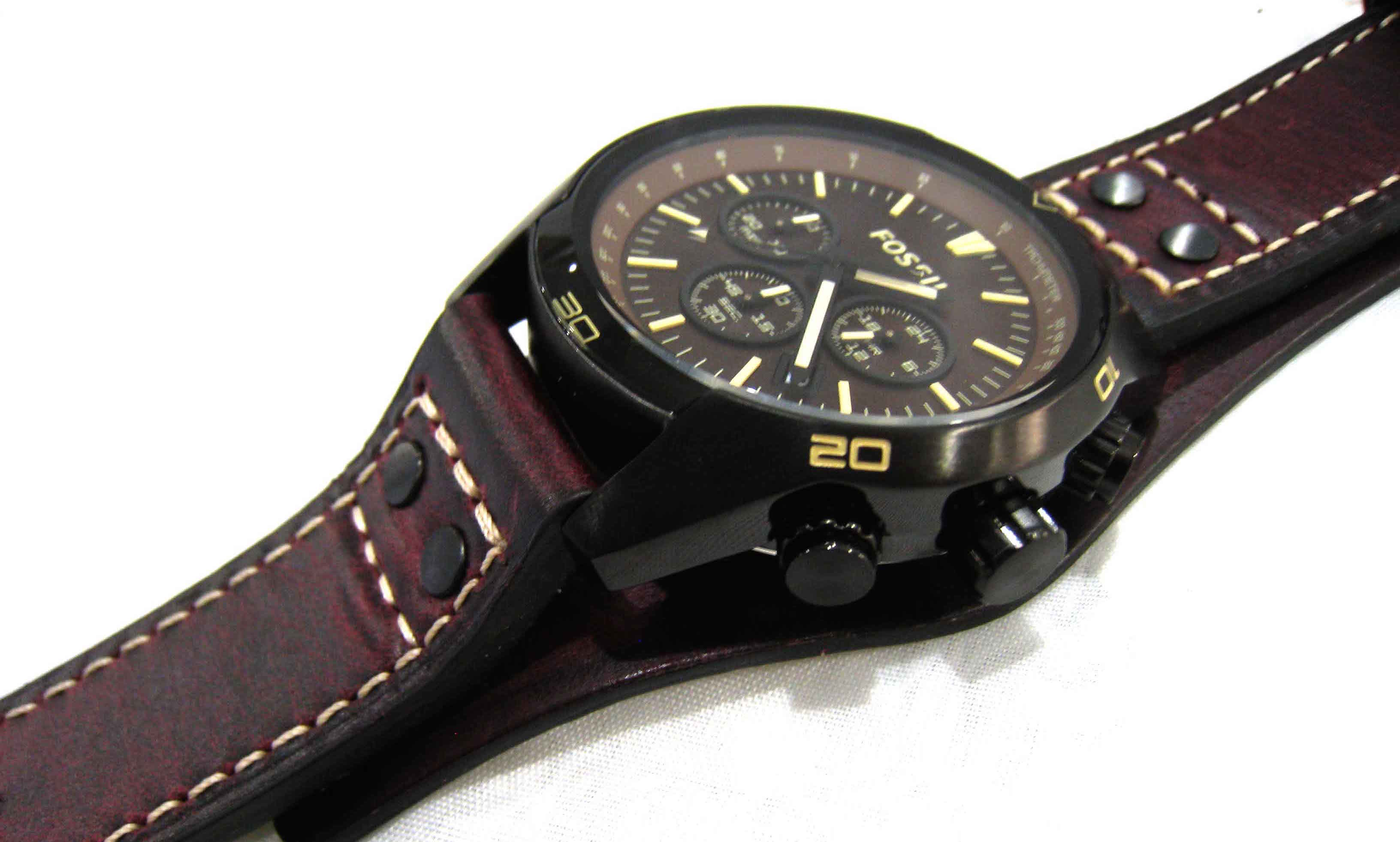 If there is any one word that would even come close to adequately describing or encapsulating the design of the Fossil CH2990 Coachman Chronograph watch, it would have to be 'unpredictable.' No other word would do justice to the funky combination of design elements that make up this timepiece. The best part? Fossil, as expected, pulls it off.
> > > Click here to see ratings, reviews, specifications and prices on Amazon < < <
CH2990 Chronograph
Usually, chronograph watches are fairly predictable in terms of features repertoire. They really are. In fact, if you've been watching the global timepiece market even slightly, you could easily rattle off some of these features. Three dials? Check. Steel case? Check. Analog? Check. Quartz movement? Check.
Pretty simple, no? It's as if the major timepiece design teams got together and agreed to use some sort of common design template or feature set for their chronographs. I don't mean to get all conspiratorial on you but you only need to check out the typical chronographs cranked out by both Swiss and Japanese watch brands to see such patterns.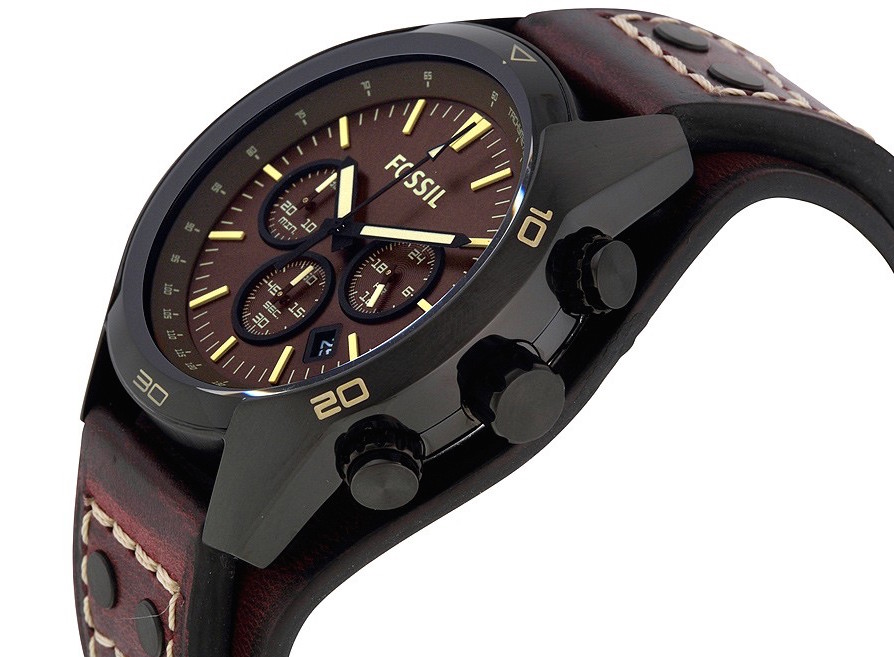 Well, true to its quirky design brand philosophy, Fossil has upset the global watch design apple cart yet again with the CH2990. While it sports many of the common, and expected, features of a typical chronograph, this timepiece's leather strap design, its brownish color, and overall look and feel give it a distinctive look. In the hands of a less deft design house, the quirky features making up this watch would have fallen flat. But since it is Fossil we're talking about here, it is no surprise the CH2990 stands apart from its chronograph competitors and gives them a run for their money.
> > > Click here to see ratings, reviews, specifications and prices on Amazon < < <
If you're looking for a chronograph that is different and would make you look distinctive in a wide range of settings, check this watch out. Its quirky design also enables it to accessorize a wide range of outfits.
Movement Type
Given the many features this watch brings to the table (multiple measurements, leather, sleek design, and others), you'd think that this timepiece would cost you an arm and a leg. Instead, this quintessential Fossil timepiece clocks in at slightly south of a hundred bucks. What gives? Well, just like with any other timepiece stocked full of features or sporting great design, the big price 'equalizer' is the designer's choice of movement.
While this watch doesn't feature Swiss quartz technology or even Japanese quartz provenance, this timepiece's quartz movement still gets great ratings. Fossil has been around for over two decades and it has been using quartz movement for a large chunk of its designs. While some models were not exactly models you'd write home about, it appears Fossil's growing fan base is a testament to its overall quality. This should give you some measure of assurance regarding the quality, durability, and overall value of the quartz movement component of its timepieces.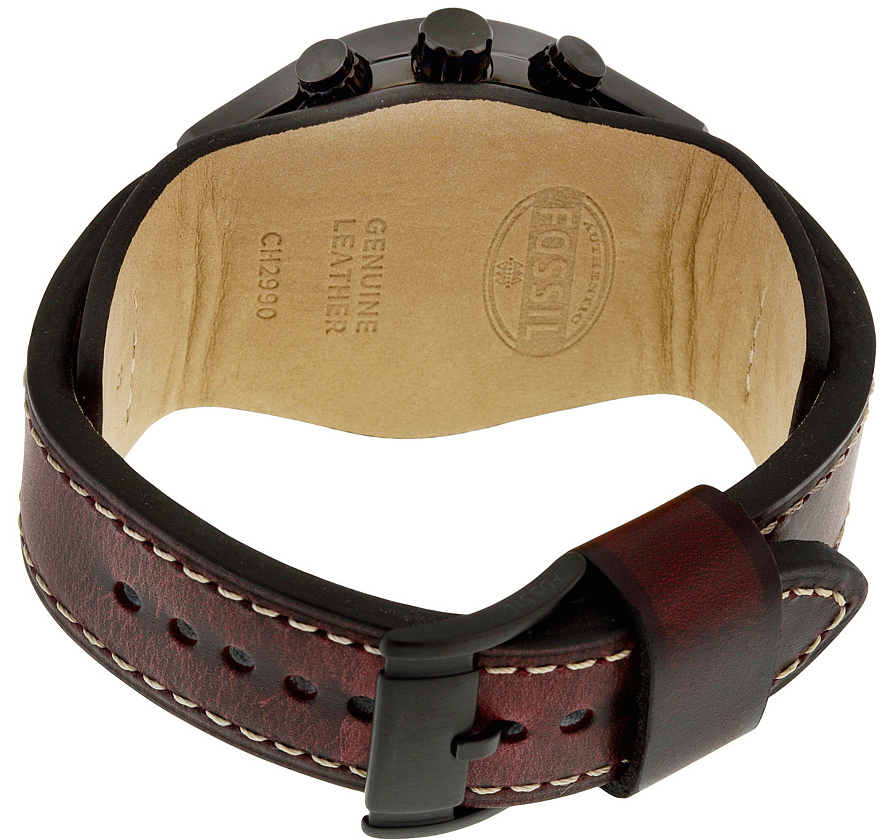 Special Features: Eclectic design
While this watch also features water resistance to a depth of 10 meters, I am not logging that as the preeminent 'special feature' of this watch. In my mind, that designation goes to this watch's eclectic design. To be frank, I was blown away by this watch's quirky appeal. It features the type of leather strap design you'd see in a casual watch and the classic features of a chronograph all decked out in a strangely arresting brown color. I simply can't stop looking at this bad boy.
The bottom line? If you want to look distinctive, give the Fossil CH2990 Coachman Chronograph Watch the once over. You won't be disappointed.
Overall value and impact means the CH2990 watch is a solid buy.
If you're looking to add a lot of zing to your timepiece repertoire, definitely consider this watch. It is quirky without being weird. Distinctive without being too loud. Commanding without being too showy. Talk about an impressive value!
> > > Click here to see ratings, reviews, specifications and prices on Amazon < < <