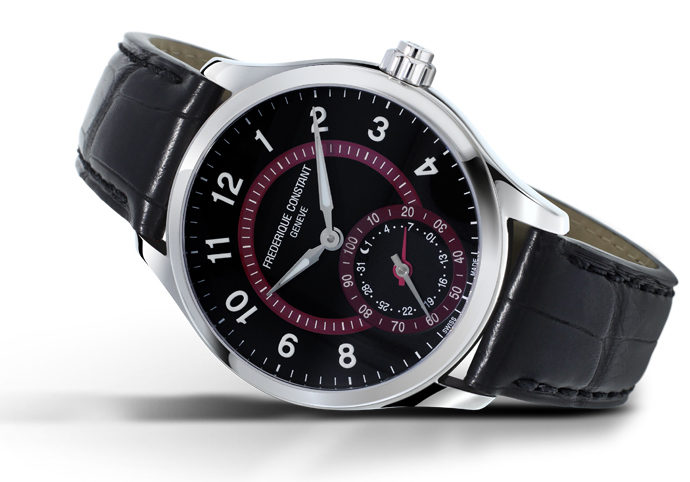 There are watchmakers dedicated to design and then there is Frederique. The Geneva based company put an incredible amount of planning into the watches that they are releasing so that they always produce the highest quality of work for their customers. Each of the pieces that are released are intricately hand-assembled and the watchmakers are trained to have the finest attention to detail. The Frederique Constant FC-285BBR5B6 Horological Smart Watch is both functional as a daily wearing watch and as an activity tracking watch. Having an activity tracker that accurately tracks your sleeping patterns and exercise activities it also boasts an impressive battery life.
The ability to link classic and modern comes together well with this timepiece.
> > > Click here to see ratings, reviews, specifications and prices on Amazon < < <
Classic Feel
The careful planning that goes into each of the Frederique watches is remarkable. The combination of modern technology and classic craftsmanship comes together wonderfully with this timepiece. The case is a simple, classic round stainless steel. At 42mm it doesn't sit too large on the wrist and with the classic crocodile finish strap it is quite comfortable even with a thickness of 14mm. The only real downside when it comes to the leather strap on a smart watch is that it isn't advisable to do intense exercise due to the leather strap soaking up the sweat. You would possibly need to have another device to track the higher intensity exercise or change the band to something better suited.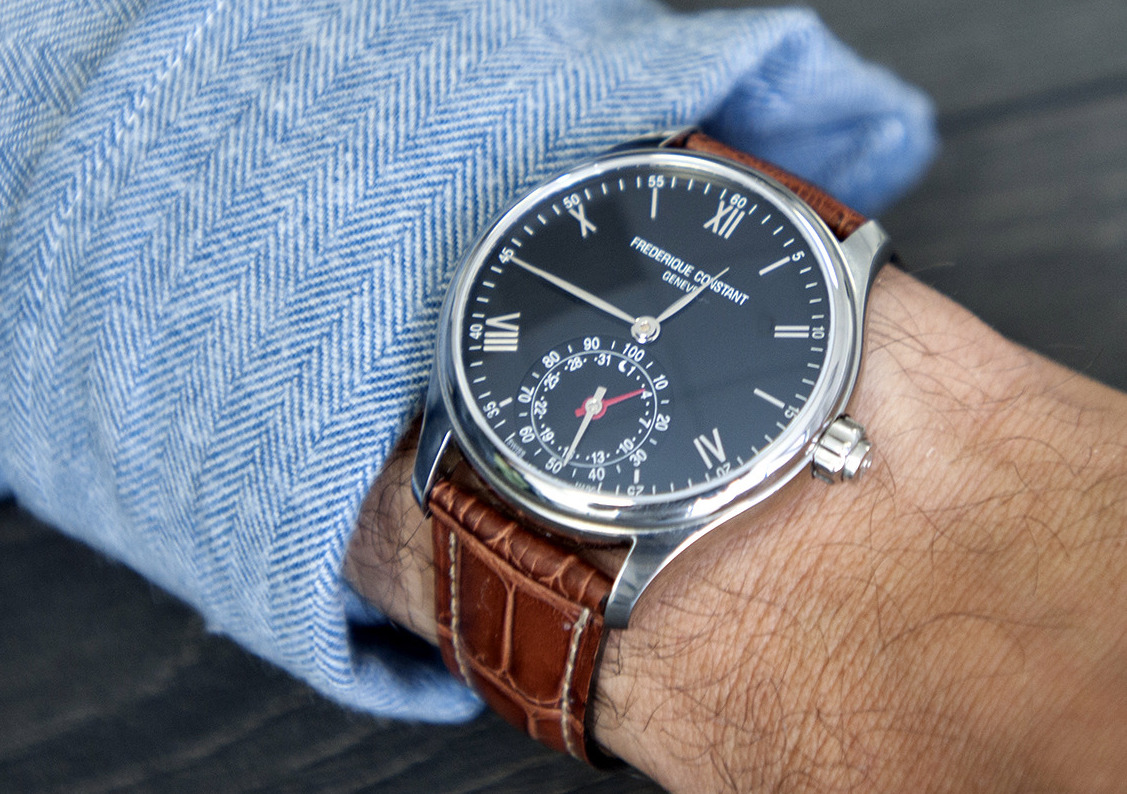 The screw crown on the side of the case pops out quite a bit and has the Frederique logo tastefully stamped on the top. There is a buckle clasp on the leather band that also has the Frederique logo on. The back of the case is stainless steel and in simple text has the engravings of Frederique Constant and the water resistant rating on.
FC-285BBR5B6 Dial
The dial on the FC-285BBR5B6 is a smart dark blue with maroon contrast that has a sophisticated appearance. The indexes are Arabic numbers with small index markers between. There are then two other counters on the dial above the 6 o'clock. There is a lunar phase calendar dial with a maroon watch hand and then a second dial that resembles the classic watches that used to track seconds as a decimal out of 100 but now has a different purpose. The dial out of 100 is now used to display progress towards step goals or sleep goals and you toggle through the different uses by holding down on the crown.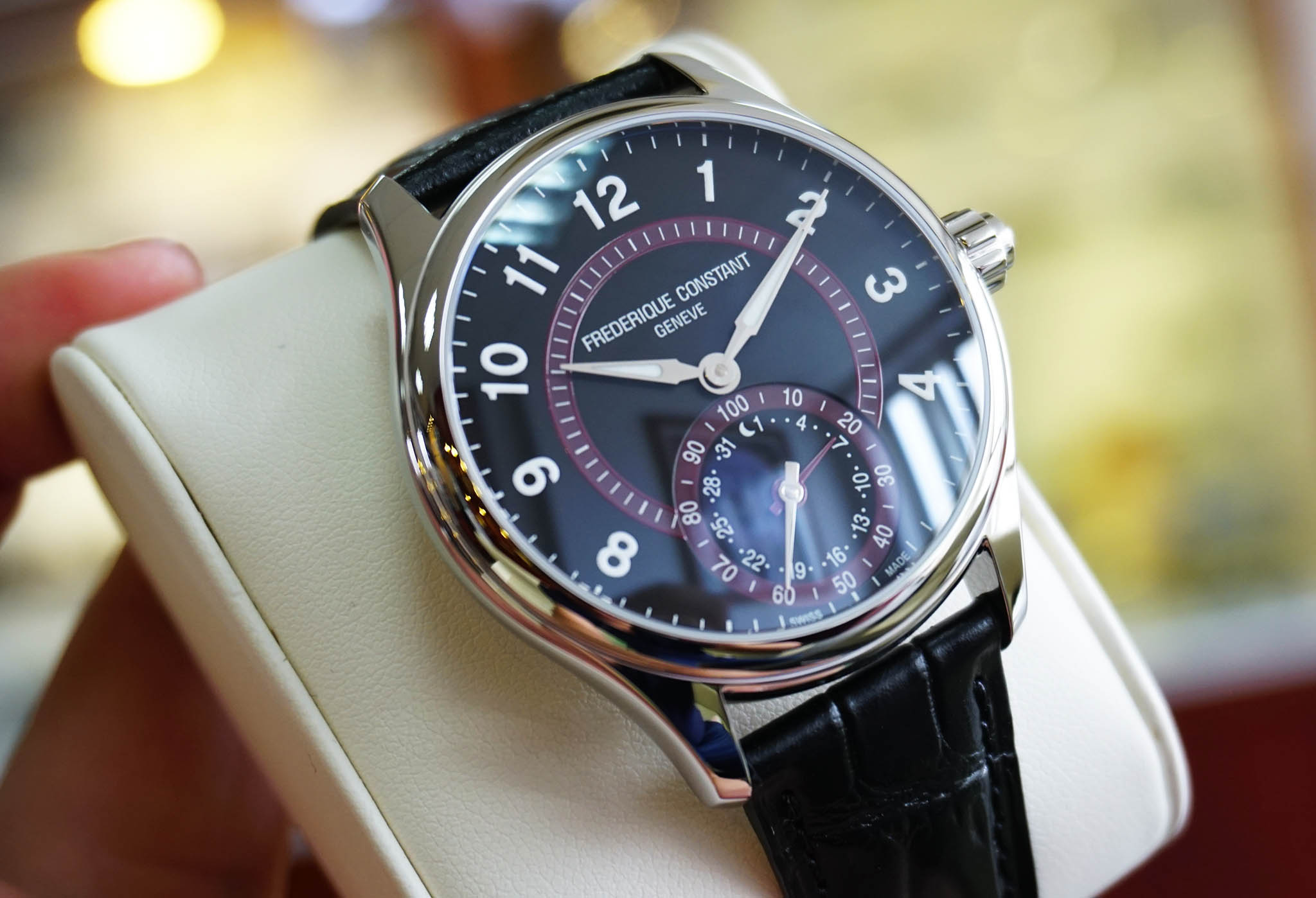 > > > Click here to see ratings, reviews, specifications and prices on Amazon < < <
The lance styled watch hands have lume on them but the rest of the numbers unfortunately don't which can be a bit annoying at times. The view through the dial is enhanced by an anti-reflective sapphire crystal that makes the face more scratch resistant as well.
Classically Smart
If you were to tell somebody a while back that they could have a luxury watch that provides smart watch capability they would've thought you crazy. Smart watches are known for their incredibly poor battery life but the FC-285BBR5B6 Horological solves that issue. The watch battery which is powered by a Swiss-quartz can run for more than 2 years while still tracking sleep and activity accurately. This means that you do not constantly need to charge the watch and can use it for extended periods of time without needing to take it off and lose tracking hours.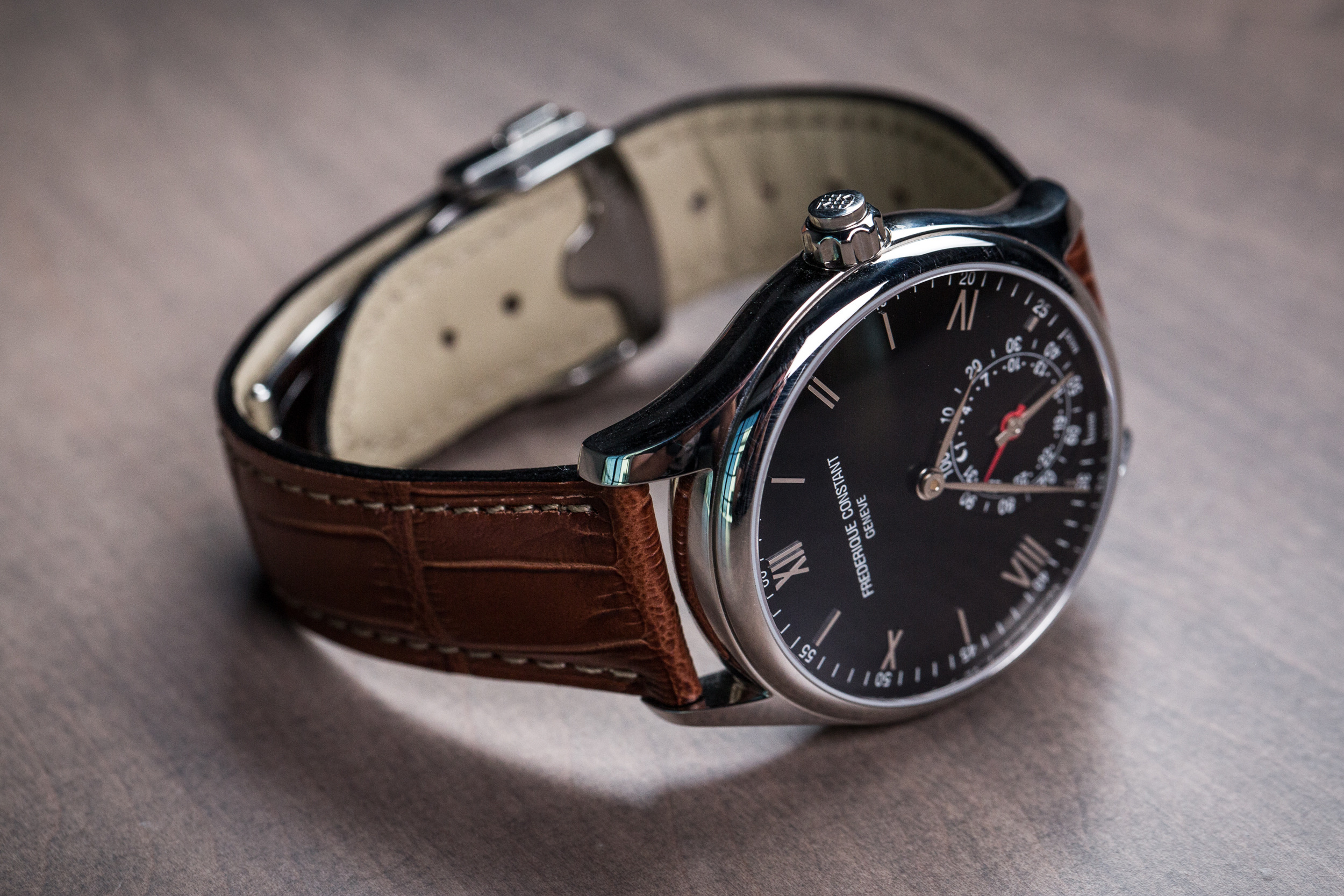 Most smart watches you see are either bulky or lacking on the trendy spectrum but in this you cover both bases. You have a trusty timepiece that can accompany you to board meetings and golf games without it being an inconvenience or an eye sore. The bezel is fixed polished stainless steel which finishes off the look of the watch exquisitely.
Final Thoughts
The FC-285BBR5B6 Horological Smart is a timeless piece undoubtedly but there are some careful considerations people should expect to make before deciding on this piece. On the 'Horological Smart' watch scale it is on the more affordable side but if you are looking for a strictly focused exercise watch then this isn't going to be the piece for you. It functions effectively as an activity tracker but it would need to be connected to your phone consistently. This means that throughout regular daily activities it would be well suited but over and above that when exercise gets more strenuous it would not necessarily be practical.
If you are not too focused on having something there for the more strenuous training or you are comfortable getting a second device for training specifically the Frederique is perfect and you are able to monitor your goal progress and other activities through an iPhone or Android App. This watch would make a good addition to a classic collection even without the smart functionality which means there is not much of a sacrifice to gain so much more in return.
> > > Click here to see ratings, reviews, specifications and prices on Amazon < < <