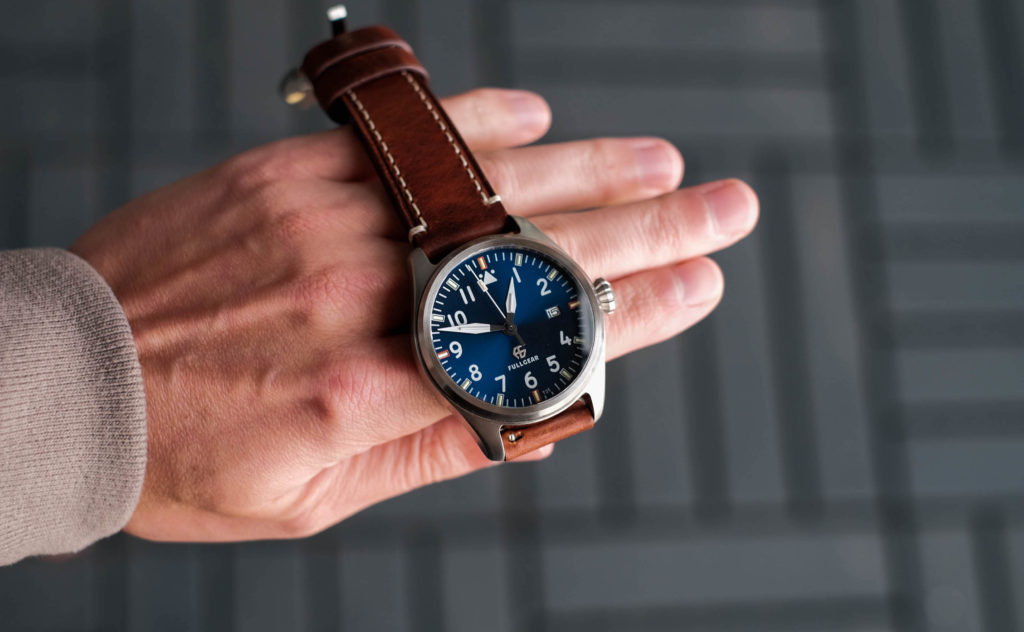 FullGear is a brand new manufacturer launching their very first watch via Kickstarter. This watch, called the Pioneer, is based on a simple conceit: it's the world's first customizable tritium watch. To understand why this is a big deal, it's first important to know a bit about Tritium watches. I'll talk about that more in a second. But it's also important to recognize the unique challenge of starting any custom watch line. FullGear offers a range of dial colors, hands, strap materials, and even different-colored tritium tubes. That's tough to do, so it's nice to see a brand new microbrand taking on the challenge.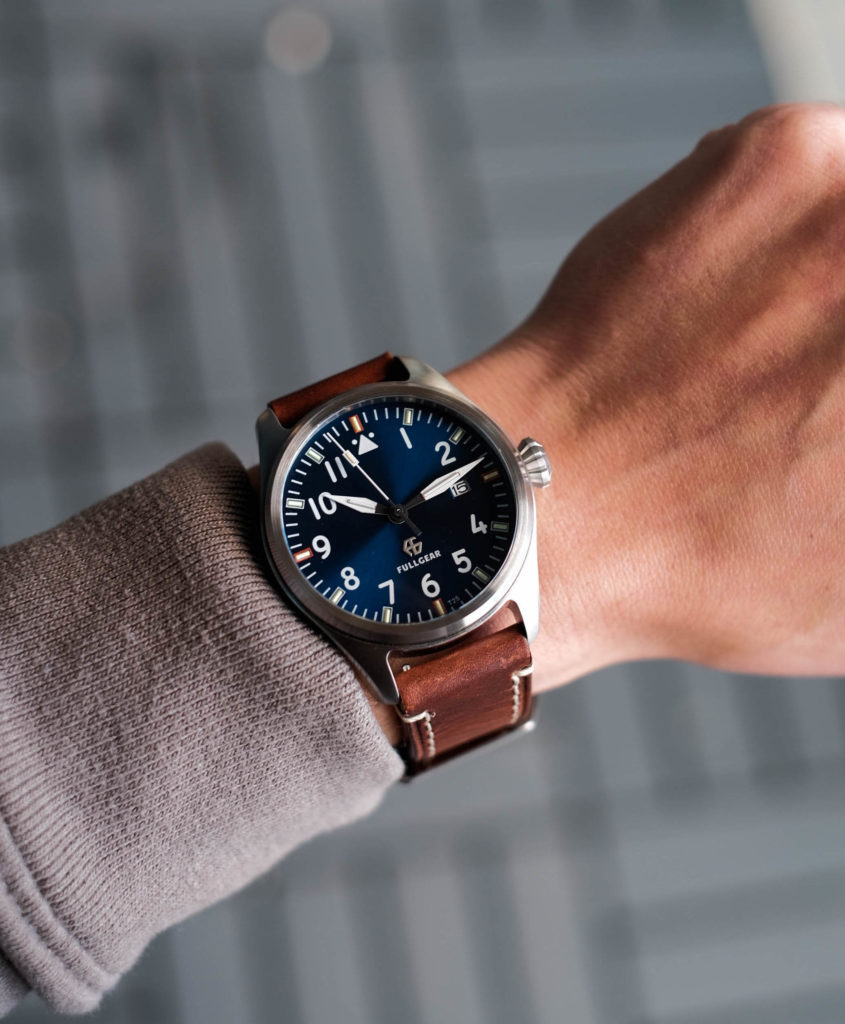 According to FullGear founder Luke Lau: "We believe timepiece is not just a tool, it is a part of your character and your partner to cope with different challenges. That's why we created FullGear, a watch equipped with the finest material, an all-the time glowing light for you even in complete darkness. Reading the time is no longer a problem in extreme conditions. We are so excited to share this watch to the Kickstarter community."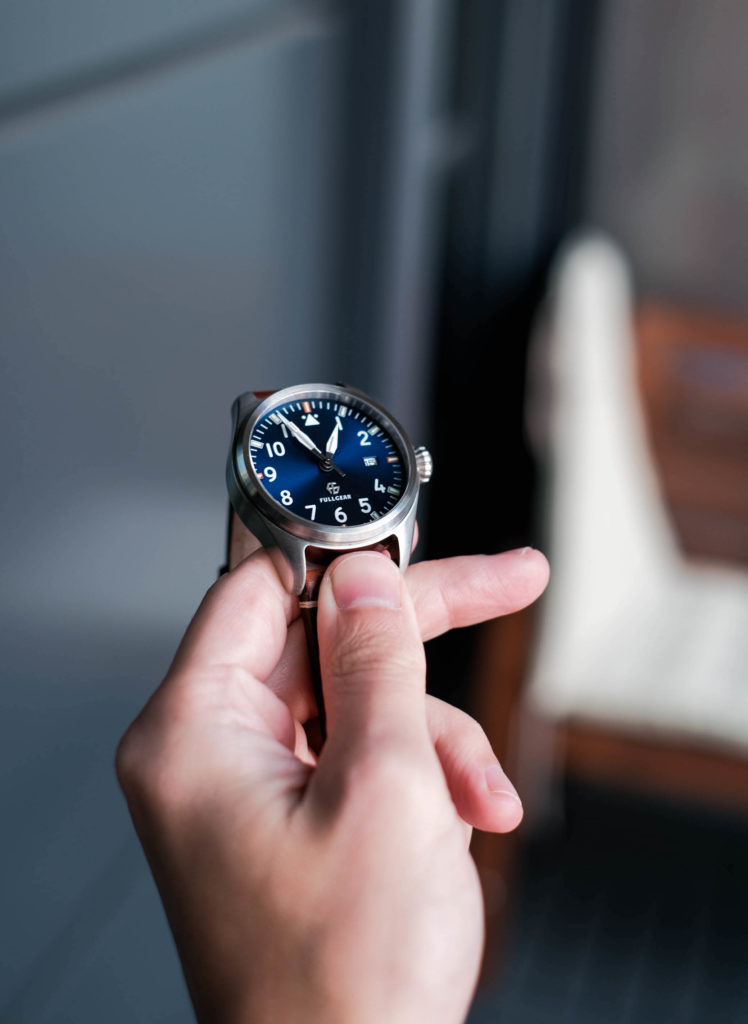 The entire FullGear team is staffed with veteran watchmakers, so while the brand may be new, they're not new to the business. They also offer a 2-year manufacturer's warranty, so you're protected in the event of any issues.
What is a Tritium Watch?
If you're fairly new to watches, or if you've never bought any older watches, tritium watches might be unfamiliar to you. This is because they're not as common as they used to be. Until recently, though, tritium was the default material used for lume hands. Tritium is a weakly radioactive element that emits a faint glow. It was originally adopted because it was much safer than older lume materials such as radium. In fact, the general consensus is that a simple watch crystal is enough protection to make tritium paint totally safe. Nonetheless, most watchmakers have switched to modern lume stripes.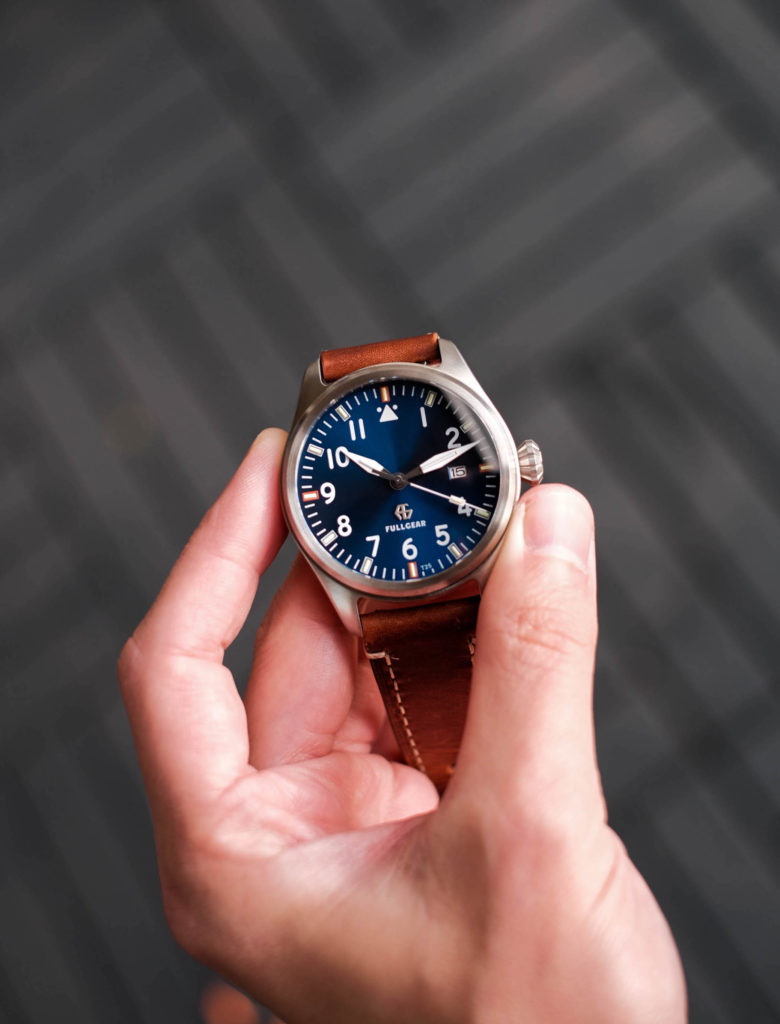 The problem with this is that modern lume stripes need to be exposed to light in order to glow. If you store your watch in a drawer or cabinet for a few weeks, the lume stripes won't even work until they're exposed to light for a day or two. Tritium will continue to glow for decades without any noticeable drop in brightness.
Thankfully, you don't have to choose between better safety and better lume performance. Some modern manufacturers are still using tritium, but the tritium takes the form of gas encased in a tiny tube. Because the tritium is in gas form, it emits even less radiation than tritium paint. FullGear sources their tritium tubes from MB Microtec, a Swiss manufacturer that supplies most modern tritium watch manufacturers.
Pioneer Customizable Dial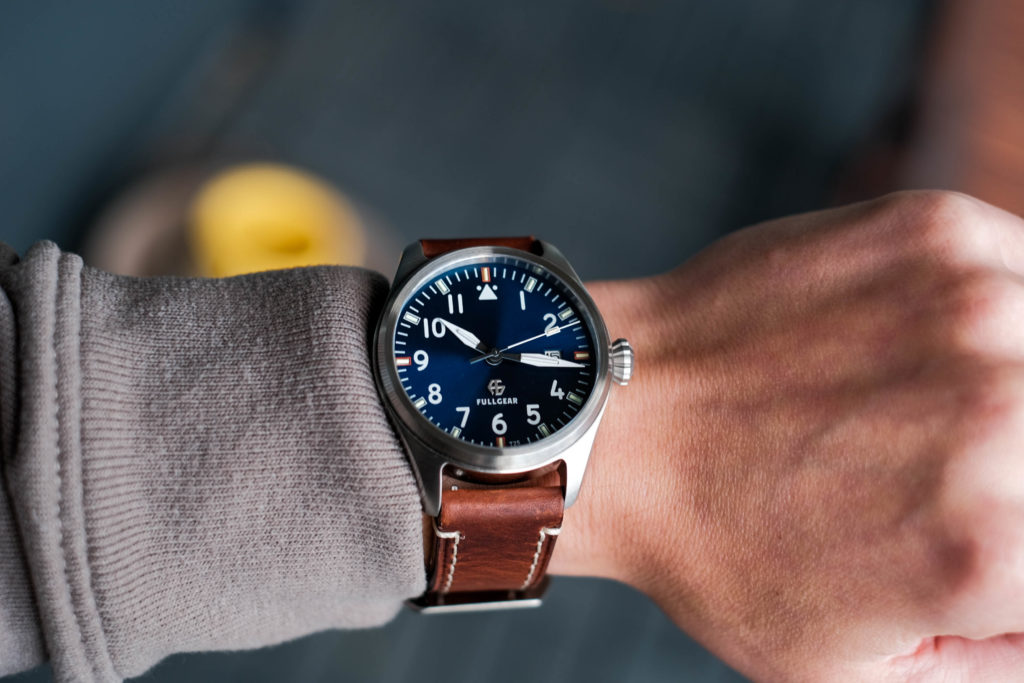 The main selling point of the FullGear Pioneer is its customizable dial. When I saw the options, I was not disappointed. There are a total of nine different options, each with its unique quirks. Colors include black, white, cobalt blue, and olive. There are also some differences in the hashes and numerals around the outside. Some of the dials are very plain, while others are moderately busy. I use the term "busy" loosely here. The only complication is a small date window at the 3 o'clock position.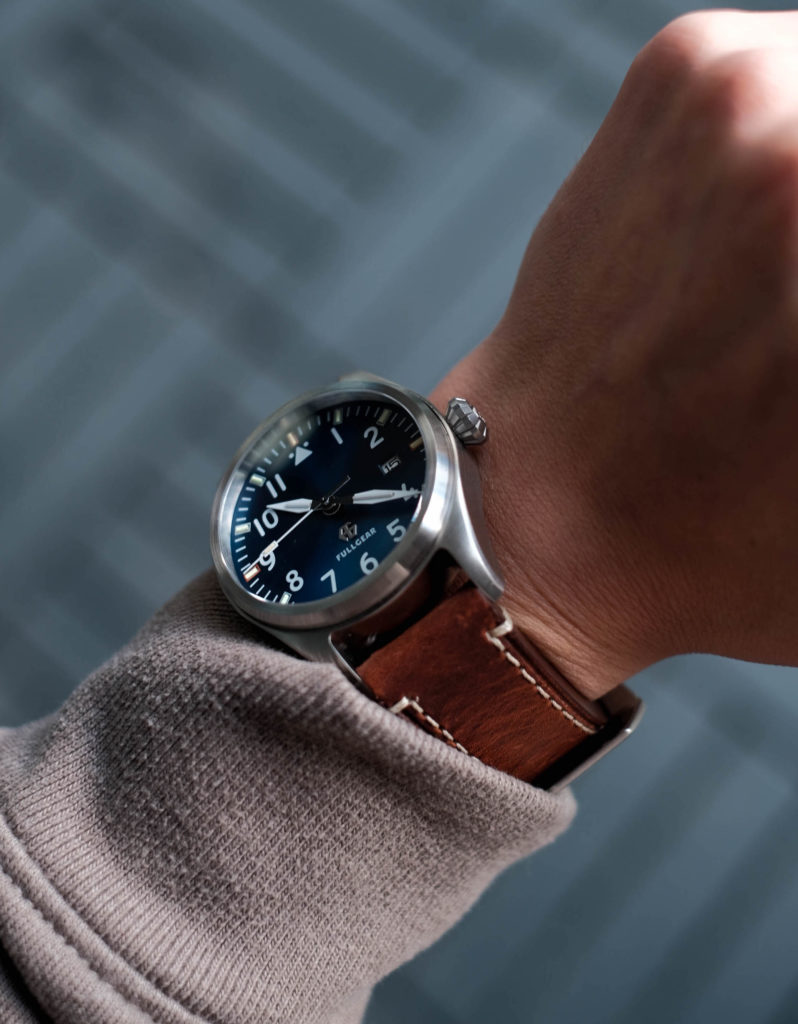 The hands are spear-shaped, although they're slimmer than most spear-shaped watch hands. Like the dial, they're available in different colors: green, red, blue, and amber. The tritium tubes are very slim, and pair nicely with the equally slim tubes in the hashes on the dial.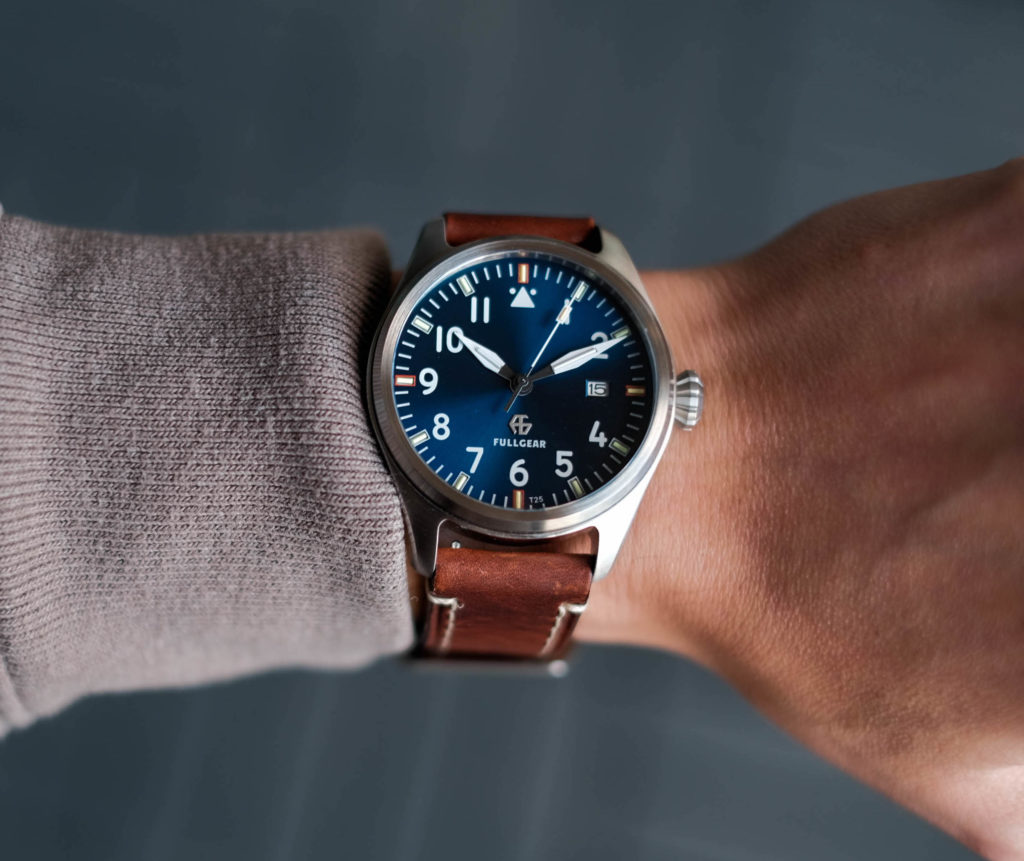 With that many dial options, you're going to want to make sure you have a strap to match. There are three sets of options available: leather, canvas, and nylon NATO. The leather straps can be either smooth or distressed. The NATO straps come in six colors, and the canvas straps come in five. All of them have simple tang buckles that are easy to close and open. But regardless of what aesthetic you prefer, your strap will look just fine.
Sturdy Case
The FullGear Pioneer is housed in a rugged, 43mm stainless steel case. At that diameter and 15.1mm in thickness, it has a medium wrist presence, but it's fairly thick. This is mostly due to the case back, which bulges out slightly from the main body.
It's also partially due to the coated sapphire crystal, which is ever so slightly raised, although not enough to distort the dial. The coating is resistant to scratching and glare, eliminating any further distortion.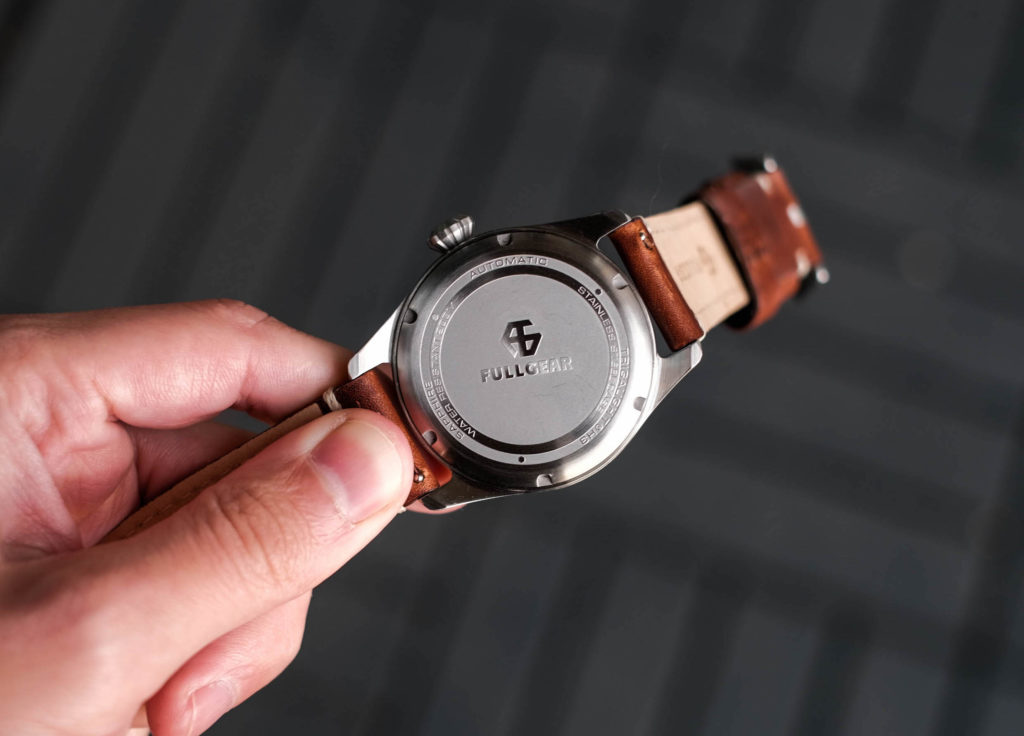 On the case back, you'll find a FullGear logo embossed in the center. You'll also see the 200-meter water resistance rating stamped on the circumference. This makes the Pioneer suitable even if you're a fan of water sports. Not only that, but there's a screw-down crown that can't get pulled out by accident and cause leaking. The crown has a flared design, more like the crown on a chess king than the crown on a watch. I found this touch of detail both charming and attractive.
Reliable Movement
The FullGear Pioneer utilizes the Seiko SII Caliber NH35A movement. This is a Seiko-designed movement that uses Seiko parts, but is manufactured in one of their Malaysia factories instead of in Japan. As such, the movement is designed as a workhorse, not for super accuracy. Out of the box, it's rated for -20/+20 seconds a day, which is average. That said, it uses Seiko parts. If you have it tuned up, it can perform at +/- 15 seconds a day, in line with normal Seiko standards.
When properly tuned, the NH35A is actually not a bad movement. It vibrates at 21,600 beats per hour, so it works as smoothly as you'd expect from any automatic movement. The only major downside is that it costs about as much as the labor for regular servicing. If you want to have your watch regularly serviced for the long haul, it's cheaper just to source a new movement.
To support Fullgear's Kickstarter campaign visit their page here.