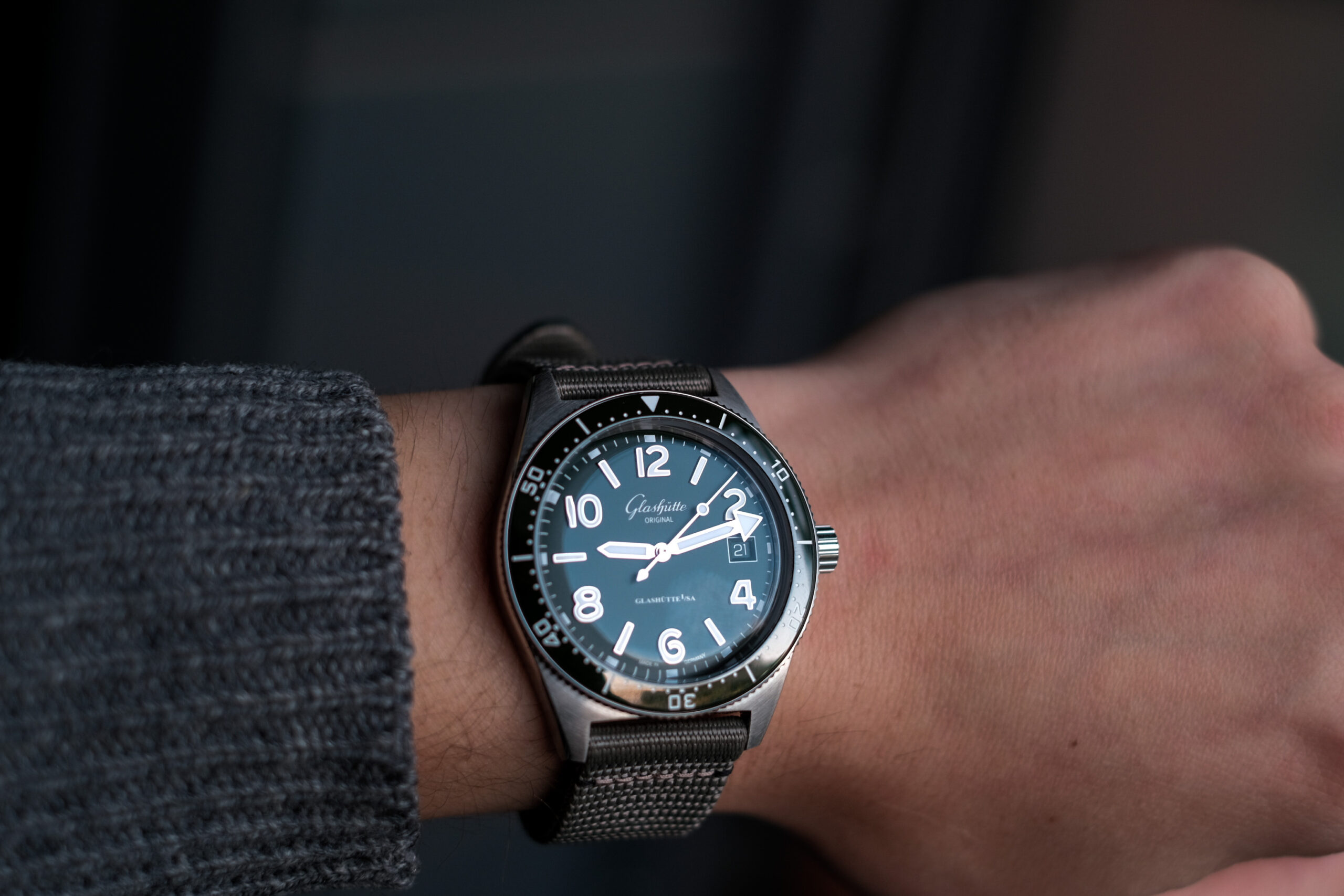 Glashütte Original has had a tumultuous history compared to most watchmakers. In the aftermath of World War II, the new East German government merged the country's watchmakers into a state-owned conglomerate, the Glashütter Uhrenbetriebe (GUB). It's during this era that many of Glashütte Original's most popular vintage watches were produced. One of these is the Spezimatic Type RP TS 200, which made its official debut in 1969. Not many of them were made, but they've become a classic for a couple of reasons. First is their unique 60's aesthetic. Another is their high quality. These were profession dive watches, and they were exceptionally durable and precise.
That was the 1960s. In 2019, Glashütte Original released the SeaQ, a tribute to the Spezimatic Type RP TS 200. This new watch shares a lot with its forebear, including the distinctive angular case and rotating bezel. But it's also been upgraded with some modern touches, such as a newer movement and a date window. I managed to get my hands on the green dial version, which is the one I'll be reviewing today.
A 60s-Inspired Dial
The main attraction of the SeaQ reference 1-39-11-13-83-34 is its vintage dial. It's a rich forest/moss green, with an outer index consisting of short, fine hashes at the minute marks, and fatter blocks at the five-minute marks. Inside of this index, you'll see large Arabic numerals at the even numbered hour marks. At the odd numbered hour marks, there are long, broad hashes that are as tall as the numerals. Both the numerals and the hashes are applied, and painted with a glow-in-the-dark Super LumiNova finish.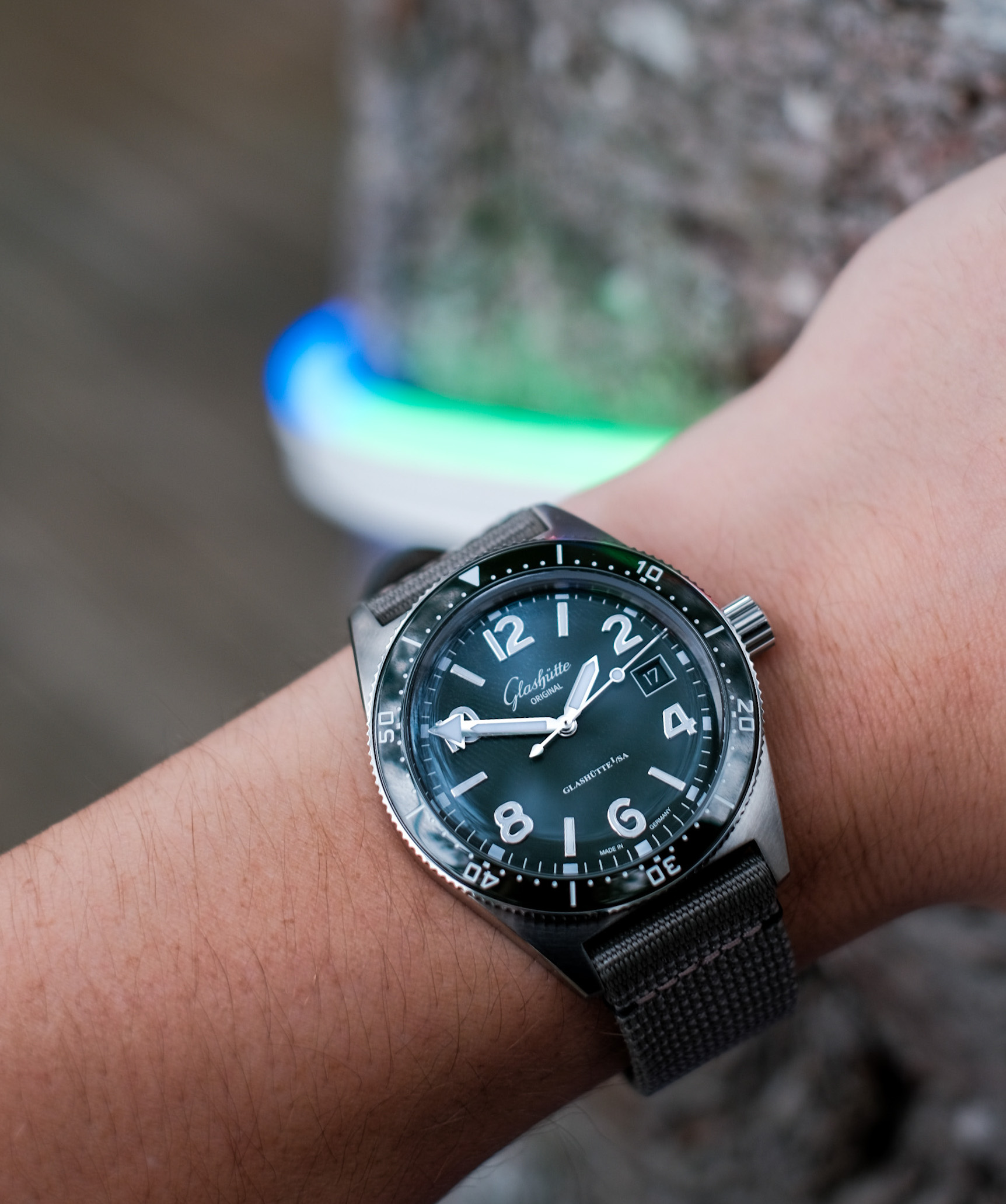 The one exception to this is at the 3 o'clock position. There, instead of a hash, there's a green date window that matches the dial, with the date number printed in white. This is a major change from the old Spezimatic, which didn't have a date window.
The word "Glashütte" is written in large cursive letters across the top of the dial. Just beneath it and just above the center is the word "Original," in a smaller, printed text. You'll also see the words "Made in Germany" printed in tiny letters around the 6 o'clock position. Other than that, the bare green dial is uninterrupted.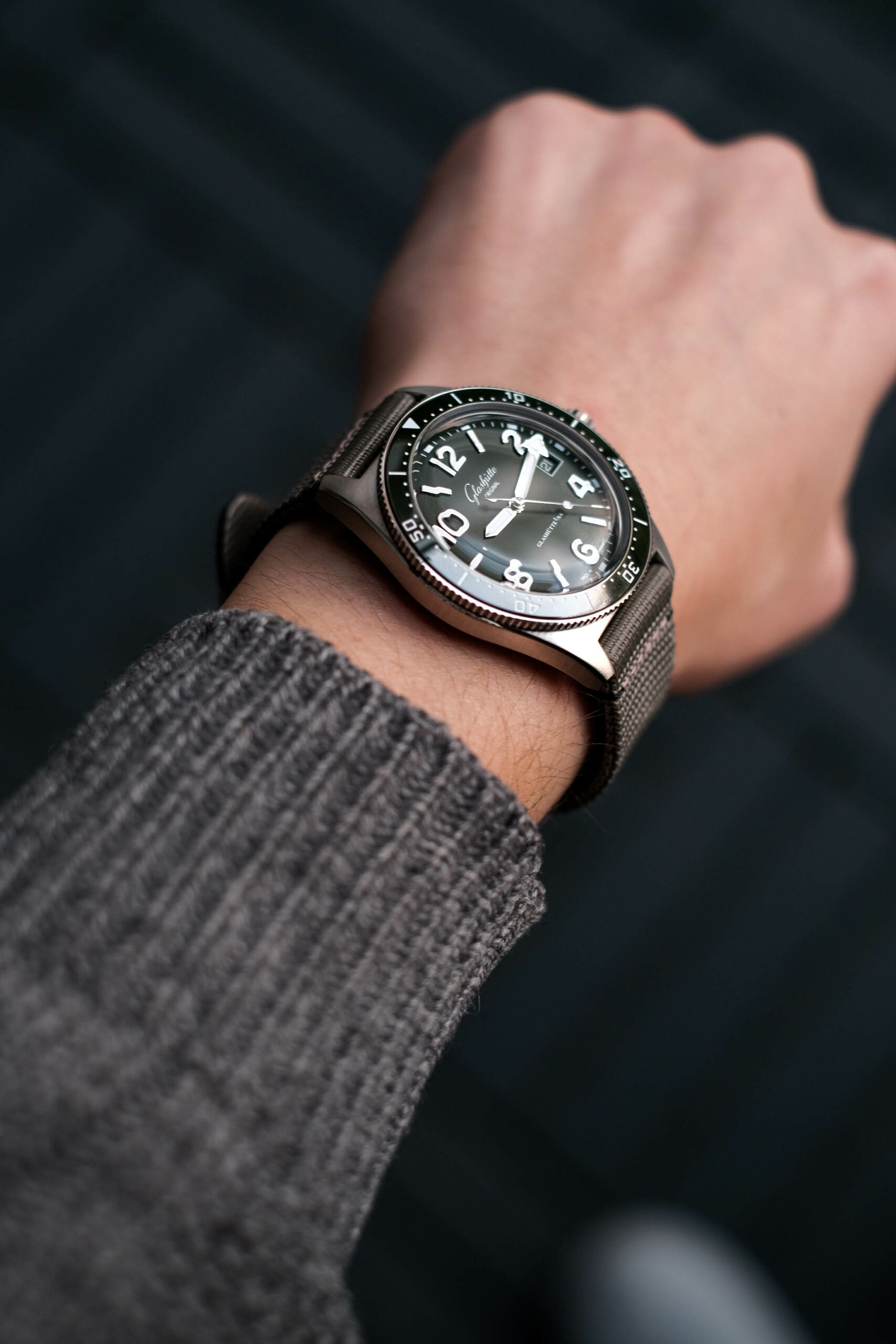 The hour and minute hands are both long and broad, with a Super LumiNova finish. The hour hand is shorter and broadsword shaped, while the minute hand has an arrow tip, and extends almost to the outer edge of the dial. The second hand is needle-slender, with a little lume pip about halfway down its length.
A Rugged, Stainless Steel Case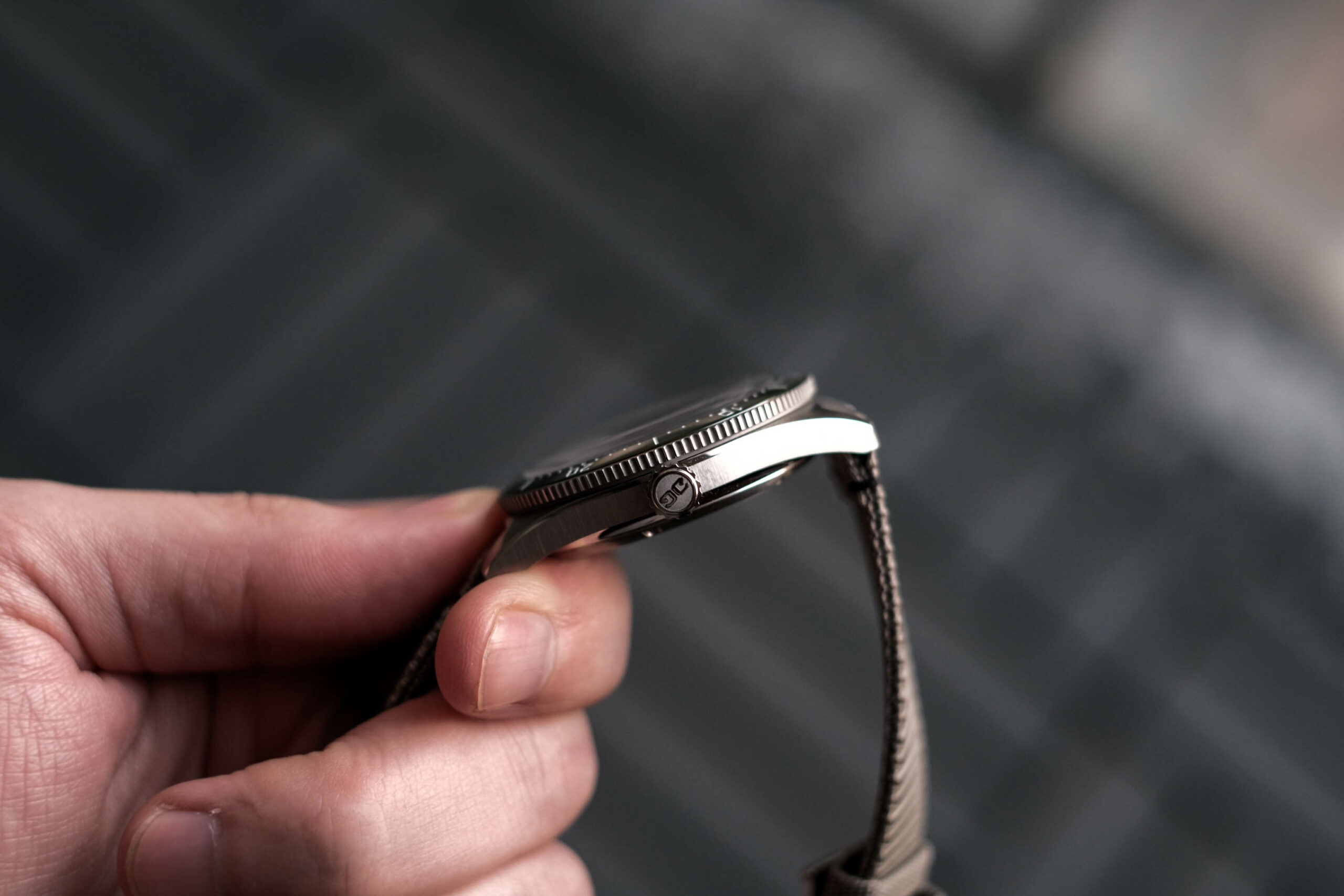 The SeaQ's case is more or less identical to the Spezimatic that inspired it. It's constructed from stainless steel, with a matte finish that doesn't attract a ton of attention. It's 39.5mm in diameter and 12.15mm thick, which lends it a medium wrist presence. As a result, it should be a good fit for most people, whether your wrists are large or small.
The shape of the case is bold, with slender lugs that reach back quite far. They also have a sharp right angle at the top, which gives them just enough of an industrial appearance to scratch that 1960s Eastern Block itch. The main attraction, though, is the bezel, which has a green ceramic inlay with 60-minute marks. It's also rotating, and it moves in one direction only to help prevent you from accidentally turning it.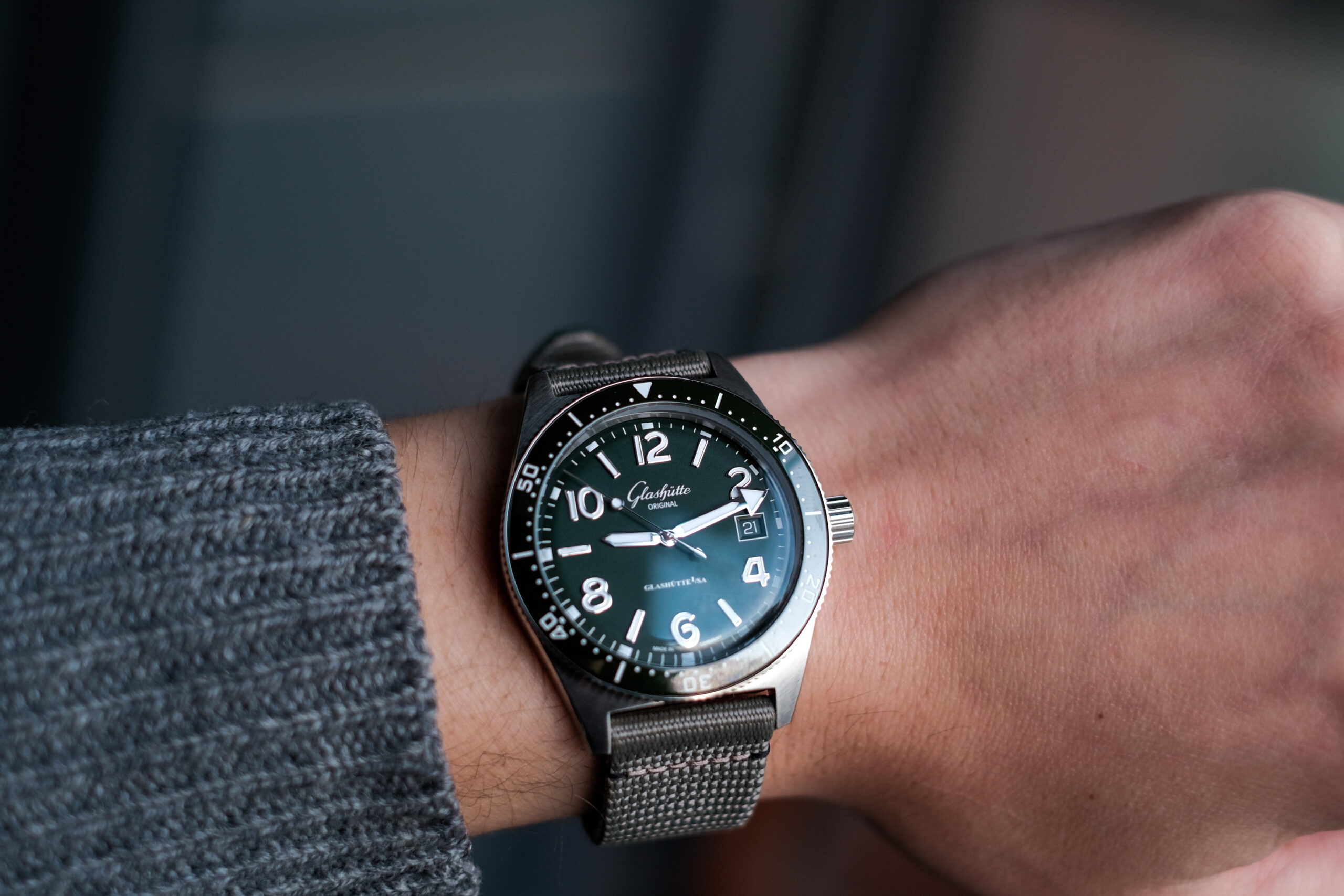 The case back itself is a work of art, with an engraved Glashütte imprint, with their trademark trident and waves. It's a screwed down back, but you still get 20 bars of water resistance, or 200 meters. The screw-down crown is also very attractive, with knurled sides, and a double-G stamp on the end. On top, the crystal is arched, which distorts the dial when viewed from an angle. This arched shape also catches the light, which creates little highlights without causing a ton of glare.
A Quality, In-House Movement
Like the original Spezimatic, the SeaQ uses an in-house Glashütte Original movement; in this case, the Ref. 39-11. It's an automatic movement with 25 jewels, a frequency of 28,800 BPH, and a 40-hour power reserve. It's reliable and accurate, with hacking seconds so you can set your watch precisely. It's actually a shame the SeaQ doesn't have a display case, because this is a beautiful movement. It sports Glashütte Original's signature striping, with a skeletonized rotor and a swan neck fine adjustment, as well as beveled edges.
Your Choice of Strap/Bracelet
The SeaQ comes with your choice of strap or bracelet. I opted for the grey synthetic fabric strap, but you can also choose a rubber strap in dark green or black. Both types also come with your choice of either a folding clasp or a pin buckle. Alternatively, you could opt for the stainless steel tri-link bracelet.
For more information visit the official Glashütte Original website here.