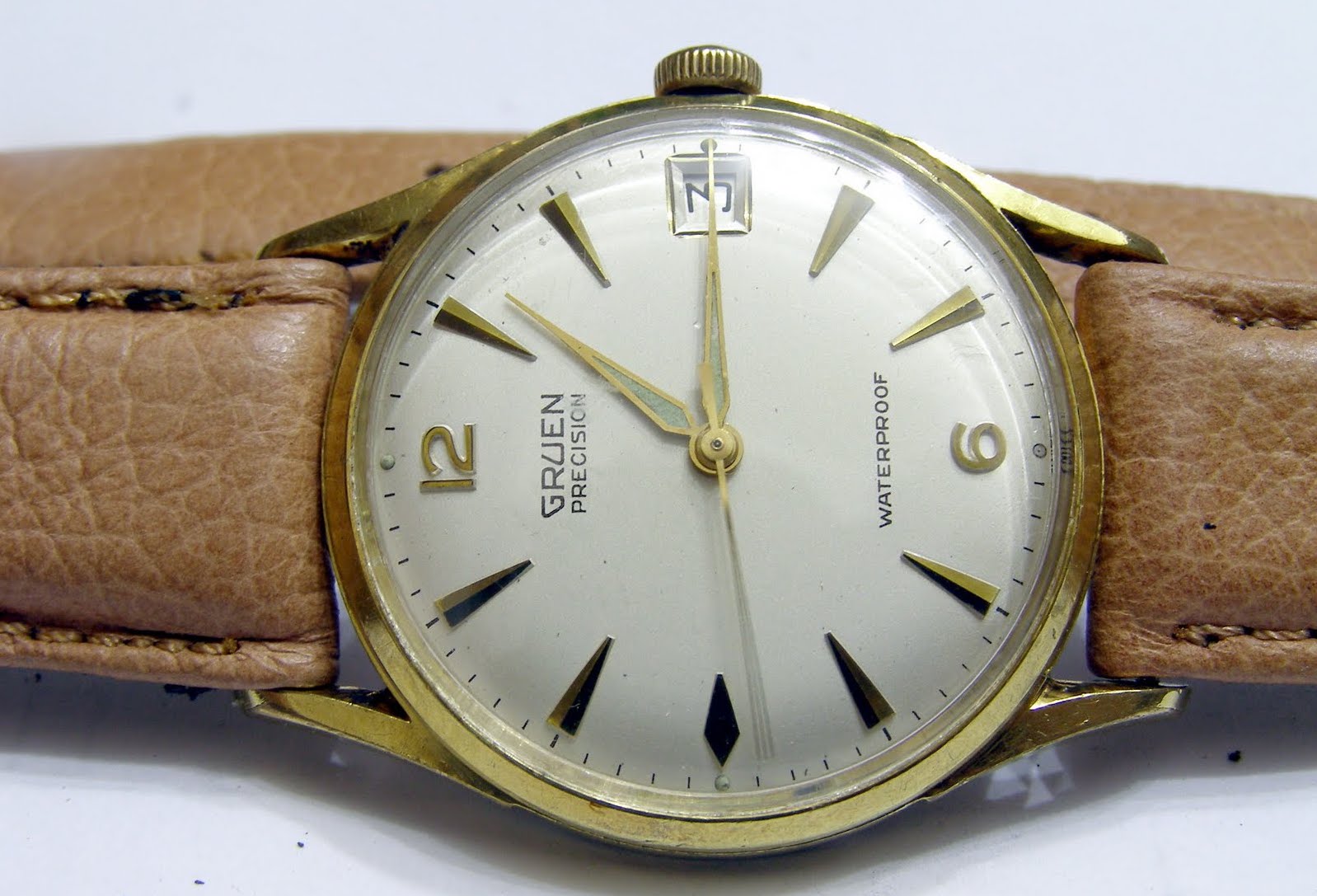 The Gruen Precision is under our scope today and what an interesting piece it is. I like the Gruen because it isn't necessarily a high quality material timepiece but because it has a story behind it. The Gruen is special because it is one of the few legitimate remnants of a brand long gone. This timepiece is different to the other vintage inspired pieces because it is actually vintage.
Vintage Gold Case
The case is gold plated and comes in 33.5mm which is easily one of the smallest mens pieces we have featured on this blog. Everything on this piece is gold except the dial and white date window and the tan leather strap. There is nothing more vintage than a piece completely dressed in gold and that lacks the forced classic look of the more modern imitations. The crystal is significantly domed which gives a thicker look to a fairly flat watch and has a pop due to the extraordinarily thin bezel.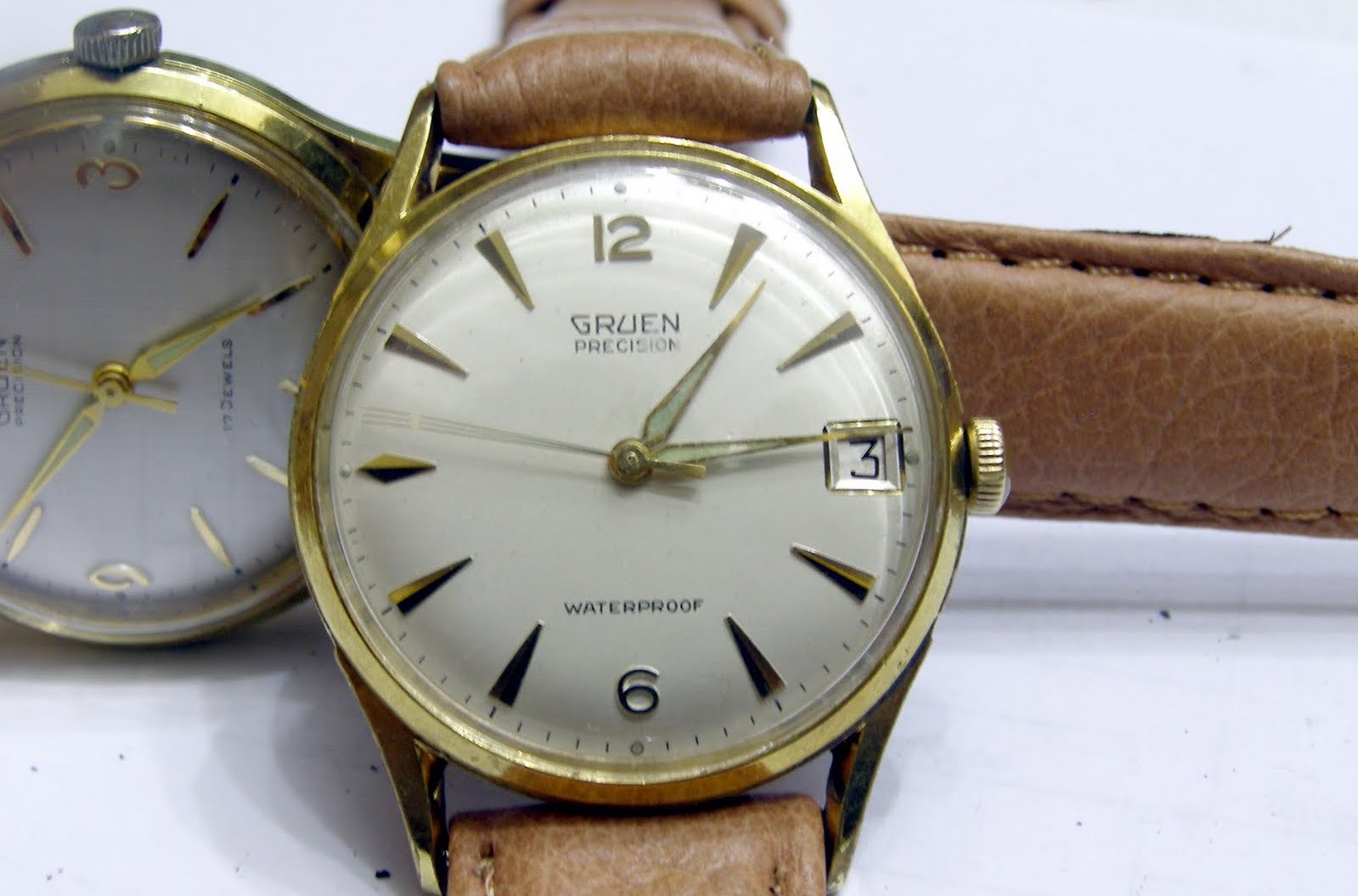 The dustproof crown is plain and unbranded to keep to the unpretentious theme of the watch. There are some thin, ever so slightly curved lugs made to hold a simple black 18mm leather band. This piece is especially comfortable due to its size and you can easily wear it as your daily dress watch. It is completely devoid of features which is one of the reasons for its longevity and classic character. As mentioned earlier it wasn't made with top quality materials so it must be cared for but like most things old, that have made it this far, it has the tendency to tick tock along.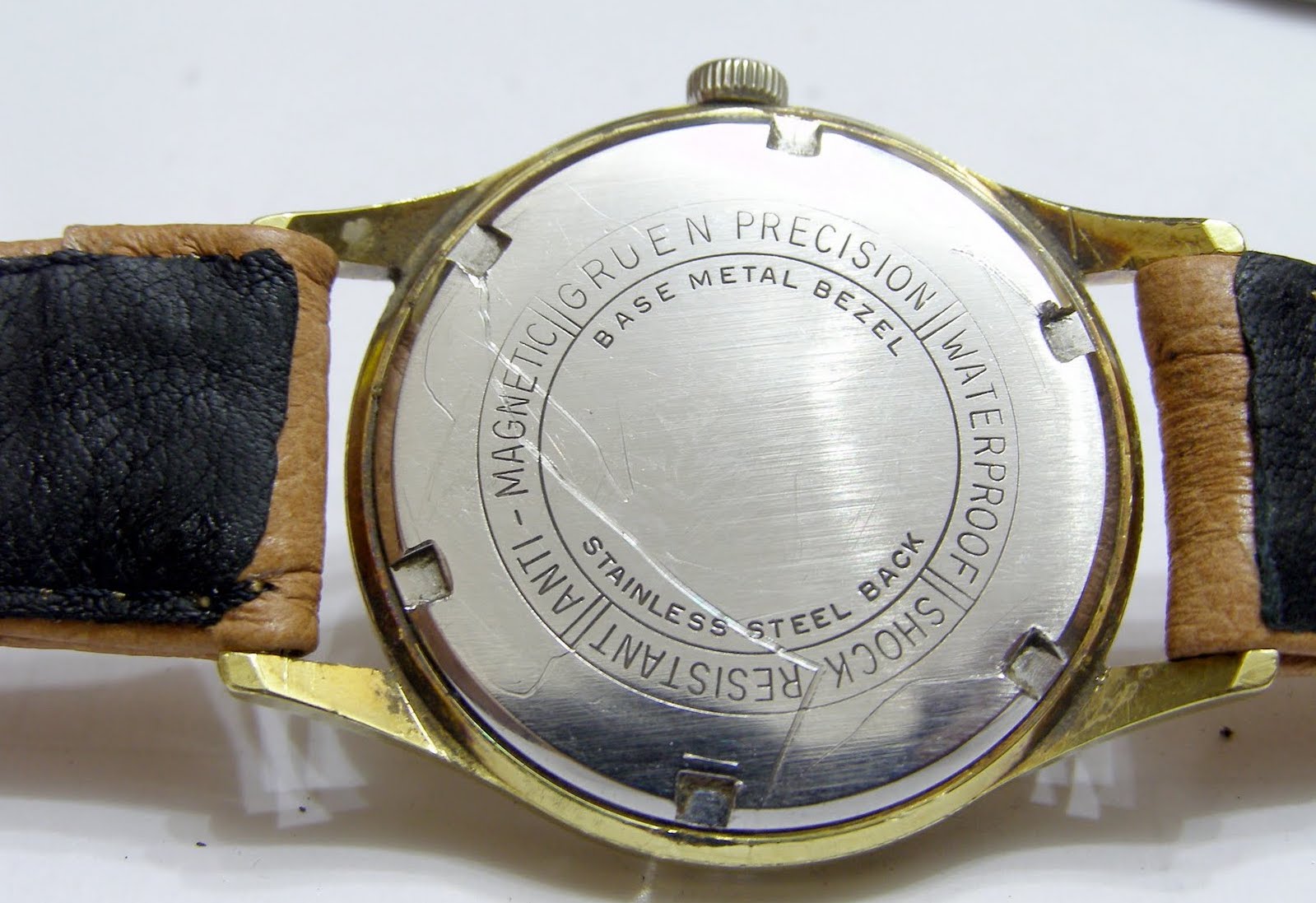 The caseback has very little to touch on other than that it is solid and not decorated besides some engravings.
Precision Dial
The golden styled pieces of the present day are usually polished and glittery which is usually a bit of a put off but the Gruen doesn't leave me with that feeling. It isn't made to be flashy but rather unobtrusively classy. The colour of the dial is more champagne than gold with the polished gold plated spire indexes being the flashiest part of the watch. Arabic numerals are used at 12 and 6 and if you look carefully around the perimeter of the watch you will see four little dots placed at 12, 3, 6 and 9 o'clock which must look pretty snazzy in the dark. The watch-hands are thick baton hands with a nice space for lume in the middle. There is a good chance the lume will need to be touched up on the hands and the dots because of the age of the piece. The 9 o'clock index has a dauphine shape which I have not been able to fund any reason for.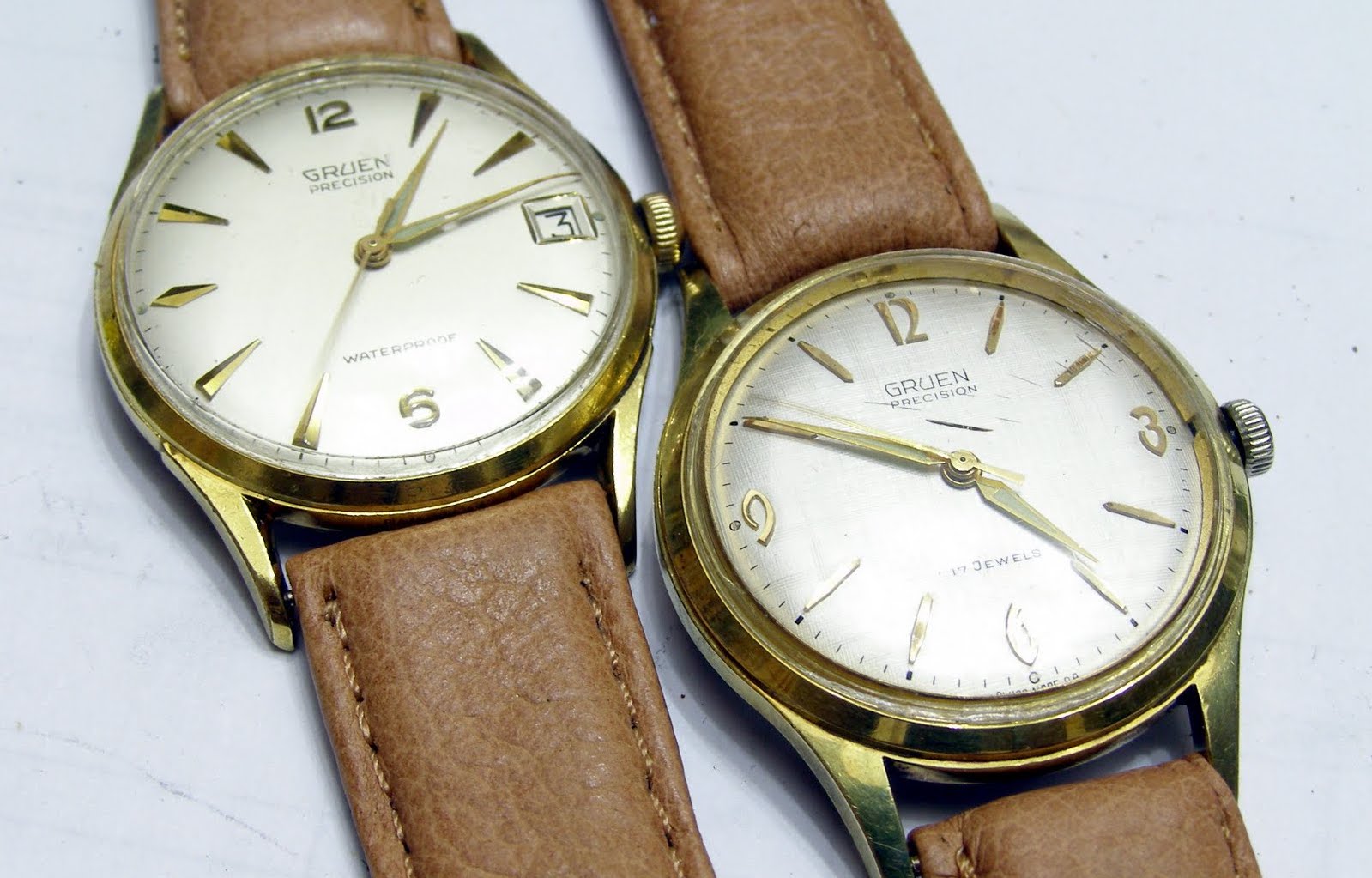 There is no index at 3 o'clock but a date window instead. The movement of this piece is truly a flash from the past and although there was a time where Gruen movements were made in the States this particular model sports the movement last crafted in Switzerland. These movements were sadly made with no notable shock resistant features so they will not take much of a beating.
The 17 jewels are also nothing to write home about but they are pretty consistent with pieces of that time. It is a hand wind movement that keeps time well and does not lose much in day to day time and has a 41 hour power reserve. The movement won't match up well when compared to the more modern mechanisms on offer but it is definitely a wonderful display of craftsmanship that shows the value of a good watch maker. The fact that the movement is still going is impressive.
Conclusion
While the Gruen watches have a long, rich history there is no happy ending to this tale which gives it a somewhat novel significance. The Precision varies dependant on the person selling and the condition the watch has been kept in. You can expect to find one for less than $200 which might be a bit high for a piece of its quality produced now but is fair for a novel collector's item that was one of the first James Bond watches. The Gruen watchmakers produced some really fascinating watches for their time and I can't help but wonder what could have been had they managed to survive until today. I can't help but think that they would've made it all the way to the top. My wrists are a bit big for this 33mm piece and gold just doesn't suit me but I can recommend a well-kept Gruen Precision to anybody that enjoys something vintage and comfortably sized with full confidence that they will enjoy it. I would recommend looking at getting this piece as an occasional dress or casual watch but to not necessarily put it through harsh environments. If you look after it, who knows, you might be able to let go of it for even more at a later stage.