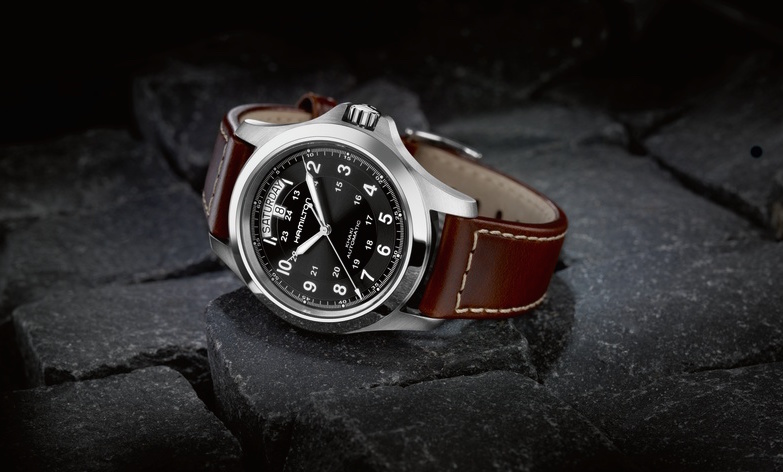 Hamilton watches have a special appeal that few other watchmakers can match: American style with Swiss quality. The Khaki King H64455533 is intended as a more chic and elegant version of the traditional field watch, and let me tell you, it looks fantastic. I really enjoy some of the minor tweaks Hamilton has made to this watch to give it that added sophistication. Read on to find out what sets this watch apart from the less "royal" pieces in their Khaki field collection.
> > > Click here to see ratings, reviews, specifications and prices on Amazon < < <
Case
With a brushed steel case and a polished bezel, thes solid construction and heavy feel of this case reinforce the rugged military aesthetic. Many owners have noted that the bezel scratches easily, but some actually enjoy this effect, slowly creating a patina that shows they have gotten good use out of them. If you are not one of these people, you might want to look for a watch with a sturdier bezel.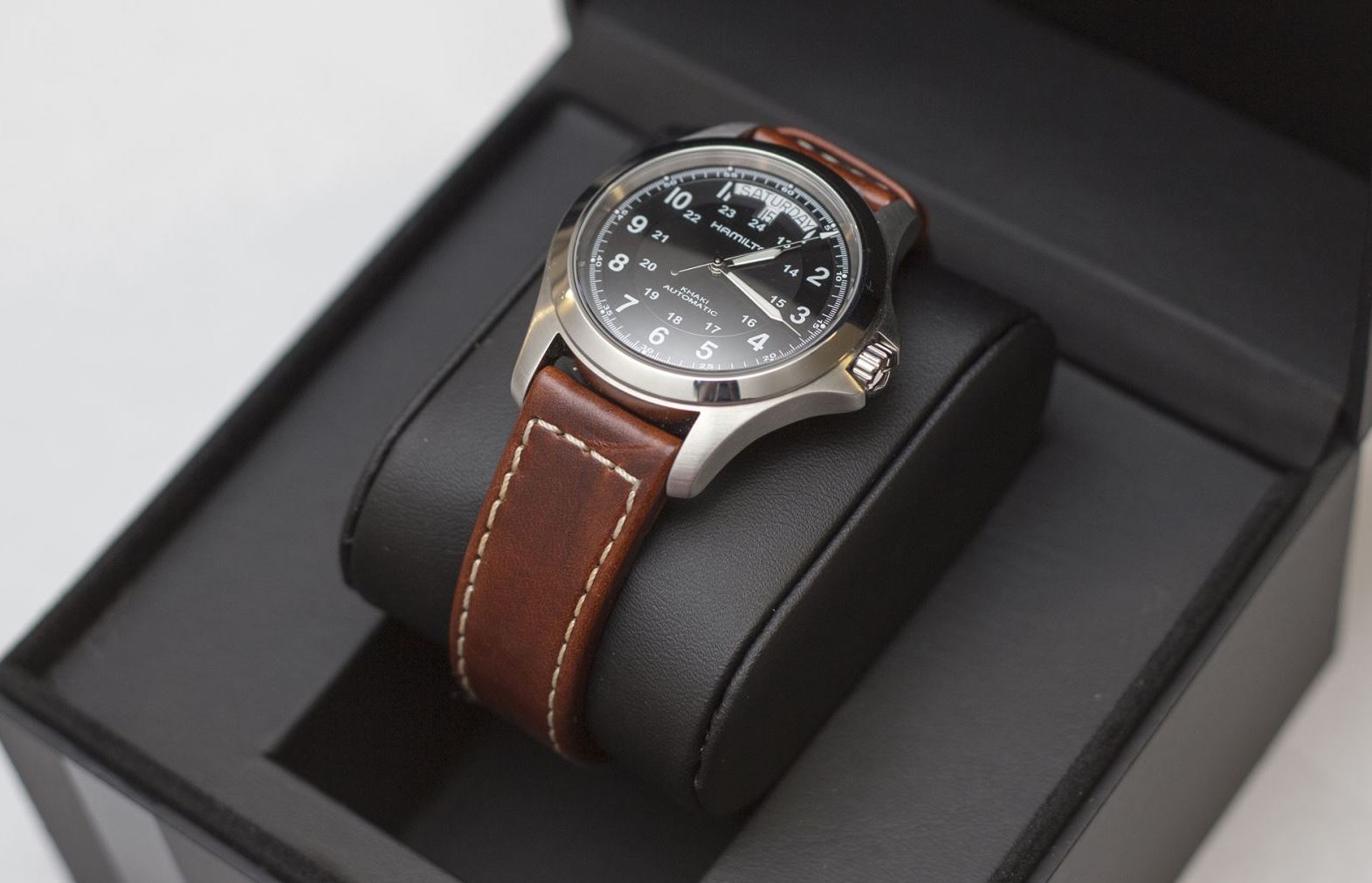 Rated as water resistant to 50 meters, the H64455533 measures 40 mm across, so it is not a huge watch. I would imagine more people would find it too small than too big, but I personally think it's a great classic size. At 11 mm thick, this watch is fairly thin, considering it uses an automatic movement.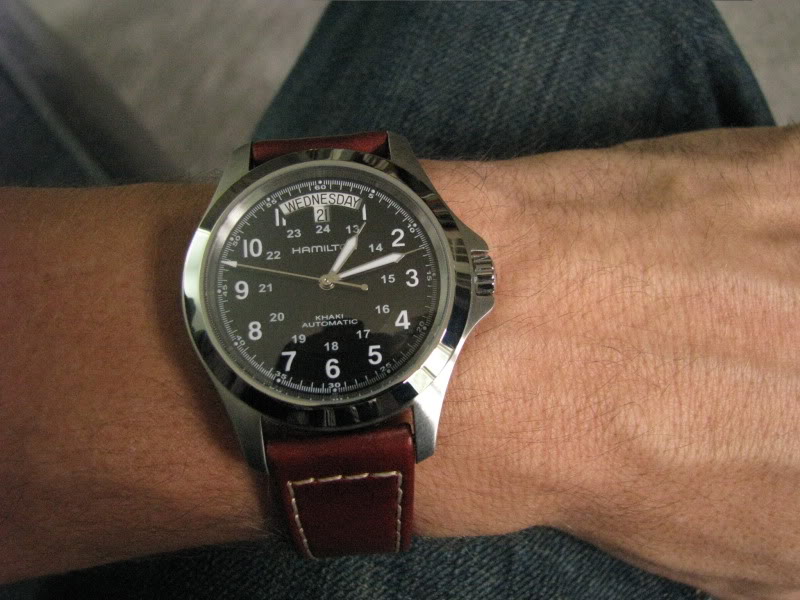 > > > Click here to see ratings, reviews, specifications and prices on Amazon < < <
Prominent crown guards protect the crown from catching on anything as you go about your day. Because this is such a casual and rugged watch, I have a feeling these guards come in handy for many wearers who don't bother to take their watch off when the going gets rough. A large circular window on the back of the case displays the automatic movement.
Dial
One of the first things you notice about the Khaki King H64455533 is the day and date display. I just love how the full day name is displayed, loud and proud at the 12 o'clock position, never mind that is partially obstructs the 11 and 1 numerals. Those of us who work less traditional schedules sometimes need that reminder of what day it is, so I am really drawn to this element of the dial. The date window fits right underneath the huge day display. Aside from the unique day display, the dial is striking in its own right, with crisp lettering and an elegant layout.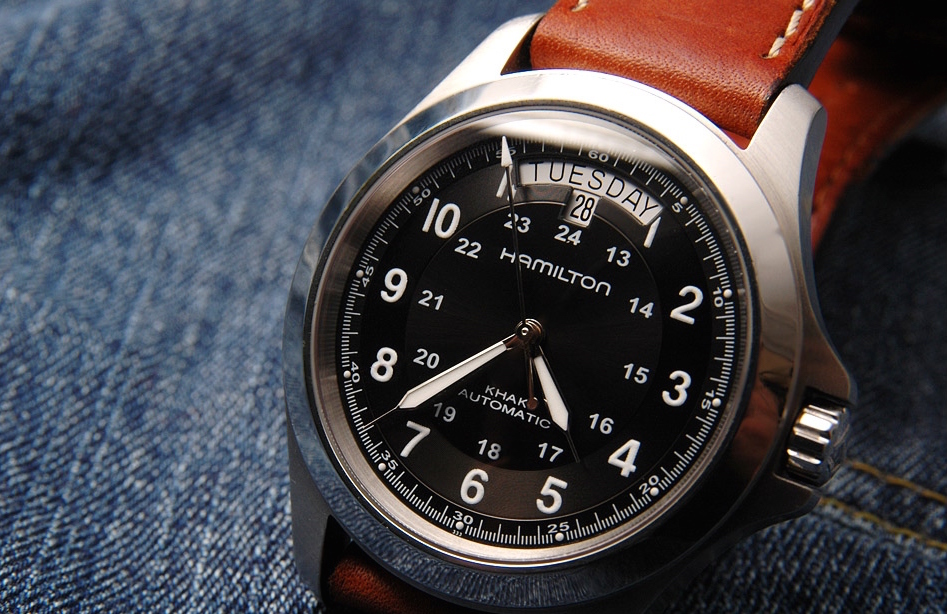 An anti-reflective sapphire crystal should keep scratches at bay for all of the owners who tend to use and abuse these watches. Sword-shaped hour and minute hands with long, thin points complement the dial design well and are easy to see against the black dial. The silver second hand includes a delicate white arrow-shaped tip, a really nice design detail. One of the few downsides about the dial is the rather weak lume on the hands, making it hard to use in dark situations.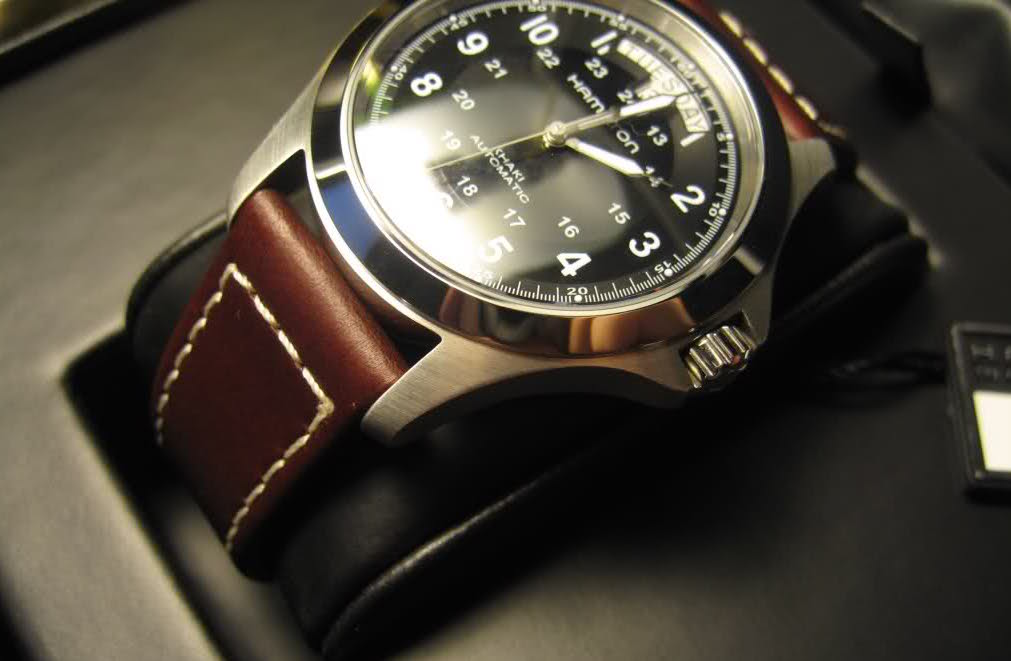 Crisp and clean Arabic hour markers like those on the H64455533 define Hamilton's field watches, making them incredibly easy to read. This is a feature that dates back to when Hamilton produced watches for World War II, when it was absolutely vital that soldiers wasted no time glancing at their watches. The 24-hour Arabic numerals sit inside the large 12-hour numerals.
H64455533 Movement
The Khaki King uses Hamilton's caliber H-40 movement, which incorporates 25 jewels into the design. Some recent tweaks to the movement on this watch means the rotor now has an H-shaped cutout in the center.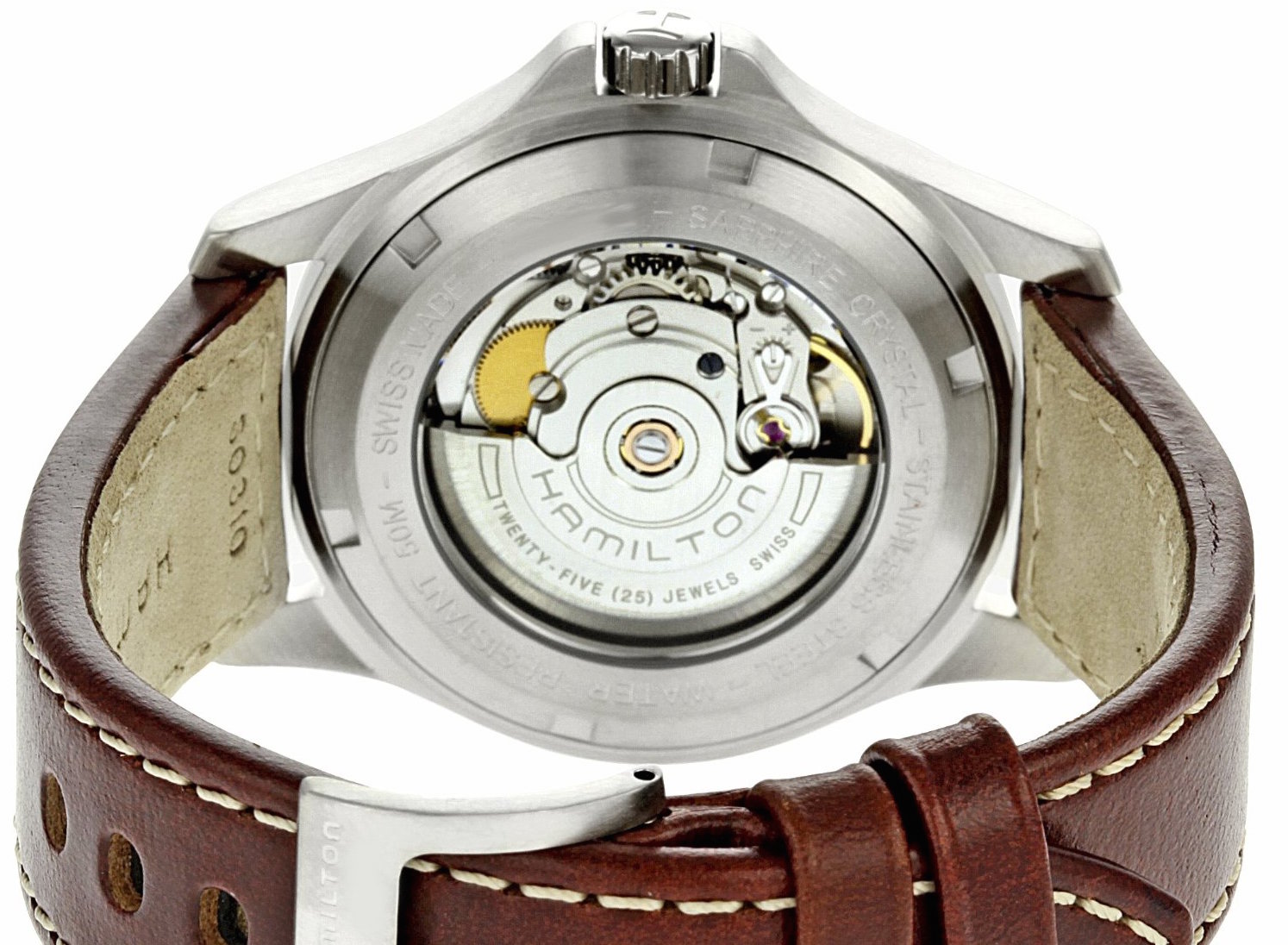 I think this a very nice touch that makes the movement look more modern than old solid rotor design. However, the updated movement does come with one downside: The speed of the second hand has been reduced from 28,800 bph to 21,600 bph.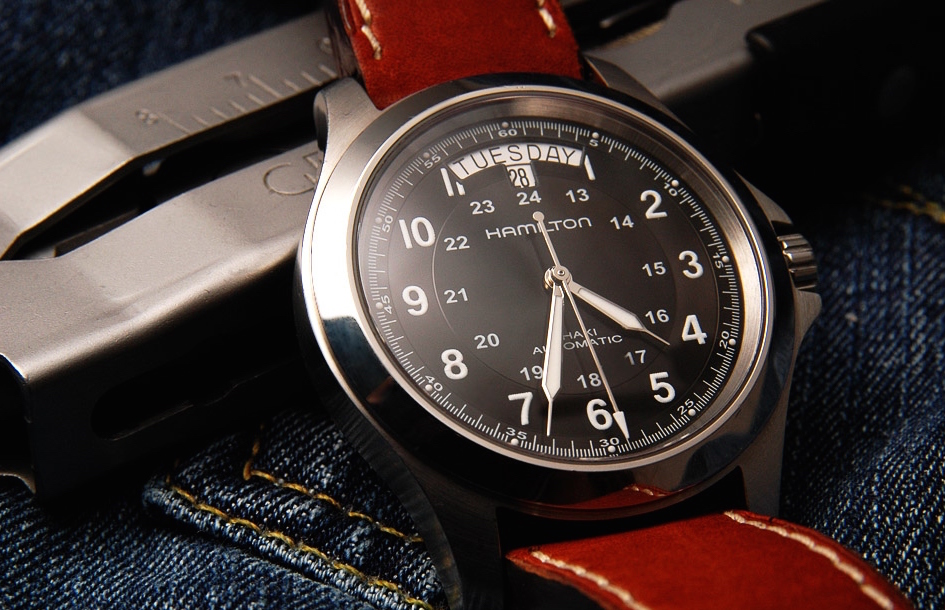 This in turn makes the second hand's motion slightly choppier than before, a curious change for Hamilton to make when most watch aficionados pride themselves on the smoothness of that motion.
Band
A nice leather band with contrast stitching goes well with this watch, but I noticed Hamilton has included a picture of this model with a black band on their website, and it might look even better than the standard strap. Either way, you can't go wrong as this lovely watch would go well with just about any type of band.
Final Thoughts
You wouldn't wear the H64455533 to scuba dive or meet the queen, but I can't imagine too many other occasions where this watch wouldn't be perfectly at home. This is a durable and easy to read watch that makes for an excellent daily wearer. Some fun design details mean it will bring you joy whenever you look down at it. This watch is best suited for someone wanting a casual and rugged timepiece that's not too large on their wrist. The MSRP is around $550, according to Hamilton's website.
> > > Click here to see ratings, reviews, specifications and prices on Amazon < < <