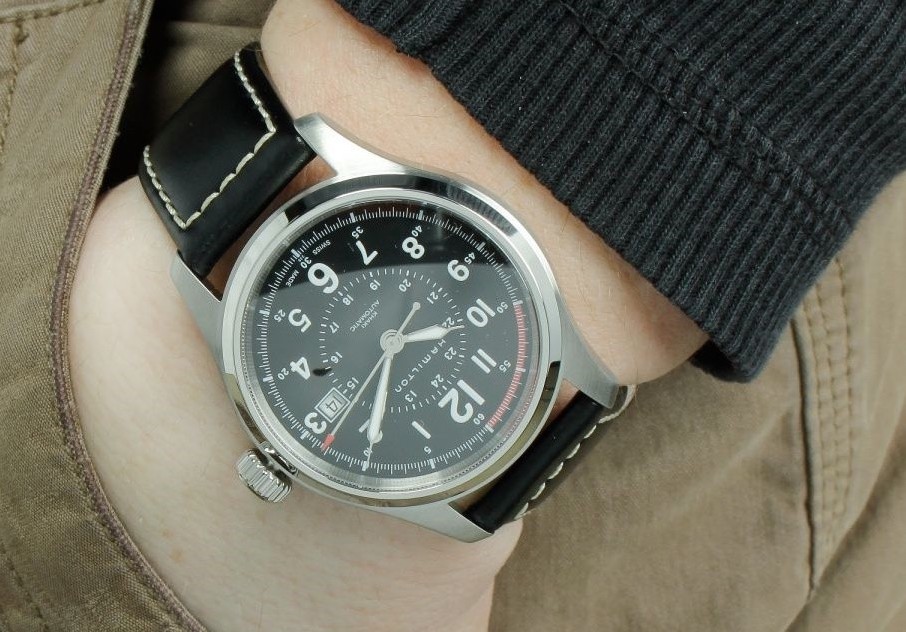 What makes watches from the Khaki Officer Auto collection so unique is their blend of different elements from the Jazzmaster and Khaki lines. What you end up with is a masculine hybrid that combines the best of both worlds into a truly classic, powerful look.
No doubt these timepieces are for some policemen an essential piece of kit, yet it's important to remember Khaki Officer watches shine on wrists of ordinary people, too. The smart color combination and a simplistic, stainless-steel design is almost sophisticated in nature and is therefore appropriate for casual or even formal wear.
> > > Click here to see ratings, reviews, specifications and prices on Amazon < < <
Design Aspects
The model we are reviewing today, H70615733 Khaki Officer, is a well-built, sturdy watch with plenty of exciting features and a couple of things that could've been executed slightly better. Its black dial with large, contrasting Arabic numerals blends well with the dark steel case and bezels. Together with a durable black leather band and a chunky 'H'-engraved crown this watch represents authority and gives off an aggressive look overall.
The Dial
What I like most about this watch is its well-proportioned dial. Everything just seems to be in the right place and Hamilton never ceases to deliver on their perfect use of symmetry and simplicity. The huge Arabic numerals in white offer maximum legibility on their full-black surface and also feature a double marking – one for the 24-hour format and another for the 12-hour one. There is also a doubled dial ring for more precise time tracking.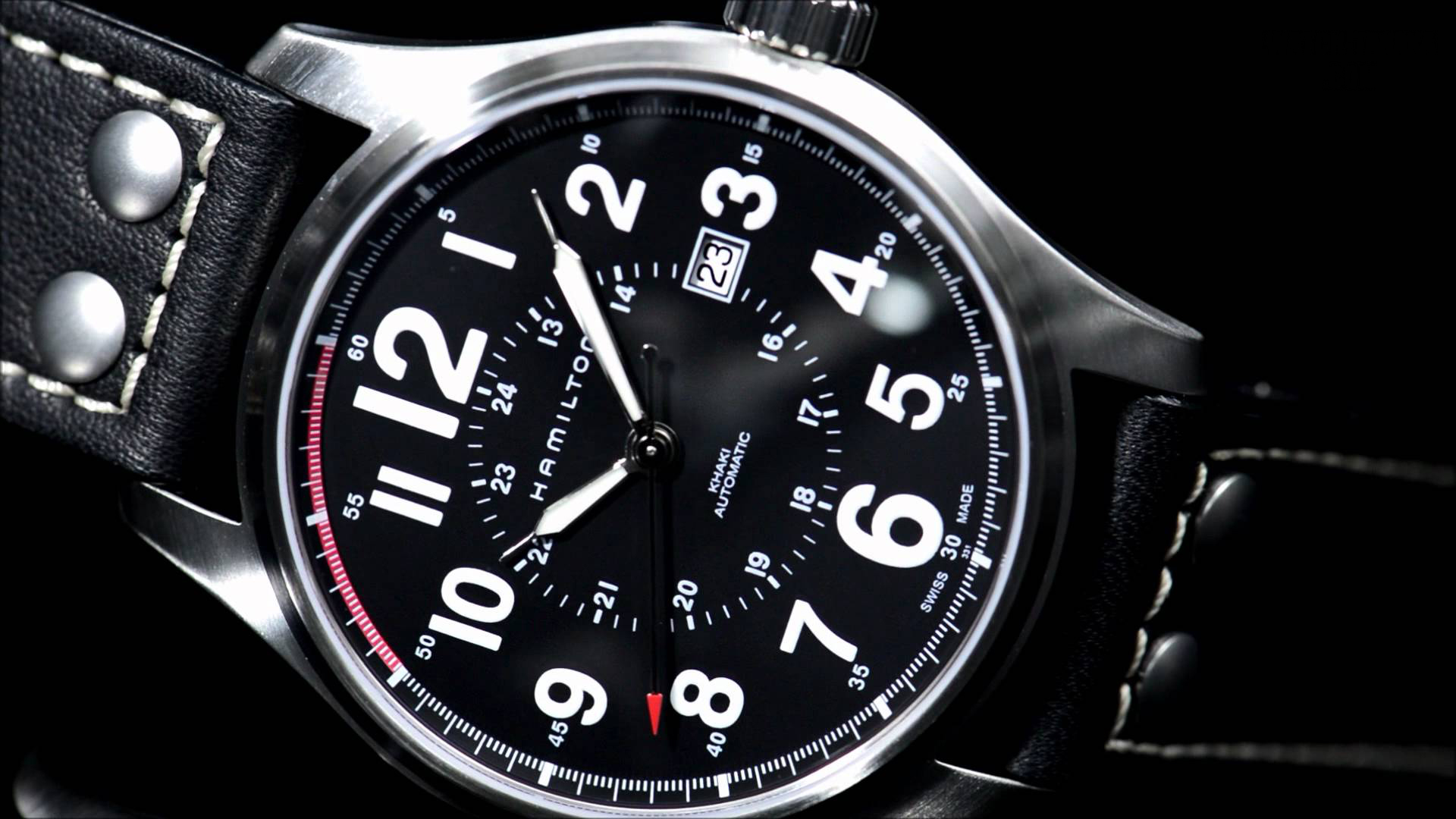 The minute hands feature the standard Hamilton Roman sword style with elongated tips and a shiny armor lining the (relatively poor) lume on the inside. The second hand is styled in a sharp arrow shape with a red pointer tip and has a lovely sweep to it, with a few seconds inaccuracy gain every day. The date complication is in the 3 o'clock position and displays day only in a white rectangle.
H70615733 Sapphire Crystal
This manly dial is covered by a sapphire crystal window which is great for anyone who plans to wear the watch during their outdoor activities, thus expecting some scratches and bumps.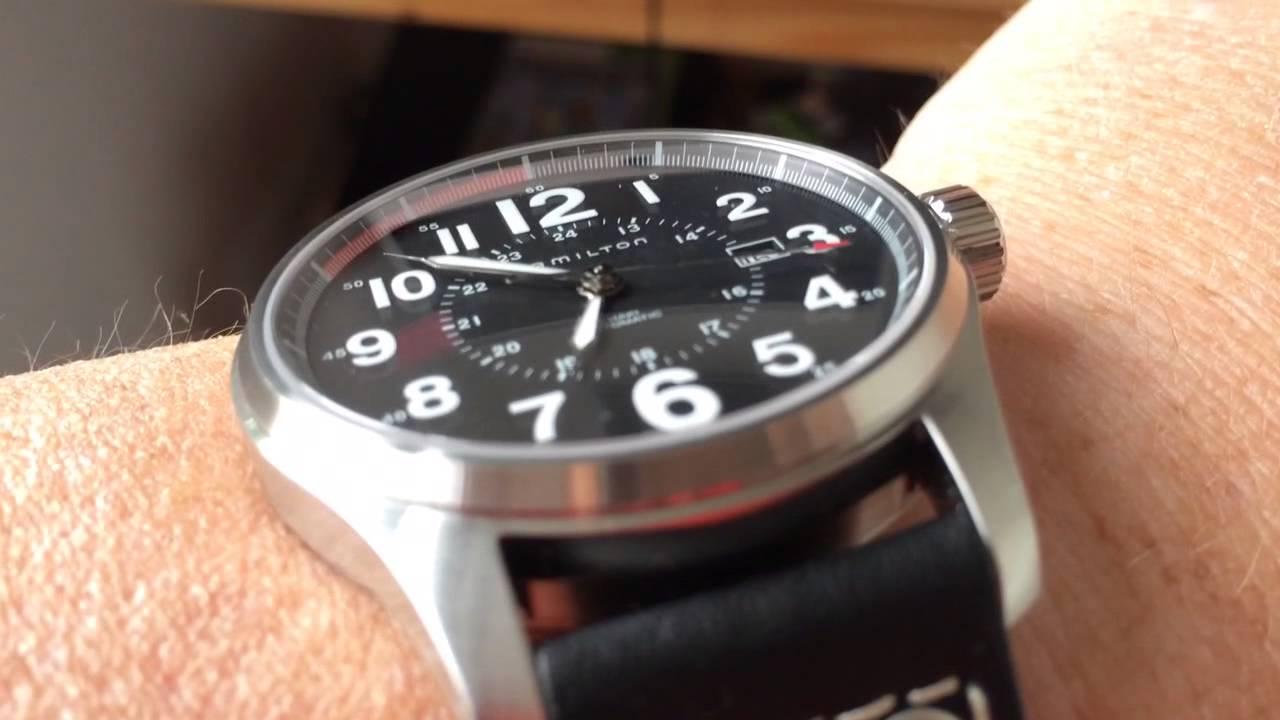 > > > Click here to see ratings, reviews, specifications and prices on Amazon < < <
The case is rather large at 44 mm anyway so you might anticipate some light bruising to the case unless you don't wear the watch often. The casing has a brushed finish to it and gives off a hefty vibe, but this is by no means a heavy watch once on your wrist.
Automatic Movement
On the back of the case is the classic half-exposed mechanism which shows off Officer's Swiss-quality heart. There is quite a lot to say about this automatic, self-winding movement of an ETA 2824 working caliber. It will keep the time nicely and packs a 40-hour power reserve battery in case it is not worn for longer periods. The movement is hackable and comes with hand winding abilities. It is also easily serviceable and quite reliable in its timekeeping. The mono-block rotor carries the emblematic H-shaped cut-out in the steel and some other aviation-styled patterns.
The only thing I dislike about this particular movement is that it's too small for the 44 mm case. This is pretty obvious once you flip the case around and notice how much space is left around the exposed skeleton. Still, even though the movement is quite small and simple in construction, it's nice to see the watch's fine, automatic lungs breathe.
The Strap
The double-layered leather strap is not in the same league of those produced by Tudor, Tag Heuer, or Omega but is still a thick and sturdy complement to the watch's look. Speaking of thickness, the strap may actually a bit too stiff; certainly before you break it in. It lacks a deployant buckle but has a nice addition of two metal pegs next to the 22 mm-wide lug, similar to those that are signature to the IWC Big Pilot watches.
Final Thoughts
All in all, the Hamilton H70615733 Khaki Officer Auto features a classic, masculine look that offers plenty possibilities for fashion combinations and has no strict dress limits. The dial is very legible with luminous hands propelled by the ETA 2824 swiss movement. Everything is nicely encapsulated by the sapphire crystal for added protection and scratch resistance. There is very little not to love about this watch; even the somewhat stiff leather strap breaks in fine after a long enough use. A reliable and sturdy hybrid coming from a reputable watch brand, this watch will make you feel confident and ready for action. Plus, you will know there is an intrinsic value to the design, with the skeleton visible through the back of the dial. For a watch that oscillates around an affordable price point, it is a great pick and is worth your buck. In conclusion, the H70615733 is a watch that perhaps slacks in the comfort category but delivers great build quality, a reliable movement, and a powerful design.
> > > Click here to see ratings, reviews, specifications and prices on Amazon < < <