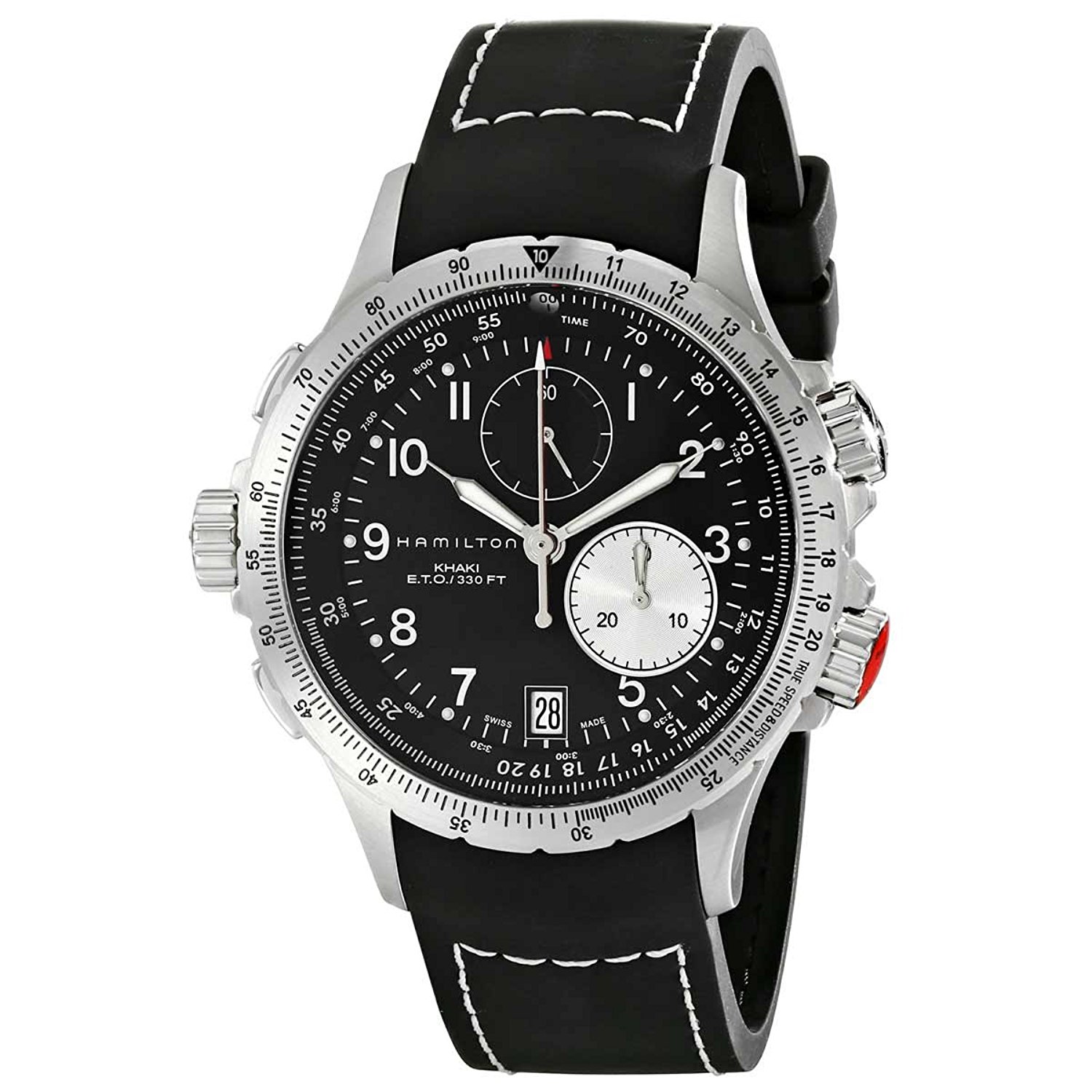 Hamilton's H7761233 is a feature-packed aviation watch that doesn't skimp on style or substance. To give you an idea of the type of watch we are dealing with here, Bruce Willis wears a Khaki ETO in 2007's Live Free or Die Hard. That means this is one bodacious watch, tough and rugged enough for a hardened cop taking out a cyber terrorist. If you were wondering, ETO stands for "Estimated Time Over," referring to the watch's ability to guide pilots to on-time landings. So, cops, pilots, and everyone else, let's dig in and see what all this watch has to offer.
> > > Click here to see ratings, reviews, specifications and prices on Amazon < < <
Complex Dial
There is clearly a lot going on with the H77612333's dial. So much, in fact, that it would be easy to own this watch and never really learn everything it can do. That's just fine, in my opinion, as many people enjoy technical watches like this for the visual appeal. I'll cover the main points here, but know that there is even more to this watch than I have space to go into here.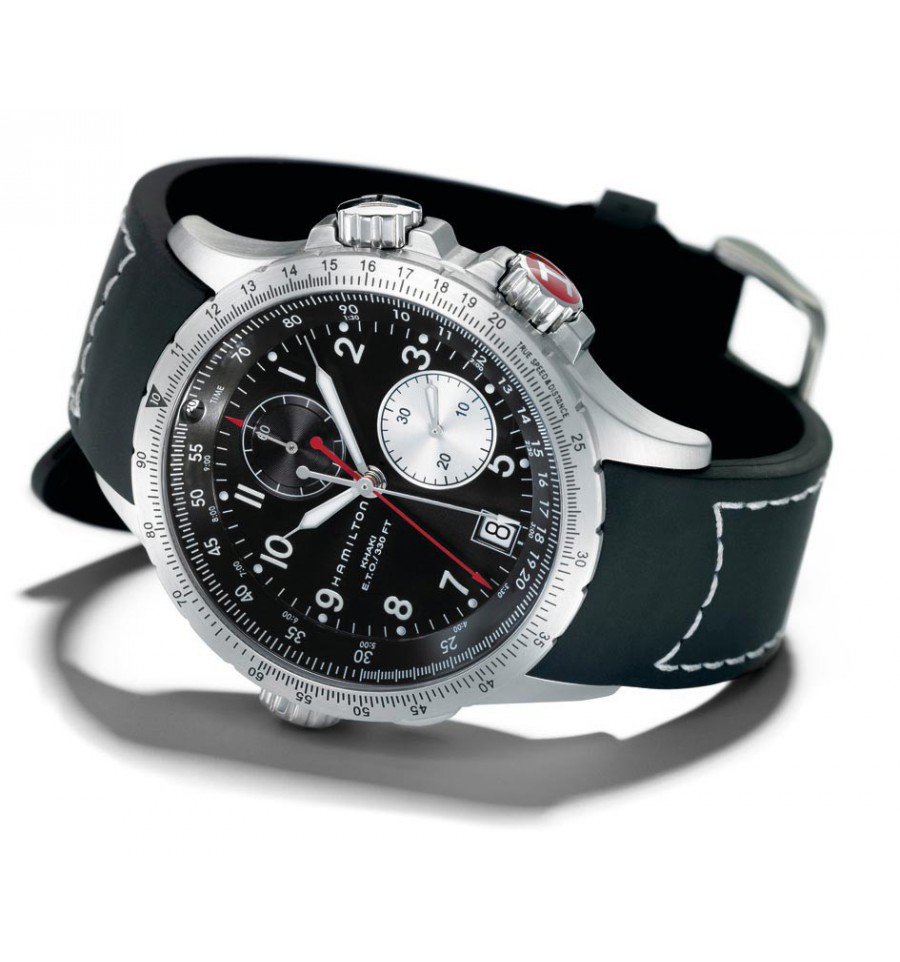 An anti-reflective sapphire crystal protects the busy black dial. The white Arabic numeral hour markers are on the smaller side, most likely to make room for everything else that has been crammed onto the dial. Top-notch lume on the hands, hour markers, and even the chronograph subdial's hand glows brightly for hours. A white date field takes the place of the 6 o'clock numeral; I appreciate that, even on such a hectic dial, the numeral is still large enough to be easy to read at a glance.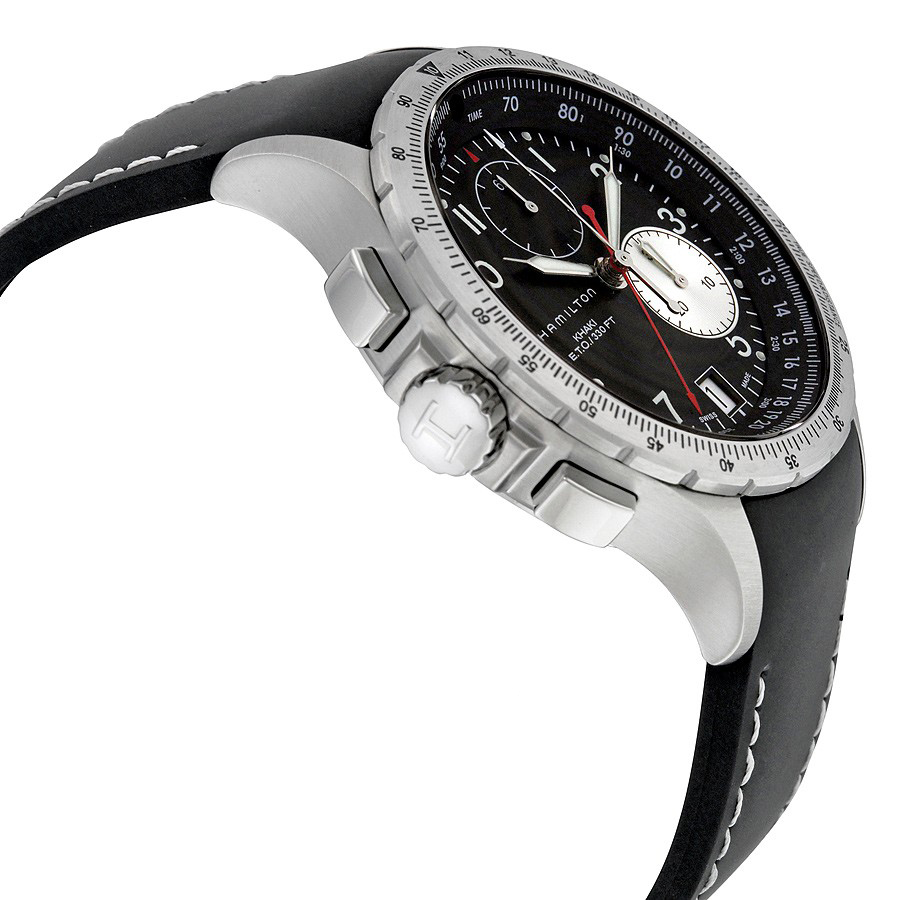 > > > Click here to see ratings, reviews, specifications and prices on Amazon < < <
Track coaches, listen up: The H77612333 features not one but two chronograph hands. The main hand, finished in silver, performs the stopwatch function all chronographs are known for. The second, a red hand called the rattrapante, ticks along in rhythm with the chronograph hand until you depress the pusher. At that time, the red hand stops and marks the split while the silver hand continues ticking away. Then, once you have recorded the time, another push and it catches right back up with the chronograph hand. This is a handy and fun feature to play with.
The black subdial at the 12 o'clock position measures the seconds, in place of a large second hand. Annoyingly, the chronograph hands bisect this subdial when they are not in use, so this display is almost always partially obstructed. I am not sure why it wasn't placed across from the other subdial on the bottom half of the dial, where it would be easier to read. The silver chronograph subdial that blocks the 4 and part of the 5 numerals records the chronograph's progress. This subdial really stands out on the black dial, like a beauty mark on a supermodel, although I'm not sure it is quite as effective.
Fully-Loaded Case
The stainless-steel case is just as busy as the dial, with 3 crowns, two pushers, and tiny, intricate hash marks and numerals on the bezel. At 42 millimeters wide, it's a large watch but not huge, so it should be a great size for most guys. At 13 millimeters, the H77612333 is quite thick, especially for a quartz watch.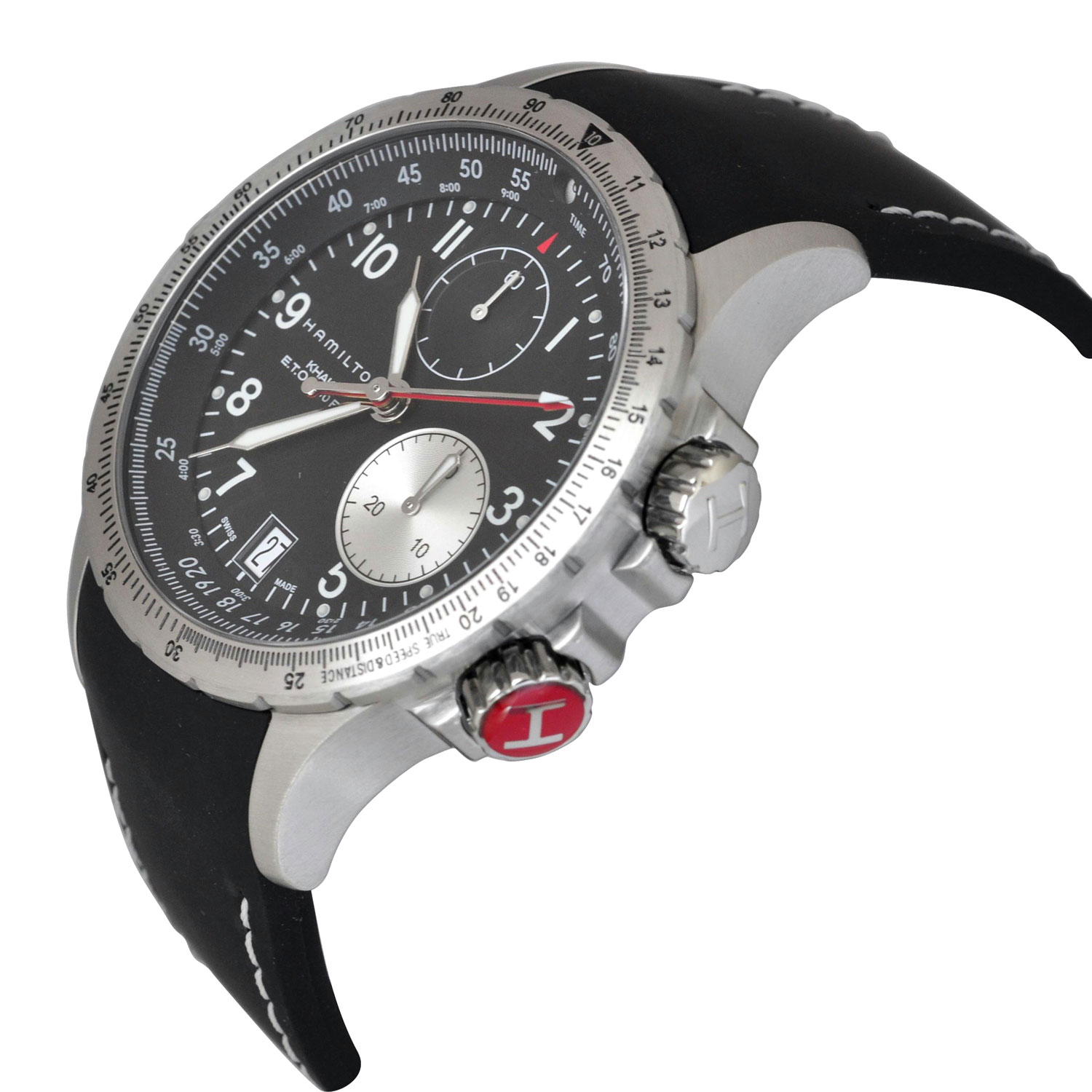 The bezel rotates bidirectionally, and, as mentioned earlier, includes graphs for making aviation calculations pilots can use to ensure an on-time arrival. While this is a very cool feature, I would be shocked if anyone has ever used it for this purpose. Even with everything going on, the bezel itself is a nice thin design that doesn't distract from the rest of the watch.
Because the H77612333 is water resistant to 100 meters, you don't have to worry about removing this watch for anything less than straight-up scuba diving. With no automatic movement to display, the back of the case is engraved with Hamilton's H logo inside of a half-circle on one half with the Hamilton name and "Estimated Time Over" on the other half.
Band
The black rubber band looks great on this watch design. At 21 millimeters wide, it is a sturdy size to match the watch's rugged appeal. White stitching provides a very nice contrast and mirrors the white-on-black dial design. There is no gap between the band and the case, making for a nice seamless transition.
H77612333 Movement
This Hamilton uses a Swiss quartz movement, ETA 251.292 to be specific. I think quartz was an excellent choice for a technical, sporty watch like this where most owners will probably be inclined to want a reliable, hassle-free watch to bring along on their adventures.
Final Impressions
Strong and stylish, Hamilton's H77612333 Khaki ETO certainly has a lot going for it. While I have a few minor grievances with the design, none stand out as deal-breakers. This would make a great watch for just about any occasion, as long are the tech-laden design appeals to you.
> > > Click here to see ratings, reviews, specifications and prices on Amazon < < <