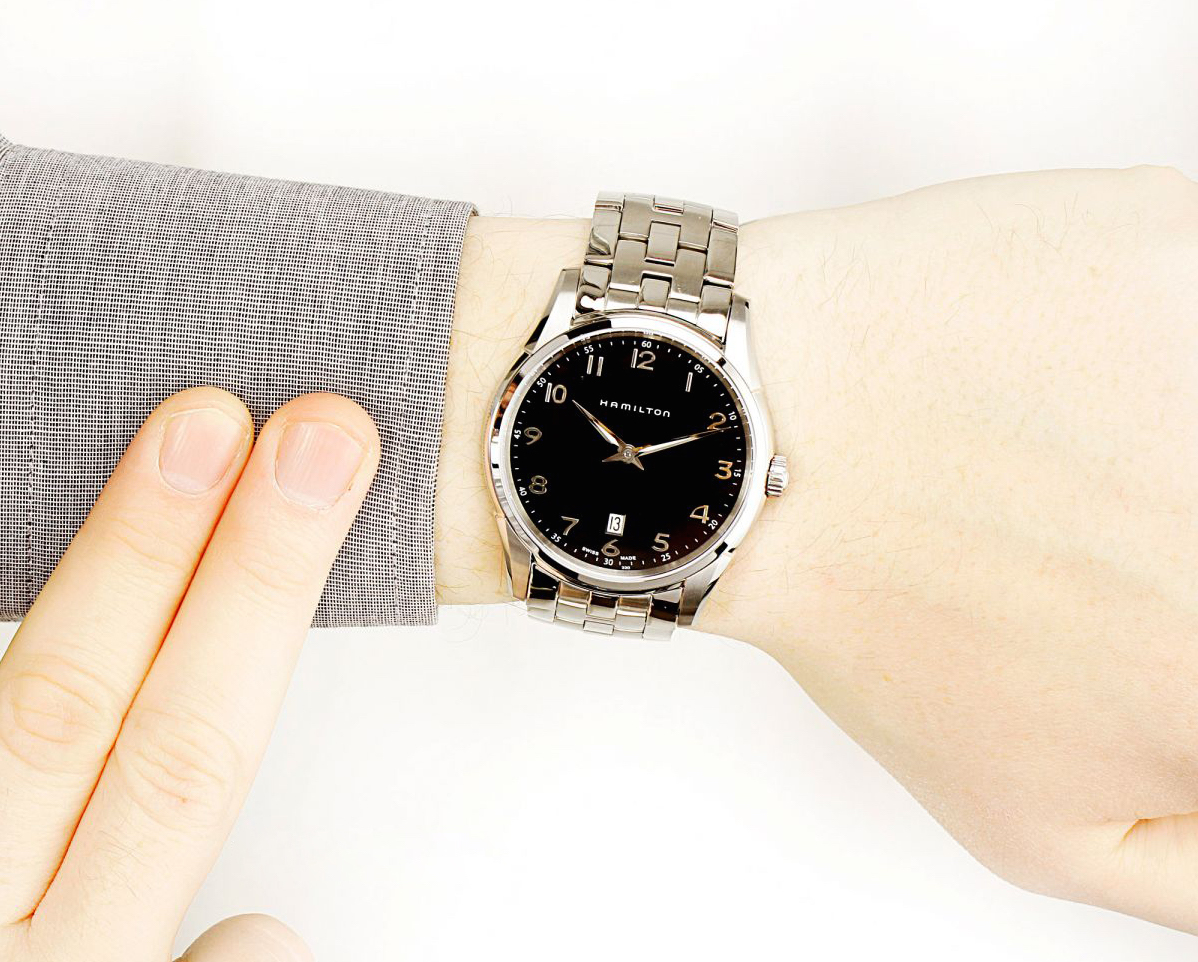 Simple, timeless, elegant. That, in a nutshell, is the Hamilton Jazzmaster Thinline watch. A watch that sticks true to its Hamilton roots, the Jazzmaster Thinline combines craftsmanship and functionality to create an exceptional everyday wear watch for the average man on a tight budget.
If you are the type of person who wants a no-frills, minimalist, everyday watch, the Hamilton Men's Jazzmaster Thinline may be a good choice for you. This watch is comfortable enough to wear everyday, yet also enough of a statement piece to get you noticed just a little bit.
> > > Click here to see ratings, reviews, specifications and prices on Amazon < < <
Slim Fit
The Jazzmaster Thinline is a thing of understated beauty. The 42 mm case is on the larger size, perfect for those of you with substantially sized hands, but its thin profile, being only 6.9 mm thick, prevents it from seeming too bulky for those who are not quite as….handy.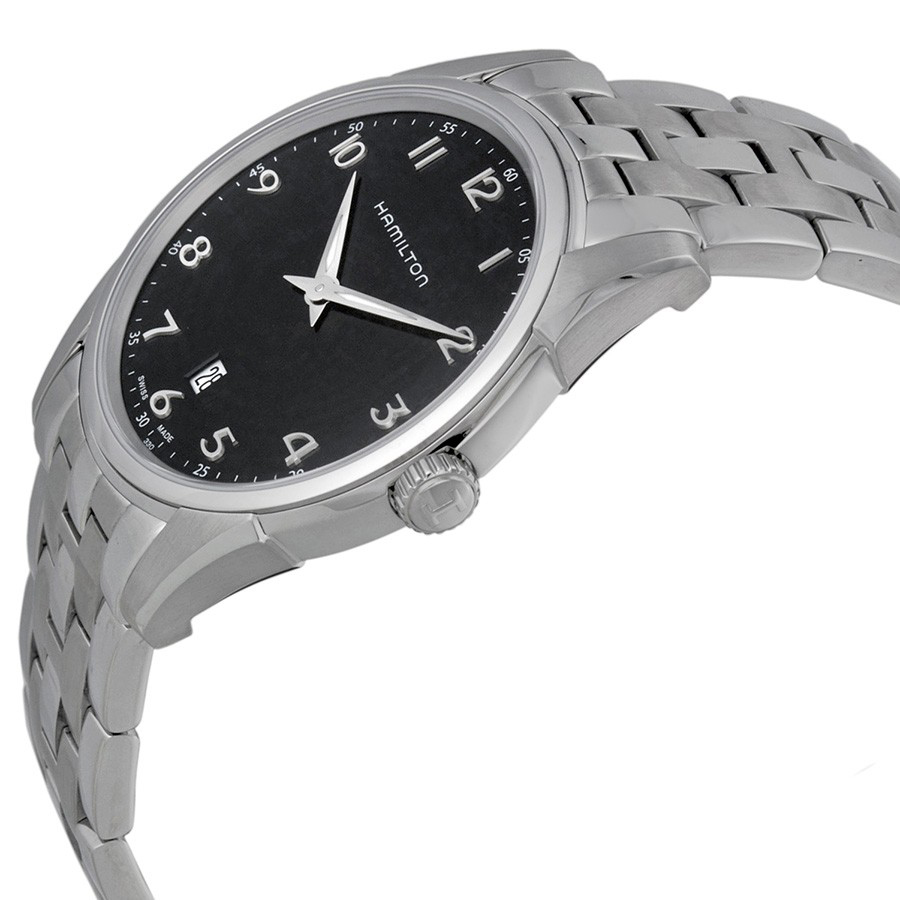 Thinline Build
The case, fixed bezel and 22 mm wristband are all made of stainless steel. To add just a bit of interest, the stainless isn't just one texture, but is a mixture of brushed and polished steel, giving it just that little extra something to take it from plain and boring to classic and elegant.  The stainless steel wristband, which is of standard mens length, is both comfortable and durable. The thin profile of this watch also allows it to be lighter than many other watches of this size, thus adding to the comfort factor. This watch features a deployment clasp, but does not have a safety latch.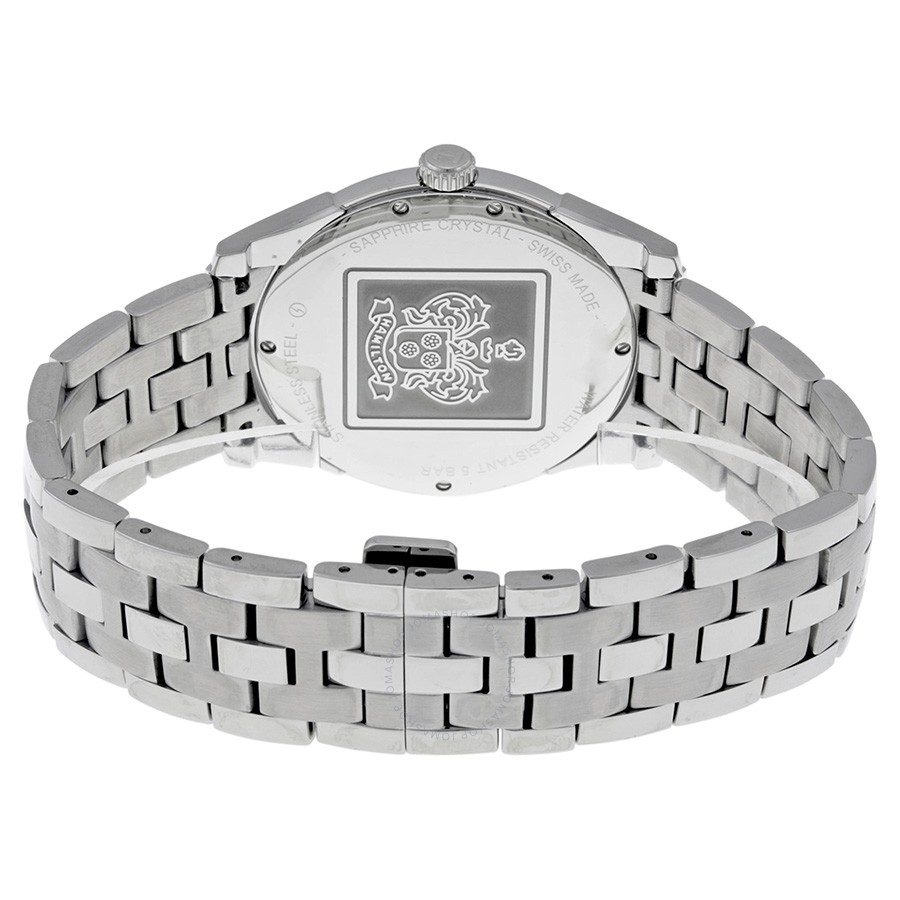 > > > Click here to see ratings, reviews, specifications and prices on Amazon < < <
Crystal
The crystal on this watch is sapphire, providing great scratch resistance.  So, if you just so happen to find yourself on the losing end of a left handed arm wrestling competition, you can be confident that your watch will fair much better than your pride. The durability of the Jazzmaster Thinline makes it ideal for everyday wear. However, with no extra scratch resistant coating you should keep in mind that it is not completely scratch proof.
Dial
The black dial face contrasts nicely with the stainless steel and white markers and hands. This watch has large Arabic numerals for the hours and smaller minute markers around the outside edge. The hands themselves are stainless steel with just a touch of white. The hands are also luminous. Smooth, sharp and slim all at the same time, the hands contribute to the simple yet sophisticated look this watch portrays. The date marker on this watch, continuing with the theme, is a simple, understated box positioned just above the 6. The word Hamilton, in an elegant font and fully capitalized, lies just underneath the 12.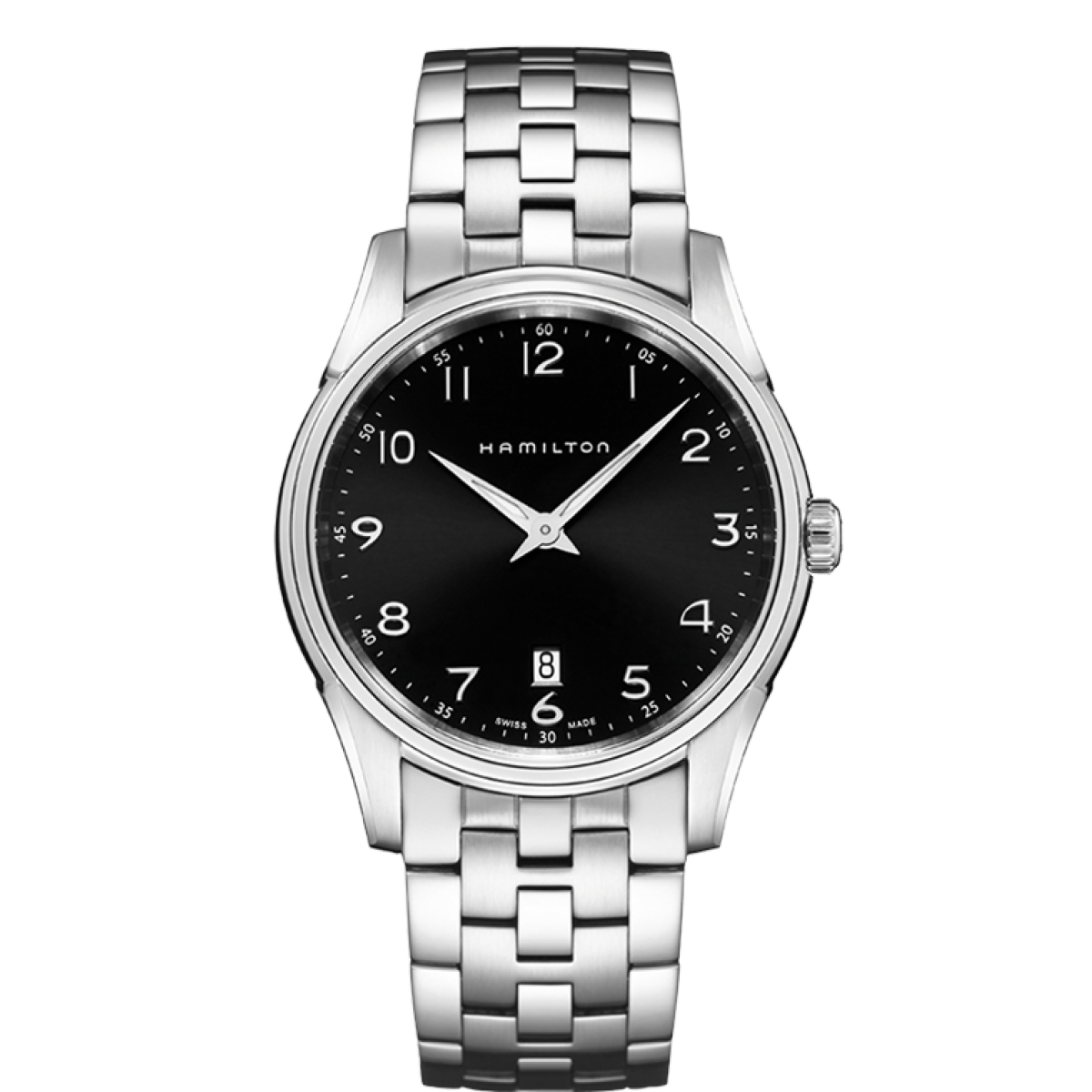 Noticeably absent from the face of this watch is a second hand. So, if you are the type of person who gets distracted by even the slightest movements, such as a second hand ticking and constantly causing you to stare at your watch, this may be a bonus to you. However, if you are wanting to use this watch as a way to keep up to the second time, you will definitely be disappointed.
Not for diving
Water resistant to 50 M, you can go ahead and be confident that your watch will be just as accurate getting out of the pool as it was when you went it. However, if you are hoping to use the Jazzmaster Thinline as a serious diving watch, you'll need to look elsewhere. This is a watch that can be worn without concern when doing daily tasks such as washing the dishes, but should not be considered a dive watch.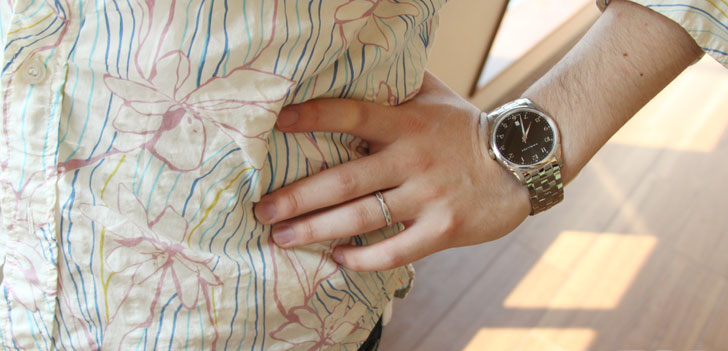 Final thoughts
If you are looking for a brand with a solid and reliable history, look no further. Hamilton has been around since the late 1800's, and they aren't planning on going anywhere soon. Originally based in Pennsylvania, USA, they relocated to Switzerland in 2003. Their watches have been showcased by celebrities for decades, from Elvis Presley back in 1961 to, more recently, Matt Damon wearing a Hamilton time piece in the 2015 movie "The Martian." And if the opinion of a few celebrities isn't good enough for you, you might be more inclined to trust the opinion of  pilots throughout the world. In case you didn't guess it, Hamilton is their number one choice.
Hamilton also backs this watch with a 2 year warranty, standing by their product. So, if you are looking for an affordable, high quality, timeless piece that looks great for a very affordable price, the Hamilton Jazzmaster Thinline just might be the right watch for you.
> > > Click here to see ratings, reviews, specifications and prices on Amazon < < <