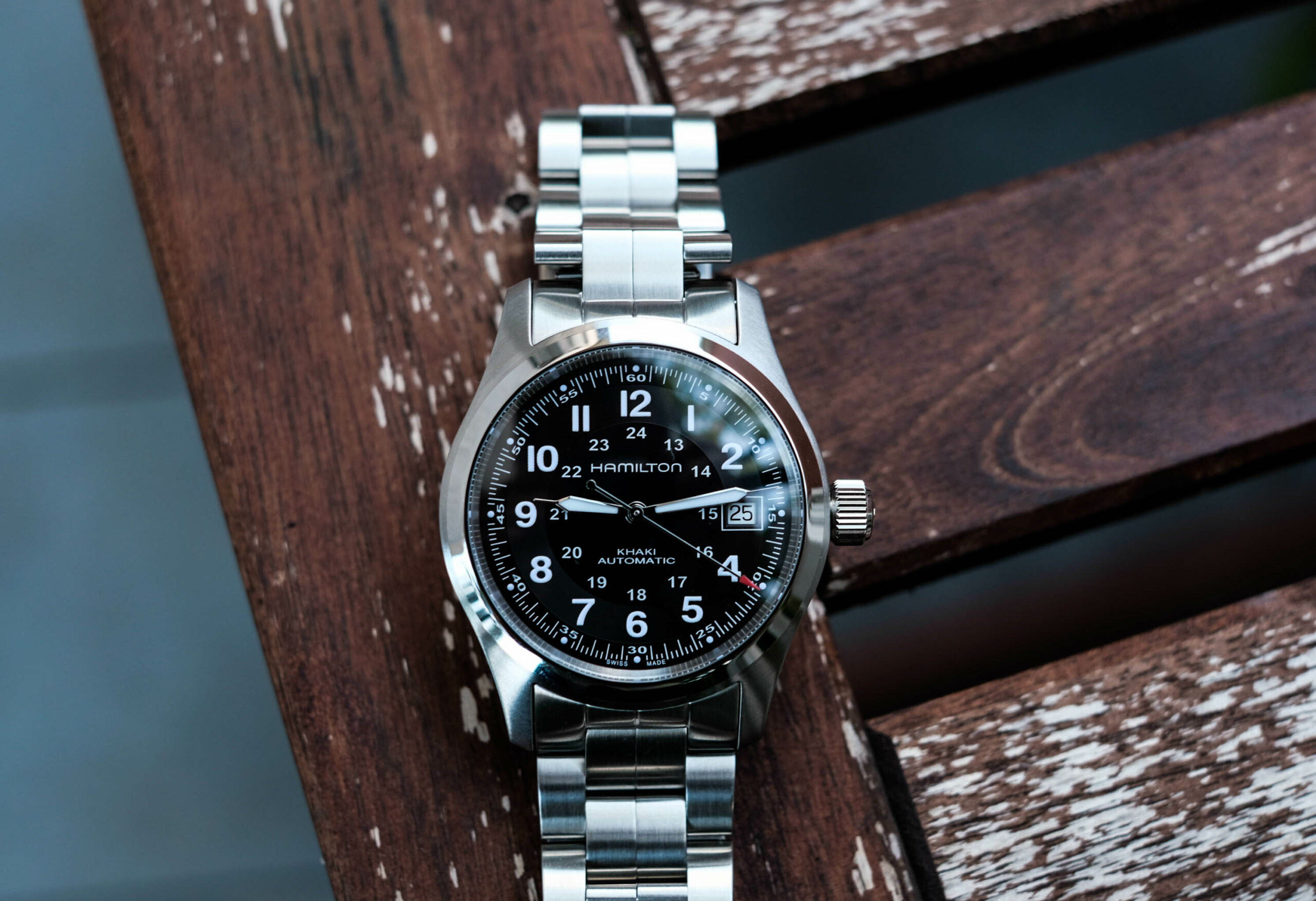 Hamilton is quite possibly the only brand you should be looking at if you want a luxury watch under $1,000. Every single model is reliable, durable, and unbelievably good value. But, one watch in the Hamilton collection that seriously sticks out is the 38mm Khaki Field Automatic.
This piece is scarily good value, and some may even call it the Rolex Explorer of the sub $1,000 market. Keep reading to find out exactly why this watch gets such high praise.
Field Watch Design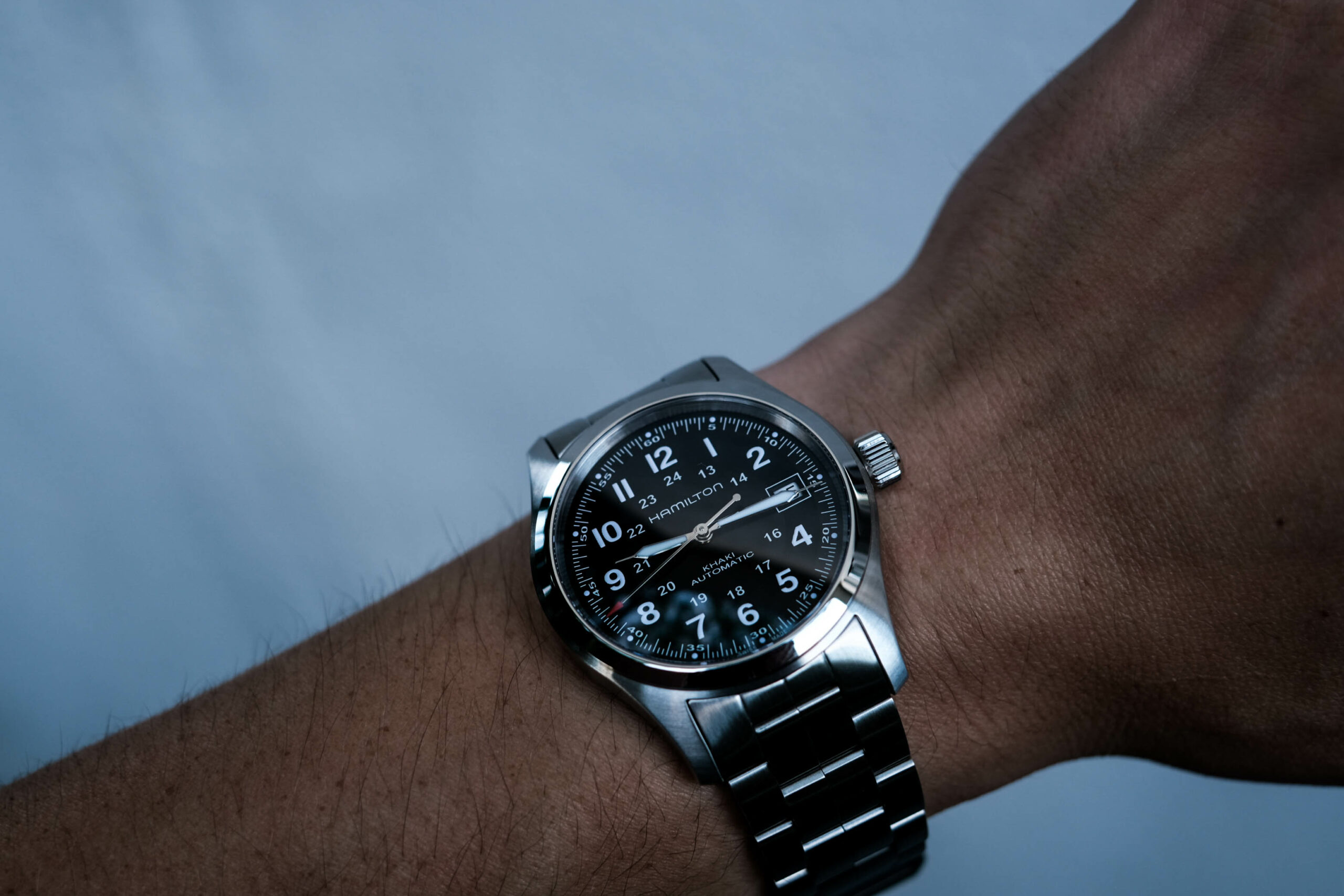 The Khaki Field has a military-inspired design, and to put it bluntly, it's absolutely timeless. Those big hour markers coupled with the 24-hour inner dial are rough and ready, but at the same time subtly classy, not to mention practical. The traditional 3 O'clock date window and sleek hands are the icing on the cake, making for a watch that wouldn't look out of place anywhere, from the trenches to Wimbolden.
The bracelet suits the overall feel of the Khaki Field perfectly. It's not quite as classy as other options in the price point, such as the Tissot Prx, but it matches the military feel and is actually pretty comfortable.
The overall quality is surprisingly good, too. At this price point, you usually can't expect much in terms of finishing, but the Khaki Field features satin-brushed lugs, a polished bezel, and a fully stainless steel bracelet. These touches make the Khaki Field feel much more expensive than that $750 price tag.
Let's not underestimate the practicality and versatility of the Khaki Field's design either. The big hour markers can be read at a glance, no matter the lighting conditions. Plus, with 100 meters of water resistance, you'll be able to carry this piece on your wrist all day, every day, without worrying about where you go.
One thing to note is that at 38mm, this watch does wear pretty small. If your wrist is in and around the 6.5-inch range, you likely won't notice this. But, for anyone with larger wrists, you might want to look at Hamilton's 42mm version, as this 38mm option will probably feel a little out of proportion.
H-10 Movement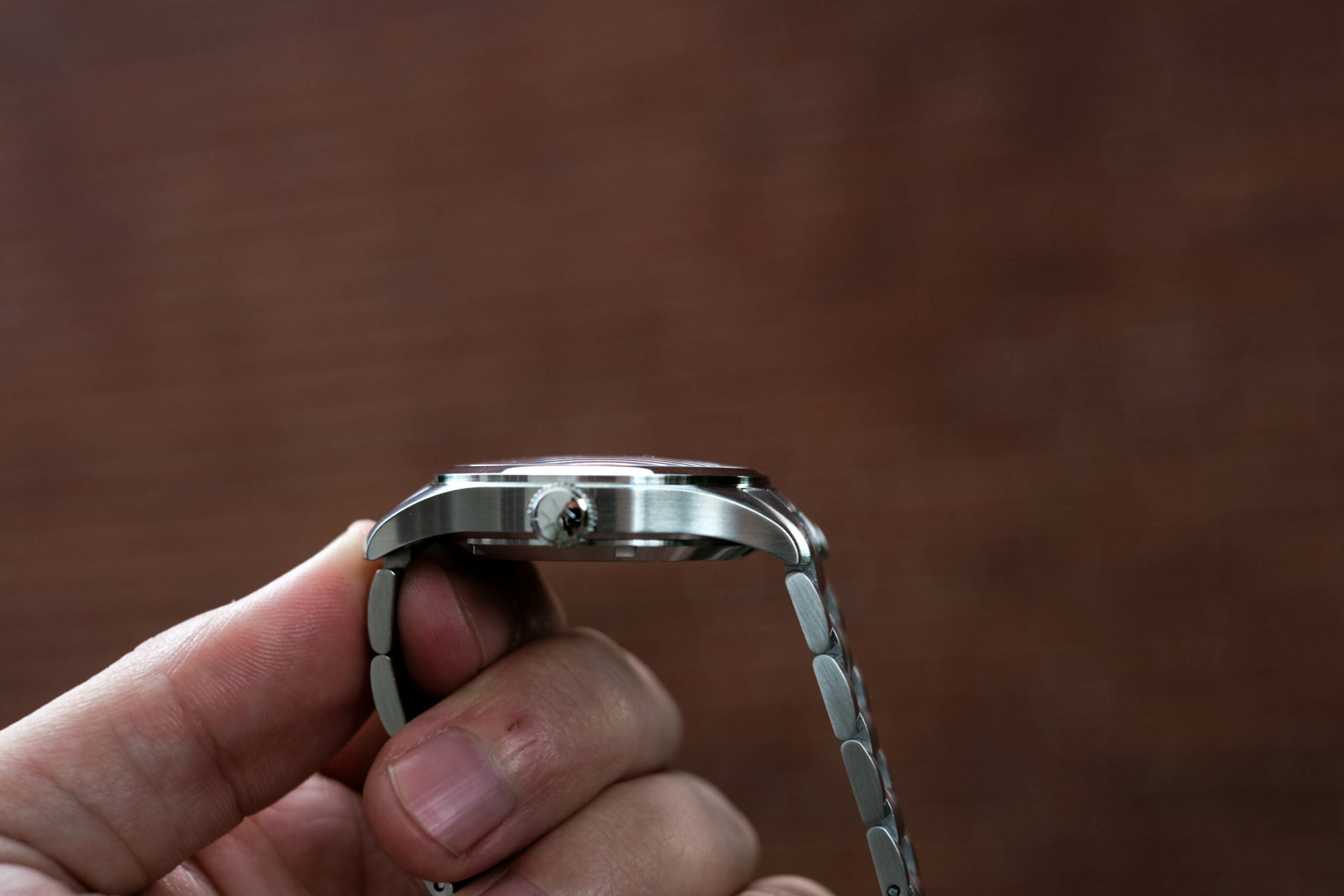 Hamilton prides itself on using fully in-house movements, and for the Khaki Field, you'll find the company's own H-10 movement. Overall this is a very solid and reliable movement, with a stand-out power reserve of 80 hours. Take that Rolex!
This movement is accurate to +/- 15 seconds per day. This might seem like a pretty significant deviation, but let's not forget that certain Grand Seikos can be accurate to +8 seconds per day, and these watches cost 5-10 times that amount of the Khaki Field.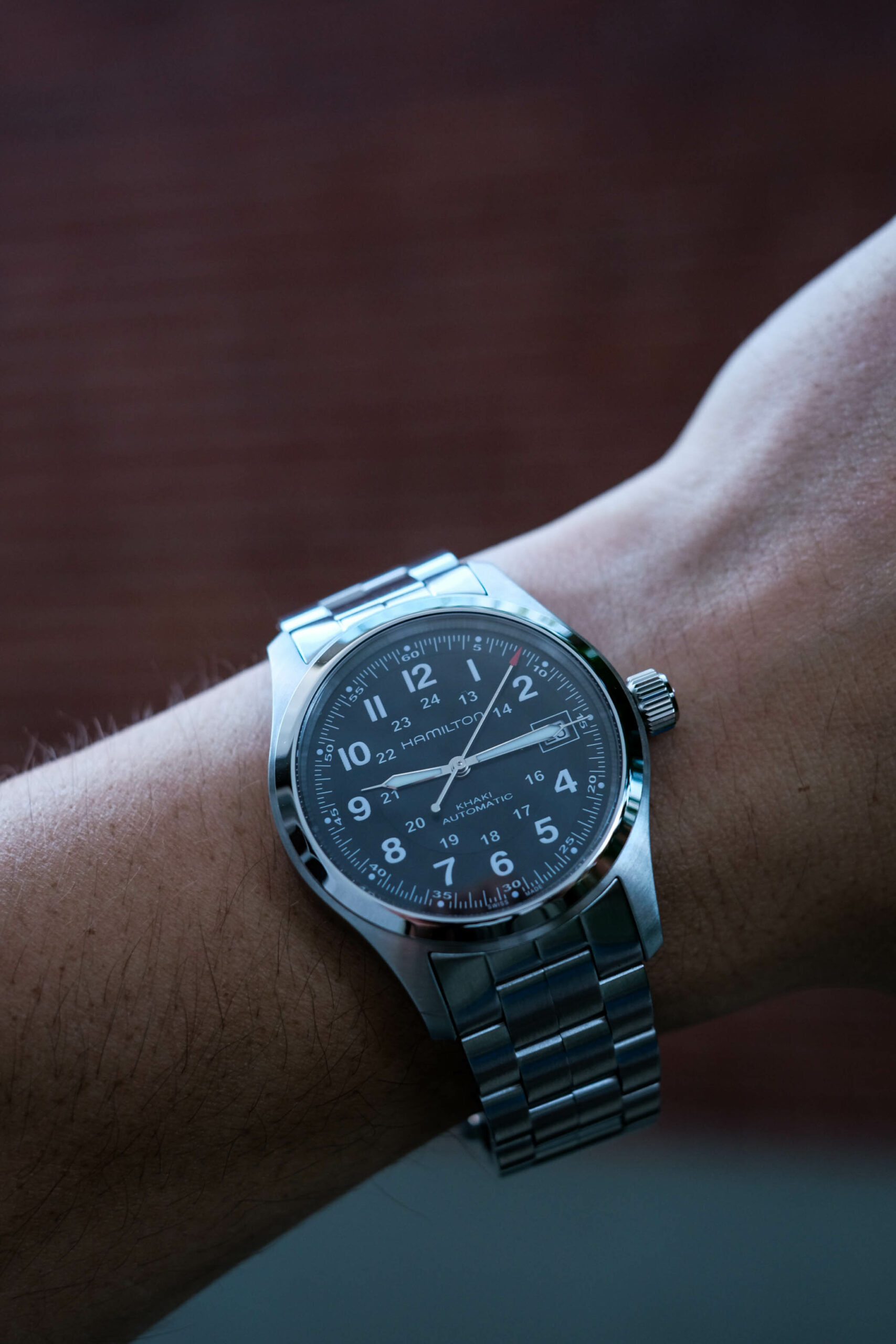 At this price range, you'll find the Seiko NH35 and the Tissot Powermatic 80 movements being used very commonly. The Powermatic 80 movement can compete with the H-10's power reserve, but other than this, the H-10 is the more reliable and overall better movement. So, if you're looking for the best bang for your buck in regard to pure mechanics, the Khaki Field is the one to go for.
Thankfully, Hamilton decided to go with an open case-back with the Khaki Field, meaning you can see this beautiful movement at work. For the price point, this also might just be the best-looking movement on the market.
Price and Availability
The Khaki Field comes in at around $750, depending on where you live. For your money, you are getting an incredible amount of watch, and it would be hard to replicate this value elsewhere. And because this watch is so popular, you're going to find the Khaki Field in pretty much every certified dealer online or in-store.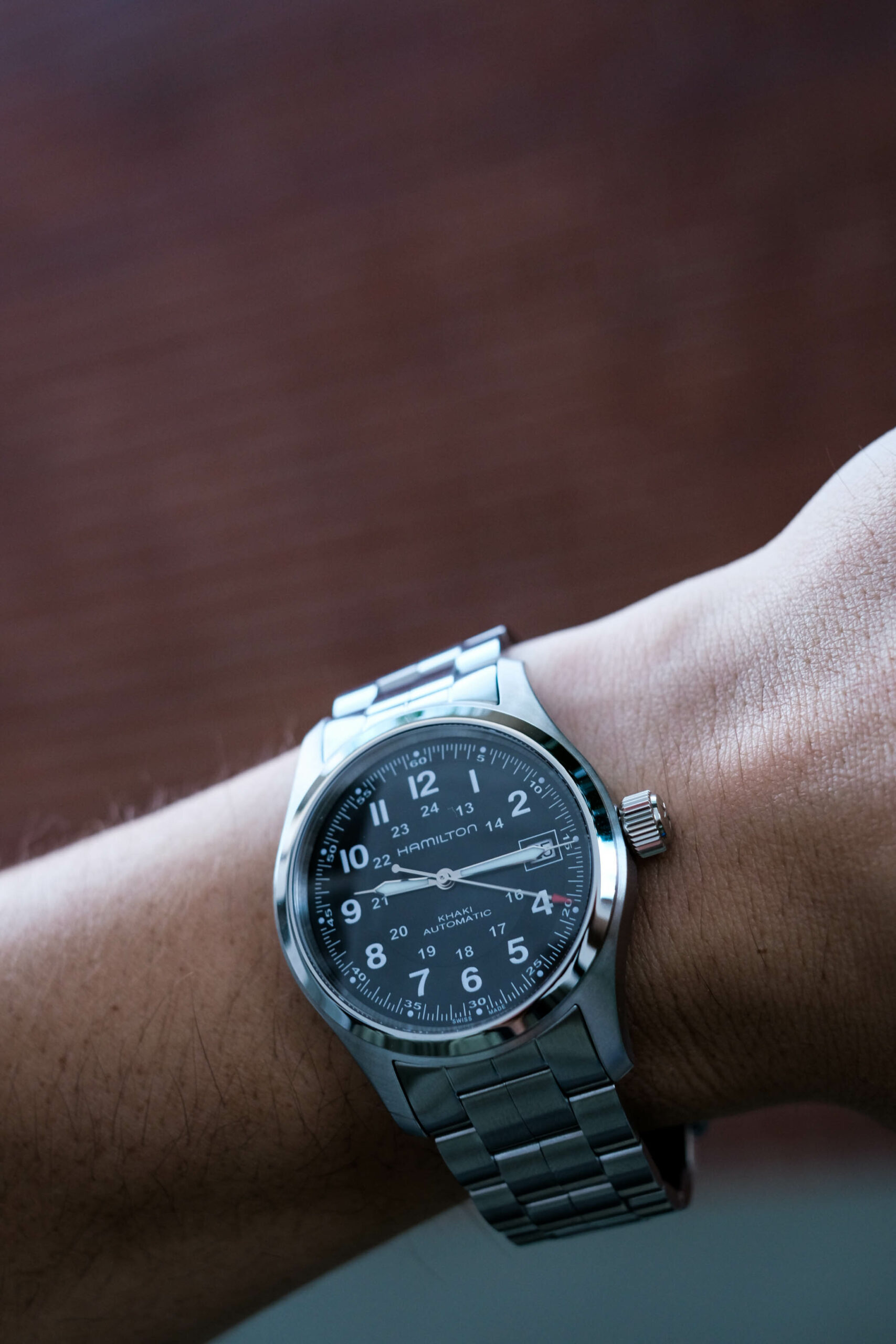 In the box, you're not getting a whole lot besides the watch itself. Although, the two-year international warranty is a pretty nice touch.
There are literally thousands of straps compatible with the Khaki Field, too. For a more casual look, pair it with a green Nato strap. Or, if you want to be a bit more civilized, change it to a leather strap.
Final Thoughts
Ultimately, the Hamilton Khaki Field Automatic 38mm is a perfect example of what Hamilton provides- a great design, great quality, and a great movement without the bank-draining price tag. If you're looking to buy your first mechanical watch, or perhaps want to build a one-watch collection under $1,000, the Khaki Field is absolutely the way to go. This piece isn't as flashy as other choices in this price range, nor does it have the most mind-blowing functionality. But, it is the most dependable, the most versatile, and the most practical.
Seriously, don't overlook this one. For more information visit the official Hamilton Watches website here.