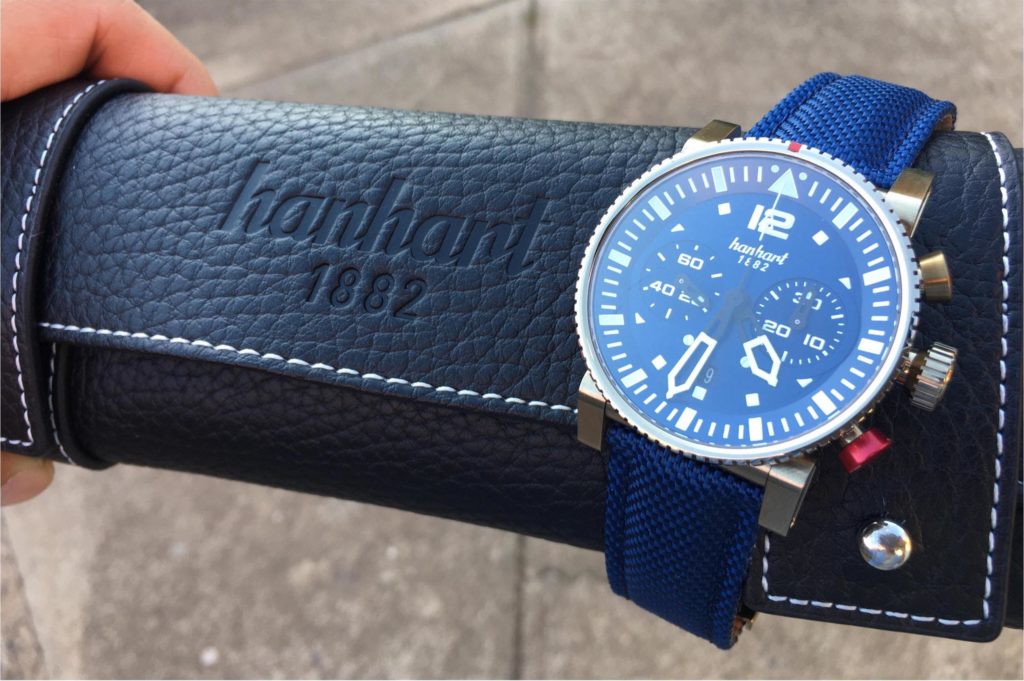 Every so often you stumble across a watch that turns you into a bit of a romantic. It's got all kinds of bells and whistles that make you want to show it to all your non-watch enthusiast friends, in a likely vain attempt to convince them that your hobby isn't weird and anachronistic.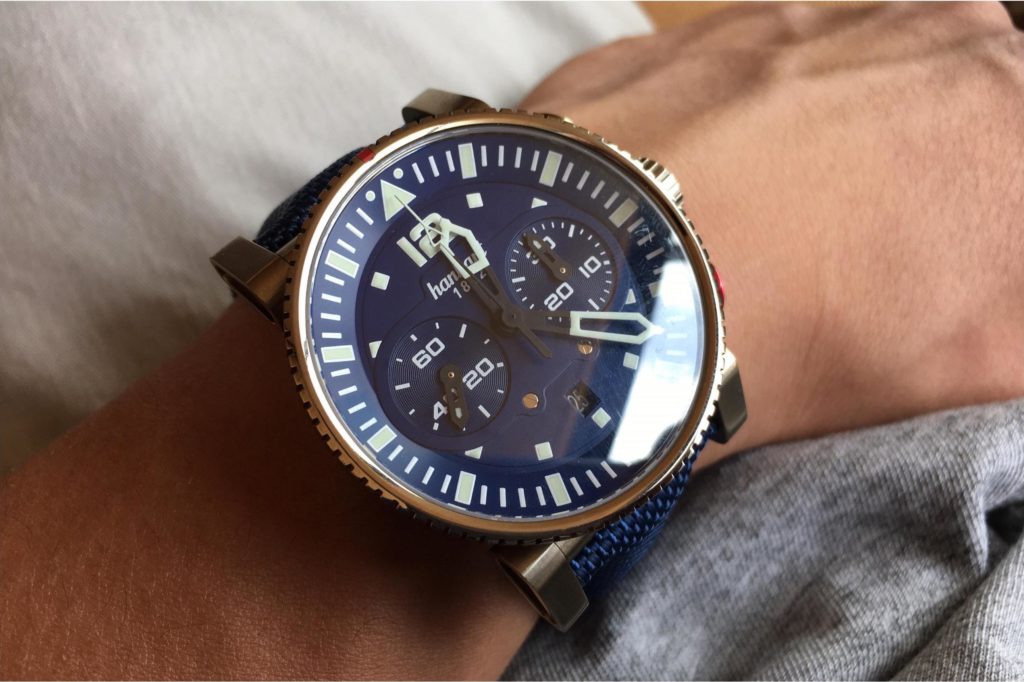 It might not be anything particularly special, but it makes you smile.
Surrounded by my three gawking housemates, I opened the package containing the PRIMUS Nautic Pilot Bronze. I eagerly wound the piece, triggering the operation of the sub seconds dial at 9 o'clock. Noticing a distinct lack of enthusiasm from my hostages, I leapt into an explanation of what a chronograph does, mashing the bronze pusher to activate the hand. I stopped the hand after 30 seconds, and demonstrated the reset function by engaging the iconic red Hanhart pusher. The chronograph hand snapped back to the 12 o'clock position with the crispness of a soldier's salute, drawing a chorus of dutiful 'oooh's' and 'that's cool man'.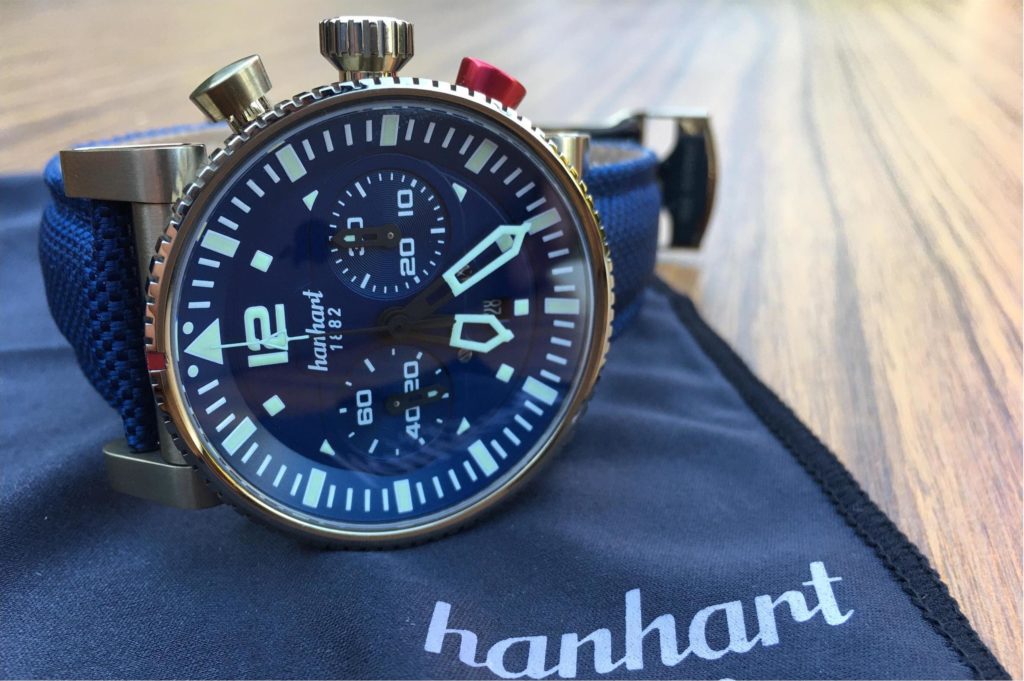 Sensing that I was losing my audience, I flipped the bronze case around. "Look!" I shouted excitedly, shoving the exhibition case back into each of their faces. "You can see the escapement!"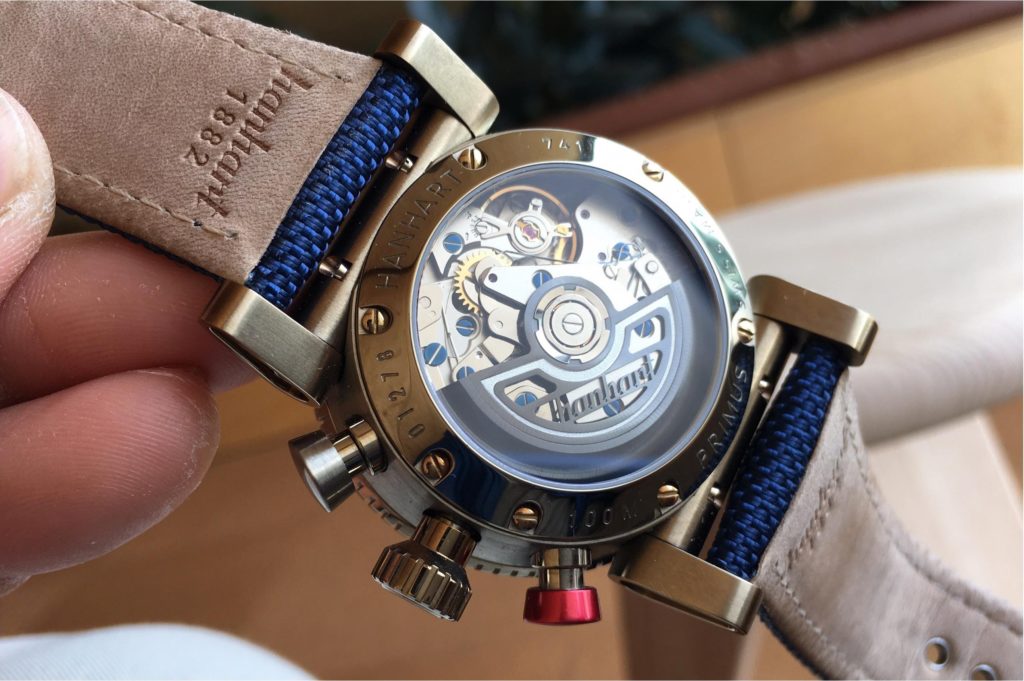 It was clear that I had not made any converts that day, but it didn't matter. It was the most fun and excitement I've had with a watch in a while.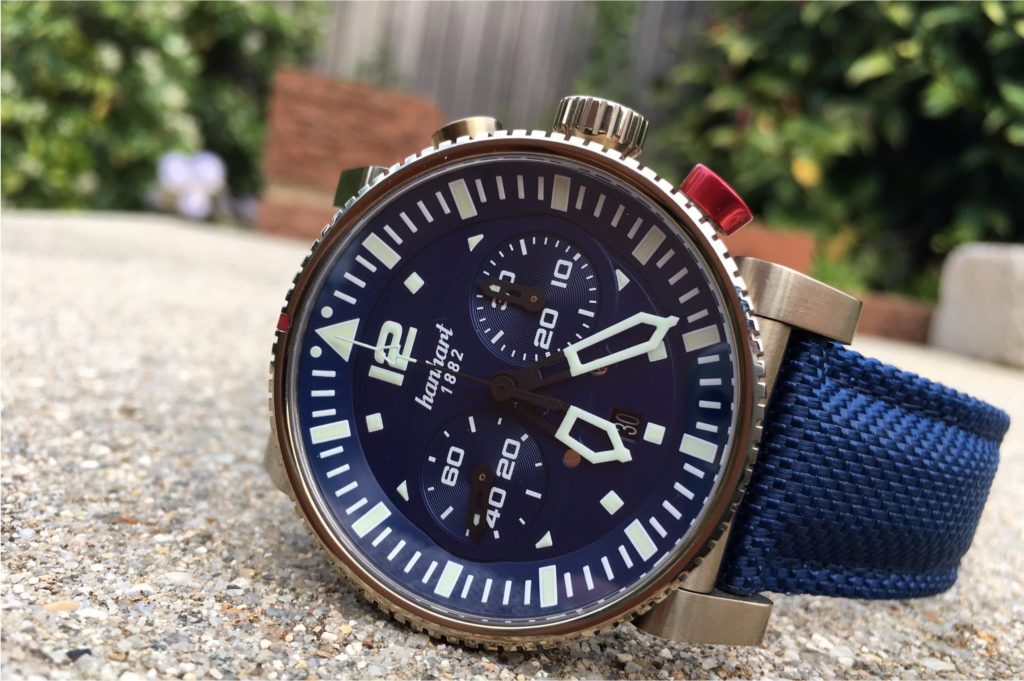 Before I move into the main review, let me get some of the basic specs out of the way. At 2950 Euros, the PRIMUS Bronze houses a very respectable Sellita SW 510 in a 15mm tall, bronze PVD coated stainless steel case. At 44mm in diameter, it comes with a sapphire crystal dial and case, hands and markers coated to the teeth with Super-LumiNova and 100m water resistance.
From an aesthetic viewpoint, the Hanhart PRIMUS checked a lot of my boxes. The combination of bronze and navy blue, is regal and elegant, but the aggression its other features removes all illusions of delicateness or snobbery. In fact, everything else about this design is rather utilitarian: the expansive dial, prominent sub registers, bold markers and thick hands speak directly to its lineage as a tool watch. The generous application of lume on such a large dial makes for a rather impressive sight in the dark, and the thick pushers allow for an enjoyable tactile experience. The date window tucked away above the six o'clock position is definitely one of the better executed ones I've seen, achieved rather easily by matching the color of the date wheel with the rest of the dial. Although the average wearer is more likely to use this piece to time a steak than anything aviation related, this piece really does capture the essence of a hardy flieger watch, albeit with a little more color and flair.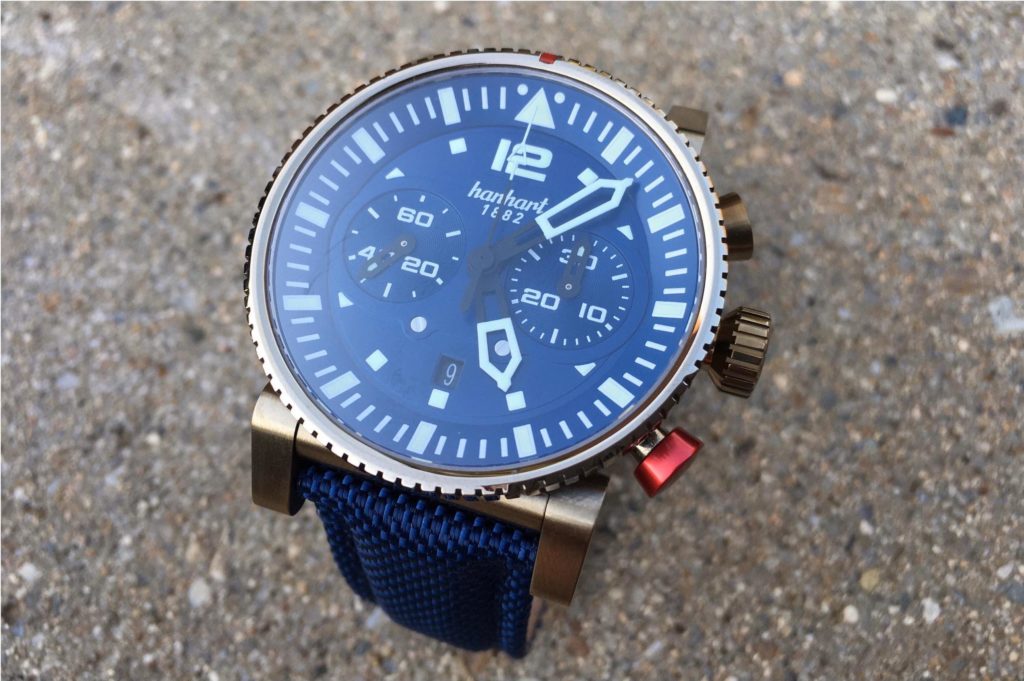 Especially noteworthy is the case back. Starting, stopping and resetting a chronograph is infinitely more enjoyable when you can also see the mechanics of it happening through the sapphire window. As this was my first experience handling an automatic chronograph, I lost several cumulative hours just playing with the pushers and watching the various levers click and clack.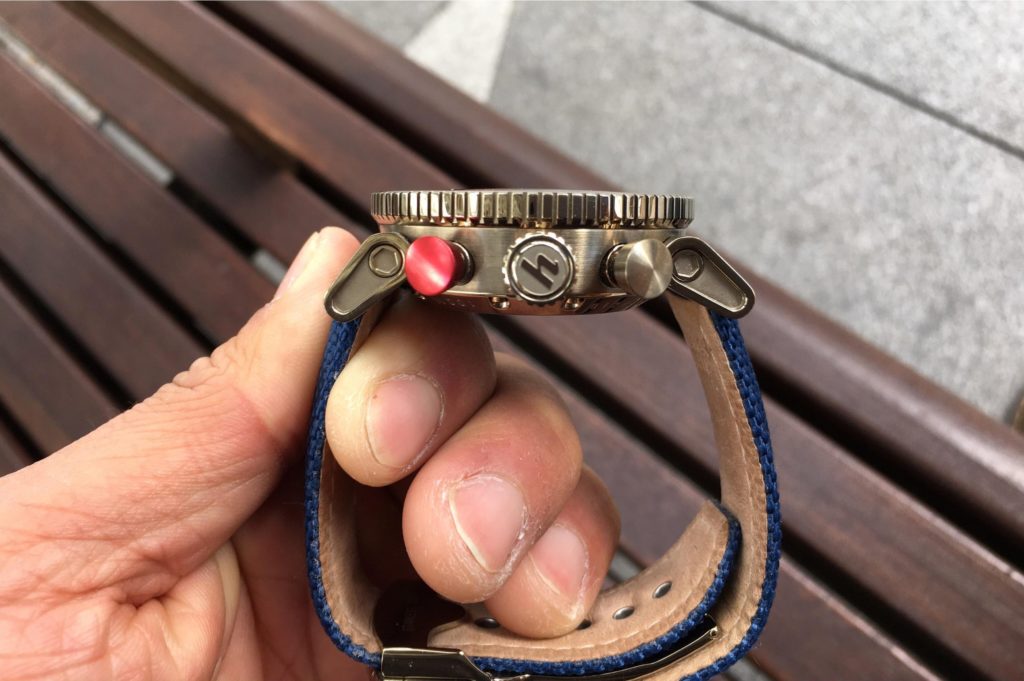 However, the clearest positive to take away from all of the above, is the excitement factor. No matter how old and cynical you might be now, this watch makes you feel like a young, naïve watch nerd again, peering over the edge of rabbit hole: curious about what lies at the bottom but too scared to jump down and find out. Everything from the exhibition case back though which you could gaze into for hours, to the iconic red pusher, just begging to be pressed incessantly: it was hard not to grin like crazy every time I wore this thing, or took it off to admire it in the sunlight. The PRIMUS Bronze is big, bold and beautiful, and has something to offer everyone.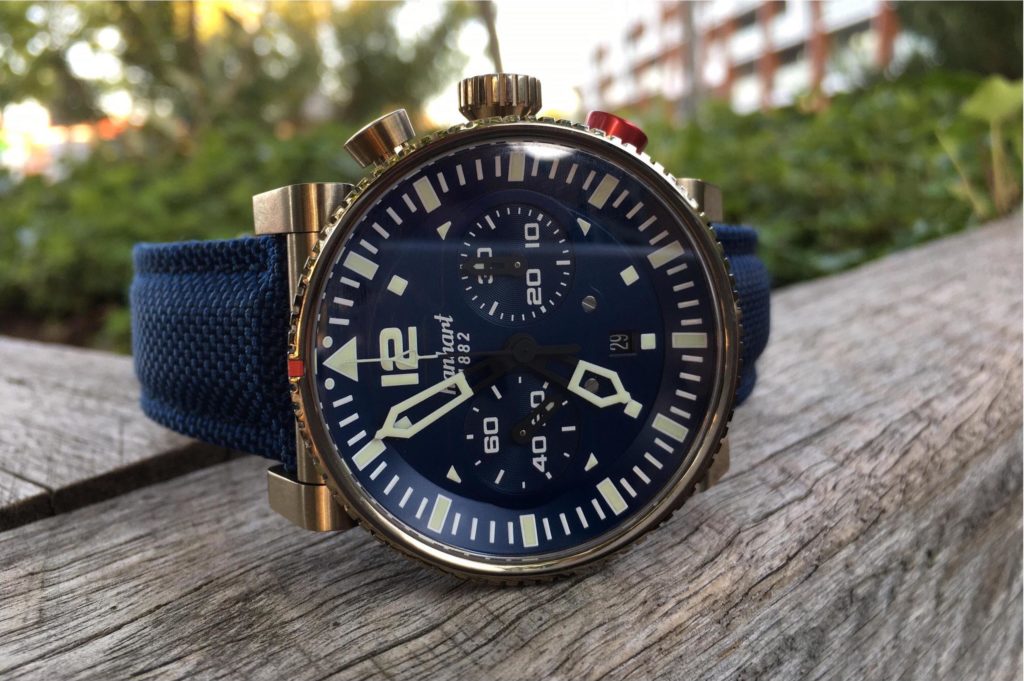 Having said all that, there were some downsides.
Firstly, this thing is gigantic. Seems a bit petty to complain about size when it comes to tool watches, but nevertheless, a lot of watches that are big on paper, wear a lot smaller in reality. No such luck here. At 15mm tall and 44mm in diameter, this piece stretched the absolute limit of what my wrist was capable of wearing. Though the mid-case is slightly tapered, any reduction in size that they could have achieved was neutralised by the prominent coin-edge bezel and the large pushers. Lug-to-lug distance was not so much the issue given the flexible lugs, but having a thicker wrist won't save you from the diminutising effect of a tall watch. As someone used to pieces that fit under the cuff, I had to wear my sleeves rolled up all week because I literally could not button up my sleeve around the watch. So, if you're after something a little more subtle, then perhaps look elsewhere.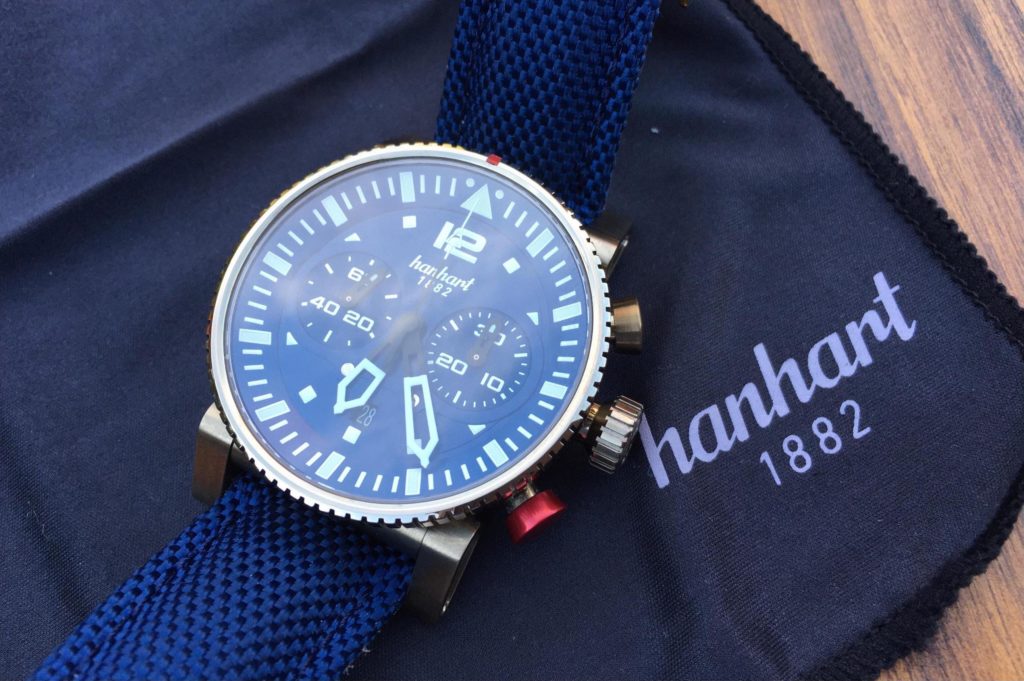 Next is the strap. Whilst both the strap and butterfly clasp were thoughtful and well made, I personally would have preferred a simple strap with a few extra holes to allow for a snugger fit. I also did not get the impression that the PRIMUS was intended to be taken off this strap, as there was little to no room between the lug and strap within which to fit a spring bar tool. It may have just been my incompetence, but I doubt anyone could change the strap on this thing without either damaging the strap, or scratching the lugs.
All in all, the PRIMUS Bronze Nautic Pilot is a fantastic watch. It is unreservedly confident in its identity as a robust tool watch, making no attempt whatsoever to be more discrete and unassuming to placate a more general audience. While it is ultimately not something I consider to be within my own tastes, I was glad to spend time with it and have my pre-conceived notions challenged.
To have a look at all of Hanharts' offerings you can visit their official website here.