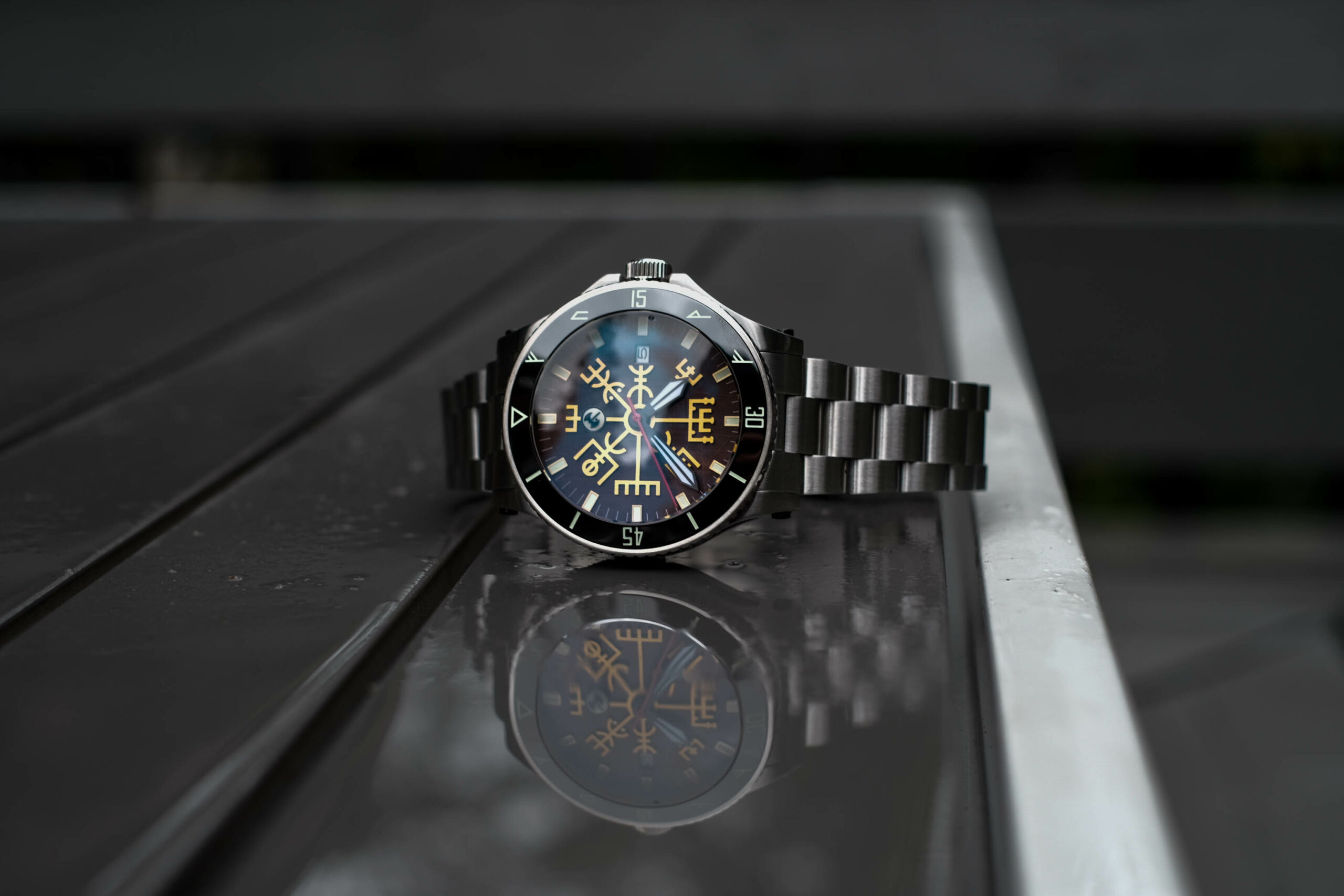 Not every watch has to be an expensive investment from a premium brand. Sometimes, the best watch is one that's durable and reliable. It also doesn't hurt if it's a slick-looking timepiece.
If that's what you're looking for, some of the best watches come from smaller startups and microbrands. These brands don't have the name recognition to charge thousands of dollars for a single watch. At the same time, they often bring a fresh, inspired take to the art of watch design.
Gunhild by Heimdall's Workshop is one small brand that recently caught my attention. They first launched in 2020, but their watches were well-reviewed, and they've continued to create new variants. Gunhild is actually based in the US, with their headquarters and workshop located in Fayetteville, North Carolina.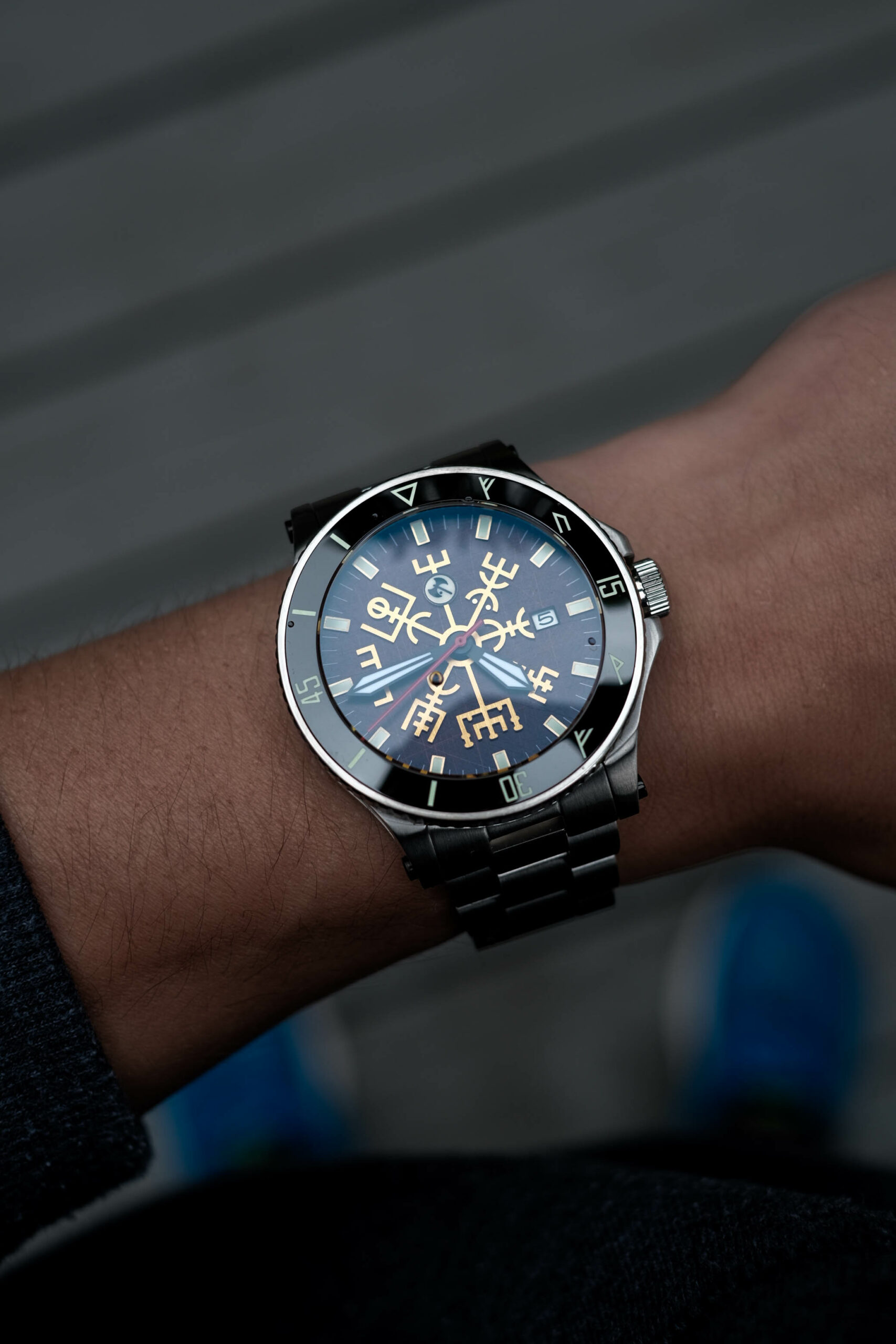 All the design, assembly, and testing is done in the states. Meanwhile, parts are sourced from Switzerland and Japan. Most notably, Gunhild uses Swiss ETA and Sellita movements in some watches, and Japanese Miyota movements in others.
Gunhild draws their inspiration from Scandinavian folklore, and all of their watches have a distinct Viking flavor. They also draw a lot of inspiration from weapons, and from military history in general. Even their logo is an aggressive, double-bladed axe. That's not something you'd expect from a typical watchmaker.
I recently got the opportunity to examine Gunhild's best-known watch, the Faering Collection Vegvisir Adventure Automatic With Date. Here are my thoughts on this timepiece.
A Viking-Inspired Dial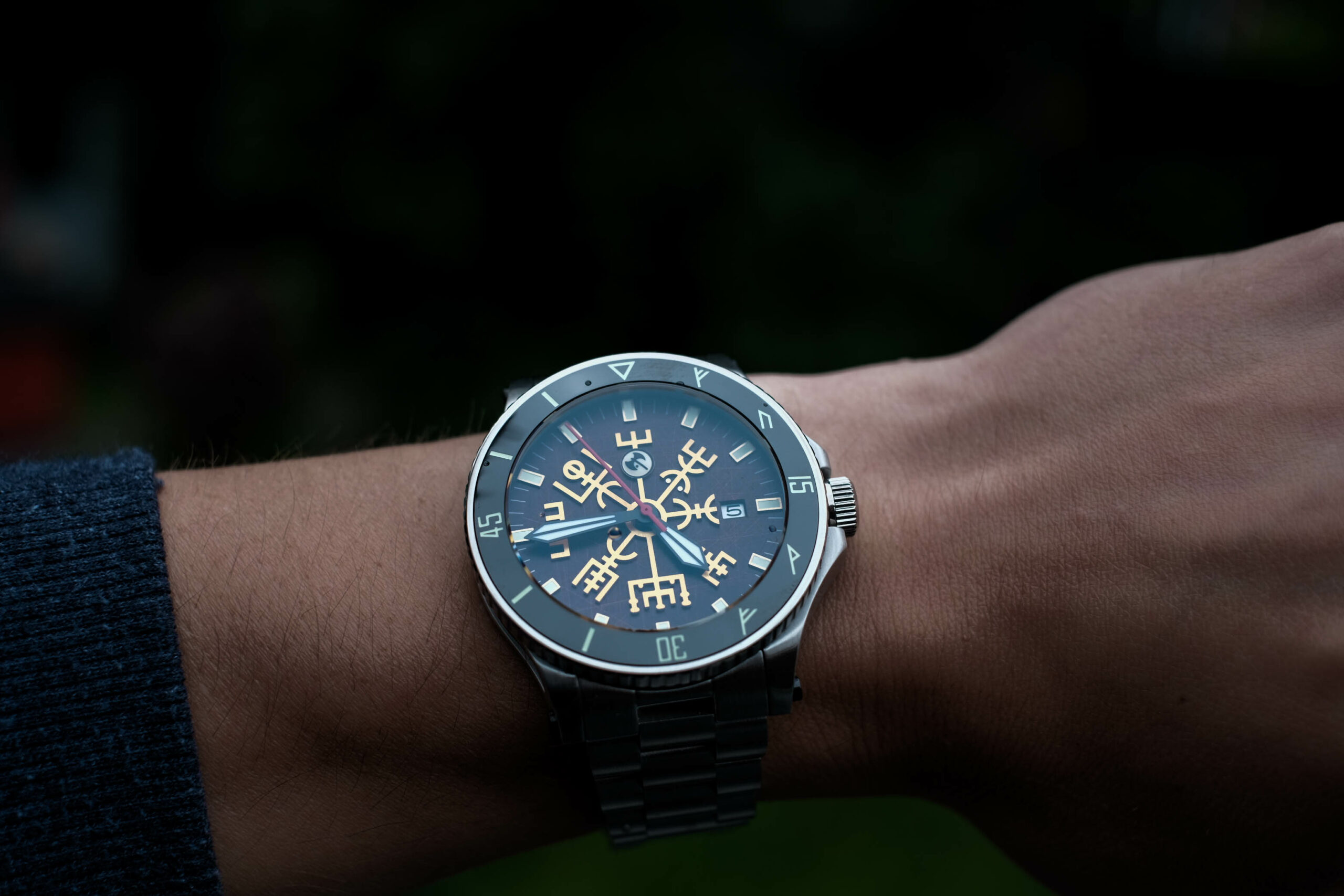 I've seen a lot of watches through the years, and the Vegvisir Adventure Automatic stands out as one of the most unique. The background is an antique brass plate, with fine, randomly-etched lines that give it a distressed look.
This would be striking enough all by itself. But on top of this, there's a copper geometric pattern that looks like a set of totems. These totems all meet at the center, and spread out almost to the outside of the dial. I have no idea what these symbols mean, and Gunhild doesn't specify. If you're a Viking expert, let me know in the comments!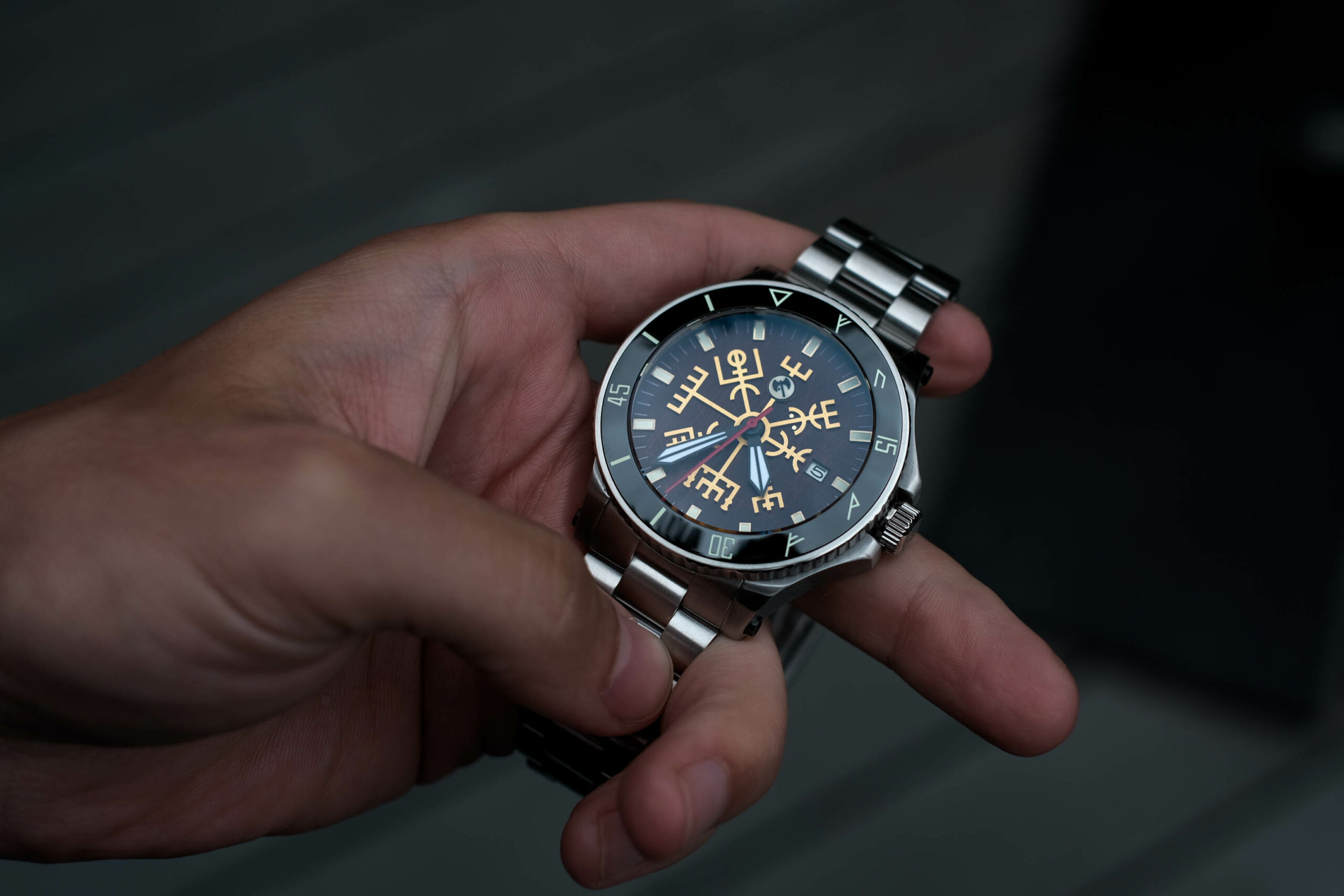 One thing the dial doesn't have is a brand name. Instead, there's a Gunhild axe emblem beneath the 12 o'clock position. This is a circular pendant that sits on top of the totem pattern. It even has a lume backing, so the double-bladed axe stands out even at night.
The hour and minute hands are designed to look like broadswords. The sides flare out gradually from the base, then angle back sharply to a point at the end. They're lume-filled, but with a metal stripe down the center that creates an illusion of three-dimensionality. The seconds hand is much longer than the others, but very slender. It's also bright red, which makes it easy but awkward to read against the copper backing.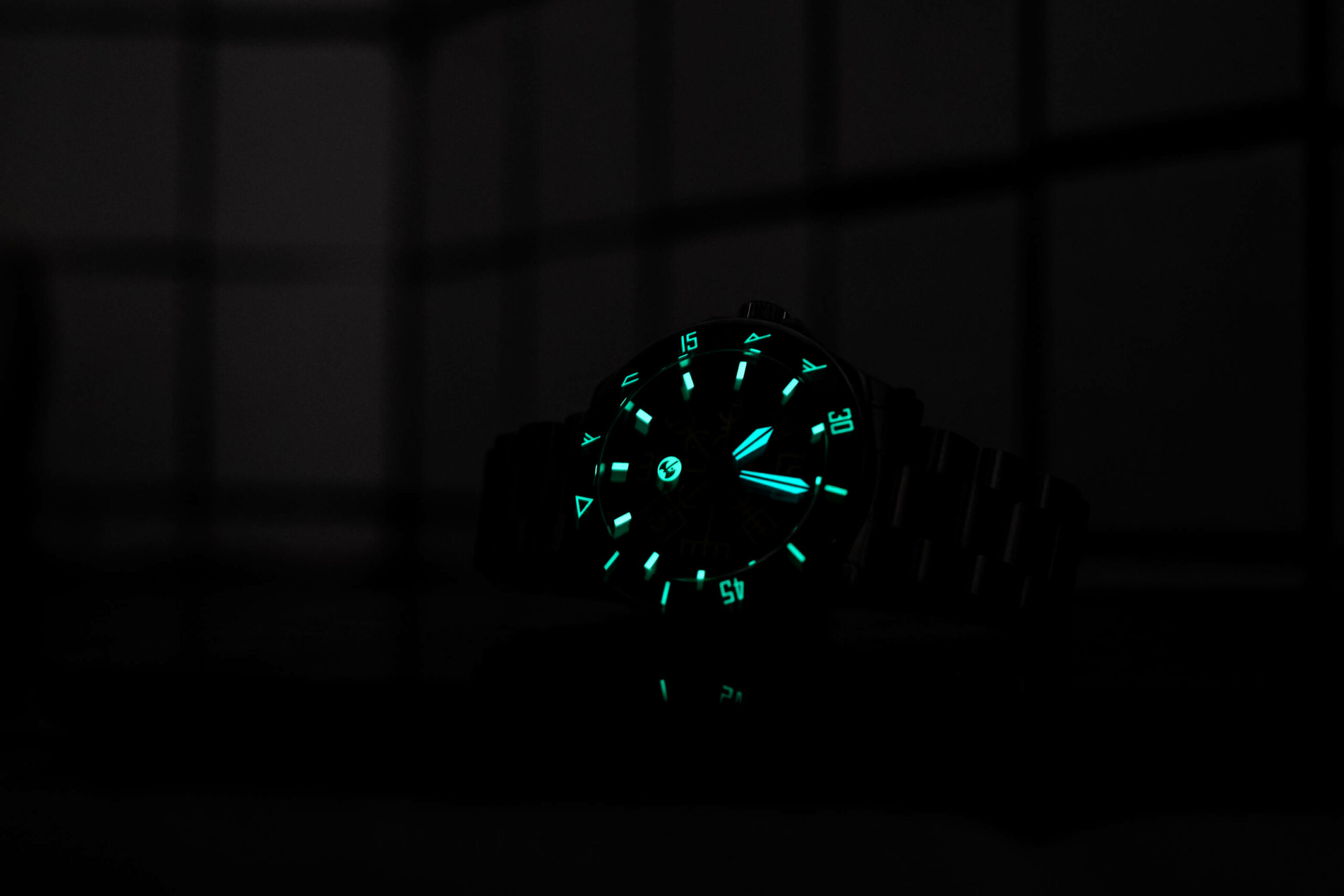 Around the perimeter of the dial, a series of fine white hashes serve as minute markers. In-between these, at the 5-minute positions, you'll see copper-outlined applied lume indexes. They're all rectangular, with no special marker at 12 o'clock. Just inside of the 3 o'clock marker is a small date window, with a white background and black Arabic numerals.
A No-Nonsense Case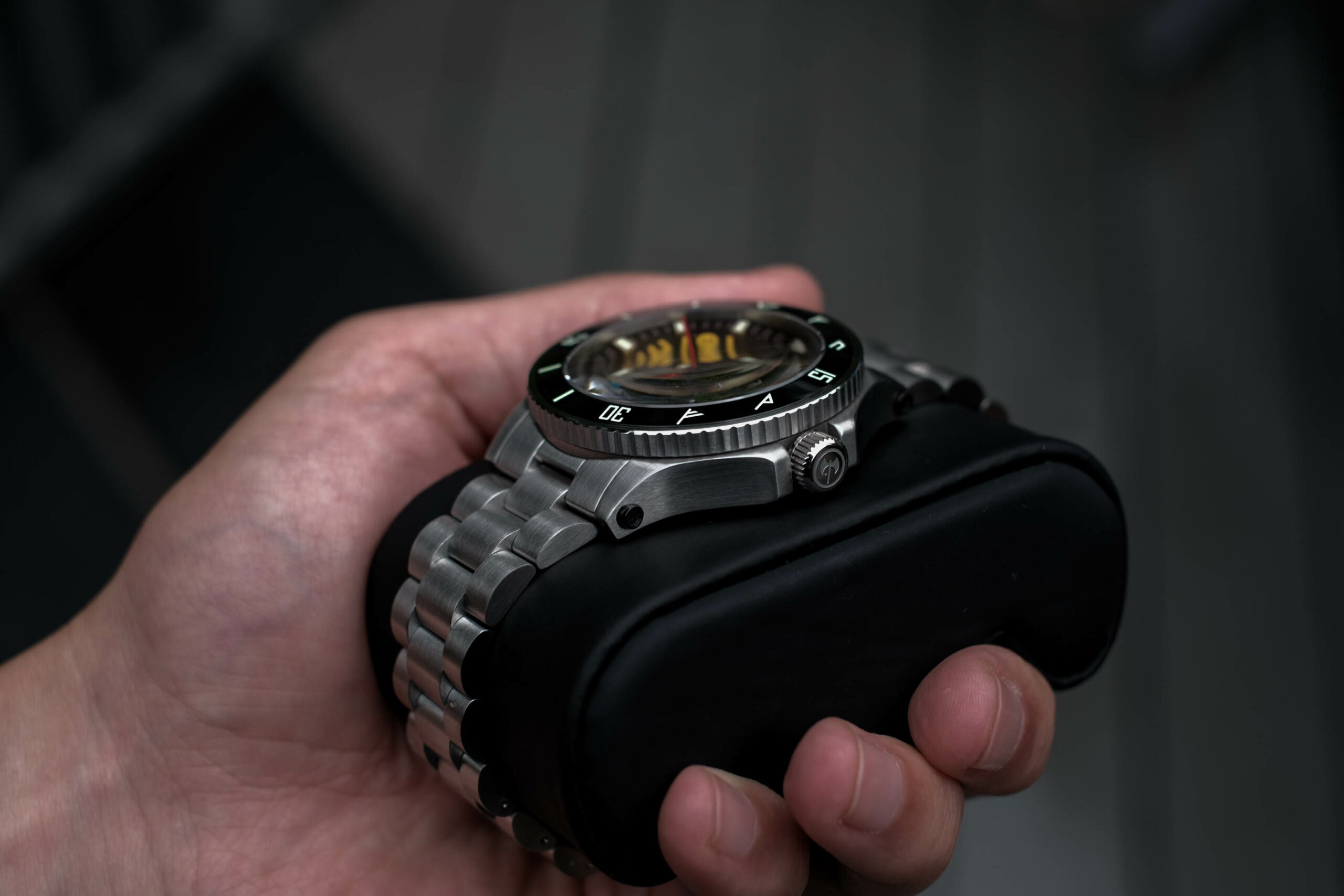 The Vegvisir Adventure Automatic has a brushed stainless steel case, with a diameter of 43.5mm. This gives it a medium-large wrist presence. It's big and chunky, and at 15mm thick, it's taller than most wristwatches.
The screw-down caseback makes it easy to service, and is etched with a Gunhild logo. The crown also has a screw-down design, and sports a miniature etched logo at its tip. Flared guards arch out from the sides of the case to protect the crown, so it's virtually impossible to snag.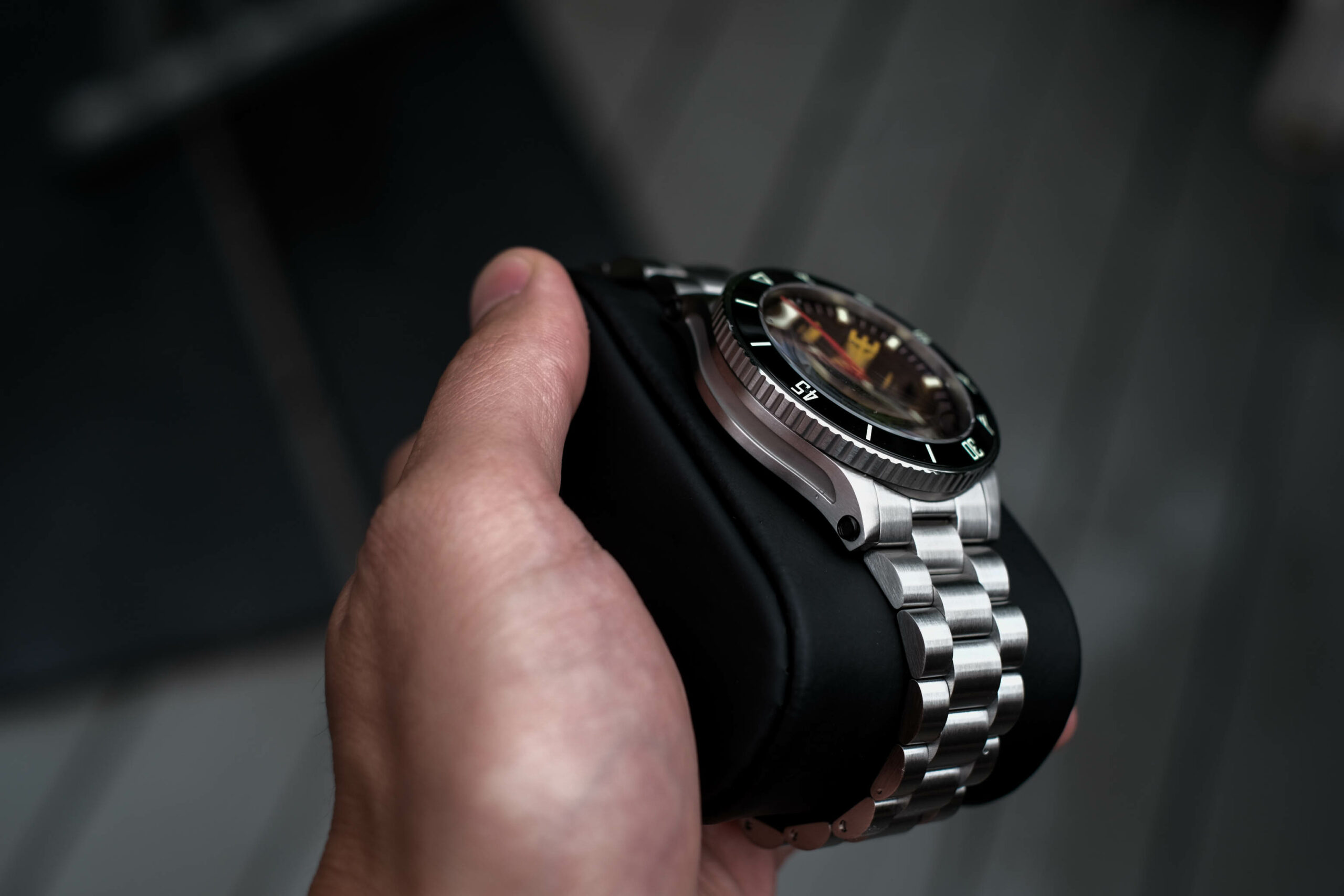 This watch is water-resistant to a depth of 200 meters. Not only that, but it's a legitimate dive watch. The large bezel rotates, and it has a high-contrast surface. Inside the knurled outer edge is a black ceramic inset, with white lume markings. The various positions on the bezel are marked by Arabic numerals, hashes, a 12-o'clock arrow, and a series of Viking rune. Based on five minutes of Googling, these runes signify strength, joy, and wealth.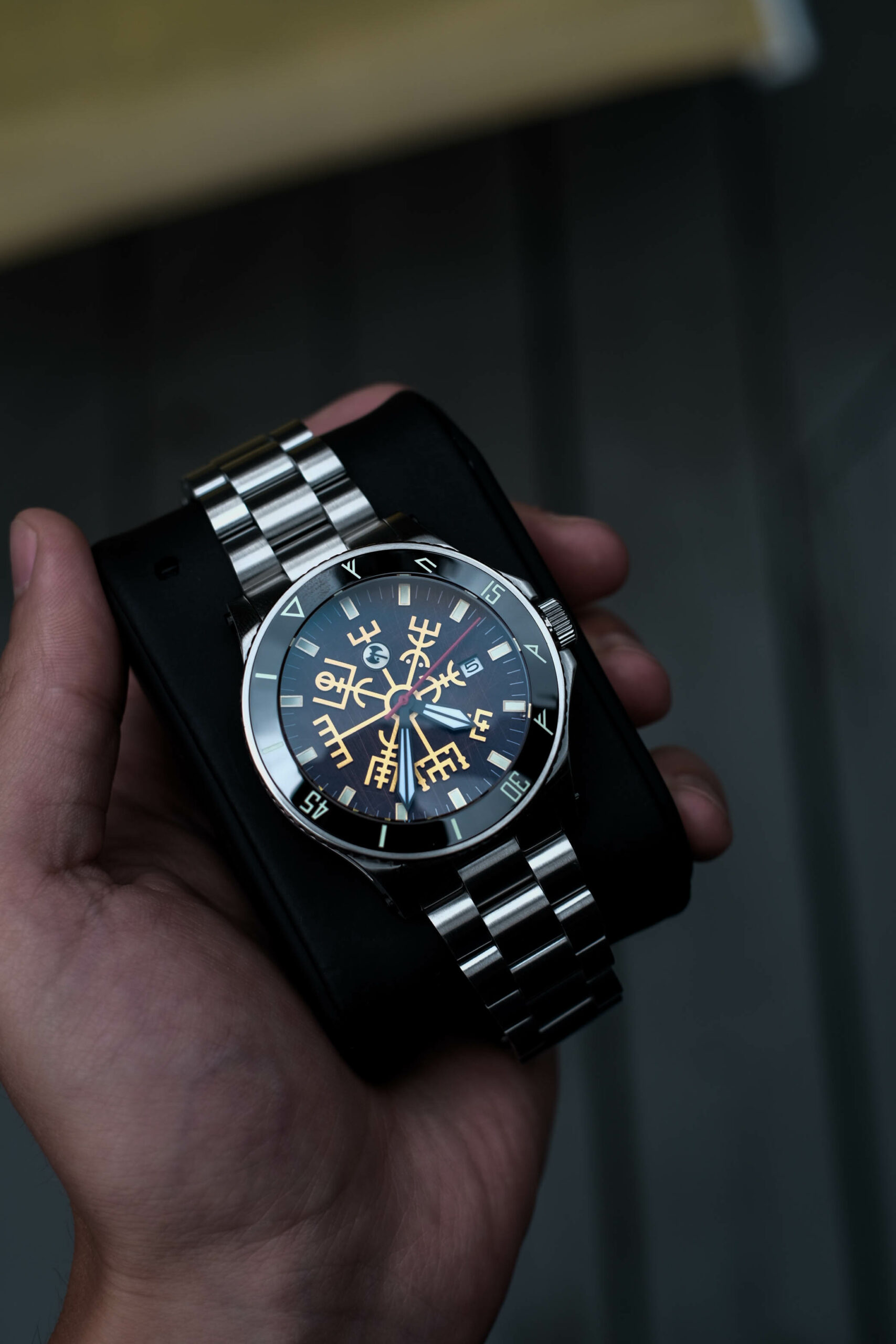 The sapphire crystal is double-domed, which means it doesn't distort the dial. However, when viewed at an angle, the indices will be reflected, and will appear to extend beyond the surface of the watch. The crystal is coated on both sides with an anti-reflective finish, which significantly reduces any glare.
A Reliable Timepiece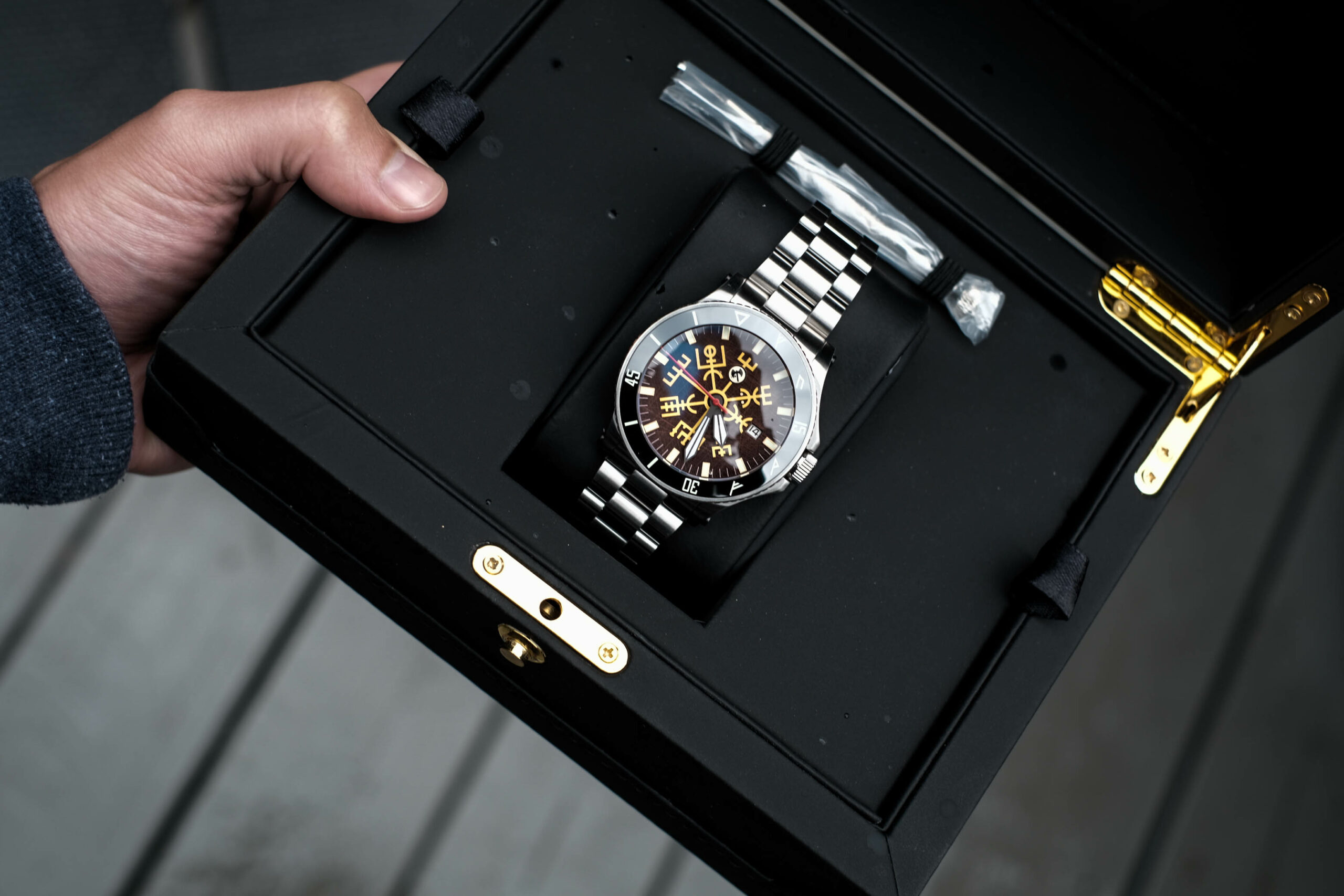 The beating heart of the Vegvisir Adventure Automatic is its Miyota Caliber 9015 movement. This is a 24-jewel movement, similar in most respects to the popular ETA 2892. The accuracy ranges from -10 to +30 seconds per day, which is hardly chronometer-grade, but still not outside the norm for today's automatic movements. It sports a 42-hour power reserve and is also hackable, which makes it easier to reset.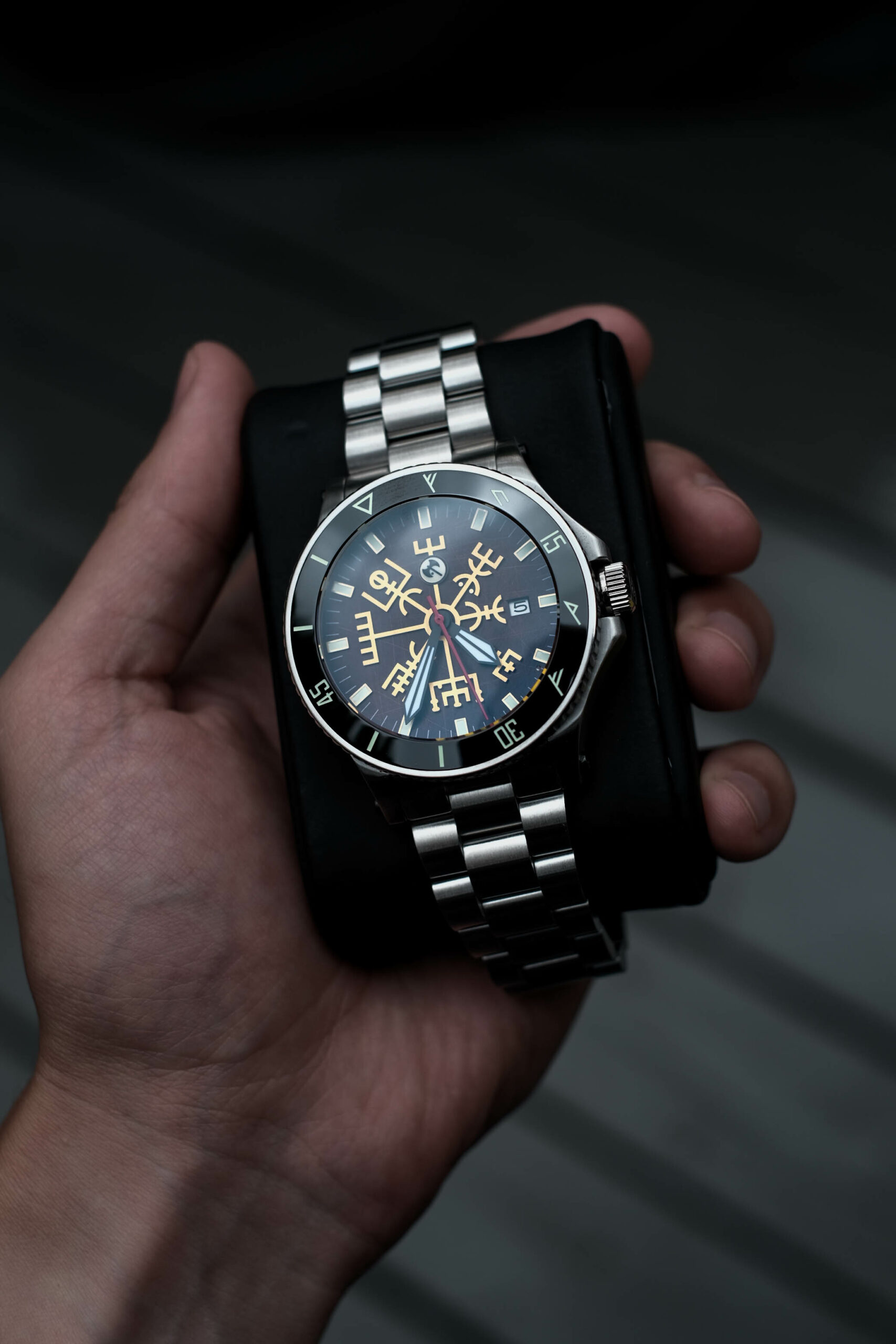 The watch comes with a beautiful tri-link stainless steel bracelet. It closes with a double-locking clasp, and opens with a simple push button release, so it stays on securely, but is also easy to remove. However, the best feature is the way it's put together. Instead of traditional pins, which require jeweler's tools for adjustment, this bracelet's links are held together by tiny screws. If you have a mini screwdriver for eyeglasses, you'll be able to make your own adjustments.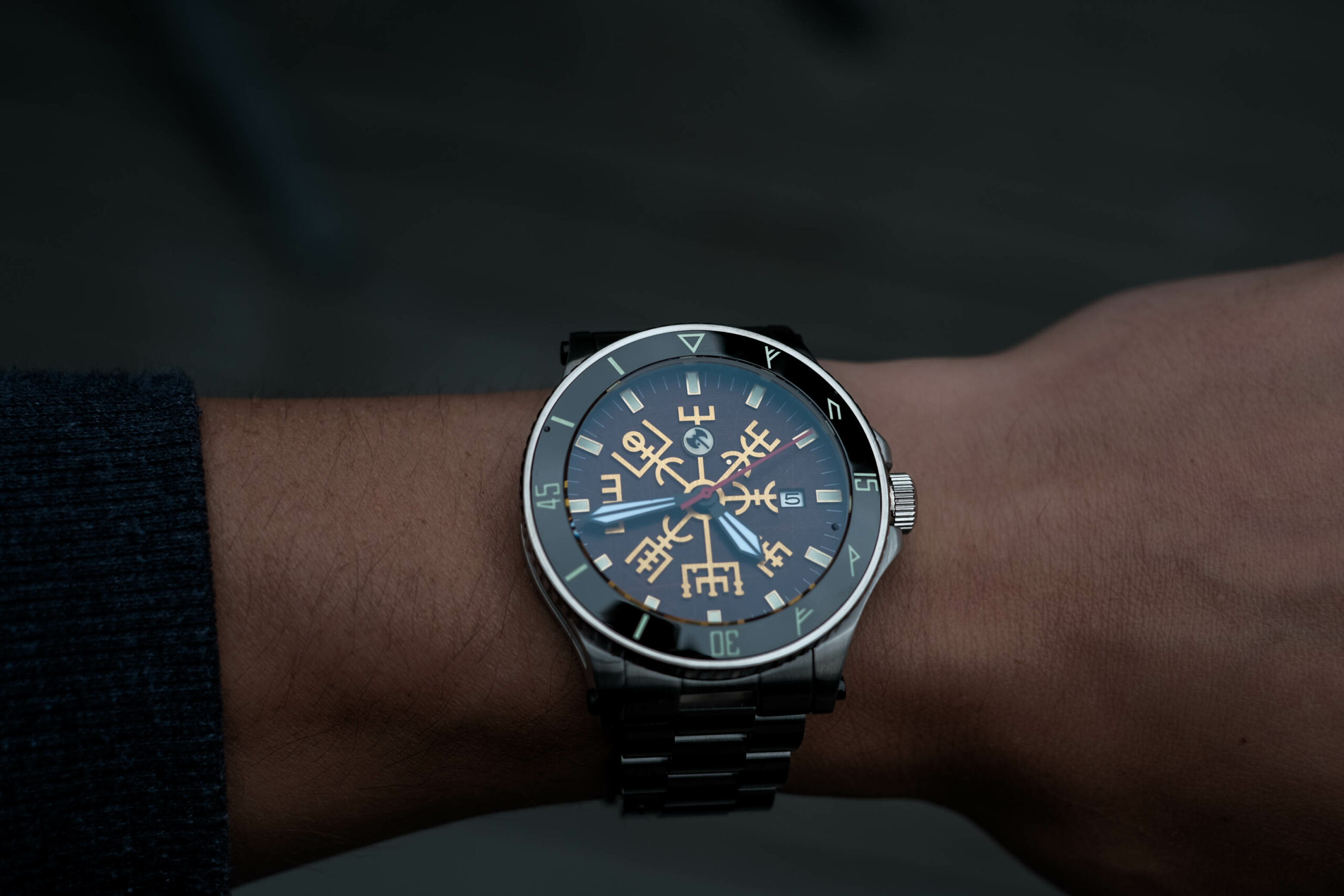 The Vegvisir Adventure Automatic ships in a gorgeous display box. This is a large, leather-wrapped box with a significant amount of padding inside. There's a little well with a padded mount for your watch, and an attractive brass closure at the front.
The Range Day Collection
Before I close, I should mention that Gunhild has just launched another new watch: the Range Day Collection. It's a minimalist watch with a square case, a skeletonized design, and a 60-minute subdial.
This is a Kickstarter project that has fully met its goal and is still accepting pre-orders. It's expected to start shipping in September, 2022. For more information you can visit the Heimdall's Workshop official website here.