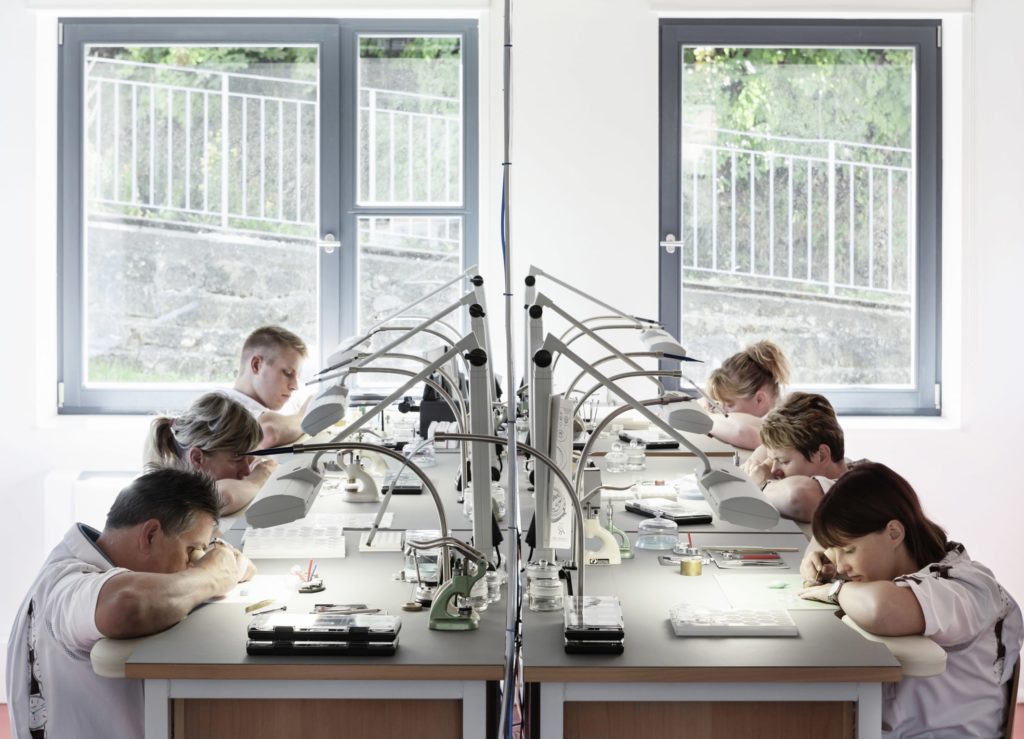 Nomos Glashütte – commonly referred to simply as "Nomos" – is an independent watchmaker that's based in the town of Glashütte, Germany.
Their watches are almost entirely German-made, and they've won almost 140 international awards. These include awards for value, quality, and design. The latest include 2017's German Design Award, as well as the last six consecutive iF Design Awards.
Here, I'll give an overview of Nomos' history, from their origins to their in-house movements to their latest designs. I'll also talk about some of their more controversial decisions.
Born in the Town of Glashütte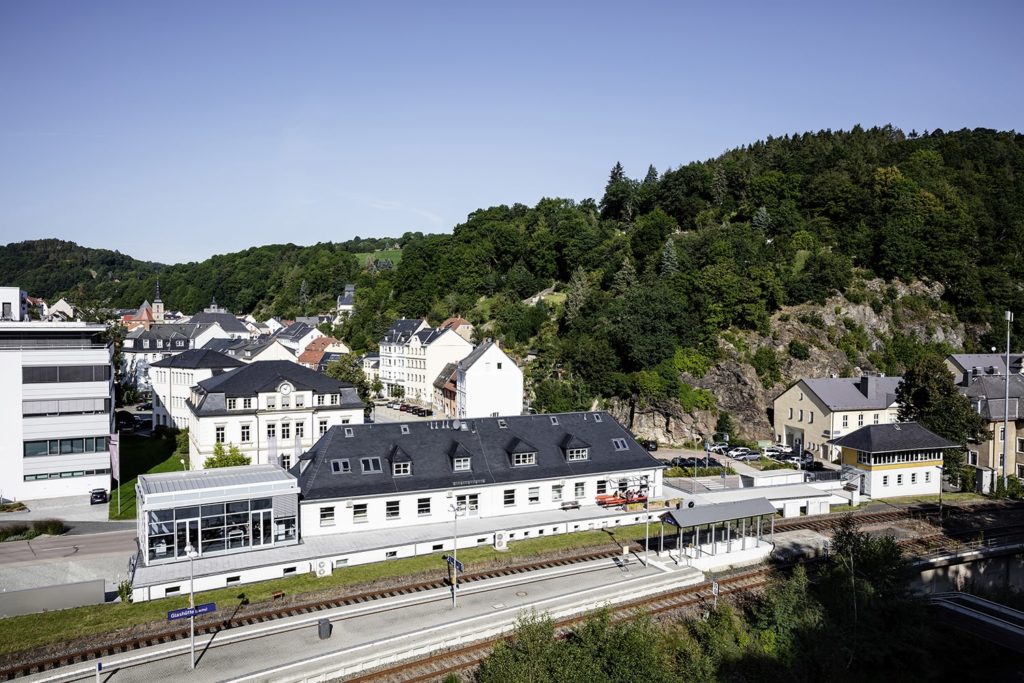 This is a small town, with a population of only about 7,000 people, located about 2 hours south of Berlin and nestled in a valley in the foothills of Saxony. Glashütte is home to a number of watchmakers, including A. Lange & Söhne, Glashütte Original, and Moritz Grossmann. It's no exaggeration to say that Glashütte is the heart of the German watchmaking industry. Indeed, it's the home of the Deutscher Werkbund, a watchmaking association that was founded in 1907 and helped to birth the Bauhaus movement of the early 20th century.
With the coming of World War II, the German watchmaking industry came to a screeching halt. Following the war, Germany was divided in two, and the town of Glashütte fell into the Communist Eastern half of the country. During that time, existing watchmakers like A. Lange & Söhne were nationalized, and ultimately ceased to exist. These companies were only revived in the early 1990s, following the fall of the Berlin wall. I should point out that the Nomos name had technically existed before. However, it only existed briefly in the early 1900s, and there's no connection to the current Nomos brand.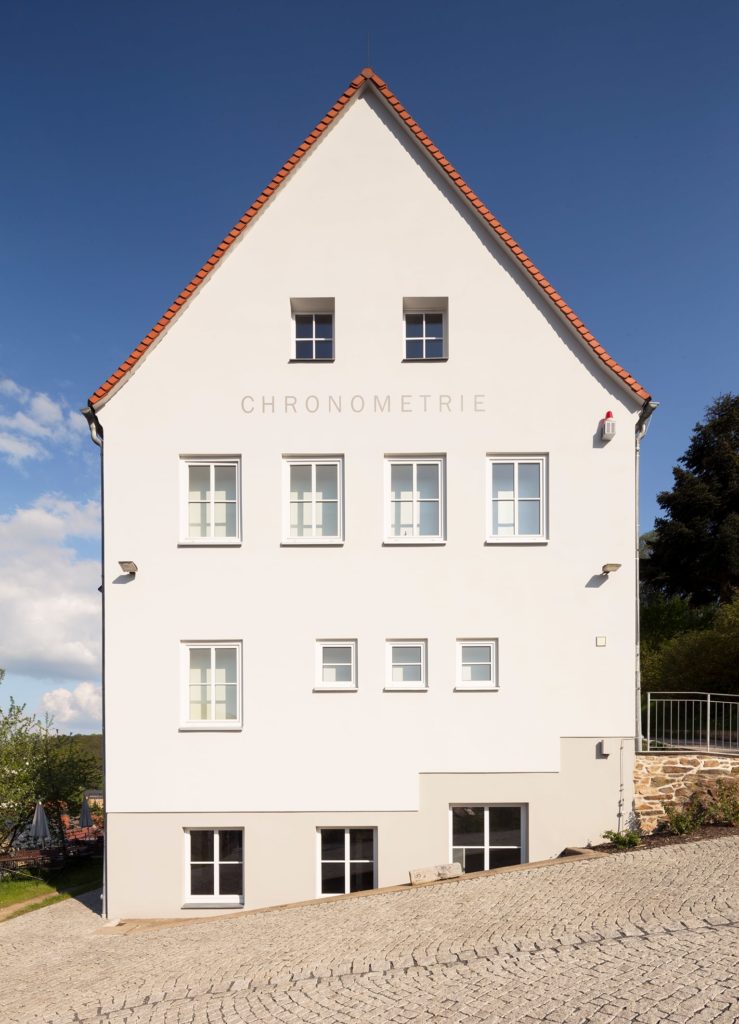 Just after the fall of the Berlin wall, a photographer and computer enthusiast named Roland Schwertner decided to create his own watchmaking company. In January, 1990, he founded Nomos Glashütte, with the aim of building a brand new company based on Glashütte's longstanding history of quality watchmaking. Since that time, many of the old manufacturers like A. Lange & Söhne and Glashütte Original have sold out to Swiss conglomerates – Richemont Group and Swatch respectively. However, Nomos has maintained its status as an independent watchmaker. In fact, Roland Schwertner still maintains a position with the company as their head of sales. Their head of branding is Judith Borowski, and Uwe Ahrendt is the CEO. Together, these three individuals constitute Nomos' senior management.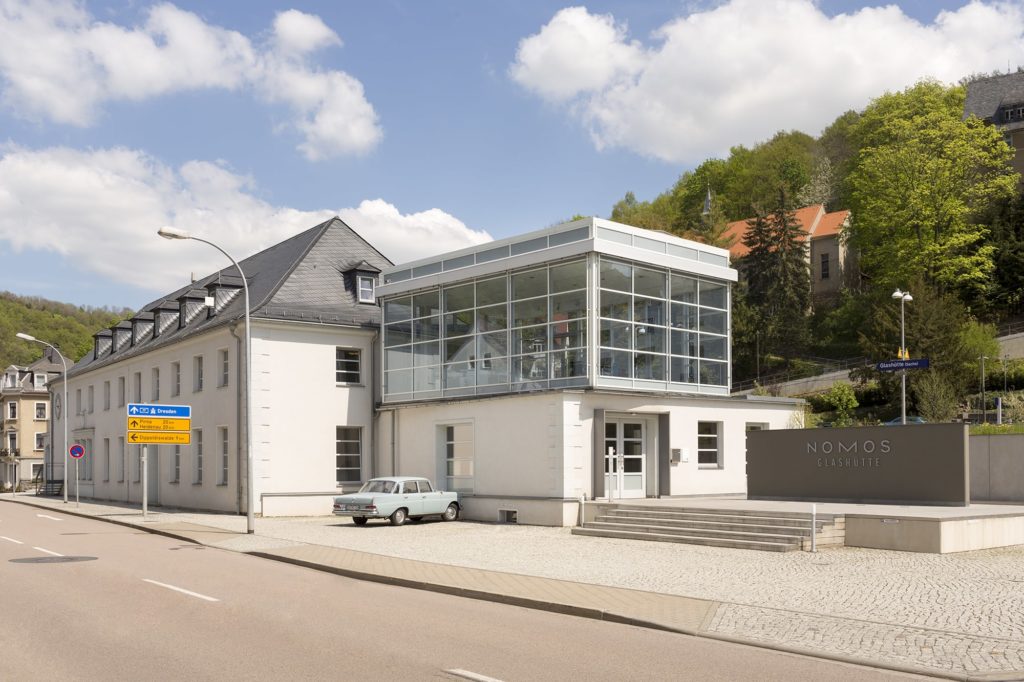 Nomos' headquarters in Glashütte is home to 260 employees, the vast majority of their current workforce. The town is small enough to walk across in just a few minutes, so there's a lot of cross-pollination in the industry between various Glashütte-based watchmakers. The remainder of Nomos' employees, about 40 people, are located in their Berlinerblau creative industry in Berlin, as well as their office in New York City.
The Tangente – An Early Hit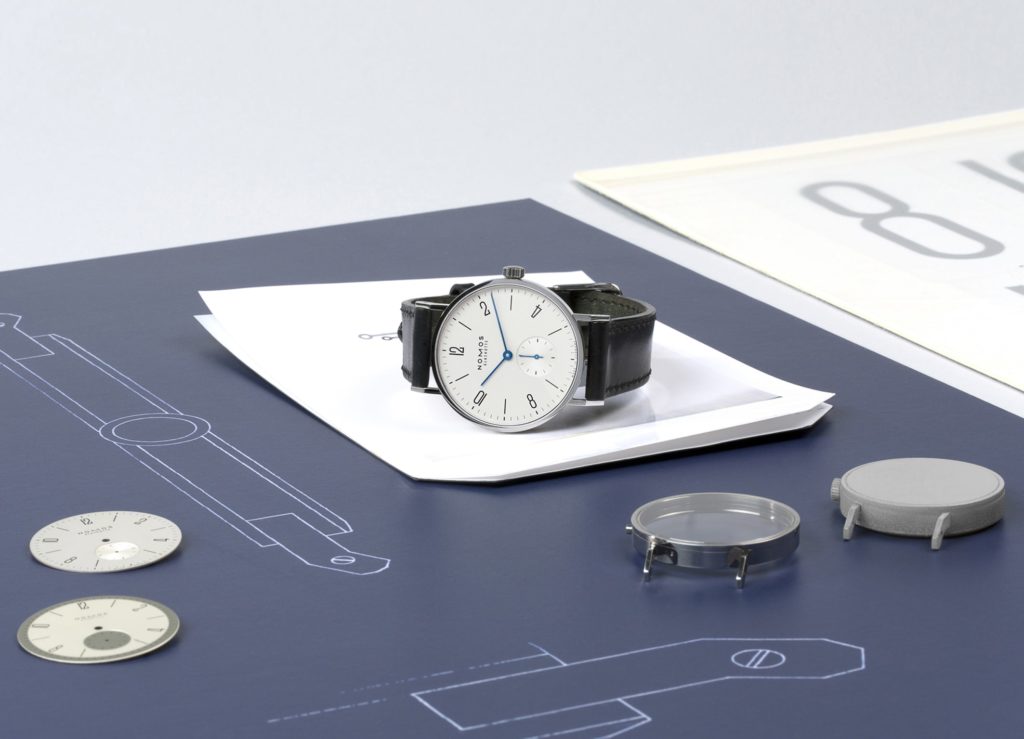 In 1991, Nomos launched their first watch collection. In all, this included four watches: the Ludwig, Orion, Tetra, and Tangente. All of them were designed with a Bauhaus style, created by designer Suzanne Gunther. The Tetra had a square, 29.5mm case, and the other three designs had a 35mm round cases. After the 1980s, where large, chunky watches were the norm, this small size was revolutionary and a throwback at the same time. It also allowed Nomos to market their watches both to men and to women. Even today, there aren't a lot of brands that have managed this feat.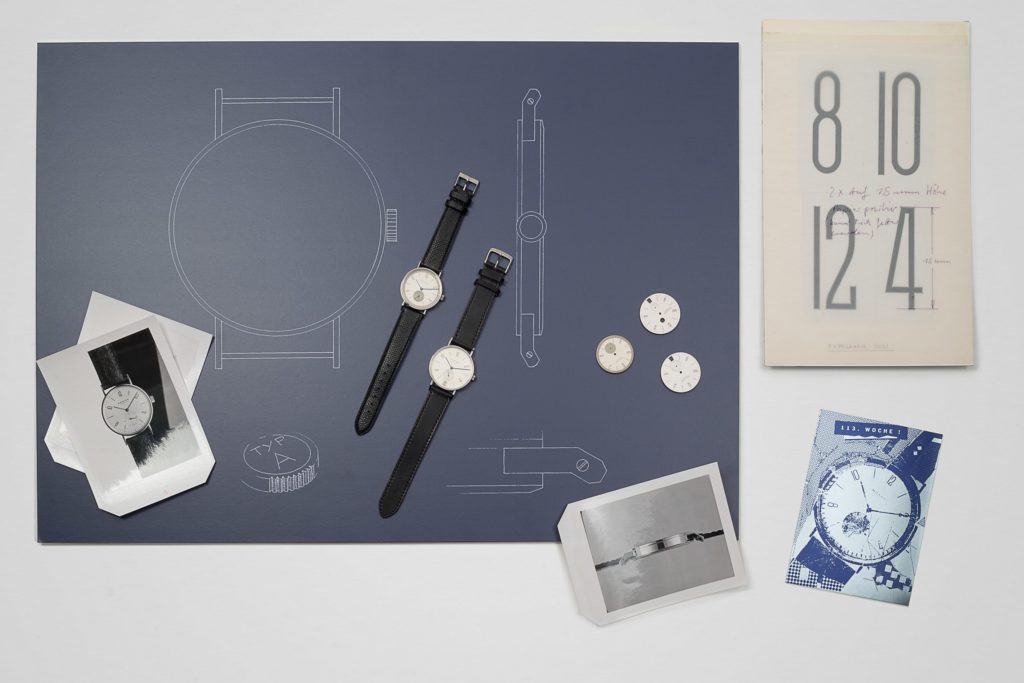 The standout watch from this early collection was the Tangente. Not surprisingly, it had the most classic look of all four original Nomos watches. It looked like an old-school 1930s Bauhaus, and was heavily influenced by early Stowa Antea and Lange designs, both of which were originally released in 1937. This Bauhaus design has had a major influence on today's watch market. Look at virtually any manufacturer, from luxury brands to cheap quartz knockoffs, and you're likely to find a Bauhaus-inspired design in their lineup.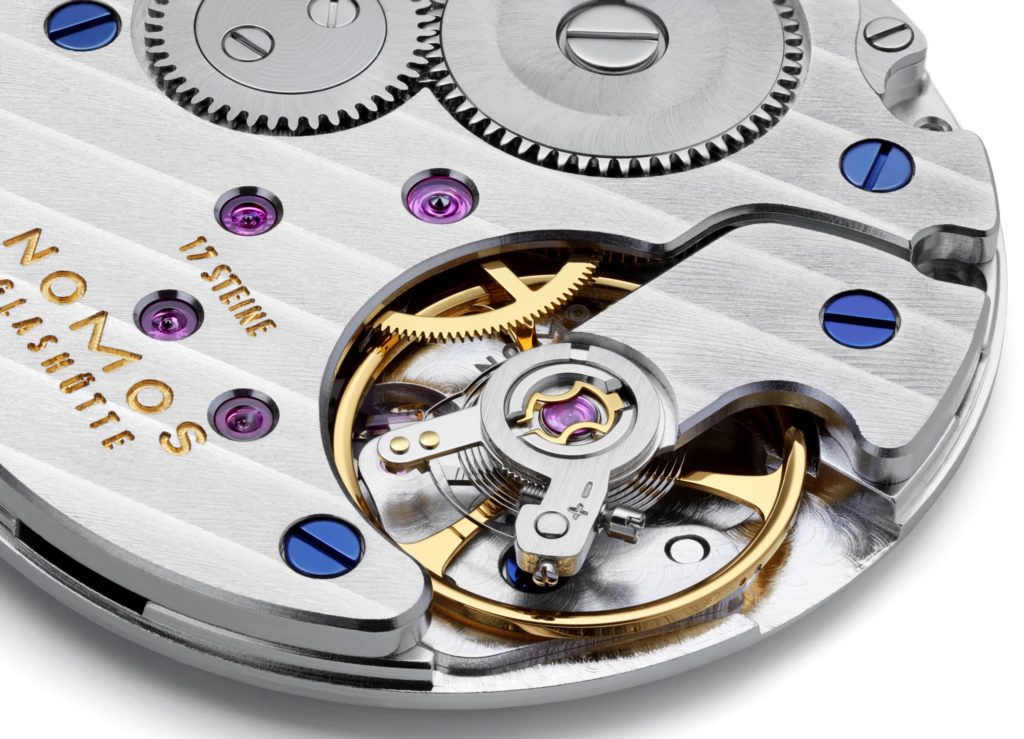 This unexpected popularity allowed Nomos to do something that few other Glashütte-based manufacturers were able to accomplish: produce their own in-house movement. This required outside investment, which they were able to obtain from a German luxury retailer. Over the next few years, Nomos bought back all of those shares, and they've been completely independent since 2003.
German-Made Movements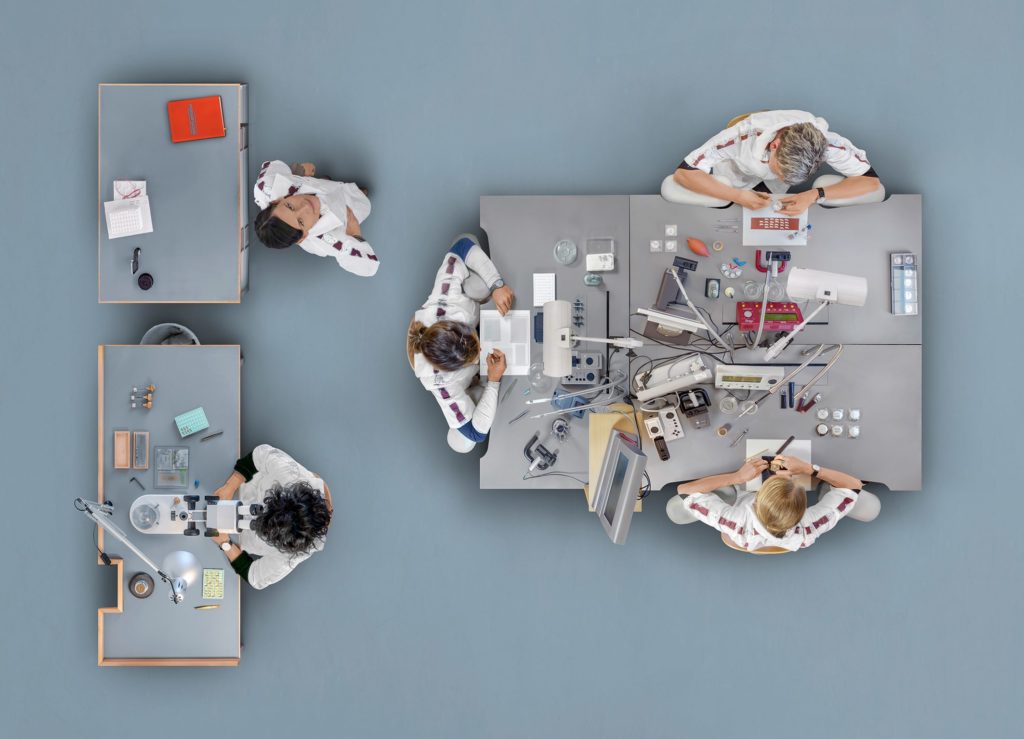 The reason Nomos fought so hard to produce their own movement was originally based on marketing. In order to put the Glashütte stamp on a watch, the watchmaker must produce at least 50 percent of its value in the Glashütte area. This was tough to do while using Swiss-made movements, which Nomos actually did from 1992 through the beginning of 2005. They used Swiss ETA and Peseux ebauche movements, including the Peseux 7001. That said, Nomos made some modifications, including refinishing the crown and barrel wheels, adding Glashütte stripes on the bridges, and replacing some of the screws with blued steel. They also added rhodium plating to the plates, in order to make them oxidation-resistant.
In 1997, as a result of all these modifications, ETA asked Nomos to remove the ETA name from their movements. Since the movements no longer carried the ETA stamp, Nomos began making even more modifications, and eventually released a heavily-modified movement in March, 2002. The Nomos 1T was based on the Peseux, but with significant alternations. The plate and balance cock were both replaced entirely, and additional gold-plated parts were added. The "T" in Nomos 1T comes from the Triovis fine regulation that Nomos incorporated. In 2005, after getting all this experience, Nomos released the Tangomat, their first movement to be produced entirely in-house. This movement was incorporated into the newer Tangente watches, and Nomos was now producing over 50 percent of their value in Glashütte. They had finally earned the right to put the coveted Glashütte stamp on their watches.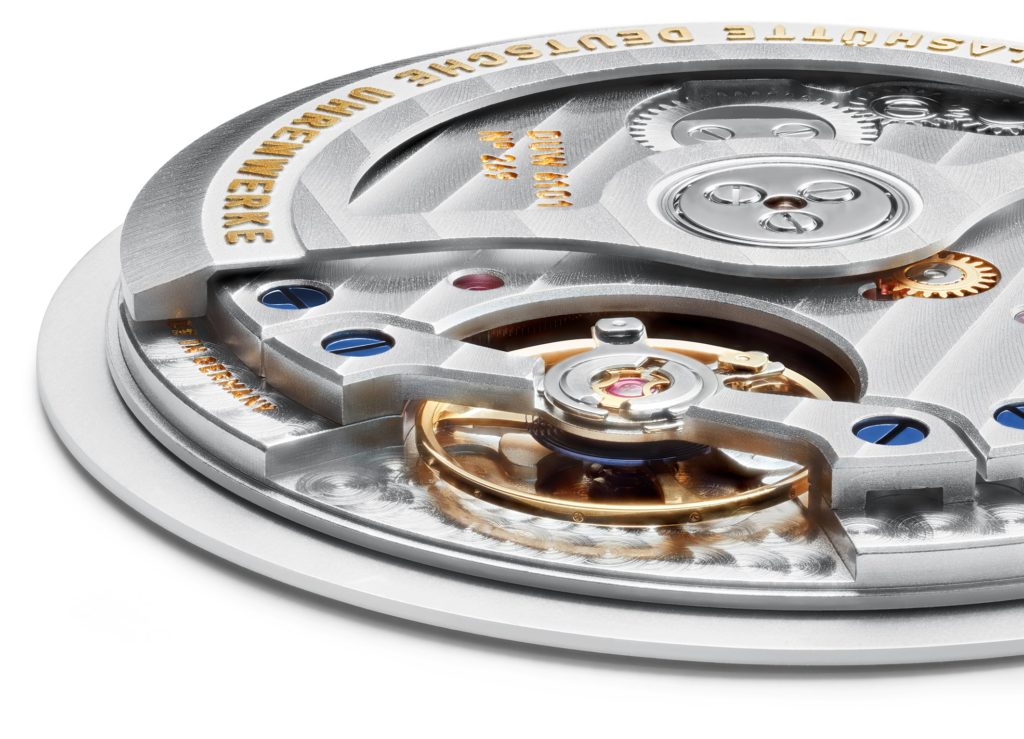 Further developments followed. Over the next few years, Nomos released the self-winding Nomos Epsilon and the manual Nomos Alpha. In 2013, Nomos debuted a line of calibres called the DUW line – short for Deutsche Uhrenwekre. All of this led up to the release of a proprietary swing system in 2014. This didn't happen all at once. The new swing system had been in development since 2007, and had required a partnership with TU Dresden, as well as an investment of 12 million euros.
The swing system is perhaps the most complex part of an automatic watch movement. It includes the balance, balance spring, escape wheel, and pallet. This is the part that powers the watch and keeps the time. The swing system is like the engine of a car. You can attach many things onto that engine, but without the engine, you're not going to go anywhere.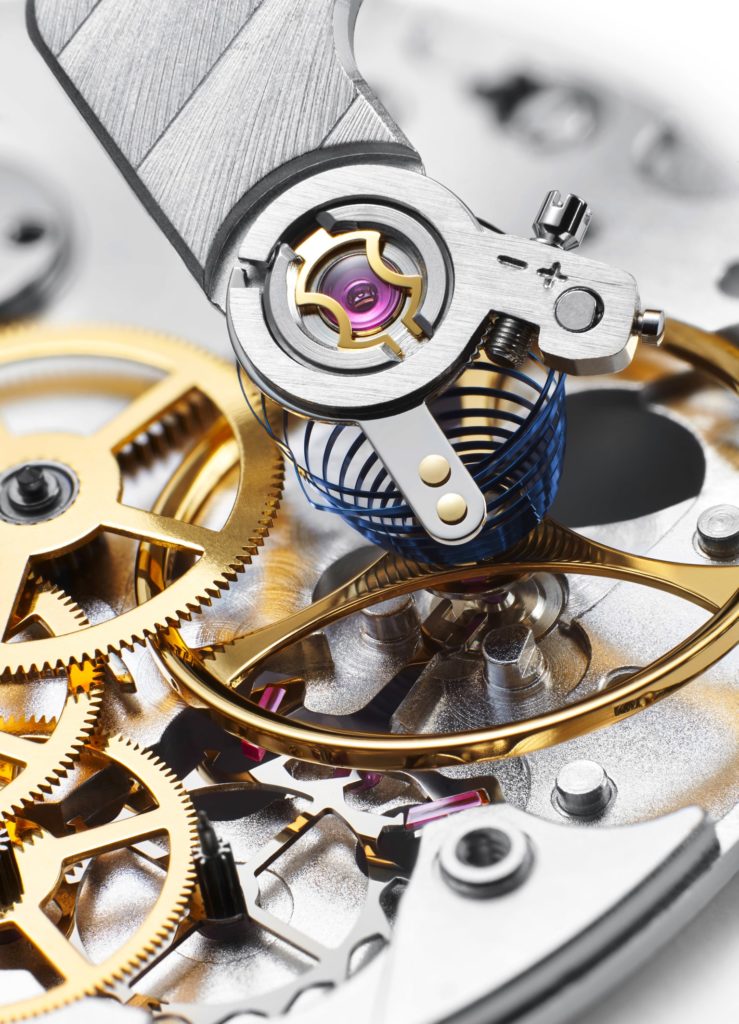 The main challenge of producing a swing system is that it requires incredible skill and precision. The pallet, escape wheel, and balance, along with the other parts, have to be produced with micrometer-level precision. Not only do they have to be produced with this level of precision, but they have to work in tandem. Uwe Ahrendt, the general manager who oversaw the process and is now CEO, compared the process of producing a new swing system to landing on the moon.
This is the reason most watch manufacturers either buy someone else's movement, or produce an in-house movement based on an existing movement. Simply put, engineering a new swing system from scratch is both too expensive and too demanding a task for most watch manufacturers to afford. To this day, only a handful of highly-skilled Nomos watchmakers are qualified to manufacture them. Hence the continued dominance of Swiss calibres like ETA. Much like the moon landing was a "giant leap for mankind", producing an in-house swing system was a giant leap for Nomos. It allowed them to create their own watches entirely from scratch, without relying on any other firms to produce their parts.
Nomos introduced this swing system at Baselworld in 2014. The first watch to incorporate it was dubbed the Metro, and it was designed by Mark Braun,one of the world's most renowned industrial designers. It had a more colorful design than most of Nomos' offerings, with a forward-looking design that would best be described as retro-futuristic. It even featured a power reserve indicator, which was a first for a Nomos watch. Over time, the power reserve was incorporated into all of Nomos' movements, although not all of their watches actually feature an indicator on the dial.
In 2015, Nomos introduced yet another new movement, the DUW 3001, which measured a miniscule 3.2mm in thickness.. It was incorporated into the latest version of the Tangente, as well as a new watch, the Minimatik. The original Minimatik press release had the headline "The watch is flat," highlighting the innovative, exceptionally thin design. It also had soft curves on the lugs, which makes it distinct from Nomos' other designs, which feature sharper, more prominent lugs. In addition, the DUW 3001 was also incorporated into Nomos' Neomatik line. This line fuses a traditional Bauhaus profile with modern colors and attractive decorative accents.
Today, Nomos manufactures 15 in-house movements. The latest is the DUW 6101. Released in March, 2018, this movement is designed with several advances over their earlier movements. In fact, it's so innovative that they designed it entirely from scratch. The primary goal was to construct a thin movement with a quick-set date, but there were several other changes as well. The movement DUW 6101 measures only 3.6mm thick, but it's exceptionally wide, at 35.2mm. This allows for a date window on the edge of the dial, even on watches that are wider than 40mm. Compare that to many other large watches, which require the date window to sit somewhat closer to the center than is aesthetically pleasing.
Because of this position, the date window can also be larger than other models, which makes it significantly easier to read. This is because the date ring fully surrounds the movement, allowing for plenty of extra space. This design also allowed Nomos to easily create entirely different date rings for each of their watches, without the need to make any alterations to the movement. As I mentioned, the date mechanism also incorporates a quick-set function, which allows you to set the date quickly and easily. This is possible thanks to a newly-designed, tiny gear system that's thin enough to fit inside the 3.6mm movement. Finally, there's embossed gold-plated lettering on the rotor, adding a beautiful splash of class.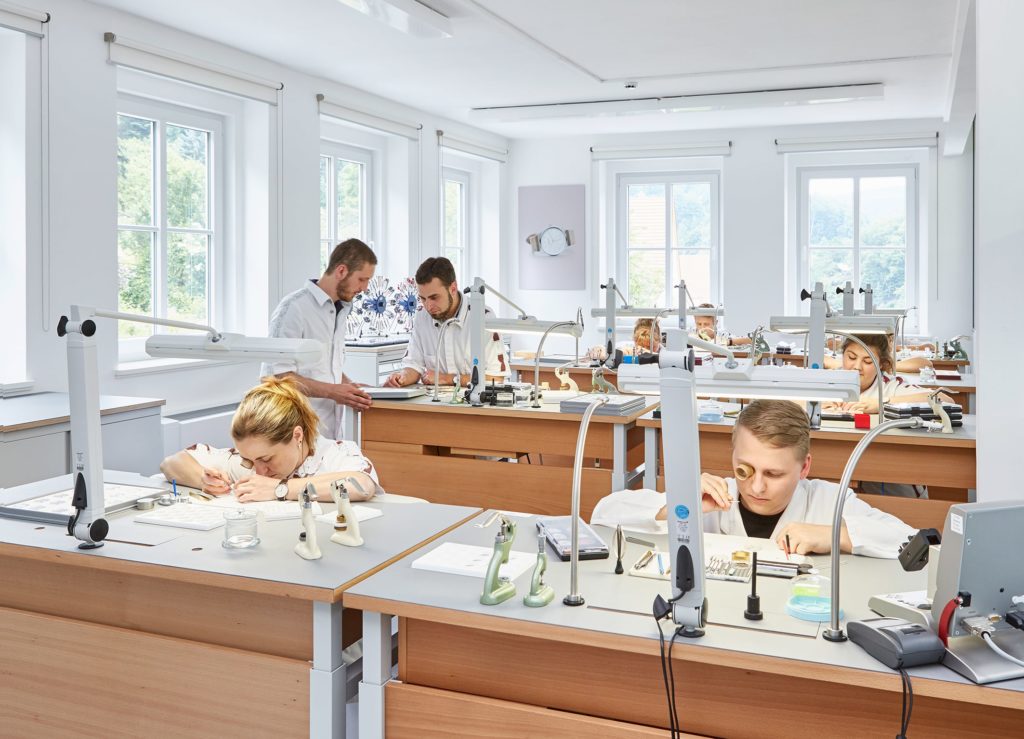 The original DUW 6101 rollout came in the form of four watches, also announced in 2018: the Tangente Neomatik 41 Update, the Orion Neomatik 41 Date, the Ludwig Neomatik 41 Date, and the Autobahn. In 2019, at Baselworld, Nomos debuted three entirely new watch collections that incorporate the new movement. Their Duo series is an understated Bauhaus watch. These watches have a clean, white dial with fine gold hashes and elegant numerals. They've also released two new versions of the Tangente Sport and Club Sport watches, which have a wide, modern design, power reserve, and 1,000-foot water resistance. They also released the Club Campus line, which is a more affordable design that's oriented towards first-time automatic watch owners.
Design Principles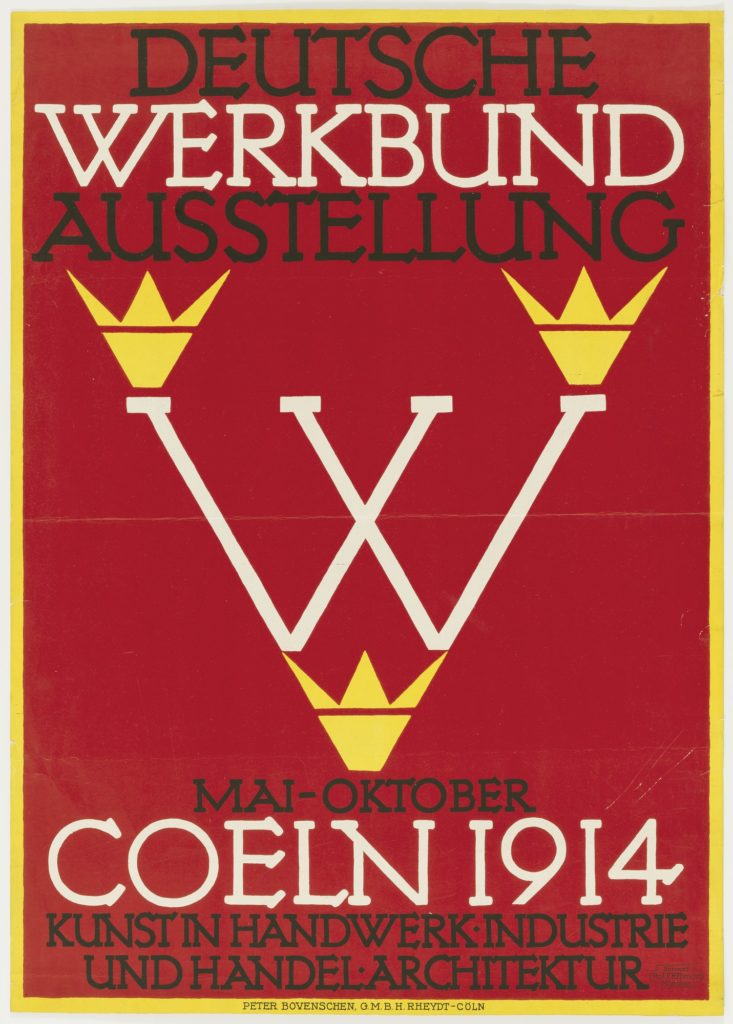 Nomos is a member of the Deutscher Werkbund, a trade association of German-based watch manufacturer. The Deutscher Werkbund was the association that led the original Bauhaus and Ulm schools. As a result, Nomos has moved beyond their original Bauhaus origins to incorporate designs from both schools. They've focused on German craftsmanship, durability, and a splash of Berlin-based marketing. They continue to pioneer new designs, releasing a new collection every few years and pushing the envelope of 21st-century style.
I've probably beaten to death the fact that Nomos primarily focuses on watches with a small form factor. This has put them in a space where they can market their watches to both men and women. Unfortunately, this has led to some backlash from some groups. This is more a result of a few PR mistakes. In 2017, they introduced a new collection called the At Work collection. It included variants on their Tangente, Tetra, Orion, and Metro models. In all, there were 14 models, all of which utilize the super-slim Neomatik movement. However, the At Work collection was upsized from 35mm to 39mm, giving it a significantly larger wrist presence. Because these watches were best-suited for larger wrists, there was a bit of backlash, as the name seemed to imply that only men worked. This is an unfortunate PR flub, since Nomos is one of the few manufacturers that actually produces a wide array of unisex watches.
On a similar note, their marketing for the Nomos Club collection of watches was also controversial. The Club collection, along with the Club Campus collection, are entry-level watches. As the Club Campus' name implies, it's a perfect graduation gift. There's even a free engraving included with the package. The marketing, however, has leaned heavily on masculine imagery such as sports themes. Once again, people have criticized Nomos for leaving women out of their marketing. Once again, this is unfortunate. The vast majority of automatic watch customers are male, so it's understandable that Nomos has leaned that way with their marketing. At the same time, they produce many watches that are equally suitable women. Regardless of these small marketing mistakes, Nomos has remained one of the market leaders, particularly when it comes to innovating new designs, paving the way for more conservative Swiss watchmakers.
Continuing Growth
To this day, Nomos is continuing to grow their business, even as other major brands are losing market share to microbrands. Last year, their business grew by 24 percent, an incredible accomplishment. They now produce more mechanical watches than any other manufacturer in Germany. They also lead the German market in domestic mechanical watch sales. A. Lange & Söhne still holds a small lead in overall revenue, but that's because their prices are higher than Nomos'.
In addition to the domestic German market, Nomos is also starting to tackle the international market. At the time of this writing, they currently export to more than 50 countries, including the US. The US is their second-largest market overall, after Germany. Their other high-growth markets include Great Britain and Asia.
Sources: Information and photos from this article have been sourced directly from Nomos Glashütte. The information provided has also been fact checked with external sources such as Wikipedia.