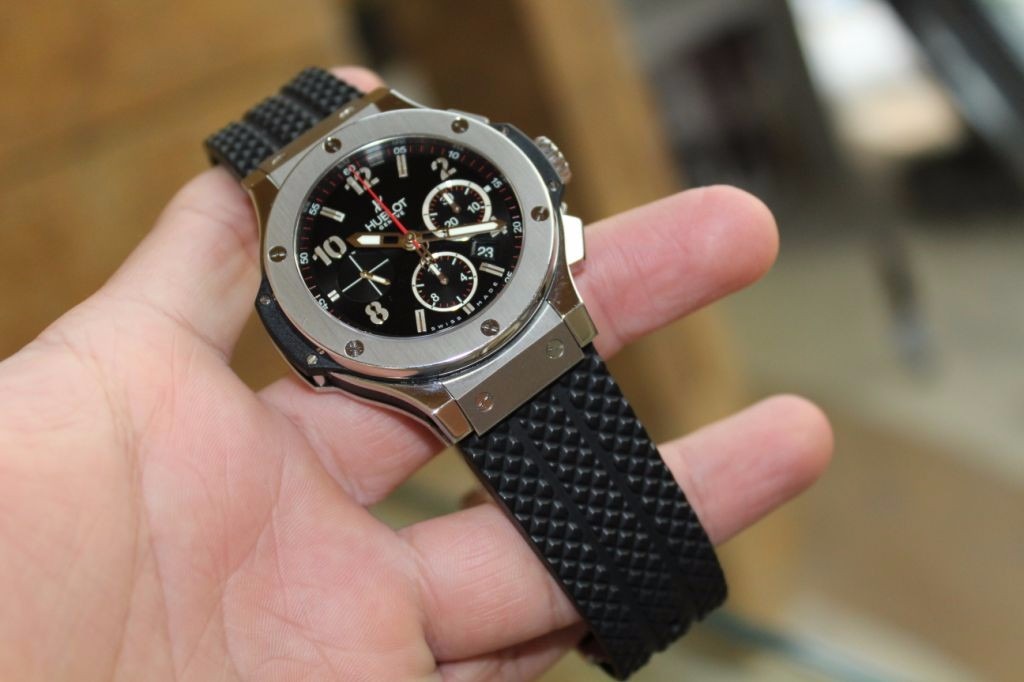 Hublot today, 37 years after its founding, remains as timeless as ever- unlike, of course, its products. Its chronographical craftsmanship has materially improved the lives of many. Each individual timepiece encapsulates immaculate beauty and timekeeping precision, becoming the ultimate mix of functionality and user experience. The best part about one of their best pieces, the Big Bang, is that one does not have to be a "Hublotista" to buy and enjoy it.
> > > Click here to see ratings, reviews, specifications and prices on Amazon < < <
Mechanical Movement
The Big Bang has a 42 hour power reserve. It comes equipped with a self-winding skeleton and extremely precise automatic movement with chronograph functionality. The Hublot Calibre HUB4100 engine is state-of-the-art and represents all of Hublot's finely tuned engineering majesty. Hublot's transparent case back lays bare the beauty of the engine for the wearer to see. Despite being rather small- around 33mm- this Swiss made movement is a spectacle to behold as a result of Hublot's obsession with high-quality design.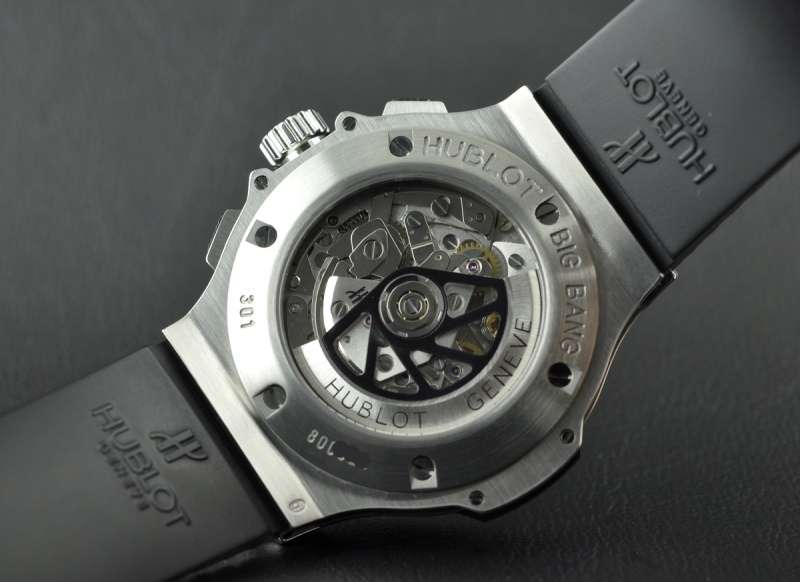 Big Bang Build Quality
The watch is designed following Hublot's extensive three-step process. The well-loved Big Bang started off as just a sketch for aesthetics. Following this, its movement, along with its HUB4100 engine, was custom-created to match the aesthetics and fine details of the Big Bang. Finally, a prototype was created- after which, the Big Bang entered production. When wearing or even just observing the watch, one can feel the endless hours of effort put into its creation.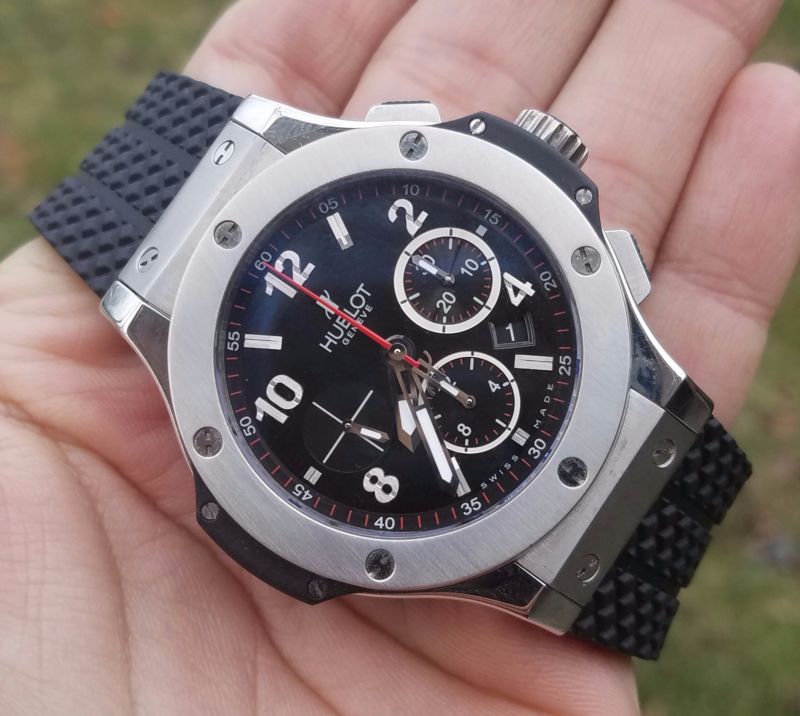 > > > Click here to see ratings, reviews, specifications and prices on Amazon < < <
This 44mm model, with a thin case at 14.5mm, is water resistant up to 100 meters, or 300 feet.. This watch's functions include chronograph, date, hour, minute, seconds, and small seconds. Its luminous, hands, with three subdials, are visible through the scratch resistant, sapphire crystal dial window, which also reveals the black, analog dial. The hands indicate time by pointing to a unique, alternating amalgamation of Arabic numeral and stick hour markers, as well as minute markers located around the outer rim of the face. These subdials indicate 12 hours, 30 minutes, and small seconds. Finally, a date display adorns the space between 4 and 5 o'clock. All of this is surrounded by a fixed, stainless steel bezel.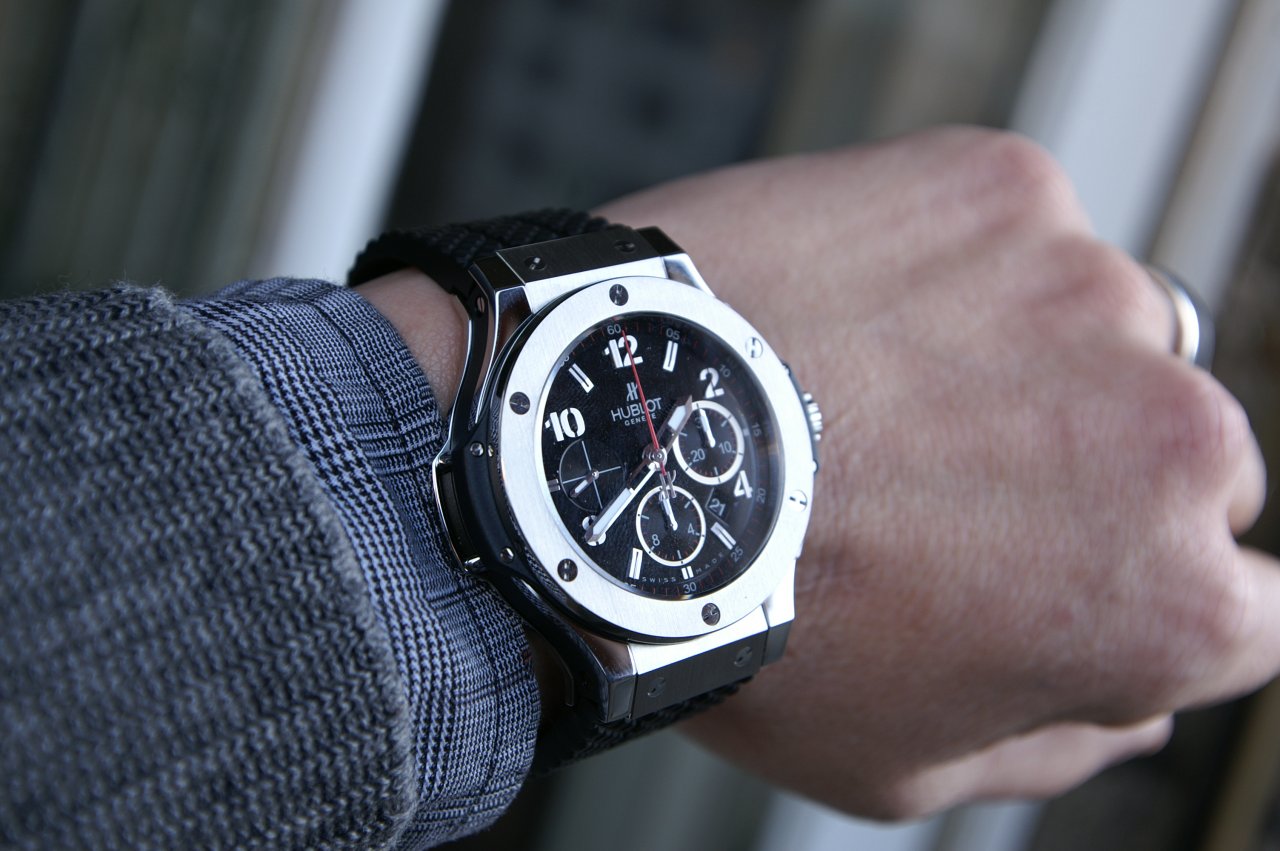 Finally, after all decisions are made regarding materials and design, the watch is painstakingly put together. The hand-assembly of this entire piece encompasses over 200 individual components, typically assembled 25-pieces at a time. When necessary, high-technology machines are used for the setting of certain jewels, as well as lubricant oil application. Extensive testing accompanies any and all piece at several stages of production, resulting in maximum build quality- any piece that does not reach this standard does not end up in a customer's hands- or on their wrist.
Style / Comfort
In addition to a heavy stainless-steel focus, the Big Bang is full of other uniquities, such as the alternating arabic numeral-stick hour markers. Accompanying the grey and silver colors, a black theme permeates the timepiece. This gives it a stylish, rugged-looking design. The design appeals to more casual situations, yet does not fail to impress. The Big Bang, however, is still created in dress watch style and thus can adapt to make a statement when worn in any situation.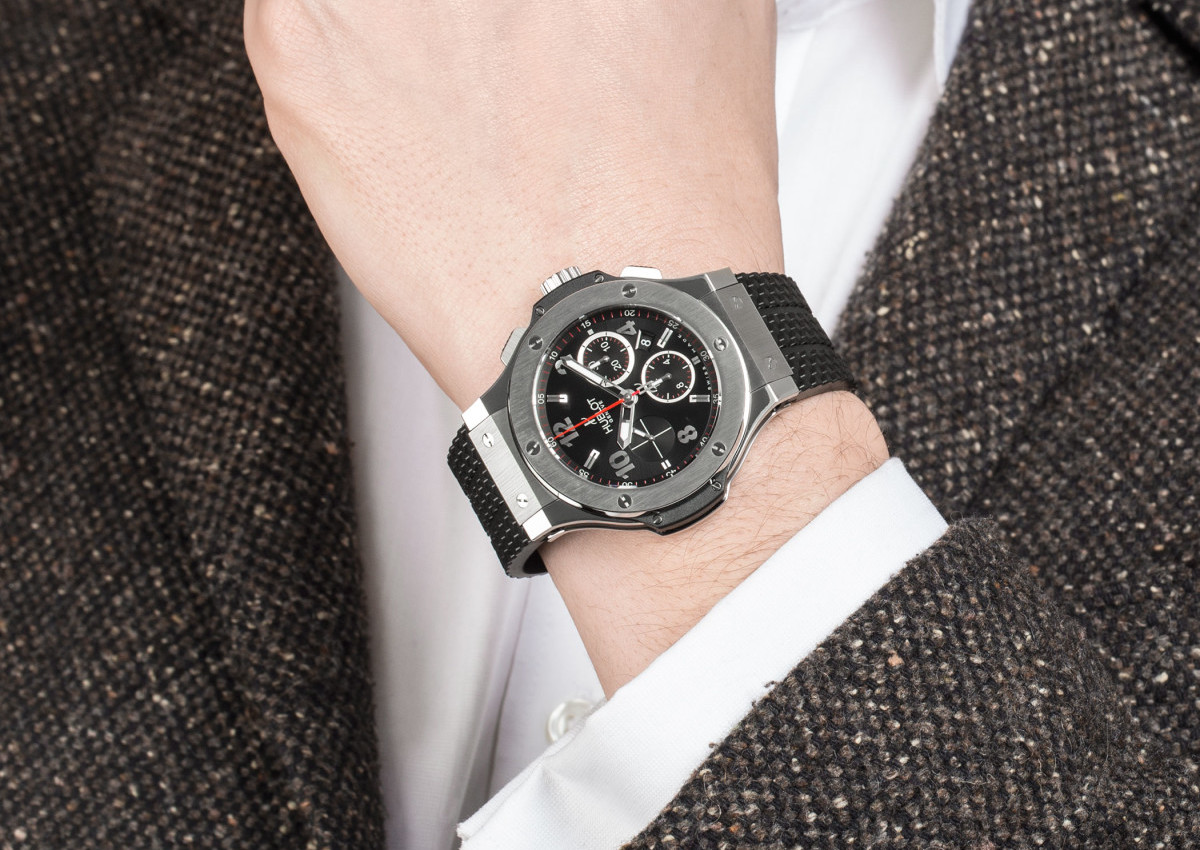 The classic, stainless steel, deployment buckle clasp adds a familiar feel for those relatively new to watch ownership. It also makes the Big Bang simple to put on and take off. A rubber strap ensures maximum comfort the whole time, and at 8.5 inches long and 25mm wide, it should snugly fit a wrist of any size. Hublot has stood by using rubber in a strap since the company's inception, despite facing much criticism for the choice. Rubber is easy to clean, ideal for aquatic use, and does not decompose- this puts it far above leather in terms of use and functionality. The plethora of colors and customizations available also bring it to the level of its competitor when style comes into question.
> > > Click here to see ratings, reviews, specifications and prices on Amazon < < <
My Opinion Of The Watch
Considering several low-quality replicas available, so I would be grateful at the opportunity to purchase a genuine Big Bang 301-SX-130-RX. Considering the pricetag, non-enthusiasts would be given some second thought by the less expensive alternatives. True aficionados, however, are well aware of the price of excellence, as well as the distinguishment and irreplaceable quality that comes with it. In addition, Hublot has put its money where its mouth is, as far as craftsmanship goes, by offering a two-year warranty.
To have a closer look at Hublot's full range of timepiece check out their official website here.