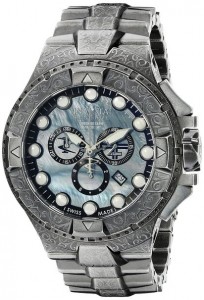 Dynamic. Bold. Decisive. Fun. These are just some of the top adjectives that quickly come to mind in any discussion of the Invicta 17869SYB Excursion Watch. There is a lot to this watch that appeals to men who like getting out there and taking on whatever challenges life sends their way-whether it is in the form of sports competition or the Great Outdoors.
If you would like to project a calm, confident, 'everything is possible' attitude even though you don't plan to set foot anywhere close to a campground or anything to do with camping or hiking, this watch is also for you.
> > > Click here to see ratings, reviews, specifications and prices on Amazon < < <
Excursion Style
Decked out with a trio of chronographs that give you precise measurements whether you're looking for 1/10th of a second incremental blocks, 30 minute blocks, or 60 second time blocks, this watch's analog dials give you a stylish yet active look. What I personally find exciting about this Invicta model is that it delivers a lot of style to a set of functions that one would otherwise expect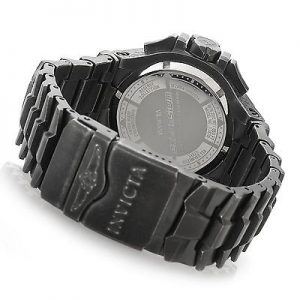 from the typical antiseptic all metal stainless steel-encased activewear package offered by a long list of watch brands with a foothold in the activewear timepiece space.
Instead, Invicta goes the extra mile by adding nice touches like including gray mother of pearl dials that have black borders, luminosity, and a gunmetal ion-plated stainless steel bezel. I know, I know. You have probably seen these individually featured in other watches before. What makes Invicta's rendition is how deftly it was able to create a novel impression. After all, when it comes to quality watches, great timepieces are never simply the sum of their parts. They have to project a presence and I am happy to report that the 17869SYB Excursion Watch projects all the 'take charge' and 'I can handle it' messages you'd want to impress others with.
> > > Click here to see ratings, reviews, specifications and prices on Amazon < < <
17869SYB Function
Considering the description above, you might think that the feature set of the Invicta Men's 17869SYB Excursion Watch might be too good to be true. After all, this model is very budget friendly. What gives? Well, you only need to look at its movement type to see how it is able to offer such a tremendous array of stylistic value and functionality for a very affordable prize. This unit is driven by quartz technology.
Now, before you consider writing off this activewear watch based solely on its quartz movement technology, I beg you to understand that there is a big difference among quartz technologies. There is Japanese quartz technology and there is Swiss quartz technology. With all other things being equal, you'd get get better value going with Swiss quartz. And that's precisely what you're getting with this unit. No wonder you are able to make the right impression, get solid value, and not have it all drive you to the poorhouse.
Water resistance to 200 meters
Of course, no watch that dubs itself an active wear watch or an 'excursion watch' would be worth it if it falls short on water resistance. Indeed, one of the most constant elements of any kind of outdoor excursion is the possibility of water (whether in the form of a downpour or mixing in some swimming into your outdoor hiking and camping plans) contact. Thankfully, this unit's ability to resist water and moisture to a depth of 200 meters has you all covered.
If you are looking for a watch that is geared toward a specific active lifestyle, delivers solid value and truly performs, you can't go wrong with this watch. It isn't perfect but it definitely provides lots of value.
> > > Click here to see ratings, reviews, specifications and prices on Amazon < < <