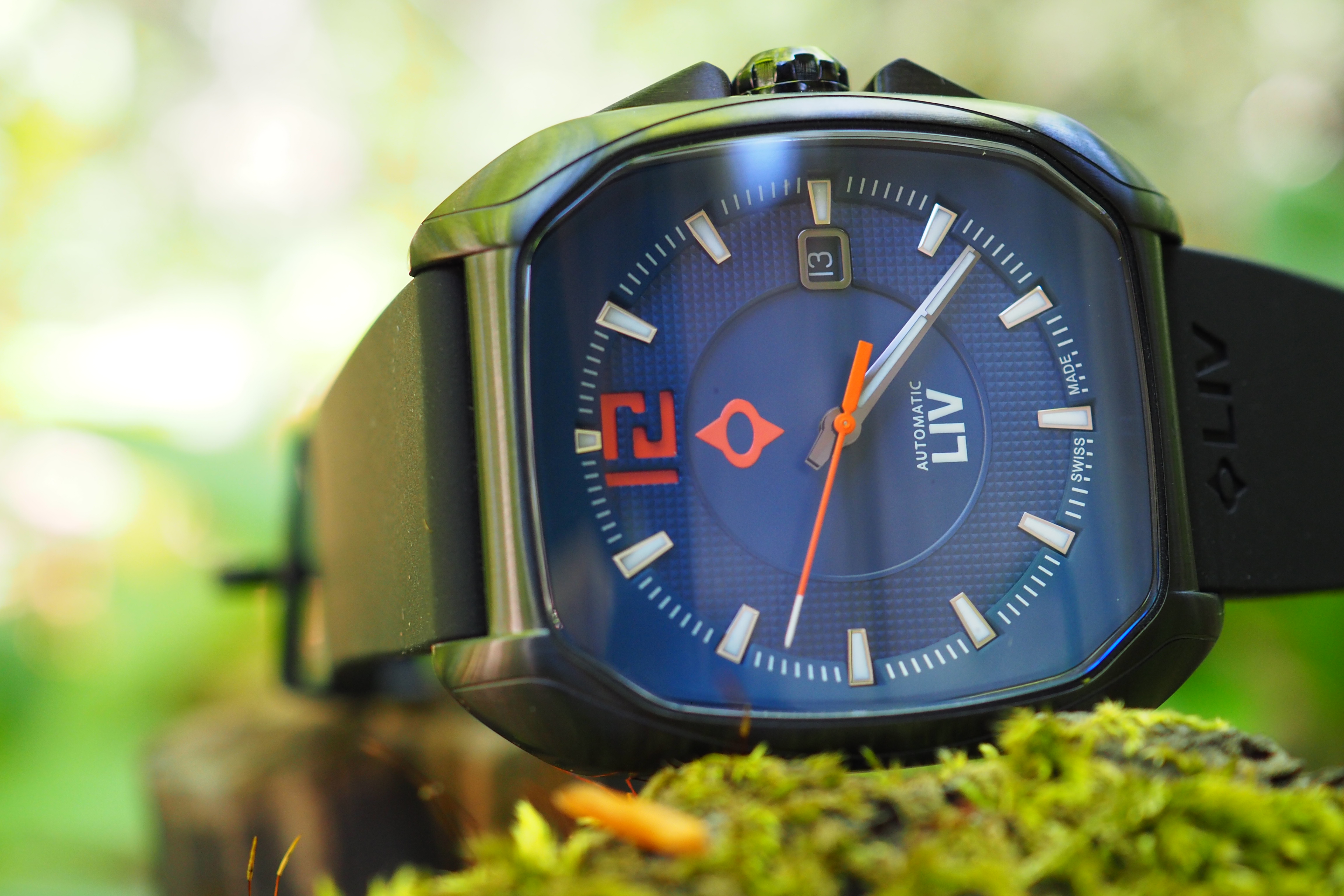 Here we have it – after an incredibly successful campaign ran by Liv last year, we now have a Rebel successor; the Rebel-A. Ever since their Kickstarter backers boosted the company with a whopping $1.7m (shadowing the $33,000 goal), the Swiss watchmaker hasn't stopped growing.
Whether you want to attribute this to the exceptional quality of Liv watches, their unique style or the reasonable price they are offered at, one thing remains certain – Liv has taken the Kickstarter watchmaking market by storm. Why is their campaign one of the most successful watchmaking ventures ever? We're here to find out. Let's have a closer look at the all-new Rebel-A from the Liv's Rebel collection.
> > > Click here to see ratings, reviews, specifications and prices on Amazon < < <
Cool Rectangular Case
Rebel-A is exactly what its names suggests: bold and offbeat. There are so many things that stand out on this watch I don't even know where to begin. Let's start with the size – the rectangular case measures 42.9mm lug to lug, is 40mm wide, and 13.8mm thick. With such proportions, the watch is bound to sit quite largely on your wrist, so don't hope for an understated timepiece. If your looking for a slightly smaller wearing Liv watch we recommend you check out our previous review on the GX1-A.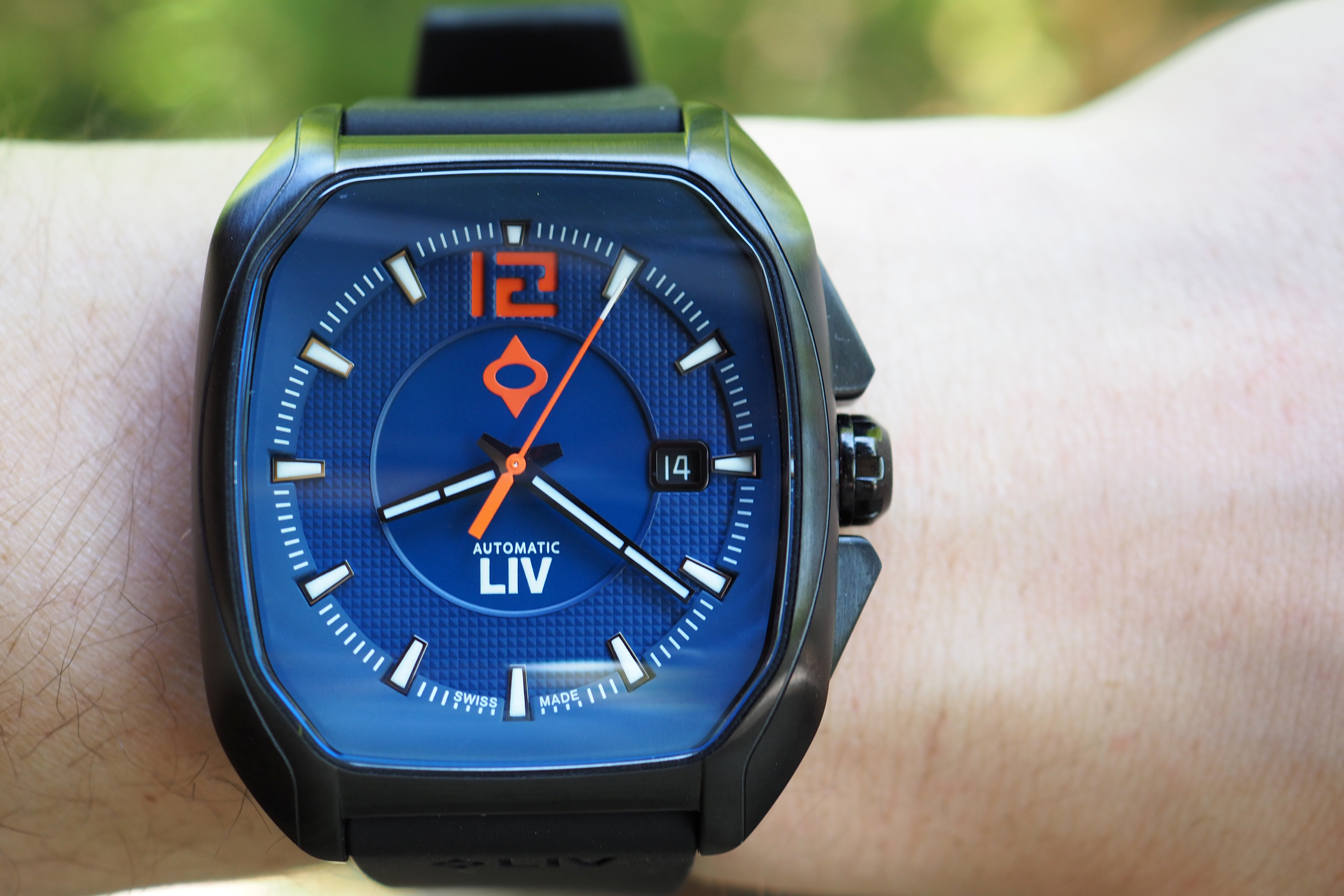 The Rebel-A has a nice flow to its design. The watch truly looks great from all angles. Its elements are put together well and allow for the case to sit comfortably on your wrist without the annoying jiggling. I like to see some forethought put into the crafting of a timepiece and the Rebel-A certainly shows that quality. For example, have a look at the side of the case. The push-in crown with brushed guards framed by lava-orange line is a just a gorgeous affair.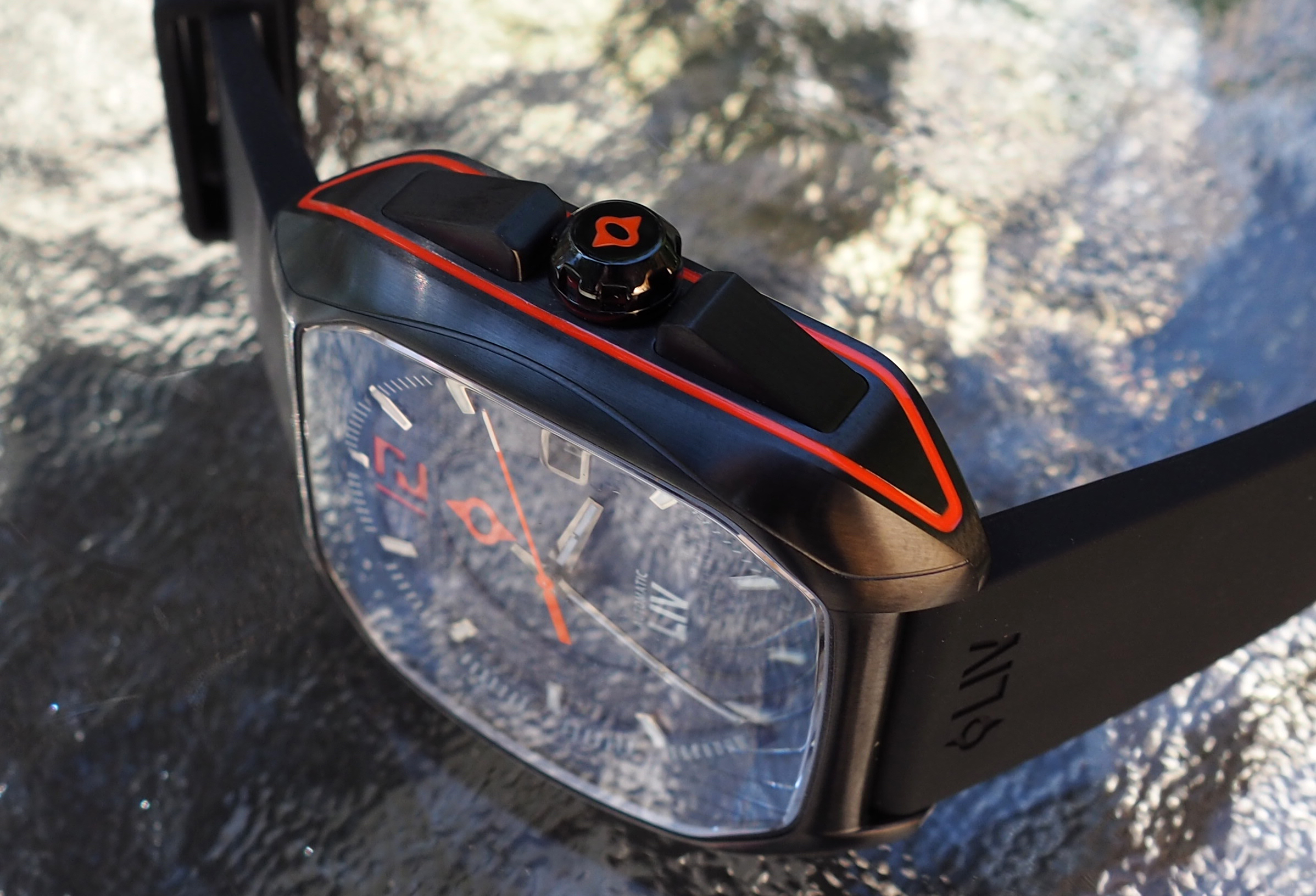 > > > Click here to see ratings, reviews, specifications and prices on Amazon < < <
Plus, there is a decent 100m water resistance that will allow you to go for a swim with the watch on. Don't expect this watch to withstand water damage if you take it with you on a diving trip, though.
Rebel Sapphire Crystal
There's more regarding the exceptional built quality, though. An eight-sided domed sapphire crystal protects both the face and the exhibition back, offering extra bump and scratch-resistance. A touch of protection you want on a sporty automatic like this. Just enough to allow you to Liv like a Rebel.
Attractive Dial and Excellent Lume
Another eminent feature of the Rebel-A is its lovely multi-layered royal blue dial. At first, it might look like a simple three-hander to you, but there's much more to it. Take a look at the assembly of this watch, for instance. There is a distinct stadium-like depth to it which I find astonishing. Not to mention the finishing of face elements is superb, too – you've probably noticed the square guilloché pattern on one of the rings already.
There is also a very subtle colour difference between the centre circle blue and the blue surrounding the markers, which proved to be quite difficult to capture in our photos. Overall, the colour scheme works well and is adequately balanced. Legibility is very good, even in dark, thanks to the BGW9 lume which makes the hour markers and hands light up with a soft greenish glow.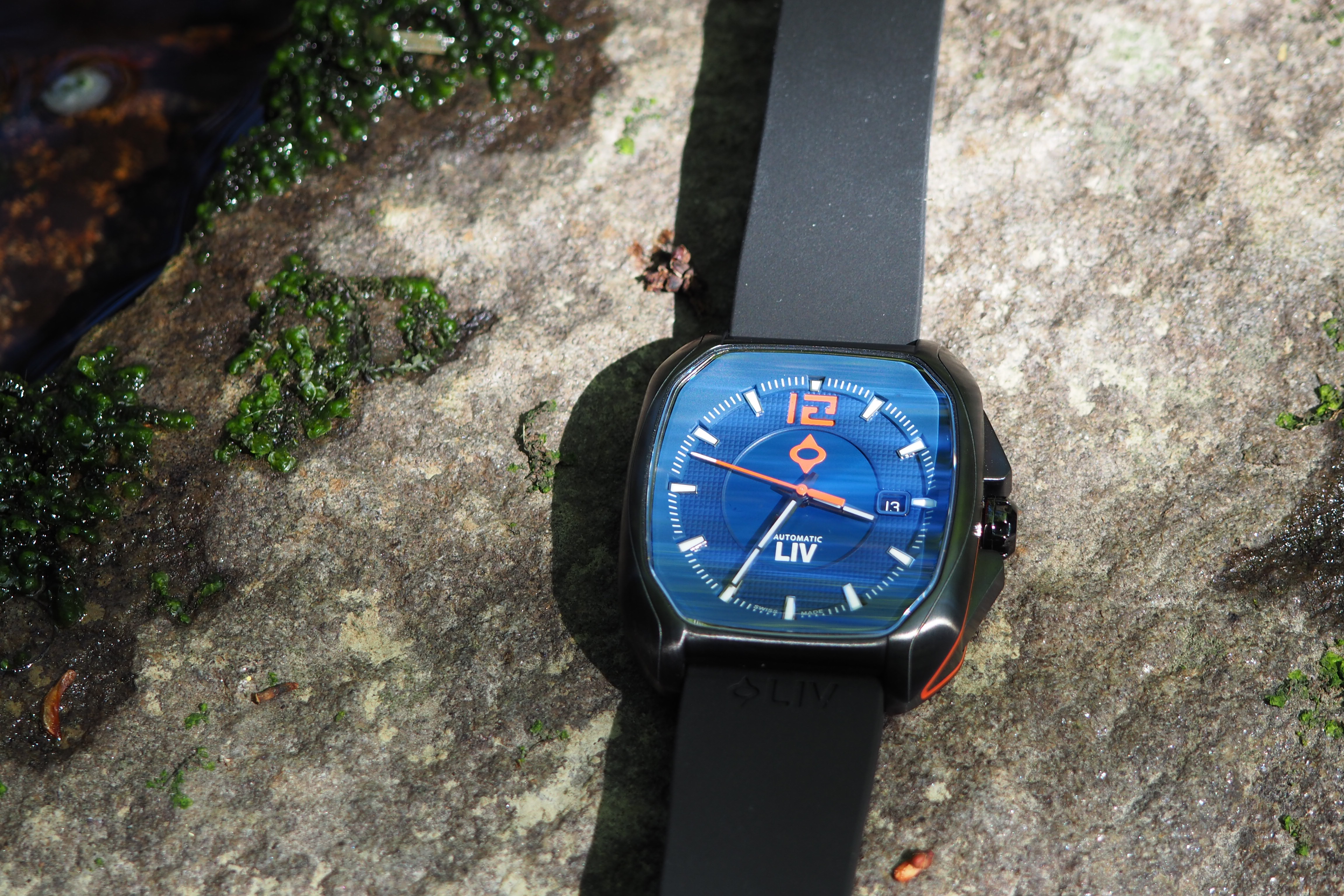 The orange accents on the seconds hand, the 12 o'clock and the logo give the watch its sporty edge and rebellious nature. They contrast the crisp white hour markers which rest nicely on the bottom layer, featuring a shiny silver lining. Details like these are indicators of the brand's attention to detail and deserve our appreciation. The dial comes in matte black, grey, or gold, with either a silicone, leather, or waxed leather strap.
Soft Silicone Strap
The Rebel comes on a very soft and smooth silicone, wrapping itself comfortably and securely around your wrist. This strap is able to hold the hefty dial tightly in place regardless of your sporty/outdoor activities. You can select from other strap options, but I really like the silicone one.
Sellita SW200-1 Movement
Underneath the bonnet is the Sellita SW200-1 mechanical Swiss movement. You have the pleasure of seeing it in its full glory through an exhibition back, just past the large Liv logo.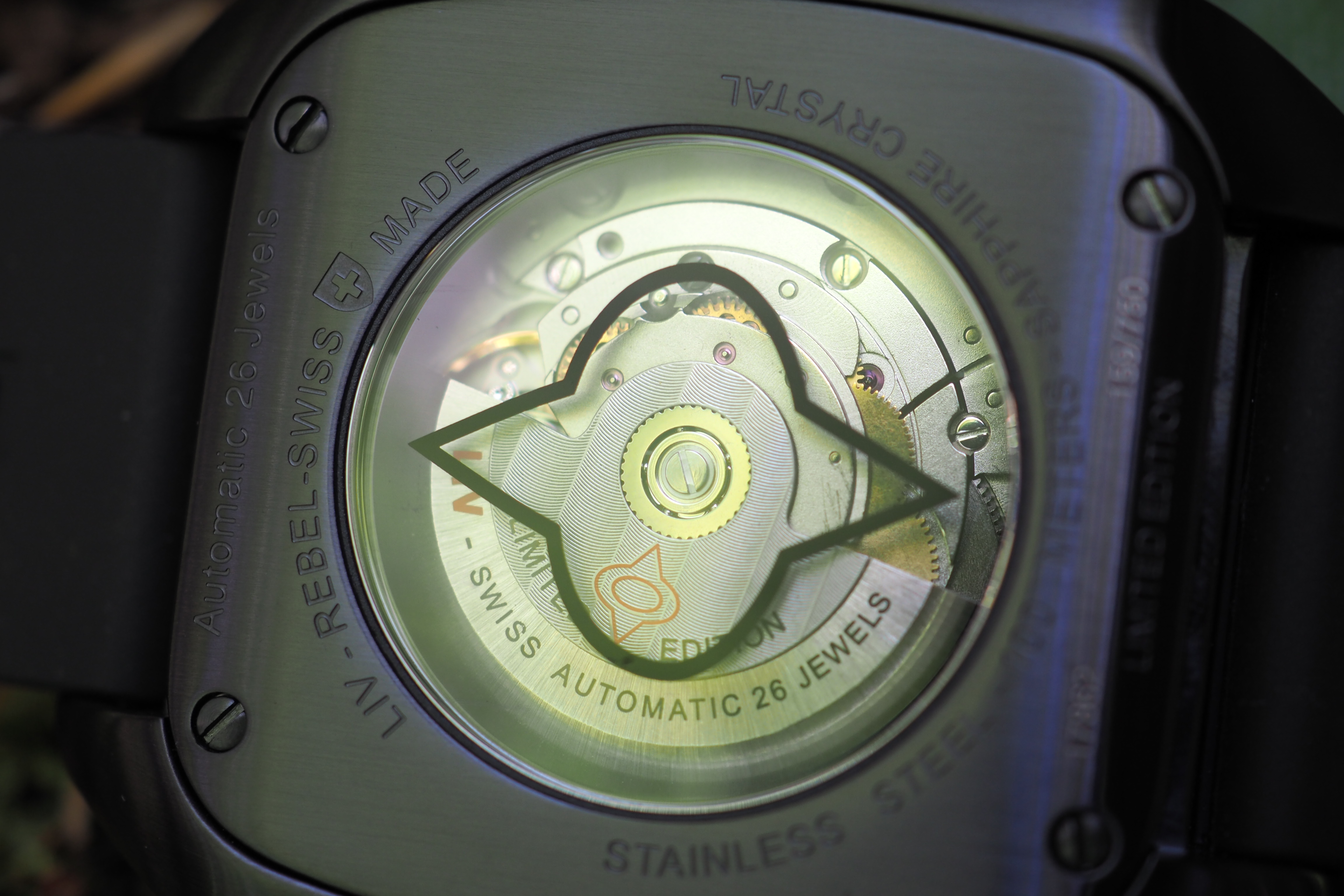 With a 38-hour power reserve and 26-jewels, this movement is a very attractive hackable propeller, found among many mid-range automatics on the market.
Final Thoughts
What's so amazing about the Rebel-A is its value for money, especially considering this is not a seasoned watchmaking brand. Not many Swiss automatics out there go for under $700 and offer exciting perks such as sapphire crystal, 100m water resistance, fantastic lume, and a high-quality strap. Don't forget this is also a limited-edition model, with only 1250 pieces rolling out of the production line.
The watch, however, offers that and much more. After all, the number of backers behind other timepieces speak for the quality of Liv's creations. If you are in the market for an affordable Swiss-made automatic that is set to serve you a long time, Rebel-A is unquestionably a choice worth considering.
To visit the Liv official website click here.