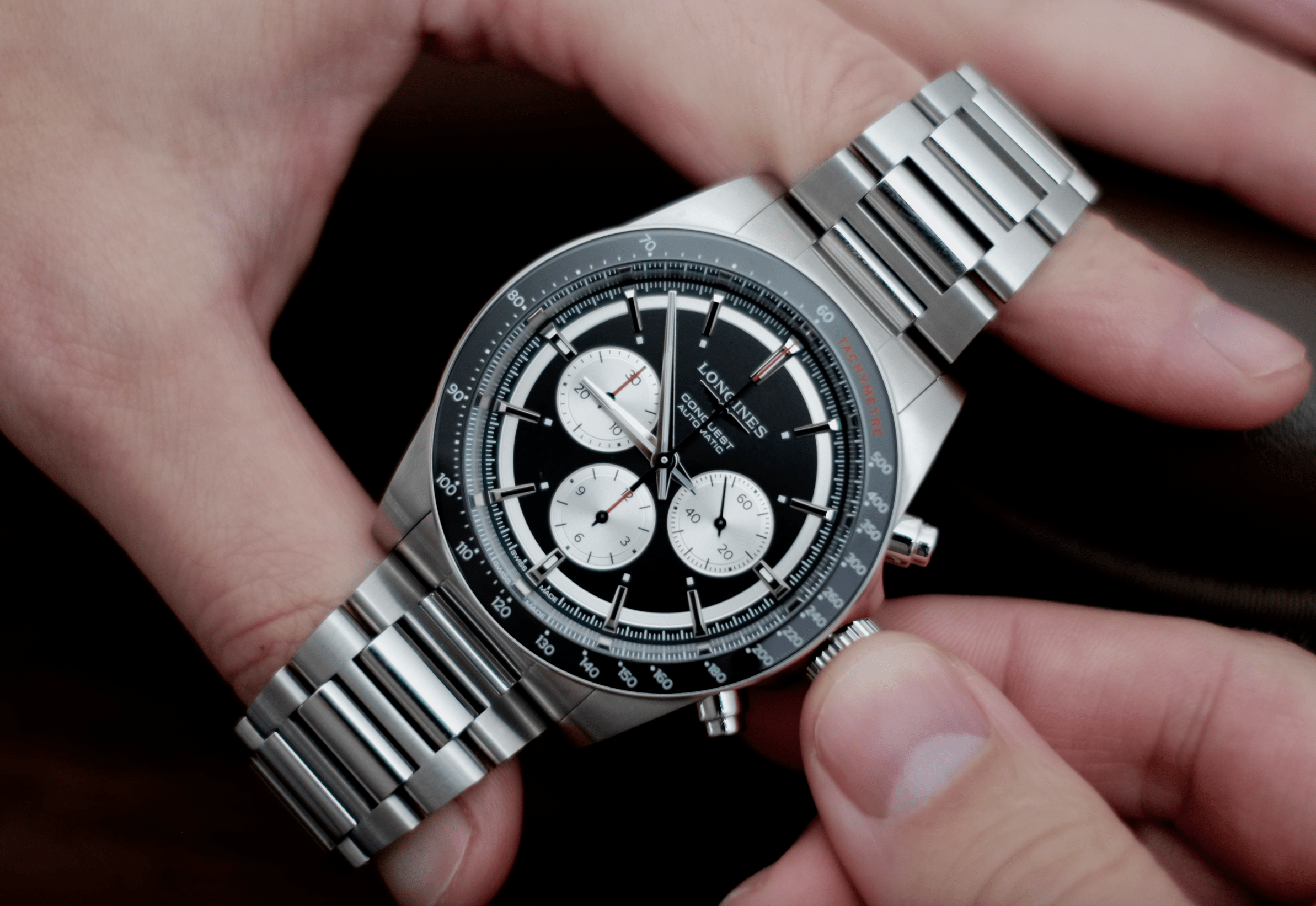 The Longines Conquest Chronograph might just be one of the most frustrating watch releases of 2023. Behind a perspex screen at a shop, this thing looks like a Daytona for the masses. But when you try it on, you'll find out that it's too big and thick for most wrists under 7.25 inches in size, rendering it unwearable for most people. Although, if you do have a large wrist, or you're someone who just prefers a chunky watch this could be right up your ally.
At a Glance
Case Size- 42mm.
Case Material- Stainless Steel with Ceramic Bezel.
Bracelet Material- Stainless Steel.
Movement- ETA L898 automatic.
Functionality- Chronograph (Central 60-second hand, 12-hour counter, and 30-minute counter).
Price- $3600 USD
Availability- Widely available.
What Longines Nailed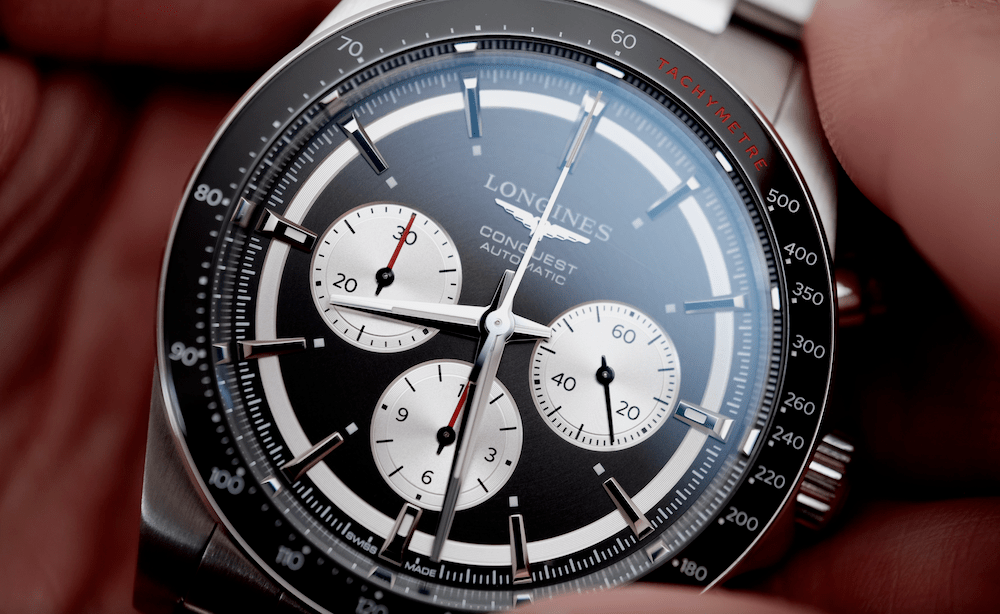 Let's kick things off with what Longines nailed- that gorgeous dial.
The Conquest has taken a very simple three-sub-dial chronograph layout and transformed it into something elegant, yet sporty. The black dial gives off a cool simplicity and contrasts excellently with the sunburst silver sub-dials which 'pop' against the darker background. The flecks of bright red on the hands and tachymeter add a little bit of personality, to make for an all-round sporty and timeless design.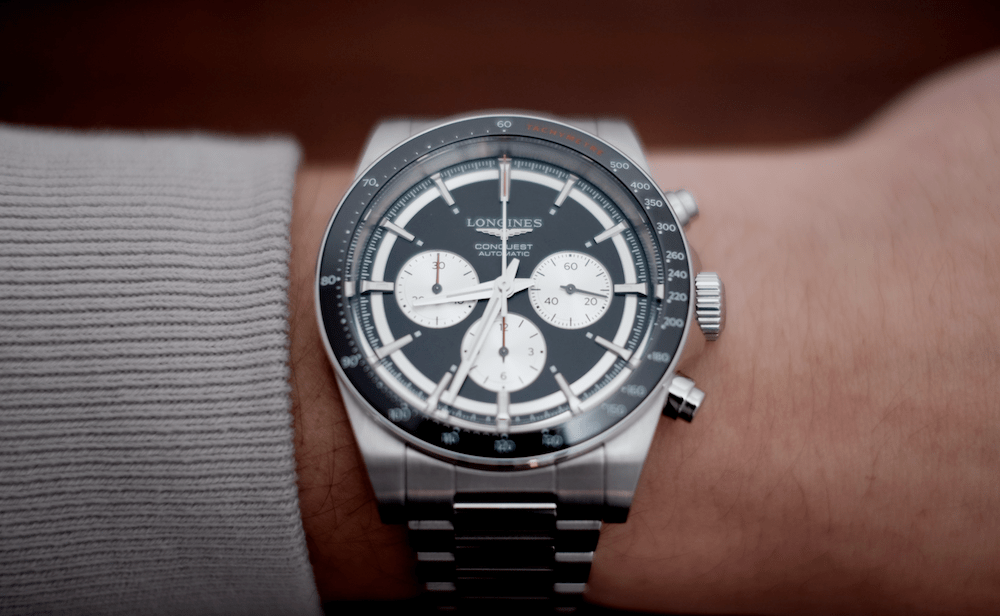 The depth of this dial is also very impressive, and the more you look at it, the more you'll notice. We particularly love how the outer ring sitting underneath the indices markers gives off a 'layering' effect for some added depth. The painted square markers just below each of the indices are also a nice touch.
One last thing to note is that the finishing on this timepiece is surprisingly good, even for Longines. As such, the Conquest will be able to handle pretty much anything you throw at it, from everyday wear to swimming to track days.
The Sticking Points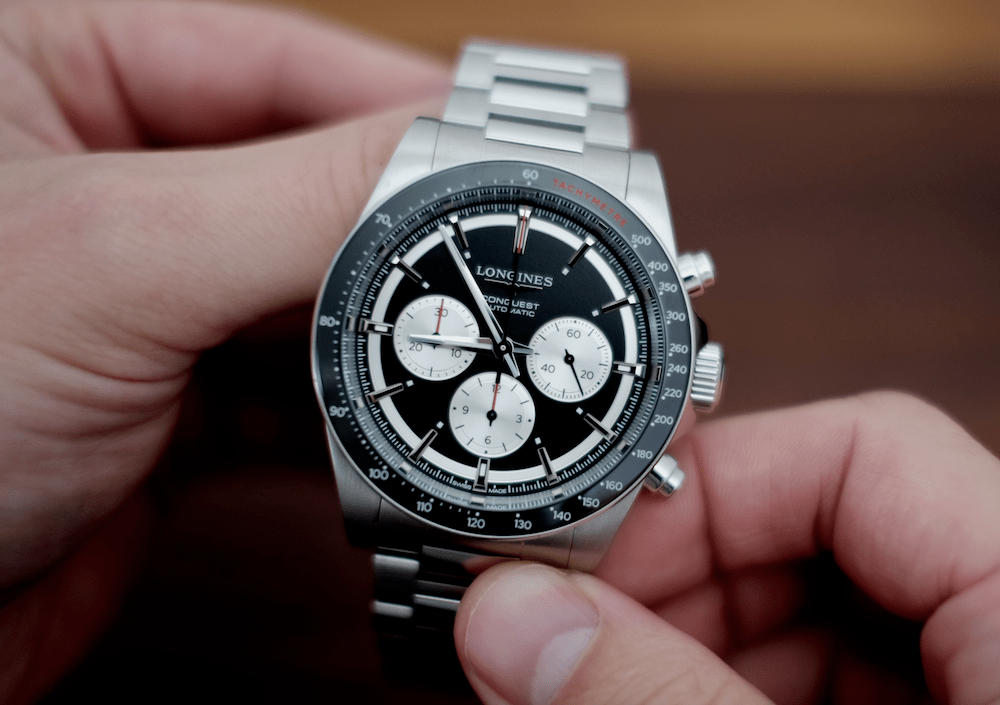 However, this gorgeous dial and excellent build quality are offset by the design choices with the Conquest. And to put it lightly, there are several.
First of all, the case is just simply too large. Longines has stated it's 42mm in size. But on the wrist, it feels no smaller than a 45mm, and for most people, it's just going to look too big on the wrist.
This problem is made even worse by the case thickness. At 14.30 mm, the Conquest sits too high up on your wrist, and you'll genuinely have to watch that you don't accidentally swipe anything as you move around!
Longines may have been able to get away with this chunkiness if the proportions were okay, but for some reason they've managed to fasten a small bracelet to the watch. The case is absolutely massive, and the strap is tiny in comparison. The strap tapers off far too abruptly, the links are too small, and it just feels a little too subtle for a watch of this size.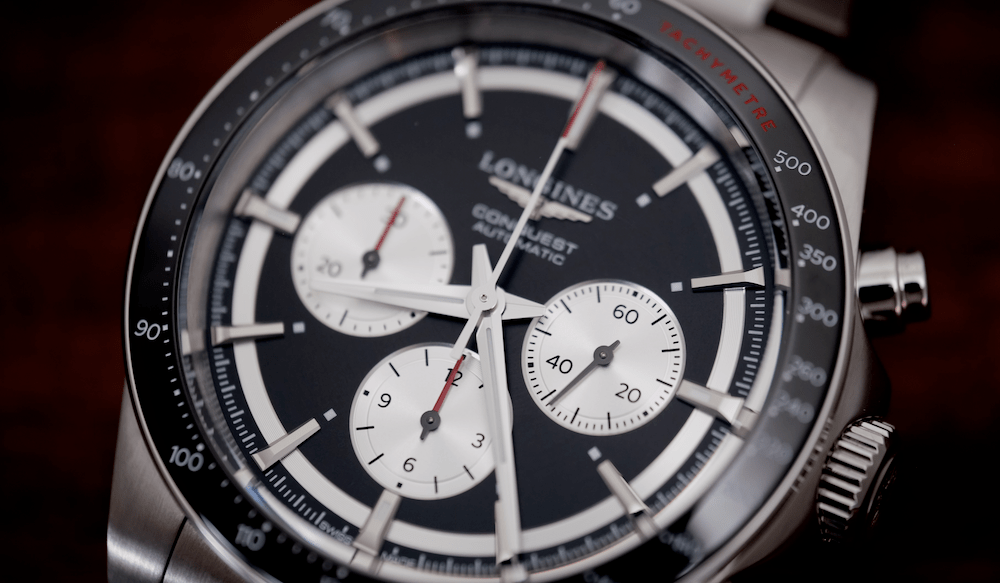 It's hard to understand what Longines was thinking here. Had they just opted for a bigger bracelet, the proportions wouldn't have been so much of an issue, and the Conquest would be a much more attractive option for those who enjoy a larger watch.
The other big sticking point is the price. At $4,500 CA ($3600 USD), the Conquest is one of the most expensive timepieces in Longines' collection. But, this isn't exactly reflected in the quality of the watch. Not only are the proportions all wrong, but you're also only getting an ETA movement, which Longines has been using in all their watches for a while now. There's no denying the accuracy and reliability of a movement like this. But when you could pick up a Tudor or Oris for the same price, it would be nice to have a deeper heritage nestled in that case.
Final Thoughts
Ultimately, the Conquest Chronograph has so much potential, having one of the prettiest dials we've ever seen from Longines. However, this is completely overshadowed by questionable proportions, and a price tag that is far too big for most to justify. Perhaps Longines will reassess the dimensions and come out with a re-release one day. But, for now, the Conquest Chronograph is just one of those "oh what could have been's"…
For more specs and information visit the official Longines website here.