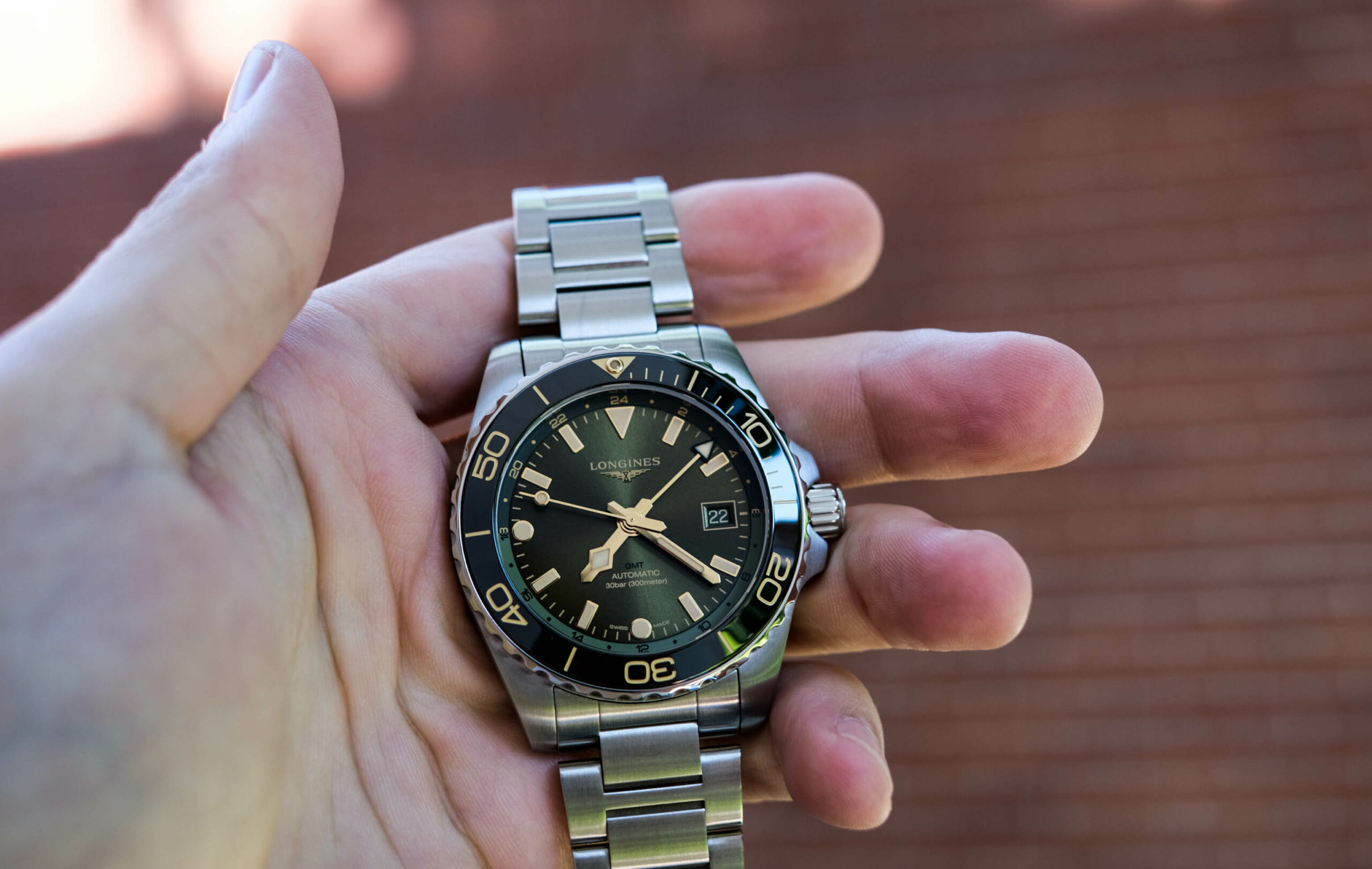 Founded in 1832, Longines has been providing the watch world with affordable luxury pieces for centuries. And in 2007, the company created a game-changing piece- the hydroconquest. Fast forward to today, and Longines has just released a new GMT version of the beloved Hydroconquest, and spoiler alert, this piece is unbelievable. Keep reading to find out everything you need to know about the Longines Hydroconquest GMT.
New GMT Design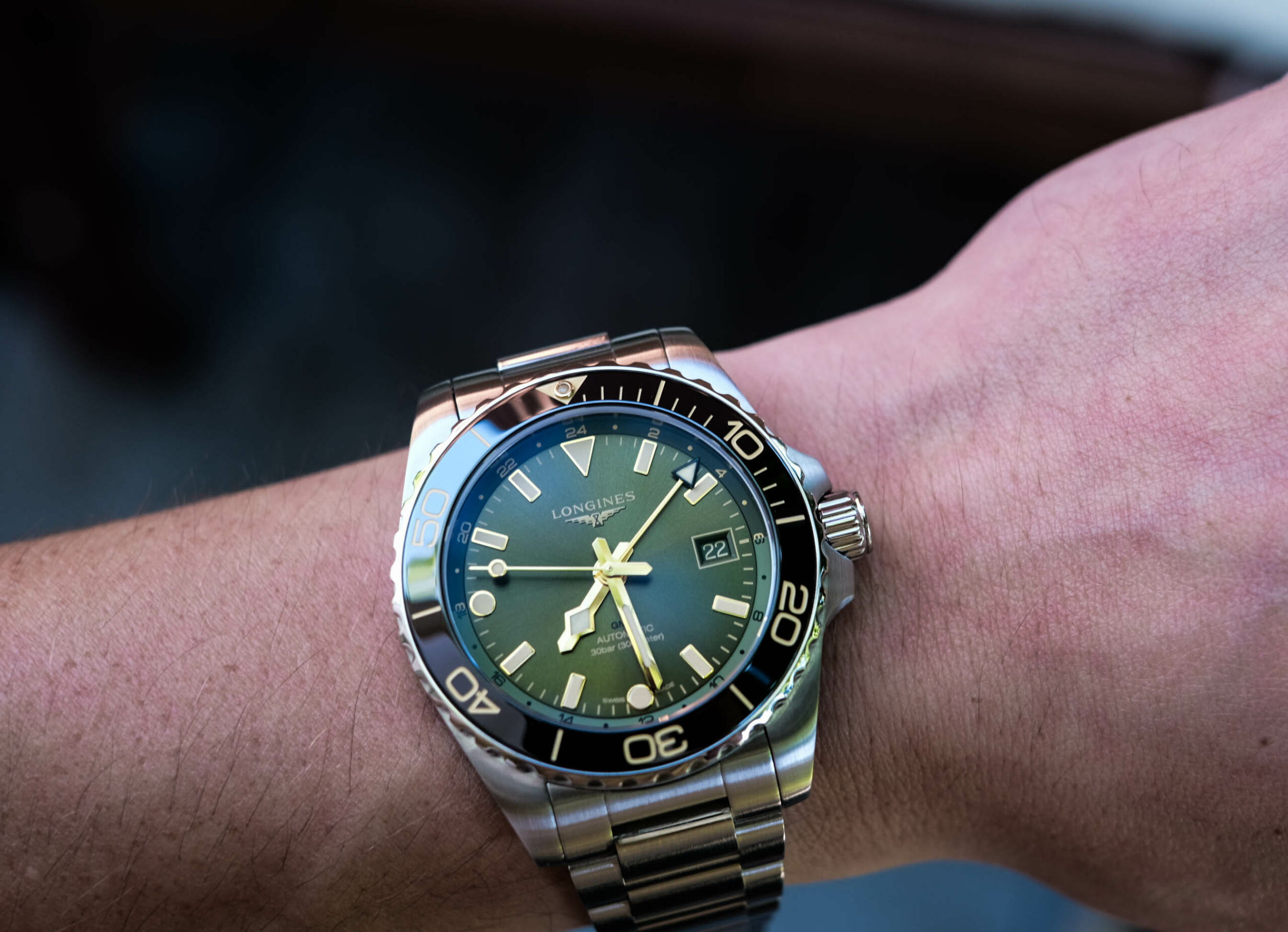 The Hydroconeqest GMT has taken the signature Hydroconequst look and refined it to create a much more elegant-looking timepiece. For instance, the ceramic bezel's outer teeth have been rounded, which looks much more contemporary. And on the dial, the signature oversized Arabic numerals have been swapped out for more subtle markers, giving the Hydroconquest a much more understated appearance. The date window still sits at 3 o'clock, and the Longines logo can be found just below 12 o'clock.
The case back is screwed down, so you won't be able to see the movement in action, which may be disappointing for some. However, to get a water resistance of 300 meters, sacrifices like this do have to be made.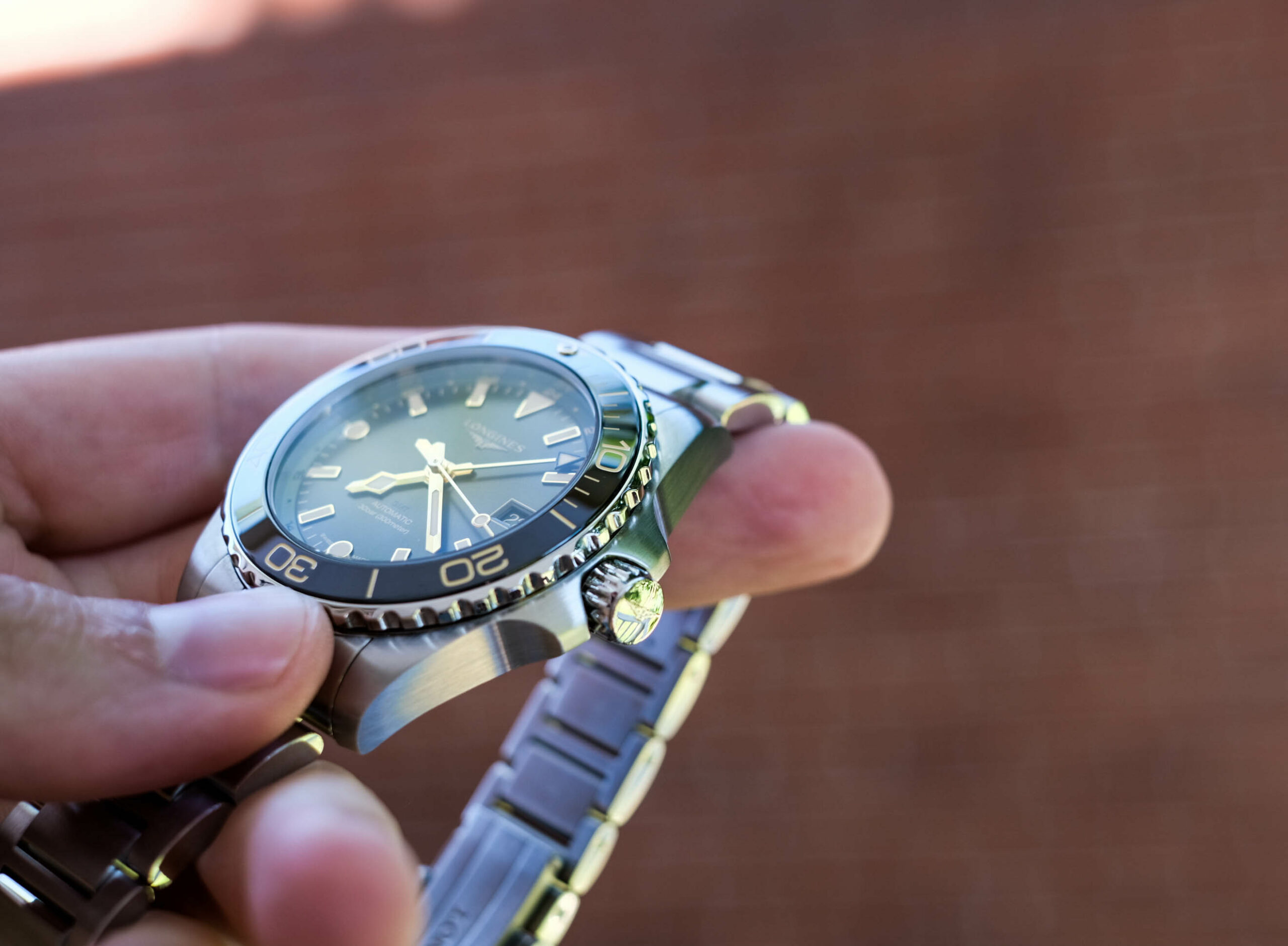 At 41mm, there's no running away from the fact that the new Hydroconquest is big, especially compared to its 39 mm predecessors. However, the profile of the bezel has been lowered which makes the Hydroconquest feel less bulky, and all in all, it looks beautiful on the wrist.
Bracelet and Clasp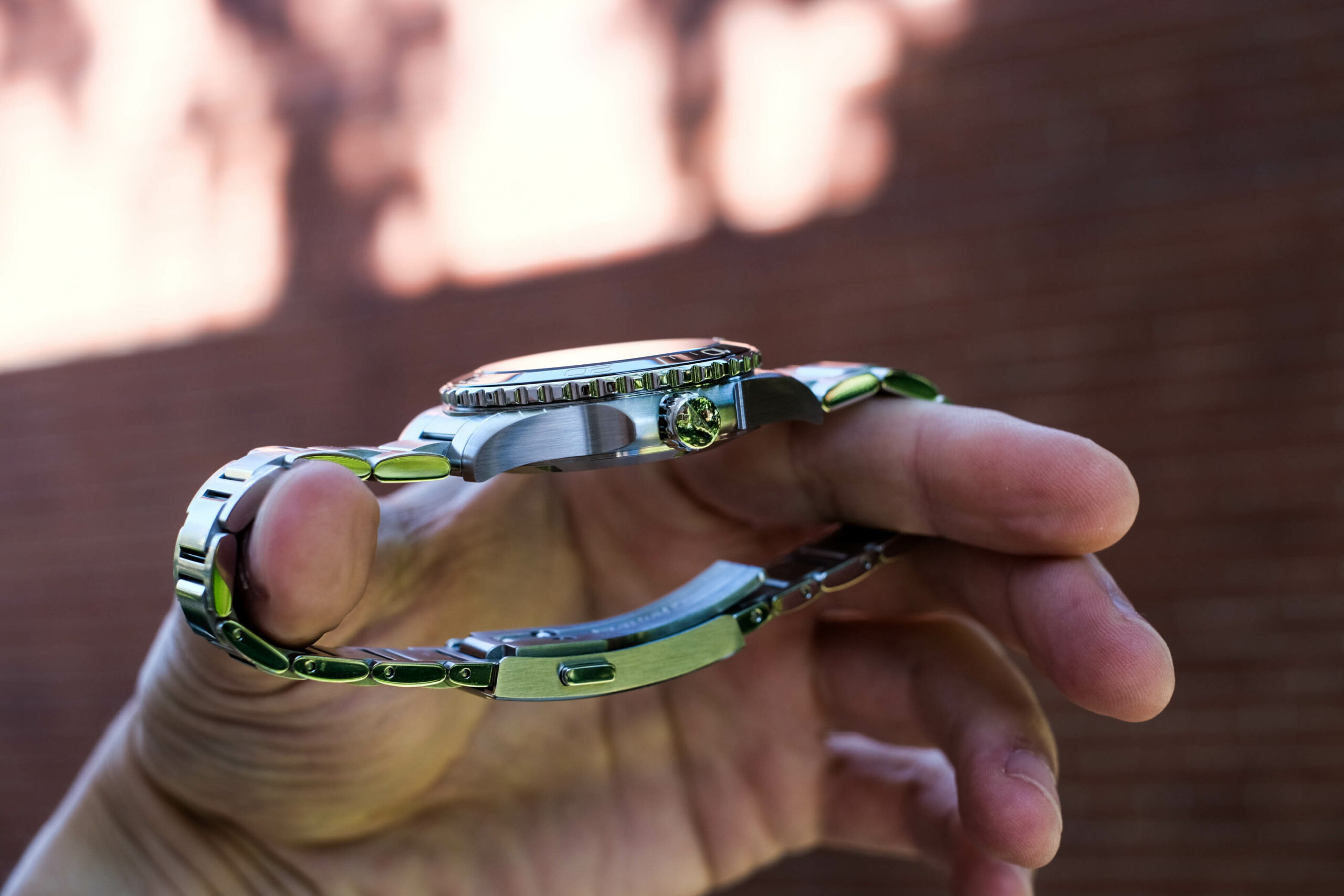 The bracelet can really make or break the overall feel of a timepiece, and luckily, Longines has absolutely delivered in this regard. The Hydroconquest GMT sports a H-link bracelet made from stainless steel. The facets have been polished for a high-quality finish and wear very comfortably on the wrist. The strap can also be switched out for a rubber or Nato variant, to give the timepiece a slightly more casual look.
As for the clasp, Longines has opted for a traditional divers style option. This is a welcome sight, especially considering that the dive extension will allow you to micro-adjust the bracelet to fit your wrist perfectly.
Colorways
The Longines Hydroconquest GMT is available in a total of 8 different variations, including:
Sunray Green with a stainless steel strap
Sunray Black with a stainless steel strap
Sunray Brown with a stainless steel strap
Sunray Blue with a stainless steel strap
Sunray Green with a Green Synthetic Strap
Sunray Blue with a Blue Synthetic Strap
Sunray Black with a Black Synthetic Strap
Sunray Brown with a Brown Synthetic Strap
The black and blue variants definitely feel the most classic, especially on a stainless steel bracelet. But, the underdog here is definitely the brown dial, which brings to mind a Rolex Rootbeer, and overall looks incredibly elegant.
Movement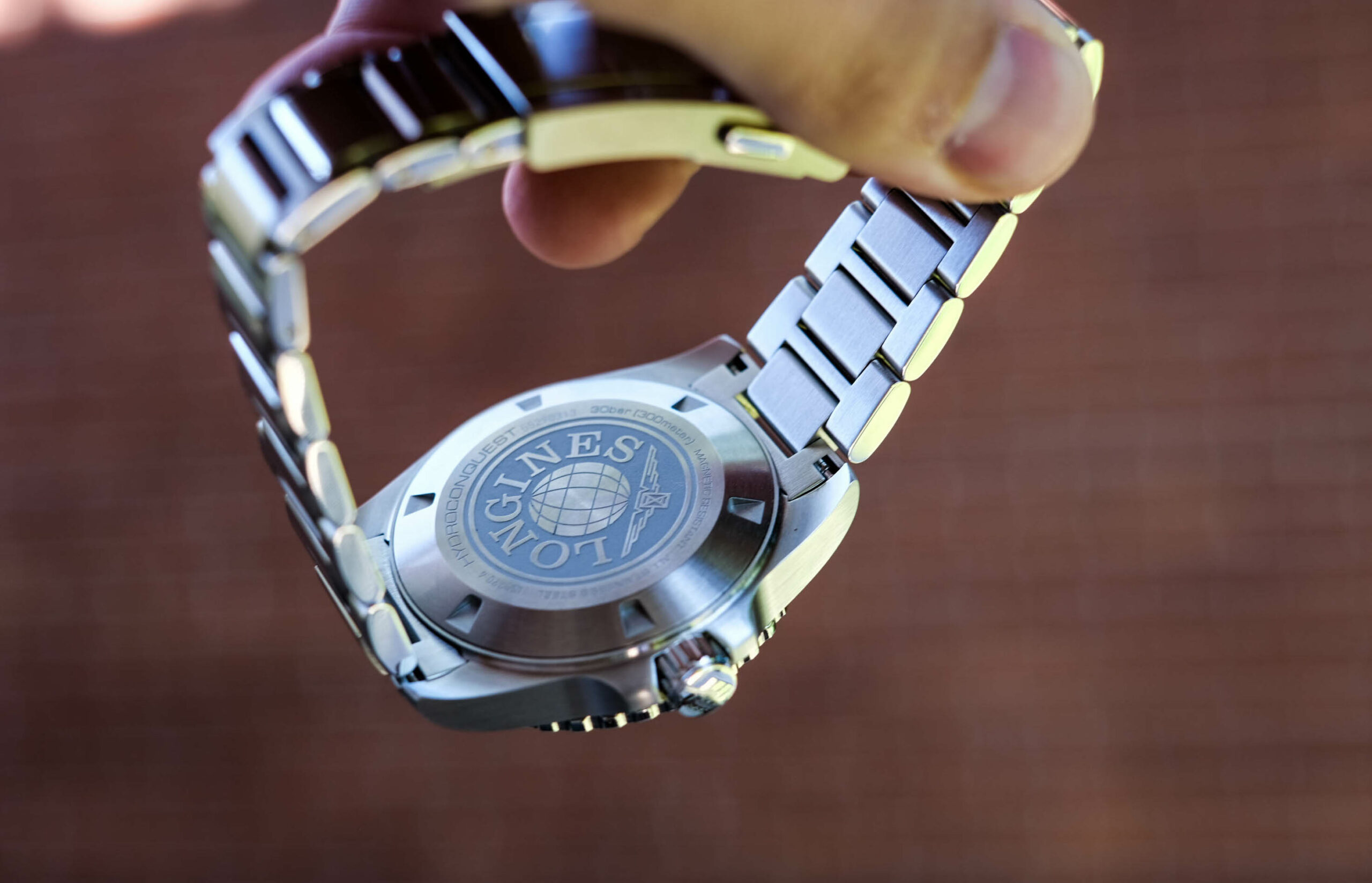 The Hydroconquest GMT is powered by an L844.5 Automatic Movement. This movement is used exclusively in Longines timepieces and boasts some impressive stats, such as a 72-hour power reserve as well as a unique beat rate of 25,200 vibrations per hour.
As for functions, the L844 movement can display hours minutes, seconds, and date as well as a 24-hour hand time with a time zone mechanism. The only thing that you may miss in a day-to-day setting is a day function.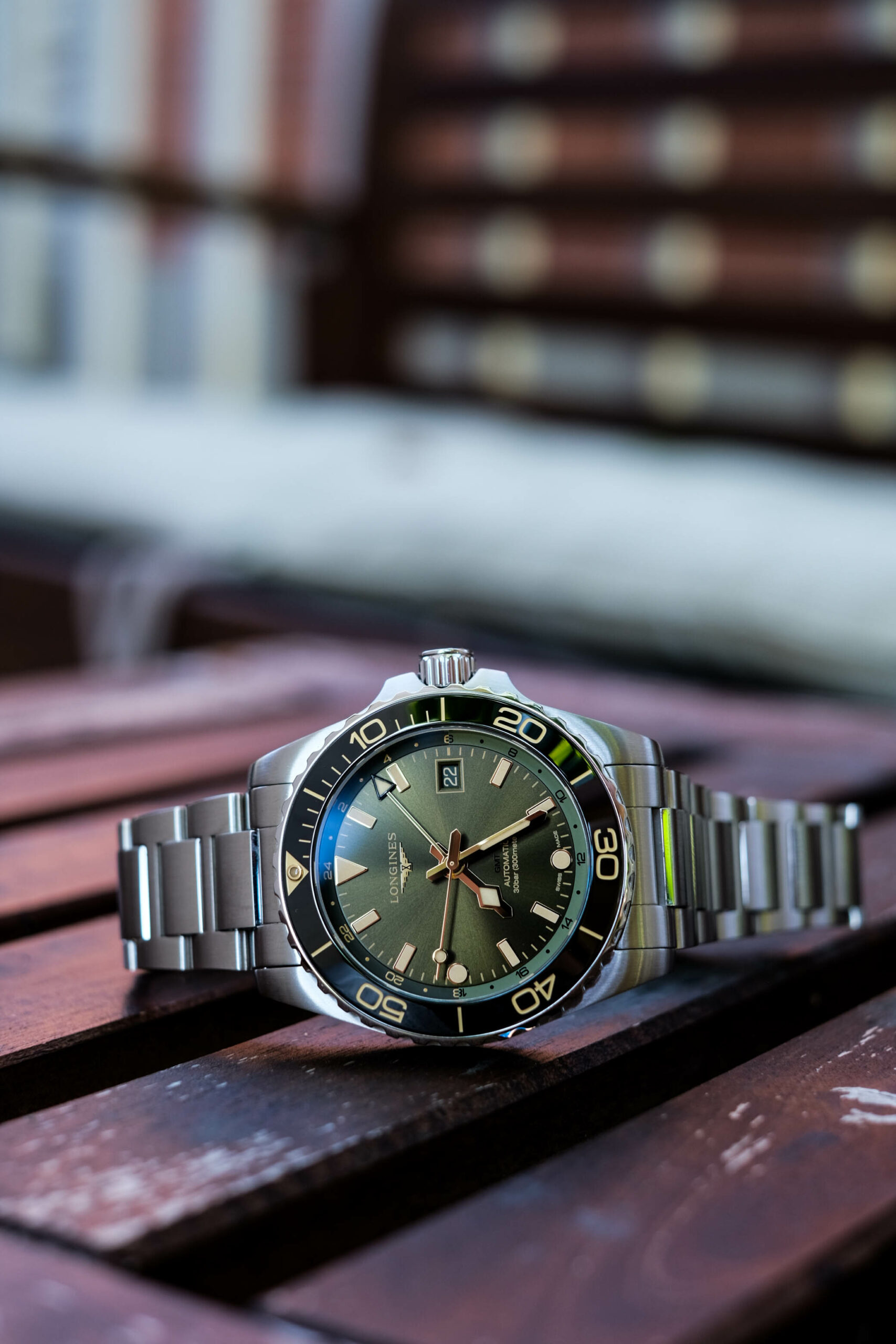 Ultimately, this movement is an absolute workhorse and will last a user decades so long as it is properly maintained.
Price and Availability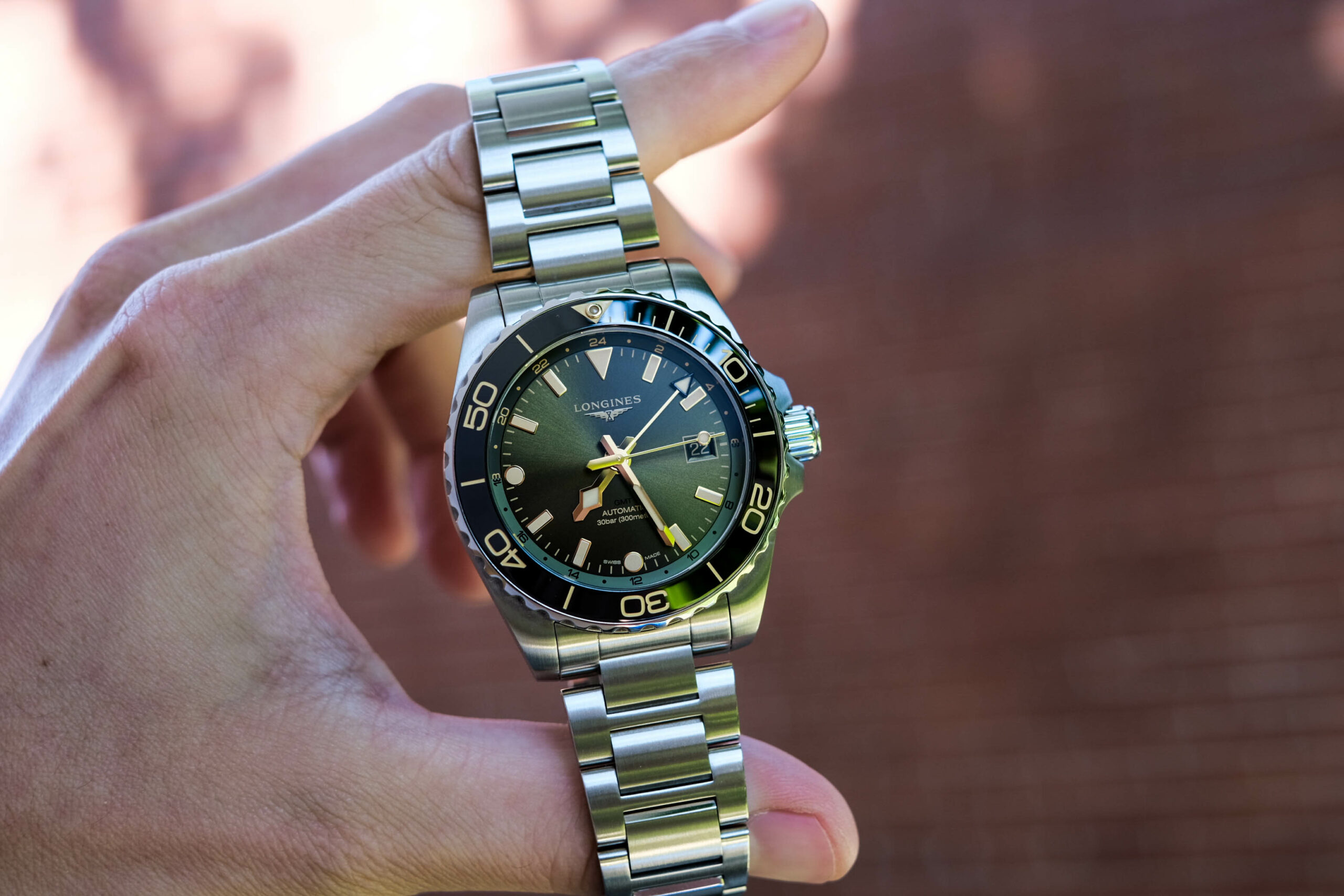 At the time of writing, the Longines Hydroconquest GMT will set you back $2,775. This does put the GMT in the higher bracket of the Longines lineup, but as you can appreciate, this is entirely justified. Longines has always been about value for money, and the Hydroconquest could easily pass for a watch costing double the price.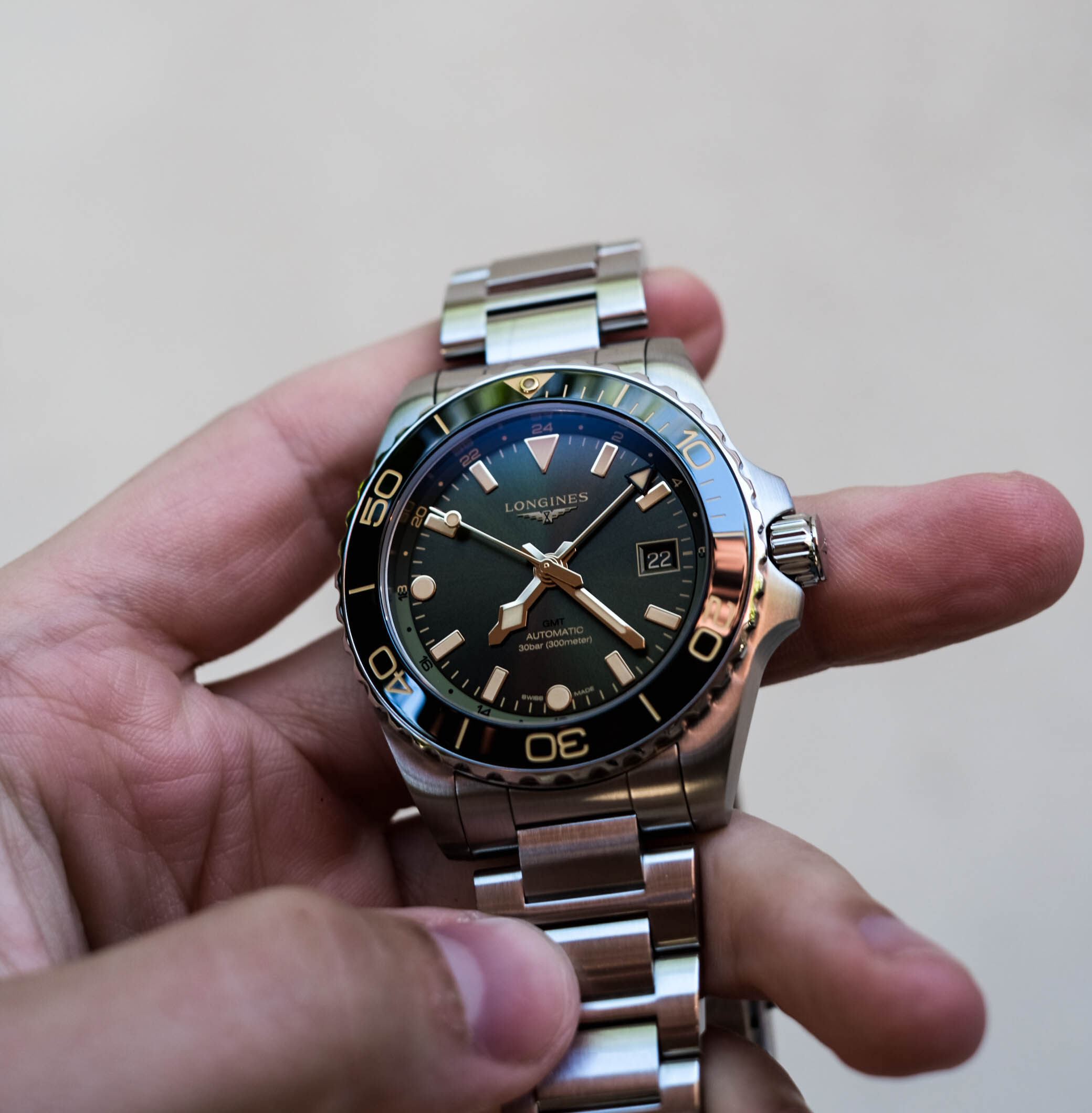 Availability is a little bit more complicated. Depending on your location, authorized dealers may be carrying the watch for sale. However, this is not guaranteed. It has also not been disclosed when, or if, the Hydroconquest GMT will be sold at authorized dealers like Goldsmiths.
Final Thoughts
Ultimately, the Longines Hydroconquest is a beautiful example of just how brilliant Longines is as a brand. That modern dial, coupled with the slightly more refined bezel has helped to give the Hydroconquest a more contemporary look, which can fit any situation. And the functionality of the Hydroconquest really shouldn't be understated. This watch has a water resistance of up to 300 meters and can show two time zones simultaneously. You can change the strap easily to reinvent the look, and at 41 mm, it's going to look great on most wrists.
Ultimately, if you're looking for a one-watch collection watch at the $3,000 price point, this watch should be at the top of your list.
For more information visit the official Longines website here.