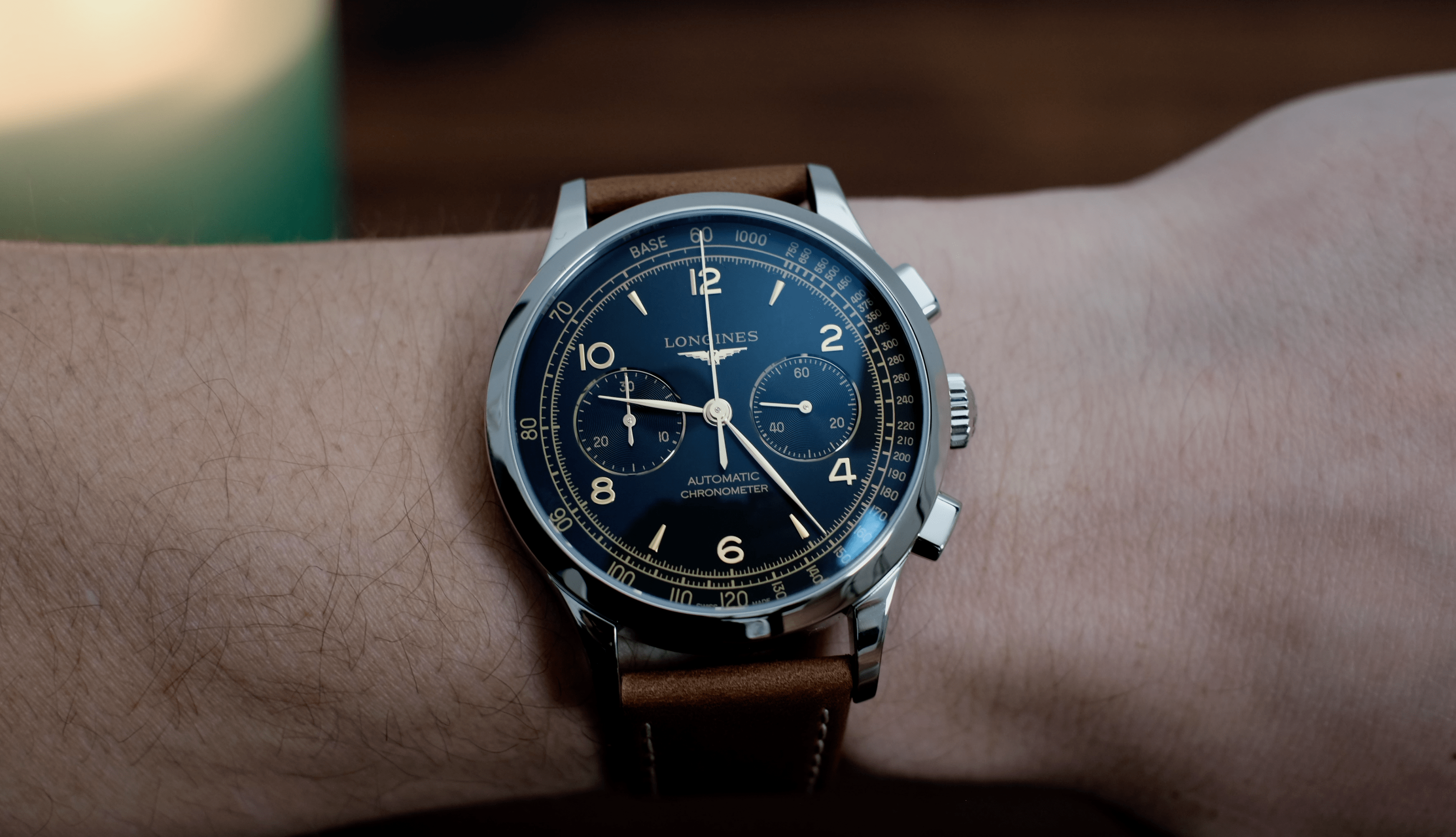 A mechanical watch – even an inaccurate one – is a work of art. That's why people pay hundreds or thousands of dollars for a watch that's less accurate than a cheap Casio watch from Walmart. At the same time, is it really too much to ask not to have to reset the time once a week? That's where COSC certification comes into play. COSC is short for "Contrôle officiel suisse des Chronomètres," and is the official Swiss non-profit organization that certifies watches for accuracy. To obtain certification, a watch must be accurate to between -4 and +6 seconds per day over a 10-day testing period.
Back in 2017, Swiss watchmaker Longines announced the release of their Record collection, which is made up exclusively of COSC-certified watches. The most recent release is the Record Automatic Chronograph L2.921.4.56.2, which I recently got my hands on. Here's what I learned about this beautiful new addition to Longines' lineup.
A Broad, Elegant Case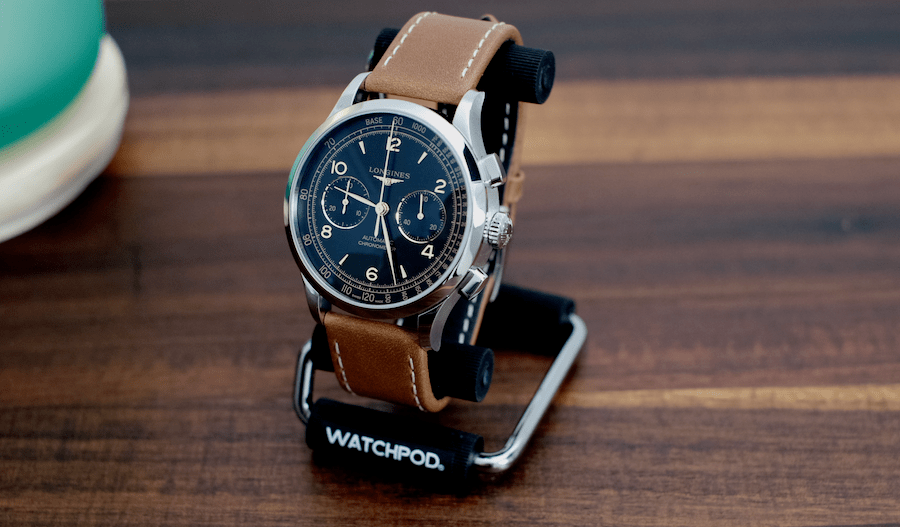 The Longines Record Automatic Chronograph L2.921.4.56.2 has a round stainless steel case that's spare and minimalist. It measures 40mm in diameter, and the straight, narrow lugs are spaced at 20mm. And at 13.8mm, it's proportionally thick for the size. While it has a medium wrist presence, it actually looks bigger than it is. That's largely thanks to the narrowness of the smooth, curved bezel, which leaves a lot of room for a broad dial.
At 3 o'clock, there's a flat, knurled crown with an embossed Longines emblem on the end. At 2 and 4 o'clock, you'll see a pair of oval pushers that operate the chronometer functions. Despite all this, the watch is still water-resistant to a depth of 30 meters. Even though I wouldn't want to go swimming with it, it's more than good enough to wear in the shower. And for most of us, that's all you really need from a water-resistant watch.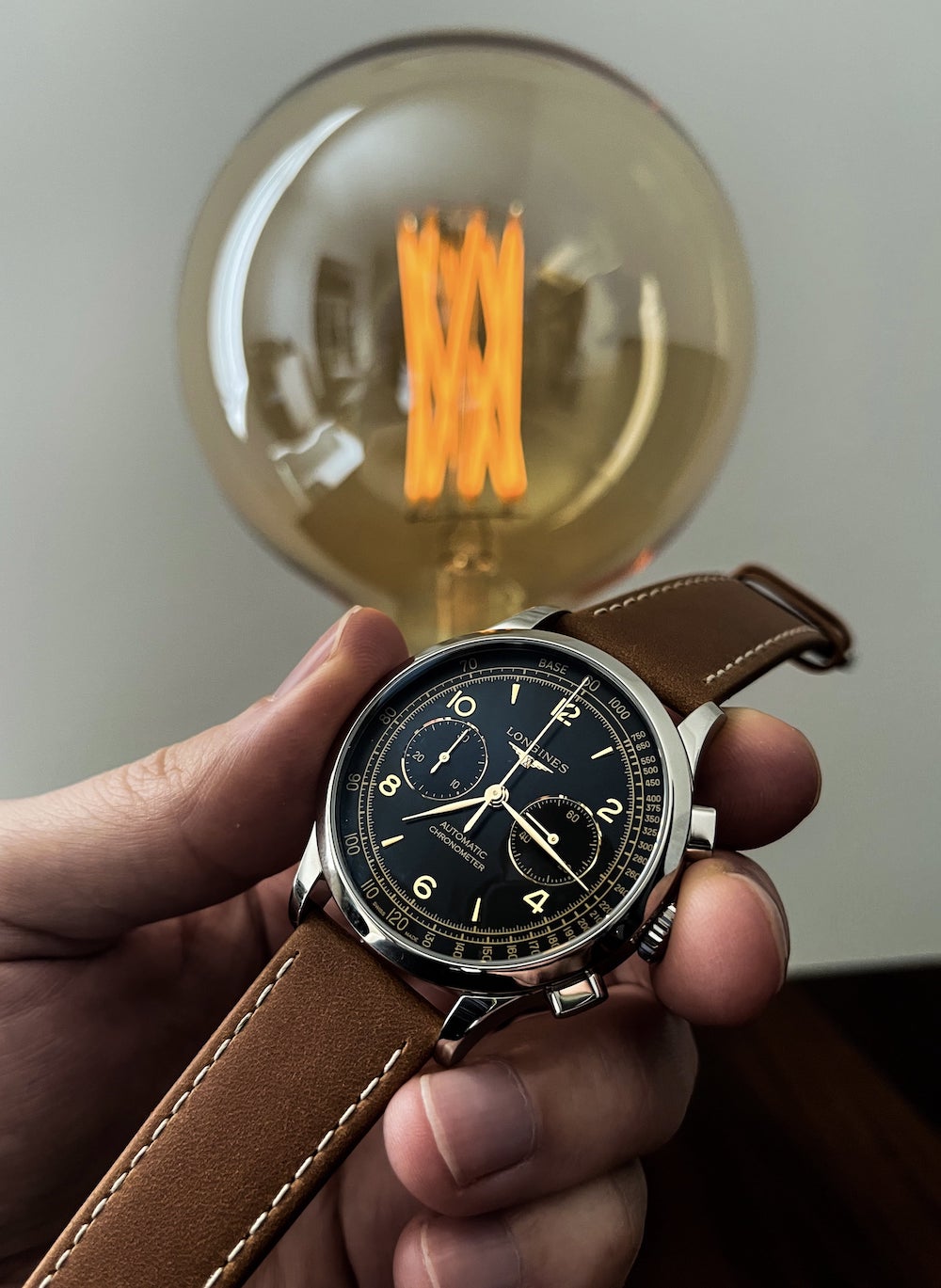 The crystal is totally flat, with no bevel or curve to it. This provides a clean, undistorted view of the dial regardless of the angle you're viewing it from. The sapphire material is tough and scratch-resistant, and won't easily get dinged up during normal wear. It's also coated with multiple anti-reflective layers, both on the top and on the bottom.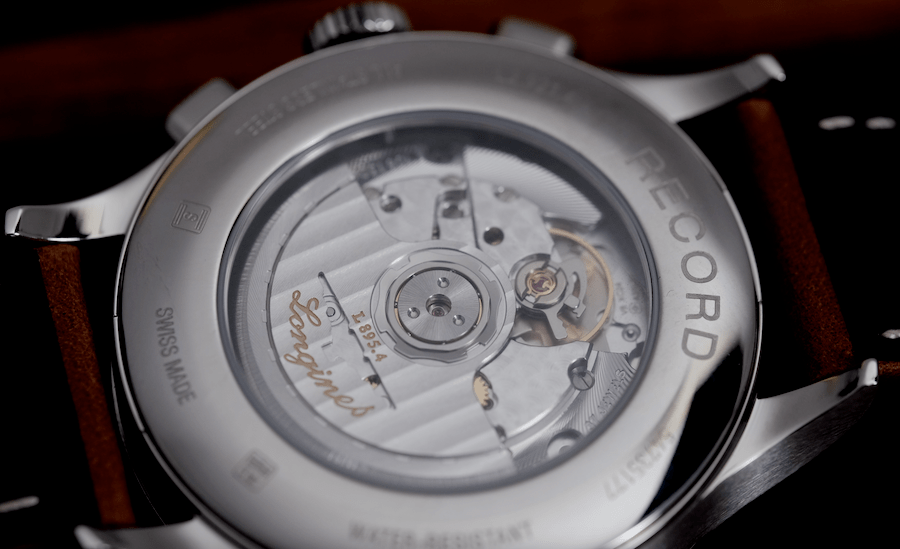 The rear of the watch has a display caseback, with a similar high-quality crystal. This caseback shows off the beautiful modified ETA Longines L895.4 movement, with its gold gears and wheels and purple highlights. As I mentioned, it's a COSC-certified movement, so you'll rarely find the need to reset your watch.
A Gorgeous Gold-on-Black Dial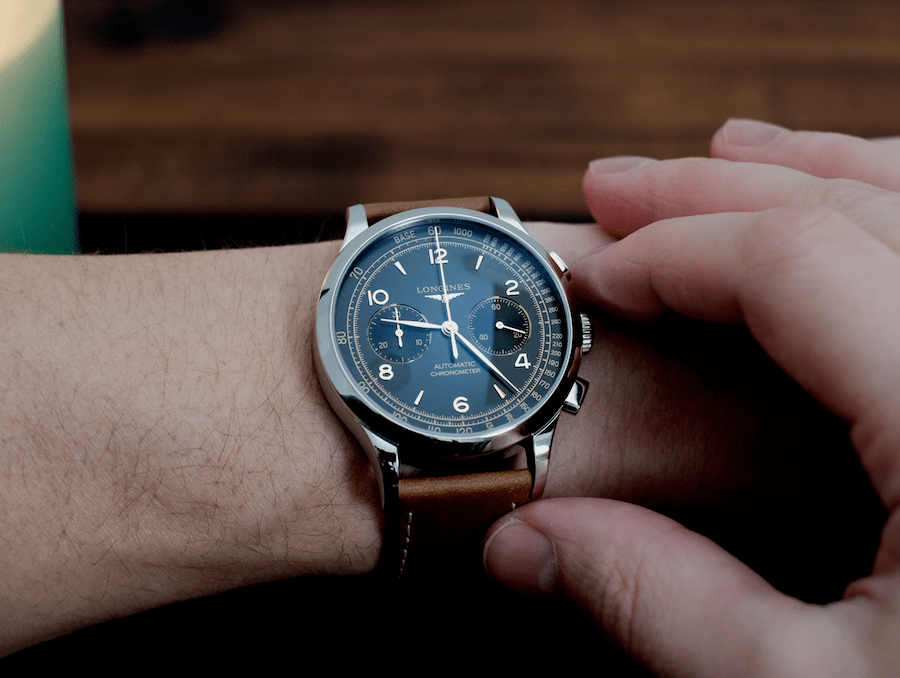 The Record Automatic Chronograph's dial is matte black, with gold markings that lend it an elegant, formal appearance. Around the outside is a tachymeter scale that functions like an internal bezel, with markings from 1,000 to 70. There's a set of stopwatch markings inside of this, with fine hashes at the quarter-second marks and slightly fatter ones at the second marks.
The main index consists of a set of gold applied Arabic numerals at the even hour positions, with hashes at the 1, 5, 7, and 11 o'clock marks. The Longines name and logo appears above the center of the dial, with the words "Automatic Chronometer" painted below.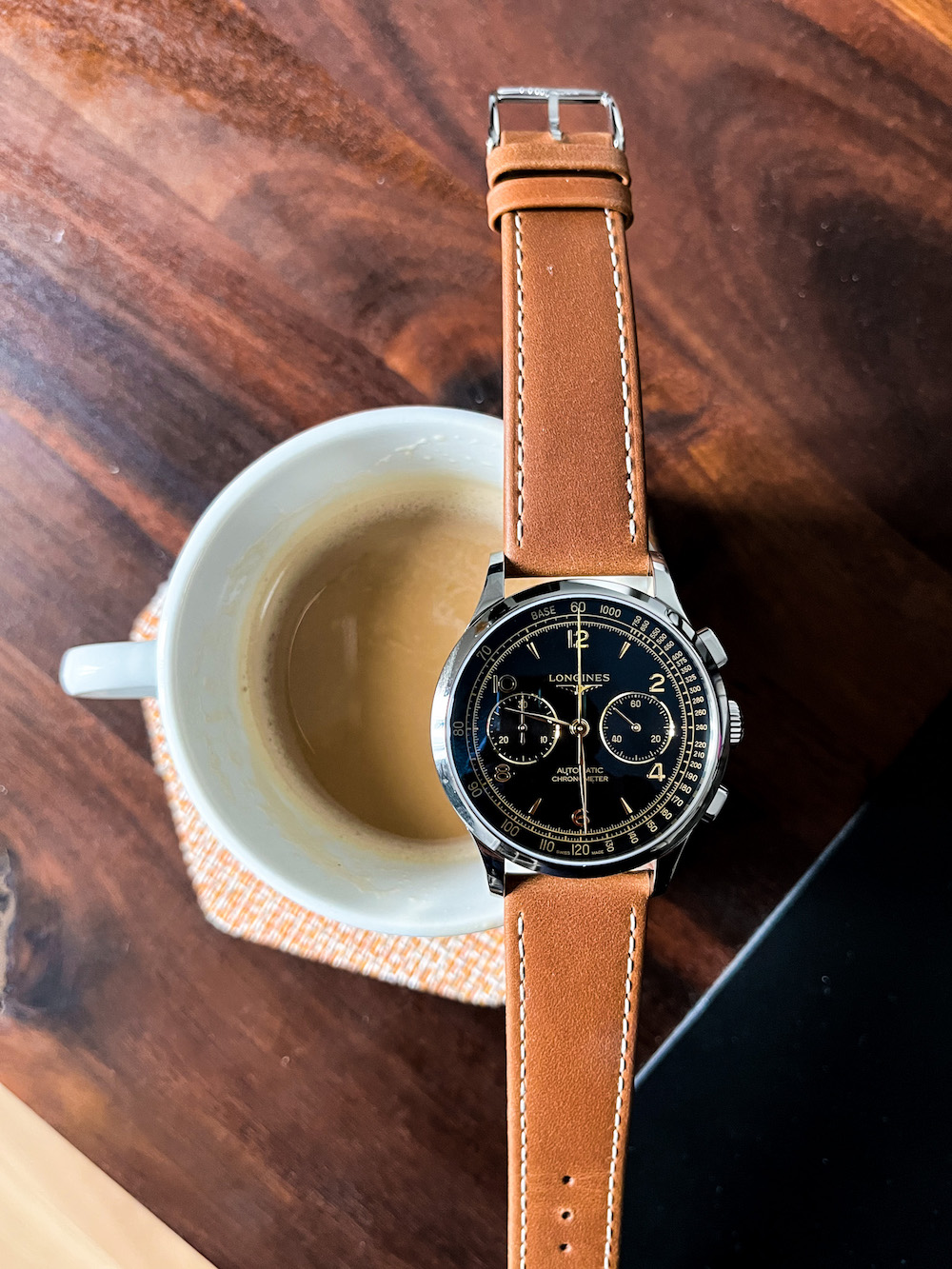 The hour and minute hands are also gold, and are very narrow at the base and tip. They're slightly flared towards the middle, creating a subtle bulge that makes them easier to see. The long, thin hand on the main dial isn't primarily a second hand. It's a chronograph/stopwatch hand that serves as a second hand when you're not using either of those functions. The 60-second subdial at 3 o'clock will show the current time in seconds even when you're using the chronograph. The 9 o'clock subdial, meanwhile, serves as a 30-minute counter for the chronograph.
Strap and Extras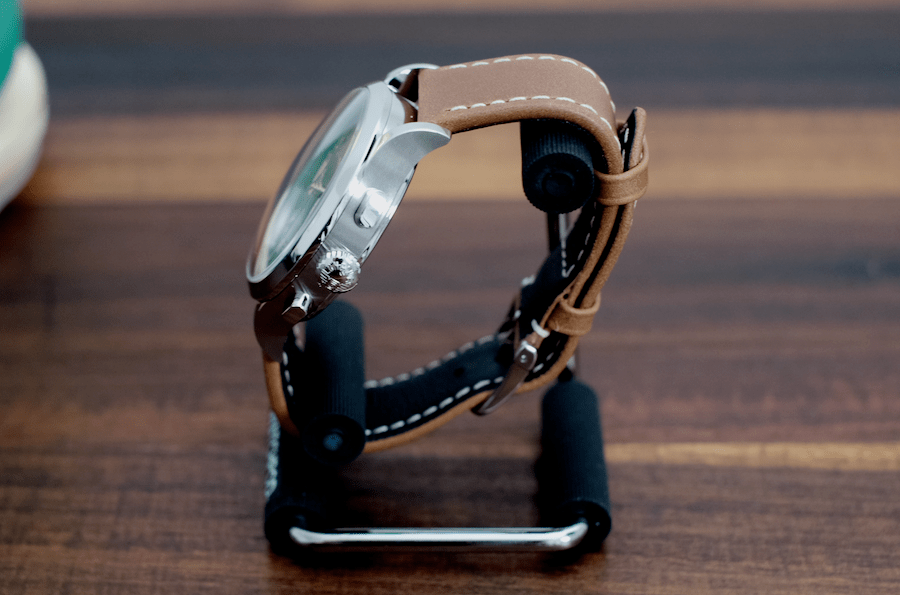 You can order the Record Automatic Chronograph with one of two strap variants. The first is a light brown calf leather that's supple and soft to the touch. It's very comfortable to wear, and flexible enough to hug tight to most wrists. It's also surprisingly durable, with a heavy tan stitched outline around the outside. The stainless steel buckle matches the watch case, and provides a secure closure.
The other option is an unusual 7-link stainless steel bracelet. The outer links are relatively wide, and are made of polished steel. The inner links consist of alternating narrow brushed steel links and medium-width polished links. This band also alters the profile of the watch, since the closest links to the case are molded to fit to it. The gaps left by the leather band, by comparison, leave a gap inside the lugs that enhances the watch's circular profile.
Regardless of which strap you choose, you're protected by Longines' 5-year manufacturer's warranty. That's fairly long, even by watch industry standards.
For more information you can visit the official Longines website here.