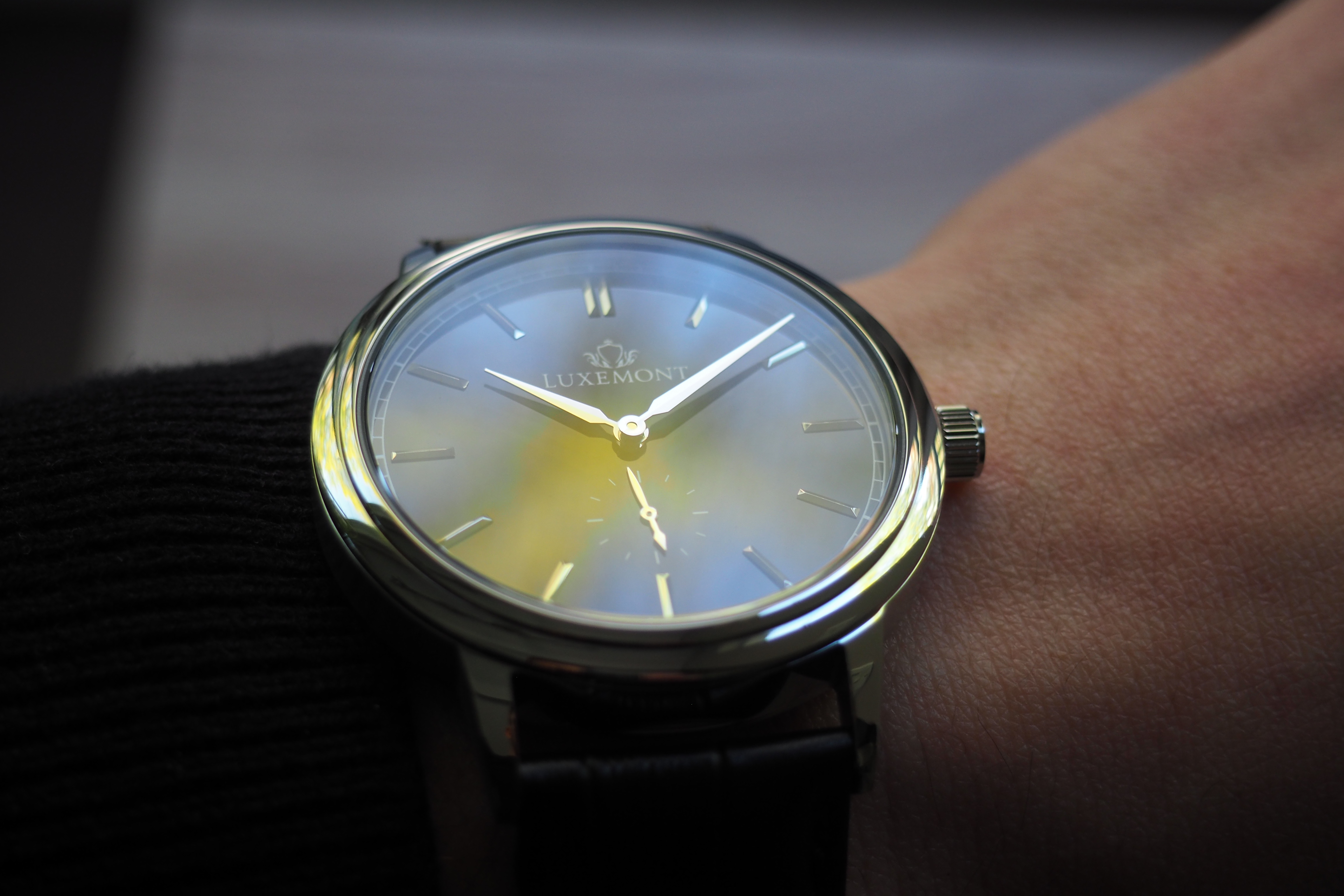 Luxemont's style and integrity has always appealed to me and the Maestro is a superb timepiece at an affordable price point. Their mission is to make quality and luxury available to all who appreciate it even when your budget might not always allow it. The silver on black has a strong but sophisticated look to it with as little on the dial as you can get away with. The crocodile embossed genuine leather strap is a handsome addition to this timepiece.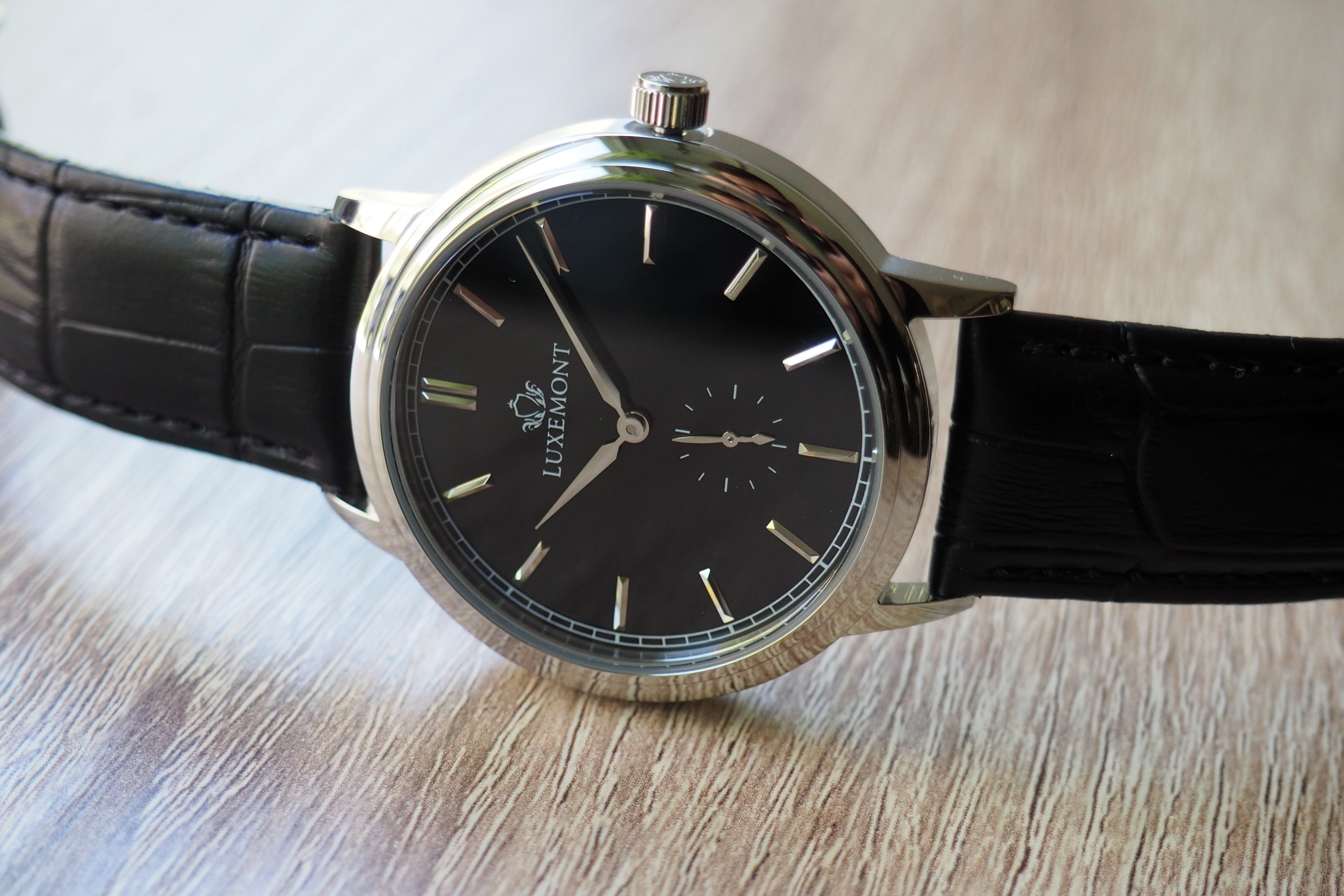 Luxemont has come a long way from its humble beginnings on Kickstarter and their in-house design team has not lost sight of the people they started making watches for. There is a big variety on offer but today we are going to have a look at the Maestro with silver case and black dial that I have had the pleasure of trying out.
Dressy Dial
The dial is a black enamel and is simple in its look but not its design. The enamel lacquer gives the dial a special smooth kind of look and shows the attention to detail that was put into this piece. The design team carefully plan each aspect of their timepieces and the lack of noise on this watch is intentional. Dress watches are often more striking when it is implicit instead of overstated and the silver polished indexes on the black dial display its minimalism well. There is a sub-dial just above the 6 o'clock to track the seconds and it is displayed through the use of the most subtle decals.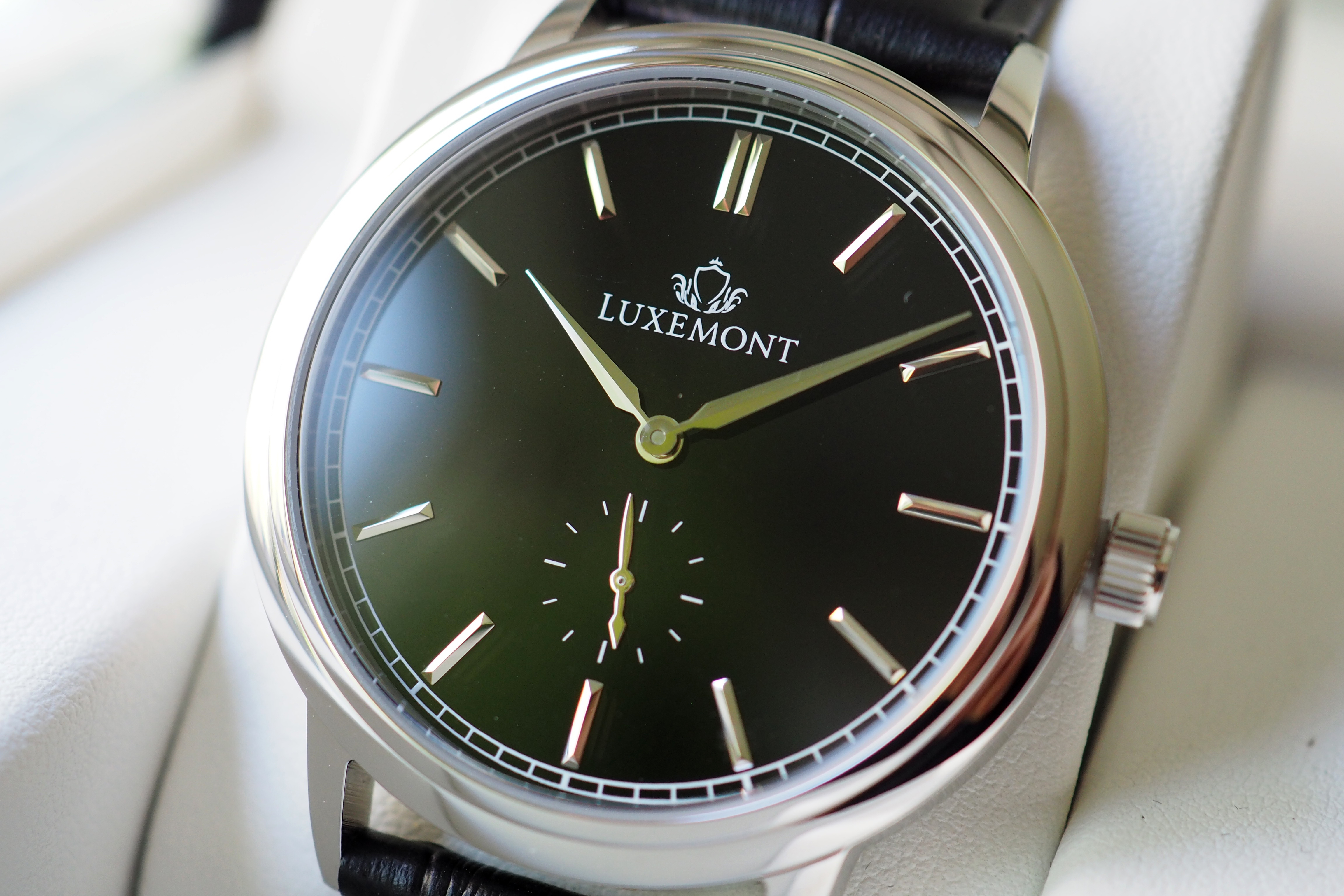 The arrow watch hands are also polished silver and compliment the black dial and indices beautifully. You will find the Luxemont brand in print just below the 12 o'clock with their emblem just above it. Don't be underwhelmed by the lack of extra accents and sub-dials and instead embrace the feeling of freedom that comes with a simple display of class.
Maestro Silver Case
The case is a combination of brushed and polished stainless steel. The fixed bezel is polished along with the top of the lugs to give a shiny look to the top of the piece. The sides of the case are brushed which gives a nice change of character to the appearance and allows for regular use to not put too many scratches on the sides. The screw crown is fairly thin and allows most of your attention to be focused on the rest of the watch. The Luxemont logo is nestled nicely on the top of the polished crown.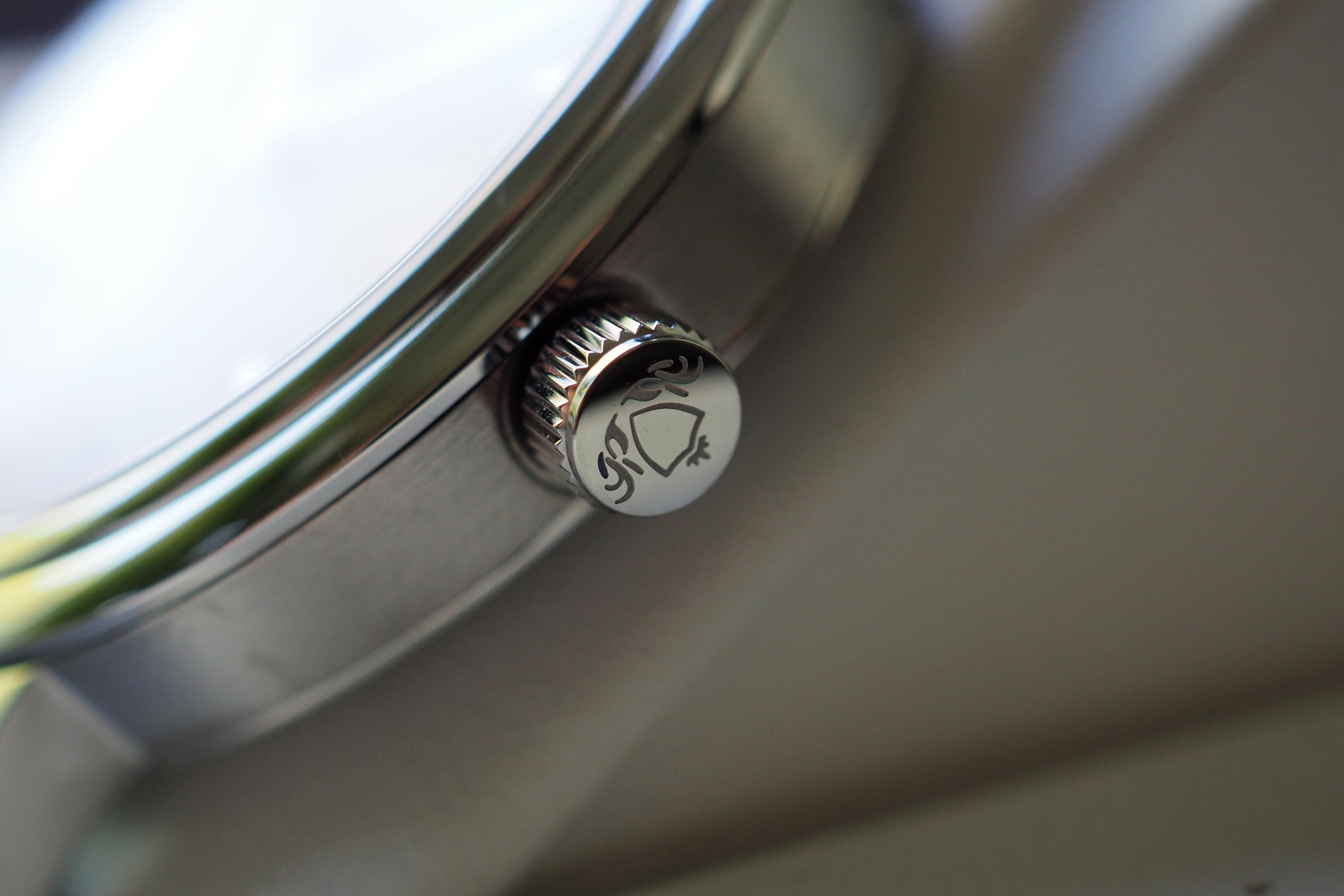 The water resistance rating is an unimpressive 3 ATM, although I don't really imagine you would find yourself needing more than that with a dress style watch, and if you do your watch will probably be the last thing on your mind. The case is 40mm in diameter so it doesn't sit too large on your wrist and shouldn't be too heavy either. The lug width is 20mm which allows for a comfortably sized strap which can be changed easily enough although I recommend the leather if you are expecting to wear it regularly.
Movement and Style
The Citizen Miyota quartz powering this timepiece is reliable and accurate. Citizen is well known for its quality and the Luxemont watchmakers spared no cost in making sure that you have a quality quartz inside.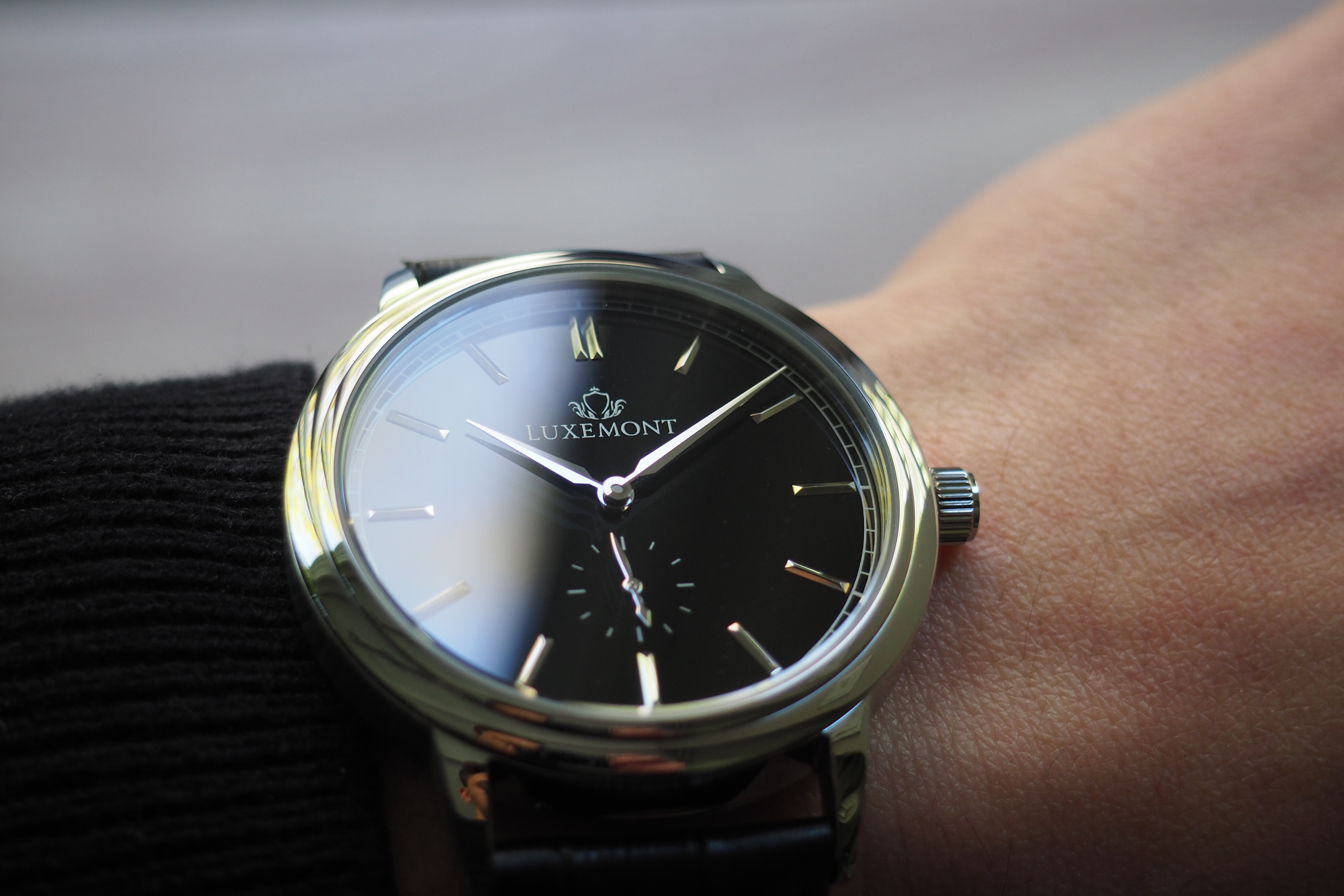 The dress style is tough space to play in because of the limits to your design and the difficulty in standing out due to this. The Luxemont team however have got it right in my opinion by not relying on a high price to make people think that it is of a higher quality but instead to be as intentional and minimalistic in their design process so they don't add extra costs.
Final Thoughts
The Maestro is a dress watch that will appeal to a wide variety of people. I found it to be comfortable enough to wear for long periods of time without feeling the need to adjust it or take it off. The price point is another attractive aspect of this piece and considering the attention that has been put to making it look good and the high quality parts that have been used, that is an achievement in itself.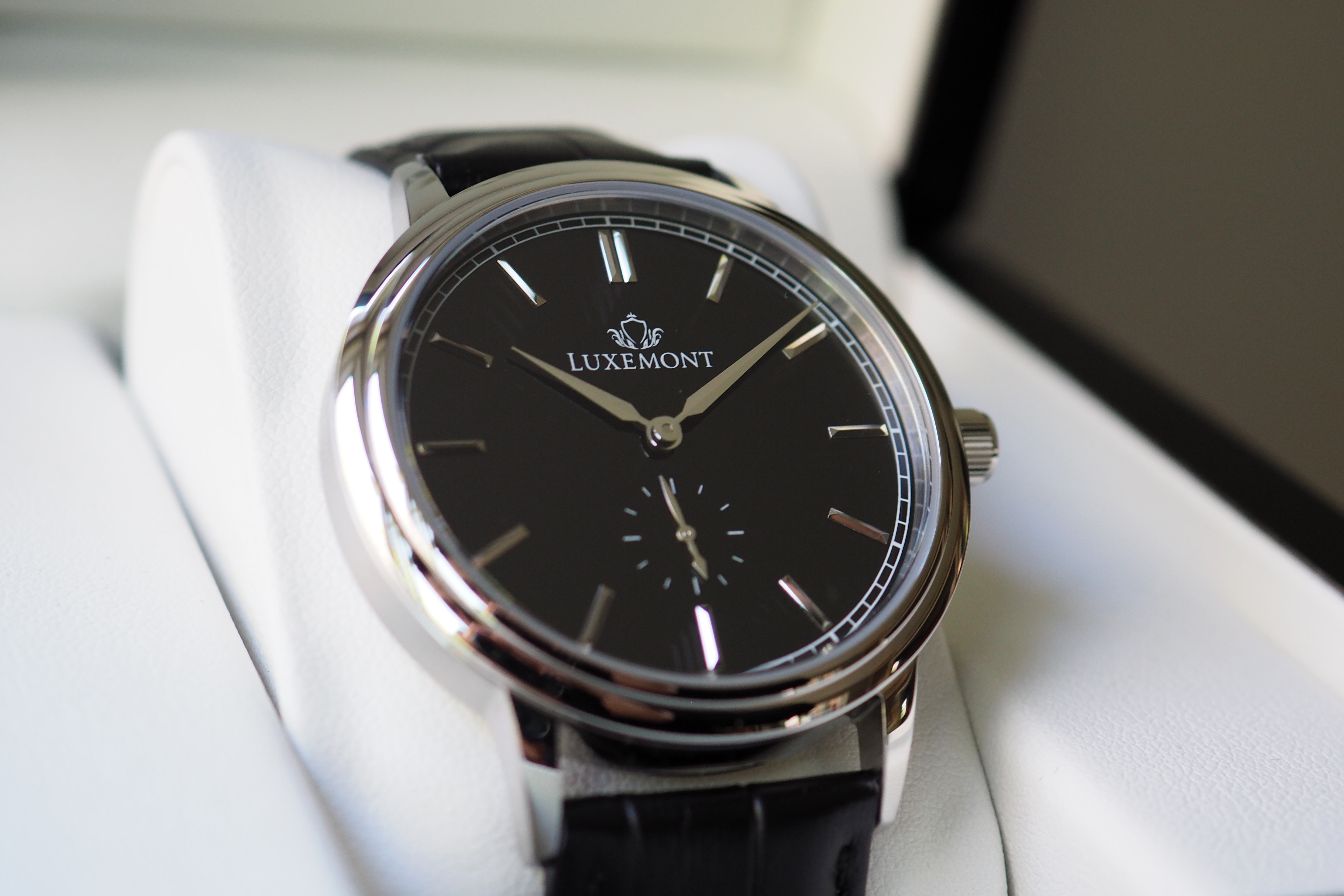 Luxemont also have my favourite quality, variety. The silver case is probably more down my alley but there is a range of other colour schemes available that would appeal to a wider variety of watch aficionados. I believe it will be hard for most watch collectors to simply overlook the luxury of this piece although I think it will appeal more to those looking for their first dress watch to accompany them to a big event or formal occasion. Keep this piece in mind for your loved ones who are starting out in the working world as a coming of age gift.
To have a look at the entire range of Luxemont watch visit their official website here.