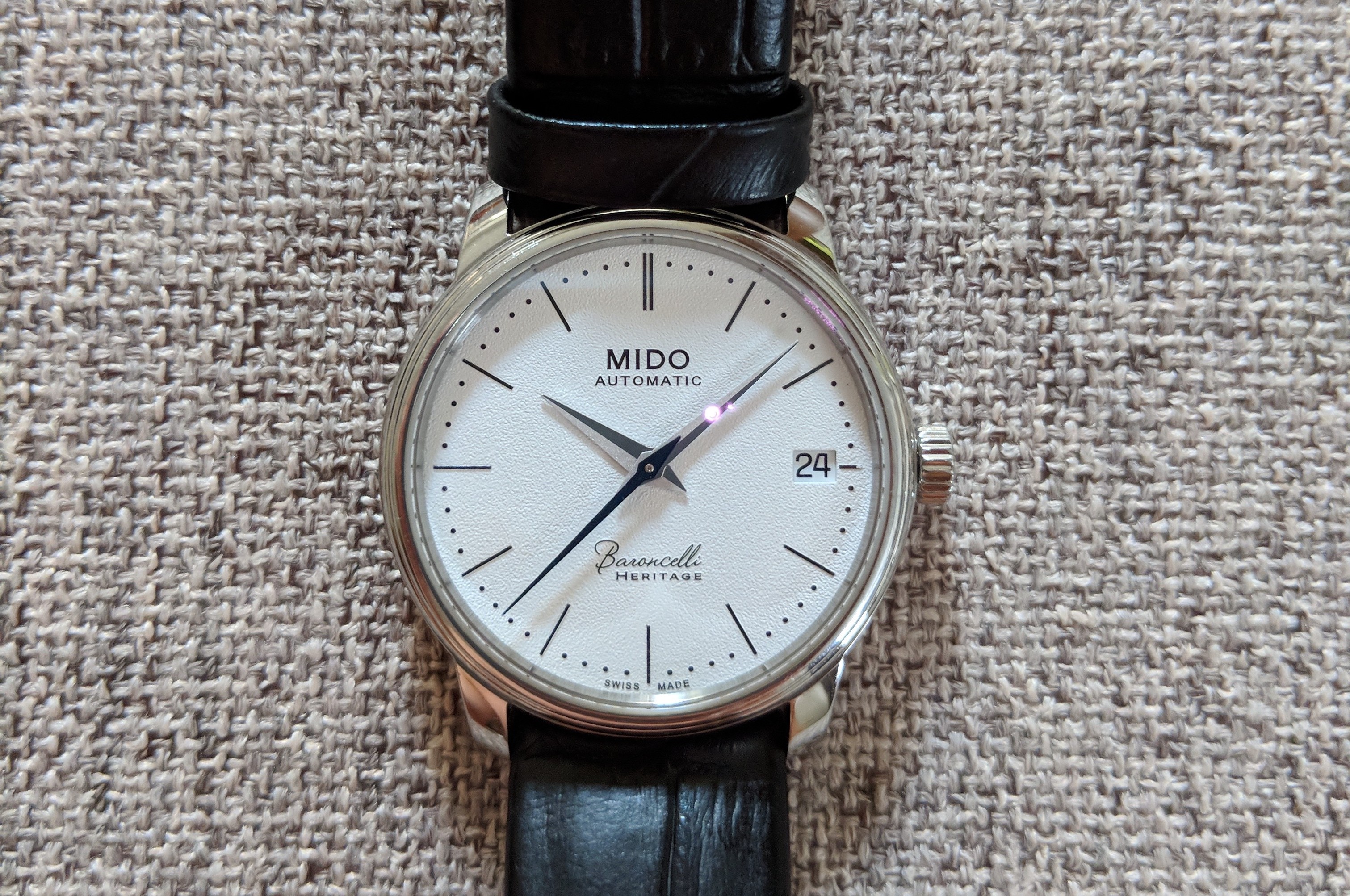 As part of the Swatch Group, Mido is a guarantee of Swiss quality and craftsmanship. Though it might not be a readily recognizable brand in the USA, it nevertheless has thrived in the Latin American market, where it has had a strong presence since the 80s, even among people not very much into the hobby of horology.
My journey into the lineup of the brand started about a year ago while researching ladies watches for my wife's upcoming birthday. After spending countless hours online, I finally found what I was looking for. The Mido Baroncelli Heritage is a striking piece that delivers tremendous value for a very reasonable price. The ladies version has a 33 mm case, which is the perfect size for a dressy watch. After calling the nearest AD to make sure they had it in stock, I paid them a visit to try it on.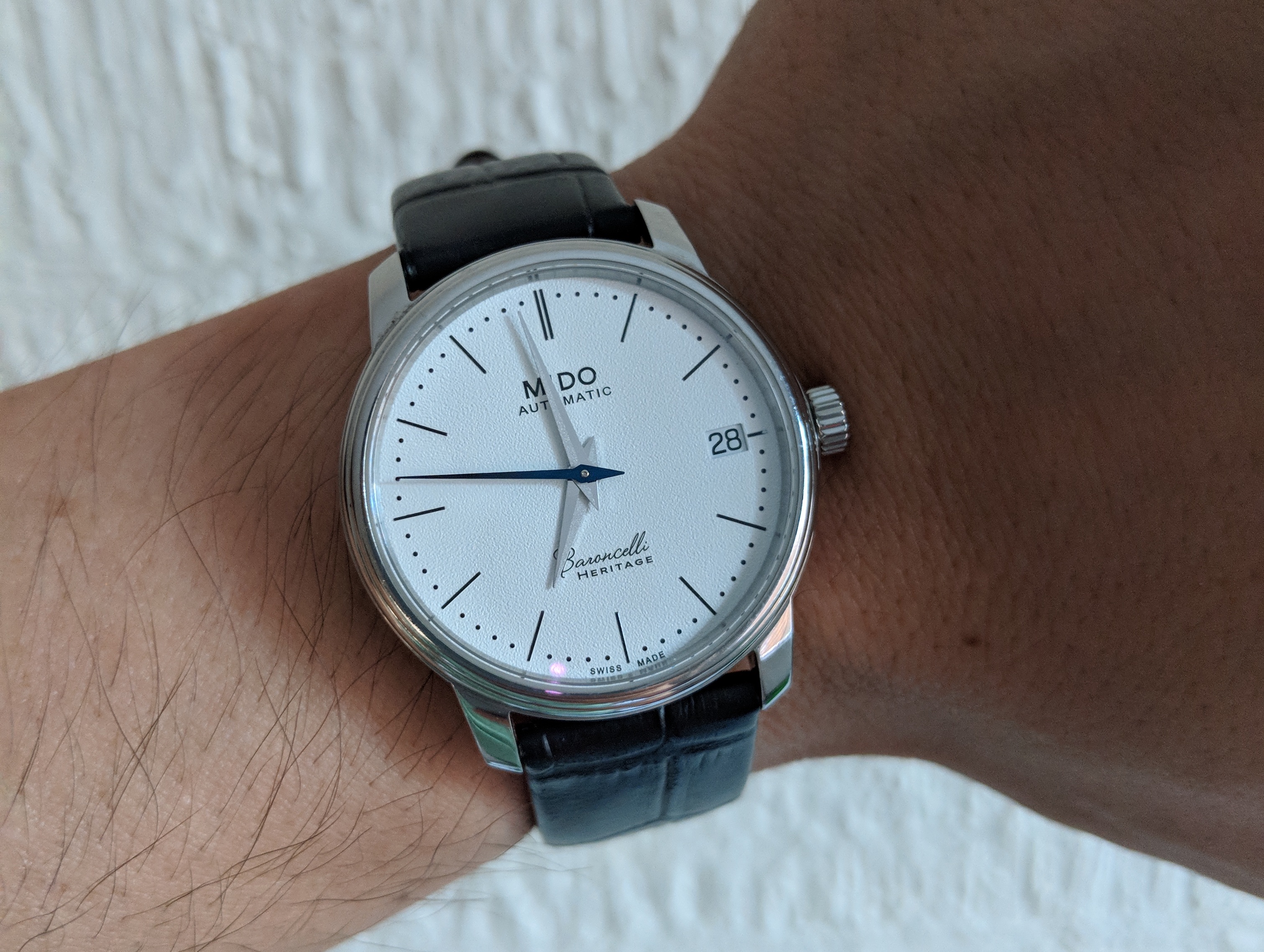 > > > Click here to see ratings, reviews, specifications and prices on Amazon < < <
Before continuing with the review, let's get the basic specifications out of the way:
Full reference number: 207.36.013.00
Movement: ETA 2892-A2 (28,800 bph, 21 jewels)
Power reserve: 42 hours
Date complication
Case size: 39 mm (gents), 33 mm (ladies)
Sapphire crystal
Lug-to-lug: 44 mm (gents), 37.5 mm (ladies)
Lug width: 20 mm (gents), 17 mm (ladies)
Thickness: 7.5 mm
Sapphire display back
Water resistance: 3 bar (30 m / 100 ft.)
Baroncelli Heritage First Impressions
My first impressions were overwhelmingly positive. There I was, staring at a $1100 watch that looked like a million dollars thanks to a myriad of well-thought choices. First of all, the golden PVD coating gives the watch a subtly refined presence. Pictures attached here do not do it justice. Mido managed to create a balanced hue of gold which imbues the Baroncelli with an opulent yet understated look.
The raised Roman numerals are perfectly sized. The dial itself has a surprise in store. Rather than choosing a plain white dial and calling it a day, Mido decided on an eggshell texture which can be easily seen up close, rendering the dial more interesting in the process. The hands design is in a league of its own. It really seems that Mido tried its hardest to enhance the design by carefully pondering about every single element in the watch. Though the hour and minute hands are flat, they show a double texture (diamond polished and sandblasted) that gives them the illusion of height. The logo at 12 o'clock and the model name at 6 o'clock use three different fonts which make the dial look even more dynamic, without polluting the essence of a dress watch.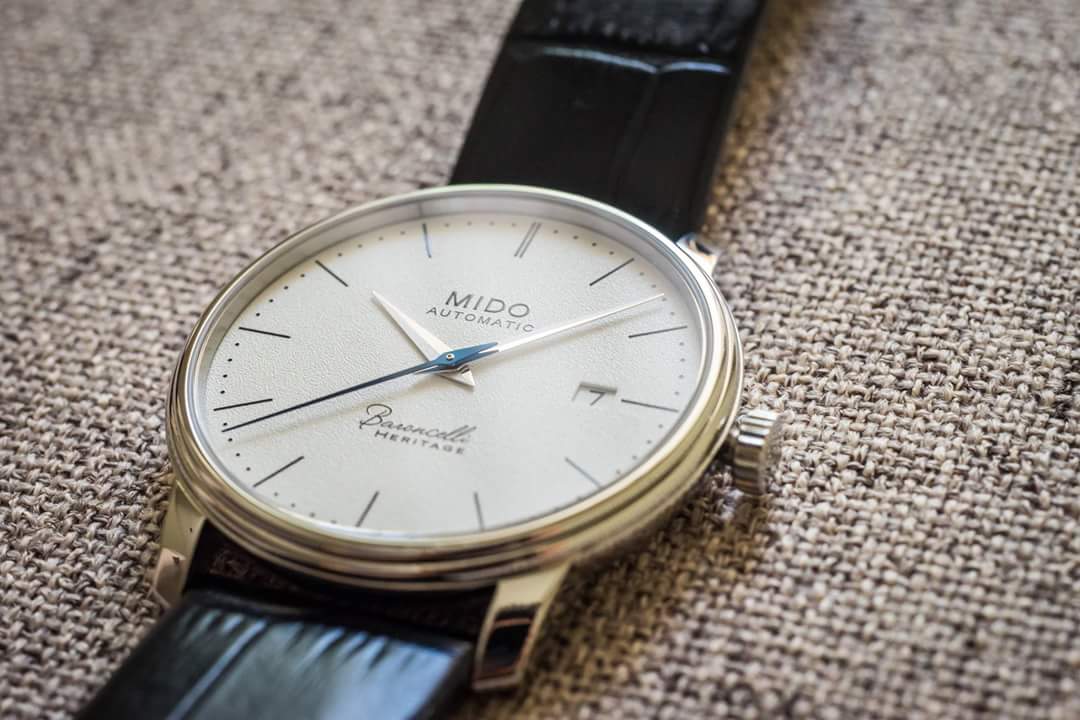 In keeping with the tone of elegance and refinement, the lugs are tastefully sized. Not too long or short, they contribute to the harmony and balance between the case and dial. The thickness of the watch is another success. The 7.5 mm thick case will easily slide under the cuff, as a dress watch ought to do.
The crown is signed with the Mido logo and has three positions to operate the ETA 2892-A2 movement. The middle position allows to quickly set the date. The outermost position hacks the movement to achieve a perfect synchronization with a given reference.
Fit and Function
As is expected for a dress watch, water resistance is minimal. The Baroncelli will resist rain and occasional splashes, but that's about it. Of course, you won't be wearing a suit to a pool party, will you? Luminescence is nowhere to be found here, either.
Turning the watch on its back reveals another surprise. The ETA movement is displayed through a sapphire crystal. Even though the 2892-A2 is not the prettiest movement in the world, it is hand finished just the right amount to justify the presence of a display back. Blue screws and a golden-hued escapement grace the face of this Mido-decorated ETA.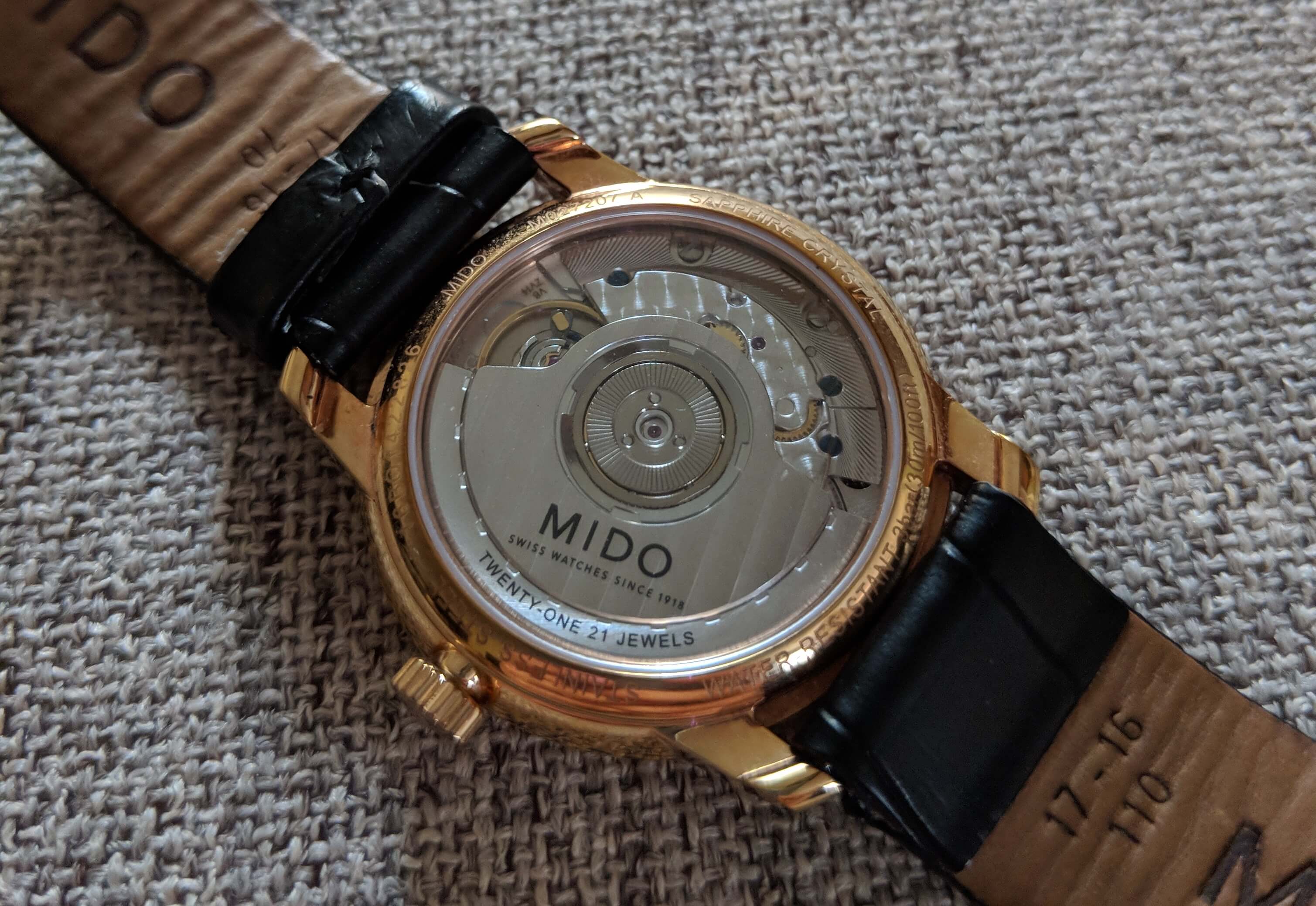 > > > Click here to see ratings, reviews, specifications and prices on Amazon < < <
Now, on to the leather strap. I will be blunt. This might be the worst strap I've ever used. Though it doesn't look half bad from a distance, handling it is another matter altogether. Flimsy and cheap doesn't begin to describe it. However, and I'm being perfectly honest here, I've found I don't care at all. To keep costs down, I'd rather Mido focus on the watch itself and attaching whatever strap they want, as is very clearly the case here. Straps can be easily replaced. A quality watch cannot. Potential buyers of the Baroncelli better start looking for a quality strap elsewhere.
Before wrapping this up, let's go back to the title of the review. Where are the other two watches I mentioned there? As it turns out, I was smitten with my wife's watch. I felt so proud of getting her such a high quality timepiece that I immediately sought one for myself. As luck (or not, you will judge later) would have it, Mido offers this very same watch in a gents 39 mm size. At the time, my collection included divers, chronographs and digital pieces, but not a single dress watch. After lusting after the Baroncelli for weeks, I decided to take the plunge. The stainless steel version (reference M027.407.16.010.00) checked all the positives of its smaller brother. This time though, the numerals were printed on the white eggshell-textured dial. Also, in this version the seconds hand is heat-treated to a gorgeous electric blue which glows beautifully when the light strikes just right.
However, tragedy struck after some weeks. I slowly came to realize that dress watches are supposed to wear small. Having a six-inch wrist limits the variety of watches one can comfortably wear, especially of the dressy kind. With a lug-to-lug length of 44 mm, this bigger Baroncelli was pushing it too far. Rookie mistake and a costly lesson. I admitted defeat and started to look for the 33 mm version of the same very watch. This is how I got hold of the third, and hopefully last, watch of this story (M027.207.16.010.00). A previously used watch, it needs some maintenance, but everything else looks fine.
Final Thoughts
Let's wrap it up. Without a shadow of a doubt, I'm convinced this is the best sub-$1000 dress watch you can get. It checks every box you can think of, and it looks much more expensive than it is. Remember to do your homework and carefully decide which size works best for you, and don't forget to look elsewhere for a replacement strap.