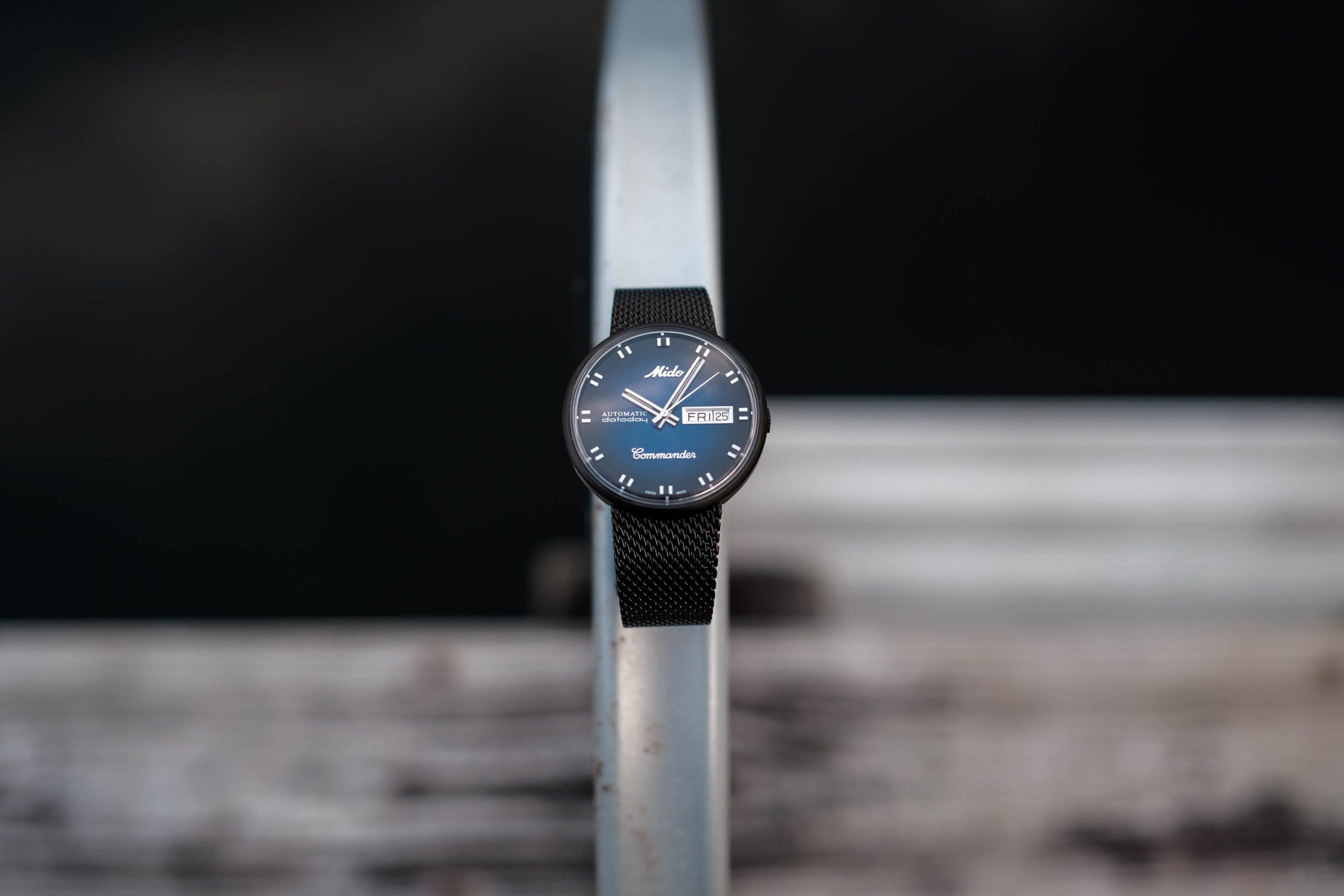 To fans of automatic watch movements, Mido is one of the world's most outstanding manufacturers. Founded in 1918, Mido's name comes from the Spanish phrase "Yo mido," which means "to move," and move they do! In the 1940s, they released the world's first central read chronograph, where the stopwatch hands are arranged at the center of the dial. They weathered the quartz crisis of the 1970s by focusing on waterproofing technology. Their Aquadura Crown Sealing system used a cork seal to provide better waterproofing than most of their contemporary competitors.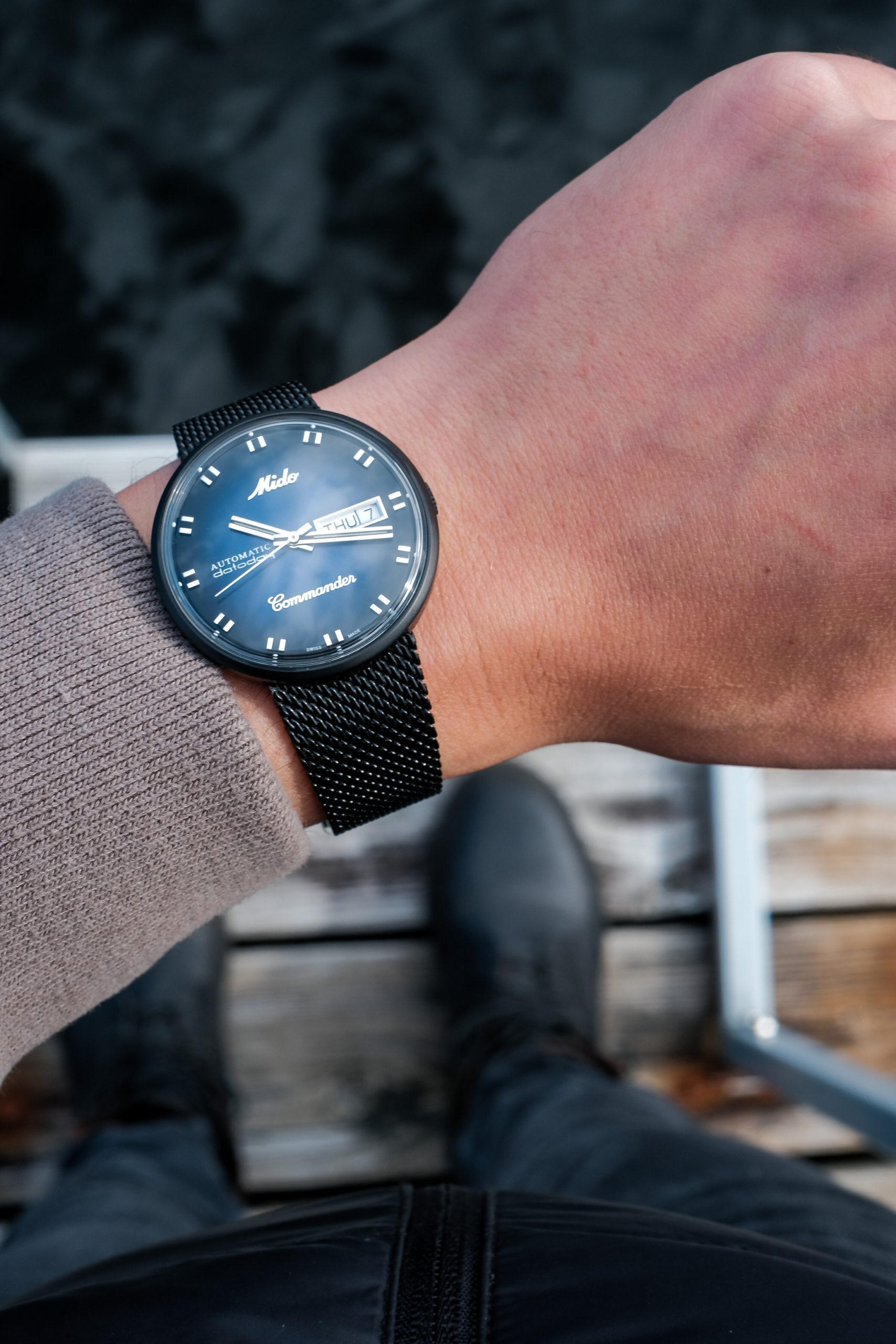 Perhaps Mido's most iconic watch is their Commander line, first released in 1959. It was famous for its one-piece case, which created a sleek design as well as allowing for excellent waterproofing. This year, they've released a new variant, the Commander Shade Blue. I got to take a look at one, and now it's time to share everything I've learned. Let's take a closer look.
Milanese Mesh Bracelet
Normally, I wouldn't start a watch review by talking about the bracelet. After all, it's an accessory, and can be easily changed out if you don't like it. But wow! Mido has equipped the Commander Shade Blue with an absolutely stunning Milanese mesh bracelet. It's jet black, but the high-gloss finish shows off hundreds of individual highlights when it's hit by the light. This makes it equally suitable for formal or casual wear.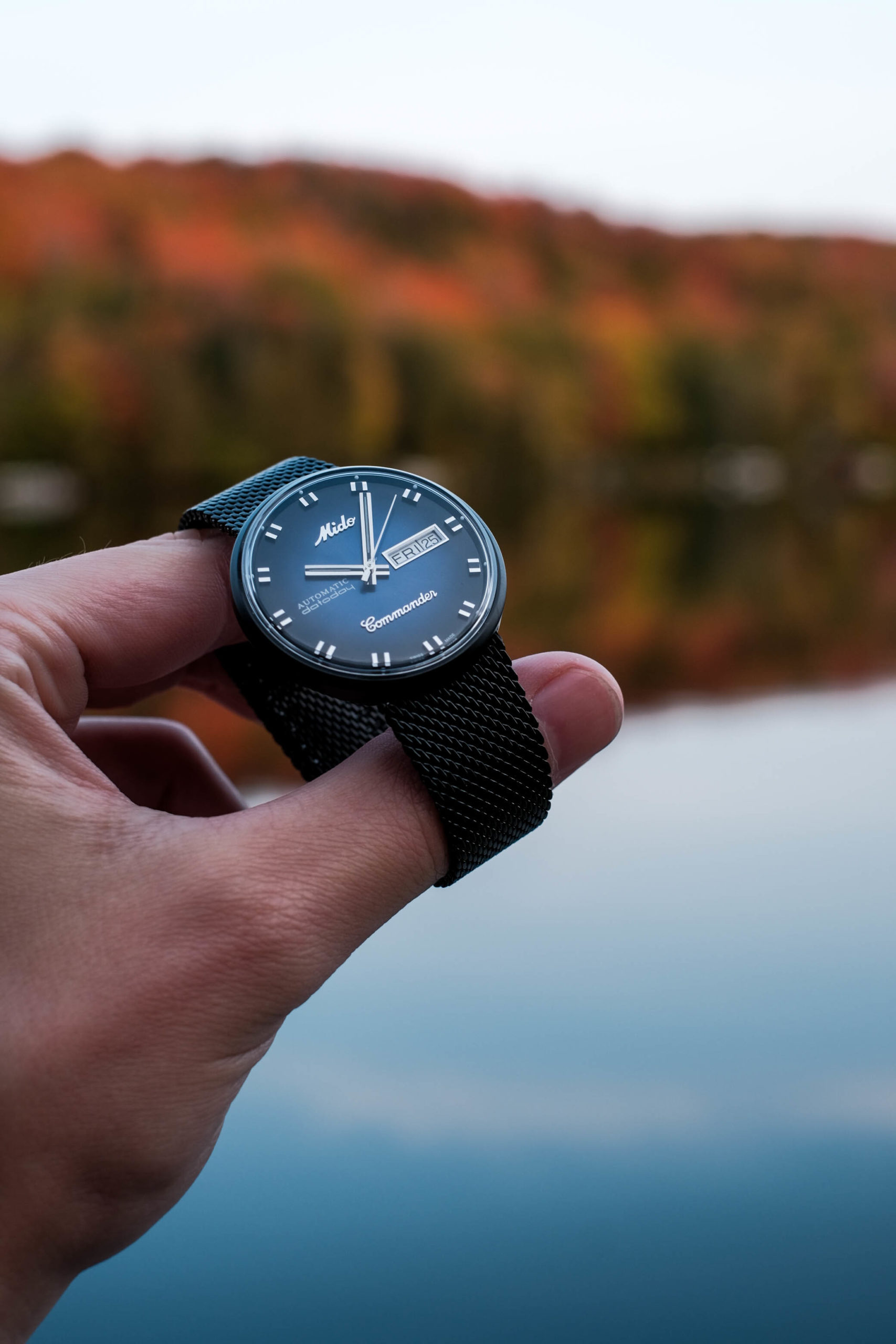 More to the point, the bracelet is just plain comfortable. The fine mesh flexes easily to conform to the shape of your wrist, so there aren't any pressure points or gaps. It's also breathable, with plenty of air flow between all of the links, and a sliding clasp makes it both secure and easy to open. Is a good bracelet sufficient reason to recommend an entire watch? No, but it sure doesn't hurt.
Iconic Single-Piece Case
The Mido Commander Shade Blue has a black steel case that beautifully matches the bracelet. The finish is smooth, with a narrow bezel that leaves a lot of space free for the dial. At this point, I should mention that while I reviewed the Commander Shade Blue, it's also available in ordinary stainless steel and rose gold. Other than the colors, the watches are identical, so everything else I say will apply to all of the new Commander Shade variants.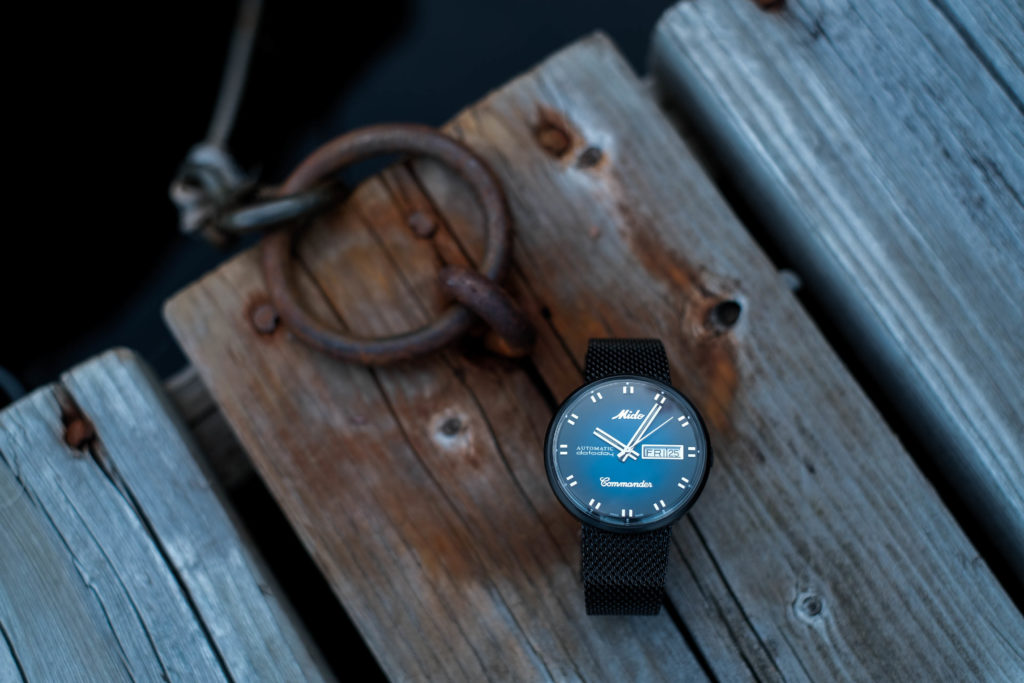 I should also point out that Mido has ditched the single-piece design of the original Mido for a more conventional two-piece design. At first, I was a little bit leery about this change. But after getting a closer look at the Commander Shade Blue, I actually like the new case. It still has a smooth profile, and the small form factor that made the original a favorite. At only 37mm in diameter, it's a bit petite, but the narrow bezel makes it look like a mid-sized watch. Each case comes engraved with an individual serial number, to ensure the watch's authenticity. The Commander Shade Blue is water-resistant to 50 meters, so it's suitable for showering, but not for swimming.
Tribute to Paris
Mido might be a Swiss manufacturer, but the Commander Shade Blue is inspired by French watchmaking traditions. As a tribute to the design's heritage, the dial is arranged to resemble the Eiffel Tower. The Eiffel Tower is well known for its dual struts that appear lightweight, but nonetheless support the entire structure. The five-minute hashes are all applied silver dual hashes, bringing to mind these dual struts. The hour and minute hands have a similar design, with dual stripes on either side of a black center. The second hand is more understated, with a simple needle shape.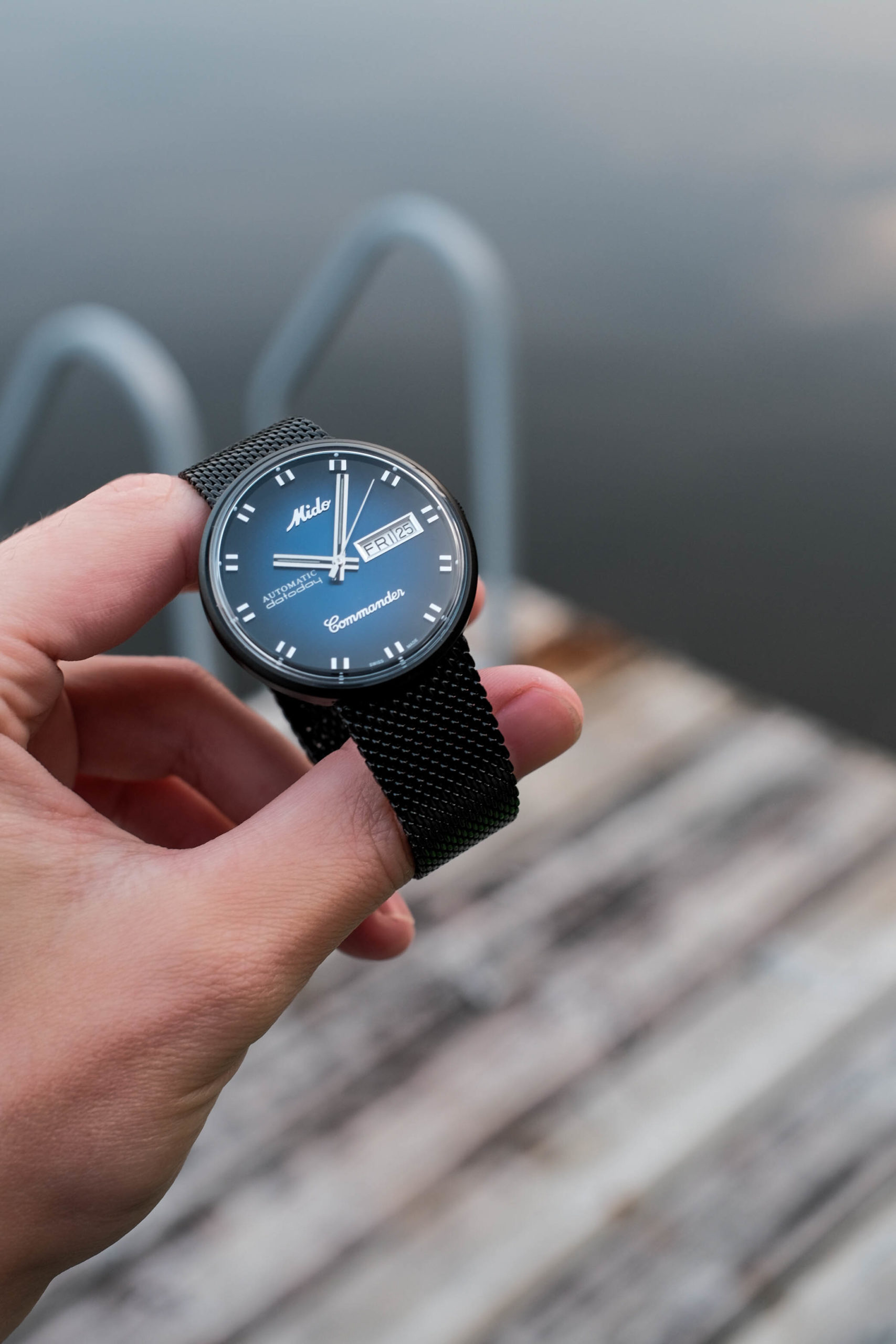 The dial is cobalt blue in the center, but fades to black in a sunburst pattern like you'd find on a Gibson guitar. There's a small day and date window at the three o'clock position, with both the day and the date displayed in black against a white background. Additional silver script reading "Mido," "Commander," and "Datoday," occupies the 12, 6, and 9 o'clock positions respectively. This balances out the dial, with just a small bit of decoration in each quadrant.
The only thing that disappointed me about the design was the acrylic crystal. At this price, I would have expected to see sapphire, and preferably some anti-glare coating. That said, acrylic is highly shatter-resistant, so the crystal is at least very durable.
Powerful Movement
The Mido Commander Shade utilizes the Mido Caliber 80 movement, which is a modified variant of the ETA C07.621. It's a reliable, accurate movement that you won't have to reset more than once every few weeks. That said, its most impressive feature is the power reserve. With a reserve of 80 hours, the Mido Caliber 80 lives up to its name. This makes the Commander Shade Blue a great choice if you're only going to wear it every few days. When you decide to come back to it, it will still be ticking.
For more information visit the Mido official website here.