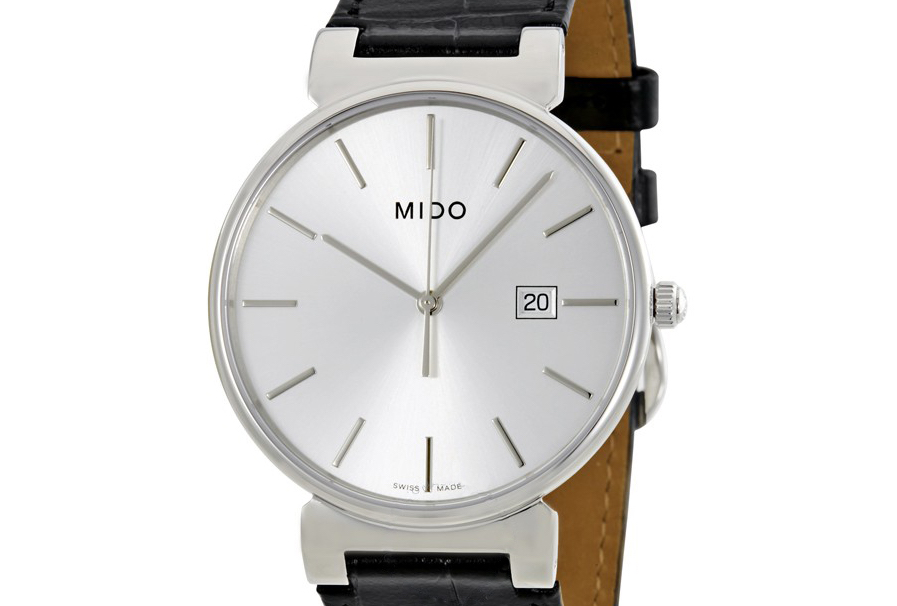 Let's not deceive ourselves. Mido's Dorada collection isn't exactly an incarnation of originality and innovation. Unfortunately, the M0096101603120 is no exception. But, and it's a big but, it would be wrong to say that this piece doesn't provide excellent value for money.
On the contrary, it's the traditional, timeless watchmaking that has kept Mido in the game for so long, competing fiercely with the widely known and esteemed brands such as Tag Heuer and Breitling. It is the generous usage of high-quality materials and excellent movements that has enabled Mido to mark its centenary this year. And the M0096101603120 is convincing of the company's intention to retain quality watchmaking at the forefront of its business.
Mido's philosophy revolves around quality. The brand is committed to providing watches that are durable, aesthetically pleasing and functional. And out of their production line came some impressive, understated watches. Impressive at a second glance. Stick with us as we have a closer look at the Mido M0096101603120 from the Dorada collection.
> > > Click here to see ratings, reviews, specifications and prices on Amazon < < <
Design
Mido has centered its design values around architectural glories. Thus, most of their watches seek to blend principles of creativity and longevity in together with timeless looks. To an eye, this watch is most likely the most basic model from the Dorada collection. Its appearance merges all elements of simplicity you want to see in your typical classic dress watch.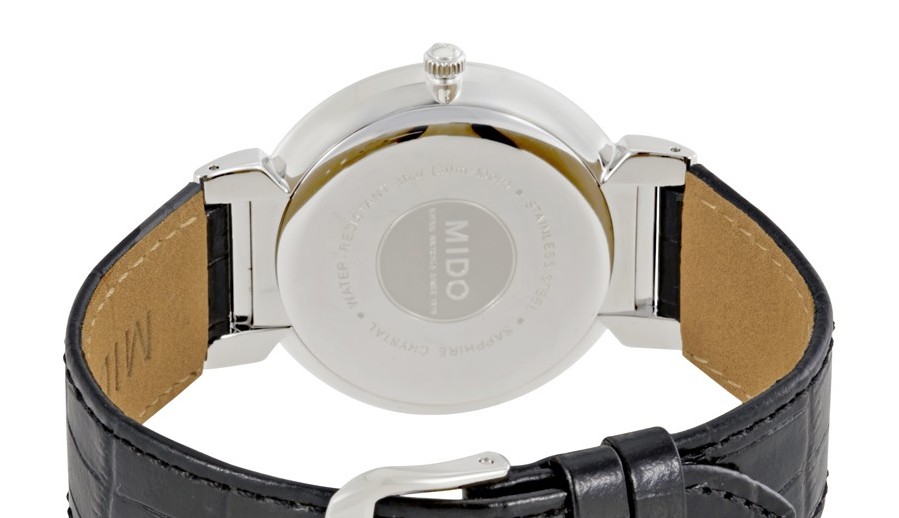 If you have an affection for vintage-looking watches, you are likely to fall for this timepiece. Dressed in stainless steel, the watch is set to give off just enough shine to make a statement and not come across flashy. With 38mm in diameter, it provides perfect size without too much wrist presence while remaining proportionate.
Dorada Dial
The clean silver dial has a touch of shade to it which is a nice departure from the bright white date complication wheel. It comes in a very subtle sunburst polished finish for an added aesthetical edge. On its surface lies a very simple affair. We have the elongated sword minute and hour hands with a standard seconds hand. The ETA 955.412 calibre used in this watch sometimes comes without the date function and the seconds hand, which is not the case with this model. It seems as if Mido recognized the importance of these components in a classic dress watch and decided on including that upgrade.
> > > Click here to see ratings, reviews, specifications and prices on Amazon < < <
I particularly like the alignment of dial elements on this dial. The hour hand reaches right to the beginning of the raised silver baton markers and the minute hand overlaps with them. Everything on the dial is very symmetric and proportionate indicating the level of attention to detail Mido has put in this dress timepiece. Even the width of the hour and minute hands is the same as the width of batons. Very neat.
Skinny Case
It is also worth mentioning the case is protected by sapphire crystal for added scratch and impact resistance. With watches that you are likely to wear for a long time on important occasions, this is a much-appreciated addition.
Whatever your formal attire is, you know you can rely on this timeless piece to boost your statement and provide you with reliability and durability.
Croc Strap
The croc-embossed leather strap that comes with the watch comes in black, matching the dial well. It features a tang clasp and side stitching detail. As with most leather straps, it may take some time to break in, so don't be alarmed if it feels stiff on your wrist at first.
ETA Movement
Underneath the face is the ETA 955.412 caliber. This is one of the finest Quartz movements out there, built to last and cause you minimal worry when it comes to maintenance and upkeep. Propelling other notable watches such as the Hamilton Jazzmaster and some Tissot models, this movement is adorned with 7 jewels and features battery end-of-life display function.
The main benefit of this movement is arguably its size. Because it's so small and elemental, it allows for the incredible 5.8mm case thickness. With such a slim body, you can rest assured the watch will fit neatly underneath your sleeve and cause a negligible amount of obstruction as you wear it. Reliable and seamless is what you're looking for in a dress watch and Mido delivers.
Indeed, a watch movement is the most important parts of the watch – it's what keeps it ticking and that's why you will want to ensure you have a genuine, proven movement in your timepiece.
Final Thoughts
All in all, with Mido M0096101603120 you know you're getting adequate quality for your buck. There are other attractive options in this price range from the likes of Tissot, Orient, and other popular brands. And while these are certainly worth considering, they will hardly beat the level of quality Mido has put into this elegant little stunner. If you're looking for a reliable timepiece with a timeless design, you should look no further.
> > > Click here to see ratings, reviews, specifications and prices on Amazon < < <