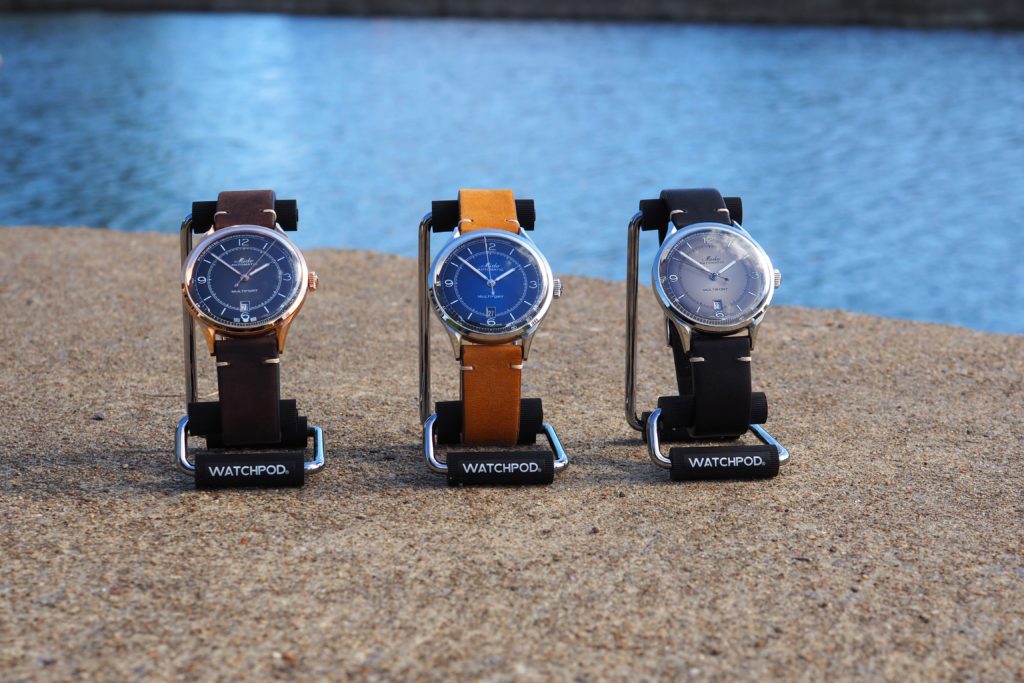 Where I come from, across the pond in Great Britain, Mido is not a brand that carries much weight. Of all the Swatch Group brands, it seems to have the least presence, and quite markedly so. However, during my time spent working in the United States and Canada, I came to see the brand in a new light, and appreciate it in a way I never had done before.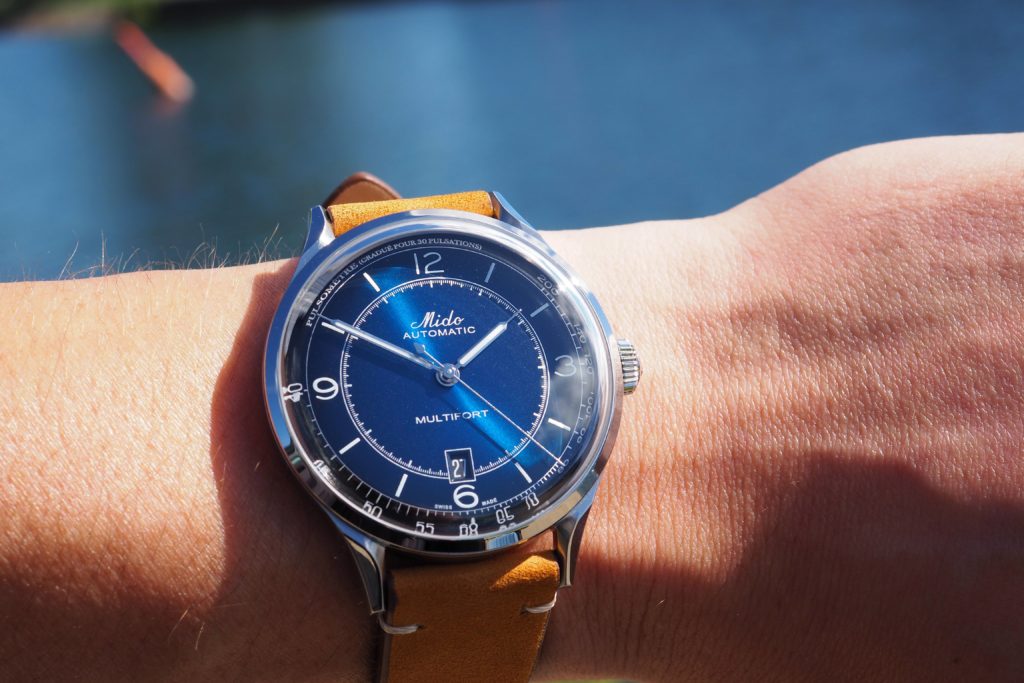 When it comes to entry-level Swatch Group brands I have quite a lot of time for Hamilton, slightly less for Longines, and rarely any time at all for Tissot (that said, of all three, Tissot has the most power to shock me with an occasional gem). Had you asked me to rank Mido alongside one of these brands before my exposure to them in the wild, I would certainly have slotted them next to Tissot.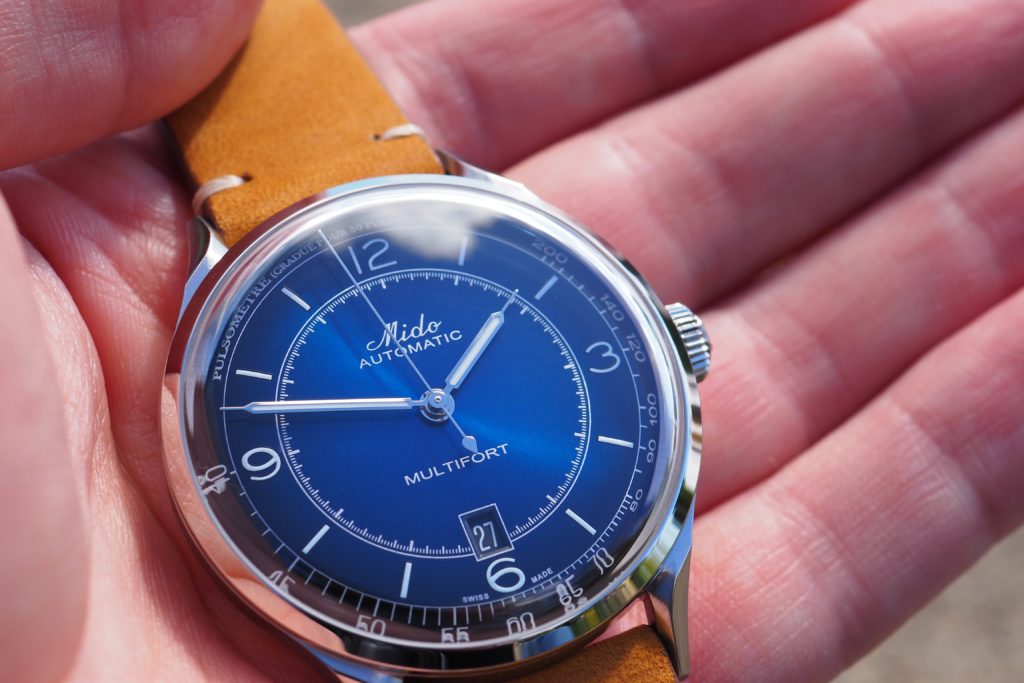 Now, having had the chance to handle and wear its watches, I would happily place them alongside Hamilton. And, as is the case with the Mido Multifort Patrimony watches reviewed here, I would argue they stand toe-to-toe with the very best its sister brand has to offer.
All Three Colorways
We were lucky enough to take in three of these beauties, one in each of the three colorways offered. Here they are, all present and correct, displayed on the new WATCHPOD stands, which are finally available for purchase.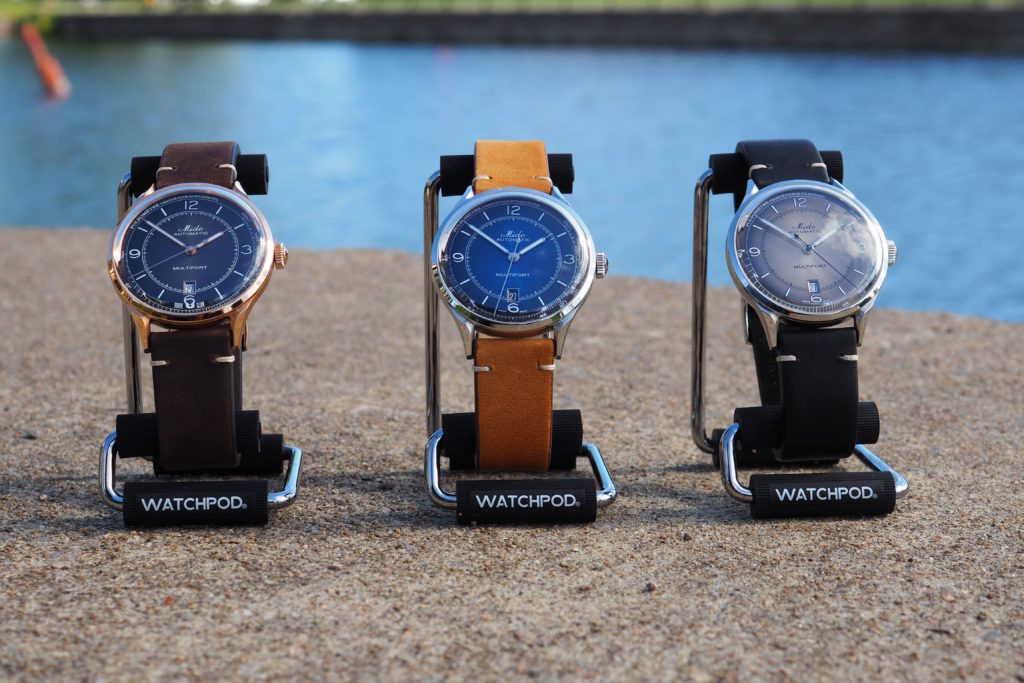 The one thing I disliked about the Multifort Patrimony collection was just how hard it is to find fault with it. Seriously, with almost all releases a trained eye can zero in on one aspect that could be improved, or is at least likely to cause controversy. With this release, none of the usual complaints fit: The hands are an excellent length, the date wheel color is appropriately inverted, the Arabic numerals used at the cardinal points are uninterrupted by the date window, there is minimal text on the dial, and there is adequate lume on the hands and numerals. It is, in short, a watch of a truly excellent composition.
Day to Day Use
But is it reliable? Is it comfortable to wear? Sure, it looks great in photos, but is it a willing and able daily companion? Well, in a word, yes. Yes, it is. The Mido Multifort Patrimony watches are powered by the Caliber 80, which is a slightly modified ETA C07.621he .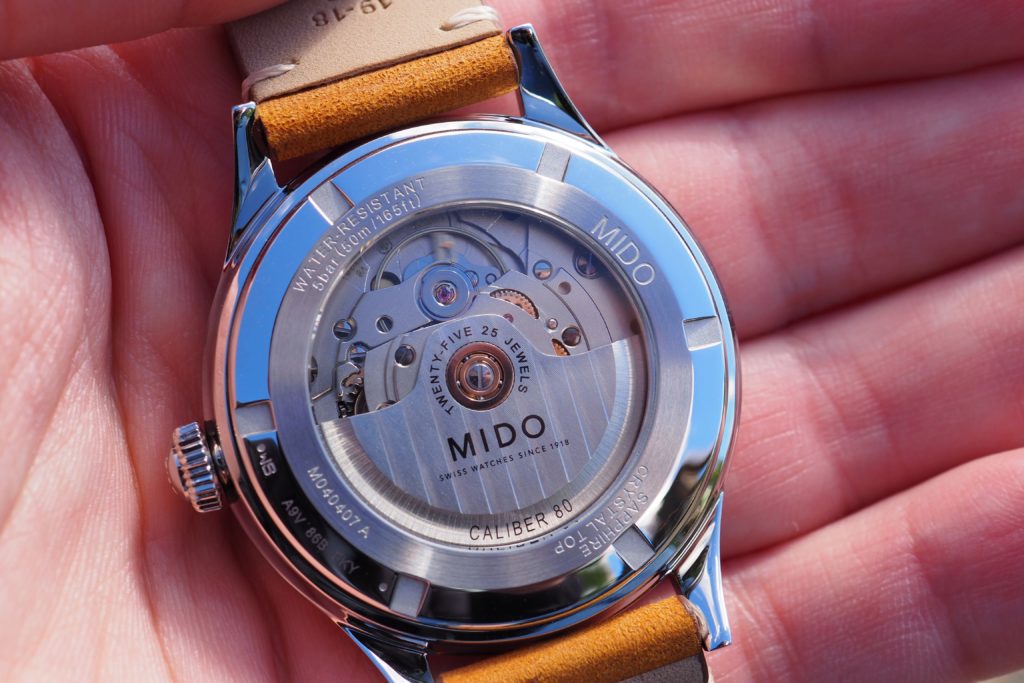 It is mostly undecorated, with only the oscillating weight being treated to Geneva striping. Personally, I don't mind the bog-standard blasted finish of ETA movements, but it does look more at home in the more utilitarian styles I'm often attracted to. In a dressier piece like this perhaps it would have been nice to have a fully decorated movement, but for my money, the most cost-effective and sensible route was taken here.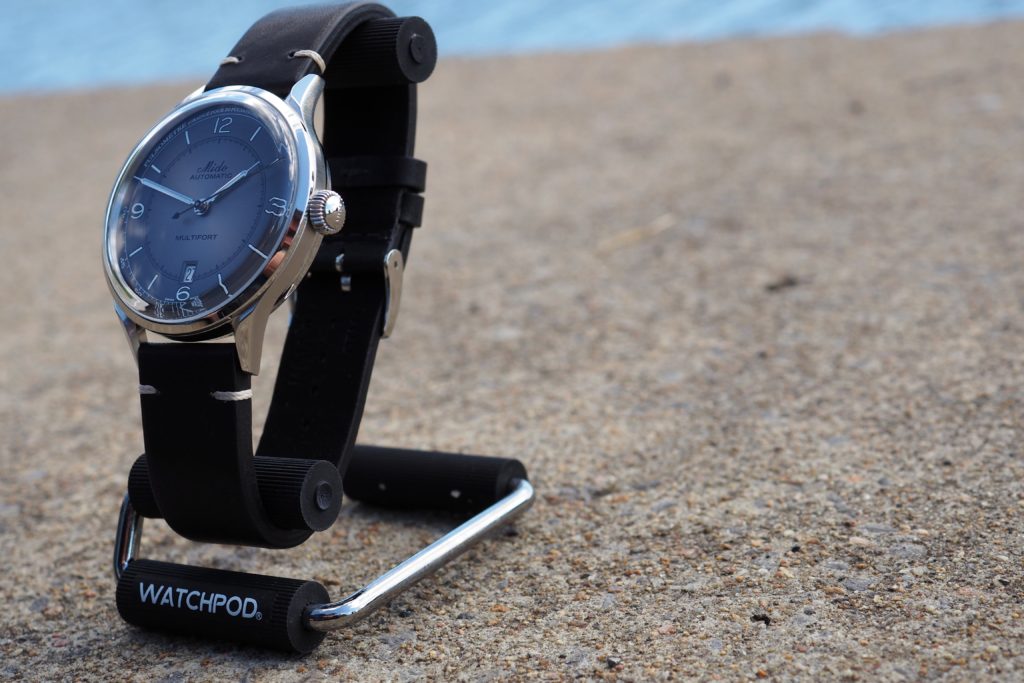 The ETA C07.621 is a pretty darn decent movement to find in a watch attempting to differentiate itself in a very competitive price bracket. The 80-hour power reserve does just that. We take three-day-plus power reserves for granted too often these days. Not so long ago, running for more than 2 days straight would have been seen as a talking point (especially for a watch of this value). And now we're looking at very affordable pieces that can handle the Friday-Monday lay down and then some with ease.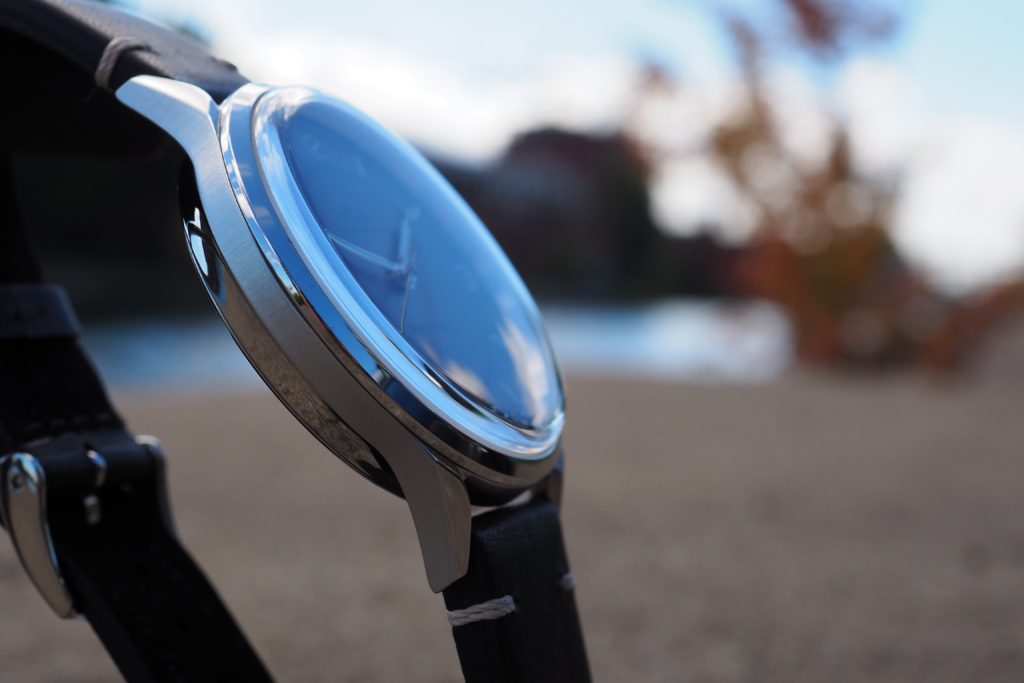 What the Mido Multifort Patrimony series also does with ease, is sit on your wrist. The 40mm case with a very slender bezel sure seems to take up a lot of real estate thanks to its relative slimness (coming in at 11.95mm thick), but it is not a very large watch in reality. The elegant bombé lugs have a whiff of classicism about them and are a delicate embellishment on a case that didn't need it but looks better for it.
Multifort Patrimony Dial
Dial design is a balancing act. Too much furniture and the whole affair looks cluttered; too little and you're walking the line between minimalistic and simplistic and hoping to god your target demographic gives you the benefit of the doubt.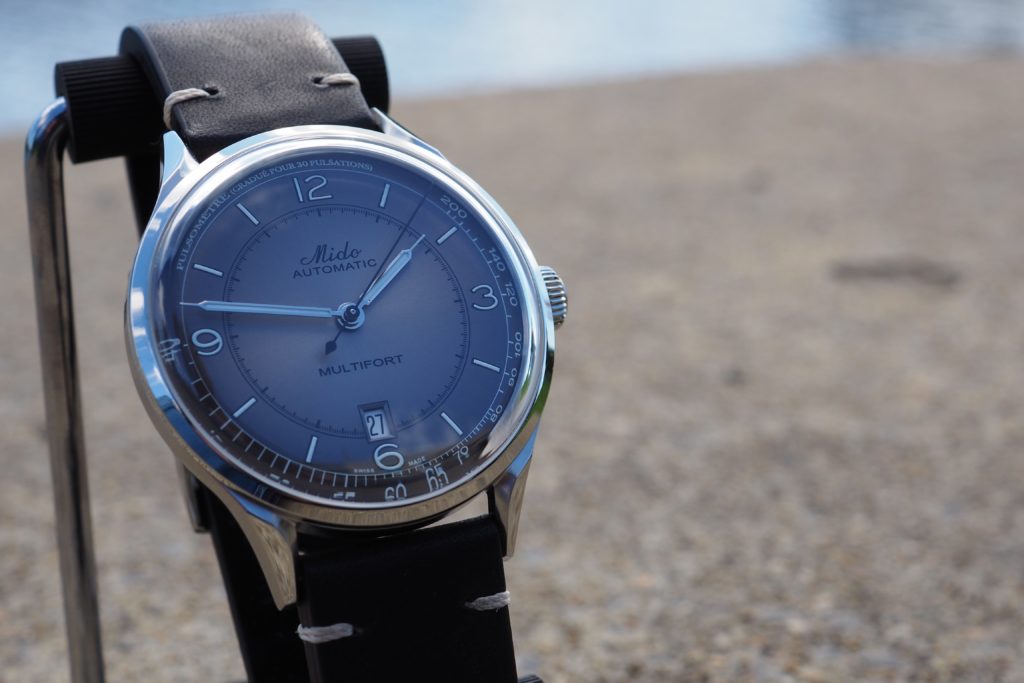 Here the Mido Multifort Patrimony excels, making a mixture of Arabic numerals, stick markers, a minute track, and a Pulsometer work together in absolute harmony. The placement of the date window is a real treat, allowing the hours to do their business unimpeded. And those syringe hands, as I mentioned before, are just beautiful. Their length is refreshingly on point, and the delicate tear-drop counterpoise of the seconds hand adds a characterful dimension to the whole handset.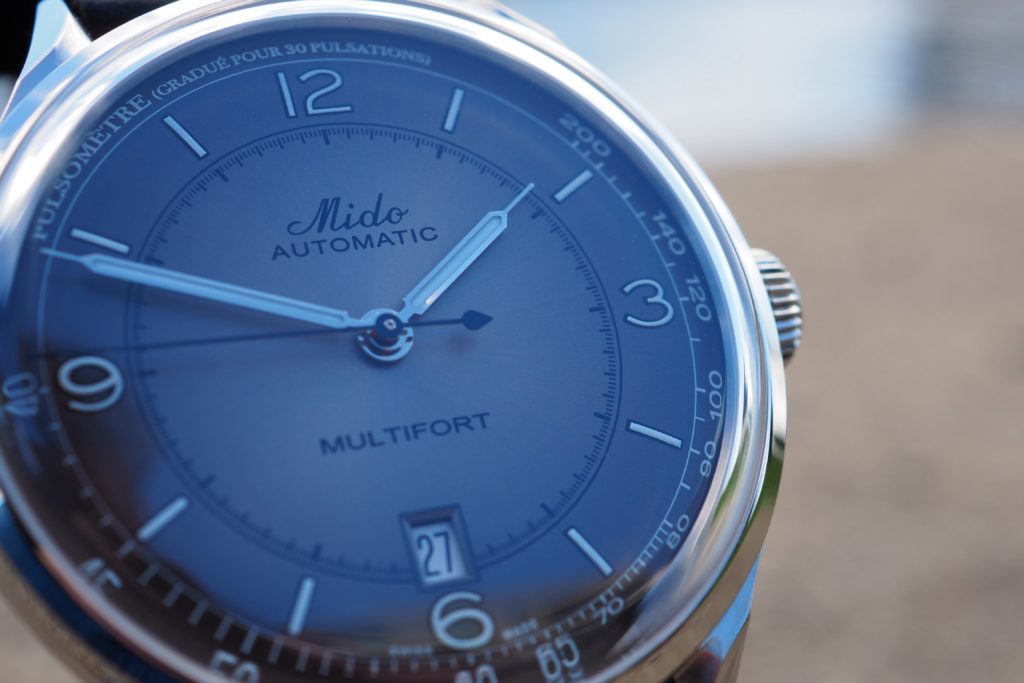 My personal favorite is the black-gray degradé dial. Although in several of our pictures (especially the close up of this model above) the numerals have a greenish hue, this is the lume beginning to activate in the sunlight under which these pieces were shot. In normal conditions, the lume appears whiter, but it is pleasing to see how ready to glow it is with just minimal exposure.
Final Thoughts
And now to the nitty-gritty; the price. As with all entry-level watches, the retail cost is a huge factor. Remarkably, the Mido Multifort Patrimony watches are on sale for $890 for the steel case versions (recommended) or $1,000 for the rose gold PVD reference. To me, this seems an awful lot of watch for the money that looks very likely to be a keeper that will wear well for many years to come. It does make a difference where in the world you are in regards to the name provenance, but in North America, I would rate this as one of the market's top buys for less than one thousand bucks.