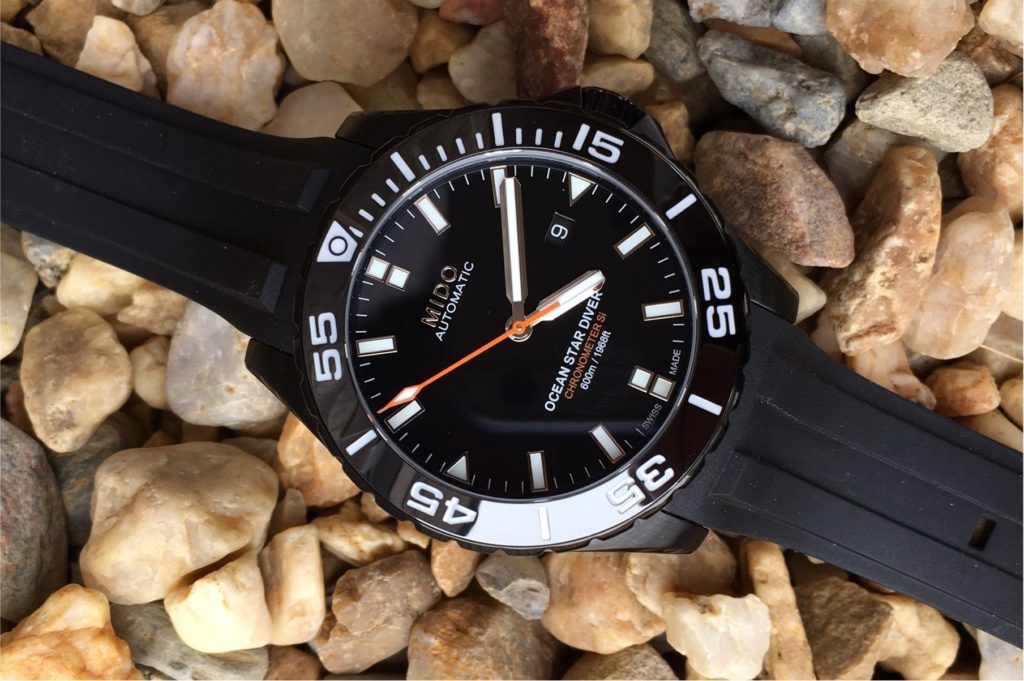 There comes a point in every watch enthusiast's life, where the idea of an all-black watch becomes appealing. One day you wake up, and suddenly the watches you own don't excite you the way they used to. You stare blankly into your watch box: eyes glazing over the rows of naked stainless steel. You think to yourself "do any of these come in matte black?"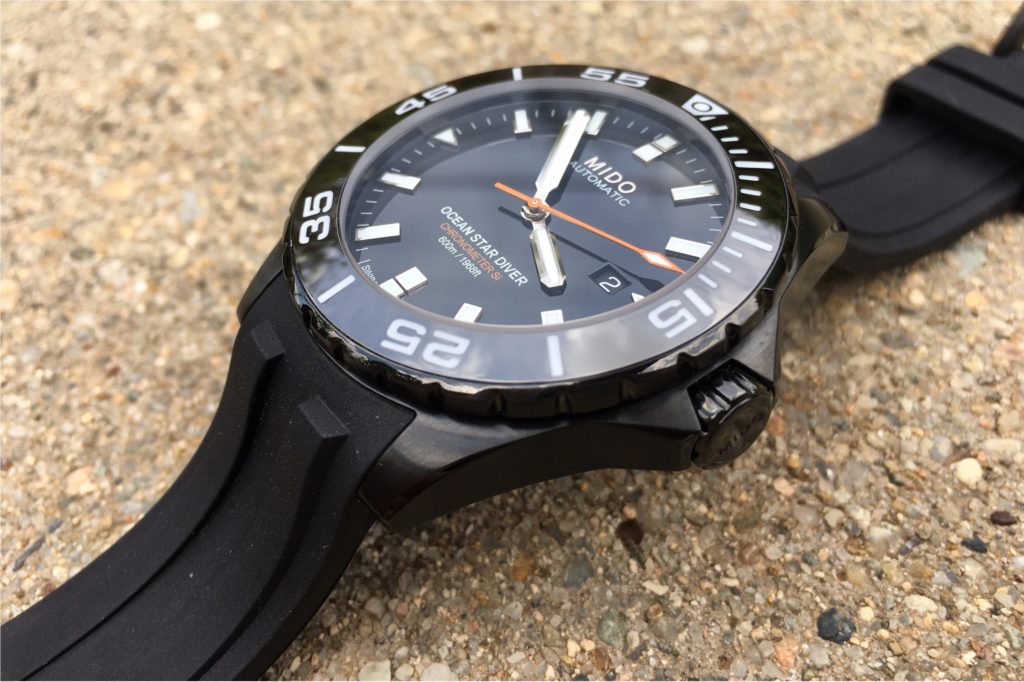 Maybe the seed was planted the first time you saw a picture of a Heuer Monaco "Dark Lord" on a forum somewhere. Maybe that seed sprouted a little more every time you saw a blacked out Rolex, or Hublot, or IWC on your Instagram feed. Now your thirst for an all-black watch has fully blossomed. But the problem isn't that you aren't cool enough to rock an all-black watch (you totally are). Rather, the problem is the distinct absence of five figures hidden somewhere in your couch cushions.
Enter the Mido Ocean Star Diver 600 in black. At $2,425 AUD at the time of writing, this version of the Ocean Star is one of the few interesting black watches at this price point. Weighing in at just a tick over 43mm in diameter and 14mm in height, this DLC coated diver was a very forceful reminder of Mido's potential value-add. Admittedly, it was not a brand that I was especially familiar with prior to reviewing this piece, but my experience with the Ocean Star has taught me to start paying more attention.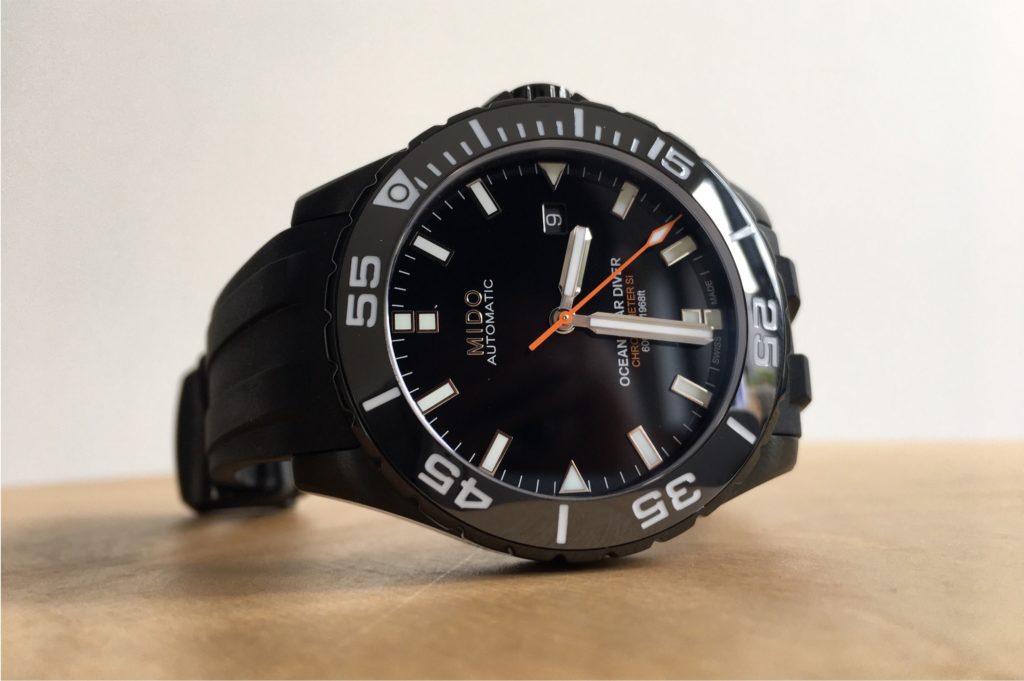 The first word that came to mind when I saw this watch was "cool", followed closely by the words "bad" then "ass". The matte black DLC case and glossy black ceramic bezel (with a push-down locking mechanism) accented with white markers and orange seconds hand and dial text, was a highly appealing combination. Throw in some Super-LumiNova on the bezel and dial and slap it all on a fitted black rubber strap: it really sounds like a relatively straightforward recipe on paper, but the sheer awesomeness of its execution cannot be understated. The package as a whole is amazingly sleek and cohesive.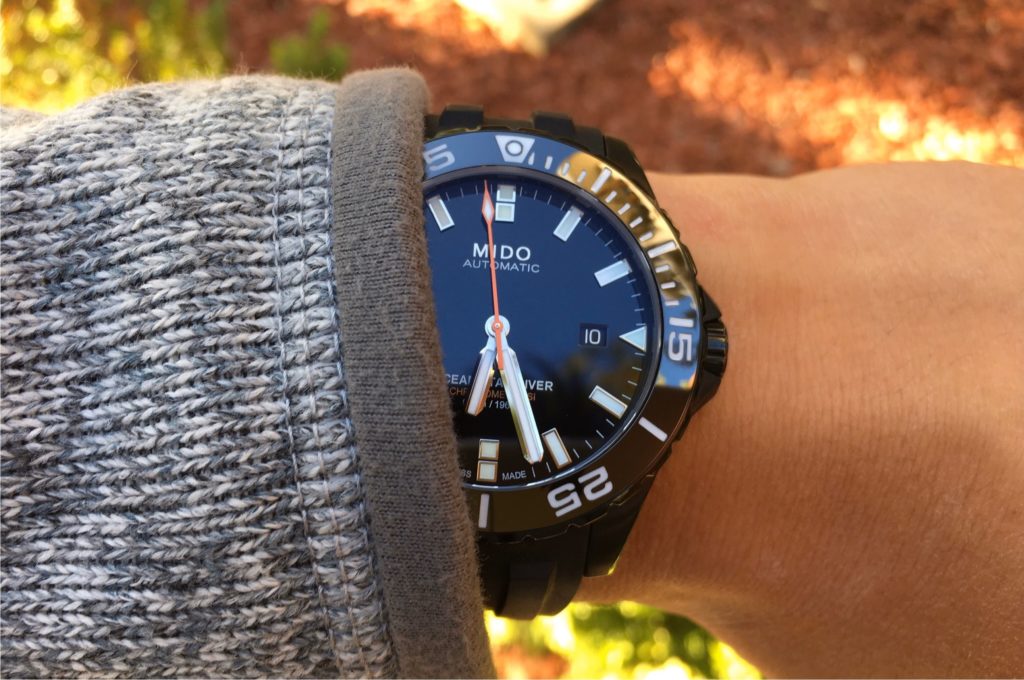 The Ocean Star's coolness doesn't just end at the exterior: it shares the same silicon hairspring technology as the Tissot ballade Powermatic 80, giving it a formidable 80-hour power reserve and a COSC certified chronometer movement. This, in addition to the 600m of water resistance and discretely hidden helium escape valve, give this piece absolutely rock solid horological credentials.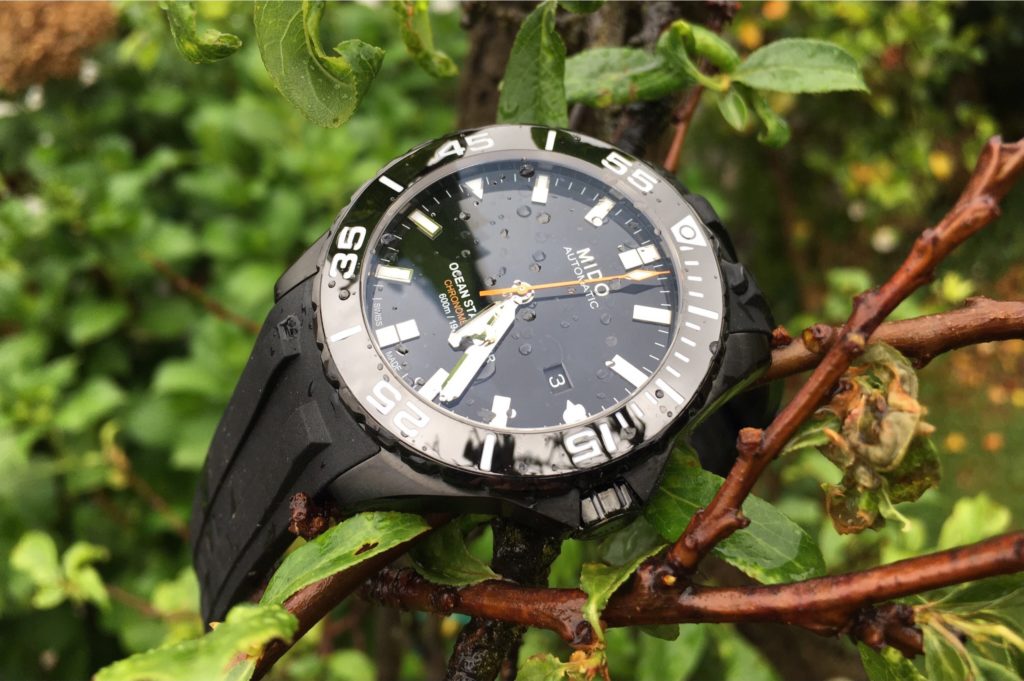 One potential drawback that I had envisioned, was that the novelty of an all-black watch would quickly wear off. I would feel like Bruce Wayne for two days, and then get over it. After all, it's a chunk of black metal on a black rubber strap: it doesn't exactly integrate with my day to day aesthetic. But once I had it on, I was suddenly reminded that I am in fact a watch enthusiast and can therefore do some pretty incredible mental gymnastics to justify a black watch as everyday wear. The fact that an all black dive watch does not go with a blue oxford and tan chinos did not bother me in the least: the Mido Ocean Star made me feel like a rockstar, and that was enough of a reason to wear it.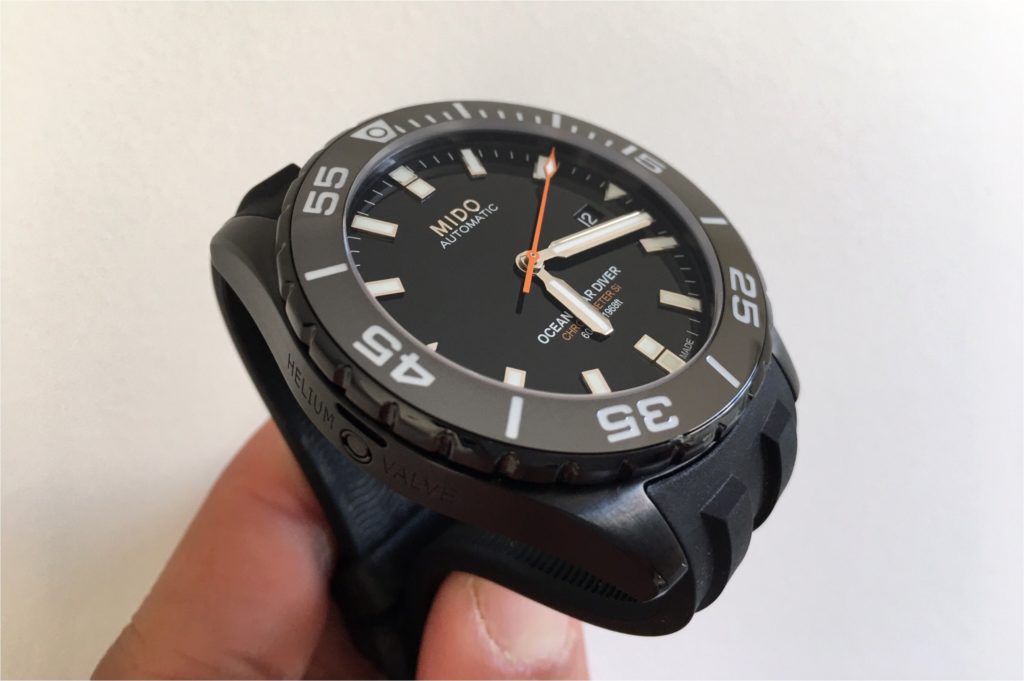 It was also so comfortable I didn't even notice I was wearing it as I went about moving houses. Throughout the review period, I was lifting fridges, loading vans and scrubbing the inside of charred-out ovens with the Ocean Star on my wrist, and often didn't even realise I was wearing it until I needed to check the time. And this brings me to the second potential drawback that did not eventuate. Sometimes you like a watch so much, that you don't want to wear it. They can be like intricately made cakes. Digging a fork into one can feel like you're destroying a work of art. When it came to the Ocean Star, I was concerned that my overly enthusiastic watch-wearing would leave some scratches on the black case (something that black-watch owners tend to worry about). But there was something so reassuring about this piece that once it was on the wrist, I completely forgot to worry. And that, ladies and gentlemen, is one of the highest compliments you can pay a watch. A watch that you won't waste energy worrying about, is a watch you'll actually wear and enjoy, and the Mido Ocean Star passed that test with flying colors.
The only dislike that I had about this piece is that I had to return it. That and maybe I would have liked to try the textured grey dial version with the stainless-steel case, but hey, beggars/reviewers can't be choosers.
At $2,425 AUD, the Ocean Star sits in arguably one of the most competitive price brackets for watches. Though you may very well be considering other options within this range, know that if you land on this Mido, it will have been money well spent.
To have a look at Midos' full line of offerings you can visit their official website here.