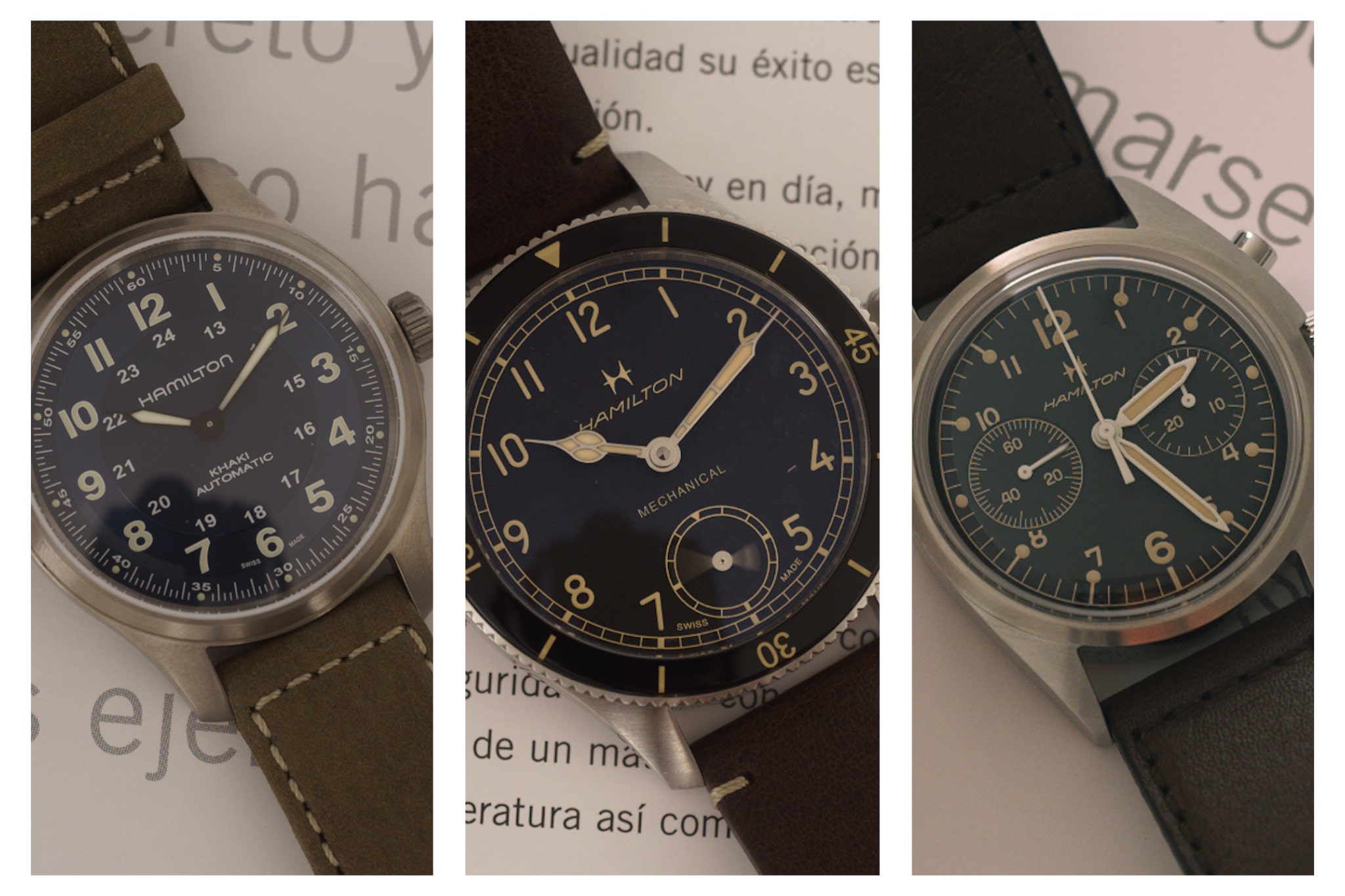 It's late Monday evening and I'm enjoying a cup of coffee at my brother-in-law's dinner table. As an experienced connoisseur, Eduardo patiently tries to instill in me the joys of coffee brewing. Multiple coffee bags come out of his cupboard, each one more sophisticated than the last. A digital scale ensures the exact weight of coffee is used in each cup. Water temperature is measured to the first decimal place. As an absolute coffee neophyte myself, I feel like Jules Winnfield at Jimmy's house in Pulp Fiction. Just like Jules, I would've been perfectly happy with some freeze-dried Taster's Choice, but here I am being treated to some serious gourmet stuff instead. As Eduardo goes on about acidity and temperature, I can't help but notice he speaks about coffee with the same passion I do about watches.
The three gorgeous timepieces Hamilton sent me for review await home. I've spent the last couple of weeks admiring them, jotting down some quick notes, taking pictures, and finally putting them back in the box they came in. I've wished I could bring them along on my daily routine, which includes a little desk-diving, and some ball-throwing at the Little League field my son trains at every afternoon, but alas, I feel all three watches are too big for my wrist. An idea comes to mind. Why not try something different this time? Carefully gauging Eduardo's wrist, I get the feeling he can wear them just fine. Besides, as an accomplished architect and master woodworker (but definitely not a watch person), I think he can provide some visceral insight about the timepieces.
Half an hour later, I am back with the three watches and my trusty Sony A7. We crack open a couple of beers and start shooting.
Hamilton Khaki Aviation Pilot Pioneer
Full reference number: H76719530
Case material: Stainless steel
Case diameter: 43 mm
Caliber: ETA 6498-1
Thickness: 13 mm
Lug width: 20 mm
Water resistance: 10 bar (100 m)
Straight from the battle-filled skies of WWII arrives the Pilot Pioneer. My personal favorite of the three, this phenomenal watch harkens back to the pocket watches of yore, whose enormous dials ensured easy legibility in the cockpits of combat aircrafts. At the time, it wasn't unheard of for pilots to strap pocket watches on their wrists, so the next natural step was to create a watch specifically meant to be worn on the wrist. This particular timepiece displays large Arabic numerals encircled by a railway track outer scale. The cathedral hands are a little too flashy for my taste, but I can't deny they bring a sense of beauty and grandeur to an otherwise austere dial. The faux patina is sure to be a point of contention among watch enthusiasts, but I personally don't mind it. However, my favorite feature is the small seconds dial at 6 o' clock. It always strikes me as a classier, more discreet alternative to central seconds.
The applied lume works wonders at night, easily shining for hours due to its great surface area. My only complaint is that there is no way to tell the watch is working in the dark, since the seconds hand has no lume. Small price to pay to get a small seconds dial at 6, as far as I'm concerned.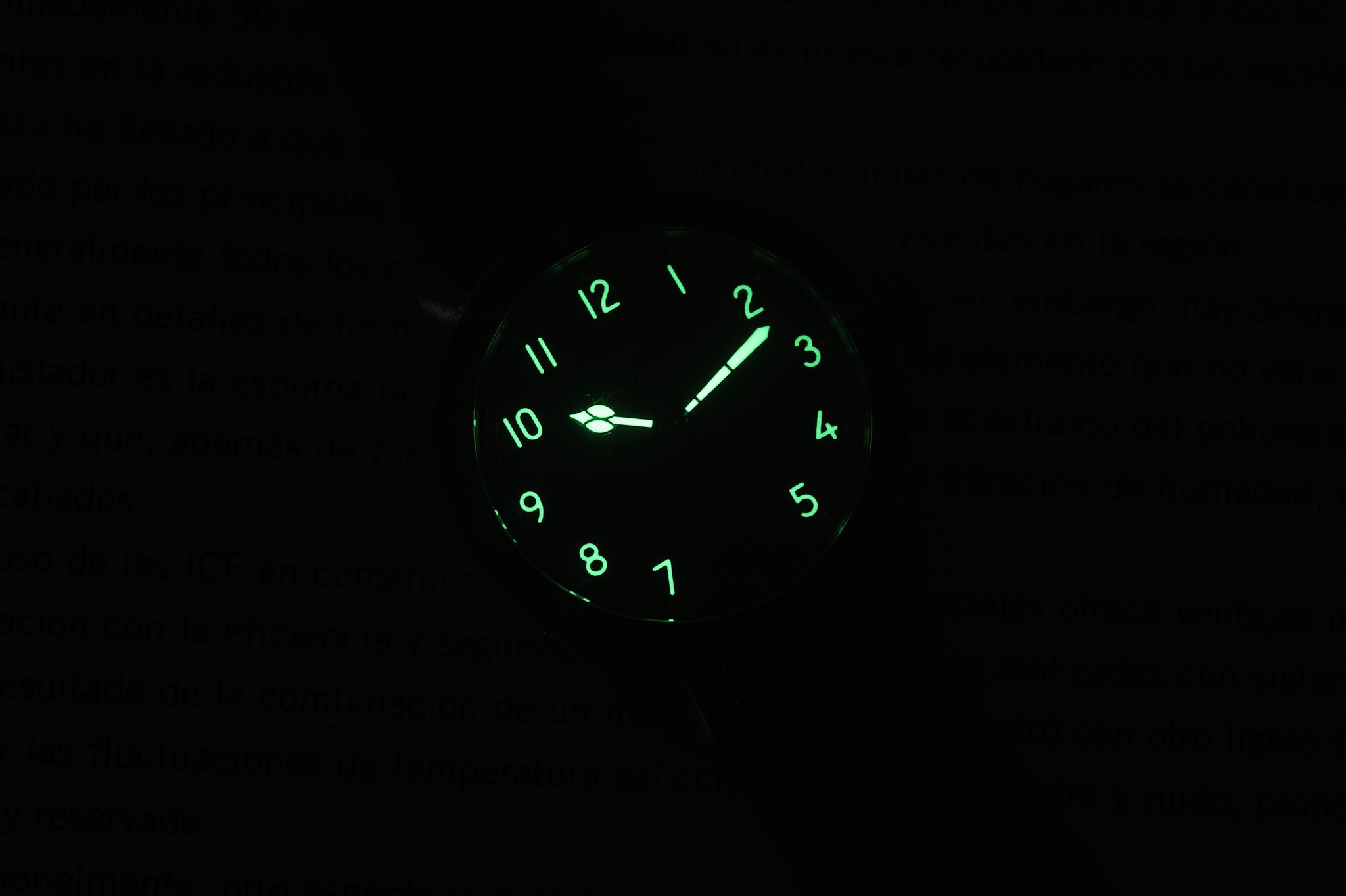 At 43 mm in diameter, the case commands a hefty presence in any wrist, big or small. The lugs are a tad chunky, and I'm not crazy about them as I prefer more slender, pointier ones, but in this case I think they work quite well as an organic extension of the case. The oversized onion-shaped crown ensures that even glove-wearing pilots can operate it with no issues whatsoever.
Diver watches being my absolute favorite style of timepieces, it took me some days to get used to the bidirectional 60-click bezel. It is functional, yes, but I have to admit I missed the precision of a 120-click bezel.
The beautiful manual-winding ETA 6498-1 caliber can be seen through the display caseback. At a relatively slow frequency of 2.5 Hz, it leisurely coasts through time. I quite enjoyed putting the watch to my ear to hear the slow tick-tock, as it felt almost therapeutic.
A rather fun fact arose as Eduardo tried this watch for the first time: he was surprised to learn there are watches out there that are not powered by batteries. As expected, an intense discussion about value vs accuracy ensued, but that's beyond the scope of this review.
Hamilton Khaki Field Titanium Auto
Full reference number: H70545540
Case material: Titanium
Case diameter: 42 mm
Caliber: H-10
Thickness: 11.45 mm
Lug width: 20 mm
Water resistance: 10 bar (100 m)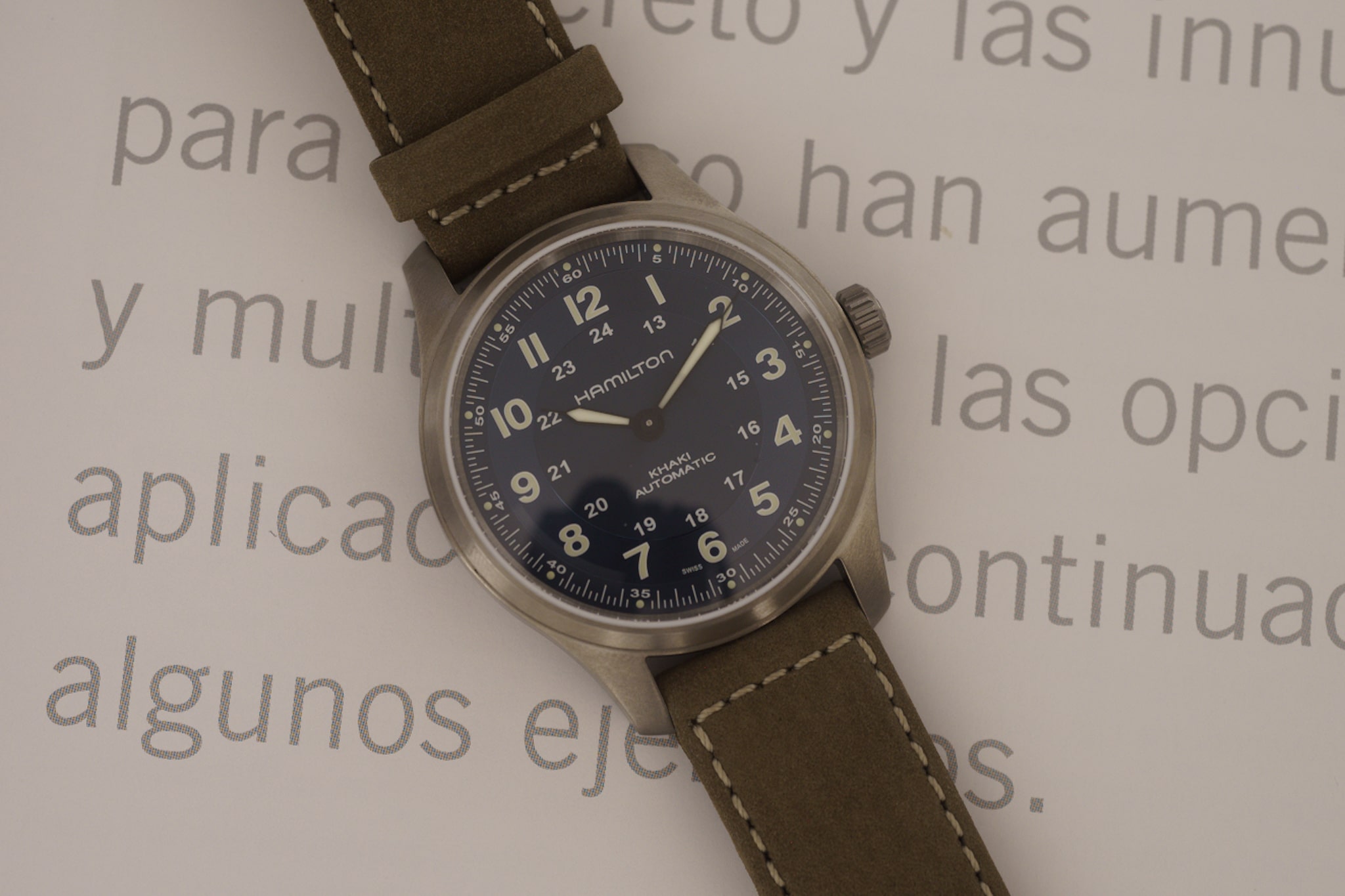 If I wasn't a hardcore (desk) diver, I would definitely pick a field watch for my everyday needs. Lately, I've been toying with the idea of buying a Khaki Field Mechanical, since I think it's safe to say that there are few field watches more iconic. However, the Titanium Auto takes the best elements of its older brother and adds some modern touches for a more contemporary look. First off, the stainless steel case is upgraded to a titanium one, which makes for a much lighter watch. Additionally, the case has increased in size to a more modern 42 mm. However, I think the greatest upgrade can be found in the beautiful sunburst sector dial, which looks gorgeous in navy blue.
To be perfectly honest, I'm torn on this last change. On one hand, it adds pizzazz to a practical and tough watch. On the other hand, I can't help but wonder if this is the correct choice for a rugged timepiece. In all fairness, I must admit I'm being a little hypocritical here, as my favorite watch of all time (the 1993 Omega Seamaster Professional) added a lot of unnecessary elements to an otherwise utilitarian watch, namely the skeletonized hands and over-the-top blue waves, not to mention the utterly ridiculous and busy-looking bracelet, but hey, the heart wants what the heart wants. I will say this much, though: the way the Khaki's sunburst dial plays with the light is just fantastic, and I applaud Hamilton for having the courage to do this. I am now morbidly curious about the gray variant, which I can only imagine is even more attractive.
The marvelous automatic H-10 caliber takes a peek to the outside world through the small caseback window. This absolute beast of a movement has a power reserve of 80 hours, giving ample peace of mind to the wearer should they leave it on the nightstand for the weekend. Now, why would anyone in their right mind do that, I don't know. This is most definitely the perfect weekend watch: simultaneously tough, functional, and classy.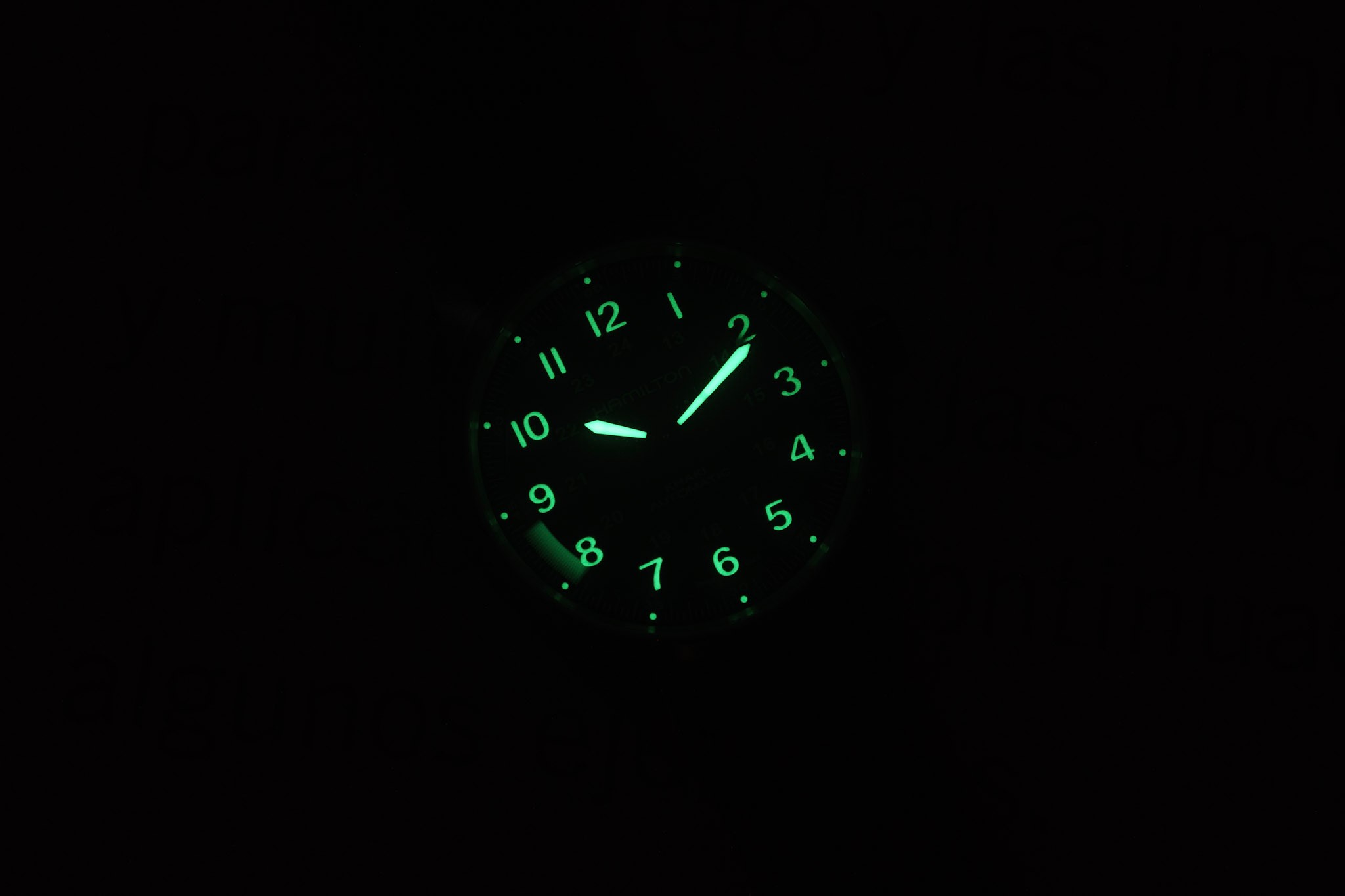 The applied lume is great. All numerals are coated in a thick layer of Super-LumiNova, so visibility at night or in the cockpit of an airplane shouldn't be an issue. Even the seconds hand is lumed here, so there is always an indicator that the watch is working properly.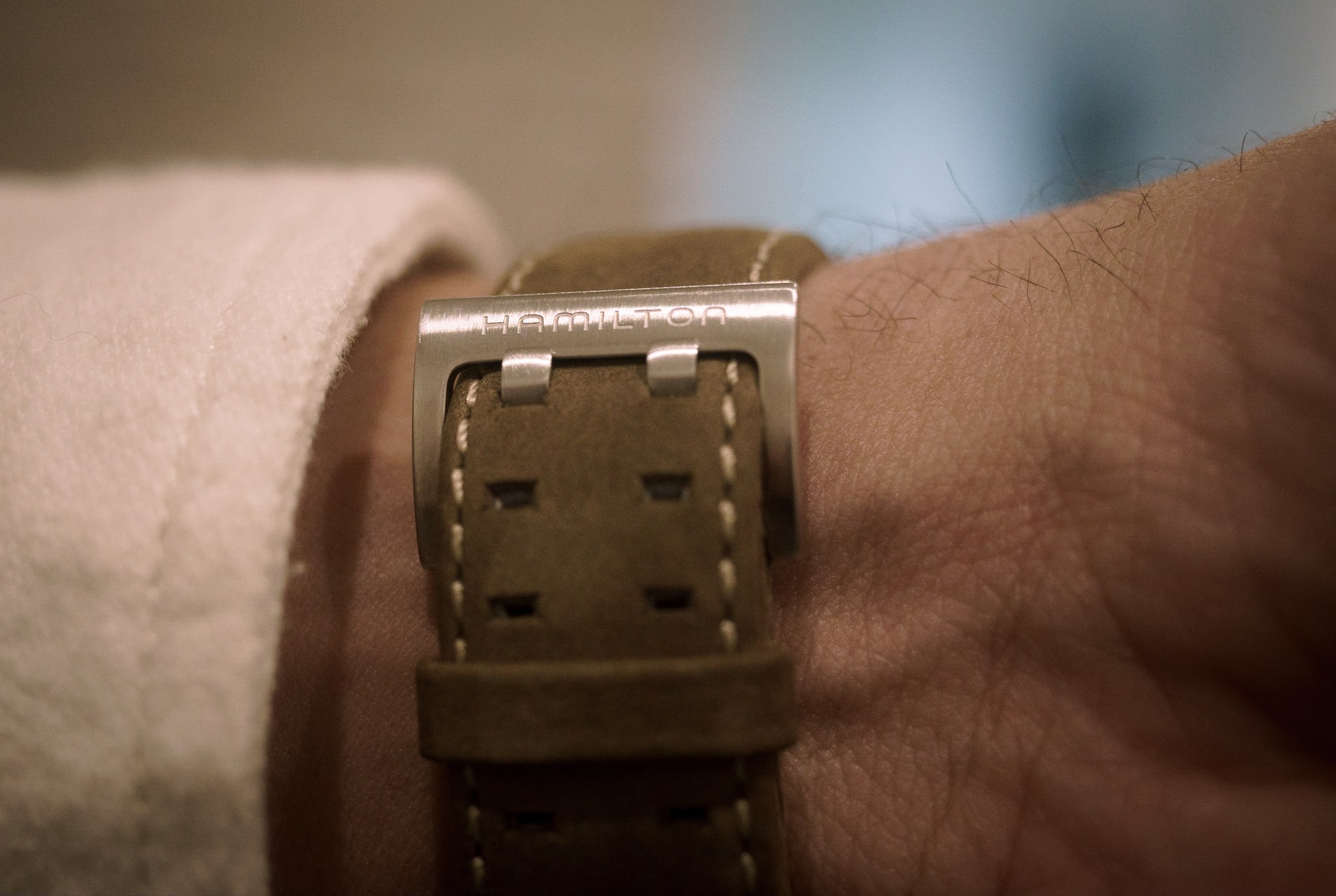 On a small negative note, neither Eduardo nor I were big fans of the buckle. It is shaped like an "H" and honestly feels like a hassle to operate. Conversely, the leather strap is doubly perforated to match the buckle, but we both felt it looked a little bit tacky. This is a tiny nitpick since we are aware that almost nobody will notice it, except for the wearer, and even then this would only happen when putting the watch on or taking it off.
Hamilton Khaki Aviation Pilot Pioneer Mechanical Chrono
Full reference number: H76409530
Case material: Stainless steel
Case diameter: 40 mm
Caliber: H-51-Si
Thickness: 14.35 mm
Lug width: 22 mm
Water resistance: 10 bar (100 m)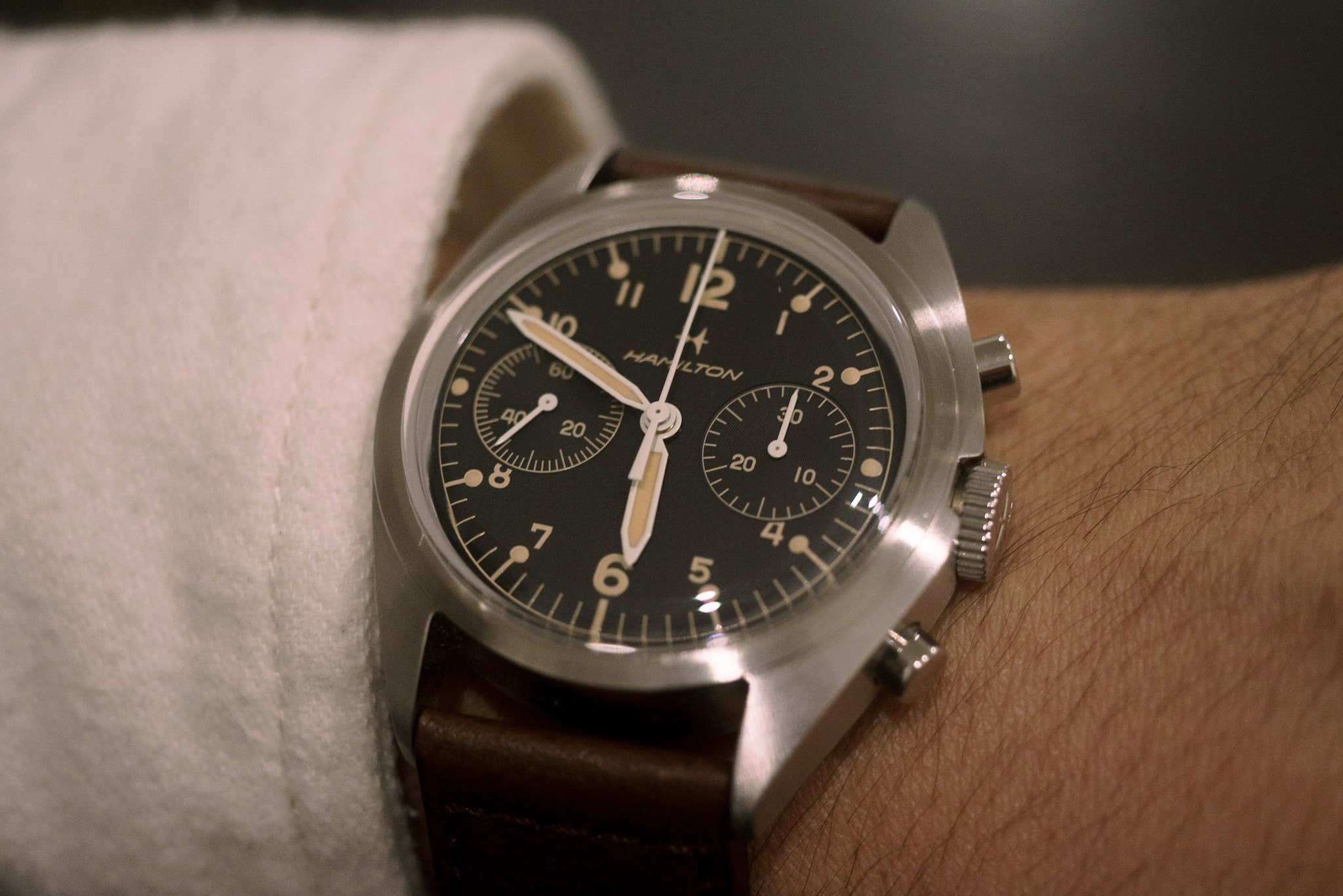 Eduardo was immediately smitten with this one. I, on the other hand, think the asymmetrical case shape is more of an acquired taste, but I'm glad there's something for everyone here. Admittedly, I fell head over heels for the dial. While I usually like tri-compax chronographs better, the bi-compax dial of the Mechanical Chrono won me over, perhaps because its symmetry acts as a counter for the asymmetrical case. Both subdials tastefully cut off the smaller numerals at 2, 3, 4, 8, 9, and 10, while the bigger 6 and 12 elongate the vertical weight of the dial. The beautiful faux patina perfectly complements the brown leather strap and gives off an overall earthy vibe. The syringe-shaped hands are clean and simple, while the textured matte dial is exactly what I would ask for in a tool watch.
Even with a 40 mm case diameter, the watch wears big enough due to the pronounced thickness. The H-51-Si caliber ticking away inside the case makes the watch wear big, but it has its own perks. For starters, the balance spring is made of silicon, greatly enhancing the antimagnetic properties of the watch. Furthermore, it has a power reserve of 60 hours, which is nothing to scoff at for a 28,800 bph movement.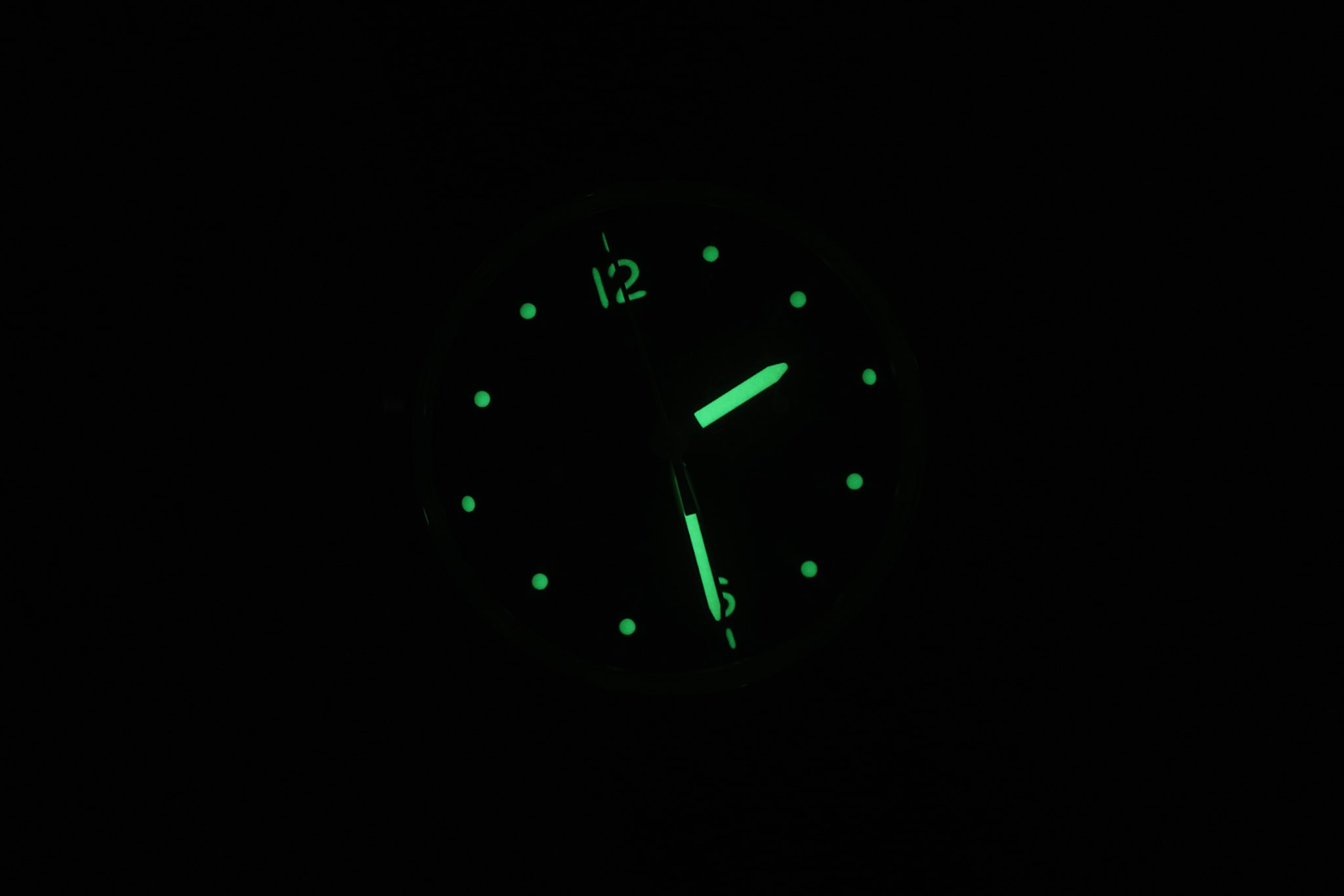 Since some numerals are cut off by the subdials, Hamilton chose not to coat them in lume, instead opting to apply lume to the indices themselves. I guess this is better than trying to lume some numerals, and the end result is decent and serviceable enough, though not as eye-catching as either the Pilot Pioneer or the Titanium Auto.
The buckle of the Mechanical Chrono is H-shaped, too, so the same thoughts about the Titanium Auto apply here.
Closing thoughts
After putting the watches back in the box, we spent some time talking about our hobbies. Tonight, Eduardo has gained a little more respect about horology and will definitely think about getting his first watch (Hamilton is a strong contender). As for myself, I'm still no big fan of caffeine, but maybe I will take up tea brewing as a new hobby. And of course, I will keep celebrating the art of horology and timepieces for the foreseeable future.
For more specs and information visit the official Hamilton Watches website here.