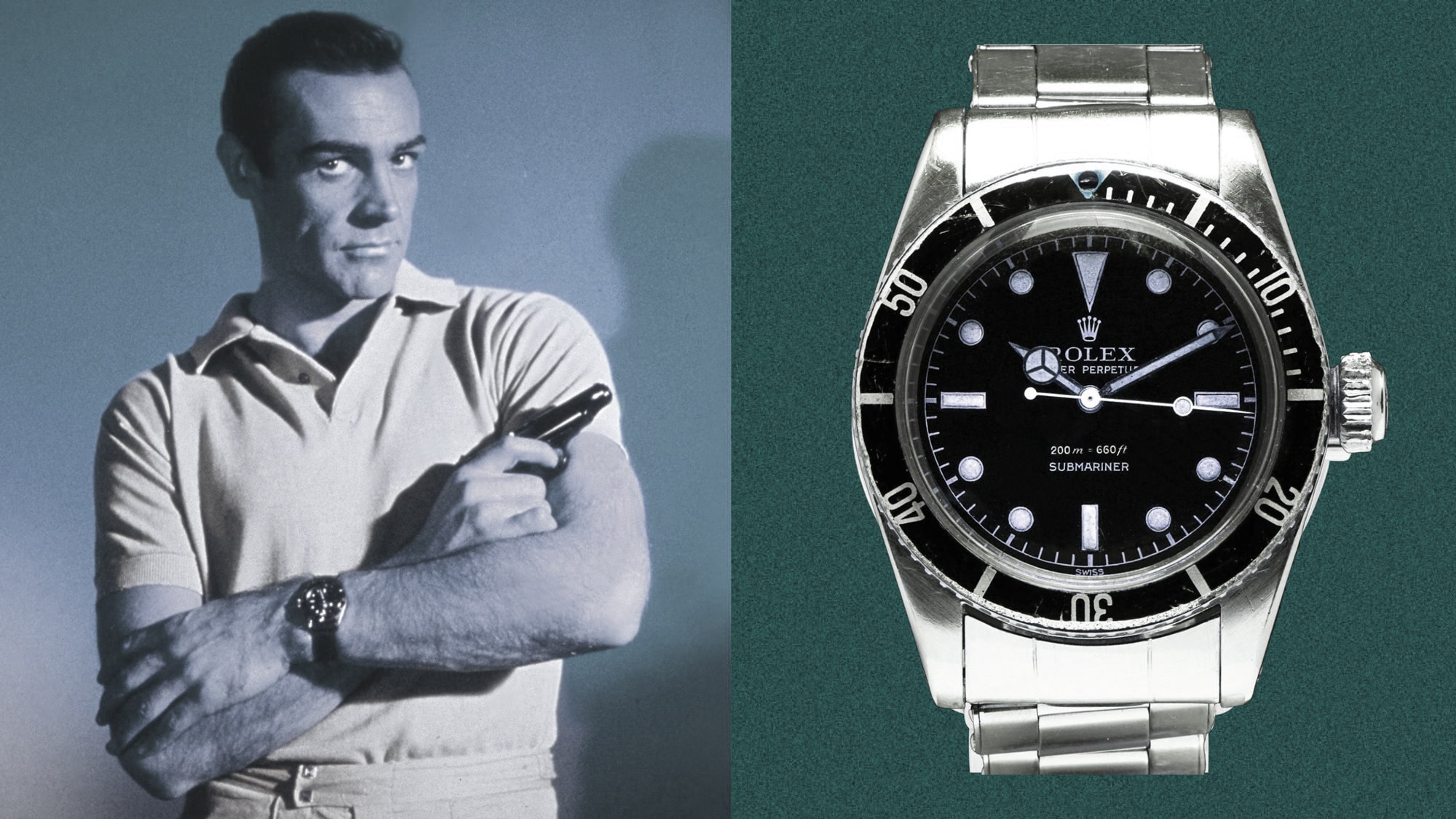 Ever since the movie Dr. No was released in 1962, James Bond has had a special place in cinema history. With 24 films to date, and a 25th to be released this fall, it's one of the most successful franchises of all time. This is mostly because of its eponymous hero. Whether he's being played by Sean Connery, Daniel Craig, or anyone in-between, James Bond is a beloved hero. We know he likes to gamble and womanize, and that he likes his martinis "shaken, not stirred." We also know he's a fan of slick watches. In every Bond film, our hero wears a watch of some kind. And with the exception of the regrettable quartz era, many of these have become iconic. Today, I want to look at two of these watches in particular.
First, I'm going to talk about the Rolex Submariner 6538, which is the original James Bond watch, and the one featured in most films. Sean Connery wore it in Dr. No, From Russia With Love, Thunderball, and Goldfinger. In fact, the 6538 isn't the only Submariner variant to have the nickname "Bond Submariner." The Reference 5508 and 6205 have also made their appearances, but the 6538 is the original, and appears with different straps in each film. It appears in several famous scenes, but you get your best look at it in Goldfinger, when Bond illuminates the dial with a lighter and we get to see a closeup shot. As a huge Bond fan I purchased myself the Submariner 114060, which is in a way the modern version of the 6538 of course also with no date.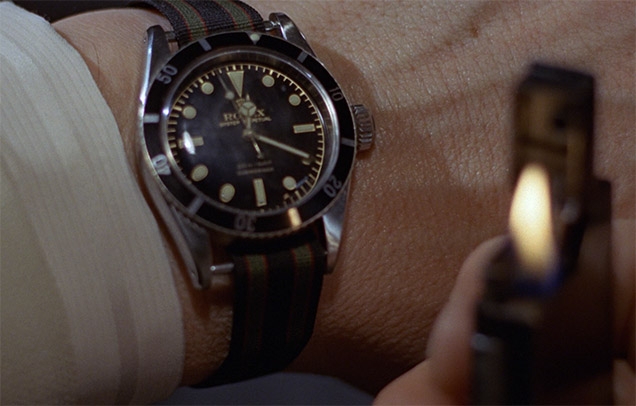 The other Bond watch I want to discuss is the Omega Seamaster 300M (ref. 2541.80). This watch is perhaps less iconic, since it was only worn in one Bond film, 1995's GoldenEye. However, it's notable for a couple of reasons. To begin with, GoldenEye marked Bond's triumphant return to the screen after an eight-year hiatus, when legal action had threatened the entire Bond franchise. Secondly, Bond has worn an Omega watch in every film since, although he's generally worn a ref. 2531.80.
Finally, there are actually two of these watches in the movie, unusual for a Bond watch. The plot follows Bond (Pierce Brosnan), and fellow Agent 006, Alec Trevelyan (Sean Bean), who both have the same watch. Unfortunately, this leads to some bad watch history, since the prologue to the movie is set in 1986, seven years before the 2480.80's release in 1993. But given the "cool factor," it's an error I will happily overlook.
Rolex Submariner Ref. 6538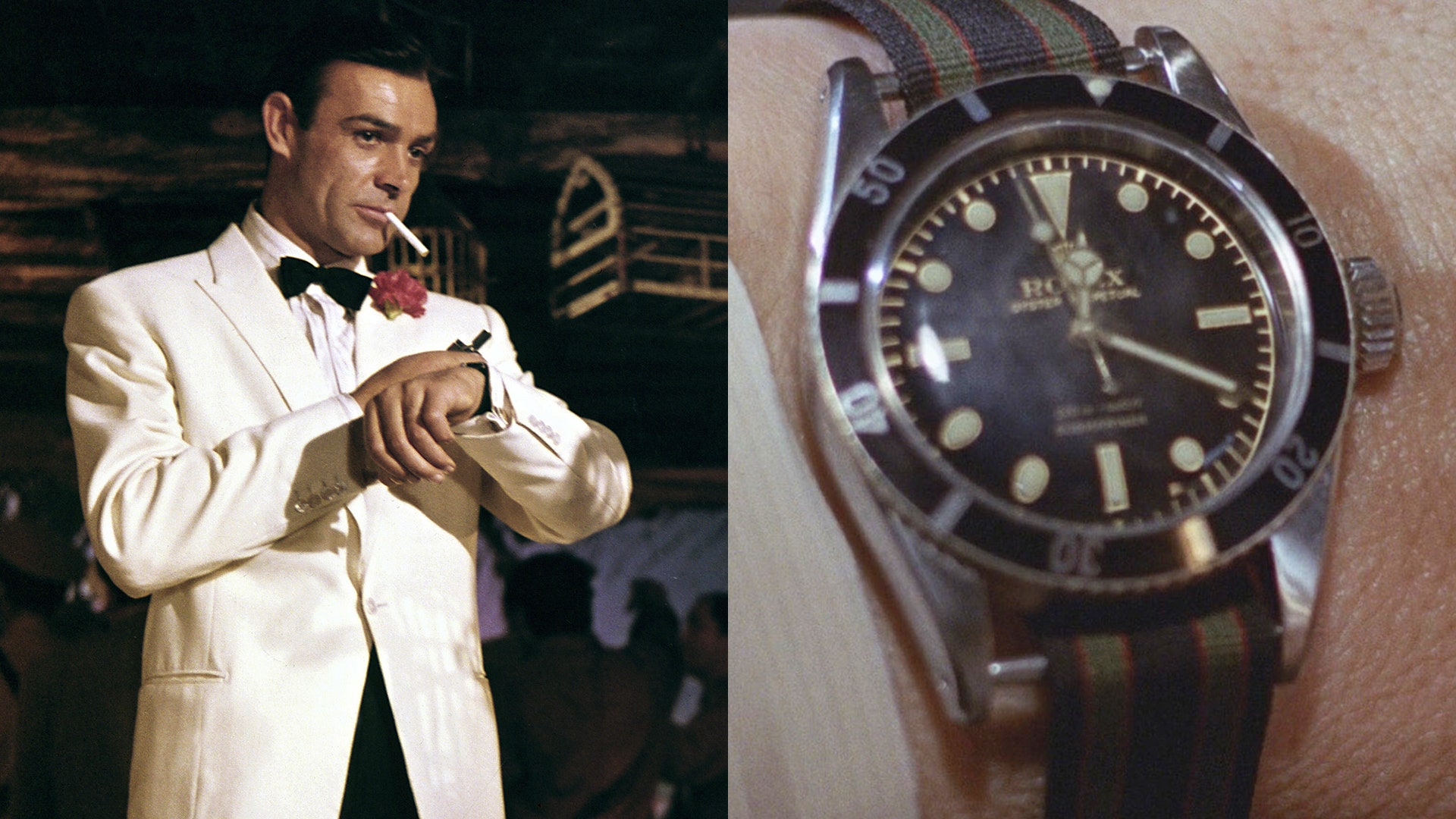 The Rolex Submariner Ref. 6538 is a mid-sized, 38mm watch that has a medium wrist presence. The case is constructed from stainless steel, with straight lugs that are decidedly vintage. There's a wide, rotating bezel, which is also constructed from stainless steel. It's pale blue in color, with white dive markings and a red arrow at 12 o'clock with a small jewel inset. This is perhaps its most unique feature, although the jewel doesn't double as a laser like it does in some of the movies. That said, it's very well constructed, with a screw-down crown that won't pop out by mistake, and a water-resistance of 300m.
The dial is flat black, which provides a nice contrast to the hands and indices. The outer, ladder-style index is painted in gold, with fine hashes at every minute mark. The inner, five-minute markings are far more pronounced. There's an applied gold arrow at 12 o'clock, with gold bars at 3, 6, and 9 o'clock. In-between, the other positions are marked by large gold discs. With the black background and blue bezel, this makes for a striking timepiece. The hands are also gold, with a "peace sign" hour hand and a lug near the end of the second hand for increased visibility.
One thing I'm not a fan of is the Plexiglass crystal. Yes, Plexiglass was insanely trendy in the 1950s, when this watch was being produced, but it doesn't stand up to abuse the way sapphire or mineral glass can. On the other hand, it's easier for an amateur to buff back into good condition.
Movement and Reliability
The Ref. 6538's movement is the Caliber 1030, an 18,000Hz movement that was one of the most popular of its day. It's notable because it's one of the first major in-house movements to make a splash. At the time, most manufacturers were buying third-party movements from companies like ETA, whereas nowadays, in-house movements are the norm for major brands. The movement sports a blue steel Breguet overcoil hairspring, with an old-school rotor that looks nothing like a modern automatic. It's obviously not as reliable as a modern movement, but there's still a lot to like here.
The only major downside of the Submariner Ref. 6538 is that it's rare and expensive, even by watch standards. A 6538 can cost as much as $100,000 in good condition. Limited editions, signed watches, and watches with historical significance can cost significantly more. For example, the tropical version sold at auction for $544,939 in 2013. That's a price tag even 007 might have trouble justifying.
Omega Seamaster Professional Ref. 2541.80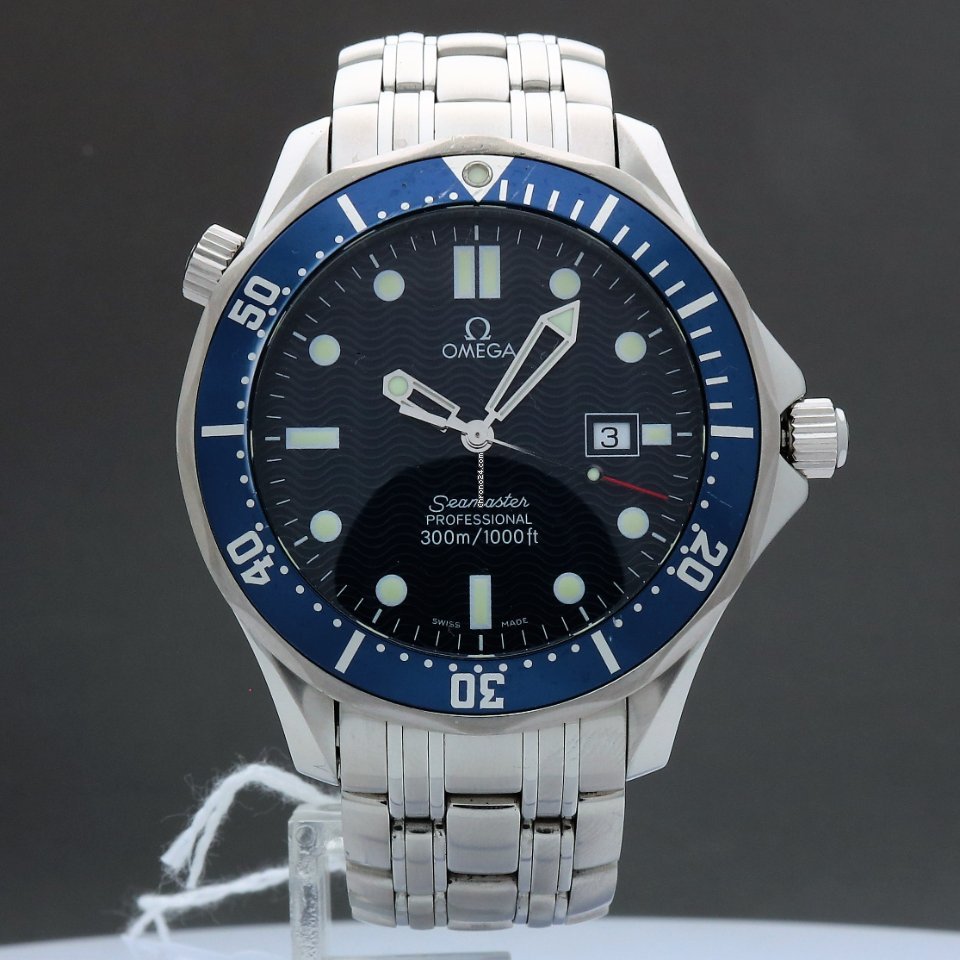 The Omega Seamaster Professional Ref. 2541.80 is a bit larger than the Submariner, with a diameter of 41mm. It has a similar stainless steel case, along with a blue rotating bezel, but that's where the similarities end. The first major difference you'll notice is the bezel itself. It's scalloped, with one dip every hour, which makes it easy to turn even with wet or gloved hands. This is ideal for underwater use, which technically what any dive watch is built for. The crystal is scratch-resistant sapphire, with a domed design that slightly distorts the dial at the edges.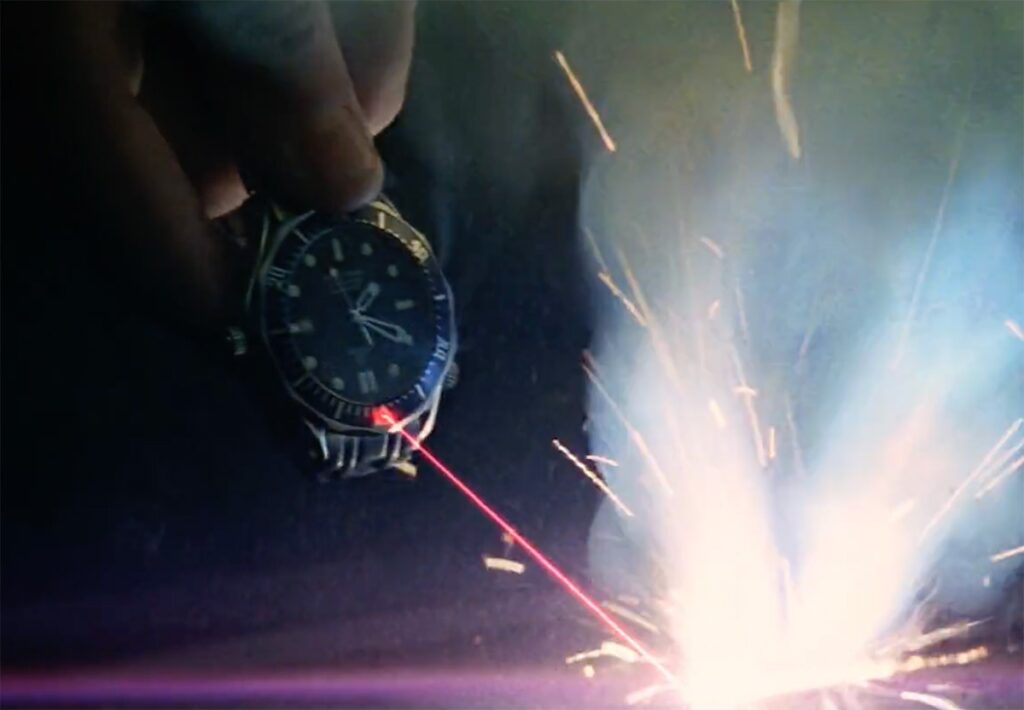 Like the Submariner, this watch has a screw-down crown, along with a water-resistance of 300 meters. However, it also boasts a helium escape valve, which makes it more versatile. Keep in mind that a helium escape valve doesn't make your watch more waterproof – it only allows helium to escape if you've been in a pressure chamber. If you're not a deep sea diver, you will literally never need this feature.
The dial is blue, with a wave pattern that provides a suitably nautical feel. There's also a date window at 3 o'clock, a feature you won't find on the classic Submariner. The hands are broad, with lume markings at the tips, and the applied indexes are large and highly-visible. You won't have trouble reading the Ref. 2541.80, regardless of the lighting conditions.
Movement and Reliability
This watch utilizes a quartz movement, with a battery life of 42 months. This is both a good thing and a bad thing. On the other hand, quartz is more technically reliable, and you don't have to worry about resetting it and winding it every time you take the watch off for a few days. On the flip side, it's quartz. It lacks the charm – or the workmanship – of a traditional automatic movement.
This was a mistake the Bond franchise would rectify. In his next three turns as everyone's favorite secret agent, Daniel Craig wore a similar Seamaster Professional 300M, but with an automatic Ref. 2531.80 chronometer instead of a quartz movement. Daniel Craig has opted for other Seamaster variants, including the one with a blue bezel he wore in Casino Royale. Without a doubt, this continued partnership is a big part of Omega's current success.