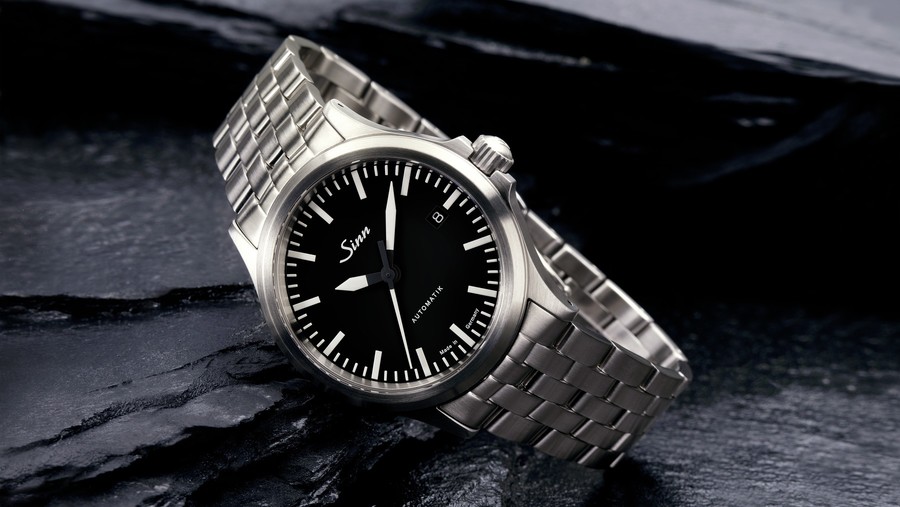 Sinn (pronounced "Zinn") was founded in 1961 by a flight instructor named Helmut Sinn. Originally, they weren't a typical watchmaker. They instead focused on cockpit clocks and pilot chronometers. In fact, you couldn't buy their products in stores. You could only order them directly from Sinn, which was a bit more complex in the days before online ordering. By selling directly to customers, Sinn was able to keep their prices lower than the competition's, while maintaining the same level of quality. By the early 90s, the company was little known outside of Germany and Switzerland, although it was well regarded by those who were familiar with Sinn timepieces.
In 1994, Helmut Sinn sold his company and retired. The new owner, Lothar Schmidt, aimed to expand operations, and set up a larger assembly facility in Frankfurt am Main. Schmidt knew what he was doing. Before taking over Sinn, he had overseen production and logistics for the newly-reformed A. Lange & Söhne. Under his leadership, Sinn expanded their model selection to encompass a wider variety of styles. They've also begun selling through distributors as well as direct to consumer.
At the time of this writing, Sinn sells 12,000 watches annually. They've come a long way from being a small boutique seller of aviation watches. I've decided to highlight four of their current watches, which I consider to be the best of the bunch.
Sinn 104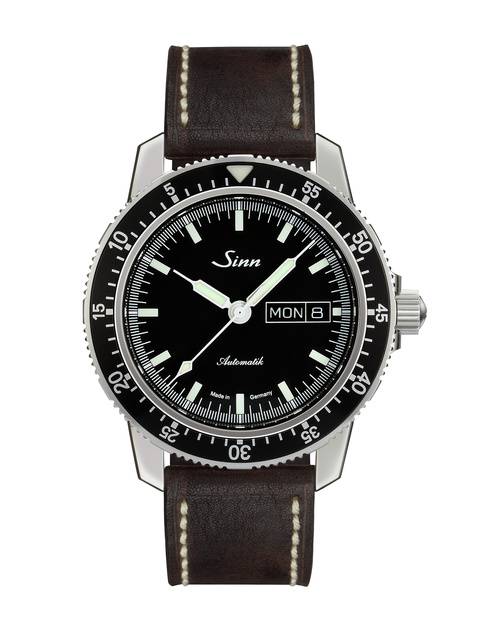 The 104 is Sinn's signature pilot watch. As such, it has a bit more of a traditional appearance than some of their other offerings. That doesn't mean you're stuck with a boring watch, though. The Sinn 104 is available in five different color options, with over a dozen different strap options. All variants are high-visibility, with wide lume hashes at the five minute marks and wide lume stripes down the hour and minute hands. The dial options are black, white, cobalt blue, and rose gold, with an additional black variant that features Arabic numerals in addition to the five-minute hashes.
I don't usually talk much about straps, but in this case, the number of options bears mentioning. You can choose between leather, steel, and silicone. The silicone strap is plain black, but there are two steel variants as well as 25 different leather types.
Regardless of cosmetics, the 104 is a highly functional watch. It sports a ratcheting bezel with 60 ticks, with high-visibility markings. The crystal is made of scratch-resistant sapphire, with a flat profile that won't obscure or distort the dial. It utilizes a Sellita SW 220-1 movement, which is one of the most popular mechanical watch movements on the market. It has hacking seconds, high accuracy, and a small date complications that adds some extra function to the watch. With a water resistance of 20 bars (200 meters), you're looking at the complete package. Like all Sinn watches, the 104 is covered by a 2-year manufacturer's warranty.
Sinn 556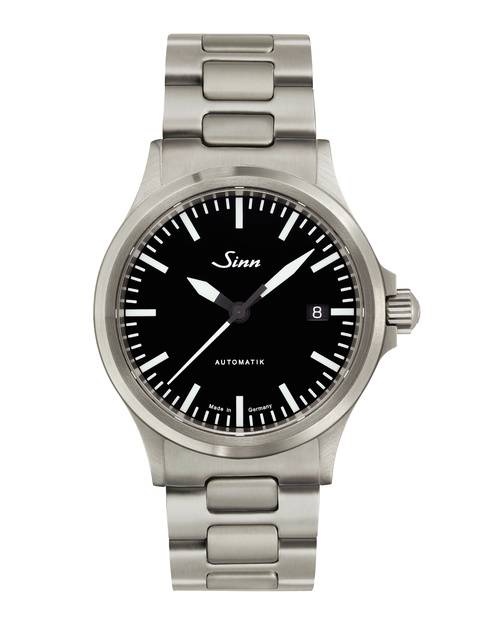 Where the Sinn 104 has a classic design, the 556 is one of their more contemporary offerings. It's a stainless steel watch, with a compact, 38.5mm case. At 11mm thick, the case is also surprisingly slim for a modern stainless steel watch. This lends the 556 an unusual appearance. It's designed with many of the characteristics of a big, chunky watch, including beefy lugs and a partially-shielded crown. But it has the wrist presence of a smaller, more formal watch. This is great if you're like me and prefer a medium to light wrist presence. It's also great for women, or anyone with more slender wrists.
True to Sinn's pilot watch tradition, the 556 dial is designed for extra high visibility. The face of the dial is flat black, and it's a true, deep black, not a charcoal. This makes the bright white hashes and wide, white hands look extra sharp. Best of all, even though the watch itself is contemporary, this is a classic color pattern. You can wear a black and white watch with just about anything, so the 556 is more of a generalist than a purely situational watch. The sapphire crystal is flat for clear visibility, and is also coated for glare resistance on both sides.
The Sinn 556 performs just as well on the inside as it does on the outside. It's powered by the same Sellita SW 220-1 movement as the 104, so you don't have to worry about accuracy or setting your watch. The 556 is also rated for 20 bars of pressure, so it's suitable for swimming.
Sinn 103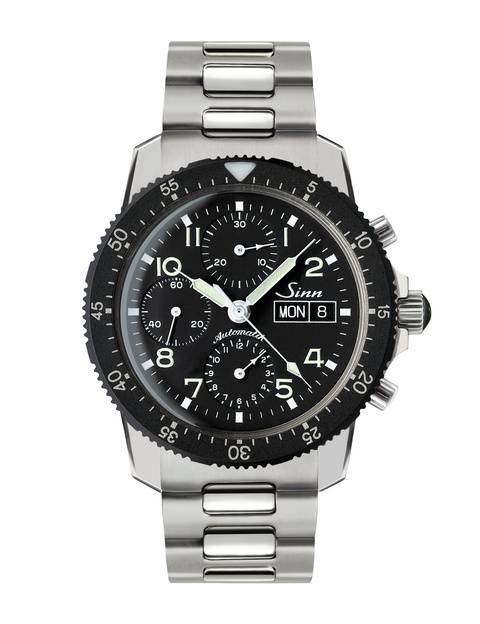 Sinn markets the 103 as "The traditional pilot chronograph". The first thing you'll notice about the dial is just how busy it is. There are 60-minute, 30-minute, and 12-hour subdials at the 9 o'clock, 12 o'clock, and 6 o'clock positions respectively. There's also a date window at the 3 o'clock position, which provides some balance to the dial. Towards the outside, there are short, fat hashes at the five-minute marks and short, slim hashes marking the single-minute positions. There are also larger, lume Arabic numerals at the 1, 2, 4, 5, 7, 8, 10, and 11 o'clock positions.
With all this going on, you might expect the Sinn 103 to be tough to read, but it's not. Like the other Sinn watches I've mentioned, the design is high-contrast. The dial and subdials are all flat black, and all the markings are either plain or lume white. The hands are nice and wide, and also have lume stripes on them. This plain coloration makes the 103 very easy to read, even in the dark.
The crystal has a high dome, which does distort the edge of the dial just a bit. Still, the default Acrylic glass crystal is very sturdy, designed specifically for shatter-resistance. If you prefer, you can pay an extra fee for a similarly-shaped sapphire crystal that's scratch and glare-resistant. The crystal is surrounded by a ratcheting pilot's bezel, and a screw-down case back makes repairs simple if they should become necessary.
Sinn 856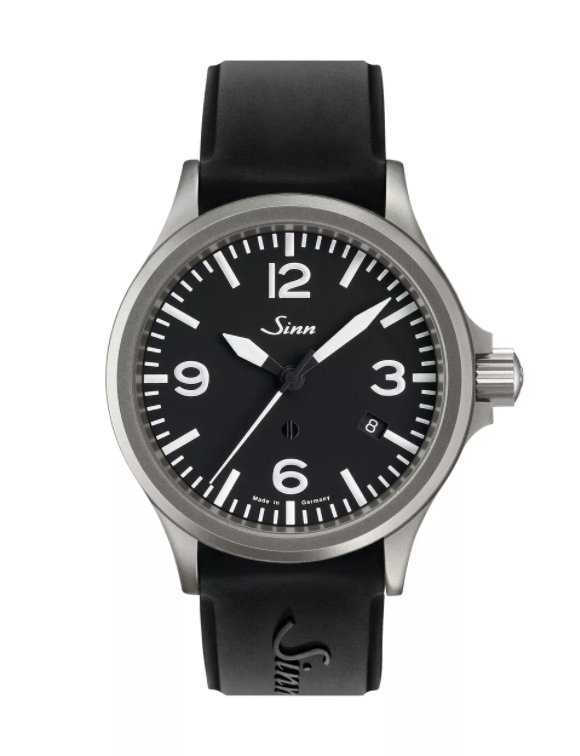 The Sinn 856 is the most understated of these four Sinn watches. At 40mm in diameter, the stainless steel in case has a medium wrist presence, with a slim, raised bezel that leaves plenty of real estate for the dial. The dial is that same high-contrast black I keep talking about, with white applied indexes that are raised just enough to provide added texture. The hashes are large enough for easy visibility, as are the wide, spear-shaped hour and minute hands. The second hand is just a slender needle, but it's still bright white for easy visibility. There are Arabic numerals at the 12, 3, 6, and 9 o'clock positions, and a tiny date window at the 4 o'clock position. With the exception of a cursive Sinn logo at the top, the rest of the dial is completely bare. Inside the 856, you'll find a Sellita SW300-1 movement. This movement is similar in most respects to the SW 220-1. However, it's a full millimeter thinner, at 3.6mm instead of 4.6mm. This allowed Sinn to build the 856 with a slim, 11mm case. A sapphire crystal, screw-down crown, and 20 bars of water resistance make the Sinn 856 the complete package.
For more information on all of Sinn's offerings visit their official website here.