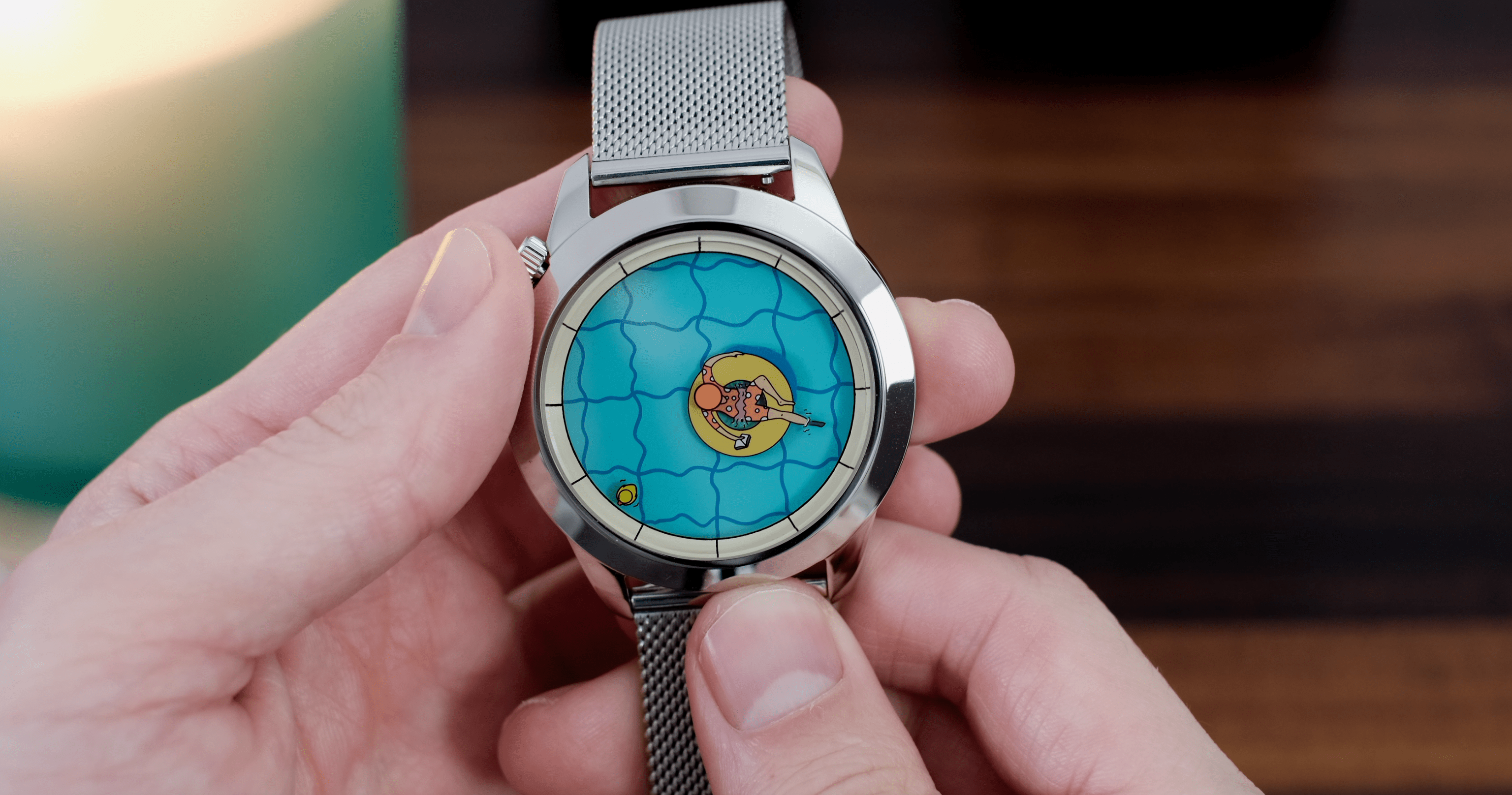 Many of today's most unique and innovative watches aren't coming from the major brands; they're coming from microbrands like Mr. Jones Watches. Mr. Jones is a relatively new watchmaker, founded in 2007. As watch manufacturers go, it might as well be a brand new startup. Over the last 16 years, they've released more than 150 bespoke, limited-edition watches.
Mr. Jones is based in London, and was founded by its namesake, Crispin Jones. Mr. Jones' philosophy is that watches are no longer primarily used as timepieces. You have your smartphone for that. Instead, they aim to create visually unique and quirky watches that augment your personal style. All of their design elements are printed and assembled in the UK by a small team of only 21 employees.
I recently got my hands on the Mr. Jones A Perfectly Useless Afternoon Automatic XL. Other than its general shape, you could be forgiven for not recognizing that this is a watch. As far as a casual observer is concerned, it could be a colorful bracelet. Let's take a closer look, and see what we're dealing with.
A Unique Zen-Inspired Dial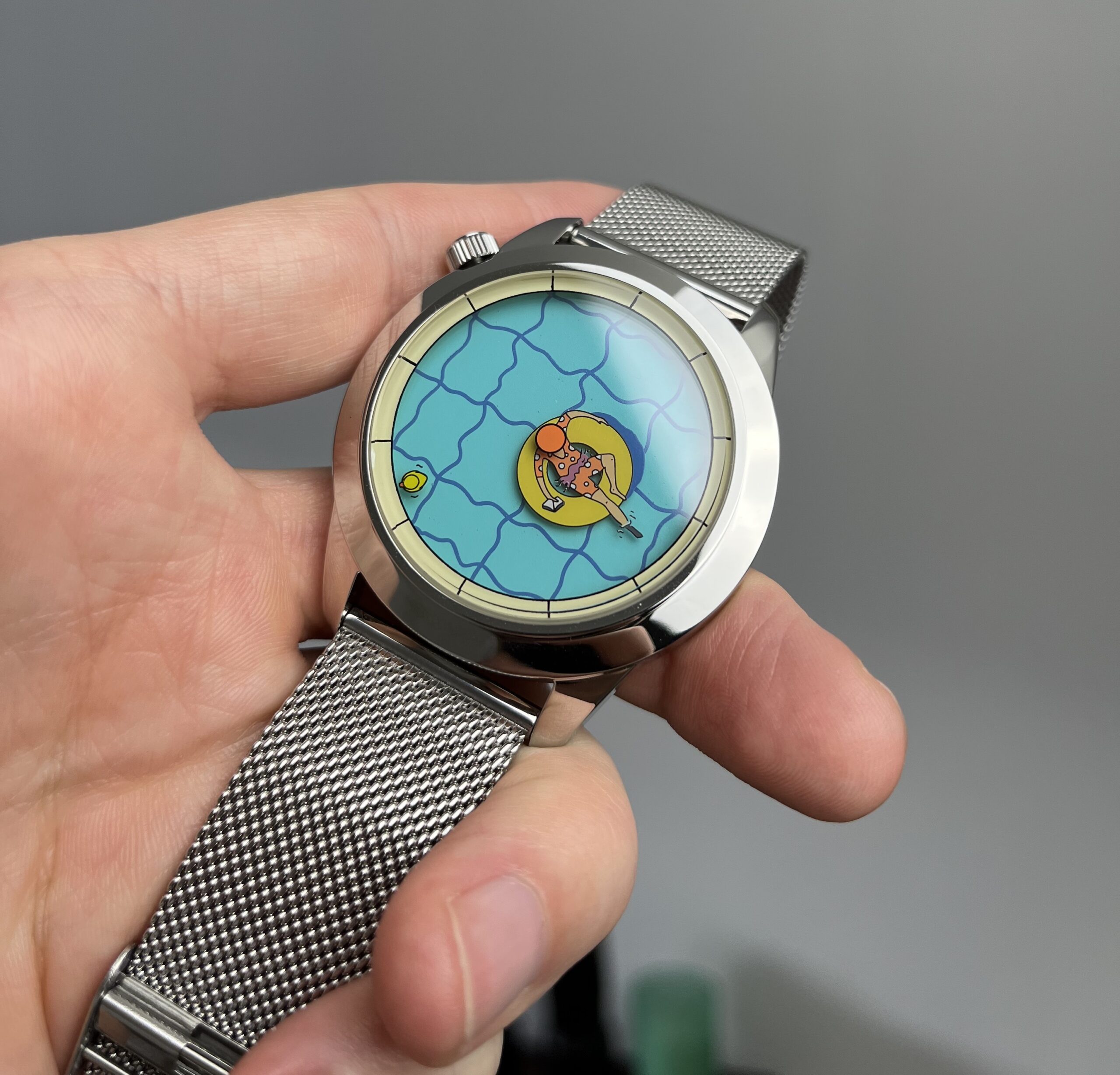 The Mr. Jones A Perfectly Useless Afternoon Automatic XL's standout feature is the dial. The dial was designed by Kristof Devos, a children's author and illustrator based out of Belgium. Kristof has won several literary awards, and his illustrated children's stories have been translated into multiple languages.
Kristof drew his inspiration from the Chinese philosopher Lin Yutang, who once said that "If you can spend a perfectly useless afternoon in a perfectly useless manner, you have learnt how to live." He thought of his own favorite way to spend a lazy afternoon – floating in his pool with his eyes closed and letting the time slip by. It's this perspective on time that ultimately led to the dial design.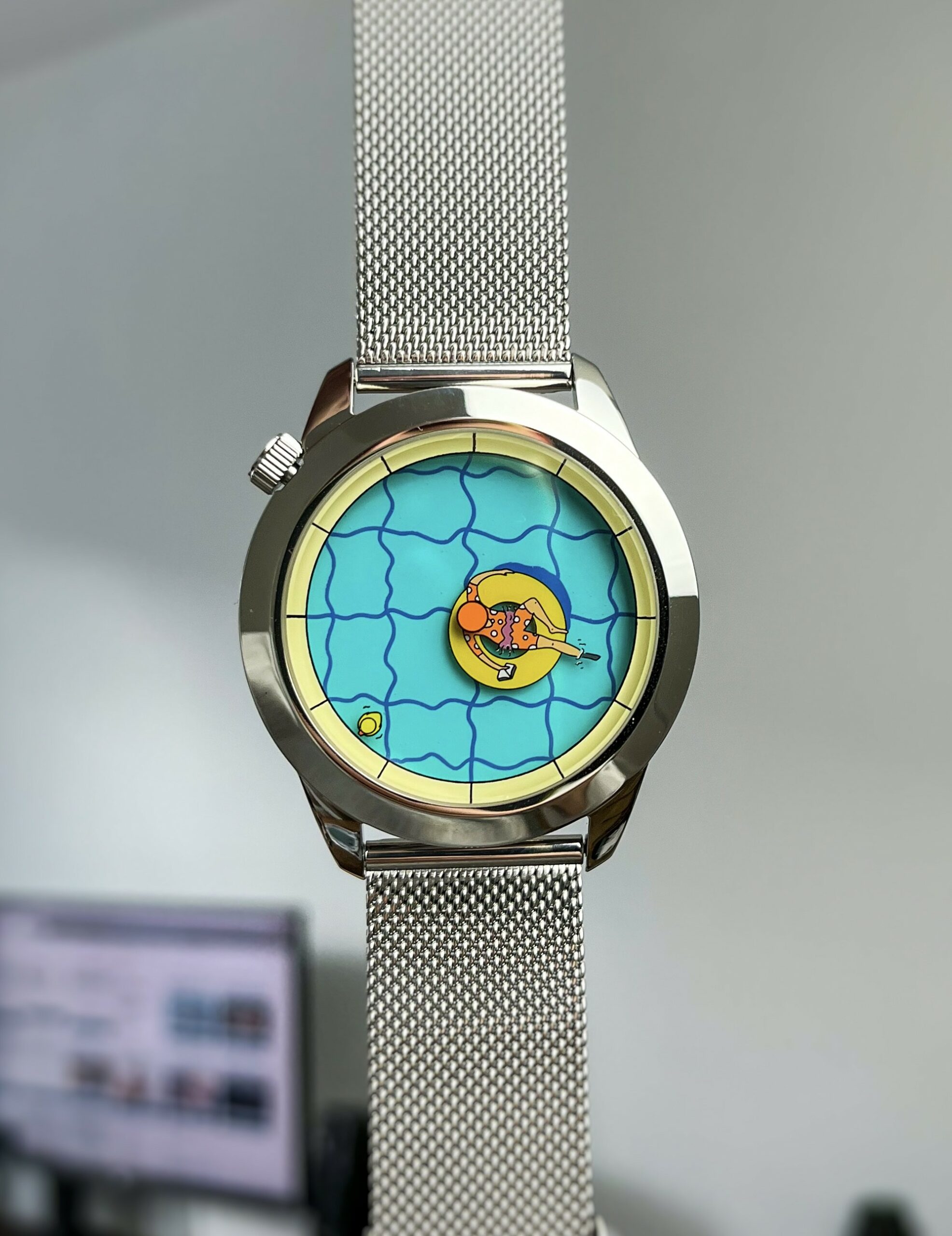 The background is pale blue, with darker blue squiggly lines that give the impression of rippling water. On top is an orange inner tube, with a person of indeterminate gender lying in it and reading a book, one foot extended lazily towards the outside of the dial. In addition, there's a little yellow rubber duck that also faces the outside of the dial.
If all of that sounds confusing, here's how to tell the time. The person in the inner tube – specifically, their outstretched leg – is the hour hand. The rubber ducky, meanwhile, is the minute hand. That's it. There's no date window, second hand, or any other complications. That said, you'll notice a yellow inner bezel with black lines on it. These subtly mark the hour positions without drawing too much attention from the rest of the dial.
Case, Crystal, and Extras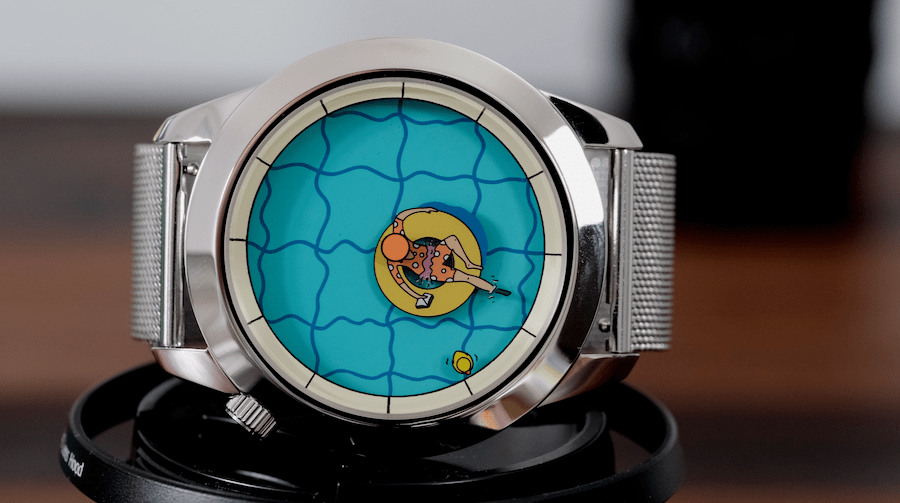 This watch is actually an upscaled version of Mr. Jones' earlier A Perfectly Useless Afternoon watch, which had a diameter of 37mm and uses a quartz movement. The XL version has a beefier 45mm case, which has a fairly large wrist presence and a large 53mm height between the tops and bottoms of the lugs. This is enhanced by the perfectly round shape and smooth, narrow bezel that leaves a lot of room for the dial. The crown is even tucked next to the lug at 10 o'clock, making the design even cleaner. And the case is made from a polished 316L stainless steel that's incredibly corrosion-resistant.
The crystal is smooth and flat, with a narrow bevel around the edge that creates an attractive distortion on the internal bezel. It's crafted from a tough, scratch-resistant sapphire that can take a serious beating without showing any serious wear. The watch also has a sapphire case back, which shows off the internal STP1-11 Swiss made automatic mechanical movement. It's an ETA 2824-2 clone, with a 44-hour power reserve and an accuracy of +/- 20 seconds per day. That's not very accurate at all, but then again you're not buying this watch for precision.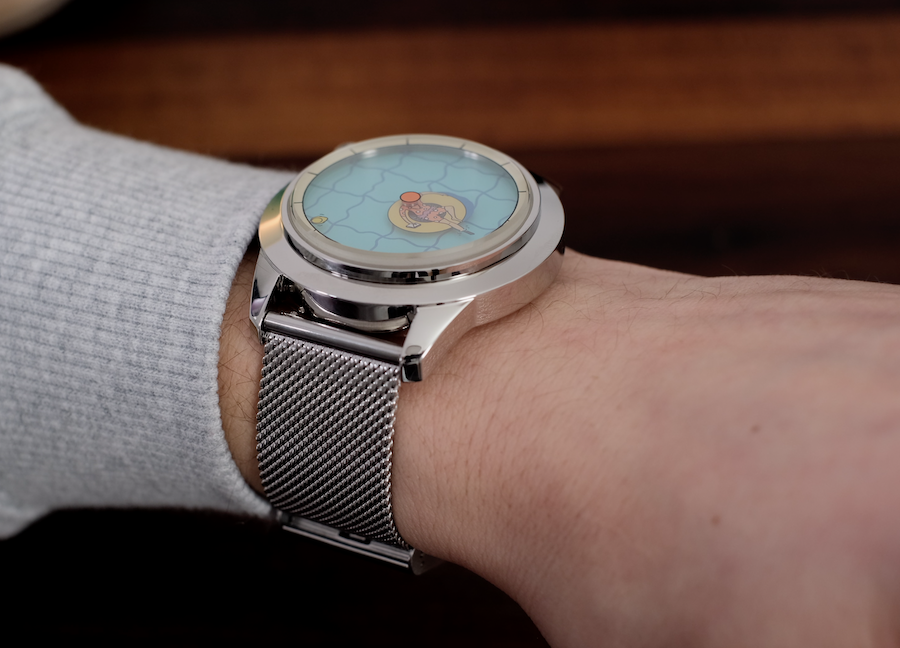 The display crystal also has some decorations on it to tie together the theme of the watch. The words "A perfectly useless afternoon by Kristof Devos" is printed in a clean black font. Smack in the middle is a yellow rubber ducky, which obscures the middle of the movement.
The watch is waterproof to a depth of 50 meters. In practice, you shouldn't use it for diving. But for showering or surface swimming you won't run into any issues. It's secured by a stainless steel strap, with a width of 22mm. The strap has ultra-fine links, and looks more like a piece of jewelry than a watch strap. This provides an attractive touch while still being tough and durable.
Mr. Jones backs their watches with a 12-month manufacturer's warranty. That's not a huge amount of time, but it's more than long enough for any manufacturer's defects to surface and be dealt with.
To view all of the Mr Jones watch creations visit their official website here.