If you're a fan of sporting watches, you're probably familiar with Citizen's Promaster series of watches. These watches are designed to be durable and practical, with chronometer-grade movements and high levels of water-resistance. This year, Citizen is releasing a new dive watch model, based on their classic 1977 Challenge Diver. It will retain many of the original's classic features, but with significant upgrades. Most notably, the movement has been upgraded, and the case has been modernized from the original.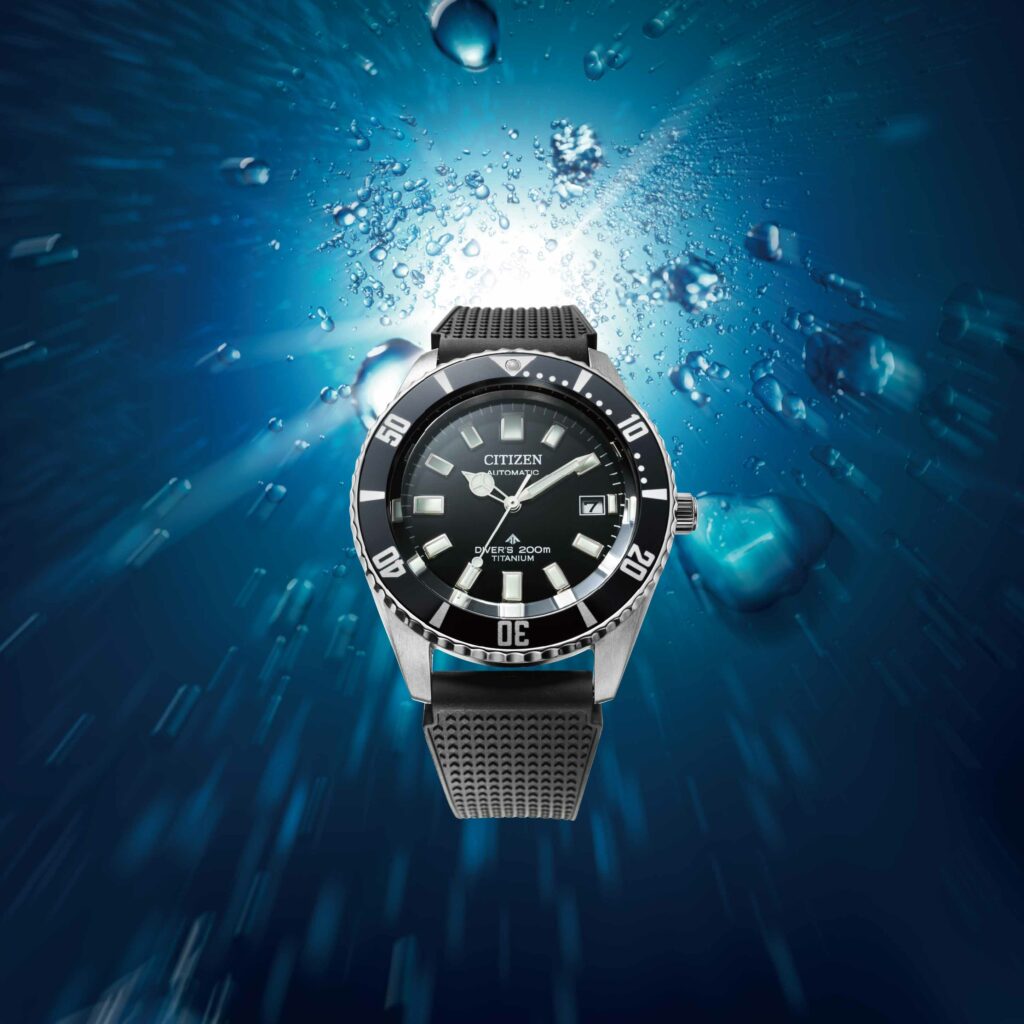 Not that this case needed much modification. One of the most famous stories about the original Challenge Diver comes from 1983, when a swimmer found one on Australia's Long Reef Beach. It's not clear that the watch had been underwater since 1977, when it was first manufactured. But it was encrusted with barnacles, which meant that it had been underwater for at least a few years. Remarkably, the case was still intact, and the watch was still ticking.
This is the kind of standard Citizen is trying to meet. Let's take a closer look, and see how this new Promaster dive watch stacks up!
An Attractive Dive Watch
This watch comes in two different variants. The first has a black dial and bezel, and comes with a black urethane strap. The second option is blue, with a steel tri-link bracelet instead of the rubber one. Other than that, they're identical, with the same 41mm case size as the original. But where the original was made from stainless steel, the new Citizen Promaster is crafted from a tougher, more lightweight titanium. This provides even better corrosion resistance. Meanwhile, the case has been slimmed down, which makes it feel less bulky.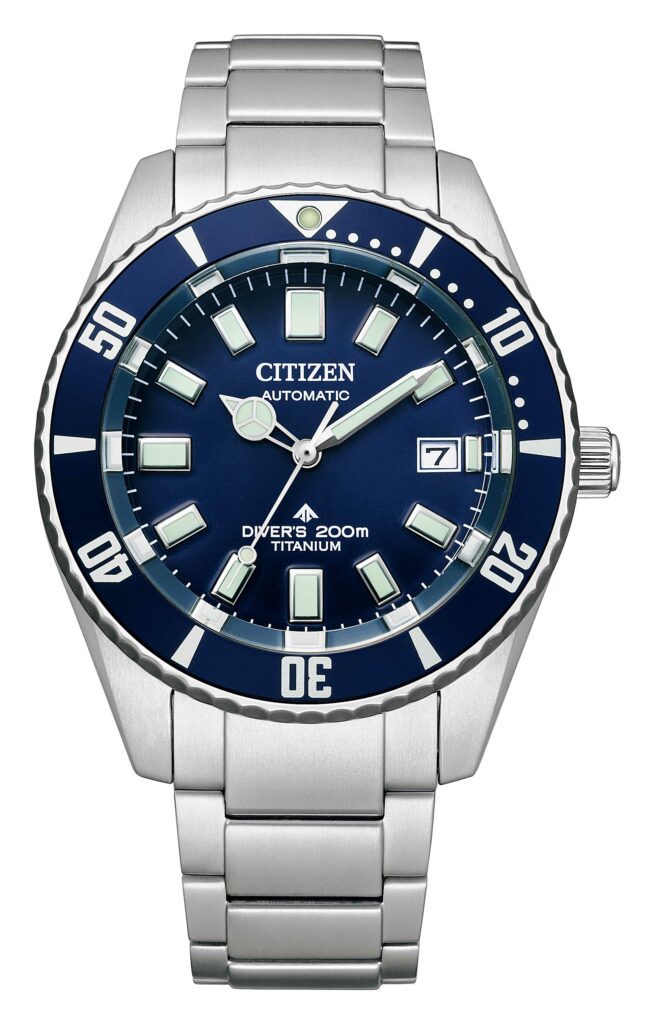 The aluminum rotating bezel has lume markings every five minutes, with Arabic numerals at the 10-minute marks and a downward-pointing arrow at 12 o'clock. The sapphire crystal is glare- and scratch-resistant, and is beveled around the edges. Despite the beveling, the rest of the crystal is flat, providing an un-distorted view of the dial.
The dial itself has an outer index with tiny white pips at the one-minute marks. The inner, primary index consists of fat applied lume bars at the five-minute marks. The exception is at 3 o'clock, where a date window takes the place of a stripe.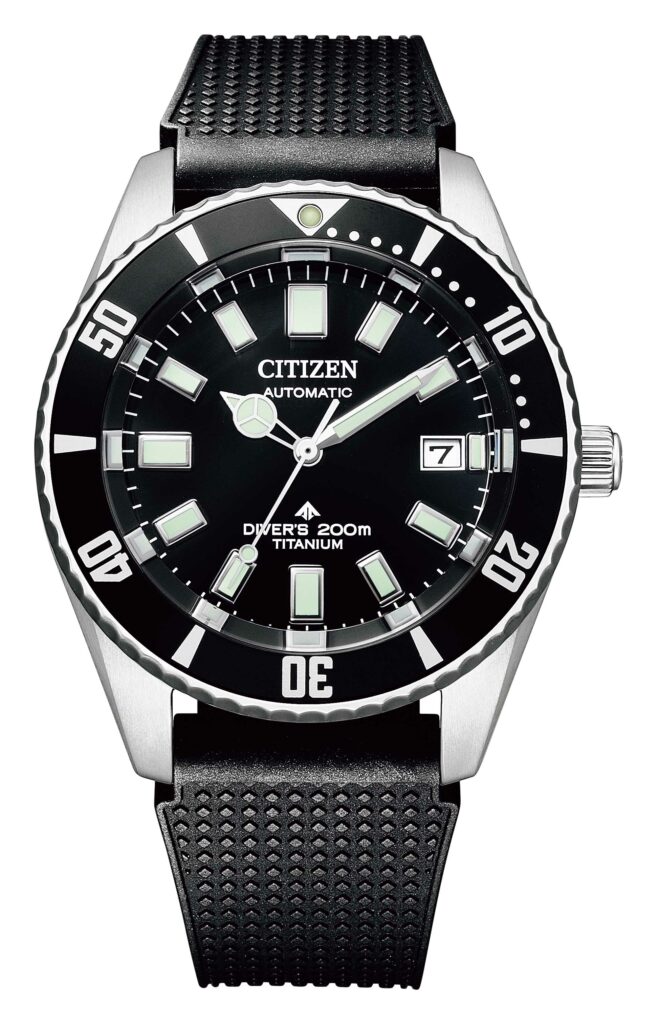 The hands are broad, with a fat, spade-shaped head on the hour hand and a sword-shaped second hand. Both have bright lume markings, which makes the watch easy to read in the dark.
Technical Features
This is a 200-meter dive watch, which can withstand deep dives and other extreme conditions. No matter how match water you expose it to, it will keep on working reliably.
The Caliber 9051 movement is best known for its magnetic resistance. At -10 to +20 seconds per day, it's not Citizen's most accurate offering. But it won't be thrown off by high-powered magnets like those used for many ship compasses. It also has a power reserve of 42 hours, which is on par with most popular mechanical watches.
To view all of Citizen's watch offerings visit their official website here.