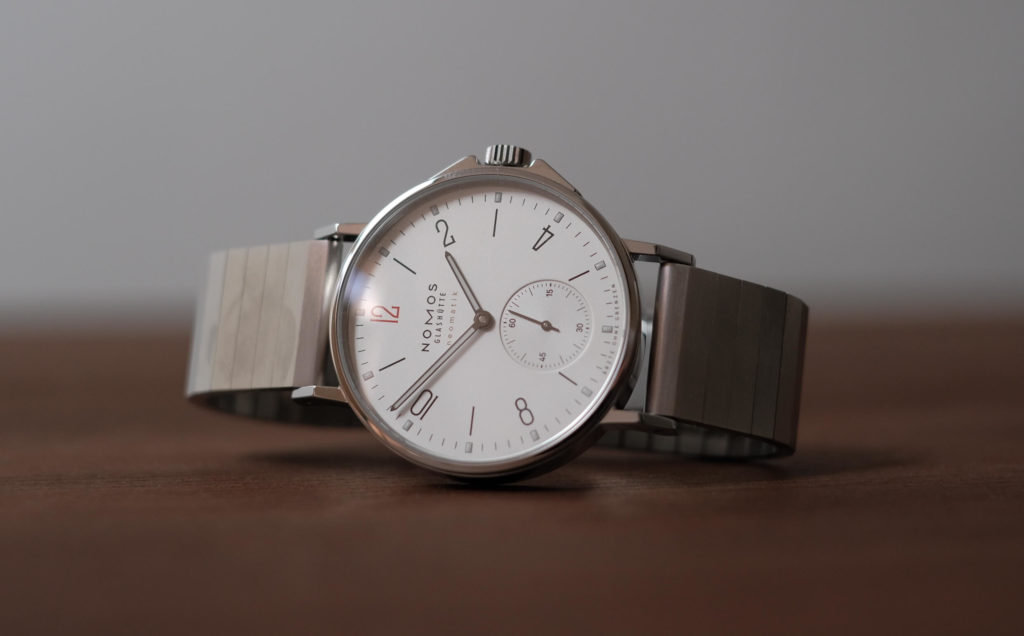 Fans of quality watchmaking should need no introduction to Nomos Glashütte. The Saxony-based watchmaker produces their watches entirely in Germany. Indeed, they're one of few European watchmakers outside of Switzerland to manufacture their own in-house movements. Considering that the company is only 30 years old, this is quite impressive.
What many people don't know is that Nomos Glashütte is partnering with another organization that needs no introduction: Doctors Without Borders. In refugee camps and conflict zones around the world, Doctors Without Borders provides medical care to millions of people every year. Last year, they performed over a million examinations in Bangladesh alone, inside the world's largest refugee camp.
To support this humanitarian organization, Nomos Glashütte has produced 8,000 limited edition watches. This year, they're producing 1,000 more, in two different variants. I've had the opportunity to review one of their 36mm Neomatik Doctors Without Borders Limited Edition watches, of which there are only 500. Here's what I found.
Look and Feel
The first thing you'll notice about the Doctors Without Borders Neomatik is that it's a bit less colorful than Nomos Glashütte's ordinary Tangente Neomatik. Instead of the trademark red hashes and cyan five-minute markings, most of the dial is a simple black on white.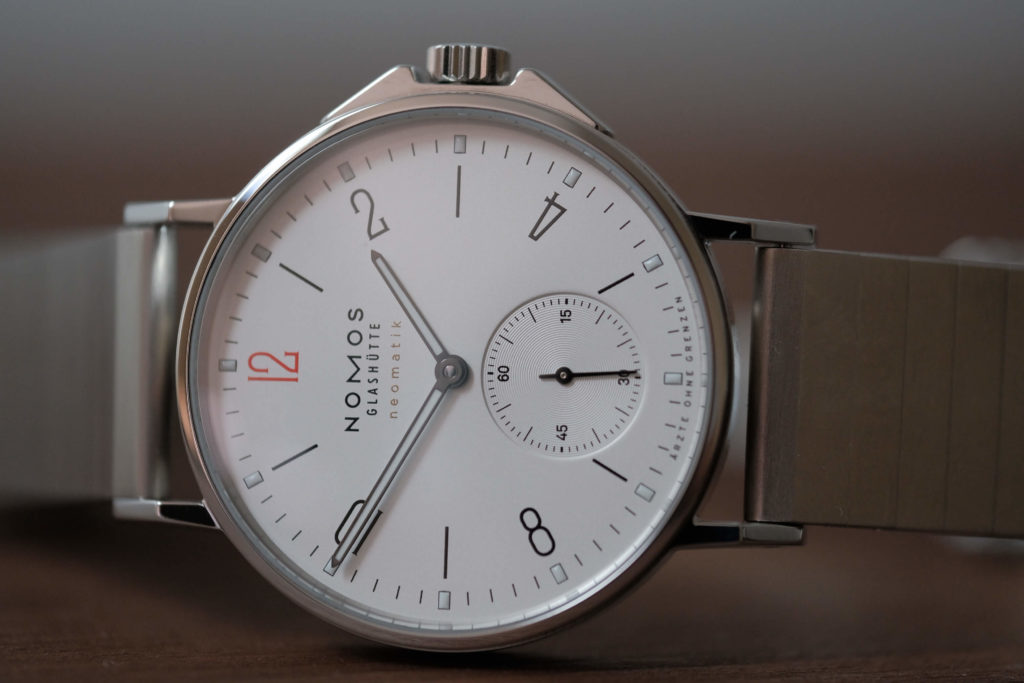 The one concession to color is a bright red 12 o'clock marker, although the center of the dial does retain the gold Neomatik logo. Another noticeable difference is that the words "Made in Germany" have been replaced by the words "Ärzte ohne Grenzen" at six o'clock. To non-German speakers, this may be meaningless. But "Ärzte ohne Grenzen" simply means "Doctors Without Borders" in German.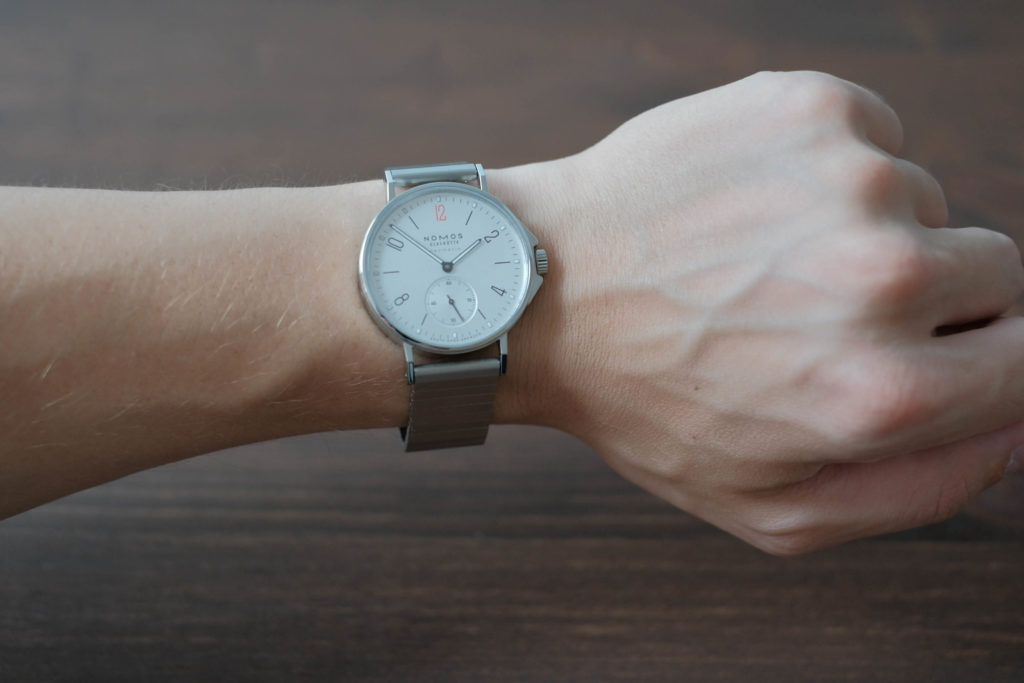 The hands appear skeletonized, with silver borders and an all-white center that matches the dial. However, the white center stripes are actually a superluminova inlay that provides excellent nighttime visibility. Small superluminova squares mark the five-minute positions at the outside of the dial.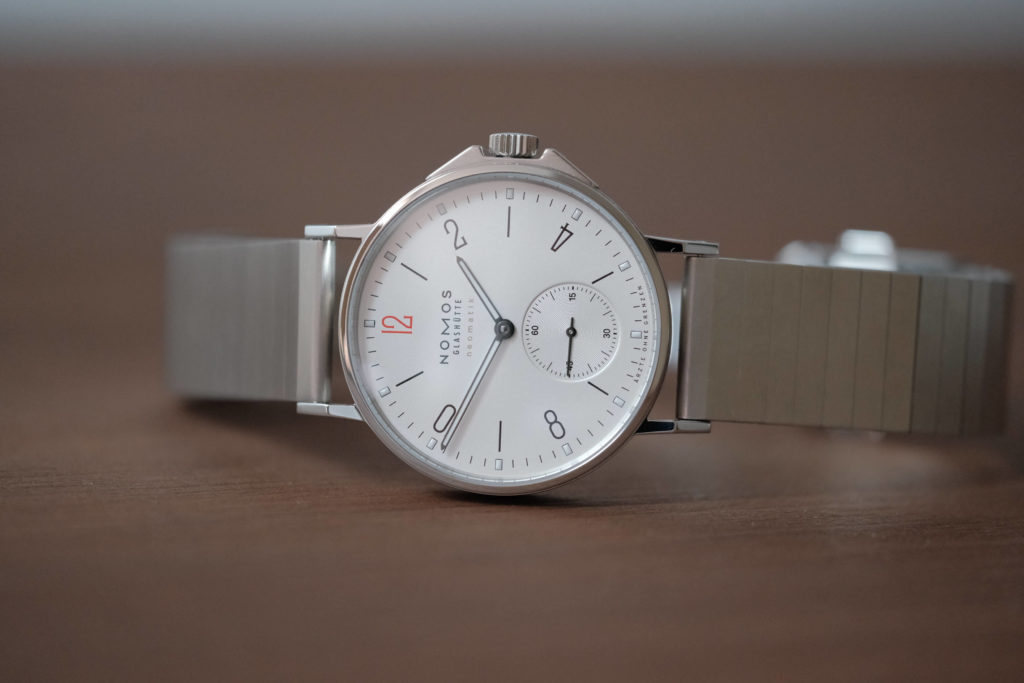 The second positions are marked by small hashes, while the five-minute positions are marked by longer hashes. The only numerals are at the even-numbered positions, in a slender black font that matches the watch's formal, somber appearance.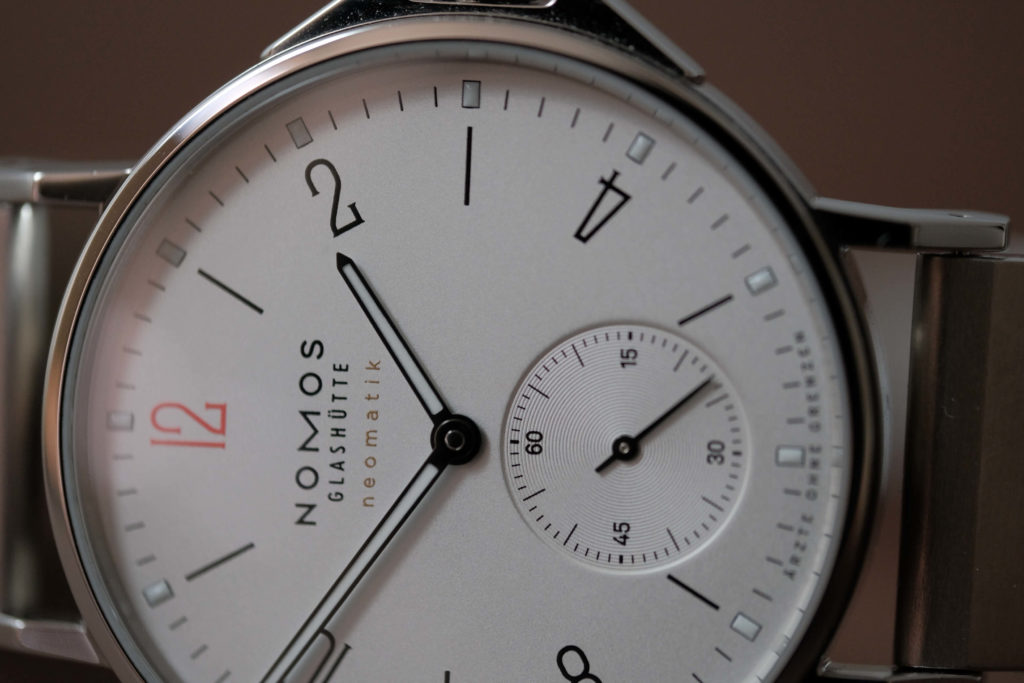 There is no date window on the 36mm Neomatik Doctors Without Borders Limited Edition. Instead, there's a single, 60-second subdial at the six o'clock position. This subdial functions as a stopwatch, and has a black-on-white aesthetic that perfectly compliments the primary dial.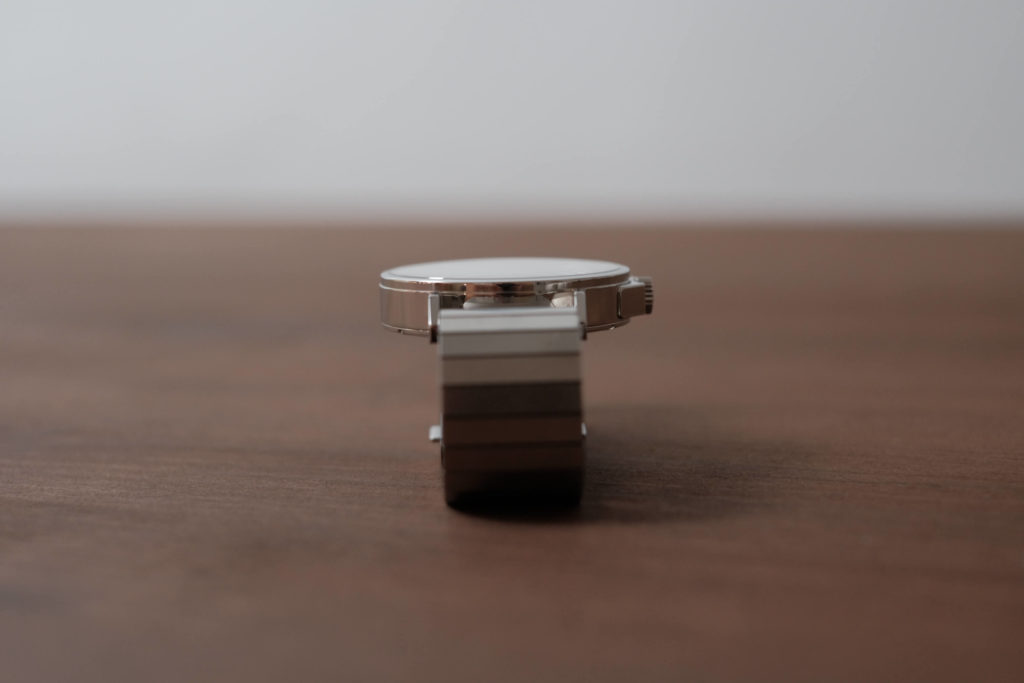 The case is constructed from a bright stainless steel, with a diameter of 36mm, providing a light wrist presence that's suitable for men and women alike. It has a slightly raised bezel, which is narrow and elegant enough not to distract from the dial. The lugs are slender, adding to the watch's lightweight appeal. Between the lugs, you'll find a highly segmented stainless steel band that matches the case. The band sports an in-house deployant clasp with the Nomos logo on the back. It's both secure and easy to open, the perfect combination for a well-engineered watch clasp.
The crystal is domed, which provides a thicker profile than you might expect. That said, it's a shallow arch, which doesn't distort the dial unless it's viewed from a very shallow angle. The case is also a display case, which leaves the back open to view the DUW 3001 automatic movement. This movement was developed in 2015, and it's not Nomos Glashütte's latest and greatest. Still, it's reasonably accurate. More importantly, it fits the slim profile of the watch. At 3.2mm in height, it's so thin that it can fit in just about any case. The gold rotors with cyan and magenta screws supply a splash of color you won't see on the front of the watch.
Ahoi Performance
Nobody buys a bespoke watch like this because they need atomic clock-level performance. You buy them primarily for the fascinating engineering, style, and for their appeal as a collector's item. That said, you still expect some measure of performance. The DUW 3001 movement doesn't carry an official chronometer rating, but it does have an accuracy of -4/+6 seconds per day. Reset it every few weeks, and you'll never be off by more than about a minute. This is particularly difficult to achieve on such a slim movement, where friction can become an issue.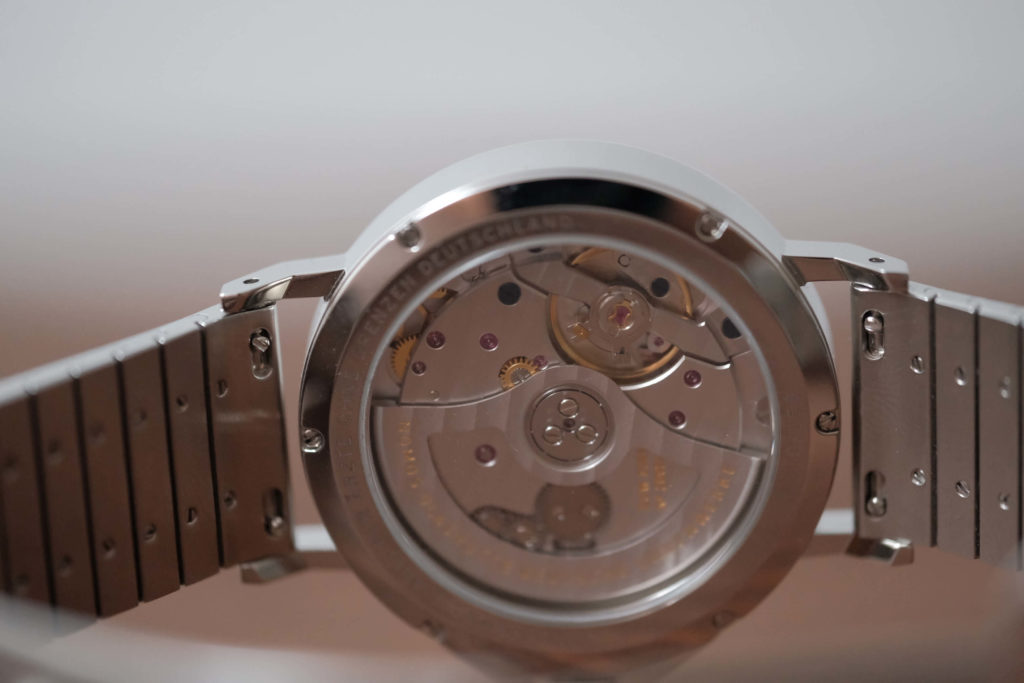 Not only that, but you get a power reserve of 43 hours. You can come back from work on Friday, stow your watch for the next two days, and it will still be ticking away on Sunday morning.
The Neomatik Doctors Without Borders Limited Edition features a screw-down crown that won't pull out by accident. This contributes to a water-resistance rating of 20 atmospheres, which equates to 200 meters or 660 feet. This isn't to say it's a dive watch. But if you want to take it swimming, water isn't going to ruin your limited edition timepiece.
To see all of Nomos Glashuette's offerings visit their official website here.