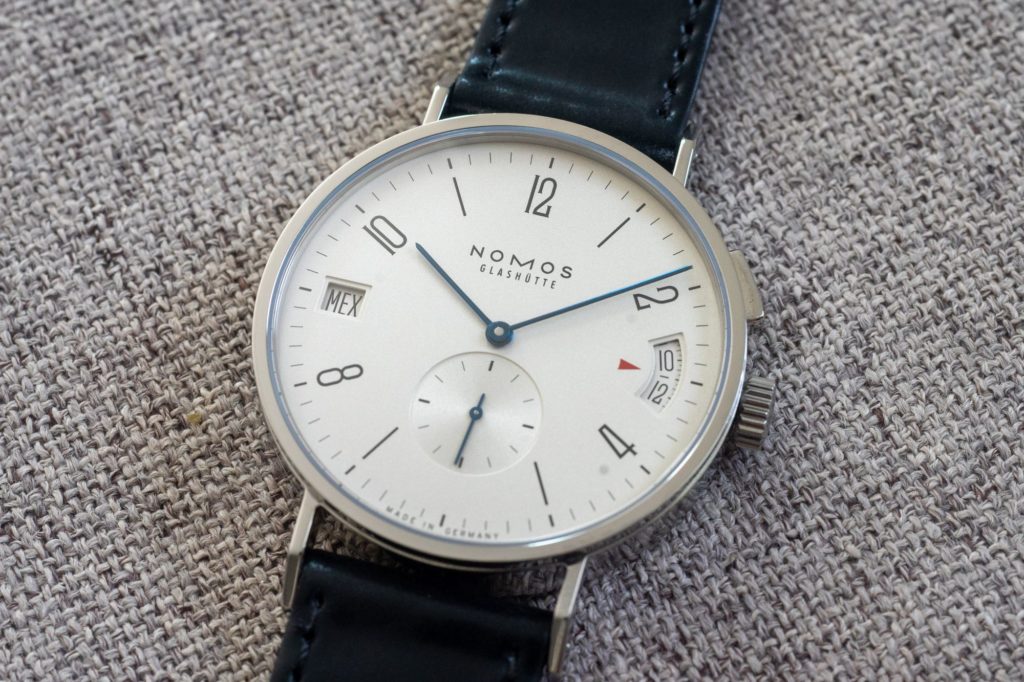 When I started my journey into horology some five years ago, my immediate impulse was to cover all styles: multiple divers, a nice chronograph, a field watch, the occasional quartz movement… In the dress watch department, Nomos Glashütte prominently stood out as a solid choice due to its minimal designs and outstanding movements. I had to pass on the opportunity of purchasing one though, as I couldn't justify the cost of buying more than a single dress watch. It's no surprise, then, that when dear editor-in-chief Matthew Cattelier offered me the chance of reviewing the Tangomat GMT, I couldn't help but feel really excited. Fret not, though, I will be as objective and impartial as always.
Let's take a closer look at its basic specifications first:
Full reference number: 635
Case material: Stainless steel
Case diameter: 40 mm
Lug width: 20 mm
Lug-to-lug length: 50 mm
Thickness: 11 mm
Water resistance: 3 atm
Movement: DUW 5201
Frequency: 3 Hz
Power reserve: 42 h
Bauhaus
One cannot analyze Nomos without discussing the Bauhaus school of design first. Originally conceived in Germany right after the end of World War I, the Bauhaus movement stood as a foil to the much more exuberant Art Deco style that permeated the artistic status quo in the West. Its fundamental ethos was the distillation of function to its minimal form, while reconciling the utility of mass production with the longing for an international neutral aesthetic. Quickly becoming the most important style in arts after the demise of Art Deco, the Bauhaus influence can be found in everyday design even today.
Tangomat GMT Dial
Even before analyzing it at-depth, the dial immediately strikes in a very pleasant manner due to its wonderful use of color. White, black, electric blue, and even a touch of fiery red add up to deliver a professional yet playful look. Taking a closer look reveals a fantastic symmetry compounded by the use of Arabic numerals at 12, 2, 4, 8, and 10. I must say I'm a big fan of this style, as I think that it offers more axes of symmetry than those found in the more traditional style of numerals at 12, 3, 6, and 9. The tall, slender typeface chosen by Nomos for the Arabic numerals harmonizes really well with the long baton markers used in place of the missing numerals. The overall effect is an impression of implied concentric circular sections surrounding the thin, exquisite hands. The effect is further emphasized by the sub-seconds dial at 6 o'clock, which adds a little texture to the dial with its very own concentric guilloché.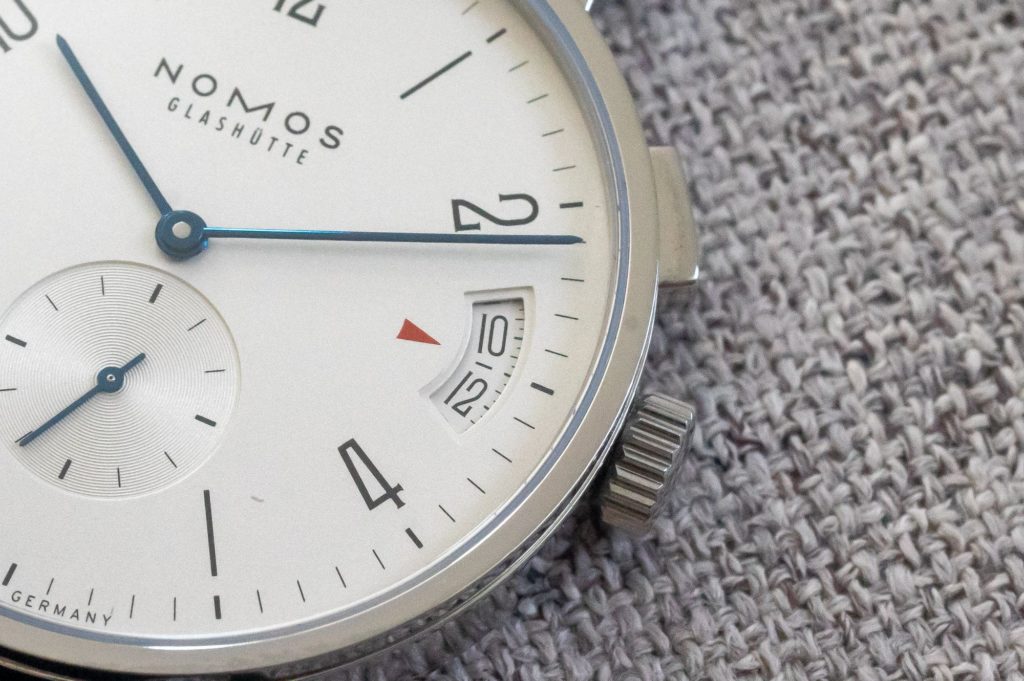 Earlier, I mentioned that as a beginner watch collector I sought to buy every style I could find. A glaring exception was the GMT watch. Something about the extra hand in GMT dials has always struck me as odd. I'm glad to say this is not the case with the Tangomat, as it executes the complication rather ingeniously. Instead of relying on an extra hand to indicate the time at home, the Tangomat allows the wearer to pick from 24 cities (displayed at 9 o'clock) to indicate their local times at 3 o'clock. Here's the complete list of chosen cities by Nomos:
MEX (Mexico City, Mexico)
NYC (New York City, USA)
SCL (Santiago, Chile)
RIO (Rio de Janeiro, Brazil)
FEN (Fernando de Noronha, Brazil)
PDL (São Miguel, Portugal)
LON (London, England)
BER (Berlin, Germany)
ATH (Athens, Greece)
DOH (Doha, Qatar)
MOW (Moscow, Russia)
KHI (Karachi, Pakistan)
DAC (Dhaka, Bangladesh)
BKK (Bangkok, Thailand)
HKG (Hong Kong)
TYO (Tokyo, Japan)
SYD (Sydney, Australia)
NOU (Nouméa, New Caledonia)
AKL (Auckland, New Zealand)
PPG (Pago Pago, American Samoa)
HNL (Honolulu, Hawaii)
ANC (Anchorage, Alaska)
LAX (Los Angeles, USA)
DEN (Denver, USA)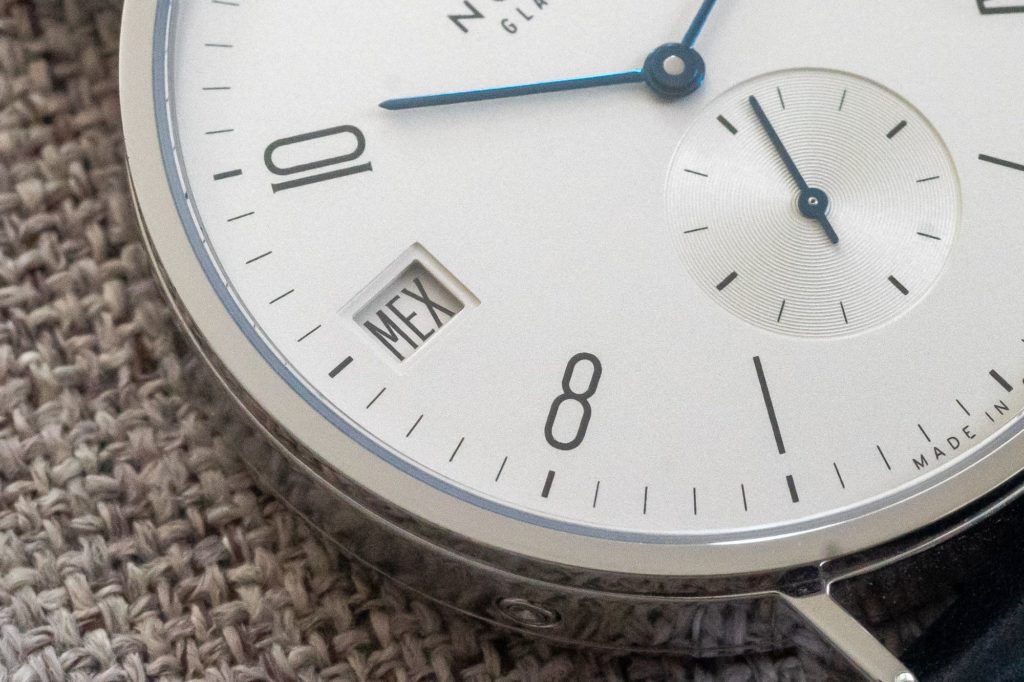 Sturdy Case
The case is built like a tank and commands a hefty presence. Curiously enough, it sits tall on the wrist, even if its measured thickness isn't that large. I suspect the overall superb presence of the Tangomat GMT derives from the white, bezel-less dial, and the lack of curved surfaces on the case. All in all, this aligns perfectly with the intended nature of Bauhaus-styled tools. Even the lugs comply with the style, as their angular, squarish shape seems to "bite" into the wrist. I can't help but feel they look a little bit too brutal, though. I wonder how gentler, curved lugs would look in this particular timepiece.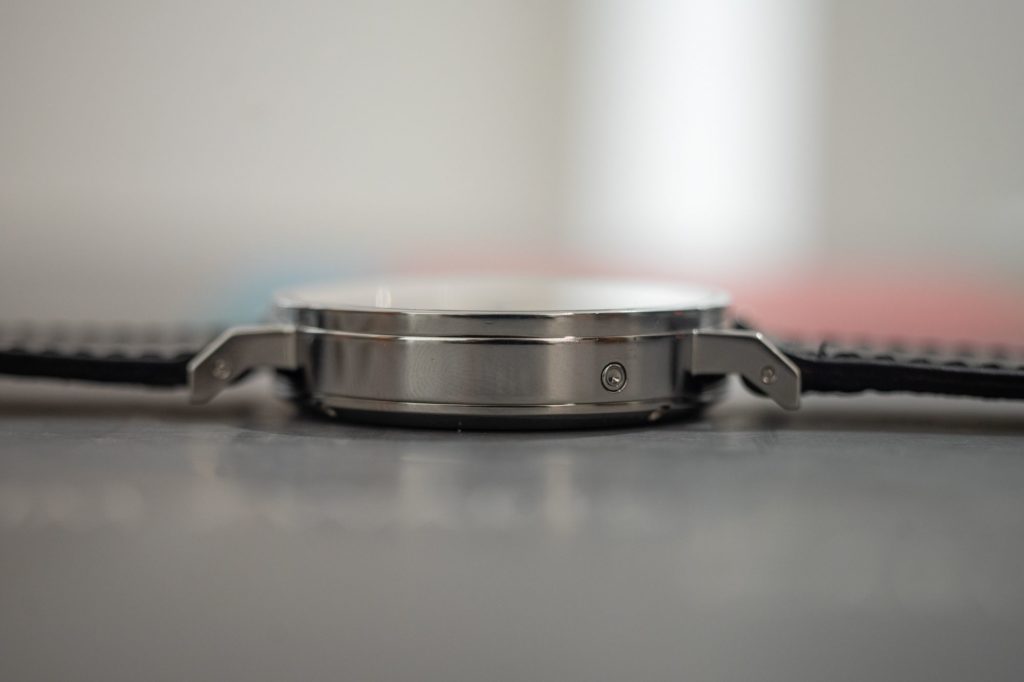 However, upon inspection of the pusher at 2 o'clock, I think the "squarish" motif works well, mostly because its shape doesn't compete with the crown for attention. Operating this pusher cycles through the cities listed above, and a little button at 8 o'clock allows the wearer to set the time for the desired timezone. Meanwhile, the signed crown offers a fantastic grip, and pulling it out to its only available position lets the user set the current time.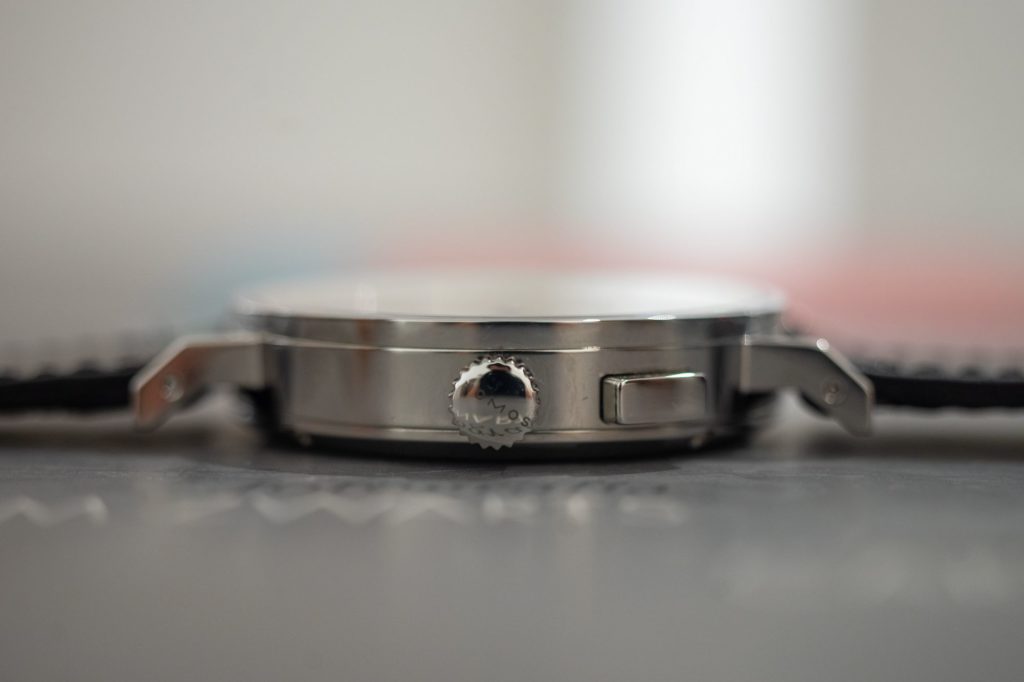 DUW 5201 Movement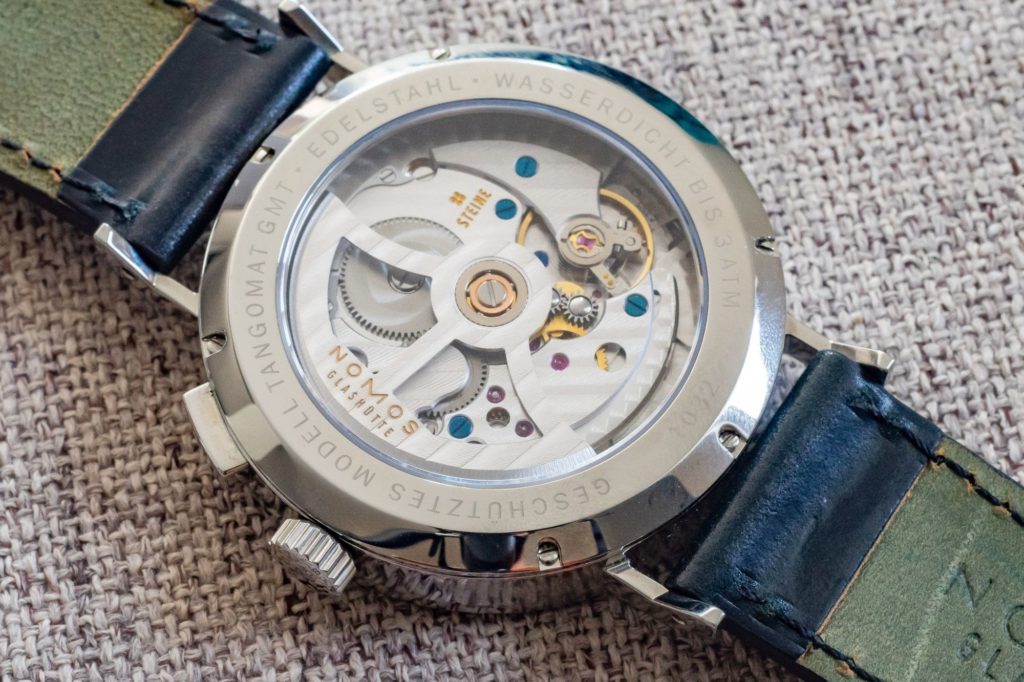 Turning the watch on its back shows the beautiful DUW 5201 automatic caliber in all its glory. Artfully decorated with blue screws and Côtes de Genève, the DUW 5201 is an in-house movement, which speaks volumes about the technical expertise of Nomos. Even though a GMT watch is a tool first and foremost (and thus an automatic movement is the best choice here), Nomos chose a skeletonized rotor so the inner workings of the caliber can be proudly displayed at all times. A wise choice.
Nomos doesn't explicitly state on their website what the DUW 5201 frequency is, but going by ear I'm fairly sure it's 3 Hz (21,600 bph). Potential buyers should take this into account as 4 Hz (28,800 bph) watches are usually preferred in the market over slower ones. However, the sub-seconds dial prevents the seconds hand from looking choppy, so I don't think the lower frequency is an issue at all in this particular case.
Crystal
The Tangomat GMT uses a slightly domed sapphire crystal, so nothing to write home about here. However, I will say that I'm glad the crystal is domed to a minimum, which helps keep the thickness in a very reasonable range.
Shell Cordovan Strap
The shell cordovan leather strap is satisfyingly supple and hugs the wrist nicely. Even so, what really caught my attention as soon as I unpacked the watch was the pleasant smell of the strap. It caught me completely by surprise and I think it really adds to the overall experience.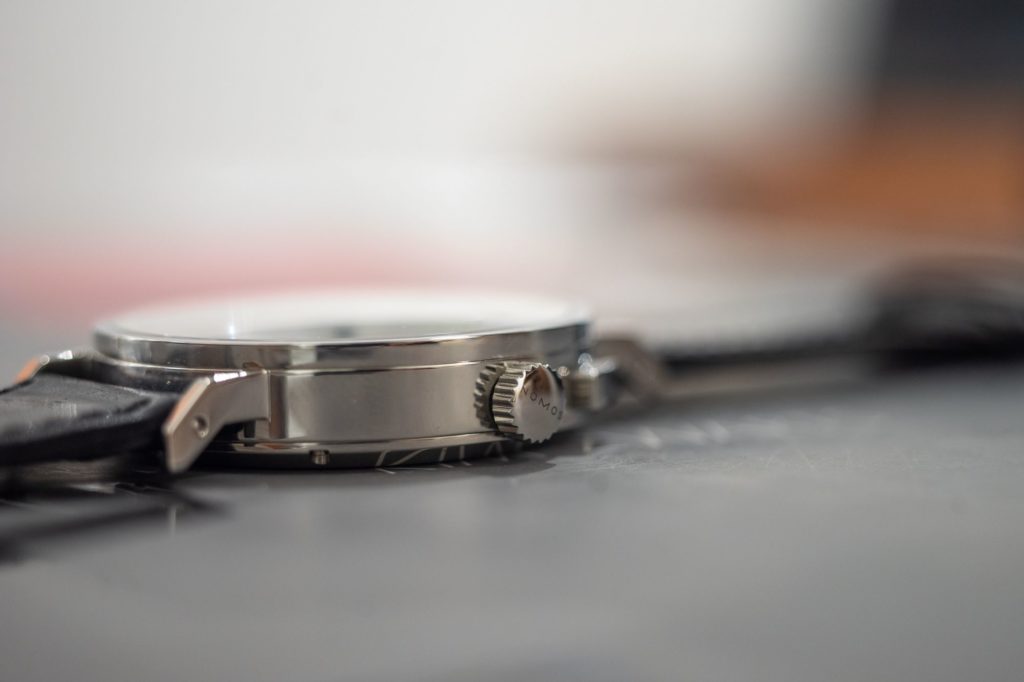 Closing thoughts
I must confess I wish this watch was 36 mm. If your wrist size is smaller than 6.5 inches, I'd recommend taking a look at some of the other Nomos collections, such as the Tangente and Orion. However, if you have regular-sized wrists, travel frequently outside of your timezone, and you appreciate minimal, clean designs, then look no further than the Nomos Tangomat GMT. This timepiece oozes quality in spades, and manages to refine the GMT complication to its purest form.
To view the full range of Nomos watches visit their official website here.