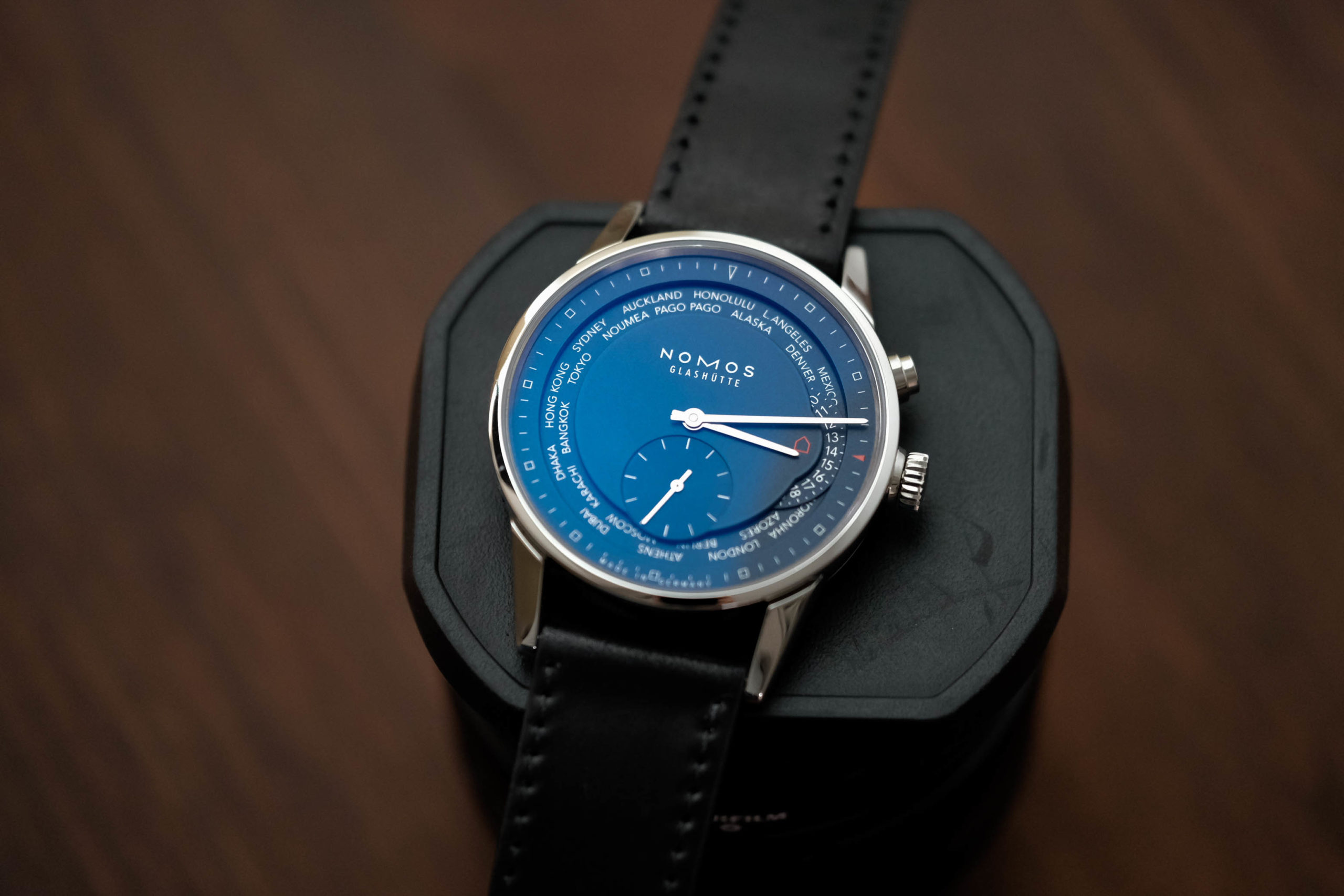 Nomos Glashütte is one of the premier German watchmakers, and is one of the only ones to make their own in-house movements. Located in Saxony, the imprint is one of the newer Glashutte based watch brands. Now, they're among the fastest-growing watchmakers in the world.
Today, I've had the pleasure of reviewing their Zürich World Time Midnight Blue. It lives up to its name, allowing you to switch between time zones with a click of its single pusher. In theory, this makes it one of the more functional world time watches I've seen. But did it live up to my expectations in other regards? Here's everything I learned.
Case & Construction
The Nomos Zürich World Time Midnight Blue has a 39.9mm case, which lends it a medium-small wrist presence. It's also fairly thin for the diameter, at 10.9mm thick. As a result, it has a slender profile. The crystal actually sits fairly far down in the case, which creates an effect that makes the dial appear to be larger than it is.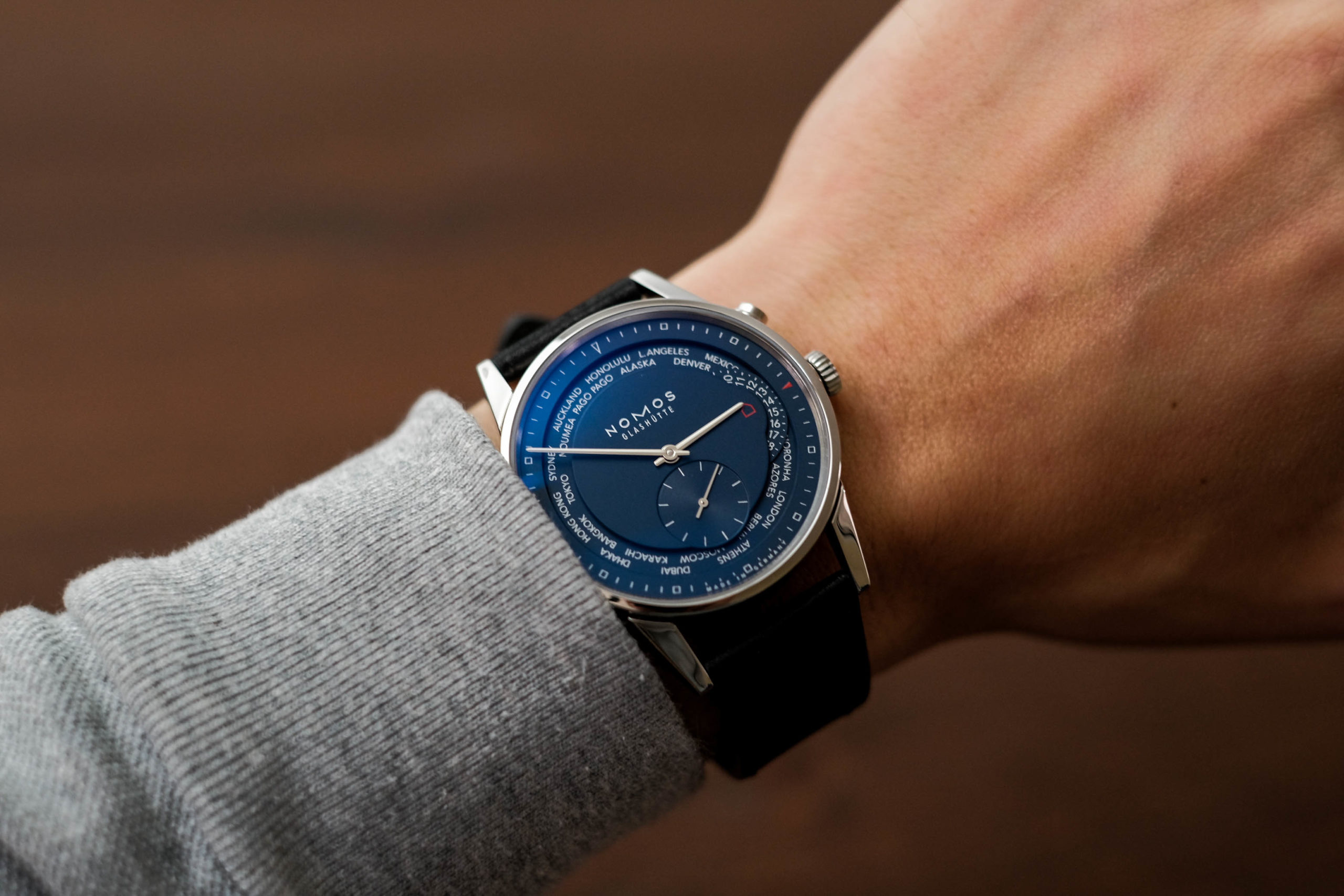 The back of the case also features a sapphire crystal, which is scratch and glare resistant just as the front crystal is. It provides a full view of the DUW 5201 movement, with multicolored nubs and swirls that lend the movement a nautical appearance. The lugs have a width of 20mm, which is suitable for many popular straps. Unfortunately, the water-resistance is only 3 atmospheres, so it's only splash-resistant. You can wear this watch in the shower, but you'll want to take it off for any more significant water exposure.
Dial & Cosmetics
As the name implies, the Zürich World Time Midnight Blue has a midnight blue dial. It consists of an outer index and a bare area, as well as an intervening ring I'll talk about in a second. Inside the central area, you'll find a date subdial at the 3 o'clock position and a 24-hour dial at the 6 o'clock position.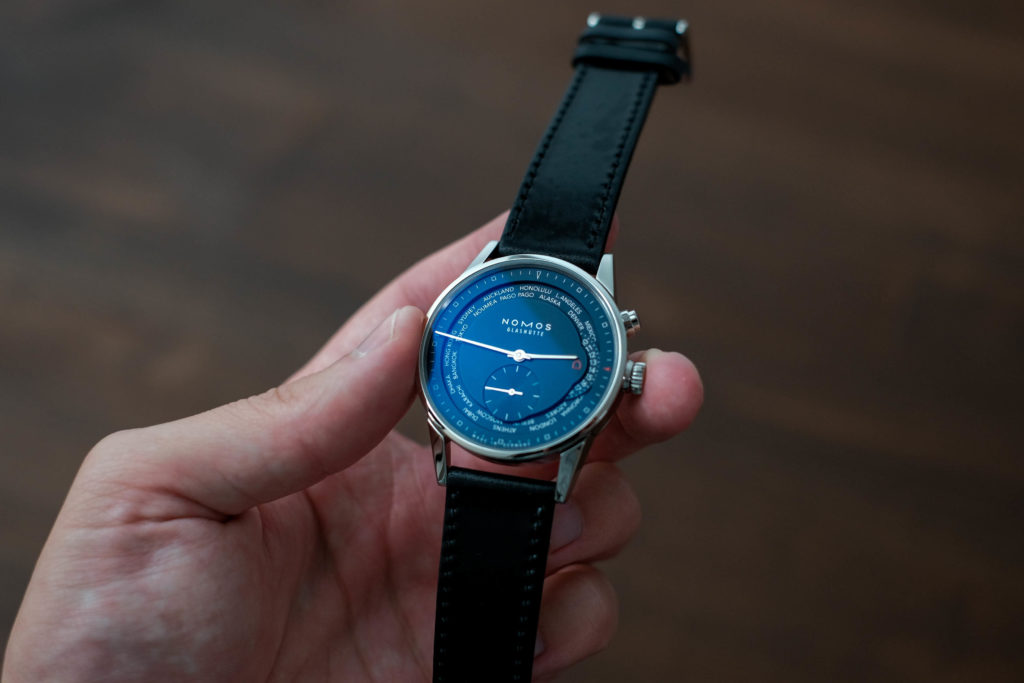 The outer index is understated, with fine white hashes at the single minute marks and small boxes at the five minute marks. The hands are of medium thickness, with sharp tips and lume stripes down the center. There's no lume paint on the dial, but the angle of the hands is good enough for a ballpark estimate in total darkness.
As I mentioned, the Zürich World Time Midnight Blue allows you to switch time zones at the push of the buttons. The time zones themselves are located on a ring between the inner dial and the outer index. A bright red arrow at the right side of the dial tells you what time zone you're currently in. Simply set the time while you're set to your home time zone. Then, each time you activate the pusher, the time will advance a single hour. You can cycle through time zones in just a few clicks so your watch will be accurate when you reach your destination. This sets the Zürich World Time Midnight Blue apart from most other "world time" watches, most of which only cover a few time zones or are difficult to set.
In-House DUW 5201 Movement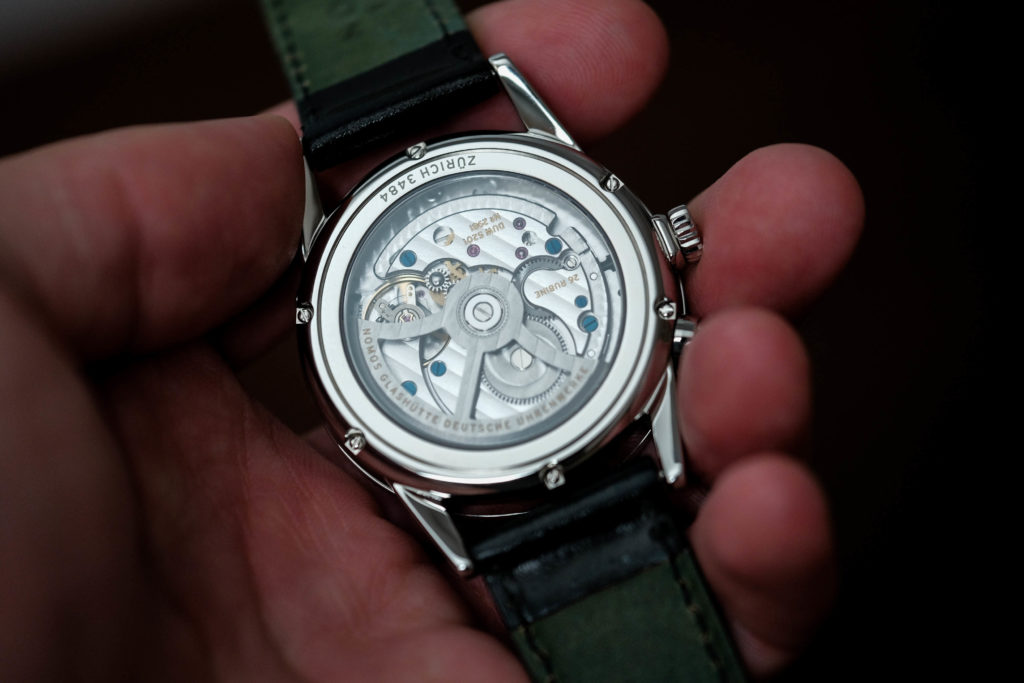 Nomos Glashütte isn't just known for their watches. They're also known for their in-house movements. This is remarkable for a German company, since most German watchmakers simply make use of Swiss movements. Not only does Nomos Glashütte make their own movements, but they're actually quite well regarded. They've even been used by some microbrands for producing their own bespoke watches.
The DUW 5201 movement in the Zürich World Time Midnight Blue is no exception. It has a power reserve of 42 hours, and is generally accurate to about +5-6 seconds a day. One thing I should note is that the DUW 5201 generally runs a bit fast out of the box, as much as +10 seconds a day or more. If you have this experience, try manually winding your spring and letting it run out a few times. This should cause the movement to "settle" into its normal, accurate operation.
Strap & Extras
The watch comes with a gorgeous cordovan strap that's very easy on the eyes. It's also sturdy and comfortable. Rugged stitching around the outside provides some added reinforcement, while a soft inner layer is forgiving on your skin. It fastens with a simple stainless steel catch, a classic closure that nonetheless gets the job done.
The kit includes a leather carrying case. This is a high-quality, full grain leather case. Because it's full grain leather, it can stand up to a lot of abuse, unlike top grain leather, which is only really useful for cosmetic purposes. You also get a simple cardboard box for storing your watch in your drawer.
To have a look at all of the Nomos offerings visit their official website nomos-glashuette.com.