As regular readers will know, I have a soft spot for microbrands and new manufacturers. Yes, brands like Omega and Patek Philippe make some gorgeous timepieces and have carved out a secluded market of their own, but many smaller watchmakers produce some impressivly designed watches as well. That's certainly true for Nordgreen, a Danish company that's now in its sixth year of operation.
Founded in 2017 by Pascar Sivam and Vasilij Brandt, Nordgreen has a dual mission. On the one hand, they aim to produce attractive, minimalist watches that still offer plenty of functionality. On the other hand, they have also pledged to run an environmentally-sustainable company, which they've done right from the get go.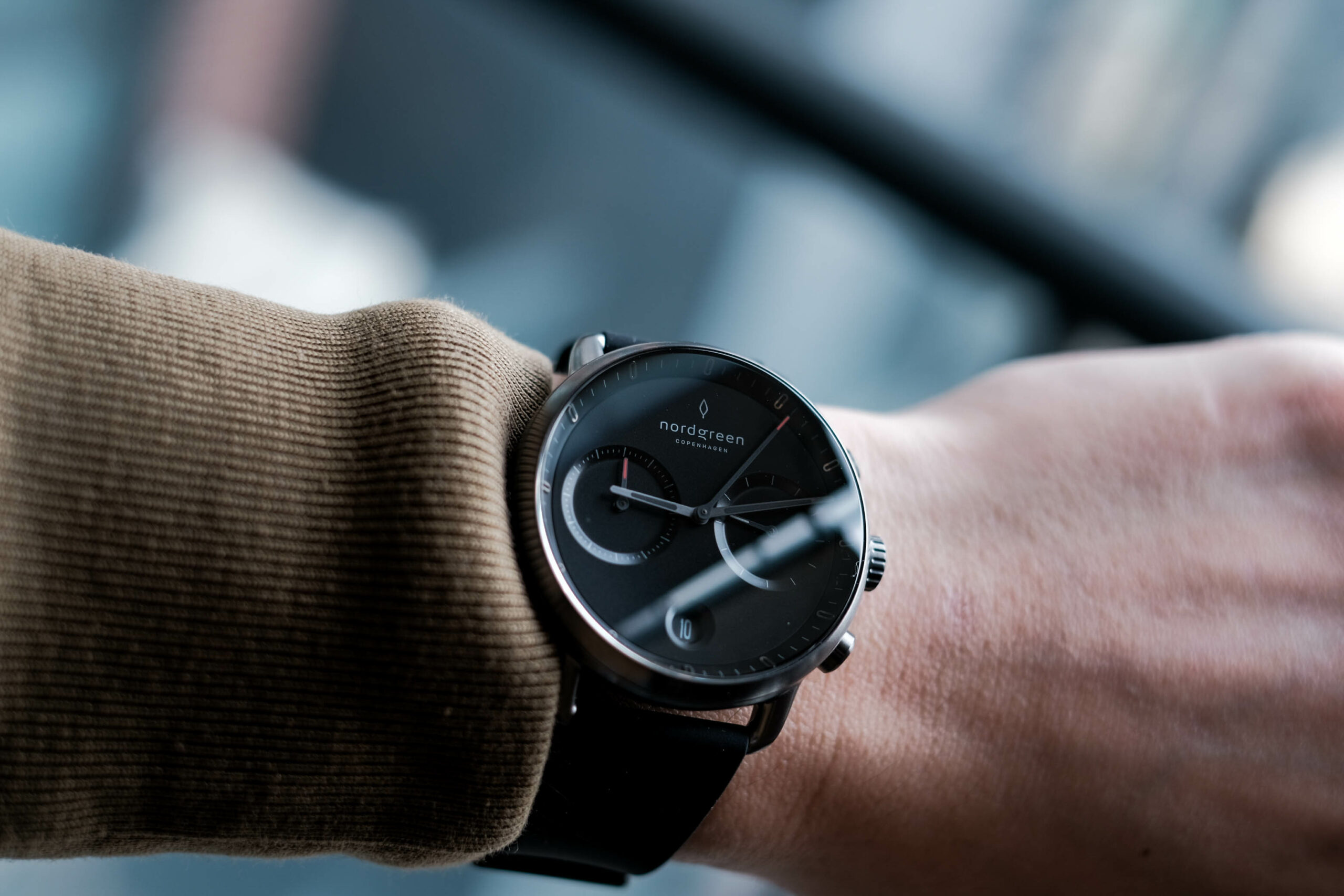 On the design side, they have the services of lead watchmaker Jakob Wagner, a horologist with 25 years of experience. He's known for his practical, attractive timepieces, which he's designed through his long career in the industry. Among other brands, Jakob has worked for B&B Italia, Bang & Olufsen, Cappellini, and Hay. Along the way, he's won the IF Product Design Award five times, including Designer of the Year. At Nordgreen, he won the 2020 Red Dot Award in Product Design for the watch I'm reviewing today, the Copenhagen Pioneer.
I've actually reviewed one of Jakob's watches in the past. In 2019, I reviewed the Nordgreen Philosopher. I was impressed by the attractive, elegant, and Spartan design, and it's a great example of Jakob's design philosophy. It's also a great companion piece for the Copenhagen Pioneer.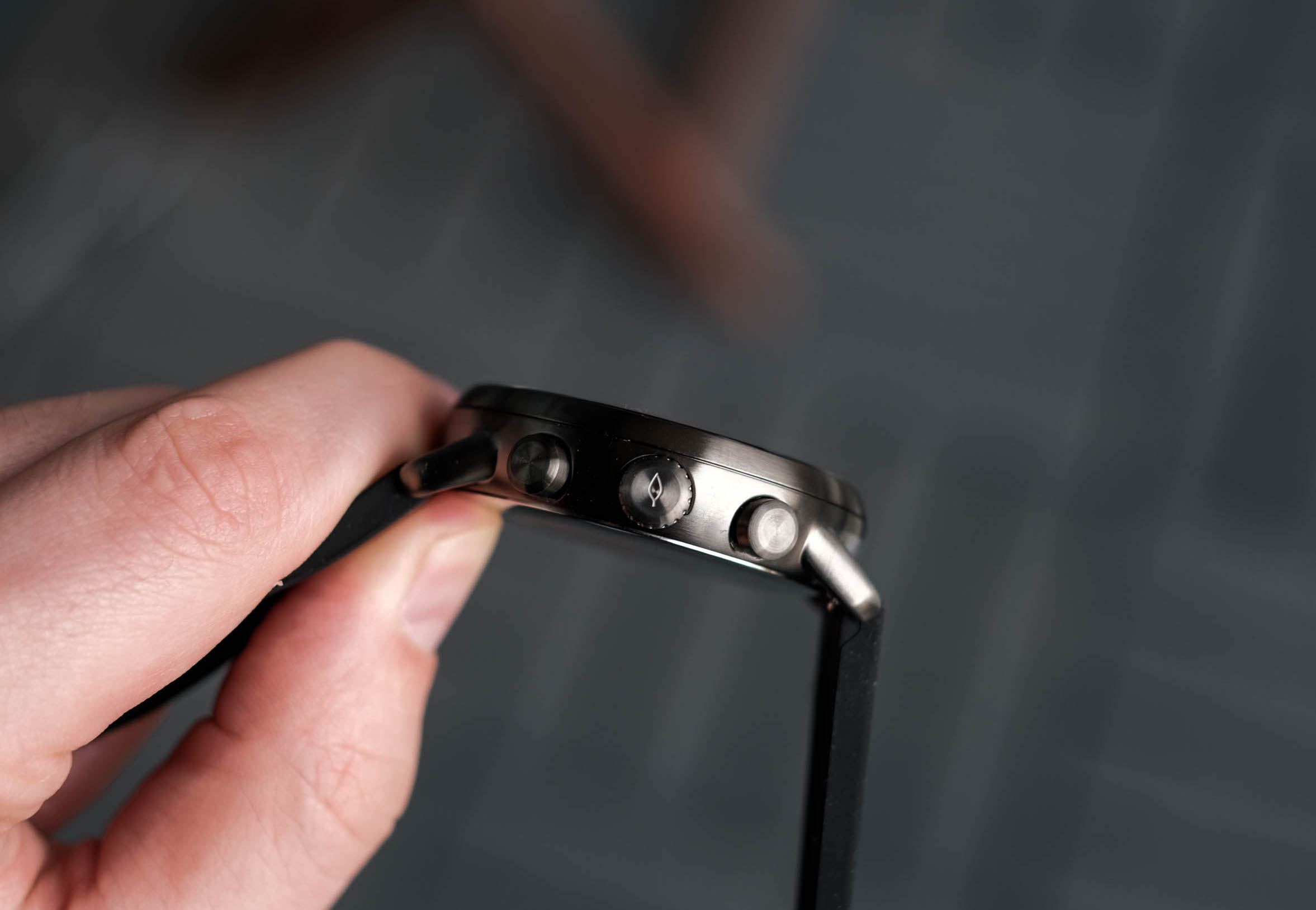 Another thing I should point out about Nordgreen's design philosophy is their custom ordering system. All of their watches come with multiple colors, straps, and other features. Some are even available in multiple sizes, and the ordering system makes it easy to build a package that's right for you.
On the environmental side, Nordgreen's commitment begins with their name. "Nord" refers to the company's Nordic origins, while "green" refers to their pledge to run a carbon neutral company. Not only are they carbon neutral, but the packaging is all sustainable. And through their charitable initiatives, a portion of Nordgreen's earnings goes to a variety of environmental and educational initiatives.
Now that I've talked all about the company, let's take a look at the Nordgreen Copenhagen Pioneer.
A Modest Case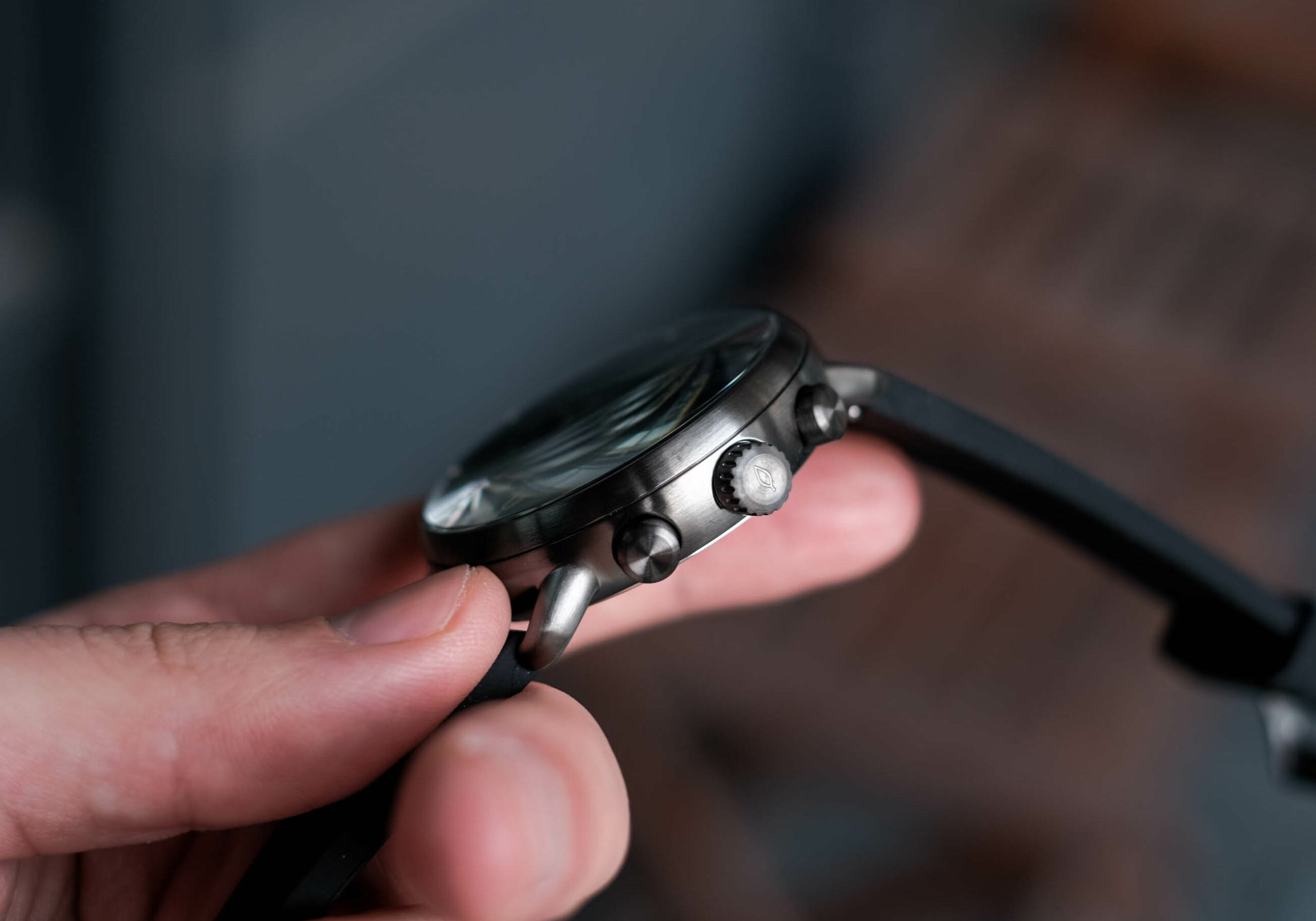 Like many things about the Copenhagen Pioneer, the case is understated. At 42mm in diameter, it's not exactly small, but it has a medium wrist presence that will wear well on most wrists. It's 11.9mm thick, so it has a slim profile that's relatively lightweight. The sides are smooth and round, with a tall bezel making up nearly half of the thickness. This bezel leads up to a domed sapphire crystal, which slightly distorts the edges of the dial when it's viewed from an angle.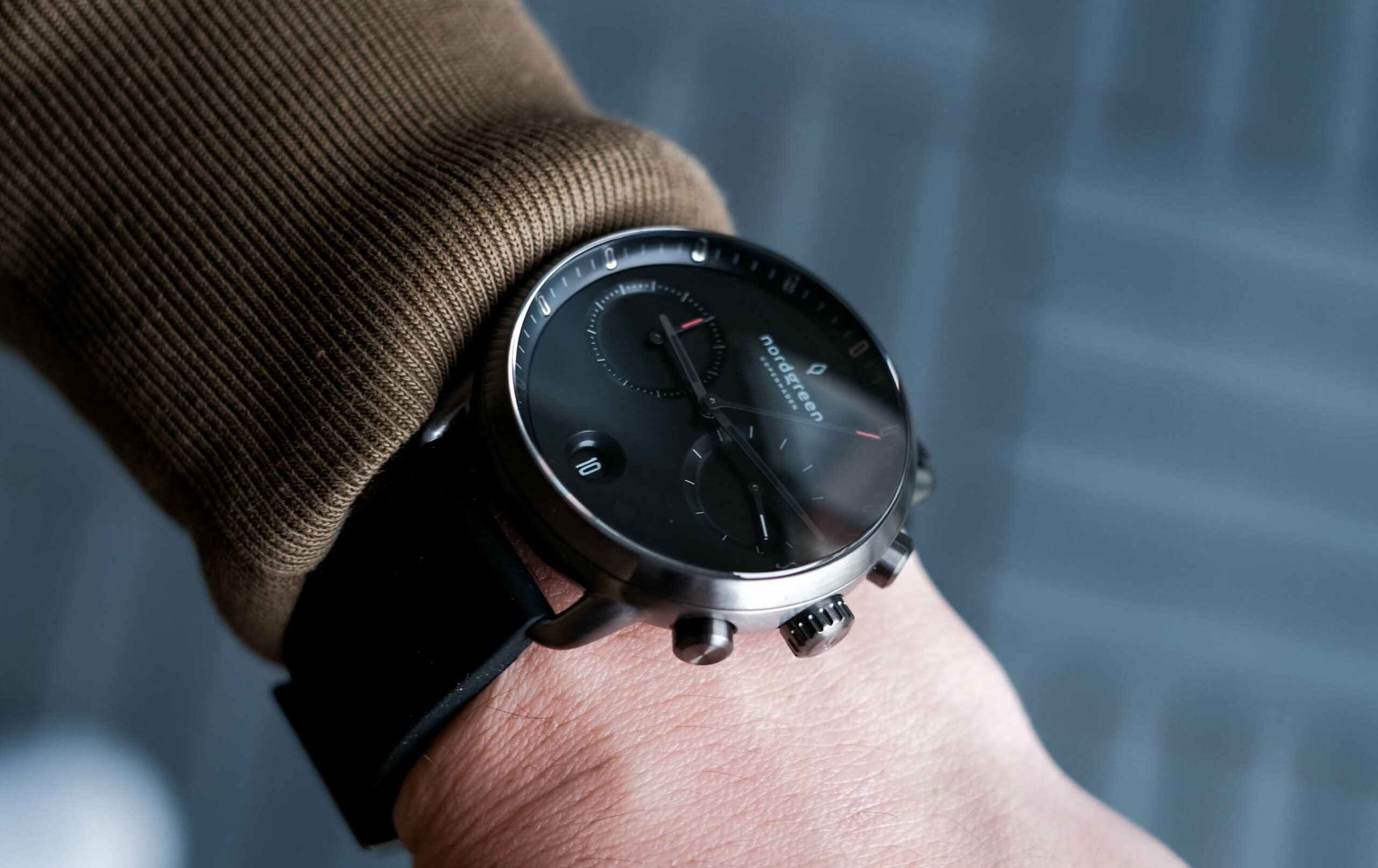 The case is constructed from 316L stainless steel, one of the most corrosion-resistant steels available. Just because it's steel, though, doesn't mean it's boring. In addition to the standard silver finish, you can order the watch in brushed gun metal, rose gold, and gold. Depending on what you choose, it can match just about any outfit. On the right side, there's a set of two pushers at two and four o'clock, with a knurled crown at three o'clock. The crown is decorated with a subtle Nordgreen logo, which is etched into the end.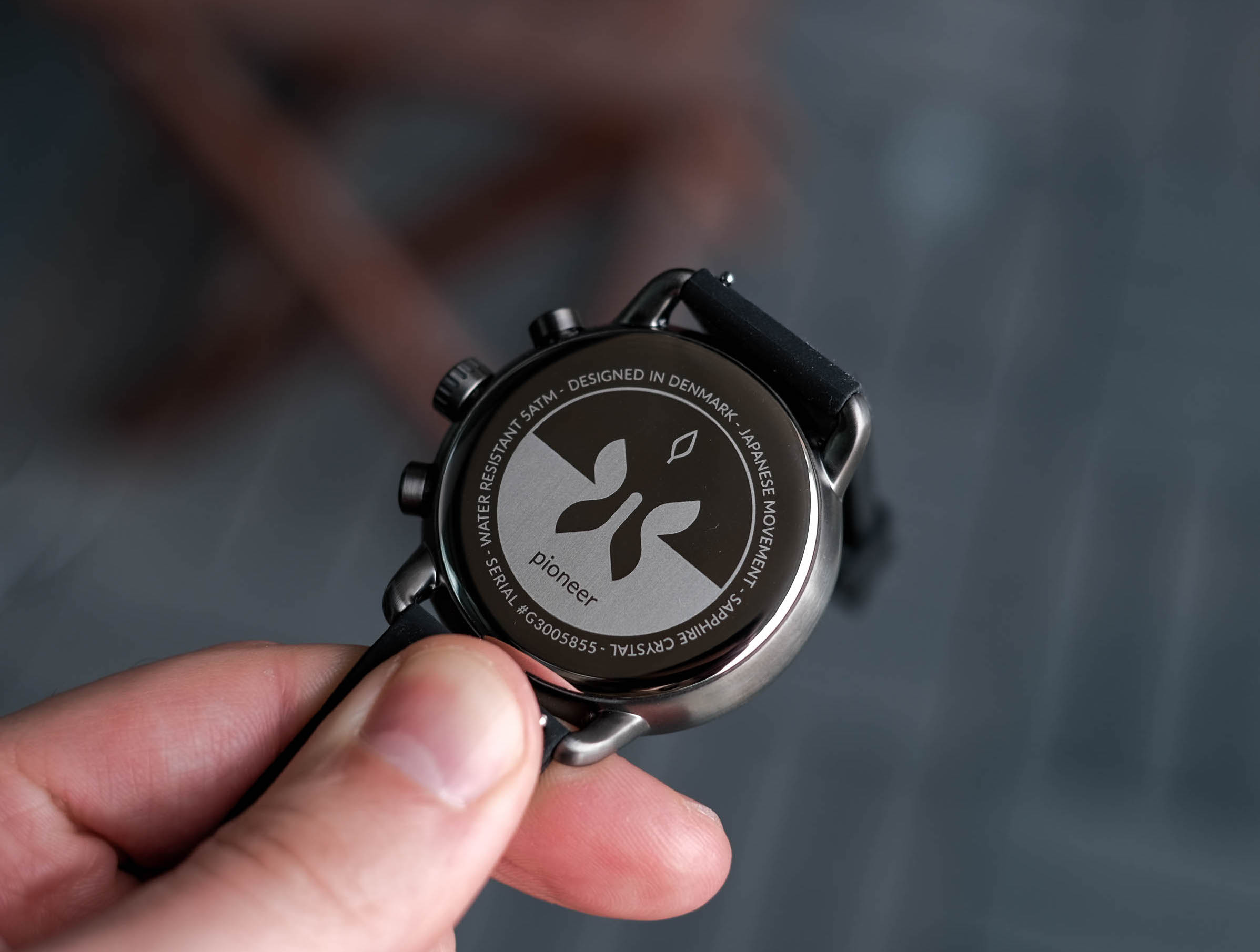 The Copenhagen Pioneer has a flat caseback, with a serial number and other relevant data etched into it. It has a water-resistance rating of 50 meters, which means it's safe for showering. I wouldn't recommend taking it swimming or snorkeling, but for everyday use, you're going to be fine.
An Elegant Dial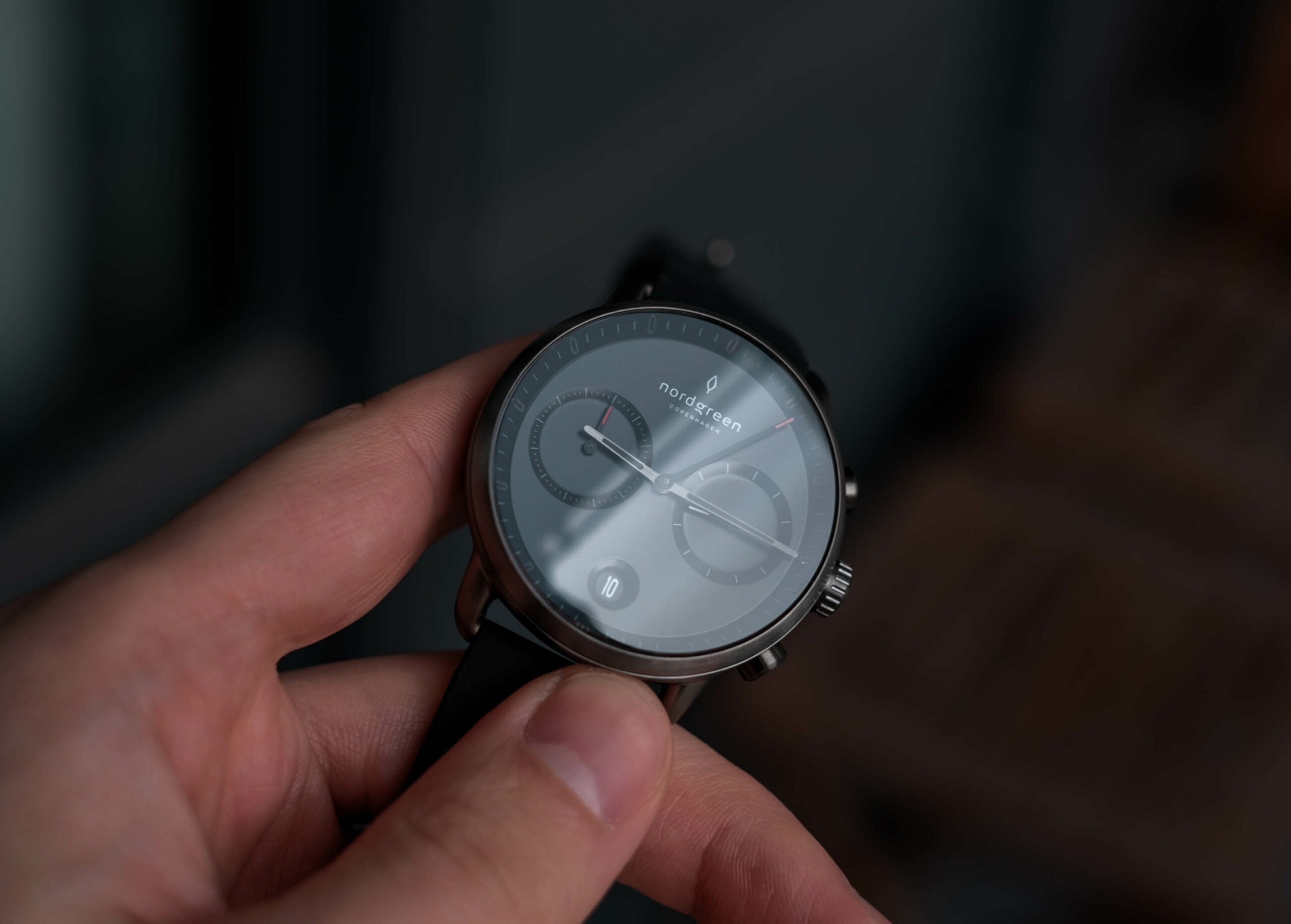 In keeping with Nordgreen's design philosophy, the Copenhagen Pioneer has multiple dial options. I went with the matte black option, but you can also choose a bare white or a deep blue. All three options are simple and straightforward, with only a little bit of modest branding at the top of the dial.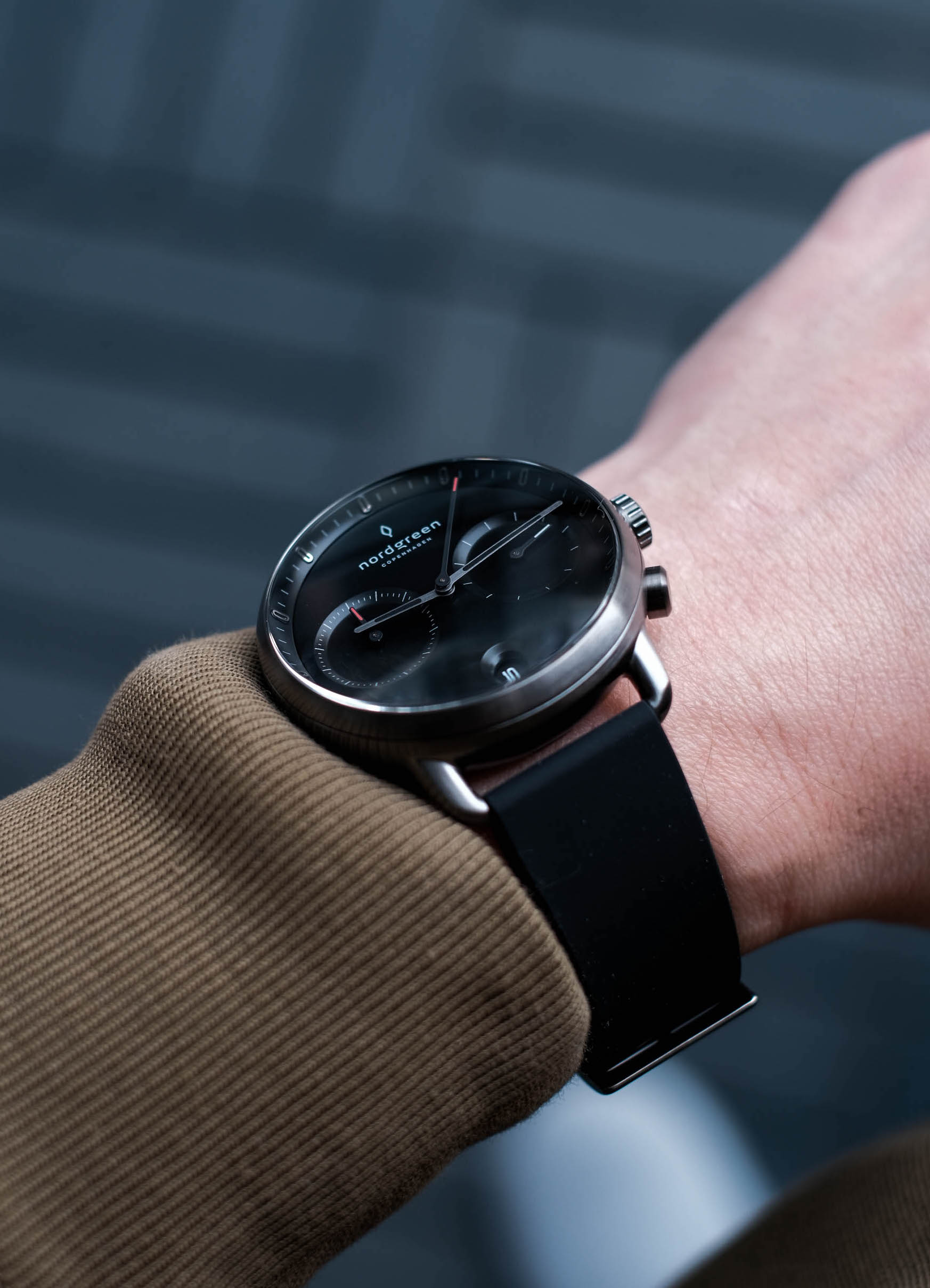 The index, like everything else, is minimalist, with short, fine hashes around the perimeter at the minute marks. The surface the index is printed on is noticeably concave, giving the dial a sense of depth and dimensionality. At all of the five-minute positions, there's a small "0". This was an interesting choice, since I'd normally expect to see Arabic or Roman numerals, or even a set of lugs. But the 0 achieves the same effect as a lug without taking up as much space.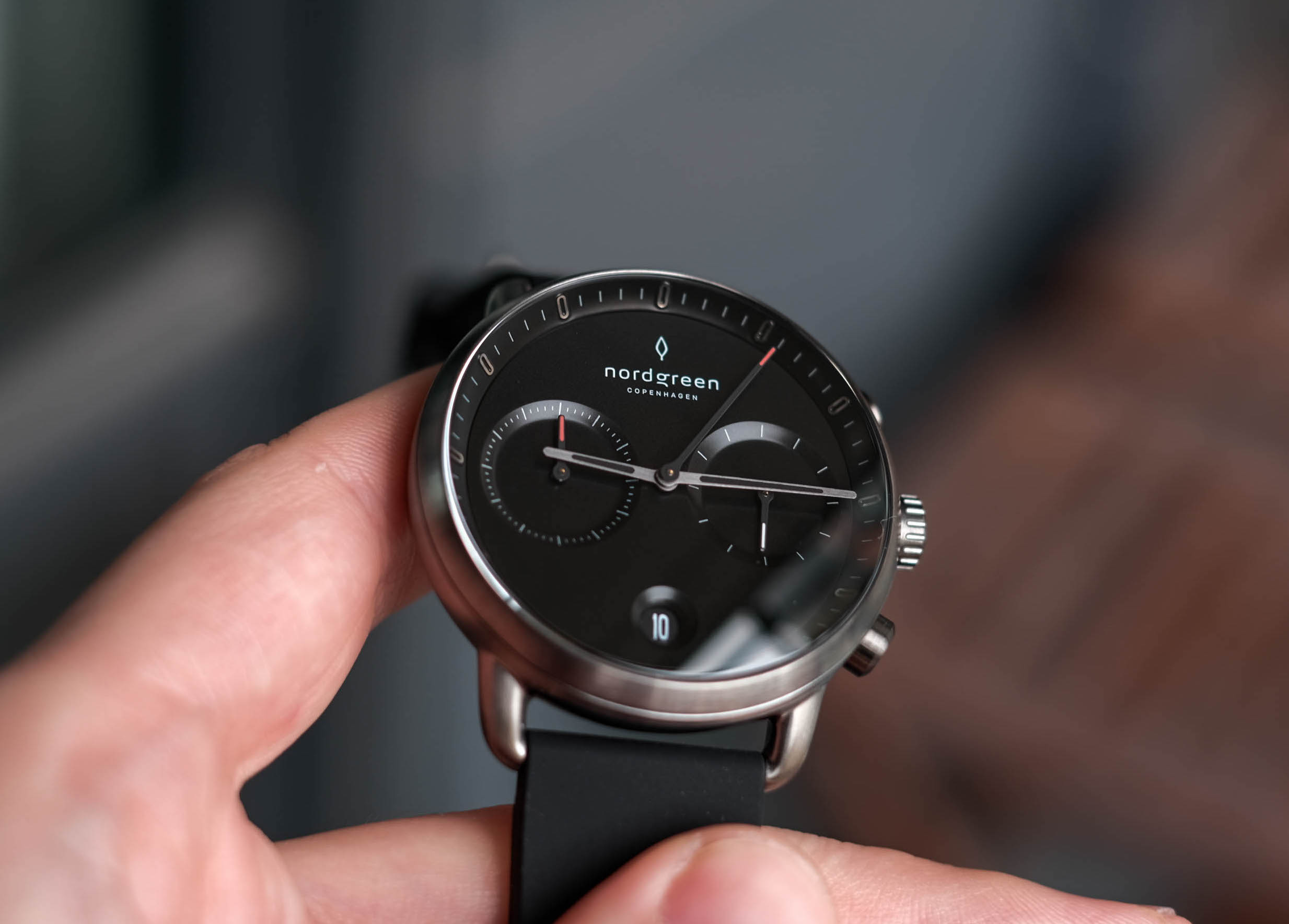 The hands are designed to evoke the hands of a windmill – a nod to Nordgreen's environmental commitments. They're long and slender, with a black surface. This makes them blend in with the black dial, and makes them really pop against the white and blue dials. Down the center of each hand, there's a narrow white lume stripe, so you get excellent low-light visibility. The silver second hand is very long, and sports a red tip that makes it easy to follow.
There's a set of dual chronometer dials to the left and right of the center. The left one has a red tip to the dial, and the right one has a white tip. At the 6 o'clock position, there's a small round date window, which is the same color as the rest of the dial.
Multiple Strap Options and a Reliable Movement
As with everything else on this watch, the Copenhagen Pioneer gives you different strap options. In addition to the default black rubber option, there's a surprising array of choices. You can go with a brown or black leather, multiple colors of vegan leather, and even patina and crocodile leather options. Not only that, but you can choose mesh, 3-link, or 5-link metal bands. All of them are 20mm wide, and all are interchangeable.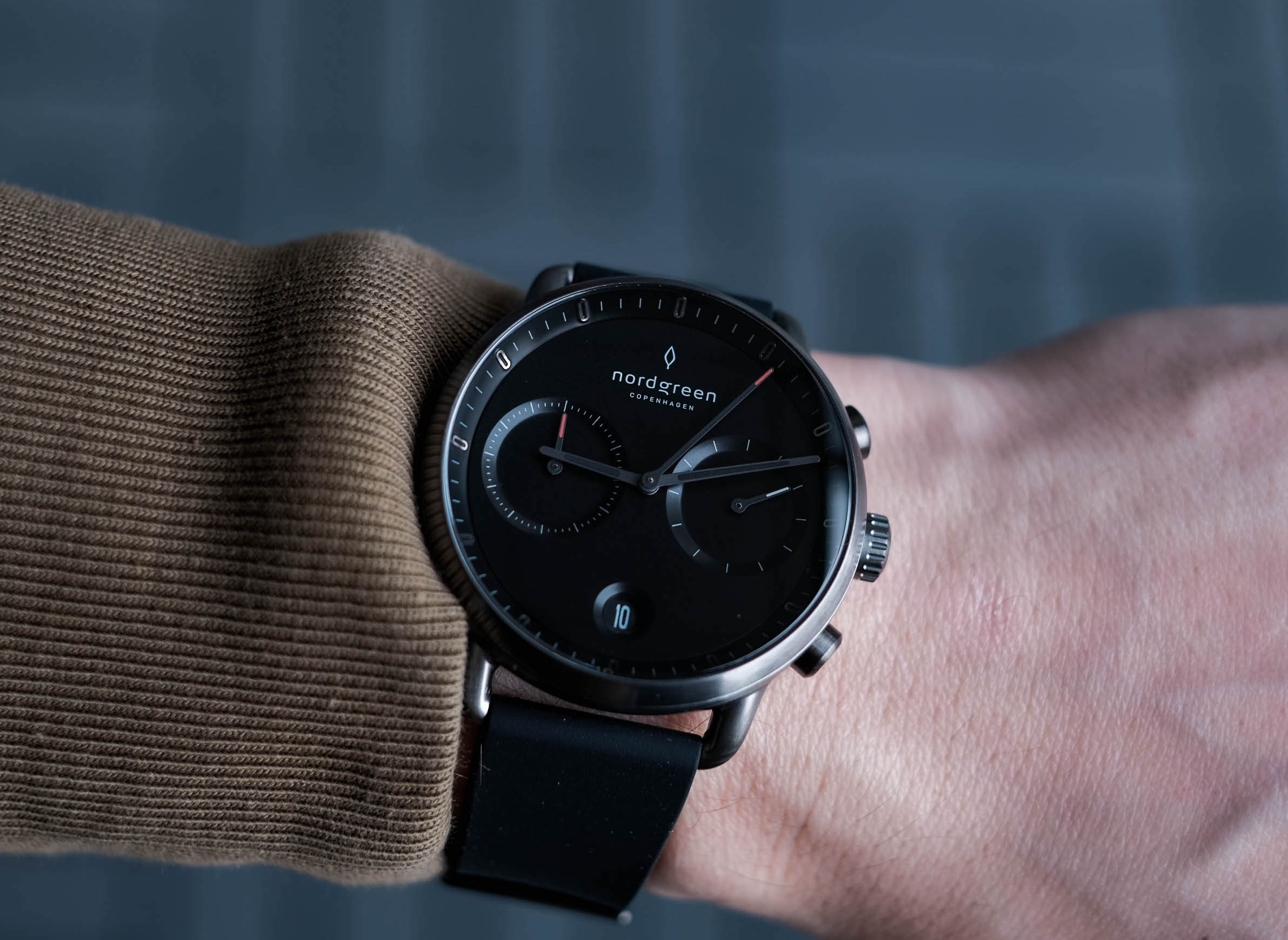 This watch has a Japanese quartz movement, not an automatic movement. This can be a drawback for some enthusiasts, especially if you like the feel of mechanical ticking. Then again, a quartz movement is far more reliable, which is important if you're looking for an accurate chronometer.
For 15% off use discount code NGWATCHREVIEW on Nordgreen's website.
To view all of Nordgreen's watches visit their official website here.