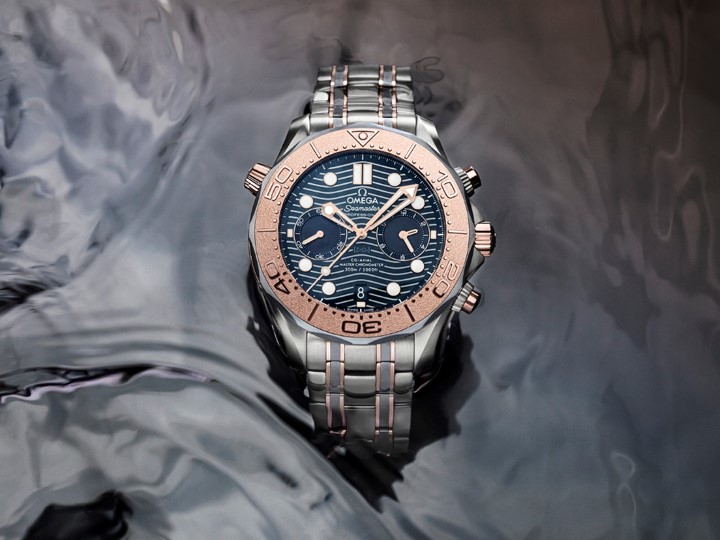 In 1993, OMEGA introduced tantalum to the world. Now, in 2020, OMEGA has brought the material back to center stage with the Seamaster Diver 300M Chronograph. With gray and blue tones, the watch's beautiful metals culminate in the newest dive watch from OMEGA.
This Numbered Edition is 18K tantalum and gold, as well as titanium, which is grade 2. The gold, a Sedna version, is laser-ablated, while the blue ceramic looks like waves, thanks to laser engraving. On the case's side, there is an 18K gold plating that has the engraved number of the watch itself.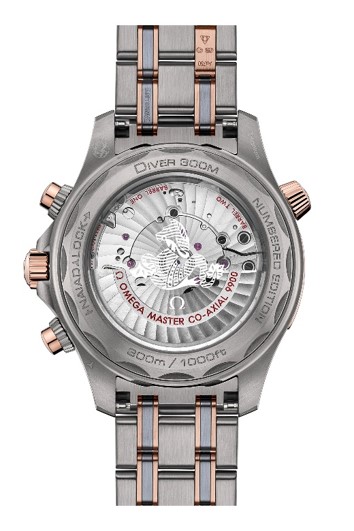 When you turn the watch to the other side, you will see the OMEGA Seahorse has lacquered sapphire crystal. As you look into the glass of the watch, the view of the OMEA Co-Axial Master Chronometer Calibre 9900 will be present. This watch is water-resistant to 1,000-feet and comes in a box that looks like an air-tight diving chamber.
Diving Into the Metals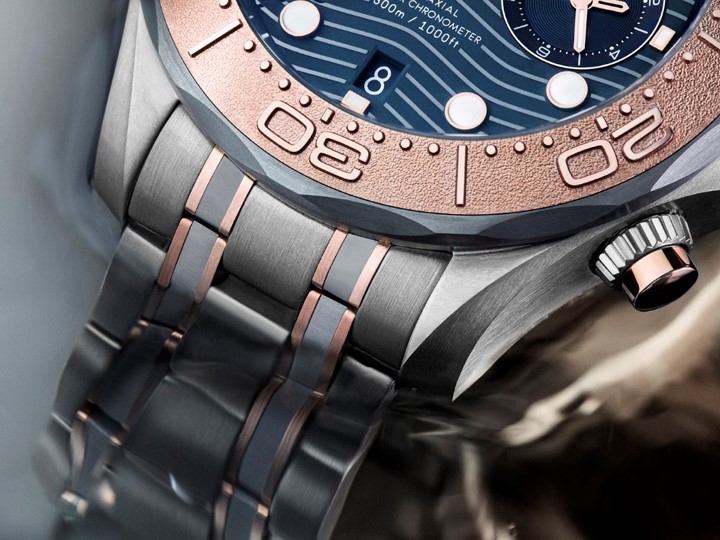 Titanium
The Grade 2 titanium is a thing of beauty on this watch. Founded in 1794, the commercialization of titanium has only been around since 1939. Even though the metal is quite common in this day and age, it is one of the more expensive metals on the market since its dissociation process is different from other materials of the time. Many people like titanium because it is a very light metal, and it is non-corrosive. When it pertains to Grade 2 titanium, it can be heated to gain more strength. This watch is not the first OMEGA watch to use Grade 2 titanium either. The Speedmaster X33 and the older Seamaster Diver 300M models have used this precious metal, too.
Tantalum
The bluish-gray tantalum is another metal that eludes many people. It is more difficult to find than gold, and the metal is sturdier than steel. As a non-corrosive metal, as well, it is valuable, just like platinum. This dark and pliable metal gets its roots from Greek Mythology. The story of Tantalus involved a king who had to stay in water about knee height because of his actions. The king was not allowed to drink from the water or gather any fruit that was near him. In the same way, this metal will not absorb any acid, even if it is covered. These properties give tantalum a step above many other options.
Gold
OMEGA uses a rose gold alloy to add to the resistance against discoloration. In 2013, OMEGA partnered with Sedna gold to add exquisite colors to their products and to protect against color fading. With a mix of gold, copper, and palladium, the tone of this watch is long-lasting. The name Sedna comes from a dwarf planet in space.
For more information on this new release please visit omegawatches.com.