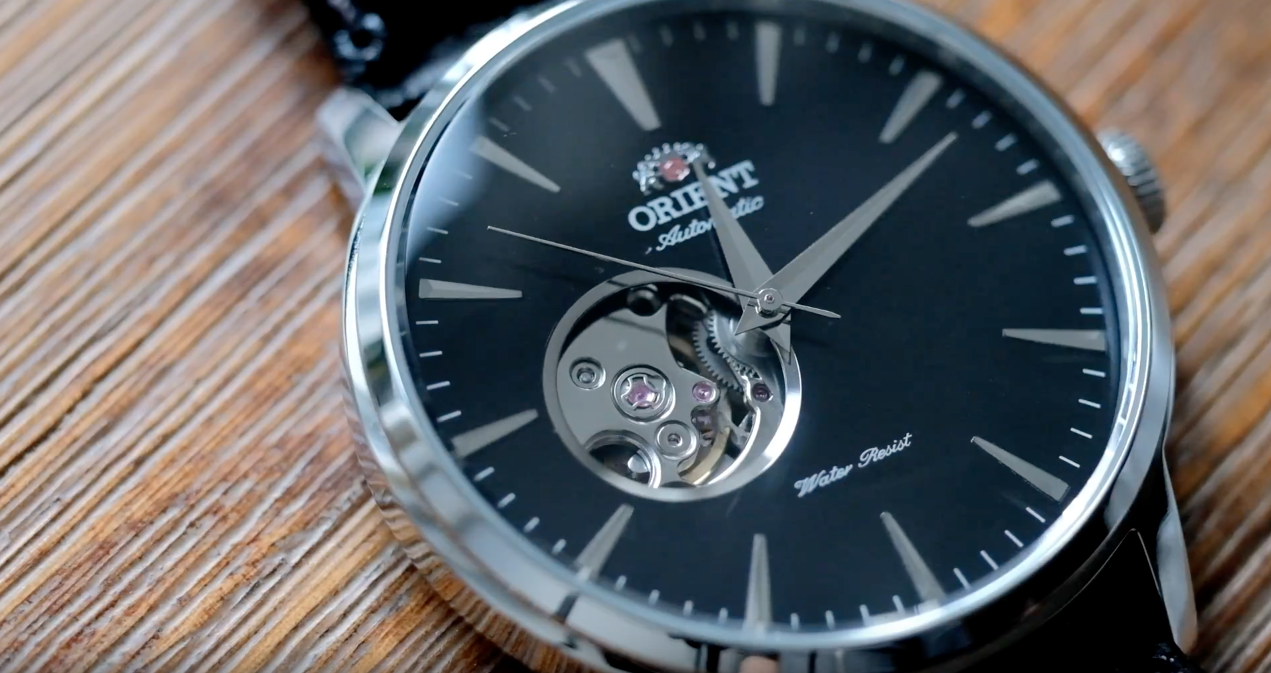 The Orient Open Heart FDB08004B is a perfect example of Japanese craftsmanship. Orient are known for their dress watches. In the Open Heart Esteem you can pick up a dress watch that punches a few levels above its weight class in terms of elegance and looks. Orient's dedication to constant improvement in their mechanised watches ensures that you have a timepiece that will stand the test of time. You don't need to treat it with too much care around water at least since it carries a 50m water resistant rating. As long as you avoid the boardroom water sports you shouldn't have any problems here. Let's have a more in depth look at what makes the FDB08004B such a great watch.
> > > Click here to see ratings, reviews, specifications and prices on Amazon < < <
Design
The FDB08004B has a round faces that blends in easily with any formal setting. The classic design makes it a watch for the ages. The crystal glass magnifies the dial beautifully and protects from simple scratches that could be picked up with daily use. The dial has silver hour and minute markers that are on a black polished surface and also features an open heart view, at 8 o'clock, into the mechanical system that runs the watch and makes for a unique look. The case is a pretty normal 41mm in size with a slightly thicker than usual 14mm width. This semi-skeleton timepiece is held together by a silver stainless steel case that oozes class.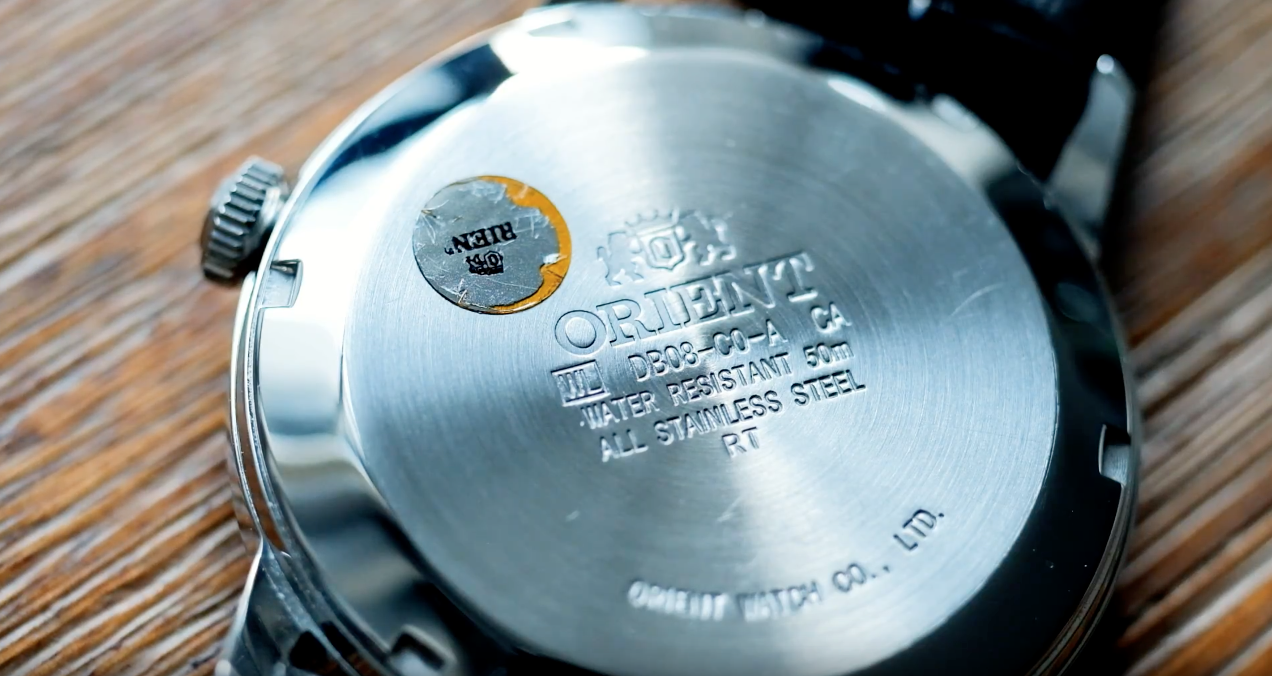 > > > Click here to see ratings, reviews, specifications and prices on Amazon < < <
The open heart dial represents the pulsing of a heart which is where it gets its intriguing name. It has a continuous operation time of more than 40 hours and dauphine hands to point us to the time of day. There is nothing special waiting for you on the back of the case other than the simple Orient engraving and regular disclaimers, at least you shouldn't be spending too much time looking at the back of the watch.
FDB08004B Comfort
The Esteem Open Heart is made for daily use and therefore has nothing to worry about in terms of comfort. The only thing that might bother some users is the glossy leather strap. The strap however is made from genuine leather and lacks nothing in quality so this would be a personal preference aspect. The water resistant rating mentioned earlier does mean that this watch can also be worn when swimming or showering but you will probably find yourself wearing it to more dressed up occasions such as work or formal dress events. It isn't the lightest of watches so you will know that it is on your arm but shouldn't irritate you.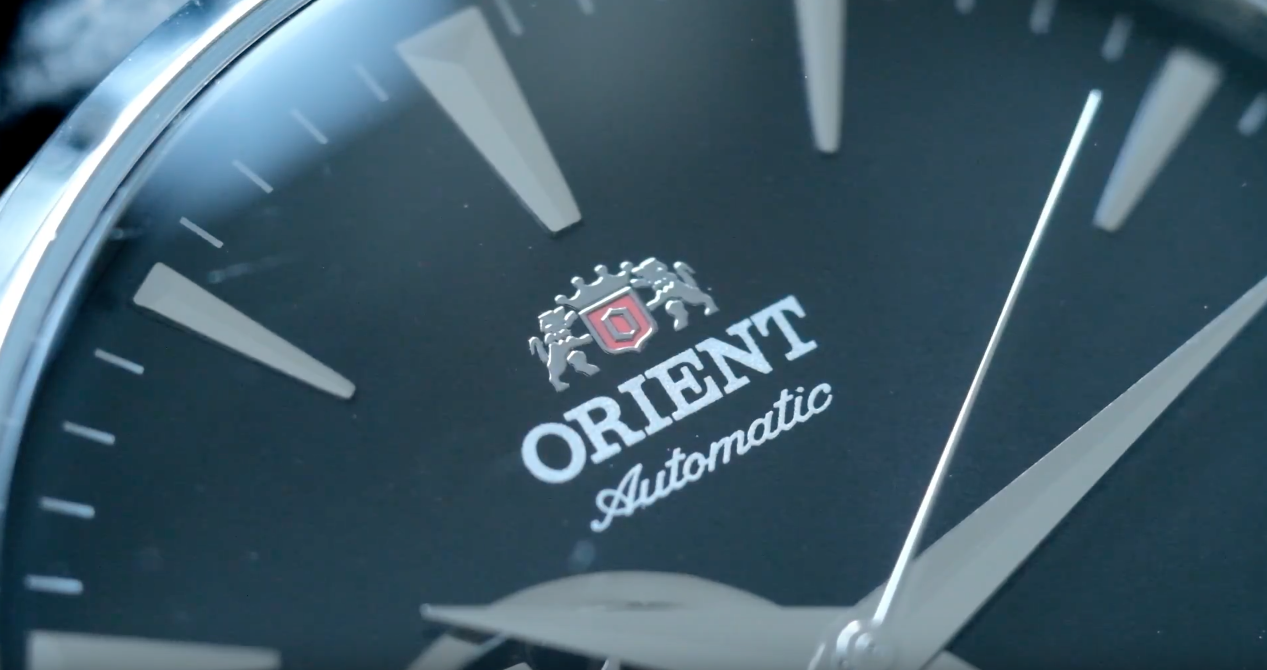 Due to its relatively modest design it will still look great with a pair of jeans and a t-shirt though and should be seen as being strictly formal. It is a little hard to believe that this beautiful piece comes in at just under $ 120.
Genuine Leather Strap
The genuine leather strap compliments the Orient FDB08004B well. The leather is glossy but the shiny finish of the stainless steel guarantees that you won't see the strap before you see the watch. The length is suitable for average and slightly above average wrist sizes and there is a little Orient engraving on a stainless steel buckle styled clasp.
Final Thoughts
I think you will have to look very hard to find somebody that can't appreciate this watch. It is practical in design but ever so classy. If you are looking for something that is going to stand out and you are not ready to spend hundreds of dollars to do so or you are just looking for a simple addition to your collection this is the watch. There is no date on the watch dial but that shouldn't cause too much of an inconvenience, if anything I think it adds to the attractiveness of the unpopulated dial.
You may catch yourself every now and again staring into the open heart dial watching the balance wheel but other than that it is the ideal addition to your corporate dress armoury. The automatic wind can make a bit of a noise sometimes but it really isn't significant unless you are holding it up and listening for it.
With the Orient Esteem FDB08004B there is much attention given to the lack of detail. I don't mean this in a negative way but rather that the Orient watchmakers here went for a watch that does everything without doing too much. It is sometimes easier to add endless details and features than to make something beautiful that isn't full of unnecessary features.
> > > Click here to see ratings, reviews, specifications and prices on Amazon < < <